Mascots in sport are a vital part of teams, and are arguably one of the best parts of a sport event. Team mascots truly help sports organizations facilitate that fun and exciting environment that gets fans engaged in an event.
Before COVID-19 rocked the sports world, mascots were seen as inspiring! We've even covered a few people behind the mascot here at SPMA, and you can check our their awesome interview features below:
Mascots really are amazing – they do backflips, dunks, and all sorts of stunts. We will take you through the best mascots from teams in the major four North American professional sports leagues. To decide who makes the cut for best mascots in professional sport, here are the criteria for determining the best:
Stunts
Humour
Costume
Benny the Bull: Chicago Bulls
Benny the Bull is one of the oldest mascots in the NBA, appearing alongside the Chicago Bulls since 1969. Over the last few decades, he's become synonymous with other Chicago Bulls icons such as Michael Jordan, Scottie Pippen, and Dennis Rodman.
He holds a special place in the hearts of Bulls fans and is one of the most iconic mascots in the NBA. Benny has quite a few unique characteristics, which is why he was inducted into the Mascot Hall of Fame in 2019.
Benny gained notoriety for performing various acrobatic stunts during NBA games. Specifically, his wild front flips at the opening tipoff during Bills games got fans fired up from the jump! He acts as a gymnast during timeouts, performing flips and chaotic one-handed half court shots.
As for humour, Benny is one of the funniest mascots out there. He has his own signature gag where he takes huge bag of popcorn and runs through the crowd as fast as he can. Spilling popcorn all over nearby fans, the crowd often erupts into hysterical laughter watching his silly antics and outlandish dance routines.
Benny has a great look that corresponds with the Bulls' classic colour scheme and suits his personality well. His costume gives off a friendly, approachable vibe, but don't let that fool you into thinking he's the friendliest mascot.
This silly character has maintained his look for generations, always putting on a show for fans in Chicago.
Go the Gorilla: Phoenix Suns
The Phoenix Suns' gorilla mascot has been around since the 1980 season, and is known for his slapstick humour and entertainment. In fact, he was born out of an accident when a messenger for a singing telegram service came dressed to the game as a gorilla.
Colesieum security noticed him leaving and suggested he dance under the basket during timeouts, and fans ate it up. Thus, the gorilla named Go was born!
If there's one thing that the Suns' Gorilla has on most mascots, it is definitely his stunts. He has become notorious for performing some of the craziest stunts the NBA has ever seen. Few mascots in the league can rival his dunking performances!
Go the Gorilla plays hilarious pranks on players from both teams from time to time. He is very clever and cheeky with his moments, as they are not as frequent as other mascots.
As for his looks, Go is a fierce looking animal, no doubt. It's clear that the costume itself is pretty unrelated to the team name, however, a giant sun would be a bit cheesy. Although a gorilla doesn't appear relevant, he does a great job of owning the look.
Mr. Met: New York Mets
Mr. Met was born during the 1964 season after appearing on the cover of game programs, yearbooks and scorecards in 1963. During the 60s, he occasionally appeared alongside his female companion, Mrs. Met.
Additionally, Mr. Met has appeared in several SportsCenter and ESPN campaign commercials. Back in 2012, Forbes Magazine listed Mr. Met as the #1 mascot in all of sports due to his beloved status with Mets' fans.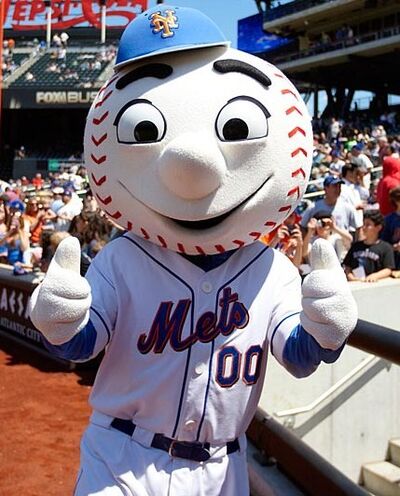 Mr. Met can often be found ripping around Citi Field performing funny stunts and routines. He's known for often getting fans on their feet with his goofy dance routines. Mr. Met also performs various bits with props, such as the time he went fishing for Miami Marlins' players during warmup!
As for humour, Mr. Met is commonly known for engaging in hilarious antics with opposing teams' mascots. He always brings the jokes, like the time he heckled the Kansas City Royals' mascot, Sluggerrr, to the point that Sluggerrr accused him of sleeping with his wife on Twitter!
Mr. Met's costume features the iconic bobblehead-like smiling baseball head and bucket hat. His look screams classic baseball with a funny, engaging twist that portrays him as friendly, approachable, and loveable to Mets' fans.
Clutch the Rocket Bear: Houston Rockets
After garnering the nickname "Clutch City" following the 1994 NBA Championship, Clutch the Bear was introduced the following year in Houston.
As the Rockets' number one fan, Clutch can be seen cheering on his team at all home games with impromptu comedy, cheerleading, and on-court skits. Clutch has gained such popularity that he makes over 200 Houston-area appearances every year, and even can be seen on international visits.
Clutch the Bear's stunts often include the standard acrobatic stunts seen by most mascots. His outlandish half-court shots, though, are what set him apart as one of the crazier mascots in the NBA.
Additionally, these stunts often include wild trampoline dunks that get fans fired up. He brings a fun and high energy to his stunt performances, wrapping up the crowd in his crazy antics.
This mascot does not lack in the humour department. His jokes are very tongue-in-cheek as he often pokes fun at fans on both the home and rival side of the court. Clutch even went viral in 2008 for consoling a fan with a beer after he was turned down when proposing to his girlfriend (… yikes!).
Clutch's look is that of a classic mascot – A fierce animal dressed up in team gear. Clutch has a cute, teddybear look to him that draws in younger fans and makes him oh so loveable.
Racing Sausages: Milwaulkee Brewers
Though we can admit that they're not the Milwaukee Brewers' official mascots, the racing sausages provide some of the most entertaining mascot moments in sports! We had to give them a shoutout, as they've become iconic to the Brewers' organization.
The racing sausages began as a promotion for Klements Sausage company in the early 1990s. Fans love to place their bets on the winner, making these racing sausages one of the best mascots in sport.
Over the years, the Sausage Race has included many stunts where the contestants begin to cheat and take each other out. Tackling, hitting, and other chaotic stunts take place to determine the winner of this iconic race.
You can't help but laugh when watching these giant life-sized sausages waddle their way to the finish line. The rivalry alone between these sausages is enough to entertain fans, and it has them clenching their guts in laughter by the end of the race.
The racing sausages' costumes are unique, as they all have a different vibe (and flavour?). Made to somewhat resemble humans, these costumes each feature their own unique face, outfit, and cap to give fans their pick at their favourite sausage.
The Coyote: San Antonio Spurs
First introduced in 1983, The Coyote made his debut during a double header between the Spurs and the Los Angeles Lakers. He's well known for his slapstick comedy routines and trick-filled antics during timeouts and half-times.
Loved by Spurs fans, The Coyote's goofy and unique persona earned him an induction into the Mascot Hall of Fame in 2007.
The Coyote is always bringing stunts to Spurs' home games, entertaining the crowd with his wild and chaotic performances. He is most well known for dribbling basketballs with his foot, performing hilarious cheerleading and choreography, and even popping his own eyes off!
Additionally, the Coyote even broke the Guinness World Record for most under-the-leg dunks in a minute in 2012.
This mascot loves to perform rehearsed skits in order to get the crowd laughing. The Coyote has no shortage of jokes, including some that are so cheeky, he is now one of the only mascots to be ejected from a professional sporting event.
Don't worry, he received a pardon from Texas Governor Rick Perry. Congrats, Coyote!
Sporting a Spurs jersey and sweatbands, the Coyote has the standard mascot look to him, for the most part. His huge, beady eyes standout and suit his personality perfectly, and fans go nuts for this fury little guy's get up.
Blue: Indianapolis Colts
Blue, the iconic blue horse that serves as the Indianapolis Colts' mascot, was first introduced in September of 2006. The Colts went on to win Super Bowl XLI at the end of Blue's first season, so you could call him a good luck charm.
All eyes are always on Blue, and his position is even listed as "Center of Attention" on the Colts official NFL website.
The Colts' mascot always comes with extreme stunts, including various acrobatics and risky flips. He also often utilizes bicycles and tricycles in his stunts.
Blue has even gone as far as to sky dive out of a helicopter to prove his courage and commitment to being a stunt and adrenaline junkie.
Blue is undoubtedly one of the funniest mascots in professional sports. He entertains fans with his skits, and has even won Skit of the Year awards in 2017, 2018 and 2019. Nothings says "I'm hilarious" quite like repeatedly pie-ing fans in the face at games!
This mascot features a unique costume, with bright blue fur and fiery red accents to make Blue's look really standout. The goofy, wide-eyed expression on Blue's face also draws attention from the crowd, given his cartoonish looking face.
His look is pretty unique when compared to the standard sports mascot.
Jaxson de Ville: Jacksonville Jaguars
Jaxson de Ville has taken the NFL by storm since the Jaguars entered the league in 1995. He has become notoriously known for his outlandish behaviour, grand entrances into the stadium, and being a nuisance to away fans.
Jaxson has become one of the most beloved mascots in the league, even from fans outside of Duval County.
Jaxson de Ville performs some of the craziest stunts out of any NFL mascot. Seeing as how there aren't any nets to dunk on while jumping off a trampoline, he has his own unique style of stunts. Jaxson has been known for his stunning entrances to TIAA Bank Field, usually whipping around on his dirt bike or golf cart.
However, his biggest entrances involve jumping off of the tallest fixture in the stadium on a bungee cord… Yes, literally. He also flies into the stadium on a zip line from time to time, sending Jaguar fans into a frenzy.
When it comes to performing as an entertainer, Jaxson de Ville is one of the best there is in football. His comical antics have been some of the most entertaining parts of attending a Jaguars game in the last decade, with the team unable to find consistent success since the mid 2000s.
His famous 'pie in the face' gag to a Houston Texans fan is one of the funniest moments that stands out to us.
Jaxson is a cartoon jaguar brought to life with his signature customized jersey. He wears number 00, with the name "Jaxson" personalized on the back and a paw print on the front.
His sunglasses round out the sunshine state vibes that are prominent in Jacksonville, with the weather at games staying in the 25°C/77°F range.
Gritty: Philadelphia Flyers
One of the newer mascots on the block, Gritty was introduced to the public in September of 2018 in a series of strange social media interactions and public appearances.
He appeared on The Tonight Show Starring Jimmy Fallon shortly after his creation, and had several hilarious Twitter interactions, including threatening the Pittsburgh Penguins mascot and recreating Kim Kardashian's raunchy "Break the Internet" photoshoot.
Gritty has an extremely unique (and somewhat terrifying) look to him compared to the rest of the NHL mascot, and Flyers fans go nuts for it.
Gritty brings the atmosphere to Wells Fargo Center with his feisty stunts and chaotic dance routines. He's got agility, giving him the skill to perform long, drawn-out stunts that often involve storming the ice and occasionally body checking his own team's players.
There is no denying that Gritty is one of the funniest, most outlandish mascots in all of professional sports. He's got a fiery attitude, allowing him to agitate opposing fans with accuracy.
Not to mention his social media presence is iconic and totally unmatched – if you don't believe us, see the below Tweet…
As for the costume, Gritty again stands out as one of the most unique mascots in professional sports. His initial rollout was met with controversy, as people simply couldn't believe what this guy looked like!
His fiery orange fur and wild-eyed expression catch everyone's attention. Further, he is often seen in various different outfits, allowing the Flyer's organization to market a different theme whenever they choose.
The Raptor: Toronto Raptor
You already know we had to rep the 6ix with our main guy, the Raptor, who was first introduced in June of 1995.
In fact, his "birth" included a giant egg being wheeled out before the game, which he emerged from moments later. The Raptor is widely regarded as one of the best and most diligent mascots in the league, doing the absolute most to entertain and fire up fans.
He has appeared in a number of wild viral videos on social media, including one of him 'eating' a cheerleader in a 2011 match played in London, England.
The Raptor has some of our favourite stunts. These include chaotic performances on the court, usually involving wild half court shots and trampoline dunks. He's known for his high energy while running around performing intense tumbling and hilarious dance routines to get the crowd engaged.
He goes so hard, he once tore his achilles tendon and had to be temporarily replaced by his cousin, Stripes.
Speaking of hilarious, the Raptor is extremely funny. He frequently performs skits that, at times, involve the raunchy punk-ing and humiliation of opposing teams. He also makes it his business to beef rival mascots, and he's even seen his fair share of fights.
The Raptor is a red velociraptor donning basketball shoes and a number 95 Raptors' jersey in a nod to the organization's establishment. The classic red and white colour scheme coincides with the Raptors overall look.
His signature Raptor swagger is iconic to Raptors fans and the NBA as a whole.
Philly Phanatic: Philadelphia Phillies
The Philly Phanatic is arguably the most iconic mascot that professional sports has ever seen since his introduction in 1978. Aside from his… we'll call it, "stunning" look, the Phanatic is known for having the wildest antics in all of sports.
He is officially the most-sued mascot in sports, having garnered himself some trouble due to his lewd heckling and show-stopping performances. That's probably a given when you're roaming the stadium for a dance partner and shooting hotdogs to fans!
The Phanatic frequently uses various ATV's and other modes of transportation to take his stunts to the next level. He's entered the stadium via zip line and sky diving on numerous occasions, always bringing the atmosphere.
Known for smashing, bashing, and his all around head-banging antics, the Phanatic rips around the stadium wreaking havoc with his high energy performances. On top of all that, this mascot LOVES to dance!
This mascot has humour like no other, facilitating gut-busting laughs from the crowd on a regular basis. A true heckler at heart, he is particularly genius with his timing and delivery.
Due to this, the Phanatic is no stranger to getting into a scrum or two, per game … Nobody is off limits when it comes to his practical jokes and entertaining behaviour. That goes for players, celebrities, and basically anybody in the building – everyone is free game when it comes to this guy's jokes!
The Phanatic has an iconic look to him, appearing as a furry, wide-eyed green monster. He sports a Phillies' jersey and socks with a red cap on his head. If one thing is certain, it's the fact that you won't miss seeing this giant green monstrosity any time you're at a game at Citizens Bank Park.
Final Thoughts
Mascots are definitely an iconic part of sports, especially the major four professional leagues in North America.
It's their duty to put on entertaining performances, cheer extravagantly for their team, and energize the crowd. They do a great job at agitating the opponent, to boot. Sports simply would not be the same without them!
On that note, we'll leave you with this question… Who is your favourite mascot?