Frequently Asked Questions
What does SPMA stand for?
SPMA stands for SPort MAnagement. It is pronounced SPEE-MA and we are the number one hub with all the latest news and updates for aspiring and long-term sport professionals.
Why did you create the SPort MAnagement (SPMA) Hub?
The sport management industry is booming around the world! 🌍 Look no further than a province in Canada for proof. In Ontario, Canada alone, there are over 15 college and university institutions with sport management programs, and that number continues to climb. That's JUST Ontario, Canada 🇨🇦. Similar numbers are seen in the United States 🇺🇸, Australia 🇦🇺, United Kingdom 🇬🇧, and across the world. Whether you're looking for or have a job in sport management, get ready to get in on this fast-growing field and dominate it.
You might find that it's difficult to find a job in sport management without proper guidance. Similarly, in order to stay at the top of your field, you must keep up with industry trends, sports business news and latest research.
That's where we come in. We've created SPMA (pronounced SPEE-MA), the number one hub with all the latest news and updates for aspiring and long-term sport professionals.
When did SPMA come into existence?
Tell me more about SPMA's content.
Our content comes in multiple formats—photos, text, audio, and more—in order to suit different learning needs. We're working on bringing you more and more content and more and more formats each day.
Also, we're working on a signed-in experience to improve the SPMA community. Leave your email with us and we'll let you know when the experience is ready. Without giving too much away, our plan is to offer a one-of-a-kind community page. Details on a release date will come at the beginning of 2020.
Nonetheless, browse our pages today and discover the power our content can have on your career. Questions? Drop us a line by clicking here.
All our content is originally produced. The result: a curated, relevant portal with sport management content that will help you succeed in the industry. You can even read about other sport management professionals' success stories and connect with them to expand your network. We are your one-stop-shop for everything related to your sport management career and growth.
Come and find the best content in the sport field, chosen by industry experts with YOU in mind. Our mission was to create a hub that catered directly to sport pros in order to help them develop and advance in the industry.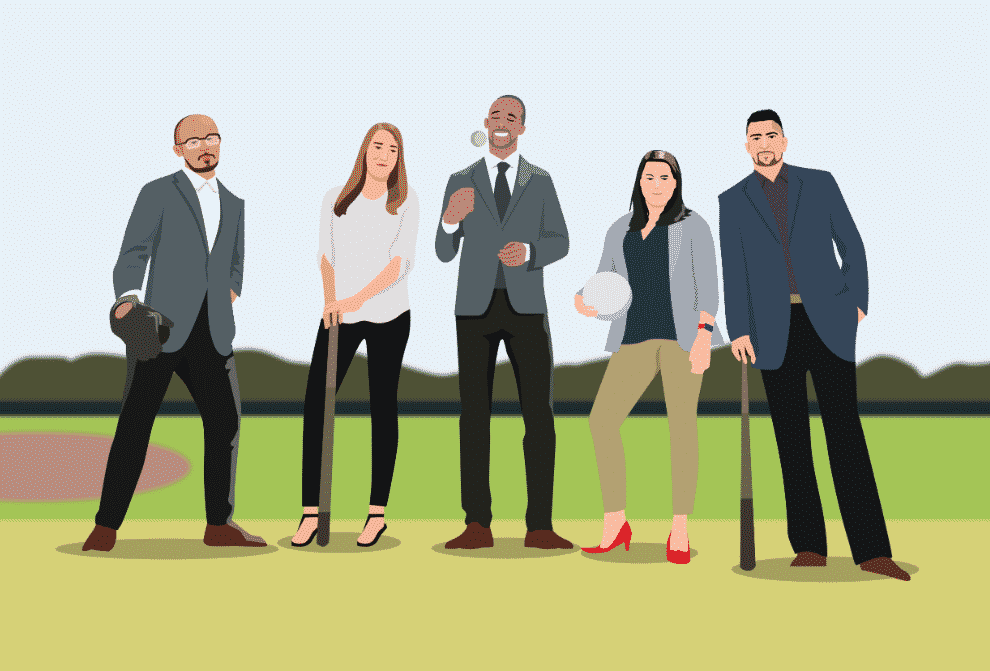 What trending topics does SPMA have on it?
SPMA features a number of topical areas within the sport industry. We take a worldly perspective on trends as the sport industry is global in nature. Therefore, we have explored trends in Canada 🇨🇦, United States 🇺🇸, Australia 🇦🇺, United Kingdom 🇬🇧, India 🇮🇳, Israel 🇮🇱, Germany 🇩🇪, and more. We've also collaborated with several great sport organizations to keep you informed on the newest happenings in every area of the sport industry.
Here are our trending topics 👉
Can SPMA help me pick a school to attend if I want to work in sport?
We'll be providing a list of schools that our industry profiles graduated from by the beginning of 2020.
Currently, we have a section on our website called Studying Sport. You'll find all things related to an education in Sport Management there, including (for now):
What areas of the sport industry does SPMA cover in its profiles?
Logos in the articles. Are you allowed to use them and can I too?
Any of the trademarks, service marks, collective marks, design rights or similar rights that are mentioned, used or cited in the articles of the SPMA Inc. website are the property of their respective owners. Their use here does not imply that you may use them for any purpose other than for the same or a similar informational use. Unless otherwise stated SPMA Inc. is not endorsed by nor affiliated with any of the holders of any such rights and as such SPMA Inc. cannot grant any rights to use any otherwise protected materials. Your use of any such or similar incorporeal property is at your own risk.