Stuart McReynolds is the President and CEO of the Abilities Centre. Stuart literally started from the bottom in sport, climbing his way up position by position. But not without many challenges. Stu, as many call him for short, is a native of the United Kingdom. He went to school for Leisure & Sport Management in Wales in the early 2000s before becoming a certified teacher. When Stu immigrated to Canada in 2011, he became the Manager, System Development & Education for the Canadian Paralympic Committee (CPC).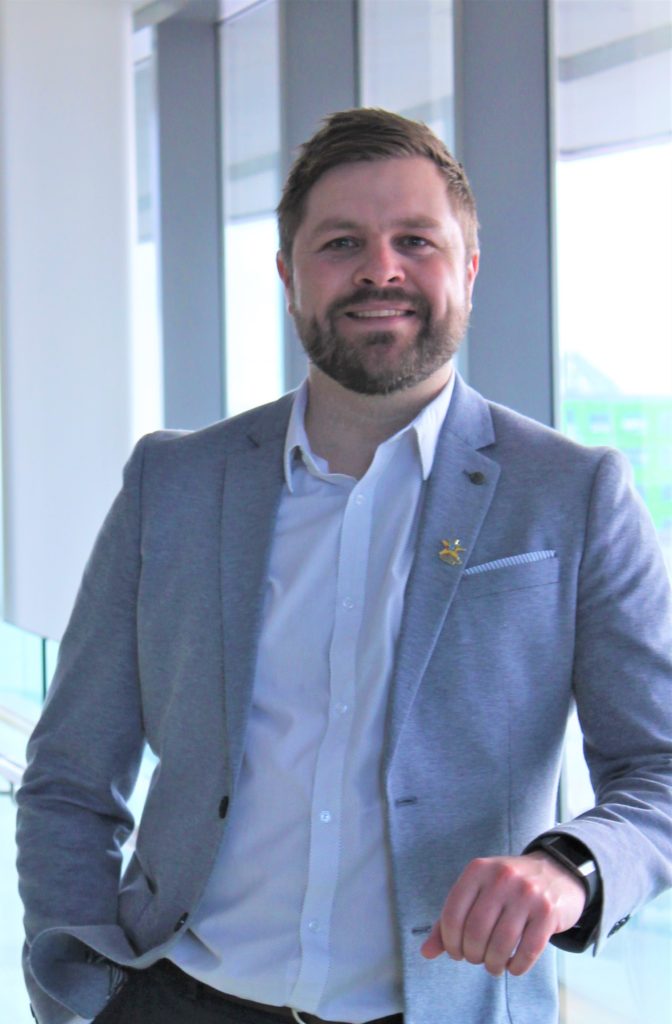 Stu was with the CPC for 4 years before taking on a role with the Abilities Centre in 2016. He was positioned as the Director of Sport and Recreation and National Director of the Academy for Student Athlete Development. Two years later, Stu became the President and CEO Designate of the Abilities Centre and was installed in the position full-time after three months. Stu tells us about his role, challenges as a Canadian immigrant, history playing rugby around the world, and drops insight on finding a career in sport. Enjoy!
Tell us about your role as CEO & President of the Abilities Centre. What does your day to day look like?
My role as CEO & President of the Abilities Centre means I am responsible for setting the strategy and vision for the organization. It's my job to continuously ensure that the best strategies are put in place to make sure that we realize that vision.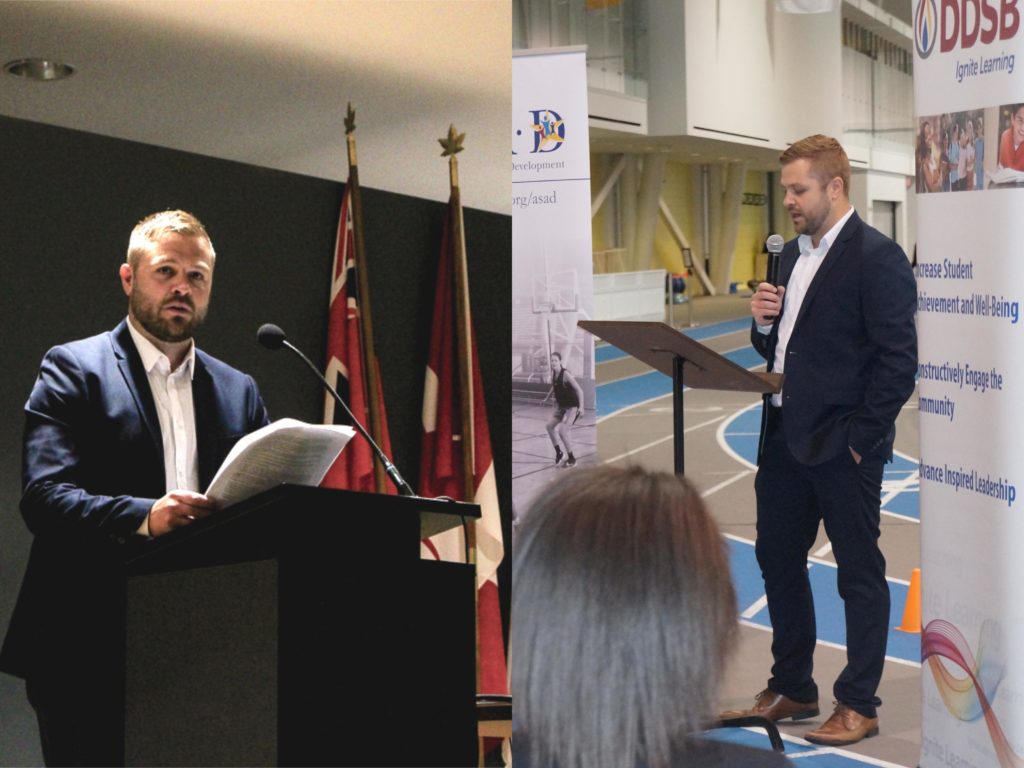 Part of that is managing our team of over 130 staff members. Ensuring that we have policies and processes in place to empower our team to realize our objectives as an organization is a large aspect of my role.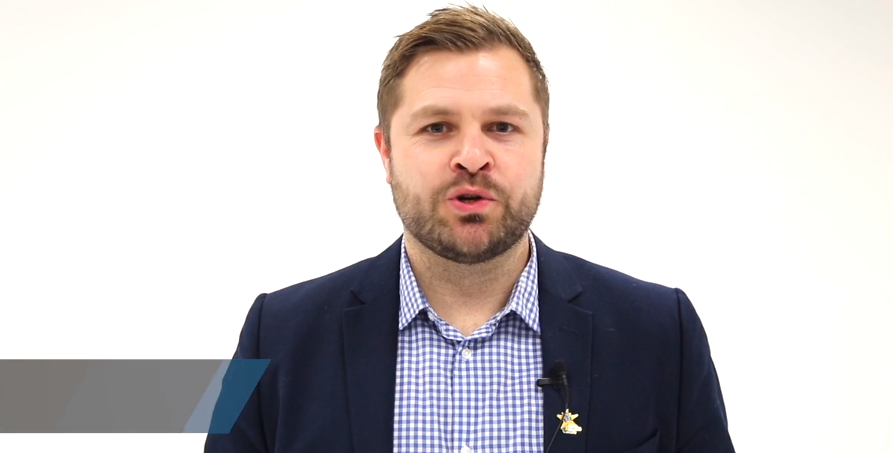 A trait I love about my job as the CEO and President of the Abilities Centre is that one day is not the same as the next. Every single day is different. At one point I could be somewhere in the country or overseas promoting what we do at the Abilities Centre. The next day I could dealing with one of our departments on a number of our activities here at the Abilities Centre. Every single day is different. And I think that's what's very unique about the role and what I love most about my role.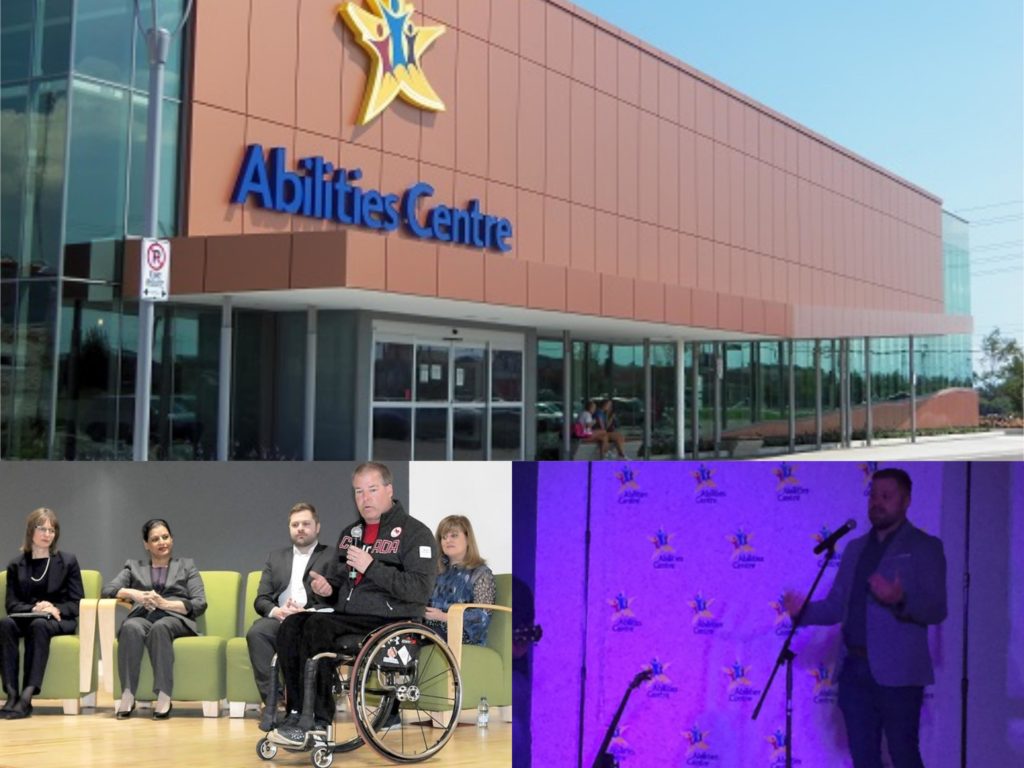 What gets me excited about it is that you'd never know what you're going to encounter. You have to think a lot on your feet. A big help is having a team that you can trust and that works together extremely well. We've got an exceptional team at the Abilities Centre who are a huge support for the daily challenges and activities that come our way.
We know you've always had a passion for sport. Tell us about it and somewhere in your answer, we'd love to hear about your experiences as a pro rugby player in Spain!
I grew up in England, where soccer was my first love. Rugby came along when I was 9.
When I was about 13/14, I represented my county in rugby competition. In the United Kingdom, representing your county in a given sport is like being part of the provincial sport organization in Canada.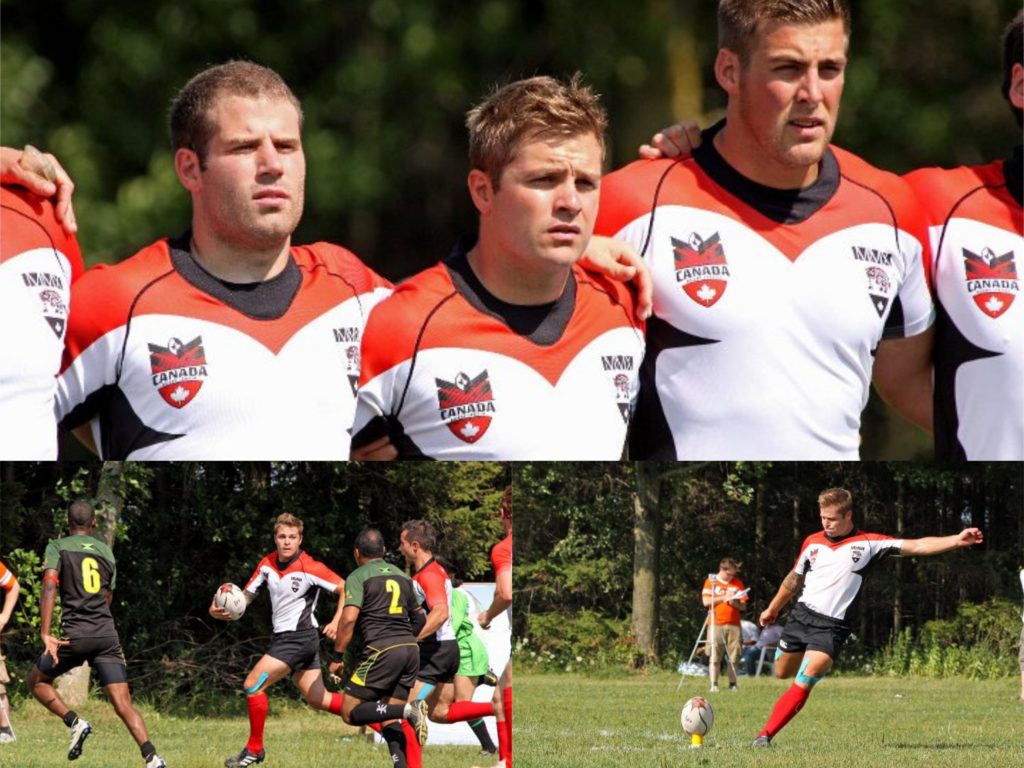 Next, I decided to see how far I could take playing rugby. So I was fortunate and received a place at University of Wales Institute in Cardiff, a well-known institution for rugby. And I play for a number of years there. Um, I was lucky enough to represent, uh, England, um, at the university level in Great Britain and Wales traveled the world playing rugby.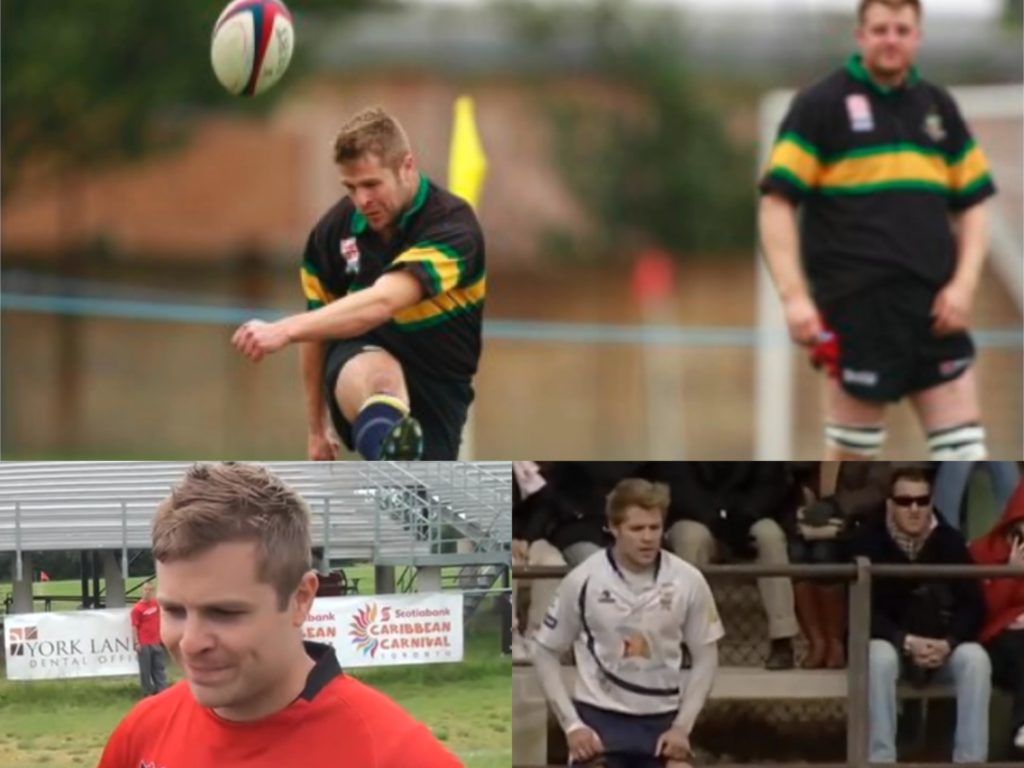 So that was my passion. And I think my philosophy when I was playing was that I wanted to use rugby as a tool to help me develop personally.
So rather than trying to break into the rugby scene in England, the upper echelon of the sport, I wanted a bigger opportunity. I wanted this so that I could use rugby to get exposed to and travel the world.
Seeing the world at a relatively early age in my development is a big part of where I am today. I think that's one of the things that I've been blessed with. I've played rugby, across the United Kingdom, in the Czech Republic, France, Australia, New Zealand, Spain, and Canada.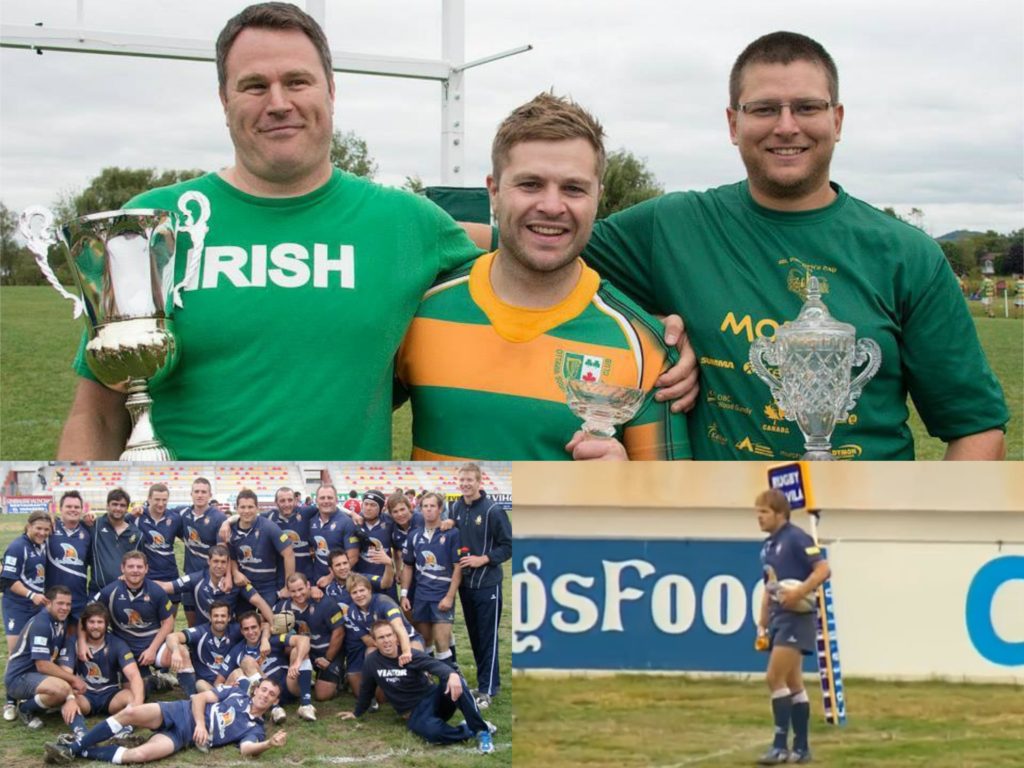 Being apart of many rugby teams has given me the opportunity to use sport in that way. I've been able to get a holistic perspective of what's going on around the world, develop relationships and contacts, and be part of that culture of sport with something.
All things considered, playing rugby is one aspect of my resume that's positioned me well to be the CEO and President at the Abilities Centre. Largely due to the international experiences I bring to the table.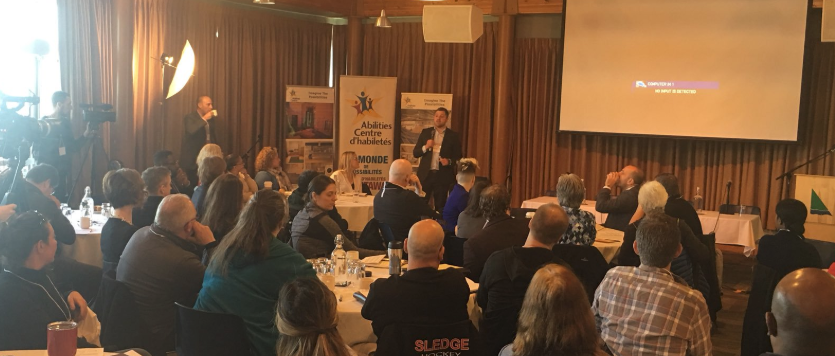 Sport is truly a powerful tool for so many aspects of society. Hence, one of the reasons that drive my passion for what we do at the Abilities Centre is helping all people share in the unbelievable benefits that sport delivers.
When I was in New Zealand I was fortunate to land a position at Auckland Grammar School, one of the most prestigious sports schools in the world. Definitely one of the top rugby schools in the world. My role was to teach special education.
What is the Auckland Grammar School?
located in Auckland, New Zealand
secondary school
all boys school
grades 9 to 13 boys
ages 13 – 18
located in Auckland, New Zealand
known for its success in rugby
highest # of black rugby players
Auckland Grammar School had the highest number of all black rugby players, but use by any school in New Zealand. It was a very traditional method of schooling where special education kids were class is streamed in what they called Stream R and, while the top academic students were in Streams A and B. A segregated model, to say the least.
My background in the sport of rugby was one of the reasons I was hired by the school. My job was to find ways to integrate my special education students into physical education and sport. It was in this role that I became vested in realizing the power of inclusive sport.

Without a doubt, integrating children with disabilities during my time in Auckland drove the passion for creating an inclusive environment for sport around the world.
Having been educated in sport management in Cardiff, Wales, UK, have their been any challenges as you've come to know the business of sport in North America?
There are definitely cultural challenges. When you look at the business of sport, the fundamentals are consistent. There are similarities in how strategic plans, policies and procedures are developed and delivered.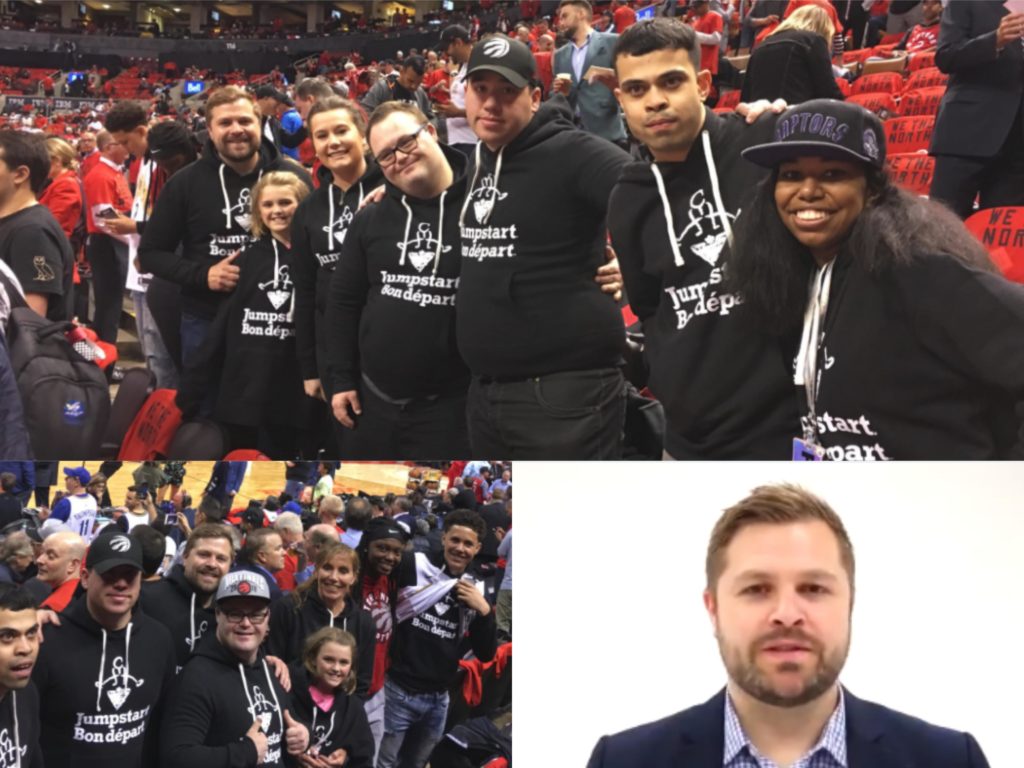 However, the sporting culture is exceptionally different in North America compared to the UK when it comes to professional sport.
"In North America, hockey, baseball, basketball, and Canadian/American football are the most popular professional sports to watch. But there are similarities with regards to the business side of professional sport. The monetary aspect is similar. Except in the UK, the dominant sport is soccer. Regardless, the cultural aspect of sport is very different between the two."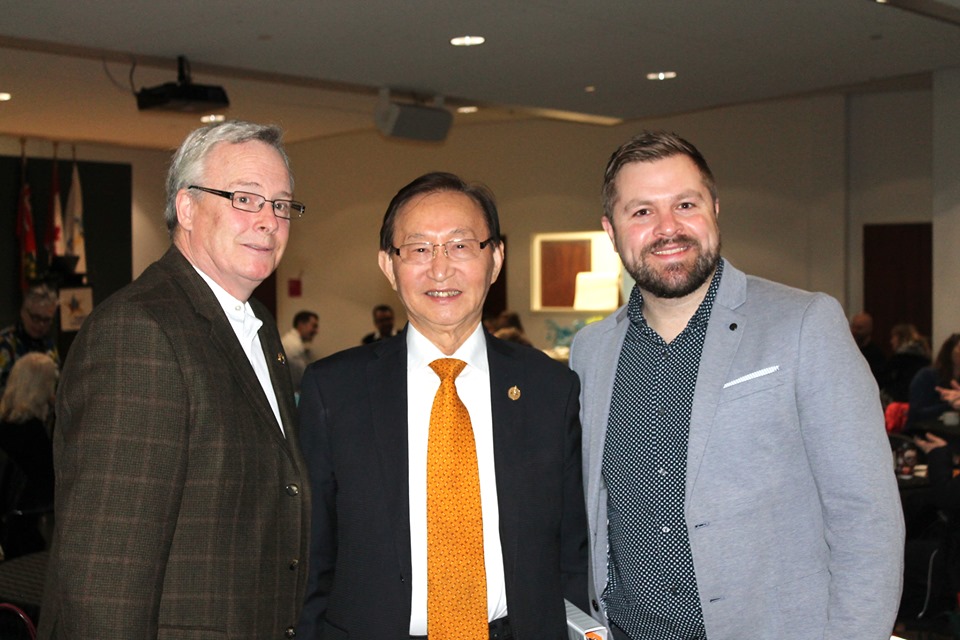 A big advantage of not being raised in North America is that when I promote the Abilities Centre, I don't get star struck. Over and over again, I chat with celebrities, sports stars, politicians, and influential people, speaking about what we do at the Abilities Centre with ease! I don't star struck like others who grew up in North America may.
"While I appreciate and acknowledge the achievements of the Kawhi Leonard's of the world, they're not my idols because I didn't grow up revering sports stars from Canada's most popular sports. If I was the President and CEO of a similar organization as the Abilities Centre, but situated in the UK, I'd be closer to meeting my childhood heroes. I think it would be really hard for me as I'd star struck way too often [laughs]."
In a nutshell, I think there are so many synergies and similarities from a business model. But the cultural aspect of sports between countries are quite different.
Tell us about your path to becoming the President and CEO of the Abilities Centre.
Let me address this from a personal and professional perspective.
Professional Perspective
I've essentially done every single job that can be done leading to the President and CEO of the Abilities Centre. I started my career as soon as I graduated from university. My expectations were set high, but the reality hit quickly that achieving my ultimate career goal would take a lot of hard work and experience.
"I started off as a lifeguard. Then, I was a fitness assistant. Next I was in a senior coordinator position within sport. Then, I was a manager. Afterwards, I became a sport a director. And now, I'm fortunate to be the President and CEO of the Abilities Centre."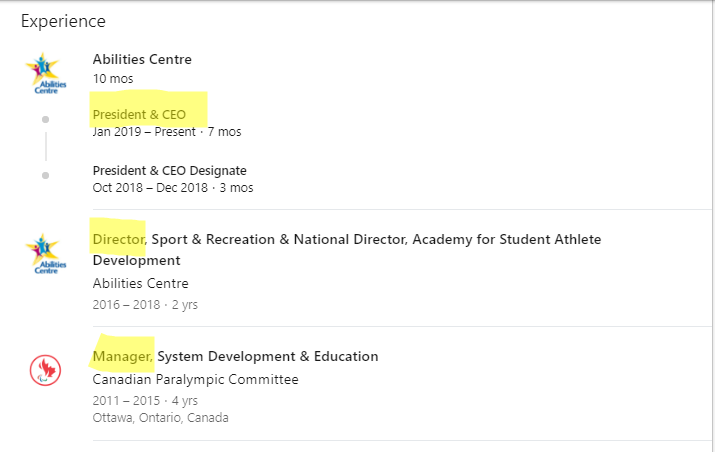 I've literally worked my way up from every job and title I could to eventually become the President and CEO for this great sport organization.
My journey to becoming the CEO and President with this sport organization consisted of working in nearly every role. That's an advantage I think I bring to the role of President and CEO for the Abilities Centre. Having been in the position of many of our staff before supports my leadership here. I'm naturally more empathetic to the needs of staff because of my previous experiences.
Personal Perspective
My background is as a qualified teacher in the United Kingdom. I immigrated to Canada with my wife. Coming to Canada and being a teacher wasn't an easy transition for me. In fact, there are laws in Canada that prevent teachers from going straight into full-time employment. My first step was to go on a supply teaching list. I simply couldn't afford to go on a supply list.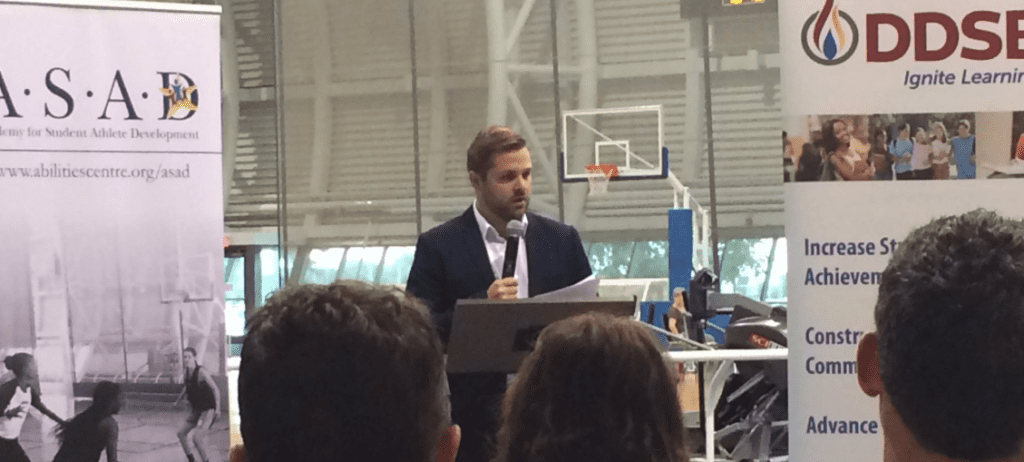 It was disappointing for me but it led me to where I am today. I mean it when I've been so lucky to be surrounded by phenomenal team members, colleagues and friends. There's been so much support of my successful every step of the way.

What would you consider the best thing about your position as CEO and President of the Abilities Centre and why?
The best thing about my position is my ability to influence change in an altruistic way. I have an ability to make decisions that positively impact my team, my staff and the people that we serve. Here's a little more clarity.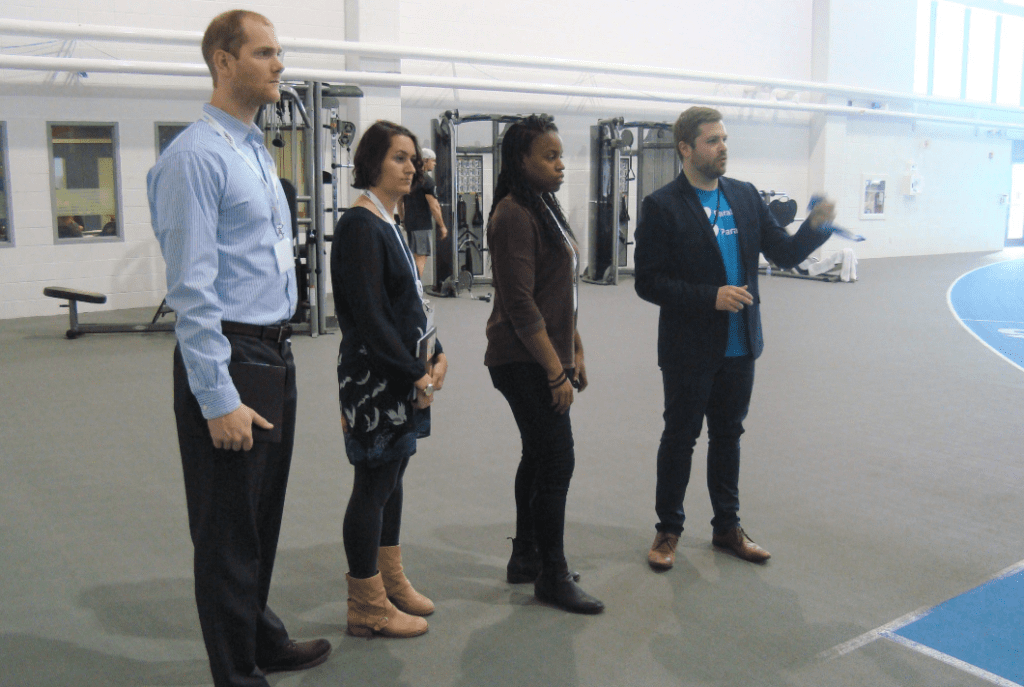 I'm very adamant about this message. Staff at the Abilities Centre aren't here to serve me as CEO. I'm here to serve them. So being able to make decisions that will benefit our staff, members, participants and community is wonderful. And it's the greatest privilege I have in my role as the President and CEO of this great sport organization.
What do you find the most difficult in your position as CEO and President of the Abilities Centre and why?
One of the things that I find the most difficult is making tough decisions. Prioritizing spending is a challenge that comes with the position. Also being able to manage a thousand tasks on a broad spectrum can be challenging. But that's what I love about my role. Many times, I have a multitude of tasks and being able to kind of wear different hats in a rapid environment can get tough. Meaningfully dealing with those tasks and issues as they arise is important and it's another aspect I love about my role as the President and CEO of the Abilities Centre.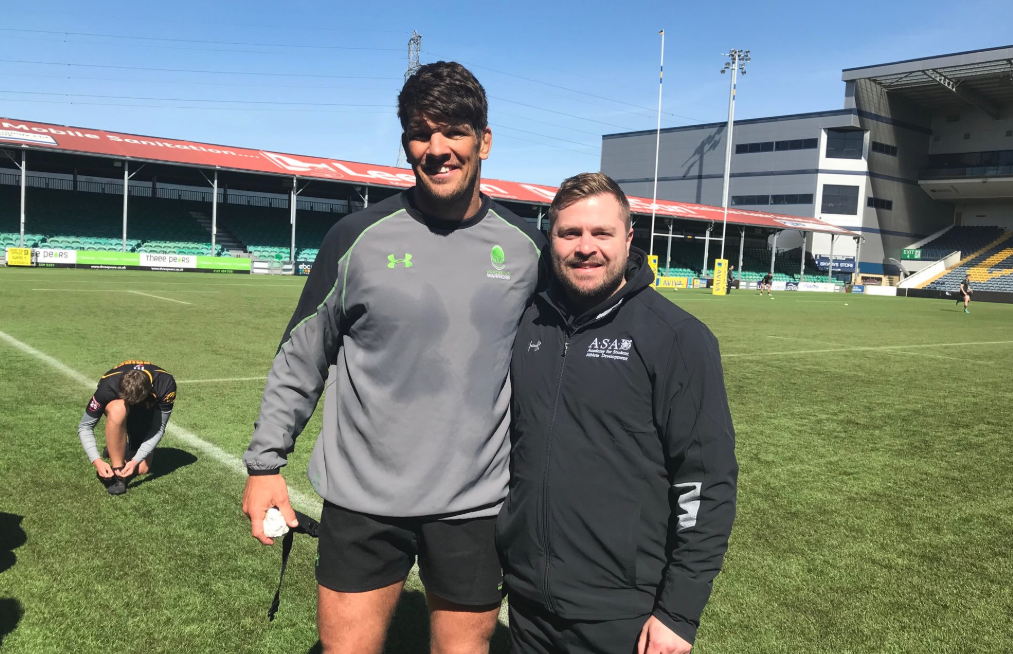 It's only in my nature to make sure that I apply the same duty of care in dealing with all situations, regardless of who and with I'm dealing with. For instance, if I am working with an hourly staff member, I'll always treat them the same respect as if they are part of the executive team.
Indeed, there are parts of my role as the CEO and President of the Abilities Centre that is challenging. But with challenge comes opportunity and learning. I'm a firm believer that if one wants to grow as a leader and in their career in your career, they must put themselves in challenging situations.
What advice would you give to aspiring sport professionals that want to be you one day?
I have two really key pieces of advice to offer aspiring sport professionals.
1

Find Yourself

Every individual must identify who they want to be at some point. Figure out what drives you, what gives you purpose and be prepared to commit to whatever it takes to actually achieve that purpose. But you must take care of your health and well-being first and foremost.
2

Possess Patience

Have patience! It's hard for me to dish out because I could improve this a bit myself. Many people need to be patient to find what it is they truly want to do in life. Likewise, patience is required to get there. Also, building relationships (the next key piece of advice) takes time too. So being patient in every aspect of your sport career is a must.
3

Build Relationships

We have such a skilled workforce in terms of knowledge, expertise and work placements. So the sport industry is competitive. What will separate you from the rest of the field is the history of relationships you develop with people.

Building relationships is super important in your sport career. I cannot stress that enough. Because that's what's going to be key in actually supporting you to realize your career objectives!
Can you name a few people in the sport industry you think would be a good interview for SPMA?
1

Justin Bobb

Justin Bobb is the Director, Sport & Operations with MLSE LaunchPad. He'd be a phenomenal individual to interview. He brings a great lens to what the LaunchPad is trying to do with inner-city youth.

Also, MLSE is a top-level sport enterprise in Canada. So working on the charitable side of the organization, Justin has a unique view of the landscape. I think he'd bring a very unique perspective on how the rise of the Raptors has impacted MLSE LaunchPad would be super interesting.
2

Marco Di Buono

Marco is the Associate Vice President for Community Operations at Canadian Tire Jumpstart Charities Essentially, Marco is responsible for JumpStart's community initiatives across Canada. That means he has a huge role in creating equitable access to sport and recreation for children from low socioeconomic backgrounds and with disabilities. So, I think he'd be bringing a great perspective in terms of his career and how he's working with a major corporation in Canadian Tire.
3

Karen O'Neill

Karen is the CEO at Canadian Paralympic Committee (CPC). She leads and guides an incredible team of individuals who are developing an incredible system for future Paralympic athletes. Plus, like me, she holds that will at a Master's degree in Education.
---
Stuart McReynolds
Interview by Dekota Kirby
Posted July 11, 2019 in Your Career in Sport