April Whitzman works in Growth and Partnership Marketing for Rover. I was introduced to April's work through a former sport management professor of mine. I followed April's work ever since and loved how she provides, analyzes and advises on numerous mobile campaigns within the sporting world. I chatted with April about her role and how being with the Toronto Blue Jays as Digitial Marketing Manager allowed her to mingle her passion for baseball with her thirst for digital innovation. April takes a step back to talk to us about all things related to her career in sport including being a mascot. Enjoy!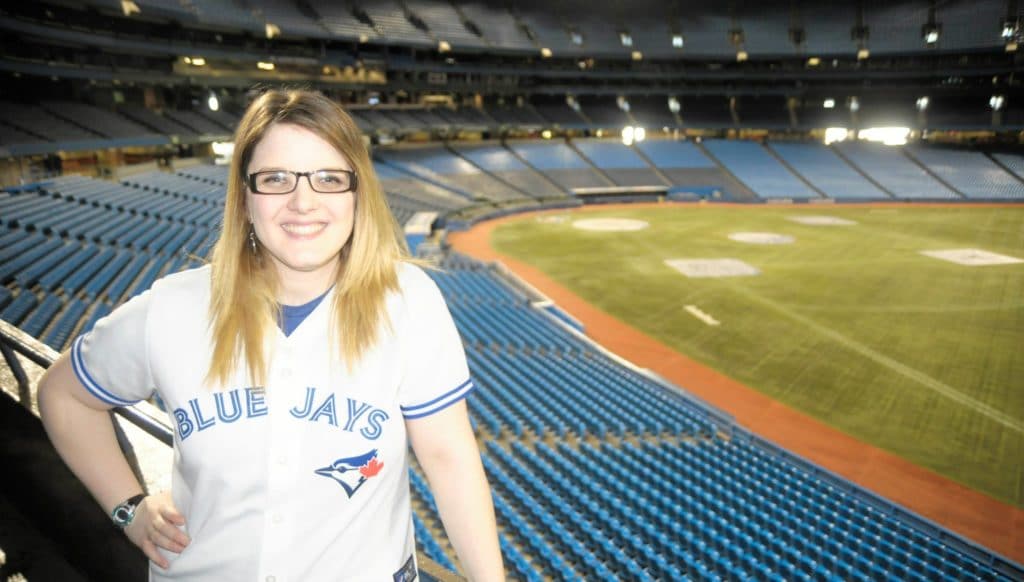 Tell us about your role leading the Marketing team at Rover and your path in working in sports.
Like so many professionals in the industry, my path to working in sports was very unique. I grew up in Eastern Canada, playing a variety of sports, but always being more passionate about the behind-the-scenes and the fandom and loyalty that the sports world brings.
After completing two separate degrees in nearly eight years of university, I told my folks I was about to head to London, Ontario (about 2,000 kilometres / 1,250 miles away) to work for a baseball team… for free.
Life as a Frontier League baseball team intern was quite something. Who knew that "Marketing Intern" meant doing all of the photography, social media, sales, and… being the mascot.
Here's yours truly with former NHLer, Brandon Prust (yes, I'm smiling under there).
Unfortunately, making a long story short, the team failed to secure a liquor license, and the team folded half-way through the season. Wearing different hats enabled me to learn a lot and have a blast, but to be honest, after which I thought the dream of working in sports was over.
"Oh, but I was so wrong."
Nearly a year later I heard about this unique opportunity of working for Major League Baseball in what they deemed their "MLB Fan Cave," where they'd invite fans onto a reality-type show to create awesome content and engage other fans as they watched every baseball game and were visited frequently by players.
Thanks in part (somehow) to the video above (and amazing friends on social media), this small town girl was blessed with the opportunity to move to New York City and be one of nine fans around the world to watch every single baseball game. No, really, I mean EVERY inning of EVERY game. Remember the 2013 season? We're talking not only a game 163, but the most extra-inning games in history as well – and oof, those darn late west coast games!

I was blessed to last until the very end, having watched 2,649 games, making incredible friends, meeting wonderful players, and learning so much of what happens to make the sports we love operate so seamlessly. There were many highlights, including taking two of my favourite players, Jose Bautista and Edwin Encarnacion, to a golf driving range, where they baseballs with a bat rather than a club, and honestly, it was marvelous.
Oh, and if you're wondering about the lowlight? While we watched each game in the "Cave" through a Cave Monster Wall comprising of multiple televisions, we were actually invited to the World Series — live. Now, I know what you're thinking, "How in the world is going to the freakin World Series live a bad thing?!" Well, it truly wasn't, except the Jays' arch-rivals, Boston Red Sox won it all!
After the Red Sox retired their final out, my MLB Fan Cave journey had ended, thus again, making me believe that my path of working in sports had finished.
"And again, I was very wrong."
About two years after moving to Toronto after New York, I had heard that my beloved Blue Jays were hiring for a Digital Marketing Manager. You should know, I once wrote in my High School Yearbook that my ambition in life was to "Move to Toronto and work for the Blue Jays," and people laughed.
But I got the last laugh.
After a long but incredible hiring process, including far too many restless nights, I got the call that I'd be going to Major Leagues.
I remember calling my parents. I tried to act disappointed and pretend it was bad news but they could hear my smile through the phone.
"It's happening!" I remember squealing.
Working for the Blue Jays was incredible. There are so many talented individuals in that organization, much like across all sports teams. There are so many things that I am so proud to this day to be apart of. And the biggest?
Being blessed to have a big part in immediately changing their social media policy to ensure it was two-way communicational.
Doesn't that sound crazy? In 2016, a sports team wasn't prioritizing communicating with their fans, what a world. I can't tell you how happy I was that the change was so well received with fans and that somehow it was me, just another fan, that was able to reward other fans with their loyalty. So cool. I'll never forget it.
With that said, nearly two years later, after working with an incredibly talented team and producing a variety of fun digital media campaigns and activations, I was, unfortunately, let go amongst a variety of other employees in a semi-large overhaul of their internal structure.
This is normally the point of my story where people gasp, or say, "I'm so sorry," but to be honest, as much as it was a dream come true to work for the Blue Jays (and it really was), I'd be lying if I didn't say that working for the team was one of the hardest things I have ever had to do.

When people tell you the grind of working for a professional team is real, THEY ARE NOT LYING!
I truthfully worked over 100 hours a week (and yes I know there are only 168 hours in a week). While that's also on me for not having a good work-life balance, I must reiterate that the baseball world is crazy. I was at the office every morning and only left after the game most nights. And weekends? Guess what, there are games then too!

When the job came to an end, my mom was visiting. And I remember her saying, "Are you okay?" And the craziest thing was that I just remember being relieved. As much as I loved every minute at the Blue Jays, it truly, for me, wasn't the dream job.
But surely, after all of that, then the dream of working in sports was then over, right?
"WRONG!"
Merely days into my free agency, a former coworker, Michael Montpetit, reached out to me to tell me about this sport tech company called Rover that he was working for in Toronto. "It's incredible," I remember him telling me. "We work with major retailers and a bunch of sports teams, helping them create awesome digital activations on mobile."

"Are you hiring?" I remember immediately blurting out.

To be honest, I think he actually first said no, but after meeting (and loving!) Rover's Co-Founder and CEO, John Coombs, I was soon given a desk and a fancy new title of Growth and Partnership Marketer.
So now, to finally answer your question of what it is that we do and I do!
Before I get into elaborative detail of that (how did I ever fit a tweet into 160 characters?), I need to first reiterate that working for sports tech companies is AWESOME! Sure, I can't deny that there's a bit more prestige to working for a team directly, but in my opinion, nothing beats the collaborative environment I have at Rover. And while my colleagues and I all work incredibly hard, the grind isn't nearly as extensive (or draining!) as it has been in the past. I now have a great work-life balance and I truly LOVE what I do.
Here at Rover, we empower brands, app publishers, and sports teams to create engaging, native mobile app content. What that means, simply put, is that our platform helps teams create native mobile campaigns with significantly fewer resources required – and no code! Because each digital activation is so easy to create and launch, we are able to help teams and leagues create awesome activations that increase partnership revenue, ticket sales, and more importantly, enhance the fan experience.
It is a privilege to now work directly with some of the highest-profile clients – including over 45 sports teams across the NFL, NBA, NHL, and MLS. While the logos alone are impressive and exciting, what has truly transformed my career and passion for the sports industry is working with such innovative and incredible leaders in sport.
Here at Rover, I wear a variety of hats (but don't worry, no mascot uniform!), where I work with incredible people helping to not only build Rover's brand but more importantly, work with our awesome clients to help them build out some incredible activations and ensure that the fan is kept top of mind.
Which leads to your next question, which I should probably get to know before I ramble on longer…
What does your day-to-day look like?
Just like it is across any other sports organization, no two days are the same. But what I love the most about Rover, more than our awesome platform or my incredible colleagues, is that we care so much about our customers.

And in doing so, I get to live the actual dream. In the past, I was dedicated to one team, and don't get me wrong, I was able to do some cool things, but now? Now I feel I'm working for 45 teams (and counting!).
While many teams use our platform to create any piece of mobile activation they want, my team and I are so lucky to also jump in and create some of the content to get a team started. My lead designers, Greg O'Brien and Andrea Campo, are two of the most talented designers I have ever worked with. I'll have scribble designs or chicken scratch notes and they turn it into masterpieces. Recognizing first-hand how tight resources can be for a sports team, it fills me with pride to help our customers create some of their mobile app campaigns, and it makes me super proud every time a new piece is launched. It's a lot of fun too.
We've created – and have seen teams and leagues create – so many different native activations that are so awesome and so innovative. Gone are the days that teams are one-way communicational (remember that was just 2016!) and here are the days that teams are sending native app quizzes, game previews, and truly personalized fan experiences that reward fans for being awesome. Partner activations that make sense to both partner and the fan are also here — and here to stay. And my team and I are so awesome to be along for the ride.
Back to the initial question, my role is kind of in the middle of all of our departments. As mentioned, I work with my colleague Phil St.Pierre and his customer success team, helping our customers brainstorm some fun activations, and working with the design team in activating those campaigns. I'll often hop on calls with various sports leaders and very often pinch myself about how cool my job is.

I also work with our sales team. The interesting thing about my role here at Rover is that our communication process is much more outbound than inbound. While we're becoming much more of a household name in sports with each passing day, some people like yourself may not have heard about Rover yet prior to reading this article (though dad, if you're reading this, you don't count!).
As such, my goal from an outbound perspective is to make people learn more about the Rover platform. I understand that I'm biased, but I really can't say enough about how great and easy-to-use our platform is. I never truly knew the power of mobile, but think about it, if you've decided to take up some important real estate of your phone and have downloaded a team's app, shouldn't they take advantage of that by rewarding your loyalty with great content that's personalized and engaging? With social media becoming more and noisier shouldn't a team focus on their own property? And with the team's constantly looking for new places to successfully engage their partners and increase revenue, shouldn't they turn to a currently underutilized channel like their app?
The answer is a resounding YES.
As such, my goal is to find ways to have other sports leaders learn about what we do. It starts with keeping our social media profiles relevant and sharing good content. We've found that what garners the best traction is sharing the best experiences from the sports world. Sports leaders are constantly learning from others. I believe that imitation IS the biggest form of flattery so I love sharing great activations and love even more when someone reaches out and goes, "Hey, can we do something like that too!?"
From the sales side, my team and I will also work on some concepts for teams in our sales cycle to show them the power of both our platform and our team. I find these activations to be a lot of fun – we love a challenge. There's also nothing better than finding new ways to use our platform and successfully engage their fans while increasing opportunities for revenue. On top of that, I'll be honest with you, I get incredibly giddy when I hear from our sales team that a client was thoroughly impressed with not just our platform but the activations we built out.

It makes me feel that I'm on the right path… Not that I ever doubted it.
How do you maintain a positive mindset through tough situations?
Well, look at that segway!
Again, to be transparent, there were some very tough nights throughout my path to this spot. Far too many to count. I also know that I made many mistakes and quite a few wrong turns.
Because of that, some days have been harder than others to be positive, but fortunately, I have had great people in my life that have helped me get to where I am.
Currently, Rover's co-founder and CEO, John Coombs, is one of those people. He leads by example and truly helps all of us be the best we can be. Sure, we all have our goals and KPIs, but as long as we work hard, put our customers first, and have fun while we're doing with it, he's happy — and we are too. He also believes in a true work-life balance, which helps me ensure I have a great personal life.
Which I do.
As a passionate female sports fan in the early days of Twitter, I'm sure you won't be surprised to know I have heard my share my less than ideal comments. As such, I launched a Blue Jays' centric account for my… cat!

And yes, his name is Jose Meowtista? And yes, Jose Bautista DOES know about him!
Additionally, I have great friends and family who have helped me on this crazy path. My freakin' fiance endured seeing me for maybe 45 mins a day throughout my Blue Jays' tenure so I now believe that we can now get through anything.
The funniest thing about that as well?
He recently proposed… at a Blue Jays game. So to this day I think I'm the first person to get both laid off and engaged in the same spot.
Other than that, positivity is a state of mind and as mentioned it starts with having a good work-life balance. It's so incredibly important. If I can offer one piece of advice, it's to work hard but find a way to prioritize yourself. You being the best you in life will help you be the best you at the workplace, too.
Who are your motivators? ("Who motivates you?")
I'm constantly motivated by the entire sports leaders community.
I really am.
There are so many incredibly talented individuals across the world.
One of my favourites is Jess Smith, known on Twitter as @WarJessEagle, who currently works for MSG but has also worked in digital for Under Armour and the New York Yankees (among others). You could honestly learn almost everything you need to know about sports by skimming her tweets, checking out her LinkedIn shares, and reading her blog. I've told her before that she's reinvigorated my love for the sports world, and I hope she knows how influential she's been not only for me but for so many others.
1

Jess Smith
2

Dan LaTorraca
3

Neil Horowitz
4

Scott Kegley
And that's just one example of many. Dan LaTorraca, who leads the Digital Team for the Carolina Hurricanes is another. Neil Horowitz is another leader. Scott Kegley, the VP of digital for Minnesota Vikings is another. I could go on forever. There are so many great minds and the list goes on and on.
And one of the best things that people who want to work in sports should do is reach out to others in the industry. As I mentioned at the beginning, my path into sports was unique and everyone in the industry will tell you the same. So while no two paths will be the same, the incredible leaders in the space are willing to help. That's what makes it so awesome. So reach out. Make connections. Continue to learn.
And trust me, one day you might think you're path to sports is over…
But you would be very, very wrong.
---
April Whitzman
Interview by Alessio Del Gobbo
Posted October 7, 2019 in Industry Profiles