Auset Hood is a Sales Operations Associate with the Los Angeles Clippers! Hood has two main roles: to assist the Manager of Arena Operations in detailing the logistics behind game days and to assist the MVP services department in planning out different events for season ticket members and court-side clientele. Working her way up from game-night staff for the Clippers, Auset Hood worked hard to progress to the position of Office Coordinator, and then further to the position of Sales Operations Associate. ALL IN JUST 3 SEASONS! In this interview, Auset Hood explains her path to success, as well as what strategies she used to overcome challenges along the way. Join me as we learn more about Auset's journey and her current role as Sales Operations Associate!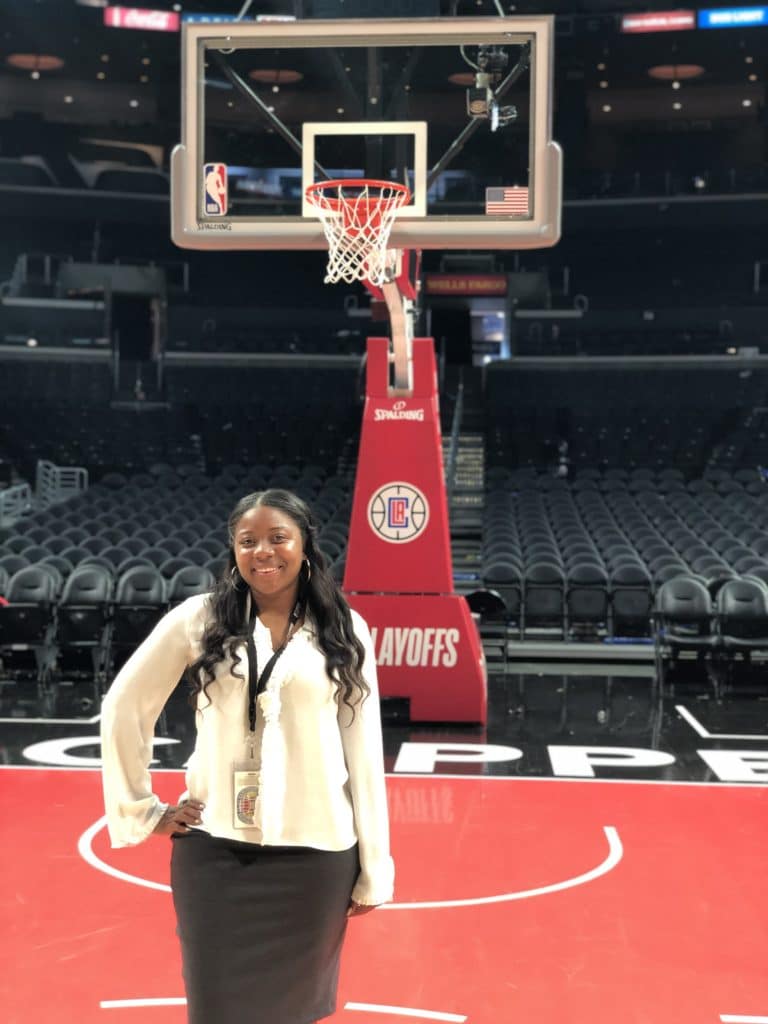 Tell us about your role as a Sales Operations Associate with the Los Angeles Clippers.
My role is as a Sales Operations Associate consists of several elements. Half of my role is to assist the Manager of Arena Operations by preparing for game days and events by meeting with the different departments and going over the logistics behind every segment of their game day. From there we discuss what we need to do to make it happen and then communicate everything with our contacts over at Staples Center. I also help to create the credentials for our different activations on game days. The other half of my role is to assist the MVP services department which is specifically catered to our season ticket members and courtside clientele. With this role, I help to plan out the different events for these members and help to aid our service team in fulfilling special requests and in-game activations
What does a typical day look like for you?
A typical day for me varies depending on how heavy our game week is. I'm constantly floating between my two managers trying to be as organized as possible by communicating all the events we have going on for the week as well as communicating with the different reps who booked the experiences to make sure they are as prepared as possible. From there I'm working with the other associate to communicate with the different departments to make sure we're completing any requests/assets that we need to do on our end so that everyone from the clients, sponsors, and organizations as a whole are happy.
Would you say your path to your current position was quite easy or rather challenging, and can you discuss why?
Personally, I believe that the path to my position wasn't necessarily easy nor hard. I've been apart of the Clippers organization for going on three seasons now and I worked my way up from game night staff of group events to office coordinator and now sales operations associate. While I was doing this, I also worked with the Los Angeles Kings as a Fan Service Associate and the Los Angeles Chargers as a Brand Ambassador.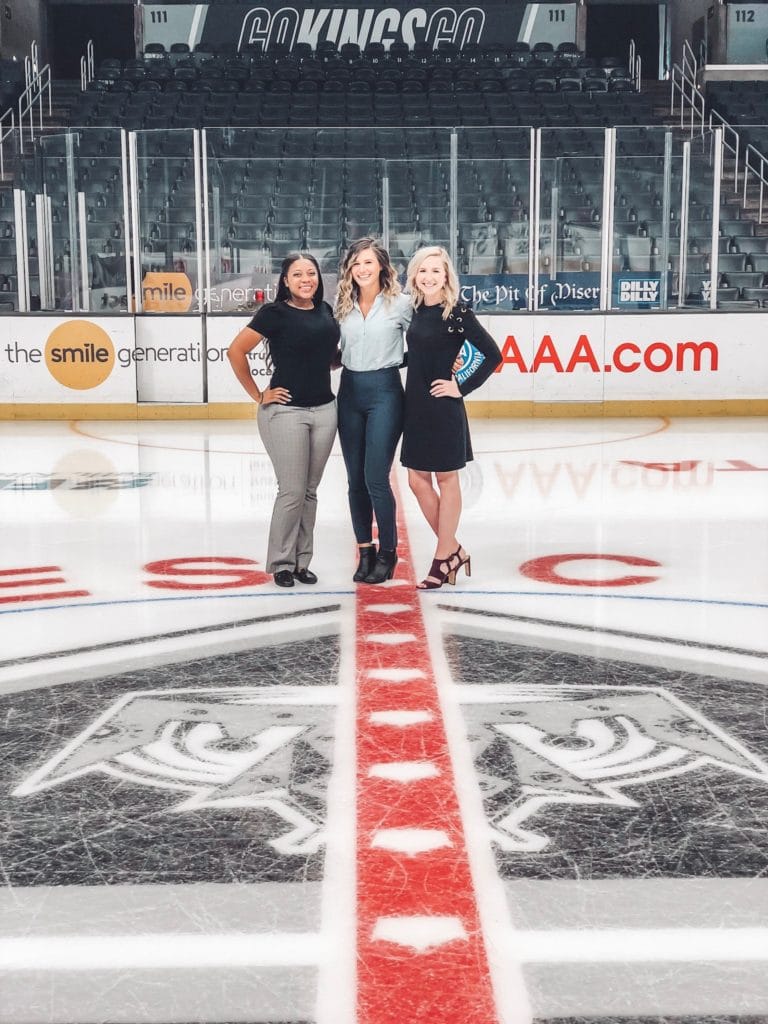 This allowed me to grow my skillset in multiple areas as well as expand my connections. I think I was lucky that the right people recognized my work ethic, which is how this particular position was created for me. I will say that although I'm extremely thankful to have this position, it was mentally challenging to get here because of the uncertainty that comes with working in sports. I had to continue to have faith in myself and trust timing which was tough for me because I have a go-getter type of personality.
Are there any strategies you use to overcome particularly challenging situations?
Some of the strategies that I used to deal with things when I became overwhelmed was to write down personal goals in terms of growth of particular skillsets, a key was not putting a hard deadline with it. I would also seek constant feedback from my advisors, ask questions on steps I can take to improve and overall try to be as helpful as possible. I think the most important thing is making sure you realize the grind doesn't stop, that's a motto that I go by and I think it helps me when the long weeks kick in mid-season.
When was the point you realized that you were meant to do this career?
I knew I wanted to work in sports because I grew up playing soccer, and I loved that team atmosphere. Once I stopped playing, I wanted to still be apart of that in some way, which helped me realize that I wanted to work in sports. The point I realized that I was meant to work in this career came in my first season working in sports for the Clippers, Los Angeles was hosting the NBA All-Star Weekend and didn't pay too much attention to the possibility of trying to work this particular event.
About a month before All-Star weekend my boss told me I was selected to work All-Star weekend and had connected me to some individuals at the NBA headquarters to get my assignments and start preparing for it. That whole week was truly unforgettable and the night of the skills contest, it hit me that I had accomplished one of my long term goals of being apart of that event and that's when I knew I could do this long term.
Take us through your decision to continue to pursue a Master's degree in Sport Management once you were finishing off your undergrad.
This decision was semi spur of the moment, and I graduate in May 2020 (sooooo close). Towards the end of my first season working with the Clippers, one of my managers at the time knew I was thinking of going back to school and on this particular game day Teamwork Online was hosting one of their job fairs that the University of San Francisco happened to be at.
At the time my manager Eric Silva asked me to meet him at the event (I thought I was just going to be helping him) and he gave me this huge pep talk to go introduce myself to the associate director of the program Ashley Sloper. We connected well and I ended up applying. I felt the move to pursue a Master's was necessary for me because I wanted to continue to develop and once you enter the sports world you quickly learn there's so much more than meets the eye. I feel like in the long run it's a great tool to have and I think it overall has been extremely beneficial in terms of my career growth.
What does the offseason look like for you compared to training camp, preseason, season and playoffs? Tell us about the offseason for you.
Offseason for me lasts about three weeks to a month then it's back to the preparation for the next season. A big part of what I do is try to find fun innovative ways to improve events, activations and just overall make our work environment more seamless and fun not only for our fans but for our staff as well. I think the offseason is such a fun time for the organization because you have time to reflect on how you last season went in terms of goals (personal and within the department) and then get to collaborate with my coworkers on how we can get better. It's also interesting to see how the organization envisions the future and how you plan on accomplishing those steps to get there.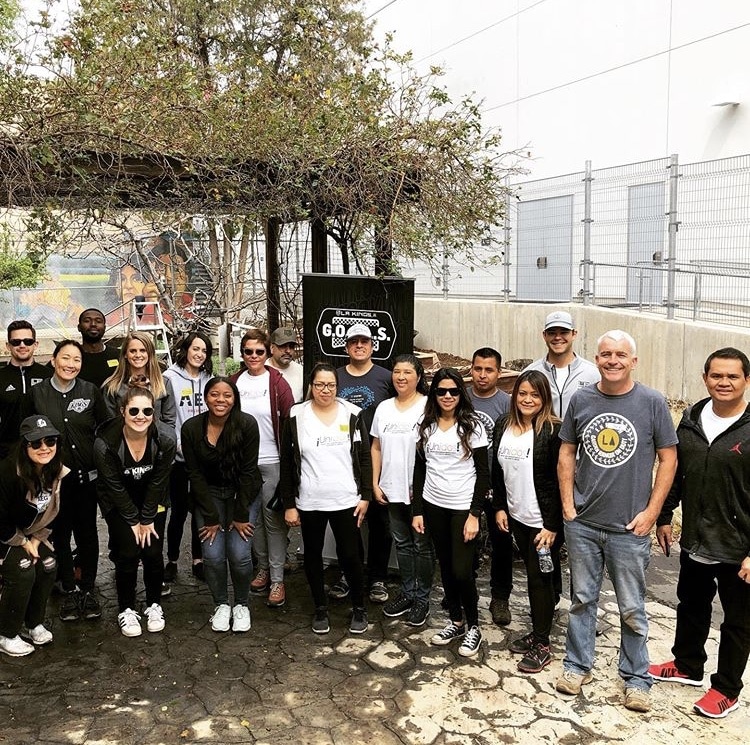 How does a team's performance affect the work environment for you and your colleagues? What examples do you have to support this?
A team's performance has a pretty big impact on our work environment depending on what point it is during the season. I think anyone working in the office knows we come face to face with the fans the most so depending on how the season is going we get the good with the bad. I think one of my favorite examples was our opening day this season we faced the Lakers and it was the most hyped game leading up to the actual game that I've experienced. I know everyone in our office was working so hard to make sure everything can go as smooth as possible on our end and thankfully we won that game. I felt this was almost sent a message to everyone because the next day everyone came in smiling, it was the cherry on top to such a crazy summer and week. Overall it really felt like everything was coming together which was extremely exciting.
What would you include on a list of your top 3 biggest accomplishments (or moments) between working in sport?
1 Working 2018 All-Star Weekend
It allowed me to feel like I belonged in this industry. Working with such passionate and established individuals was inspiring to say the least.
2 Receiving The Inaugural Peggy O'Leary Scholarship From University of San Francisco
I'm my harshest critic and to know that my professors took note of my school and work ethic was touching.
3 Receiving the Michael Jund Scholarship From The LA Kings
This was a huge unexpected surprise, that my supervisor presented me with and it was nice because Kings allowed my family to be apart of it which was such a great feeling. The Kings were an organization that allowed me to grow and learn that I'm capable of so much more than I can even imagine. I'll always be thankful for my time there.
Amanda's Final Thoughts
"Make sure the grind doesn't stop" – that's Auset Hood's motto. Whether it be working the 2018 All-Star weekend, receiving the Peggy O'Leary Scholarship, or receiving the Michael Jund Scholarship from the LA Kings, I would like to congratulate Auset Griffin-Hood on all of her accomplishments! She is truly an inspiration.
---
Auset Hood
Interview by Amanda Hope
Posted November 29, 2019 in Industry Profiles