From trying to make Kawhi Leonard hear his viral meme-ing laugh or playing Barney when the Raptors are introduced, the Bucks fan experience crew does as much as they can to affect the visiting team. The Toronto Raptors made it to the Eastern Conference, but they won't have home court advantage to start as they face the Milwaukee Bucks. This means they will begin by playing on the road for the first two games.
Uh oh Raptors fans! It also means that if the series goes to a deciding game, it won't happen in Toronto. They'll face not only one of the strongest basketball teams in the NBA, but arguably the best home game day experience teams in all of sport. Indeed, this is a team that's willing to take risks and get into game themselves. They take every chance to rattle their opponents. So they use music, sound effects, videos, mascots and everything they possibly can without physically interfering with the game at play.
Home Court Advantage
Whether you believe home court makes a difference in a team's winning chances is up for debate. In forming the debate, it should be noted that home court advantage is said to come from what the fans do to lift the team up. Kind of like a "sixth man" that isn't actually playing on the court.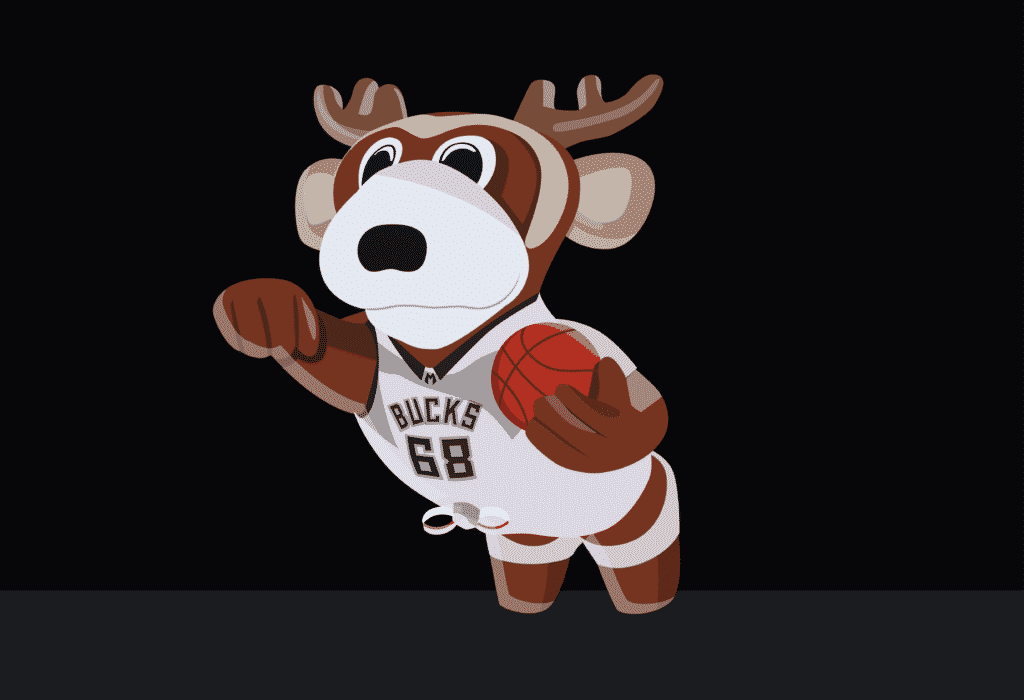 Now, I know every Raptors fan is super pumped right now. How can you not be? No matter which team you root for, admiring this shot is something you probably haven't stopped doing since it dropped. The Raptors just escaped the 76ers on the count of Kawhi's unbelievable game winning shot.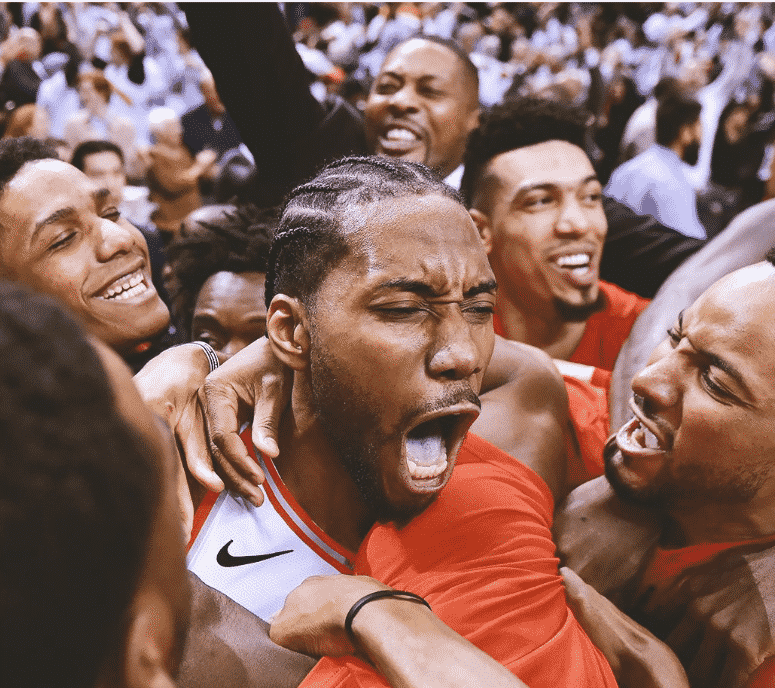 [showmodule id="252985″]
But I'm going to try to take that off their minds for a bit and get to learn something very interesting about their newest opponent; The Milwaukee Bucks.
The Milwaukee Bucks
Obviously, the Bucks have been very successful on the court. As a matter of fact, they finished with the best record not only in the Eastern Conference but the entire NBA during the regularly season. Not only have they seen success on the court, their in house game day operations have been a hit in the NBA over the last few years.
I eluded to it in the introduction. It's their game day presentation crew that the Raptors have to defend mentally against in addition to their strategies. What the Bucks do is novel and unlike many other sport teams. They try to get in their opponents head! And they've done this with the Raptors in the past. You can bet your bottom dollar they will do it again and come up with even more ways to do so than they have in the past.
Bucks Play Barney Theme Song and Kawhi's Laugh
I'll begin by reminding you what the Bucks game presentation crew did after the Raptors committed a turnover in a game on January 5, 2019. They played an audio clip of Kawhi Leonard's infamous laugh.
1

Bucks Play Kawhi's Laugh

The Milwaukee Bucks played Kawhi Leonard's unique laugh loud and clear during a home game in early 2019. It happened during the game so this shows that the game day crew in Milwaukee is willing to ruffle feathers during play. And let's not forget about the Buck's player introduction song choice for the Raptors.
2

Bucks Play Barney Theme Song to Introduce the Raptors

The Milwaukee Bucks have used the Barney theme song to introduce the Toronto Raptors team on several occasions. Here are the lyrics from the Barney Theme Song used to troll the Raptors, courtesy of Genius.

"Barney is a dinosaur from our imagination
And when he's tall
He's what we call a dinosaur sensation
Barney's friend are big and small
They come from lots of places"
Between Kawhi's laugh and playing the Barney theme song against the Raptors, the Milwaukee Bucks are willing to ruffle feathers.
This trend has changed the way fans view game day operations and definitely is becoming a huge part of the experience for the fans.
So, why is that?
WE INTERVIEWED THE PERSON IN CHARGE OF THE BUCKS GAME DAY EXPERIENCE!!!
So, why is that? Well lucky for you, I was able to catch up with Johnny Watson, the Executive Producer of Arena and Event Presentation of the Milwaukee Bucks. We discussed the various aspects of the Milwaukee Bucks game day operations and got some really neat insight. We asked questions that future sport managers can refer to as we begin to look for career opportunities within game day specifically and the sport industry at large.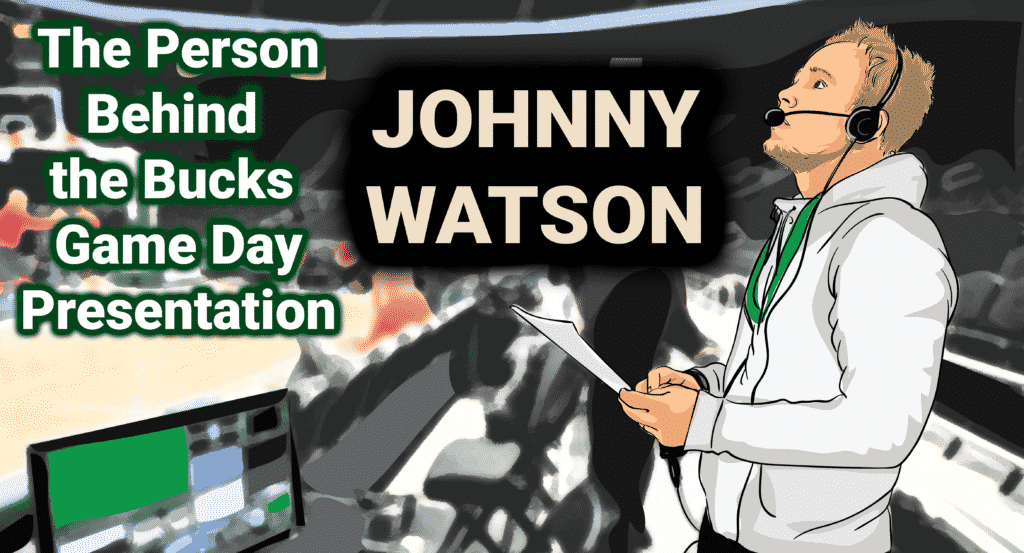 First off Johnny, what makes the Bucks game day so unique and what is your role in it?
As far as our experience the goal is to keep content new, no matter what night of the week.
"We try to kind of create a wow factor for our fans and give them something they've never seen before or the most important thing that we can do is gauge or engage our fans and get them excited about being at the game and enjoying the experience."
Sporting events are lot more than just basketball now, or baseball or football. It's about the experience around it. So my team's job is to make sure that we really identify what those key touch points are and to really engage the fans from the moment they walk in the door until the moment the game is over. So I think just the combination of a lot of things. I think it's a combination of kind of tireless work, work ethic when it comes to creativity and brainstorming and trends, best practices, not just from the NBA but also from sports in general, to go make sure that we're in kind of seeing cutting edge with things. We were actually just out testing this new, this new product that we're going to be using a at the end of the season and for playoffs.
I've been seeing a lot about one of your dance crews and want to ask you more about it. I love your 55+ dance crew, the Bucks Grand Dancers. How did you come up with that idea?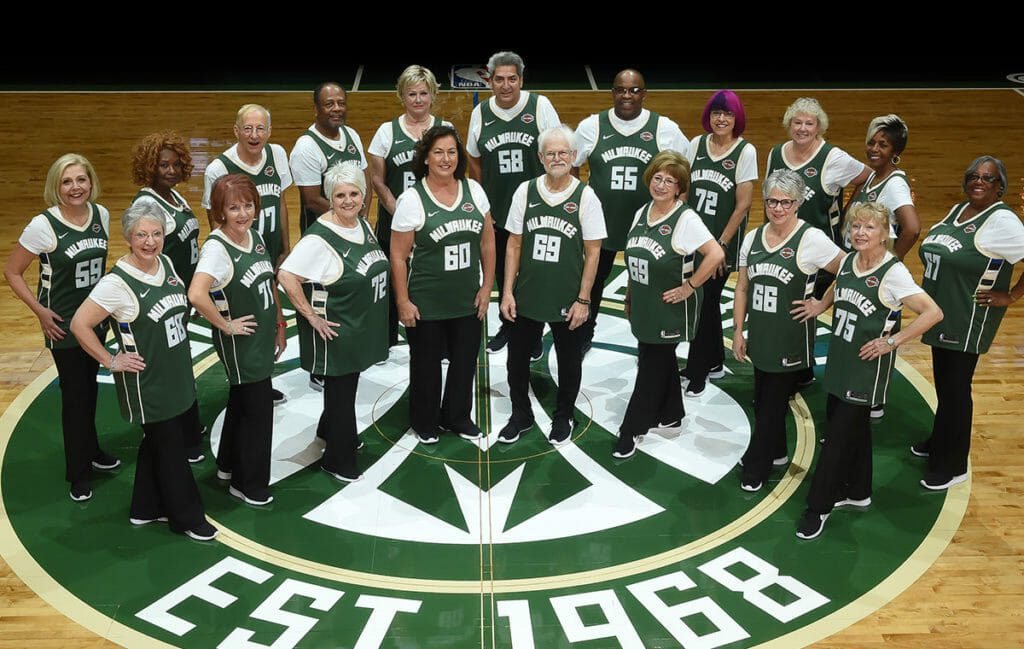 We looked at performance teams, a lot of NBA teams have groups that come out and dance and do stuff like that and, or dunk or break, dance or drum. And we thought that bringing an older group out and you can't go wrong. Everybody loves their grandparents or their parents as they get older. And there's like a cuteness factor to it and a real fun factor to it. So we, you thought it'd be a great idea to kind of see and we had an overwhelmingly positive response and now it's a definitely a fan favourite.
Do you guys have certain playlists that you play for various aspects of before and during the game?
Yeah, we do pregame; we kind of segmented into pregame music like before the players take the floor and then for timeouts we have music. We also use in game prompts for offense defense. So there's a wide array of different moments that we feature music and really control the ambiance in the building. I think the music is one of the most important parts of the game.
For the introduction video sequence you always want an epic feel, kind of a crescendo when it comes to the last moment before we announced the players. That's kind of a difference in it's own entity. But no pregame, it's, the rest of it is pregame and end game is a lot of popular music. The music we play is not only from this era, but also from previous era's. And also music, beds, and instrumentals from popular artists. So it's really a combination of a bunch of different stuff. But yeah, really the only time we use that epic driving music is for player introductions.
Do you have sound cues for when a Bucks player scores, assists, dunks etc.?
Yeah, for our players, we've got Giannis who is called the "Greek Freak", so we play some music for that. Brooke Lopez, who's called "splash mountain", we play like a sound effect with a sound of a waterfall. Khris Middleton, we call him "Money Middleton" and we play money song and a money theme song. So yeah, we've got cues for different players, based on their nickname stuff like that or a song they want particularly hear.
For the last few years, the Bucks have done various things to make fun of the Raptors. Including the Barney song being played during their player introduction or the Kawhi laugh after the Raptors turnover. What made you come up with those ideas?
I think it's just looking at things and some moments that have happened or some correlations, obviously with the (name) Raptors (and the) story being a dinosaur and Barney being a dinosaur. We wanted to poke some fun with that. I mean, Barney was a kids show that a lot of people have fun with.
Plus, I think that the Kawhi laugh, it was obviously something that happened a lot earlier several months ago or before the beginning of the season. So when the Raptors came here to play the Bucks we thought it would fun to play Kawhi's laugh when he has a turnover.
"And it was, just for a turnover, it's not something we were going to do every time they made a turnover or a bad play. It was really kind of an isolated thing that we did and we only did it once. And I don't know, just again, just have fun really. That's really it, nothing more than that."
In terms of how we came up with stuff like that, we just kind of sit around and talk about our opponents and players and, and anything that's happened that might be funny, but you don't want to be unprofessional or mocking people or players, it's just some things where I think it's harmless, kind of fun more so than anything.
What kind of skills do you think you need in order to work in game day operations?
I think creativity I think is important. I think organized is important. Um, I think a multitaskers are important. I think someone who can juggle a lot of things. Handle, well under pressure situations, in live situations and when stuff doesn't go exactly the way you plan, being able to call an audible or switch things up a little bit is important. Um, know I think obviously hardworking your core things, hard working and super professional and most importantly just having, having, having a good time with it, having fun with it, enjoying what your job is and, and embracing it because it's very unique and it's supposed to be fun cause you're in entertainment so you should enjoy it. Um, so that's kind of the way that I look at it from my perspective.
What happens when something goes wrong? How does that translate to real life and when they do happen, do you get over it quickly?
Oh yeah, we have to.. There are some things that are tough and you have to talk about but you have to move on. You can't worry about it. You got to move on and you can discuss it after. Um, so it's, business, you gotta be quick, you got to move forward. You can't dwell on things. You got to just, kind of accept it, talk about it, then move on right away.
I've had a lot of experience working for different teams, in difference sports. For example, I used to work game day for the Arizona Diamondbacks of Major League Baseball. Funny enough, there's hardly any parallels between the two because the stadiums. Baseball fans are so spread out and people's attention is all over the place. Whereas when you're in an arena, a basketball court or the hockey rink for example. No matter what event it is, you can showcase many different elements to enhance the fan experience.
What advice would you give to future sport managers to improve their chances of getting hired to an organization of the Bucks calibre?
It's a tough question. I mean, I think my advice is just to apply for positions when they're open. You've obviously done your research on me so I think if sport management students do the same by looking at the path that me and other game day operations managers did, would be a great starting point.
I mean, I think you develop the possible directly contact someone that could maybe be the hiring manager and find that information out or just you got to stand out, you got to do something different.
Just submitting your at your resume online is what everybody else does. Think of something outside the box and do it! Don't be afraid to take chances. Just like we do with our game day stuff. Take a risk. There's really no downside if you're not breaking any rules. So just think outside the box a little bit more and do some different stuff.
Conclusion
In conclusion, there's plenty for us to learn as sport managers our interview with Johnny Watson. Whether we are interested in game day operations or not, Watson gave us insight on what the industry looks like. If you are not a fan of the Bucks, you may think the Bucks' antics go too far. Indeed, it may be hard to imagine your own team doing some of the things Watson's game day crew does. It is our hope that you are now able to put yourself in the shoes of a game day operations manager, at least a little bit.
At the very least you'll have something to tell your friends as you watch the 2019 Eastern Conference Finals with them. So be sure to have a careful listen into the background noise when the Raptors play the Bucks in their gym and you'll likely hear Barney and Kawhi's infamous laugh being played.
And hey, if the Raptors win, you can poke back at the Bucks game day crew and say, "Kawhi got the last laugh"!