Jackie Riggleman is the Assistant General Manager of the Bradenton Marauders, the Minor League affiliate of the Pittsburgh Pirates ⚾. She leads the sales department, while also supporting venue operations and fan experience. If you are going to a Marauders game, chances are Jackie Riggleman had a hand in your gameday experience! She shares her experience in collegiate athletics and her journey to her current position with the Bradenton Marauders – internship included! She's been recognized for her accomplishments by her peers (FEMALE EXECUTIVE OF THE YEAR, BY THE WAY!!), and her front office team has won awards as well. Read on to find out more about her journey to success. Enjoy!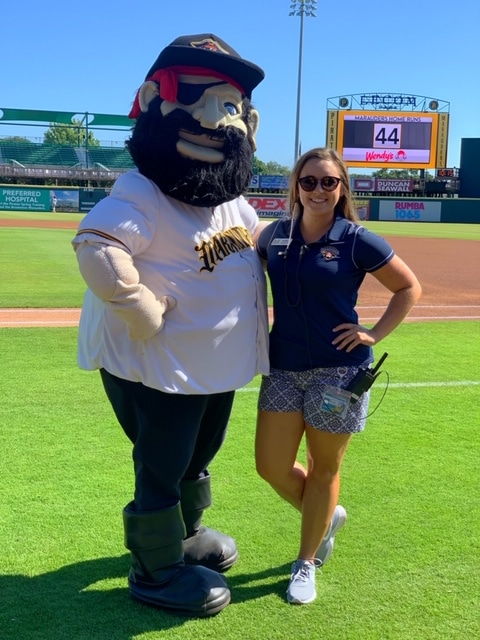 Tell us about your role as the Assistant General Manager of the Bradenton Marauders.
My primary role is overseeing the sales team and ballpark operations. I work closely with our sales staff to make sure they receive the necessary training and resources to achieve their individual and team goals as it pertains to Spring Training and Marauders. I also work with our box office coordinator to ensure every fan's process of ticket retrieval and purchase is seamless. Once inside the ballpark, our fans may come in contact with a guest relations associate or an usher (etc.). My role is to oversee this level of fan engagement, aiming to achieve a fun and safe environment for all.
What does a typical day look like for you?
It varies, which makes the job so appealing to me! I typically will begin making sure all of my direct reports are settled for the day. Once the sales staff and operations staff are well on their way I will begin working with my own clients. Whether that is hospitality groups or a sponsor, I will either be on the phone or meeting one-on-one with them to prepare for the upcoming season. I always end my day organizing the following day. Making sure everything is ready to go for the next day's meetings or making to-do lists so I can hit the ground running once inside the office.
[nnr_optin_fire id="17″]
When was the point you realized that you were meant to do this career?
I knew I was meant to be in sports the summer of 2014. I had the opportunity to intern for Heinz Field in the Corporate Event Planning Department. I worked everything from weddings to player events that were in the club level. Most events went late into the night. One night, in particular, I was working a wedding that had done a few things on the field so my boss and I went down to make sure nothing was left behind due to a game the next day. We even had to go barefoot because we didn't want to wear high heels on the field and leave marks all while it is dark outside with no lights on to guide us. She offered for me to go home early but I politely declined. That was just the first of many times, I would hear "Jackie, go home we can handle this breakdown". But at the end of the day that want and need to stay made me realize this is where I am supposed to be.
It was that summer I realized I wasn't working because I had to or someone was making me, I was doing it because I loved it and wanted to be there.
Every season, whether it is a small child getting an autograph for the first time, a player getting their first home run of the season, a client having the time of their life or just an early morning watching the sunrise at the stadium, I always have a defining moment. This is a moment where I think to myself this is exactly where I am supposed to be.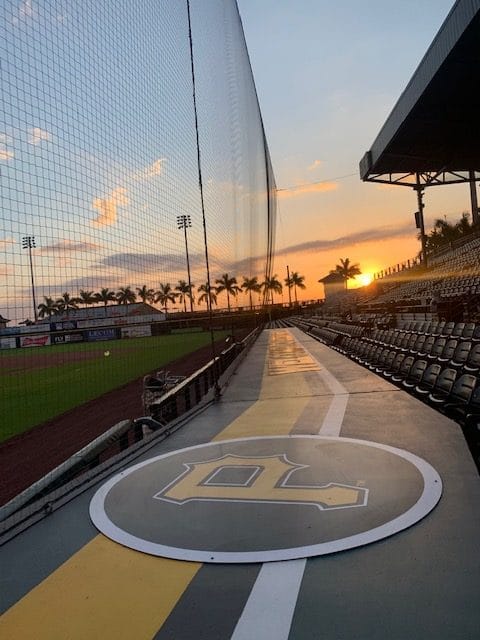 As a graduate of the Sport Management Master's program at West Virginia University, speak to how the program prepared you for a career in sport. What was your thesis on?
I always tell students to go where the opportunity presents itself and for me, that was West Virginia University. Their ability to place you with internships anywhere and everywhere has been a huge factor in my career. We did not do a thesis, we actually did an internship where we prepared a portfolio that we presented before we graduated. That portfolio led me to complete an internship that gave me life experiences that are irreplaceable. It also pushed me outside of my comfort zone. I interned for the WV Black Bears which opened my eyes to look at MiLB through a new lens. That lens has now guided me down the path I am on today.
[showmodule id="274416″]
How important is it for people working in marketing within sport to be able to write? What level of writing is expected? How much writing is required for a role in the sport industry?
Writing is crucial on all levels. It is not just marketing. For example, every client receives a handwritten note from our sales staff. Every season ticket holder and plan holder receives constant written communication from our box office coordinator. Our facility coordinator is creating full-on home stand notes to share with our staff. How to write and how to appeal to the various audiences are so important to these individuals. Often we will work on getting the tone just right. The more someone can perfect their communication skills the easier it will be for them as they transition into the industry.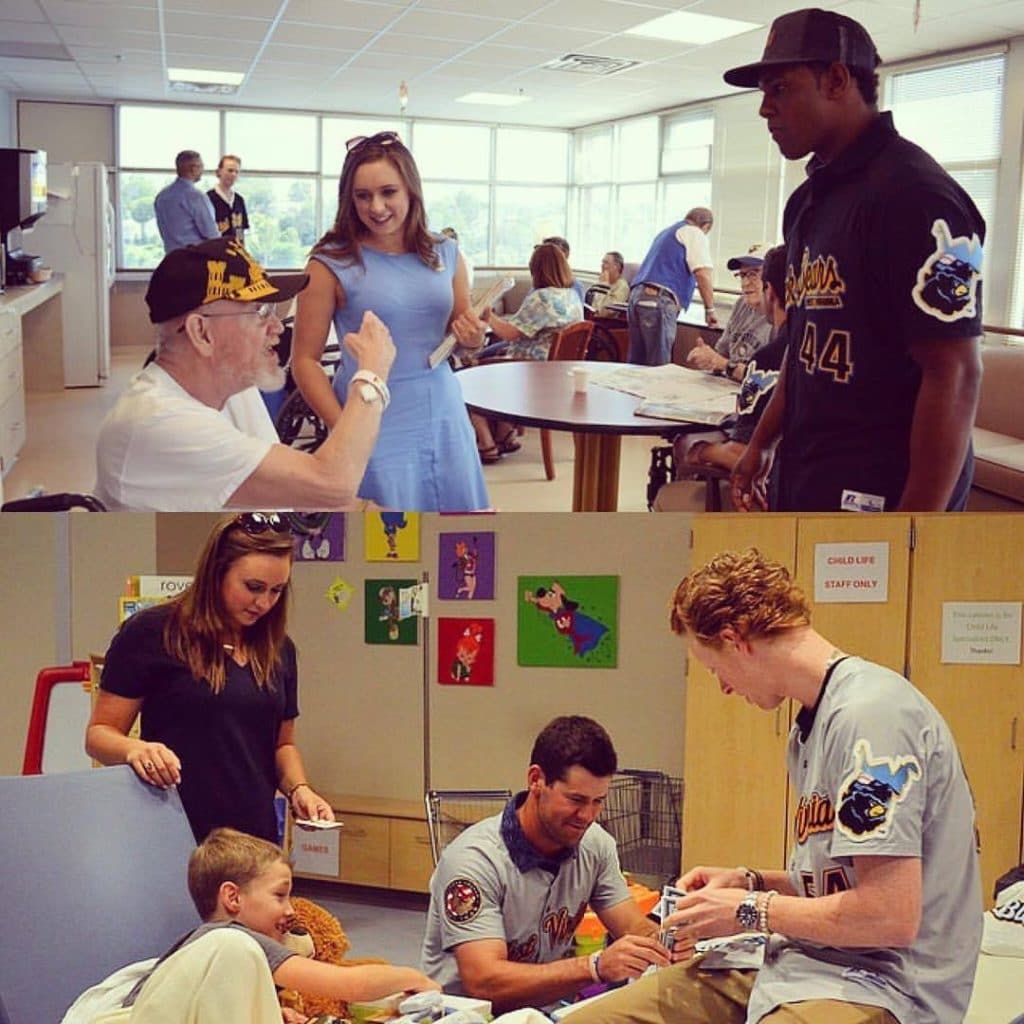 What would you include on a list of your top three biggest accomplishments (or moments) working in sport?
1 Being Apart Of The WV Black Bears Inaugural Season
It was truly special, from opening a stadium to winning the championship that year was truly something that cannot be remade.
2 Being Named Female Executive Of The Year for the NYPL in 2017
It is always rewarding to be honored but there is just something very meaningful when it is an honor bestowed upon you by your peers.
3 Winning The John Henry Moss Community Service Award
This year the Marauders were awarded the John Henry Moss Community Service Award for the Florida State League. A large part of our office was apart their first season with the Marauders this year or have recently switched titles. To be able to keep the community at the forefront while going through so much transition has been a wonderful experience and accomplishment for our staff as a whole.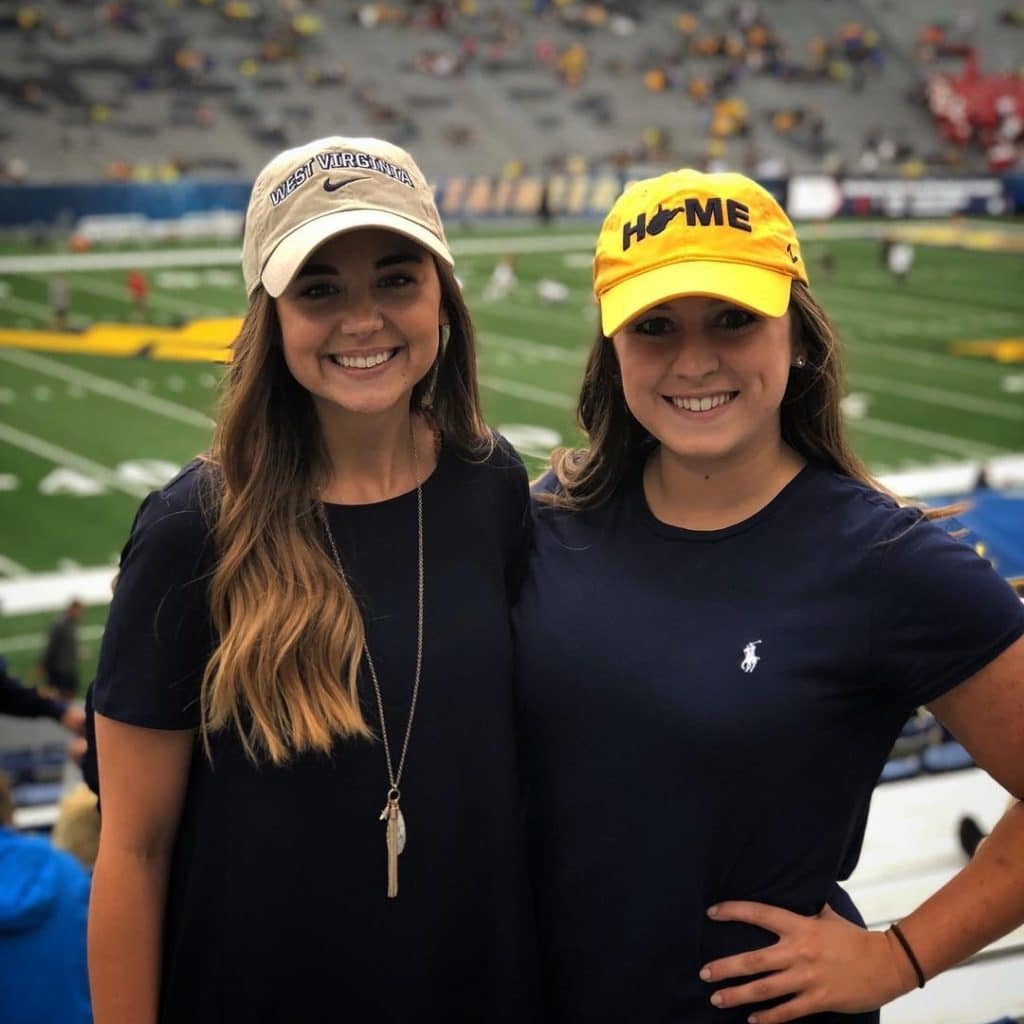 If you could have a superpower to help you in your career, what would it be and why would you choose to have it?
I would want to teleport. If I could snap my fingers to be somewhere to avoid traffic, I would be so much more productive!
What would you tell a Sport Management student who has just graduated on how to become a leader in sport so far, much like yourself?
Continue to allow yourself to grow. Don't let your failures keep you defeated. Most importantly continue pushing your limits and always remain open to opportunities. There is no better feeling than when you continue breaking down your own personal barriers and achieving your goals!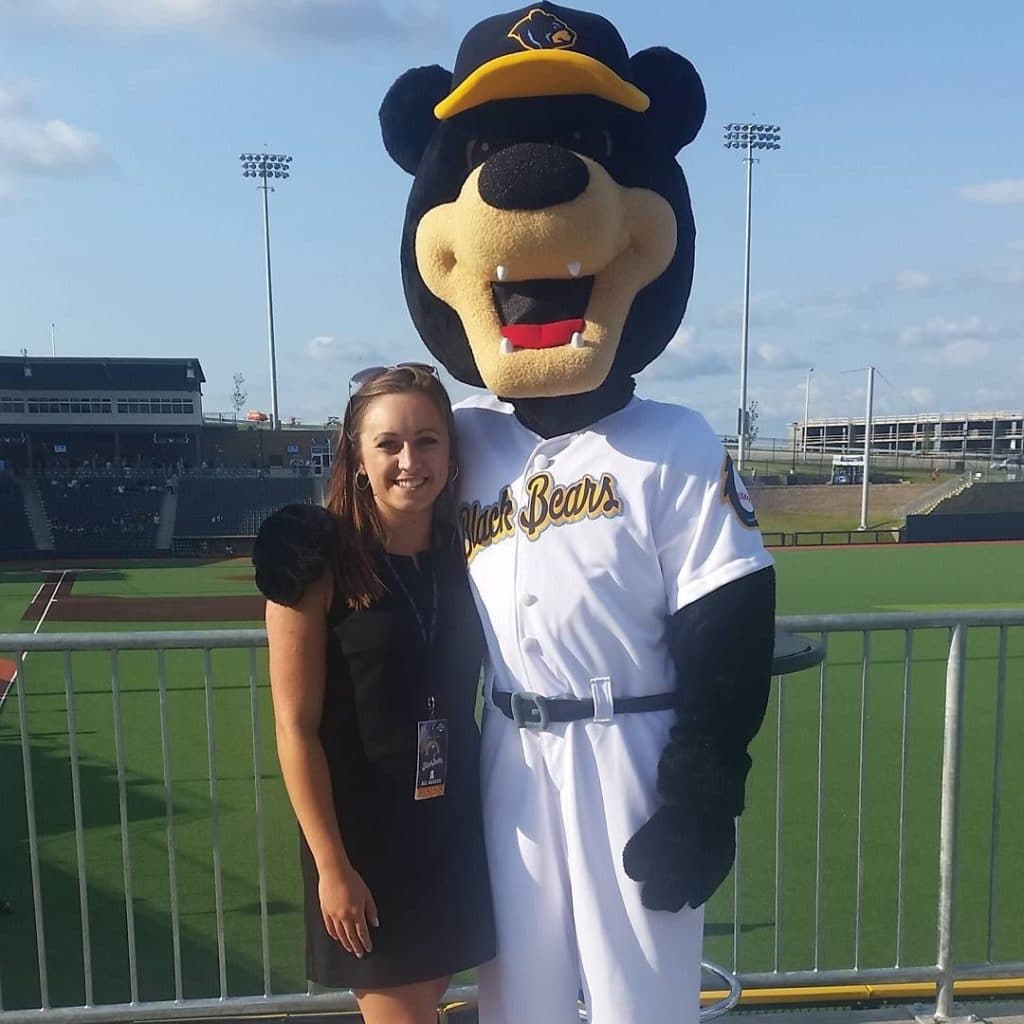 Anthony's Final Thoughts
Jackie Riggleman's journey from West Virginia University to her position as Assistant General Manager of the Pirates' affiliate, the Bradenton Marauders is an inspiring one. She shares her ideal superpower (teleportation, to avoid traffic delays!), as well as her advice to someone just starting out. Bradenton Marauders are lucky to have her, and Jackie Riggleman was kind enough to share her advice with us, which will undoubtedly help many of our aspiring sport professional readers.
---
Jackie Riggleman
Interview by Anthony Clark
Posted December 3, 2019 in Industry Profiles