Caitlyn Pence is a Game Presentation Stage Manager for the Arizona Coyotes of the NHL ?. In her own words, once the game starts, she "runs around like a chicken with its head cut off." Caitlyn Pence is a young, yet successful woman in the sport industry, and as such, she has experienced people underestimating her abilities. She silenced those who underestimated her by landing her dream job with the Arizona Coyotes and has relished every working moment in her role. Caitlyn has a lot of great advice to share with SPMA readers, including to make mistakes, and OWN THEM! That was one of my favorite parts of this interview with Caitlyn Pence because it proves that being open and honest with yourself and others around you is so important. Hopefully, her success story will inspire our readers to create their own.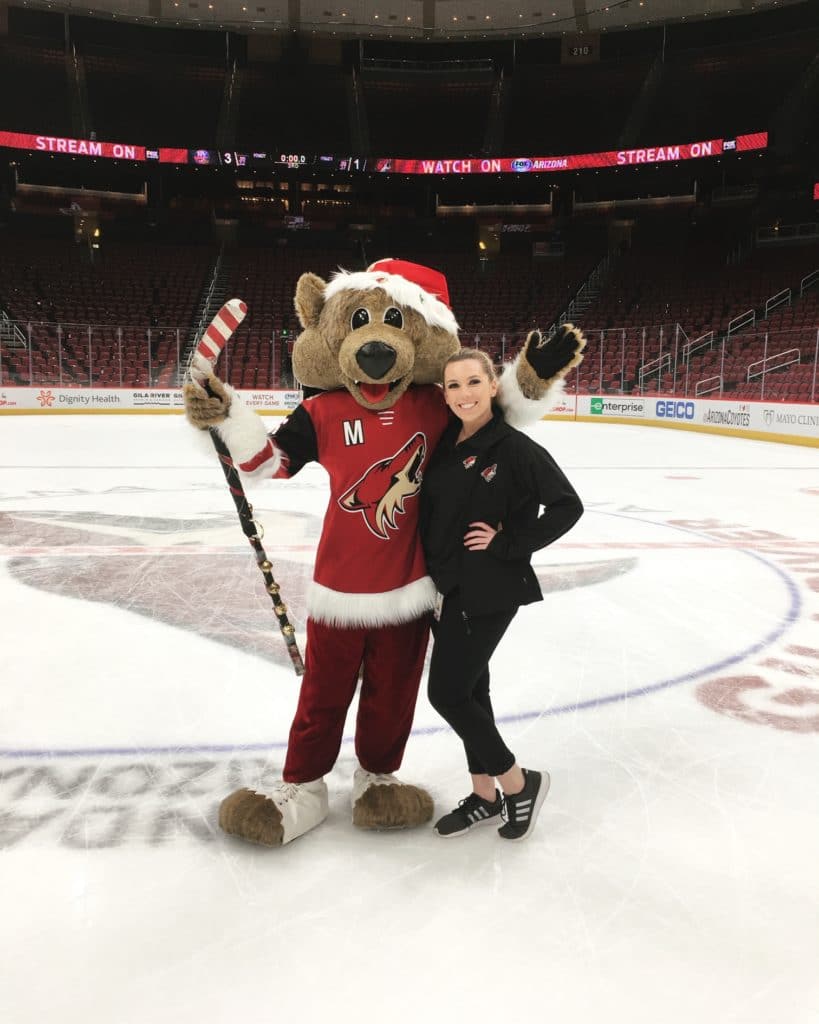 Tell us about your role as Game Presentation Stage Manager for the Arizona Coyotes.
As a Game Presentation Stage Manager, I assist with pre-game preparations, in-game events and promotions, supervise live entertainment programs, and so much more. Every game day is a unique experience, whether it is a theme night, a special presentation or new and exciting content we are rolling out, there is never a slow game.
It is mine and my team's job to make sure that everything we have designed for the game is executed correctly. From the In-game host, Mascot responsibilities, the cheer crew, contestants all the way to in-game promotions and games.
We are constantly on our feet, running, climbing stairs and staging the shot for the camera. We take immense pride in our work and want the fans to have a memorable experience, making them want to come back. My role with the Coyotes directly reports to the Game Presentation Coordinator and Director of Game Presentation.
What does a typical day look like for you?
Typical game day starts with us checking in with the Game Presentation Coordinator on the items and preparations that need to be made for that days' "show." Seeing who is doing what role, and who has what responsibilities for that day. We then have a meeting with the full crew going over the script for that games "show" from what time each bit is to take place, to who, what, when, where and why. What items are needed for that game day, what promotions we are doing, what people we are working with, like anthem singers, guests, soldiers, Honor Guards or even themed characters.
As well as what games are being played, what prizes we are giving to fans, and the list goes on and on. We also plan who is in charge of executing which part of the script depending on what our roles of that day's game are. If it is a Saturday game, the whole beginning part of the script is different than a normal game day, we do a plaza party which requires us to do a whole show out front of the arena.
We work with fans, cheer squad, hosts, DJ's and other moving parts to put on a show before the doors open. This show is recorded and shown again inside the arena while fans wait for pregame warm-ups to start.
There are about 5-8 of us working a game, all depending on if it is a theme night or not. Once our meeting is over, we all disperse and get prepared for what needs to get done for that day's game.
Once the game starts we run around like chickens with our heads cut off getting everything executed. Once the game ends we then go around cleaning up everything that was used for that day's games. We put it all away like it never happened.
When everyone is done, we rendezvous all back together to do a post-game meeting. Discuss anything that went wrong, things we can do better or change, what we learned that game, and answering any questions. Our team is very close and our post-game meetings allow us all to decompress for the game and show we just put on. We don't get out of there till 10:00-10:30pm sometimes. I look forward to going into work, our team is amazing and so hardworking. We constantly try to be better every game and put on a great show.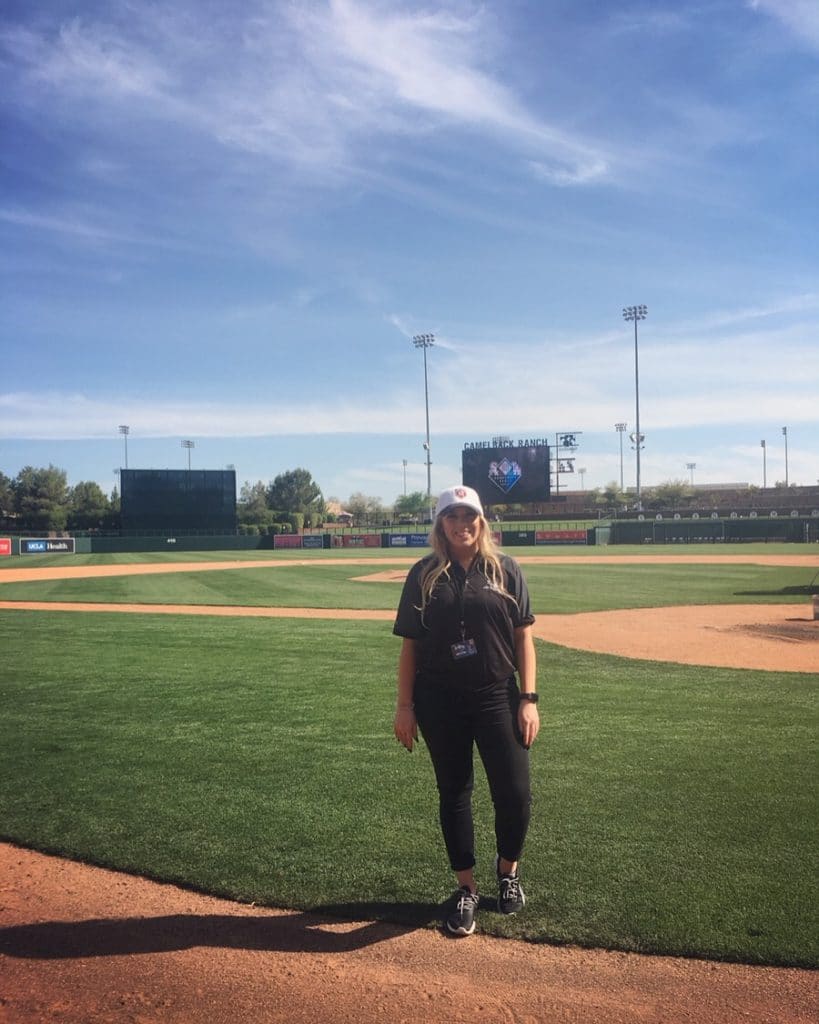 When was the point you realized that you were meant to do this career?
When I was a Senior in High School is when I knew I wanted to work in sports, I just didn't know-how. I was an athlete growing up, played almost every sport I could. I played softball mostly, BMX, Tennis, dabbled in cheer, hockey and even rode dirtbikes. PE and English were my best subject always, and my favorite hobbies include being outside. I loved the feeling of being under the lights, on the stage and the blood pumping feeling of the game. So why not take that same love for the excitement and energy and work in it. I planned on working in social media and journalism (take that love for English class and apply it) for a professional sports team, but that eventually changed. I started as a volunteer team manager for youth hockey teams and I loved it and was good at it.
That is what and when I fell in love with working in hockey. I fresh out of high school started interning with Lyndsey Fry, USA Women's Ice Hockey Olympic Silver Medalist as her Social Media Manager and Assistant.
As we were growing her name, her connections and her business we started to team up with the Arizona Coyotes. Lyndsey knew how big of a Coyotes fan I was and that my dream was to one day work for them in the Social Media Department. Lyndsey was a huge help in some of the connections I had made within the organization. She groomed me and helped me become able to work in the pros from a young age.
With Lyndsey Fry on my resume, I started applying for other sports jobs available through a website called Teamwork Online. I applied and got my first pro gig with Camelback Ranch Spring Training; LA Dodgers and Chicago WhiteSox. I worked for them as a Promotions Assistant, we worked hand in hand with Marketing. That position, my boss and the fans made me realize just how sure I was that I wanted to work in sports. The electricity of the game, meeting fans that came across the country for just these few months of baseball, had me excited every day to go back to the fields. It also made me realize I no longer wanted to work in social media.
From there is when I saw the job opening for the Coyotes, I applied immediately, interviewed and then got it. I was finally building experience on my resume so I was gaining confidence. At 18-19 years old I was off to a decent start in the sports world. After my first season with my dream team, Arizona Coyotes, I realized how good I was at this job and how made for it I was. I loved the job, the tasks, the responsibility and how apart of the fans and team I was. It was everything I wanted when working in sports. Now I'm on my second year with the team!
Talk about the similarities and differences between the work you do with the Coyotes and work you did with the Suns.
When I did work for the Suns it was for their Marketing Department, we would work at the arena as well as around the valley representing the Suns and partnerships. My position with the Suns was to strictly push sign-ups for the activation, sponsorship or marketing tool we were promoting that day. My role with the Coyotes is apart of Marketing but also Production and Game Presentation. Both jobs I am marketing a partnership the team has with a company. With the Suns, I am selling it and the Coyotes I am promoting it while putting on a show and using it for in-game production.
With the Coyotes my position is less about me getting sales, but more with pleasing the partner if we promoted it the way they would like. My job with the Coyotes has me interact with the sport, the team and the fans more than I did with the Suns. My position with the Suns helped me find a clearer view of what exactly it was that I wanted to do in sports.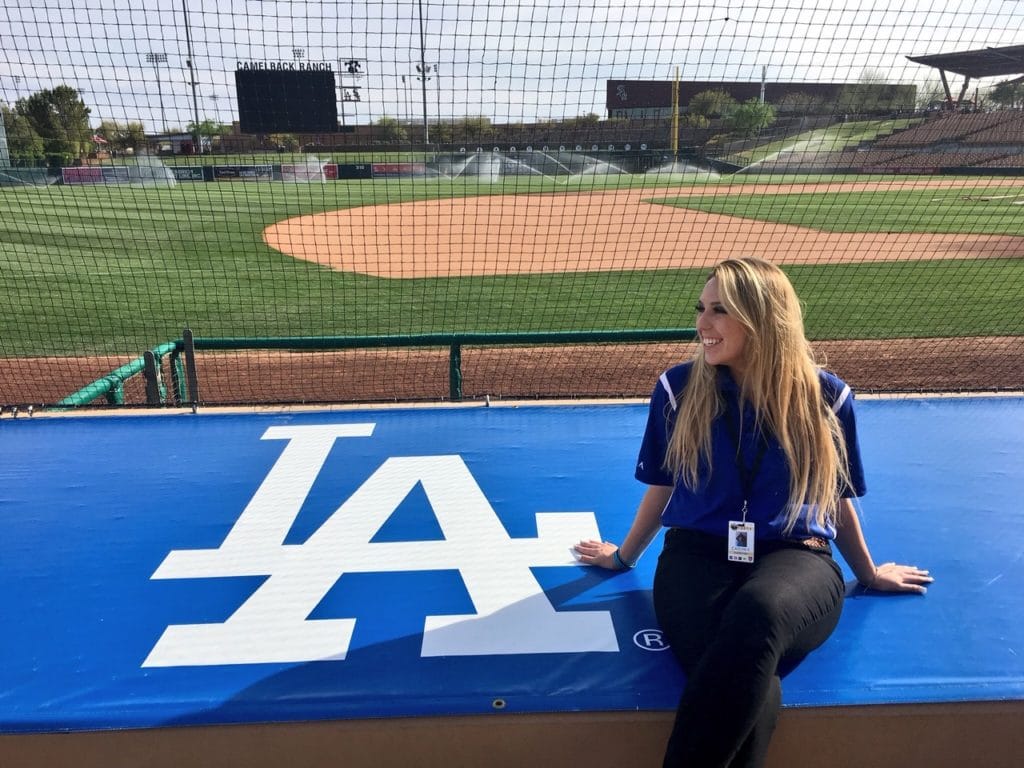 What would you include on a list of your top 3 biggest accomplishments (or moments) working in sport so far?
1 Shane Doan's Jersey Retirement Ceremony
Shane Doan was the Captain of the Arizona Coyotes for 14 seasons and played his entire 21-season career with the Coyotes, He is the franchise leader in games played, goals, assists, points, power-play goals and game-winning goals. He was famous in Arizona and the longest-tenured Captain in the NHL. He is an amazing person and to put on his jersey retirement was an honor.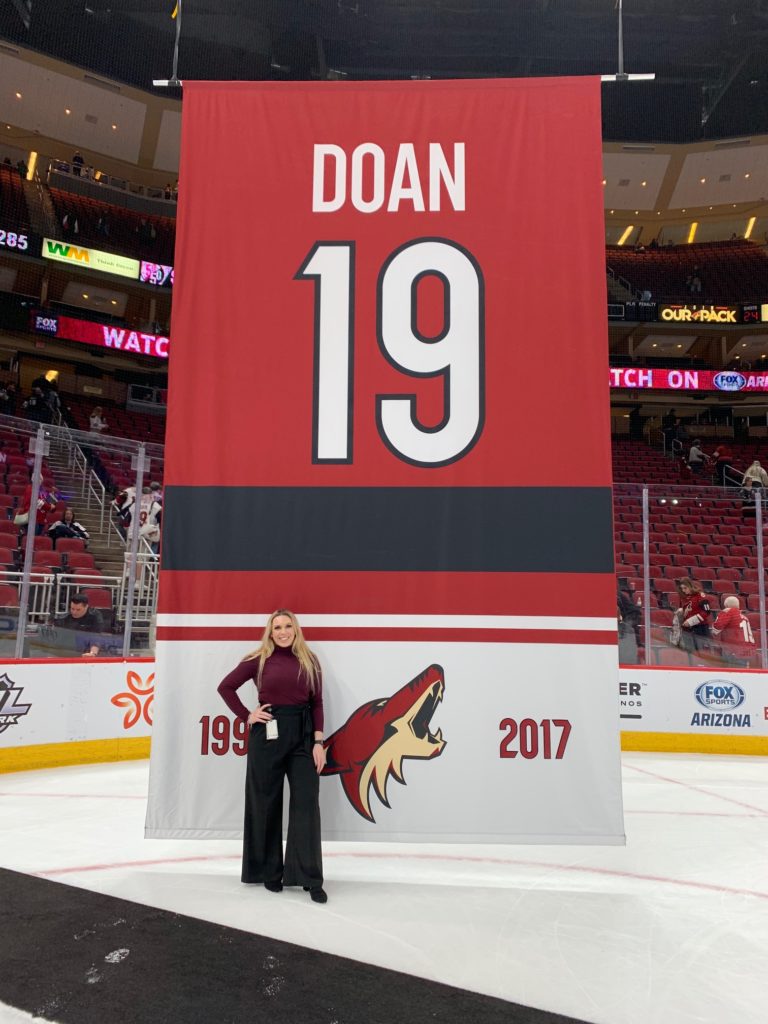 2 Getting Hired with the Arizona Coyotes at 19 years old
Working for the Arizona Coyotes was my dream, and my dream team. Then learning I was basically made for the position was even better.
3 Running Point/Taking the lead on the 2nd Annual First Responders Night
Normally the position of Coordinator and Director, I will be in charge of organizing, executing and planning this theme night with the Arizona Coyotes. For a 21yr old, 2nd year returner, this is a huge accomplishment and honor for me. This night means so much to me, our community and my family/friends.
[nnr_optin_fire id="17″]
If you could have a superpower to help you in your career, what would it be and why would you choose to have it?
Super speed! With how much we are running around on game days, pre and post-game, I would love to run as fast as possible to get everything done quicker. Set up faster, get to where I'm going faster, navigate the arena faster. Oh man, that would be best! I'd finish my work and then some for the day! The stairs wouldn't be my worst nightmare anymore when the elevator is full. No more running up four flights of stairs when we only have 1 minute to get to a hit. No more fans telling me I'm in their way when running down the aisles to get seat locations and information. I'd be there and back like " Dash" from The Incredibles.
The sport event management side of the industry gets stereotyped for attracting detail-oriented individuals. Talk about this stereotype and if you'd characterize yourself this way.
In my career I would for sure label myself detail-oriented, I have to be. With everything we do pre, during and post-game, any one detail that is missed, misunderstood, or changed can alter the entire show and how things are executed. The word stereotype has a negative connotation to it and in this case, it shouldn't. There is nothing wrong with making sure everything you have planned goes accordingly. There is nothing worse than working so hard on something only for it to go wrong due to one detail that was missed, overlooked or not executed properly. Then, looking back and realizing that it was either covered, written in the script or specifically talked about. Or even just common sense.
Working in Game Presentation, we have a friendly competition with other Game Pres. teams in sports. We want to set the precedent for great shows. So being detail-oriented is a must. We have a running joke that we don't want to be "those guys" on ESPN or SportsCenter for things that went wrong during a game and made a mess or a scene.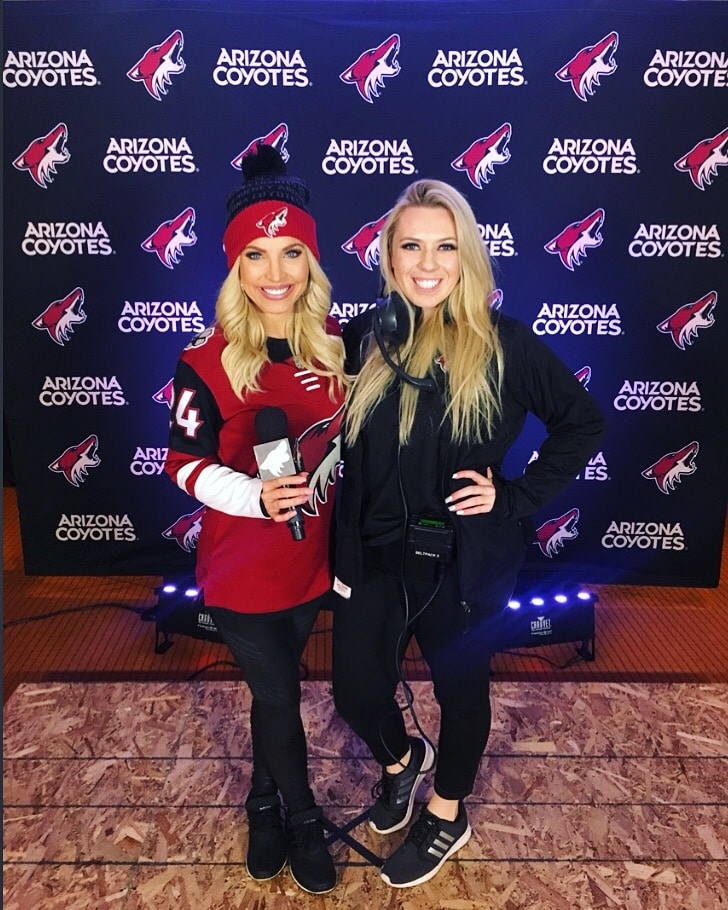 What advice would you give to prospective sport professionals looking to work in sport at a similar level to yourself but just starting off in their career?
I was taught throughout my sports career that you can't be picky when it comes to jobs. Apply for every job, get the experience and do what needs to be done to get where you want to go. You may think it won't help later on, but looking back, the things I learned in my first sports gigs have helped me flourish now. It's even the littlest things. It's crazy how the sports world is all linked together in a weird way.
No one is too small or low to help you get where you are going. Don't make enemies or let your ego get the best of you.
Do something you love!!!!!!! You won't work a day in your life if you love what you do.
Go the extra mile, you may think no one is looking or will remember but they are and will.
Don't forget where you came from. I always remind myself of the little "fangirl" I was when watching this sport, I want to give the fans the same memories and enjoyment I got when I went to games. If you remind yourself of what got you here, you'll never not do a good job.
It's okay to make mistakes. Own them. Grow from them. Don't let them define you.
Be reliable. I know that is easier said than done, but even if it's the smallest thing, it may be a big help to someone else.
Invest in energy drinks, coffee, vitamins, healthy eating and exercising if you want to work in Game Presentation. It's a lot of running around, but boy is it fun.
[showmodule id="278337″]
DO NOT be afraid to ask for help, advice, to shadow, to interview people that do what you want to do, or to learn something. It could be the difference between you landing that next job.
I'm (newly) 21 years old, and I have overcome so many people doubting me. I was too young. I'm a woman in sports. I was too big of a fan. I don't have what it takes.
If you listen to the negativity you won't succeed. It's that simple. Working in sports is so tough because everyone fought to get where they are. There are 2 million people looking for a job in sports, and only 60k jobs available. Make yourself stand out. Make yourself different. Keep working. Apply for everything. Be proud of yourself.
My favorite quote from the movie "The Devil Wears Prada" relates to working in sports so well.
That's what happens when you start doing well at work. Let me know when your entire life goes up in smoke, then it's time for a promotion.

Caitlyn Pence's favorite quote from the movie "The Devil Wears Prada." Caitlyn says the quote relates to working in sports so well.
You are going to go through times where your life feels like it is hanging on by a thread. Busy week at work, the team has 3 home games, you have to plan elaborate shows and you're pulling late nights. Sometimes that kills your personal life, your friends don't understand and family takes it hard. But trust me it will all work out. Just hold on. Stay true to yourself, learn from it and use it for the next time. Every step of the way we are being shaped. It's not the end of the world. Chase your dreams and those who are with you and support you still will be and understand.
Final Thoughts
Caitlyn Pence is one sport industry professional to watch. Her career has taken off, and she's already accomplished so much in such a short time! Being so young, and being a woman, Caitlyn Pence is used to people underestimating her, but clearly that has not stopped her! Her work ethic and her youthful enthusiasm have landed her her dream job with the Arizona Coyotes, AND landed her a feature with SPMA.
---
Caitlyn Pence
Interview by Anthony Clark
Posted December 6, 2019 in Industry Profiles