Candice Walls is the Assistant Director of Athletics for Athletic Performance with the Louisiana Ragin' Cajuns. Currently, she works specifically with women's basketball and women's soccer programs. At the same time, Candice is vying for qualification in women's boxing at the 2020 Summer Olympics. Busy, busy, busy. Like, how does an Assistant AD find time to eat properly and train vigorously enough to aim for a spot in the Olympics? No better person to ask than Candice Walls herself. I asked Candice about her role with the Ragin' Cajuns and how she's balancing her 2020 aspirations. One of the most interesting answers Candice gave was around why she decided to aim for the 2020 Olympics and what she believes it will take to get there.
Please note: This interview was conducted via a typed conversation. Editing changes were made to make it easier to read while maintaining the essence of the interview.
You manage multiple activities and roles? When people ask what you do, what do you tell them?
Oh goodness, that's a loaded question. I wear multiple hats. I guess it would depend on which aspect of my job you are asking about.
As a coach, I feel as if our duty is to make sure these young adults leave us more prepared for life. Our job is more than sets and reps. We are very blessed in our position to get to pour into young adults at such a crucial time in their life. They are in the process of figuring out who they are away from home and who they want to become. When their sport is finally done, they have the next 70-80 years to live. So, we need to make sure we can help them become the best versions of themselves. Whether it is physically, mentally, spiritually or financially. At the same time, we are also able to play a role in their athletic career. When they enter the weight room their freshmen year compared to exiting their senior year, they are a changed person through all the sweat, tears, lack of sleep, wins, losses, laughs, heartbreak, and even injuries they went through.
As an administrator, I feel as if our duties are very similar to our coaching responsibilities. We get a chance as administrators to hire great people. Then empower these great people to do their jobs. Support them in ways that set them up for success. I think we also have a responsibility to continue to develop our staff mentally, physically, spiritually and financially as well. Not only do you need to push the staff you work with, but you must allow yourself to be vulnerable in order to grow. Bottom line, whatever your job or title maybe, you have an obligation to make wherever you go better than you left it.
What does a typical day as Assistant Director of Athletics for Athletic Performance with the Louisiana Ragin' Cajuns look like?
A typical day consists of a huge breakfast with caffeine. Ten pages of reading and my gratitude journal to jump-start the day. Then straight into coaching teams, staff meetings, administrative meetings all before 12. Then back to coaching groups and warming teams up for practice. At some point, I will fit a run and lift in. We always need to make sure we practice what we preach.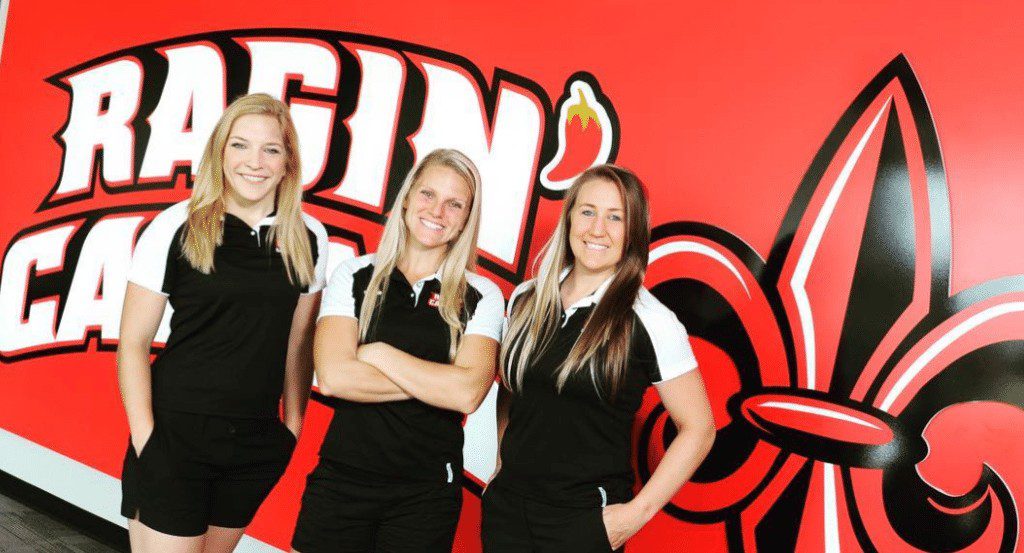 Every day after 6 though I go straight to the boxing gym and train for about 2 hours. Then home for dinner and phone time with my loved ones. Weekends are filled with athletic events, driving to New Orleans to spar and flying to Colorado. We need to take care of ourselves as a person, so in return, we can do better-taking care of others. A healthy/balanced person makes for a better coach.
Tell us about your plans to compete in the 2020 Olympic Games.
Competing in the 2020 Olympic Games hasn't always been the plan. I started my journey with boxing as an outlet to get me out of the weight room and my own personal therapy for my mental health. Which then turned into me wanting to push the envelope a little and compete on the amateur level. Which I have for about a year and a half.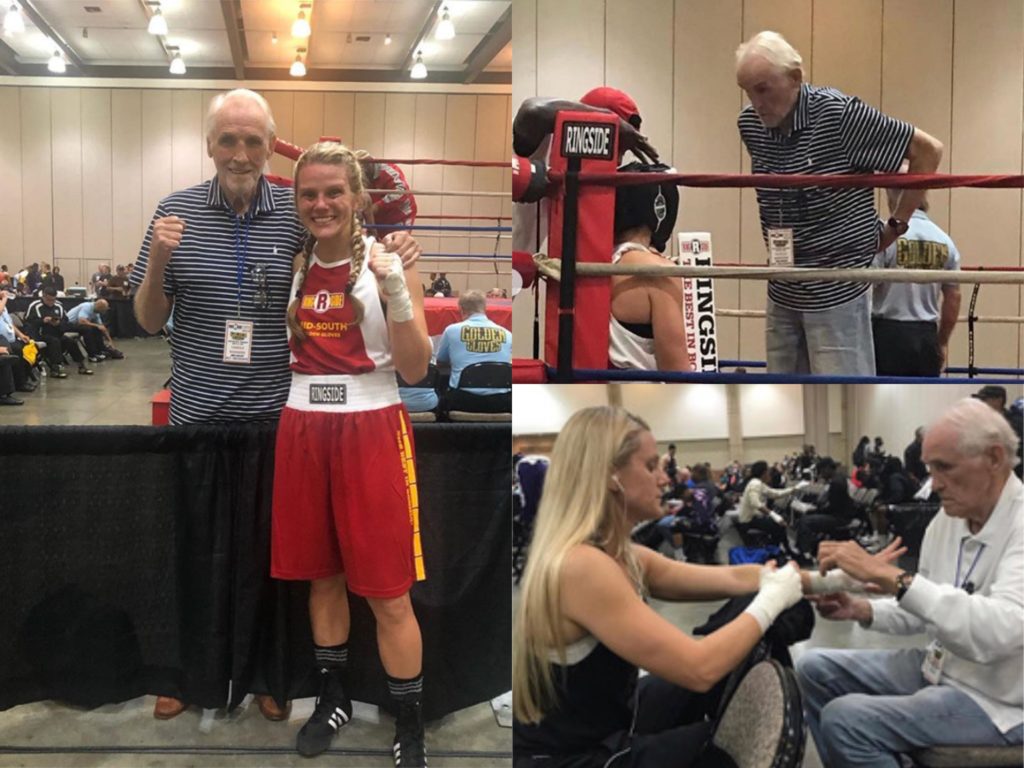 "Recently my coach who ran the non-profit that I box out of passed away from cancer. While we were visiting him before he passed, his wife told us that his last hope for his boxers was to make it to the Olympic Trials in December. So, then and there I told myself I was going to do everything in my power to make that happen."
I'm extremely blessed to have this opportunity. I think as we start to get further along in our careers and lives, we go into autopilot. We end up waking up at 40/50 and asking ourselves where the years went. I was lucky I stumbled onto boxing before that happened. Boxing literally reignited me. I'm excited to see where this journey takes me.
Why did you decide to make competing for your goal and what will it take for you to achieve it?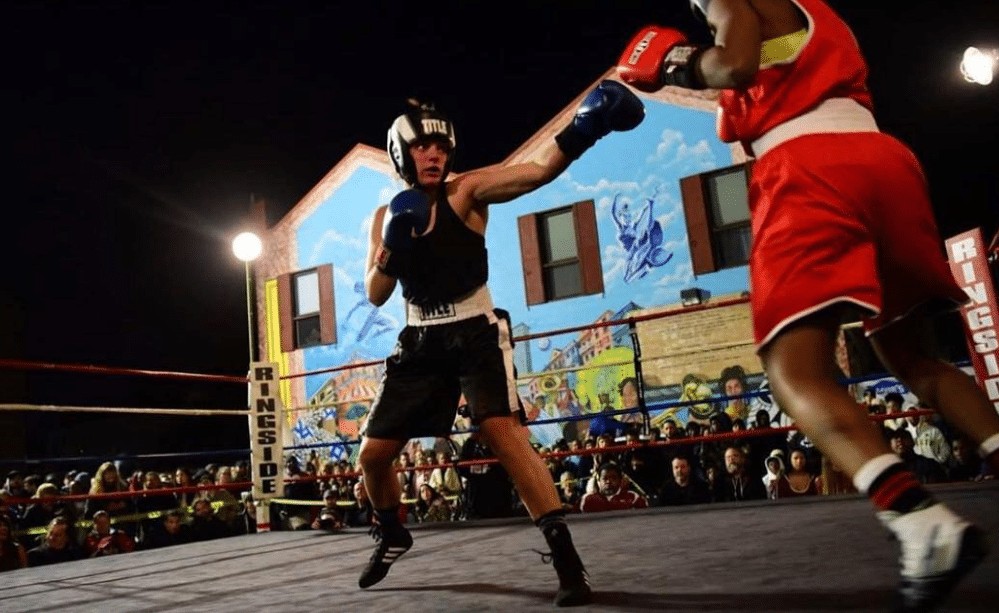 I think I choose to compete because we always preach to our student-athletes to get out of their comfort zone. So instead of just talking about it, I made a choice to live it. Boxing like I stated before started for other reasons, but the competing piece was more of how I can push the envelope to this. To me, it's a gut check every time I step in that ring for a fight or even sparring session. Boxing at a competitive level makes you rethink everything you do from eating, sleeping, training and even the way in which you think about situations. They say everyone has a plan until they get punched in the face!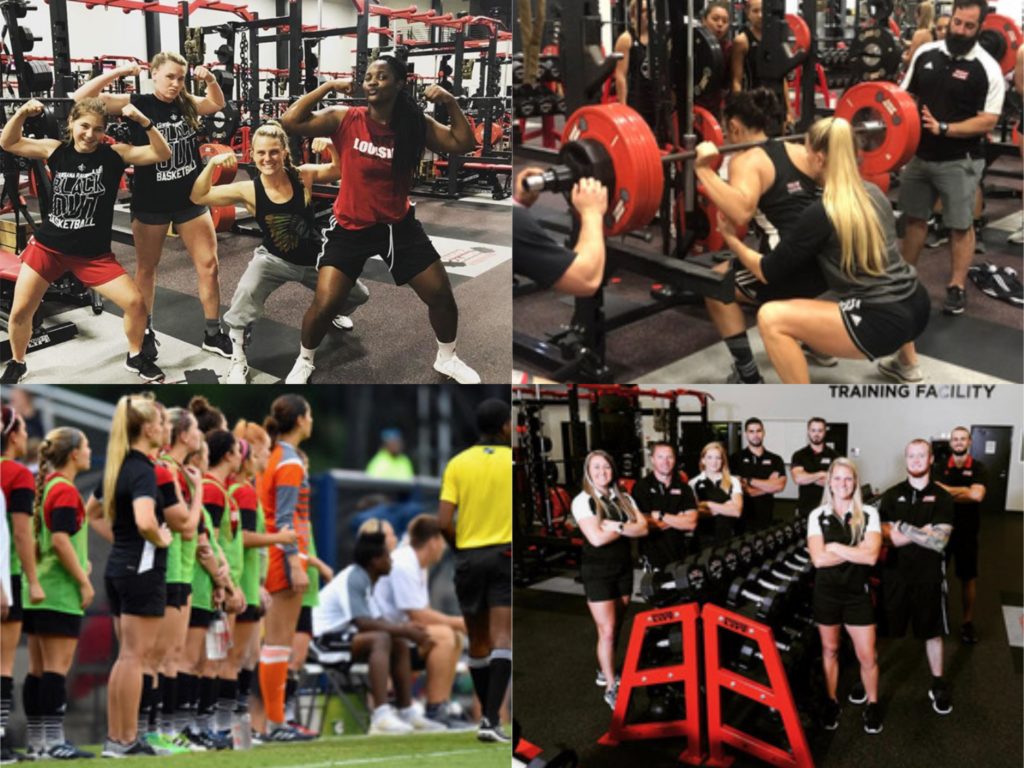 How are you able to manage boxing and the role of Assistant Director of Athletics for Athletic Performance with the Louisiana Ragin' Cajuns? What are some of the strategies you use to be able to manage your athletic ambitions and Assistant AD role?
I'm not going to lie; at times it is difficult. I have days where I literally sit down and see my to-do list that day and I think to myself, "What are you doing?" Then I take a breath and laugh. I say to myself "Candice you are so blessed to be given the opportunity to do all these things. How many people would love this to-do list?"
I also couldn't do it without the amazing support system I have. I am very blessed between the staff, administration and student-athletes I get to work with daily. They allow me to push the envelope within our department and my life outside the weight room walls. Finally, my loving family and boyfriend give me a tremendous amount of support. Honestly, without them, none of this would be possible.
As far as strategy goes. I would say the main thing is you need to be organized in all areas of your life. Keep a calendar and stick with it. You also must communicate at a high level with all the areas you interact with. Don't be afraid to ask for help or even to just tell someone no. Spreading yourself thin can only last for so long. So, be sure to take time and refresh your mind/soul. A healthy/balanced person makes for a better coach.
What has been the most difficult point of your career?
The most difficult point in my career was my first full-time job at Baylor. I was in the process of finishing graduate school online from The Citadel at night while coaching over 7 teams during the day. I had moved to my 3rd state in 2 years and was trying to acclimate to the expectations of a power five.
I was also at a place that had a high standard and I wanted to make sure I lived up to that standard. During this time, I was 23 years old and thought I knew everything. I was very fortunate at the time to have a supervisor that had triple the experience I did; hindsight being 20/20 I should have learned more through her experience.
I was living in the mindset that I should be the Director and I knew everything, but honestly, I knew nothing and missed out on the opportunity that was right in front of me. I didn't sleep enough, I didn't eat correctly, and I sure didn't train my body in a smart fashion. I think at the beginning of your coaching career we all fall victim to this.
However, those first two years in my career built me into the woman I am in the field today. From the bottom of my heart, I am so appreciative for those individuals that allowed me to grow during that time. They supported me through my stubbornness and through my successes. I will forever be grateful to those individuals (you know who you are). In the words of Kaz Kazadi "No pressure, no diamonds".
What are a few highlights or memorable moments of your career in sport thus far?
Throughout my career, I have been blessed to experience several memorable moments. Ranging from national rankings, conference championships, student-athletes PR's, graduations, weddings, babies and those precious one-on-one moments you get while talking on road trips or in the office with student-athletes. However, my favorite moments are when the student-athletes graduate but still stay in contact with you. That's when you know you made an impact on their life. Simple things from a text, to a message on social media, videos of them training, a wedding invite or visits when they come into town. Seeing how they have taken everything learned from the past 2-4 years and how it's been applied to their life is the greatest PR anyone could ever receive.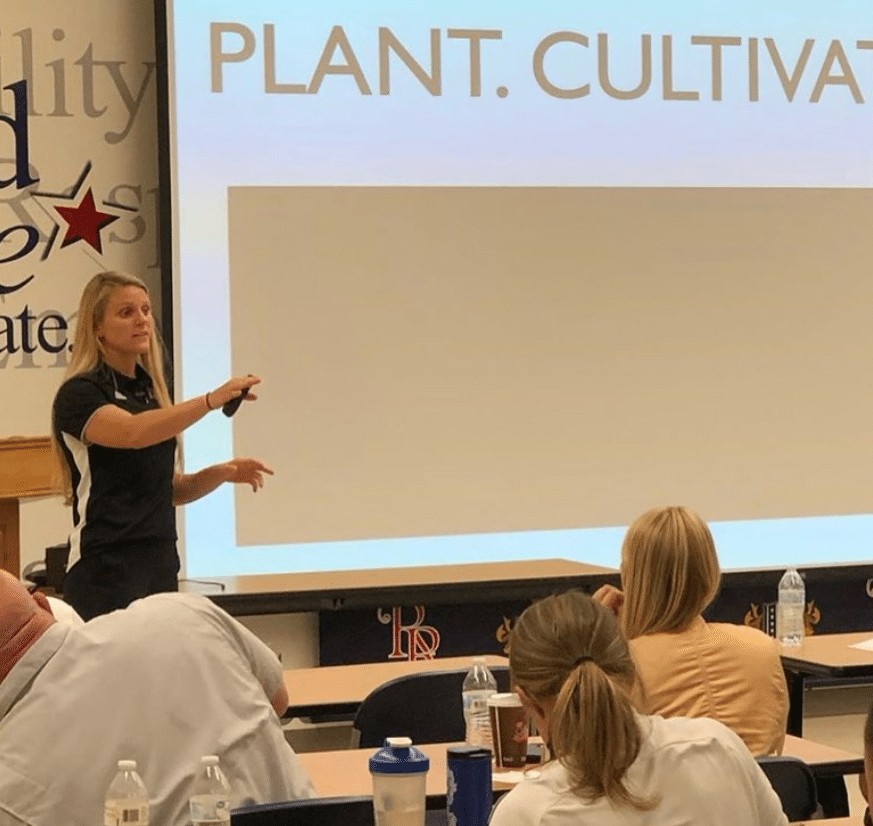 If you could have one superpower, what would it be and why?
Mind control (insert evil laugh). No, I'm kidding [laughs]. I think being able to multiply myself so I could be in numerous places at once. How cool would that be? I could be coaching a team and at the same time climbing a mountain in the Indies. Now, I don't know if anyone else would want me to have that superpower but to me, it would be great!
Does anyone come to mind that you think would make a good next feature on SPMA?
Wow, I only get to list out 3-5 individuals [laughs]. I would love to give you a list of 100. Here are a few, in no particular order. Honestly, I wish I could give you more names.
1

Jon Uribe

Jon Uribe – He is currently at the University of Louisiana as the Director of Athletic Performance for Basketball. He was a collegiate basketball player and has been at a few power five Universities at the beginning of his career. He is one of the most up and coming performance coaches in the country. Be on the lookout!
2

Chris Ruf

He is currently at Baylor University. He is one of the smartest coaches and best men I have ever met. He has coached Olympians, NFL superstars and hundreds of collegiate student-athletes throughout his career. If he doesn't know something, I promise you, give him 10 minutes and he will. One of Baylor's biggest secret weapons!
3

Kalyn Sticher

She is currently at the University of Louisiana as the Associate Director of Sports Nutrition. However, she was a performance coach for over 10 years before deciding to transition into nutrition. She truly the definition of adapting and surviving. Excited to see where this journey that she is on leads her.
4

Donnell Boucher

He is currently at The Citadel as an Assistant Athletic Director / Director of Strength & Conditioning. He is one of the best individuals in the field when it comes to thinking outside the box and utilizing your resources to the max. He does an excellent job of developing young strength coaches. If you want to learn how to be a true professional and develop yourself go intern for this man.
5

Kaz Kazadi

Kaz Kazadi – He currently works at Southern Methodist University as the Assistant A.D. for Human Performance. He has played and worked at every level of football that an individual can. He also does a phenomenal job of running his department like a fortune 500 company. He has been one of the biggest supporters in my career.
Final Thoughts From Phil
Candice Walls is gunning for the 2020 Olympics. With Walls' strength (no pun intended), grit, determination, and hard work, it's a goal that isn't at all farfetched. So, be sure to give her a follow on Instagram to track her journey. Candice Walls was a pleasure to talk to and an inspiration for all in the sport industry. You can support Candice's journey by clicking on this link.

---
Candice Walls
Interview by Phil Goldberg
Posted September 30, 2019 in Industry Profiles