Darren Ross is the Coordinator, Stadium Events and Operations at Hamilton Tiger-Cats Football Club and Forge FC. Darren Ross decided from an early age that working in the sport industry was the path for him. In this interview, he recalls the start of his sport management career, his current day-to-day activities and the different challenges faced as the Coordinator of Stadium Events at Tim Hortons Field. Enjoy!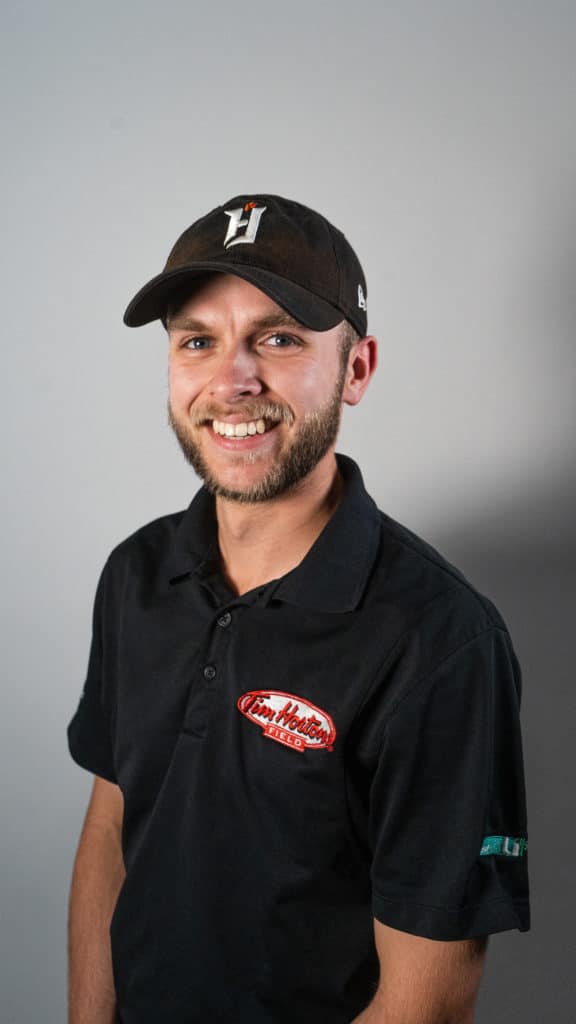 Tell us about your role as Coordinator of Stadium Events and Operations with the Tiger-Cats
As the Coordinator of Stadium Events and Operations, I am responsible for planning, setting up, executing, and tearing down all events at Tim Hortons Field. This includes all Hamilton Tiger-Cats and Forge FC home games, any licensee events we host at the stadium, and any corporate or community events associated with either team. Games and events are the primary focus of my job, and therefore most of my time is spent preparing for these events.
Some of my minor responsibilities include assisting both teams with any operational needs – mostly just general maintenance and repairs. As well, I oversee all aspects of the Tiger-Cats/Forge Operations Team and am currently mentoring two college interns who work with me in operations.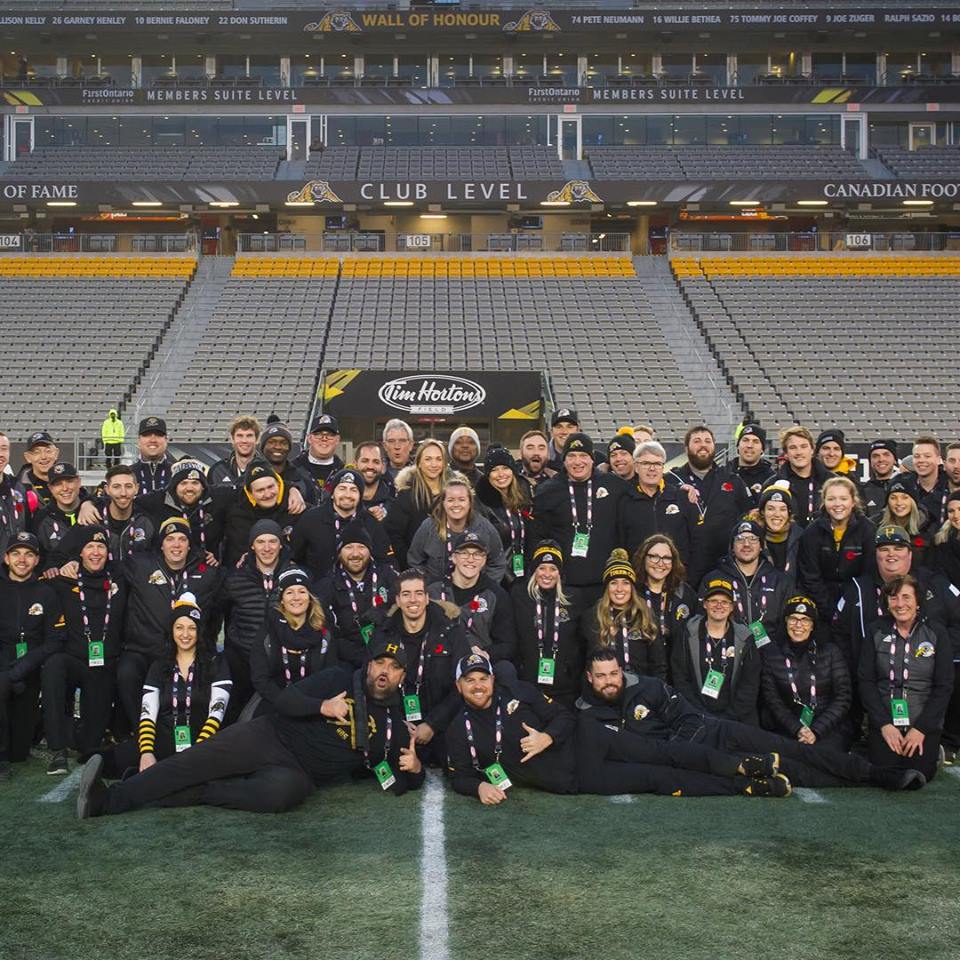 What does your day-to-day look like?
My job is very event-focused, so my day-to-day varies depending on if we have an event that day or upcoming, or if we are in a planning stage. Generally, my day starts by walking through the Tiger-Cats and Forge FC locker rooms, players' lounges and coaches' offices, checking if anything requires maintenance and touching base with the coaching staff on any operational requirements they may need.
Beyond that, I am usually busy either preparing for an upcoming game, community or corporate event, or any Ticats/Forge FC meetings that are being held at the stadium. That means literally moving tables and chairs, setting up backdrops, confirming the setup with the organizers, and being a contact point during the event for all other needs related to the event. Any operational requests from the rest of the organization go through me, so that can either put a lot on my plate or nothing – completely depends on the day. In short, my day-to-day is mostly about reacting to what is happening at the stadium or in the organization and fulfilling any operational needs depending on the circumstances.
What made you want to begin your sport career with this organization?
I have had a passion for the CFL ever since my dad took me to my first Saskatchewan Roughriders game when I was about 7 years old. When searching for internships, I was not really sure what department or organizational role I wanted to fill (be it marketing, ticketing, operations, etc.), but I knew that as long as I was working for an organization I was passionate for that I would both enjoy myself and find success. Because of this, I was drawn to the Tiger-Cats and applied for as many internships with the club as possible.
Furthermore, it is exciting to work for a nationally recognized brand. Knowing that what I do on a day to day has an impact on thousands of fans who enter the building provides me with purpose and makes me feel as though I am making a positive impact on the lives of others.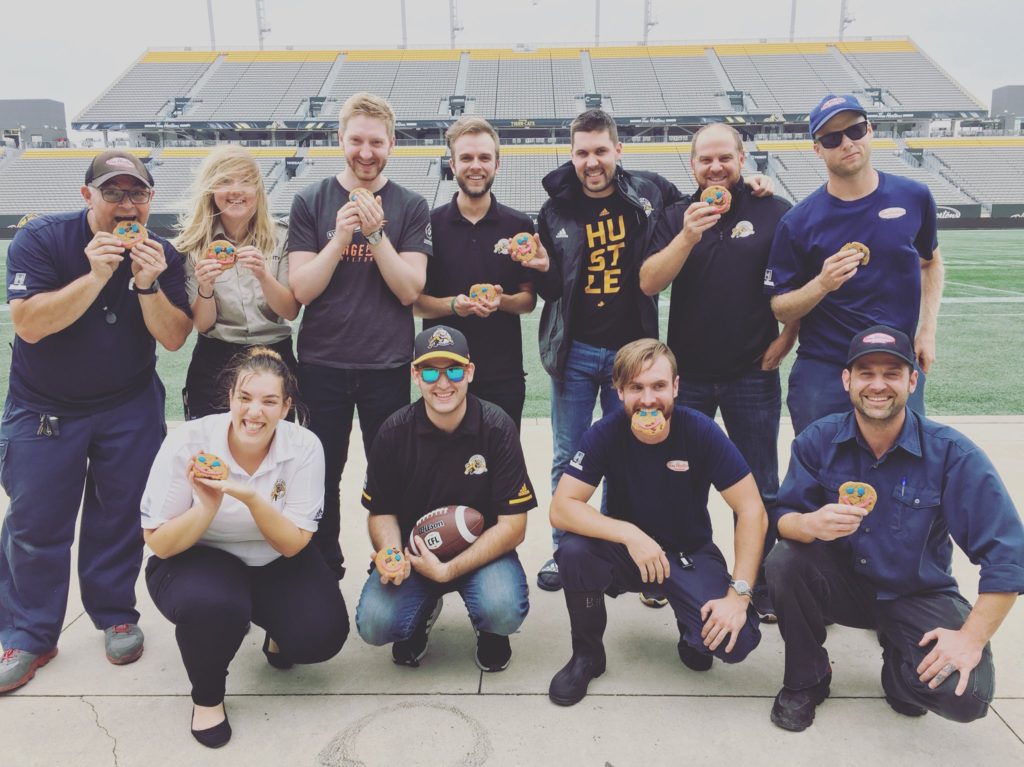 Finally, when I was looking for full-time opportunities at the end of my internship, I was allured by Forge FC and the Canadian Premier League. The opportunity to work for a professional team and league in their inaugural season is truly once-in-a-lifetime, and it's increasingly more exciting when you believe in the sport product. Long term, I absolutely think the CPL and Forge FC will be a success, and it will be cool to look back on the work I have done with the club and think, "I was part of building that."
What are three essential skills someone needs to succeed in the sport business?
1

Communication

Communication: Working in the sport industry can be chaotic, especially when coordinating multiple events at once. It is vital that any sport manager have great communication skills to ensure that all parties involved with any given event are on the same page and understand what is happening. Communicating details well in advance can make coordinating events significantly easier!
2

Adaptability

You must be able to work quickly in a variety of changing circumstances to succeed in sport. In my role, event details often change last minute because the head organizer is now on site and wants something changed, or perhaps inclement weather forces an event indoors, or countless other circumstances outside my control that I must deal with pertinently. It is most important to keep an open mind and not get discouraged when someone tells you to re-do something differently than you already had.
3

Dedication

It's no secret that the sport industry is not the most financially lucrative. You must find non-financial motivators that push you to do your best in all aspects of your job. For myself, my dedication to my craft comes from my passion for the CFL and its fans. I want to create an exceptional experience that grows this league and creates amazing memories for all fans. This idea drives me on a daily basis to perfect all elements of my job, knowing that sometimes the smallest details can make the biggest impact.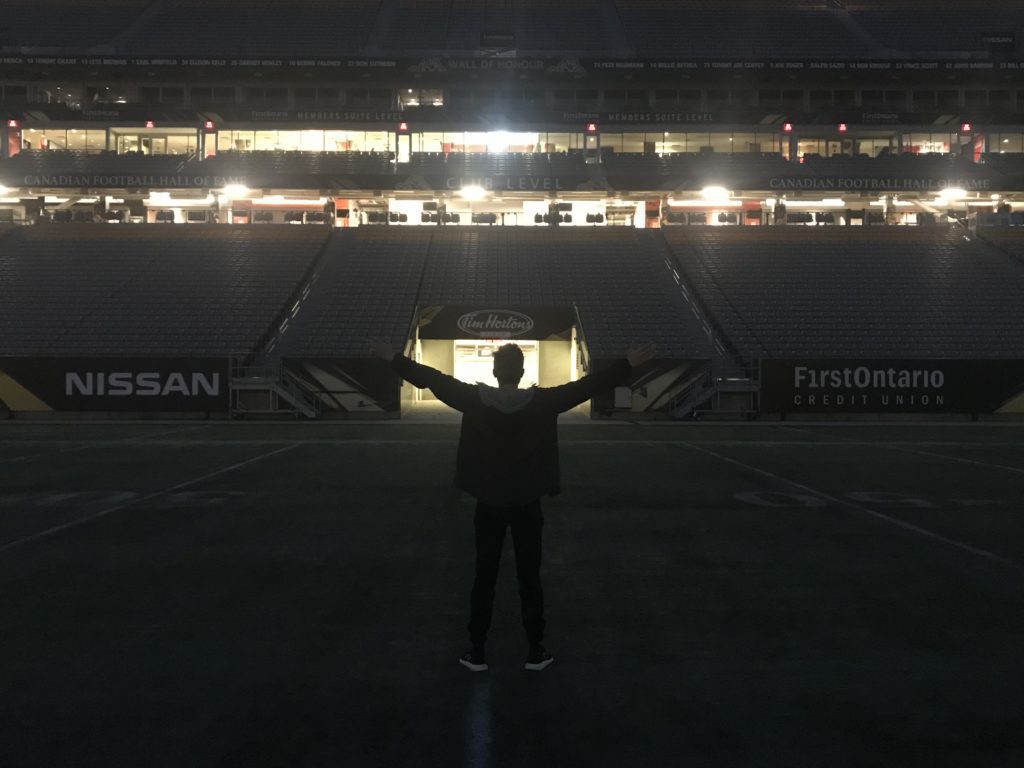 What surprised you the most about starting a career in the sport industry?
It's amazing how much work goes into an event that goes unnoticed by most fans. I've been going to sporting events my whole life, but working the events is monumentally different, and it has taught me a lot about different types of fans and how different aspects of the game day experience can satisfy unique fan groups. I've always been a very traditional fan who sits in their seat and watches the game, but nowadays sport fans are so much more than that. Young fans especially are often looking for a complete entertainment experience that transcends just the game on the field. Because organizations need to go above and beyond to satisfy unique fans' needs, there are so many details that go into planning and executing a live sport event.
What new challenges arose with the introduction of the new soccer team Forge FC this year?
The Hamilton Tiger-Cats have been executing football games at Tim Hortons Field for 6 seasons, with countless more seasons of experience in the old Ivor Wynne Stadium. However, with little-to-no experience working with a professional soccer team, there was a lot of, "let's try this and see what happens." In turn, this leads to a great deal of confusion and, simply put, nobody knowing exactly what they were supposed to do. As the season has progressed, organizationally we have certainly hit a groove. Forge FC matches operate on a much smaller scale than Tiger-Cats games, so the select staff who are asked to work Forge FC matches have the events running like clockwork.
One significant challenge with Forge FC, especially in my role, was the logistics of housing another professional team at Tim Hortons Field. While the Tiger-Cats locker room and offices were already established, we had to eliminate 2 of our 6 community locker rooms, as well as some office space, to create a setting suitable for a professional sport team. However, the Forge FC locker rooms and office are nearly one quarter the size of the Tiger-Cats, which does create a bit of justified jealousy among the Forge coaches and staff, thinking "well if the Tiger-Cats have this, why don't we?" Juggling two teams who operate at different levels financially has been a challenge, but the kinks have, for the most part, been resolved at this time.
How do you maintain a positive mindset through tough situations?
Thinking about a tough situation negatively won't help and certainly won't make the problem go away. At the end of the day, I work for a professional sport organization – I am not solving the world's problems. There is no need to stress out or think negatively. I believe it is important to analyze a tough situation, then take appropriate action as soon as possible. Perhaps your solution was incorrect, and now a tough situation is more frustrating? Keep your head up, re-analyze the situation, and try again. Regardless of initial failure, letting a negative situation fester only ever makes it worse, and frankly, solving challenging issues gives me a feeling of success that pushes me to be my best.
Whom do you think we should interview next on SPMA?
1

Aaron Gogishvili

Aaron is the current Director, Communications for the Hamilton Tiger-Cats and Forge FC. Aaron has spent the bulk of his career in professional sport, working communications for the Hamilton Bulldogs, then the Toronto Maple Leafs, and now with the Tiger-Cats. Working in close contact with the players, Aaron is always good for a jaw-dropping story, but I believe his perspective on working at different levels of professional sport, and in different sports, would make for an eye-opening feature.
2

Jonathan Hanley

Jonathan is the current Coordinator, Guest Experience with the Hamilton Tiger-Cats and Forge FC. Jonathan would make for a fantastic feature because he has experienced first hand what its like to start from the very bottom of the organizational chain and slowly work his way up to the full-time role he is in now. Starting as an usher in year 1, Jonathan slowly progressed and became a guest services representative, then a part-time supervisor, then an intern, and now find himself in his fulltime role which he has occupied for two seasons. Jonathan is a true Ticat for life and would have many insights into the organization.
3

Bryan Chatten

I had the privilege of working with Bryan during both of my seasons with the Tiger-Cats and Forge. I believe Bryan would make for a great feature because he has a wealth of experience managing events both in and out of sport. People often think that sport is so different that it operates its own way differently than other industries, but the sport industry is incredibly similar to the live event business. I think Bryan's unique perspective looking at events with both a sport and non-sport scope would be an enlightening feature.
---
Darren Ross
Prepared & Posted By Rikesh Mistry
Interview by Leonardo Roque
On October 11, 2019 in Industry Profiles