Jesse Diebolt is the Digital Media Designer for the Charlotte Hornets. This means that Jesse is responsible for designing a lot of the graphic content that fans see. As a Digital Media Designer, Jesse works with images, effects, and animation for film, video, computers, and other digital channels such as social media and the team's apps.
In other words, Jesse's work as the Digital Media Designer typically involves designing all types of visuals to provide viewers with information and entertainment. So all those really neat graphics you see on Twitter, Facebook and Instagram were likely completed or directed by Jesse Diebolt. So cool!
Jesse's job is not easy at all. There's an immense amount of perfection that goes into designing graphics for an NBA team. Not only does he utilize his graphic design skills, he has to ensure that all content created fits the team's brand messaging. His work is extremely difficult because the Charlotte Hornets have a huge audience. Just look at their following analytics on major social media platforms: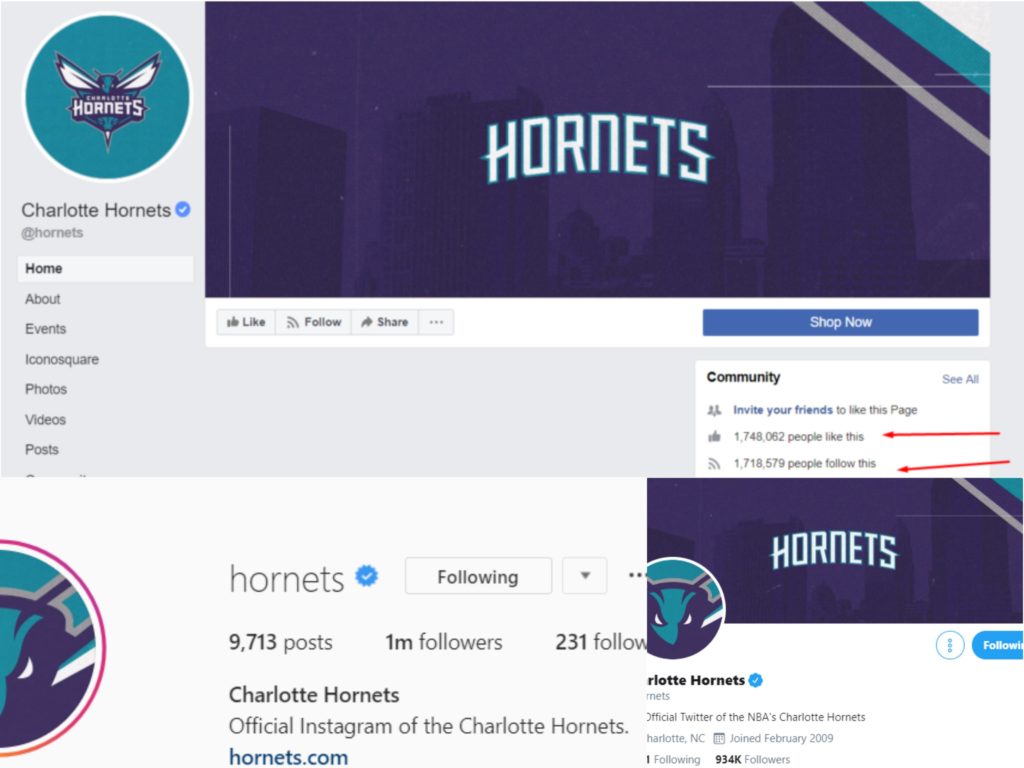 We recently had the pleasure of chatting with Jesse Diebolt all the way from Charlotte, North Carolina. We talked about what a typical day as the Digital Designer for an NBA team looks like and other aspects of the nitty gritty that makes up his daily work life. He was a straight-forward, honest, passionate, and intriguing person to talk to. Here's our convo: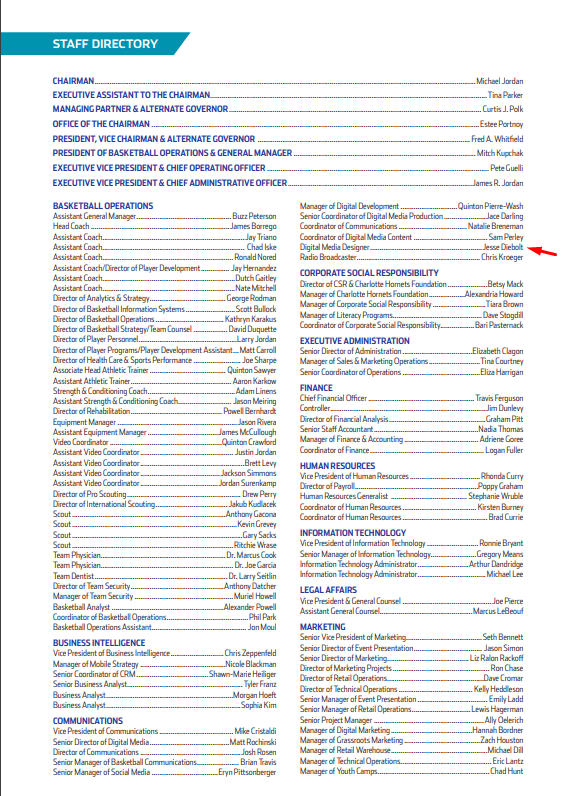 What does a typical day as the Digital Designer of the Charlotte Hornets look like?
It really depends on what we have going on. On game days, I normally arrive to the arena around lunch time and begin preparing for the game. That usually entails putting together graphics that go live on social before, after and during the game in addition to building Hornets app experiences for pre/postgame pushes. Before most home games, I like to go down to the court and take photos of players – it's my way of practicing a skill I'd like to continually improve at. It also gives me the opportunity to capture content that we can utilize on our social media platforms. So it's a win-win for me and the fans that get to access our team!
On non-gamedays during the season, it's always good to look ahead and prepare. We cover the team the same way whether they're playing on the home or the road, so everything on my end goes through the same processes. We have to make sure we are organized and prepared because the NBA schedule is very unforgiving. It was definitely something I had to get used to.
During the offseason we really don't get a break either! There is a common misconception that things slow down, but it's actually the opposite. The Draft, Summer League, Free Agency, trades, and more keep us very busy!
What software programs do you use on a regular basis ?
The software programs that I use on a regular basis are Adobe Illustrator, Adobe Photoshop and Adobe After Effects. On occasion, I use Adobe InDesign, as well as Adobe Premiere Pro.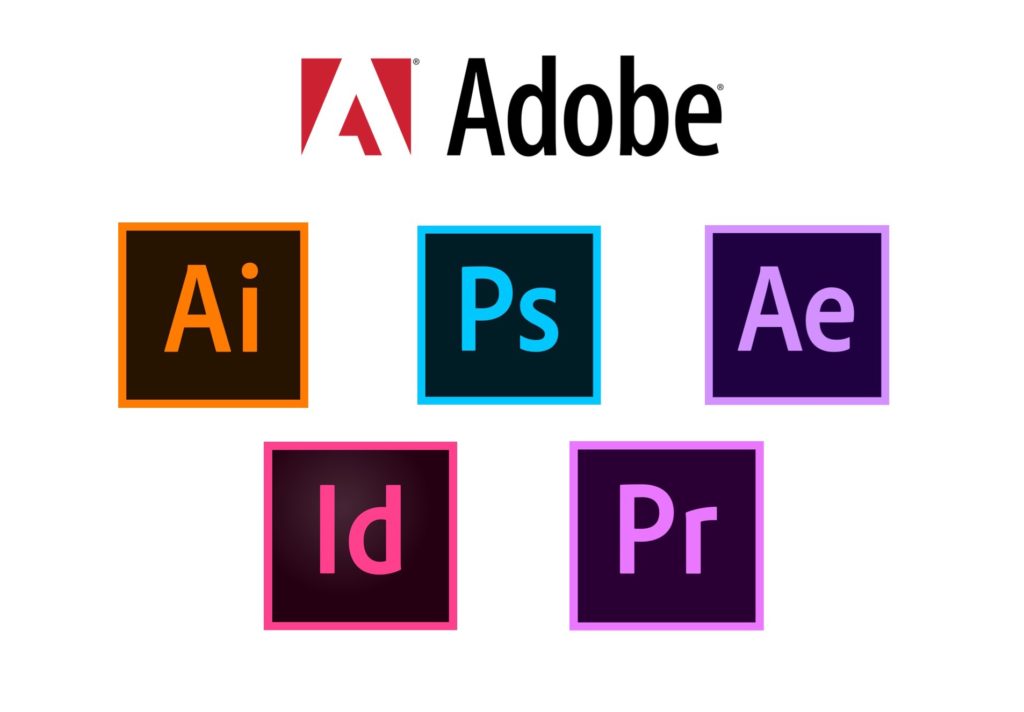 What surprised you the most about starting in the sports industry?
I've always been a sports fan and specifically a Hornets fan. Growing up, I definitely viewed teams and athletes as mythical and untouchable.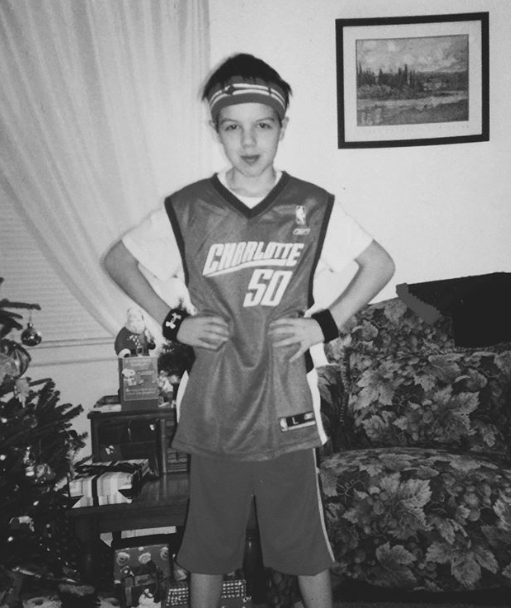 However, in reality, things aren't as magical as they may seem. I've honestly battled with accepting this as a fact! It's kind of disappointing because you expect world class athletes to be different than your everyday person. What separates these people from your "average Joe/Jill" is their talent and the work they've put in to maximize their success. There's no secret formula or magic behind the scenes. The ones at the top work hard and push themselves to be the best they can be. It's no different for me now as the Digital Media Designer.
It's the same way in the offices of a franchise. There isn't anything out of the ordinary going on. It's not super glamourous or extravagant. There are lots of talented people who work hard to make things special for fans and players. Again, there isn't a secret formula being utilized behind the scenes. If you work hard, have good ideas and treat people the right way, you can make an impact in the sports world a lot easier than you may think.
How would explain the difficulty level in becoming the Digital Media Designer of the Charlotte Hornets?
Nothing is ever "easy". I never had anything handed to me and I still go through times where I really doubt myself. I've been dedicated to mastering my craft since middle school and the process never stops. I want to be the best at what I do and that's a hard goal to accomplish! There really isn't a "best" designer. You can only compete with yourself and continue to grow as a person. This is something I have to constantly remind myself.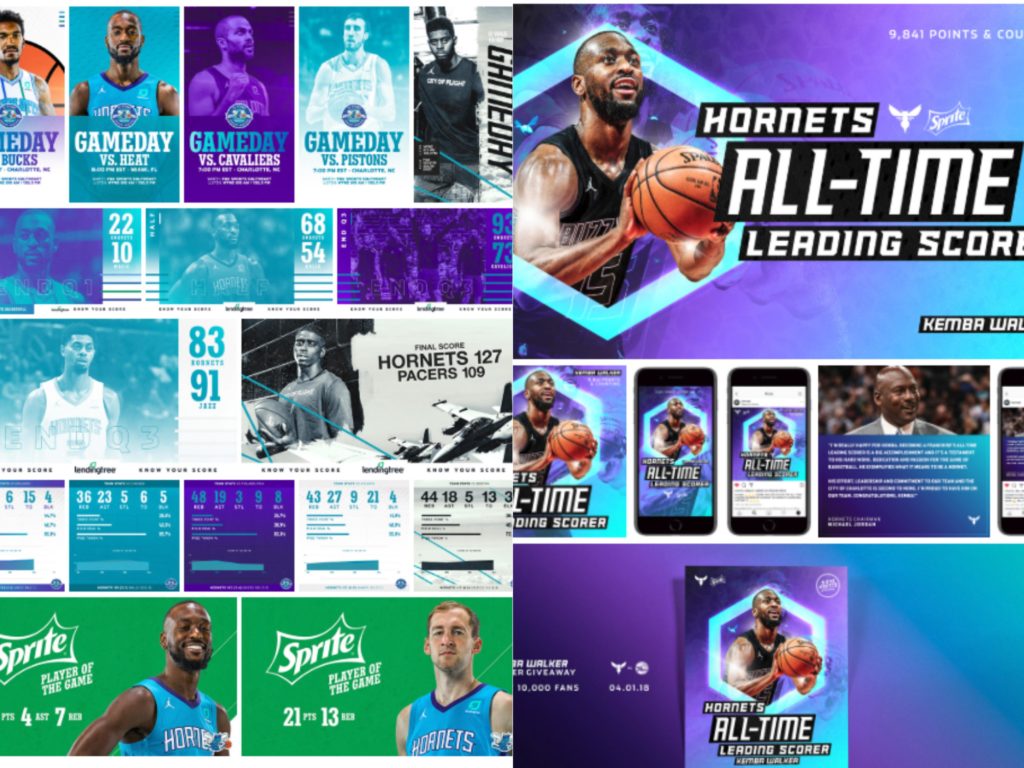 I have always taken advantage of opportunities I've created for myself – I think I created momentum for myself to ride to hopeful success slowly but surely.
Now that I am the Digital Media Designer, I am cognizant of our wide audience. As with any job in sport, you must be nice to people. I've always done that. There's no reason not to be nice in my opinion! Also, having true passion and dedication for my team's success on and off the playing surface is something I bring to the table. There's not a moment where I lose this. I love the Charlotte Hornets through thick and thin! My love for this team and digital media design tie in beautifully. Lastly, I understand the importance of my digital media designs. Remembering that there's a kid out there who pays attention to every single thing the team does and his/her life revolves around it is super important. It's easier for me because I was literally that kid (and still am at heart).
What is the best thing about your position with the Charlotte Hornets?
Having a positive impact on my favourite team is really special to me. I take a lot of pride in being a passionate, hard-working, positive person with nothing but the best intentions. My goal is to help the Hornets. And I want them to be the best team in the NBA on and off the court.
Final Thoughts on Jesse's Career as Digital Media Designer for the Charlotte Hornets from me, Phil:
Jesse Diebolt's career as the Digital Media Designer for the Charlotte Hornets is a dream job for many aspiring to work in sport. But it takes hard work, persistence, skill, and natural ability. Diebolt is living his dream. "I make awesome stuff with awesome people for awesome people" is a perfect LinkedIn headline for what Diebolt does. In fact, that's what he uses!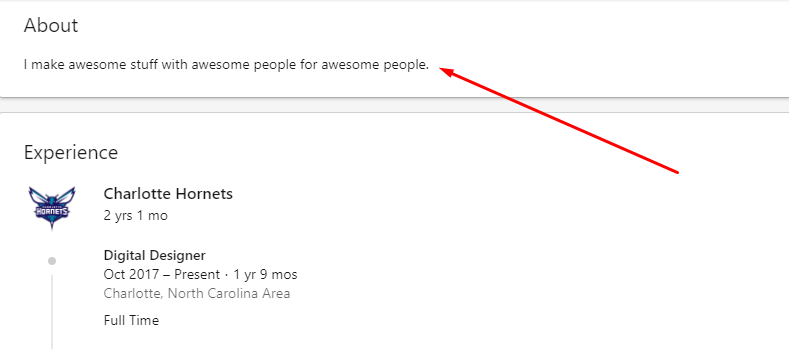 Check out Jesse's website ? here to see more of his amazing work as Digital Media Designer with the Hornets.
---
Jesse Diebolt
Interview by Phil Goldberg
Posted June 28, 2019 in Your Career in Sport