Wonder if a background in theatre and a career in sport mesh? Shelby Vilneff is the Director of Marketing, Communications & Events for the Guelph Nighthawks. At the same time, she's also the Game Day Manager for another team in the same league: the Hamilton Honey Badgers. How is that possible? We ask her that question along with many more. What's unique about Shelby Vilneff to SPMA is that she comes from a background in acting, drama and theatre studies. But a background in drama did not stop Shelby Vilneff from quickly getting a job with the Hamilton Tiger-Cats Football Club as their Manager of Events and Production out of school. Shelby is hard worker, multi-tasker and detail-oriented. You'll gather that from our conversation, which we give you below. Enjoy.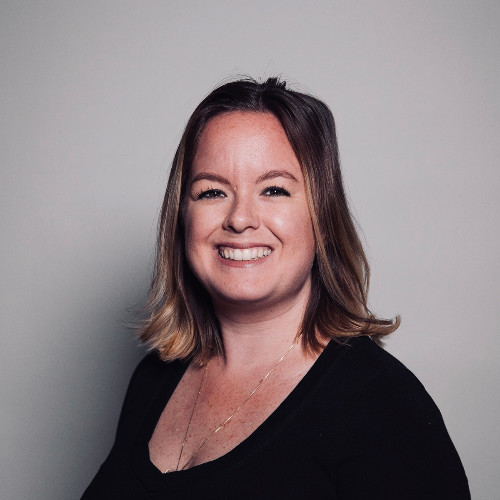 Tell us about having two jobs for two teams in the same league and how does that work?
I was actually hired on by the Hamilton Honey Badgers before I was hired on with the Guelph Nighthawks.
I was hired as the Game Day Manager of the Honey Badgers initially. My job there consists of rolling in on the day of a game. Once I am there, I get quick to work in executing their game day programs. When the game is done, I spend a bit of time wrapping things up, then I roll out.
The Canadian Elite Basketball League is a brand new professional basketball league in Canada. The first official games took place this past spring. So shortly after being hired by the Honey Badgers, I was hired on full time with the Guelph Nighthawks. I kept both jobs because I believe in this league and think that in order for it to reach it's potential, it cannot just be one team being successful.
There are only three games that overlap between the teams. So I'll actually still go to the Honey Badgers game on those days since the Nighthawks have someone to do that role. It's definitely weird for me not to be at the Nighthawks for three of their home games, but we have an awesome crew that takes care of things while I am gone. They put on a great show!
What do typical days look like for you in both roles?
As Game Day Manager for the Hamilton Honey Badgers
It's pretty simple. They have their team that works day to day. They are responsible for filling out the game script and organizing what entertainment will go on during the game. So basically, I come in on the day of the game and produce the show. This means that my job is to execute the script. Executing the script includes ensuring that the promotions team is on the same page, organizing dancers, that TV timeouts are called, and more.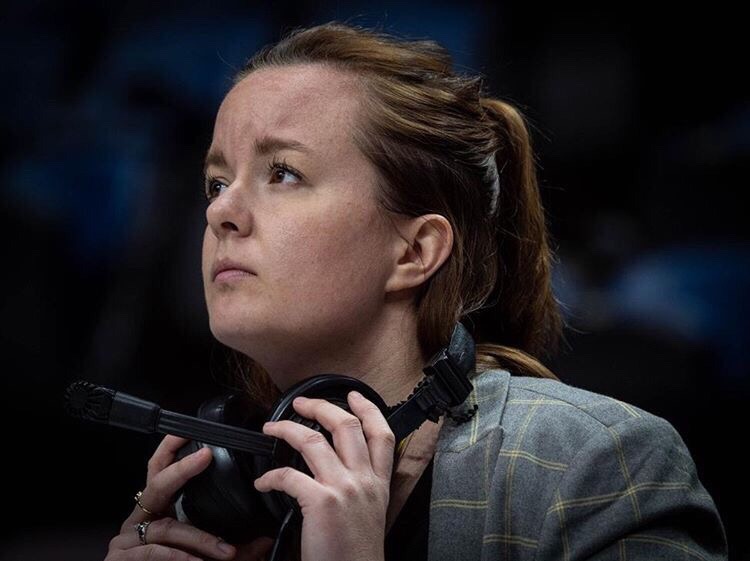 As Director of Marketing, Communications & Events for the Guelph Nighthawks
So as you know, I am the Director of Marketing, Communications and Events for the Guelph Nighthawks. This means that I do a little bit of each one. What I'll do is break each aspect down into subcategories and give you a couple of points about each.
Communications
Working with the local media to get the word out about the Nighthawks.
Coordinating players going out into the community (ex. helping run local camps, charity events, appearances, festivals.
Marketing:
Digital ad buys.
Traditional marketing via local newspapers, bus ads, street signs etc.
Running all social media platforms.
Events
Working with the rest of our staff to put on an awesome game day presentation.
Coming up with novel ideas to engage our fans during games.
The events portion may seem similar to what I do in Hamilton. To bring clarity, in Hamilton, I execute some else's game day plan. Whereas, in Guelph, I do all the planning for game day and someone else executes it!
You've developed a career in sport for the past several years. But many people may not know, you actually come from a theatre background; quite the drama right there! Tell us about your background in theatre.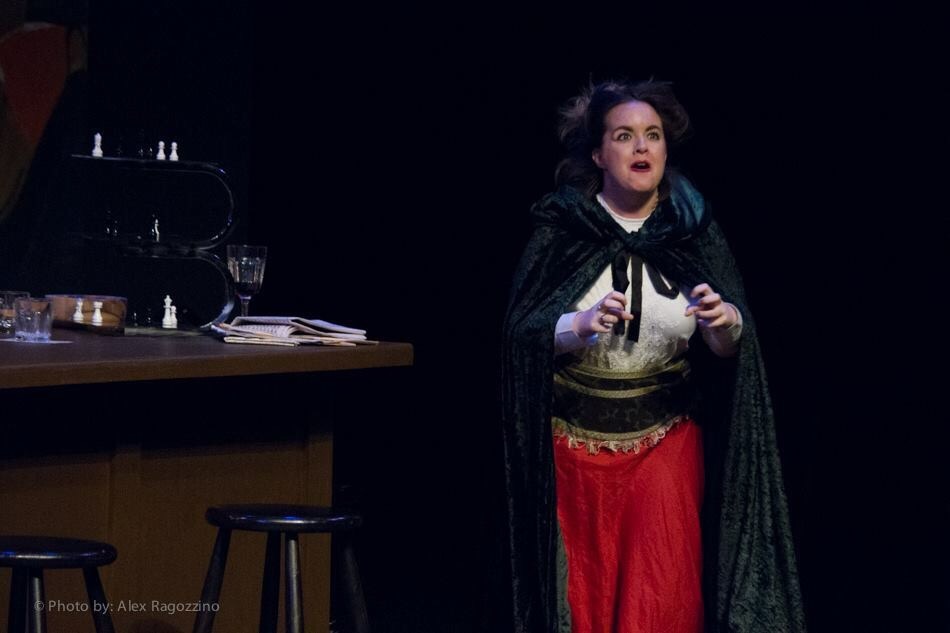 So I went to school for Theatre Studies. It was a split between theatre production (set, lighting and sound design) and acting. What I really love about theatre, music and acting is putting on a show. I've always loved putting on a show and seeing people be entertained. My entire university career, I also needed a job! So like a lot of students, I got a job on campus at the Athletic Centre where I helped to run the intramural program and did a lot of our key events. Yes, I know I was into drama and theatre, but I realized how much I love sport while working there. My passion for sport, theatre and entertainment. Sport brings the community together, allows people to escape their every day and be with each other. People of all differences can get together behind something fun like sport, music or theatre.
I think back to my very first theatre class when we had a class debate on the similarities between theatre and sports. Both have an audience! Players are like actors, they wear costumes (jerseys), there's lighting, there's production. So when I try and compare sport and theatre, it's quite easy. For instance, in both, making sure that every audience member has the same experience regardless of where they are sitting is important.
So when I work in operations, I definitely am cognizant of sightlines, audio levels, appropriate lighting and such that is a huge focus of the theatre experience. It's a big part of the spectating experience in sport too! All in all, I think theatre and sport mesh really well.
Can you speak about different traits and skills you think are essential to be able to work in a game day job within the sport industry?
There are so many skills that relate to game day operations that I think people in the sport industry need. Game day skills can include a number of things. It really doesn't really matter too much what the position Game Day Operations Manager is when I speak of these skills.
1

Knowing everyone's roles

In order to work in sports, in any capacity, you have to be willing to start from the bottom. Take any job or volunteer position that will get you in the door. My first contract with the Ticats was as the Parking and Transportation Coordinator. I can say I didn't have any real interest in that area, but just by getting my foot in the door I was able to absorb so much from all different departments, and ultimately that allowed me to get where I am now.
2

Reading and writing a script

I think communication skills come to play when it comes to script reading and writing. You have to be able to do both. And if it's not a script, perhaps it's a report or as simple as an email. Know how to read a script. There are many formats for scripts and a number of different software (such as Script Pro) used in making them. So understanding how to read one and how they are structured is key to working in game day within a sport organization. Understanding what columns are (public address, post, sound, lighting, and video) is also important.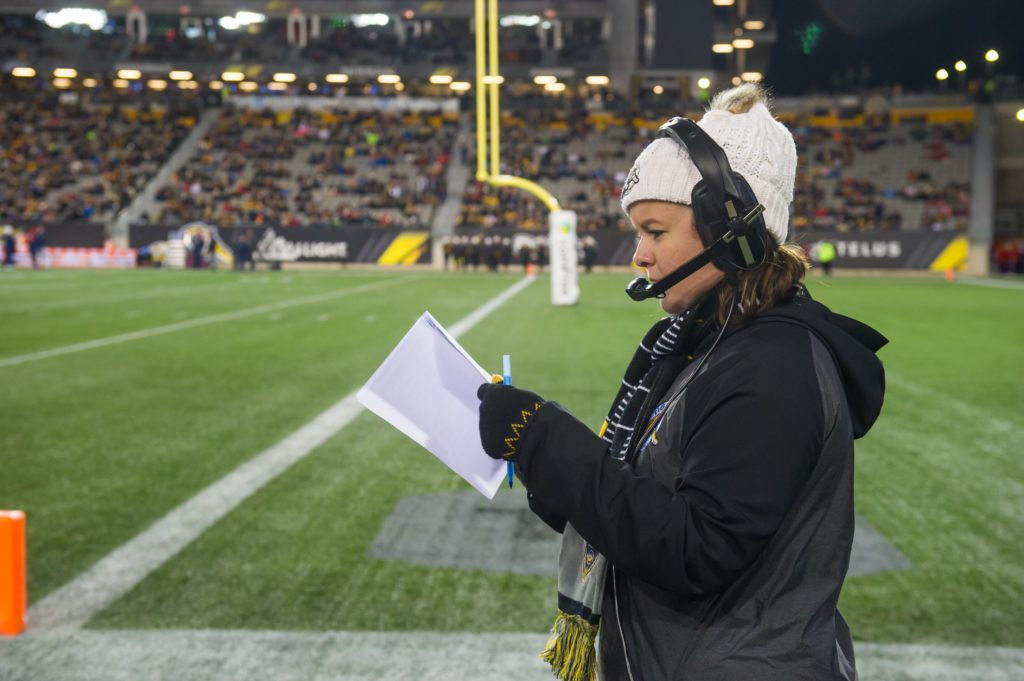 3

Understanding the grind

Game days are long! Understand the grind. I don't know how else to put it! You're on your feet all day, you may not get to eat or use the washroom when you want to because you've got to grind and be on your toes. Being able to have the stamina to stay through the day, game and weather is what is required. It's kind of like serving, bartending or waitressing at a busy restaurant. You have to cater to the needs of the patrons. And when game day starts, you're doing the same with your fans as you do the people you're serving in the restaurant.
Who else do you think would make for a good interview on SPMA?
1

Mike Hardill

A Sport Management graduate, he's a fresh mind and has a really unique perspective on the industry. He's currently the Director of Marketing and Digital with the Hamilton Tiger Cats. I worked with him for 6 years and think he'd be really interesting to feature.
2

Chelsea McDermott

Chelsea is the Senior Manager, Events & Production at Canadian Football League. I worked with her when I was with the Tiger Cats for several years too and she's wonderful and she comes from a radio background. She's excellent at everything she touches.
3

Cameron Kusch

Cameron is the President of the Guelph Nighthawks. He's done a terrific job of putting the team together. He's really young but has been in the sport industry for a very long time out in Vancouver. I really enjoy working with him and I think he'd be a fantastic interview for SPMA to do.
---
Shelby Vilneff
Interview by Phil Goldberg
Posted July 4, 2019 in Your Career in Sport