In order to gain insight into what it takes to be a successful entrepreneur in today's sports industry landscape, we at SPMA were lucky enough to have the chance to learn from Tim Macdonell, owner of Elite Sports Tours.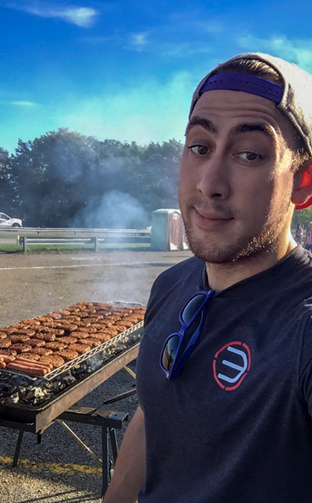 Tim started Elite Sports tours at the age of 23 in Peterborough, Ontario and since then has grown it into Canada's largest sports travel company. We spoke with him about what it takes to be an entrepreneur and the benefits that come along with it.
Tell us about your current role as the owner of Elite Sports Tours?
As the owner of Elite Sports Tours, I manage a variety of relationships including B2B, B2C and internally with my staff on an ongoing basis. With my team, we focus on providing memorable experiences in the sports travel industry for sports enthusiasts.
What does a typical day at the job look like for you?
A standard day can vary depending on the time of the year and what we are focusing on as a team. I try and talk with my team about the morning and as a team prioritizing the tasks that need to be tackled first. I like to prioritize what we need to tackle as a team that day and help ensure everyone has the support necessary to have a successful day.
Once my team is in order, I turn my attention to our website and social media analytics. Since our business is web-based, analyzing our metrics on a daily basis is important. With a few clicks, we can increase advertising and turn up or down specific campaigns that bring in new leads to our sales funnel pipeline.

From there, my day can include fixing a printer or if I'm lucky I get some time to invest in developing new business ventures and spend some time helping my staff develop new skills to become the best at their job.
Talk about why you wanted to work in sport and ultimately become an entrepreneur in the sport industry?
Growing up I knew that I always had that entrepreneurial mindset. I didn't always aspire to work for myself or know I would one day own a business, but I knew I wanted to work in sports. After years of working 20+ jobs for other people, you learn a lot about business. The type of organization you want to run, the boss you want to be, the culture and employees you want to surround yourself with and the ones you didn't.
I always loved sports. I enjoyed watching and playing sports growing up, but as I got older the best memories were with my friends and family at live sporting events. After experiencing a bus tour for the first time and it being a nightmare experience, I saw a business opportunity to do something better. The bus tour industry was plagued with bar owners who would go out of business or scam people to make a quick buck. In 2008 I started Elite Sports Tours and focused on emphasizing our companies T.I.C.O. (Travel Industry Council of Ontario) license as a reason to trust purchasing travel with us. Battling the stigma of purchasing things on the internet in 2008 vs 2019, we had to work a lot harder to convince people to trust us to show up in a parking lot the morning of a sporting event just because a 23-year-old kid told them they would.

Needless to say, we have come a long way as a company and I have as an entrepreneur.
What's your favourite part about owning and operating Elite Sports Tours and why?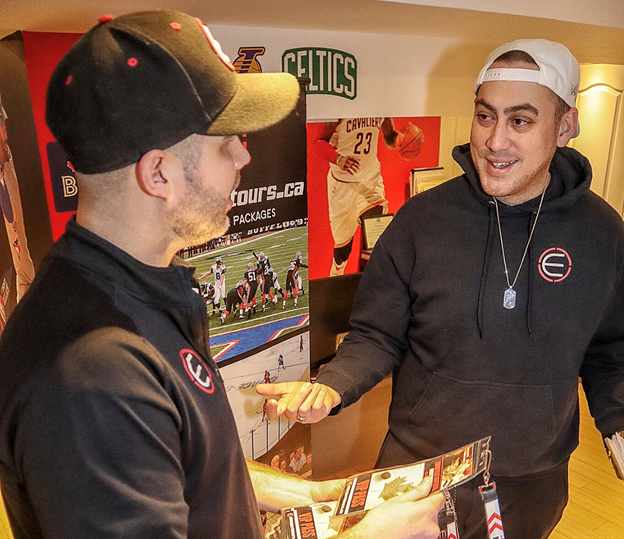 This might sound odd, but besides being able to work for myself, doing something I love and excel at, I enjoy seeing my staff grow and develop into their own.
I always had a passion and desire to eventually teach Entrepreneur/Business in College later in life and I find working with my staff allows me to share my knowledge with them.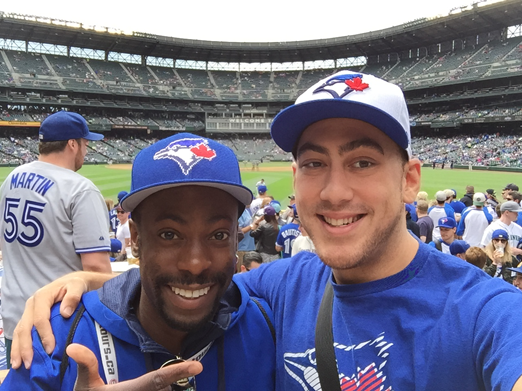 Owning a business isn't just about accomplishing our goals as a company, but also individually. I always try and make it a priority to keep my staff's personal life goals and desires in mind with the direction of the business.
Seeing the memories and experiences we are able to create for our clients is the most rewarding part of owning Elite Sports Tours. Some of the stories we hear about helping someone send their father to see their favourite team for their retirement gift doesn't even seem real. This is what we do for a living; we make dreams come true.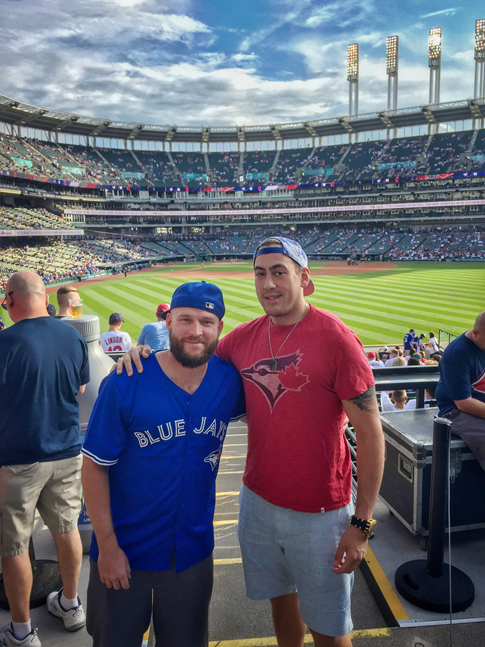 What are three main areas of personal development aspiring sport professionals should focus on and why?
1

Empathy

People will tell you a lot more if you listen and show empathy. Learn to listen and talk less.
2

Wake Up Early

The most successful people are the ones in first and out last.
3

Confidence

It's easier to accept a job or challenge and learn how to do it vs. feeling inadequate and counting yourself out before you even try.
Who else you think we should interview for SPMA that you personally know and have seen be successful in the industry?
Russ Kovshoff – Russ is a former Elite Sports Tours employee. Worked for MLSE as Game Day Operations Manager and now works for the Saskatchewan Roughriders.
---
Tim Macdonell
Interview by Austin Wagar
Posted August 1, 2019 in Industry Profiles