Emily Dixon is the Coordinator of Offensive Operations for LSU Football and Multimedia Reporter for LSUsports.net. The latter position, Emily CREATED FOR HERSELF upon returning to LSU's Athletics Department! #boss Emily Dixon's two roles within the LSU Athletics Department often feel like more than just two roles, but she is very grateful for every opportunity the school has given her. Emily gets to write, shoot and edit all of her pieces, displaying versatility, adaptability, and hardwork! Before that, she provides a down-to-earth perspective on making mistakes, and using it to better your character and career! To find out more of Emily Dixon's insider tips, read the feature below!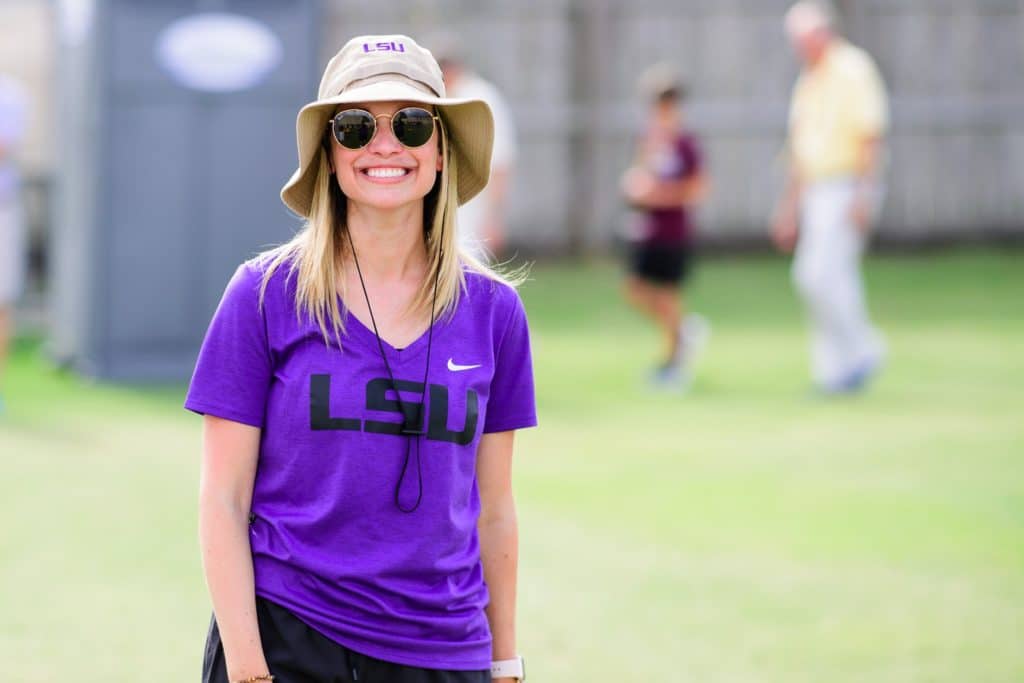 Please note: The interview with Emily Dixon was conducted via a typed conversation. Editing changes were made to make it easier to read while maintaining the voice of the interview.
Tell us about your role as a multimedia reporter for LSUsports.net and Coordinator of Offensive Operations for the LSU Football team.
I am currently in my eighth season as the Coordinator of Offensive Operations for the LSU Football team. I work closely with our Offensive Coordinator, Steve Ensminger, and all offensive position coaches regarding game-day preparation, travel and a variety of daily tasks.
I work in the recruiting department working with Coach O and other recruiting personnel for unofficial and official visits, special events and game days. I also travel with the team throughout the football season.
I created the position of a multimedia reporter for LSUsports.net when I came back to LSU in 2012. After interning around professional teams in Houston and doing some research, I found that NFL, NBA and MLB teams had "team reporters". Since LSU has been a top athletics program for years, I thought that position was a position of need for the Tigers. LSU would not make it a full-time position then (and I am still hoping that one day they will), but our current head coach at the time, Les Miles, allowed me to create this position while I worked as the Coordinator of Offensive Operations.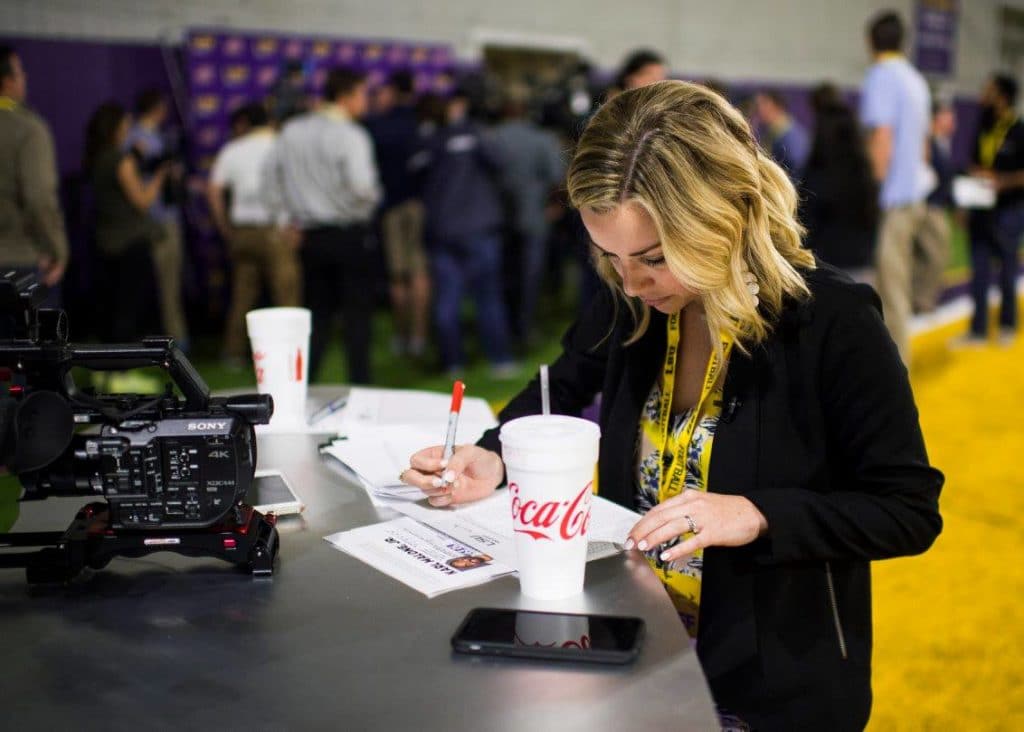 My reporting duties include weekly sponsored interviews with Coach O and current football players. Once football season is over, I move into covering basketball with Head Coach Will Wade and players and then into baseball with Head Coach Paul Mainieri and his players.
I also interview Tigers in the NFL, like Tyrann Mathieu, Odell Beckham, Jr., and Patrick Peterson, when they come back to town and any other special visitors that come for LSU Athletics events. I work with the communications staff to produce and create special features and interviews for our website throughout the year.
[nnr_optin_fire id="17″]
What does your day-to-day look like?
Every day is different, but I like the football season because it provides a routine. I have the same responsibilities every Monday each week, every Tuesday each week and so on. It allows me to know more of my schedule ahead of time than in the spring when events and recruiting visits can pop up at any time. I balance all of the tasks for my coaches with communications meetings and helping produce and organize social content with our creative team. I also have to manage my own personal brand on all social media channels to interact with fans, answer questions and promote my job and LSU Athletics in the best ways. It's work every single day. During the 12 weeks of the football season, I'll have off only about seven days total.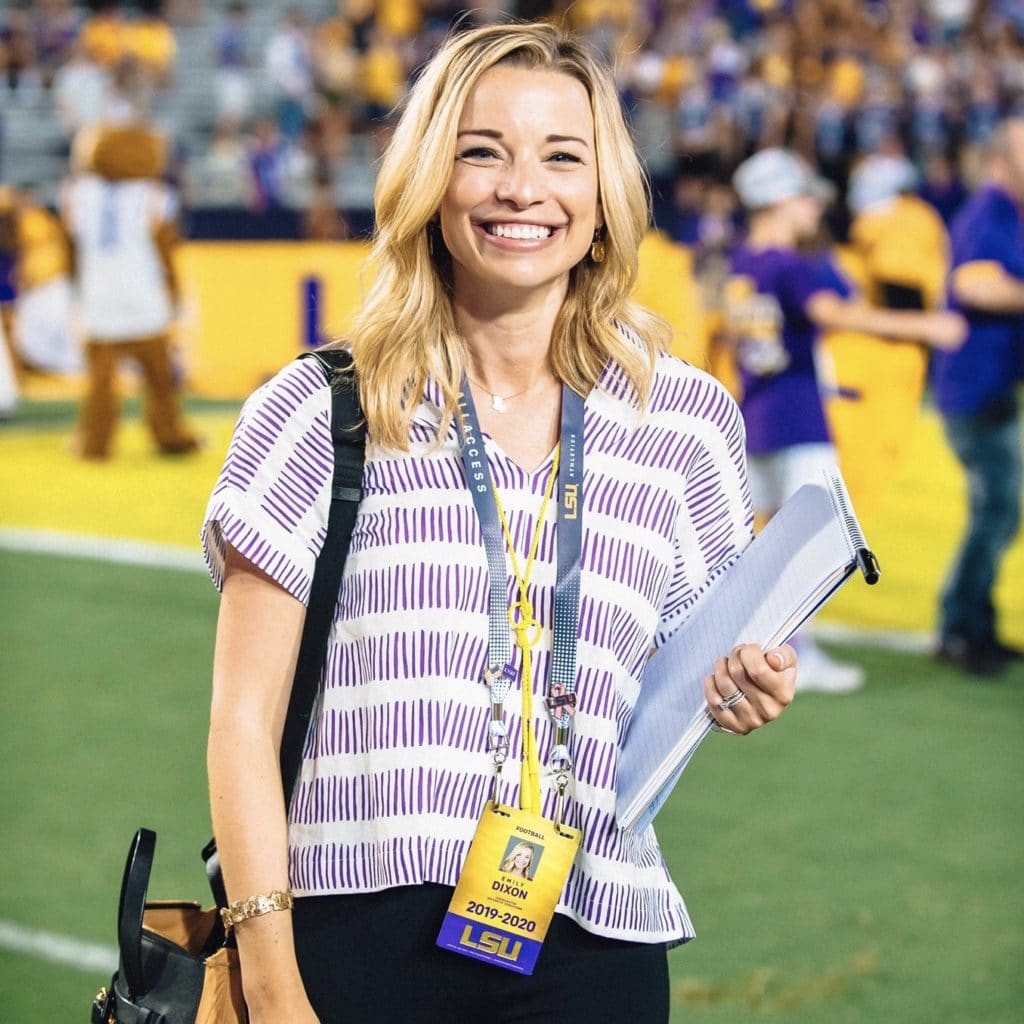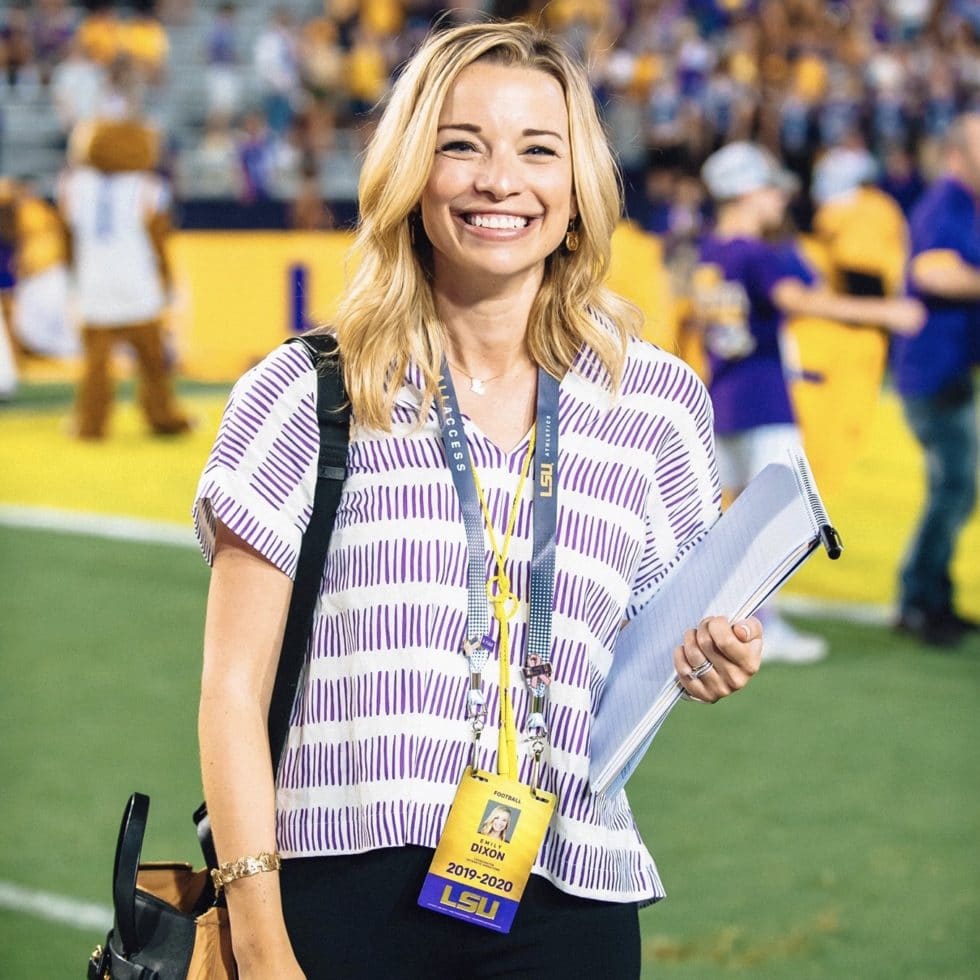 What is the best part of each of your positions, and why?
The best part about my Coordinator of Offensive Operations role is having the opportunity to really know the coaches and players and have real relationships with them. Through recruiting, I know the majority of our players since they were in high school and get to know their parents and families really well too. One of my favorite parts about home games is seeing all of the parents before kickoff. We all keep in touch, and I know it sounds cliché, but we are all like a big family. The same goes for the coaches' families as well. Also, travelling with the team is an amazing experience that I definitely don't take for granted. There is something about walking into a visiting stadium as part of the team that is hard to describe. And, seeing these guys achieve their dreams of playing college football and professional football, or whatever they do after LSU, are very proud moments.
I have so many favorite parts about my media position with LSU Athletics. I love to create content and get to know our players on a different level. Since I know them so well because I work for the team, I am able to use that to my advantage when it comes to creating unique content. I am able to work with the communications and creative teams to create and promote content, and I get to know the coaches and players not only at football but also at other sports since my media role has expanded. It really is so much fun for me to be able to represent LSU in this role. It is a dream come true.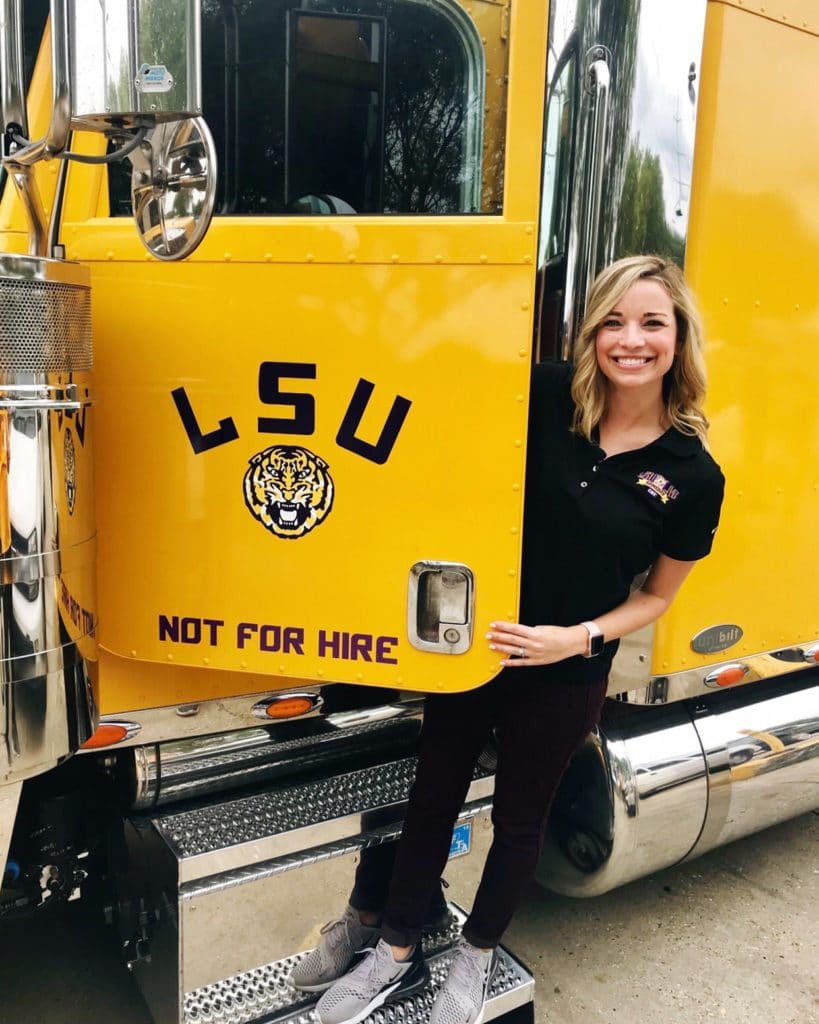 What is the hardest part about balancing two different roles?
Sometimes it feels like more than two different roles! I like to be busy, but since I have taken on so many different roles and expanded to other sports besides football, I have to make sure not to have too much on my plate, which I am constantly still trying to figure out.
What are three essential skills someone needs to succeed in the sport industry?
1

Good Communication

Communication is essential to getting any type of job. It is not only important to communicate but to communicate correctly. You never know who might be that person who helps connect you with an opportunity, so it is important to use communication to form relationships with others in the industry. I have found success due in large part to the various people who have personally helped me and who have given me opportunities. I wrote an entire blog post about this because I think it is so important.
2

Experience

Getting a job in the sports industry is a lot about who you know. The only way you form relationships and get to know people in the industry is by getting hands-on experience. This means internships in the summer, jobs in student media or in the athletics department at your university, working during games when all of your friends are in the student section, etc. You have to grind. Get experience in multiple fields, so you can show future employers your versatility. You're going to make mistakes, and most likely, you're going to make a lot of them. That's what internships are for – to learn.
3

Be Versatile

Everyone in the sports industry has to be multi-talented. If you want to be a broadcaster, you can't just focus on interviewing people on television. You have to know how to write for TV and print, shoot your own footage, edit your pieces, produce a newscast and then share it all on social media to build your brand. We are now in an industry where there is no more concentration in one field. You have to know how to do everything from start to finish. If you want to be a writer, you still need to learn how to present on television and radio. Everything goes hand in hand now.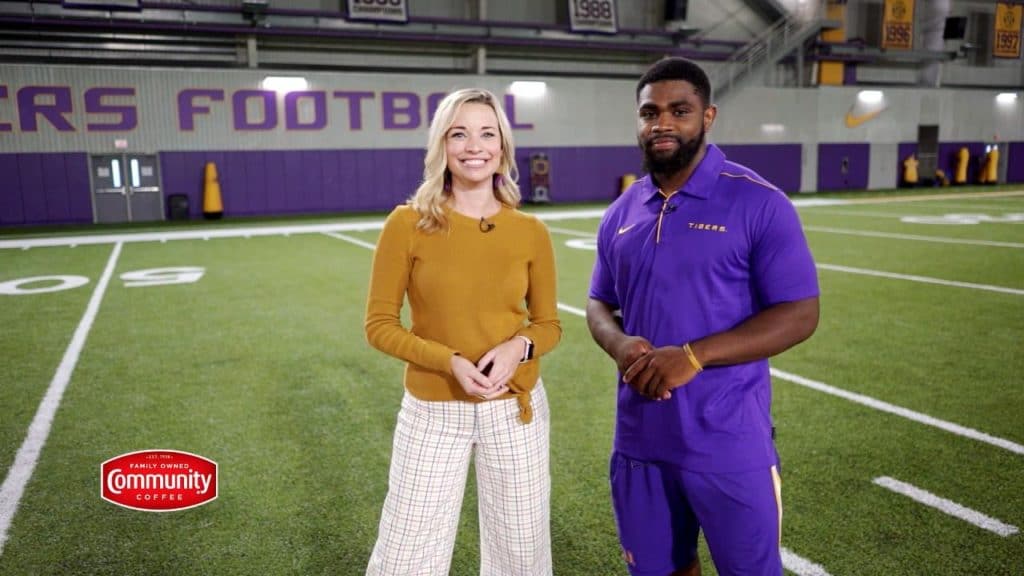 [showmodule id="274416″]
Would you say the path to your current position was easy or challenging, and why?
I definitely do not think I would be in the positions I hold today if I would not have been a student worker in the football office throughout college. I worked all four years in the recruiting department and made countless connections at LSU and in the media for when I eventually came back to Baton Rouge. I kept in touch with everyone I worked for as a student, including Les Miles. He called me as soon as a position came open and hired me back full-time. Having LSU on my resume, even as just a student worker, was my foot in the door to all of the internships and jobs I have had outside of LSU.
The overall path though was very challenging. When you decide to work in sports, you have to be prepared to work many unpaid internships, go wherever an opportunity might take you, work multiple jobs, sacrifice time and relationships and know that the pay is not the best for most individuals.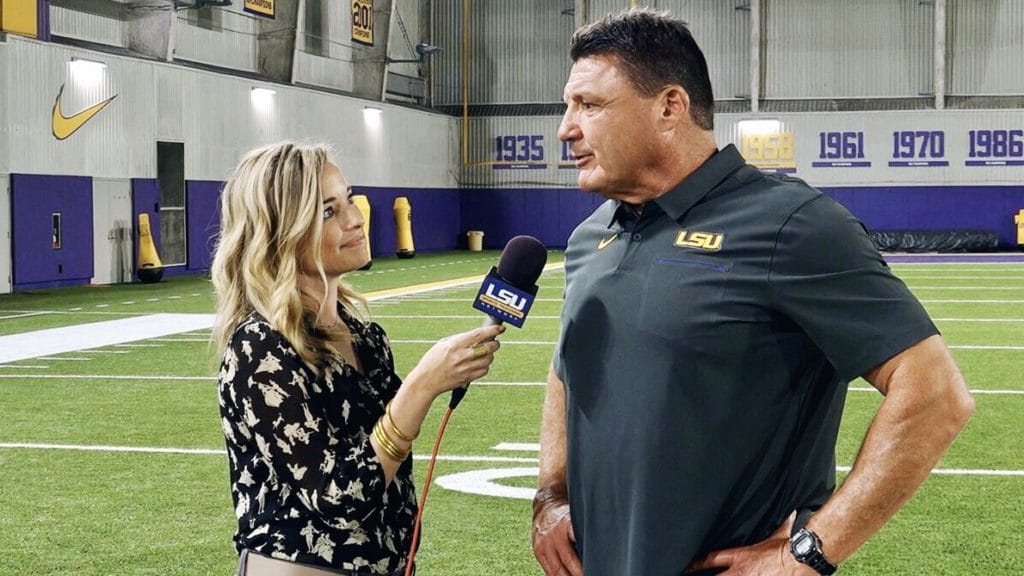 After I graduated from college, I had to move home, which at the time was a huge defeat to me. Lucky for me, I am from a big city and FOX Sports had just opened a hub in my hometown. My first job out of college was building and updating regional websites for FOX Sports, which included two weeks a month working the overnight shift (6:00 PM to 4:00 AM, then the next week I would be on the morning shift and the next week on afternoons). It was not exactly what I had in mind for my grand broadcasting career after college. After a year with FOX, I moved to Monroe, La. (Market 135 at the time) to be a sports anchor at the CBS affiliate KNOE. I didn't know a soul in the town and was very green for the position I had just landed. I messed up (…a lot) on live TV and was also really lonely without any friends or family nearby. It was a difficult time, but I knew I had to do it for the career path I chose. I worked hard to get better at my job with the guidance of a great sports director, made friends that I still keep in touch with and fell in love with a community. It was a tough time but exactly what I needed at the same time.
Even though I am at the place I want to be right now, I think working in sports, in general, is always going to be challenging. So many people tell me, "You have a dream job", but people outside of sports really do not know everything that goes into the job. I graduated from college 10 years ago, and I have missed more holidays, family events, weddings and birthdays than I have actually attended. I always ask people, when do you enjoy sports? The answer is typically on the weekends, holidays, etc. Well, that is when we have to work, and that's not just the teams themselves but everyone it takes to put on a sporting event. I think that is one of the most challenging parts of the path. You really have to love it to sacrifice so much of your time and that never changes.
What would you say your top 5 moments/accomplishments have been so far in your sports career?
1

Creating and growing my multimedia position

If you would have asked me 15 years ago what my dream job would be, no lie, I would say working for the LSU Football team and solely focusing on reporting about LSU Athletics. That dream position didn't exist until I created it.
2

Covering the 2011 13-0 LSU Football team when I worked at Scout

I had the opportunity to witness one of the greatest LSU teams of all time, which included so many LSU playmakers, like Tyrann Mathieu. Covering Tyrann during that year and watching the evolvement of the Honey Badger was a season I will never forget. Also, Les was so much fun to cover that year and gave some amazing press conferences.
3

Travelling With LSU Football

One thing on my bucket list is to watch LSU play in every SEC stadium. I was a student worker in college until now, I have checked off 12/14 SEC stadiums. I still have South Carolina and Missouri to go! (And, I've seen them win in 11 out those 14 stadiums, so maybe I need to update my bucket list to wins only!)
4

Having Creative Freedom

Being able to shoot, write, produce and anchor my own sportscasts. When I arrived in Monroe, I felt like such a fish out of water when it came to everything that a small-town sports reporter has to do. By the time I left, I was totally confident in my abilities to get everything done by myself and produce a successful sportscast. That made me very proud.
5

Graduating from LSU … TWICE!

Graduating from LSU in 2009 and then receiving my Master's from LSU in 2016. I love being a part of and representing this university. Getting my Master's while working full-time for the football team was hard, but I am so glad that I did it.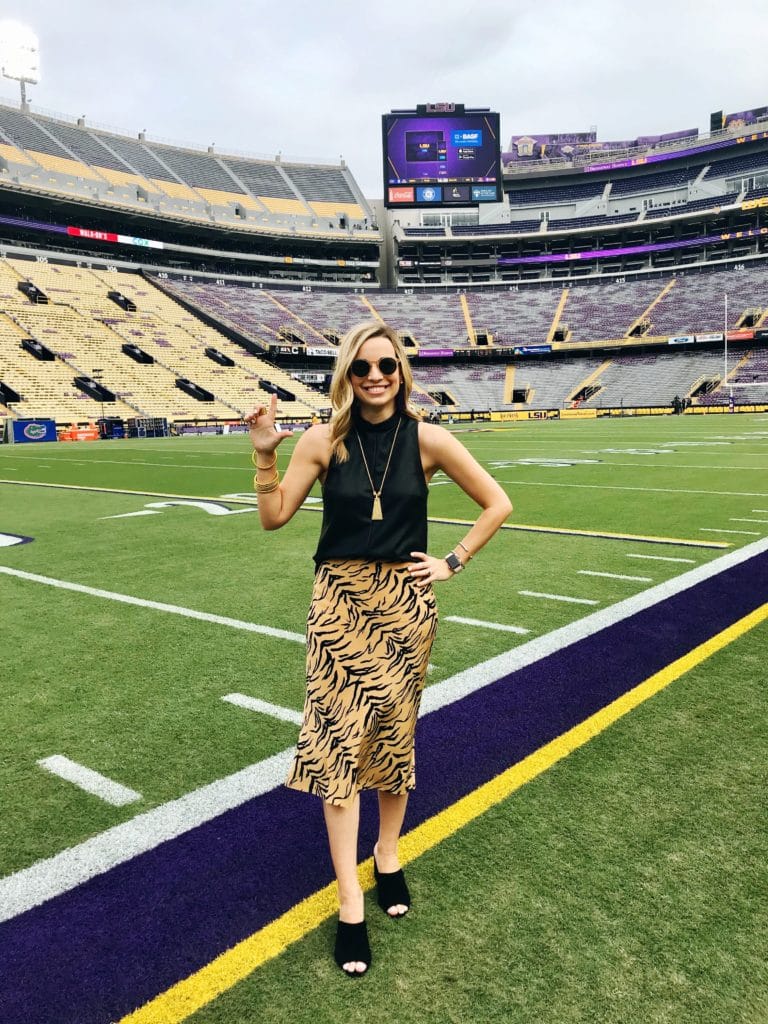 Anthony's Final Thoughts
Emily Dixon worked for LSU's recruitment and athletics departments while obtaining her undergraduate degree. When a position opened up for her back at LSU after she graduated, Emily Dixon jumped at the chance to work for LSU again. She was even able to create a position for herself for LSUsports.net! Emily Dixon loves interviewing former LSU players and seeing them succeed in life after LSU. She provides us with great examples of her 3 essential skills a sport industry professional needs, as well as her top 5 accomplishments in her career so far. Emily Dixon's feature was very inspiring, learning of her journey from intern, to 2 full-time roles within LSU's Athletics Department. She gave great insight, and I look forward to seeing Emily Dixon continue to flourish at LSU.
---
Emily Dixon
Interview by Anthony Clark
Posted November 19, 2019 in Industry Profiles