Emily Jaenson is the General Manager (GM) of the Reno Aces. It was announced just over a year ago and caught widespread attention from the media. A common theme in the headlines was that Emily Jaenson had just become the highest-ranking female executive in Minor League Baseball (MiLB). At the time of Emily Jaenson's hiring, she was just the sixth female minor league GM ever hired for the role. It certainly matters that Emily Jaenson is the only female minor league GM. But Emily Jaenson is not just a woman who does fantastic work for high-profile sports team. She's a person who has built a tremendous career in sport. The foundation and building blocks on top of it, leading Emily Jaenson to become the Reno Aces GM are incredibly unique.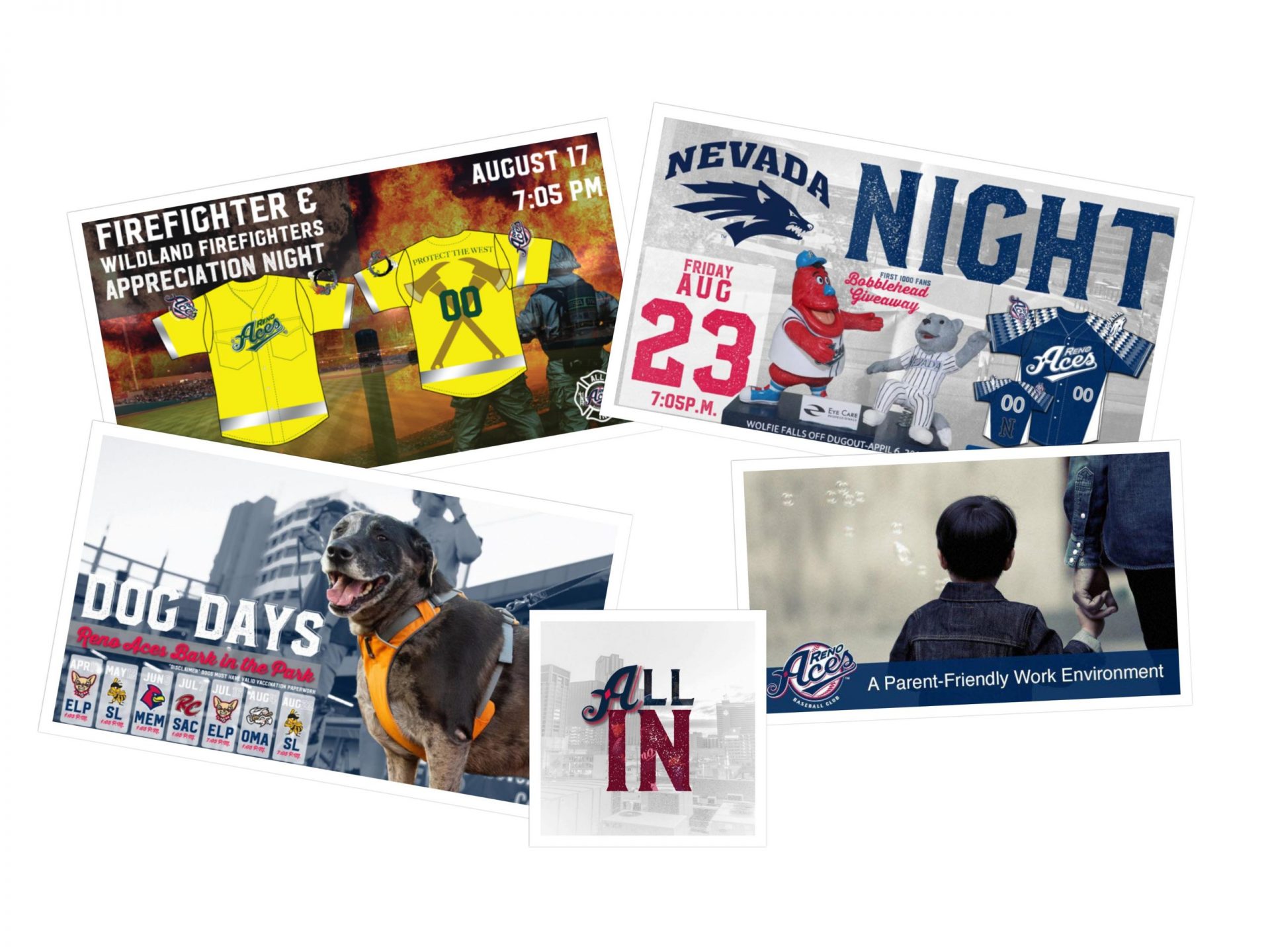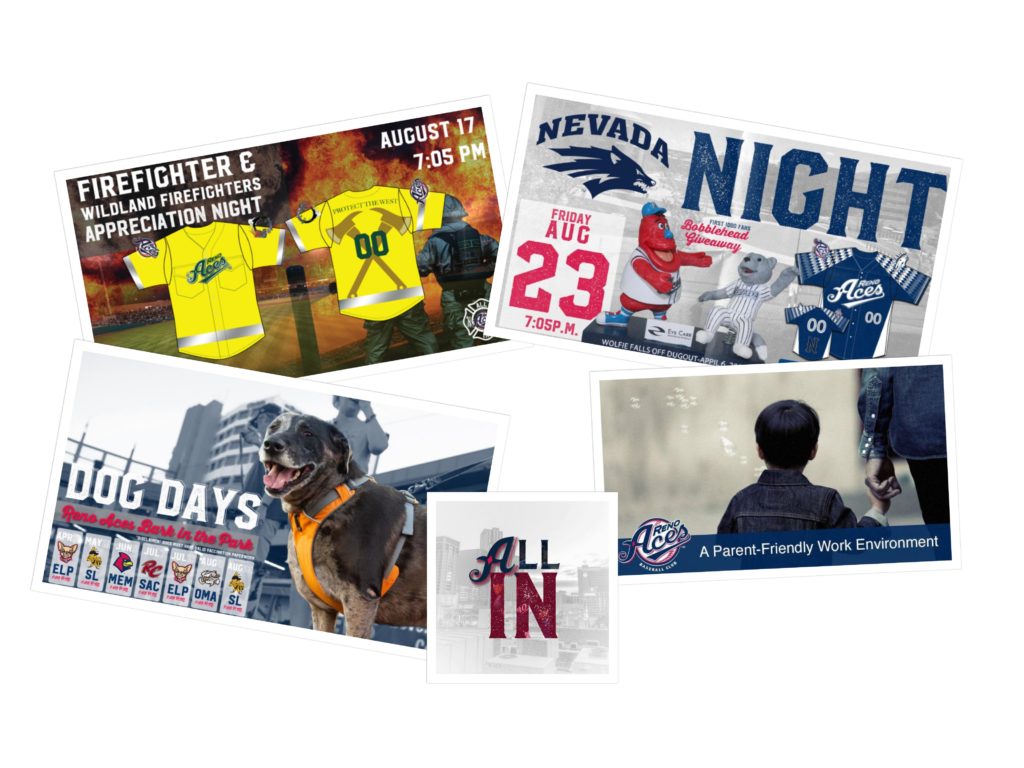 Towards the end of July, I had a candid conversation about her career in sport It will go down as one of my most intriguing and best experiences on SPMA yet. Emily is articulate, funny, creative, and has impeccable interpersonal skills. I know you will enjoy reading about Emily Jaenson as much as I enjoyed having this candid chat with her.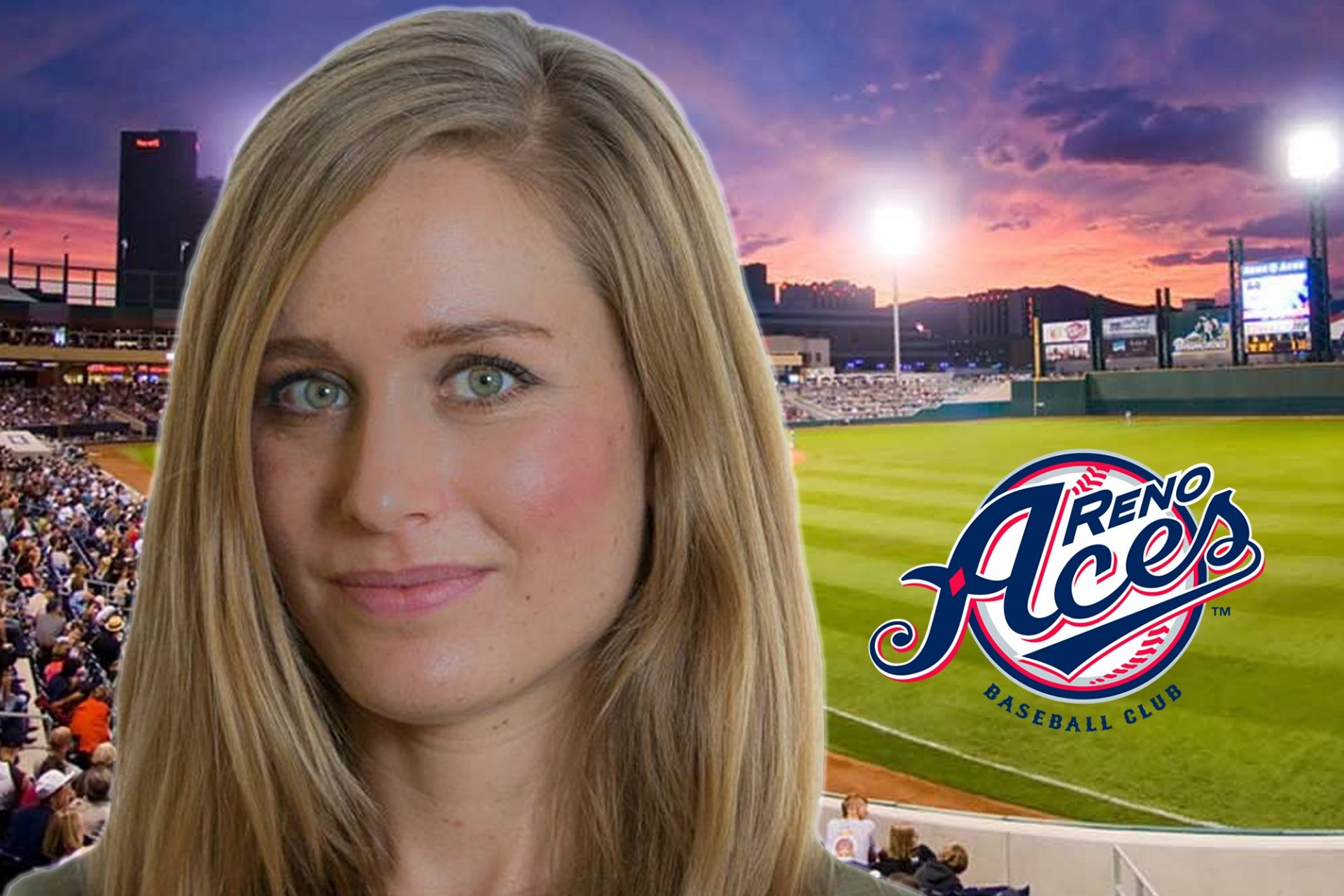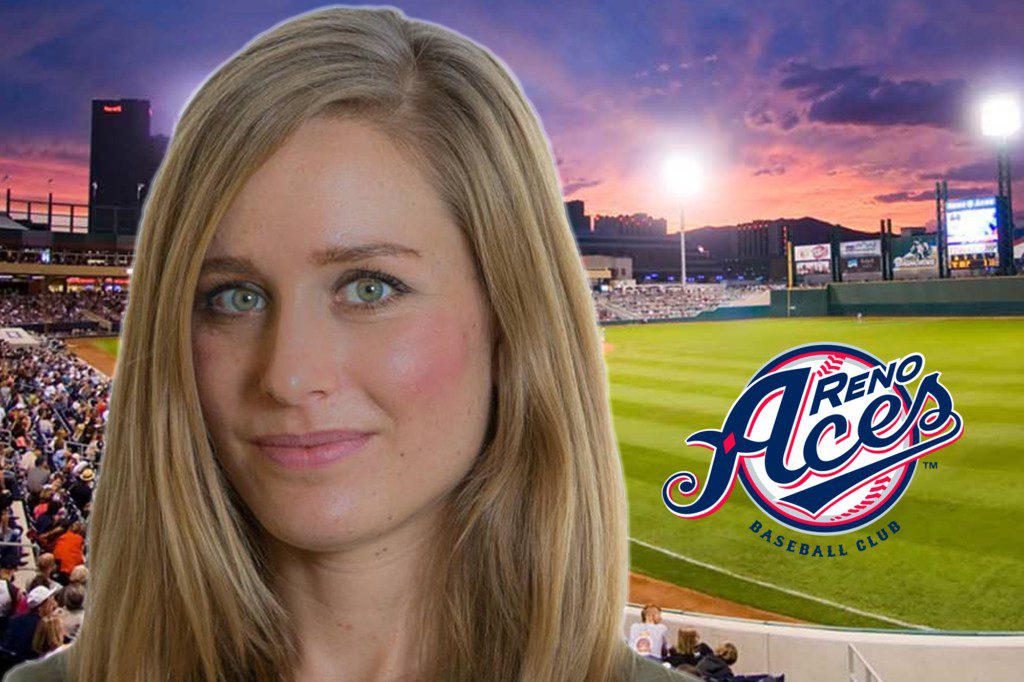 Your role as the GM of the Aces has been described as "day-to-day baseball and business operations." In your own words, what does that mean?
I think it's a perfect pairing [of day-to-day baseball and business operations]. I describe myself as a jack of all trades. With my background, I've worked in a lot of places and have done a lot of different things. Doing so has really benefited me over the years.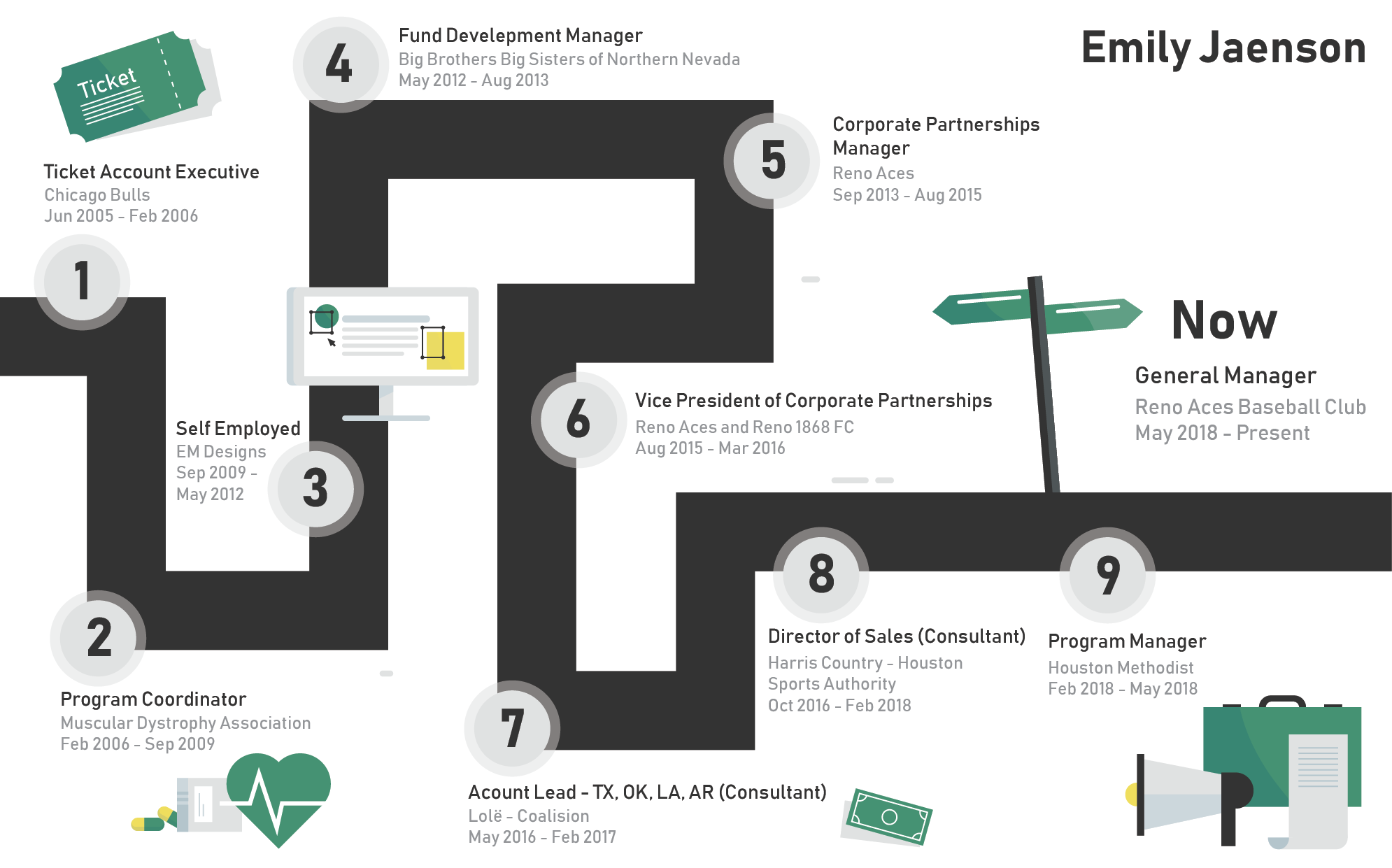 In my role as the GM of the Reno Aces, I liaise with the MiLB, PCL and Arizona Diamondbacks, our major league [MLB] affiliate. My role also includes overseeing our team's marketing, community relations, public relations, and team shop.
Overall, my role as the GM of the Aces is to oversee the entire event experience – which is a lot of those things, wrapped up into the live-action.
What does a typical day look like for you as GM of the Aces?
When I was in college [university], going after my first job, I would go to many networking events. Funny enough, this was always the first question I asked.
"Little did I know how difficult that answer is to give. When you're in the perfect space and the perfect job, no day is the same."
In my role as the GM of the Reno Aces, I have a lot of freedom for creativity and room to explore new ideas and technology. I work with my team here, but also with plenty of external partners and executive teams for all our business lines.
Typical Days Vary
It is quite varied. One day may be filled with internal and/or external meetings and/or game day prep.
Much of this week involved catching up with corporate partners, sending invitations and working on several large groups we've got coming out to the ballpark in August.
Tuesday was a marketing day for me. I did the morning show on Channel 4. That call time was 7:45 AM. Then, I had an interview with the news anchor, and our mascot helps do the forecast for that day.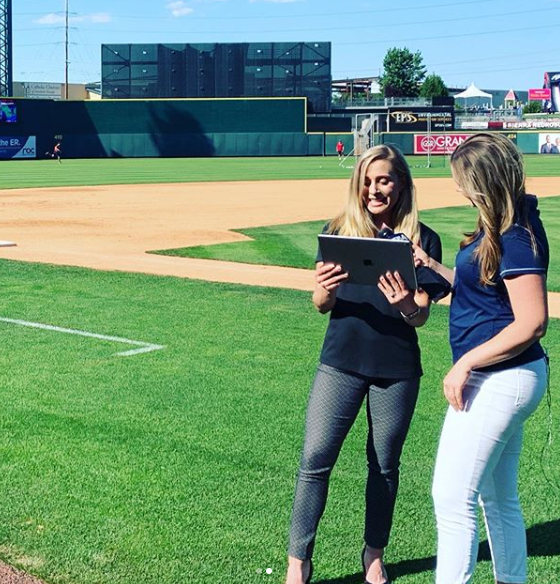 I got back to the ballpark, had our weekly marketing meeting, followed by a team shop meeting, stadium services meeting and a meeting for a special game date we're doing on August 15.
Then, suddenly, it was almost game time, so I was checking the ballpark, doing laps, checking in with guest services, and making sure we're prepared to open the gates at 6:05.
My days involve touching base internally with the different departments and people leading. However, I'm also in a revenue-generating role, so I need to be proactive with our partners and make sure that the experiences and the marketing elements are going off without a hitch.
Each day, I try to exercise at the gym. I'll even bring gym stuff to work and leave in my gym clothes. It's crucial to take care of yourself and a big part of that is through physical exercise. So, when our staff sees me taking time to exercise, I hope I inspire them to do the same.
How did your Ticket Executive role with the Bulls back in 2005 propel your sport career?
That was the foundation of my career in sports. My ticket executive role with the Chicago Bulls started in the summer of 2005 and went through the spring of 2006. 14 other new college grads and I sold season and group tickets for rhe entire season. We had sales training, 80 calls a day, and grinded day and and day out. The goal was to wholly understand more about the lifeblood of all sports team – the season ticket holders. You need a base of passionate, committed and loyal fans in order to have a successful sport organization.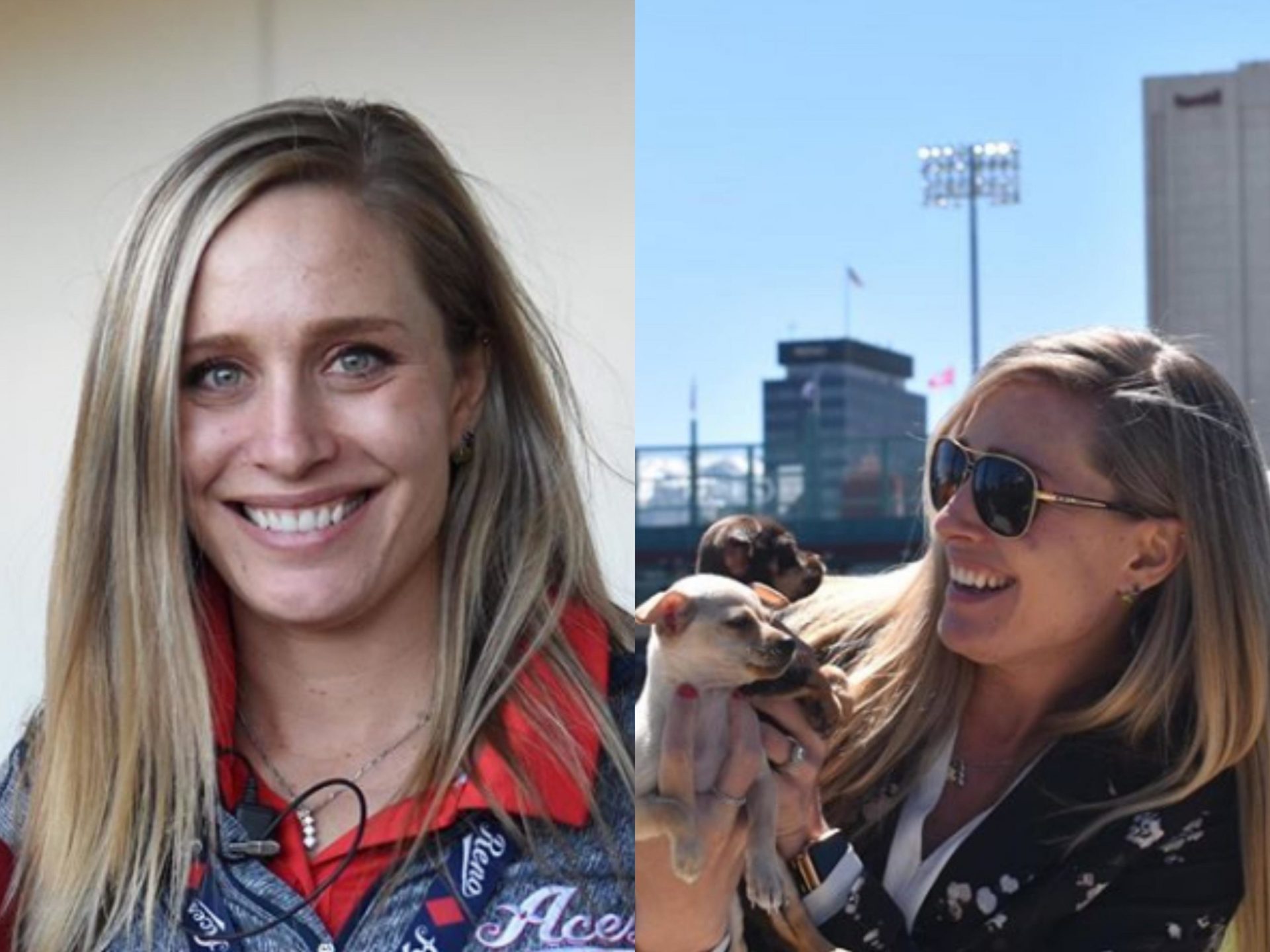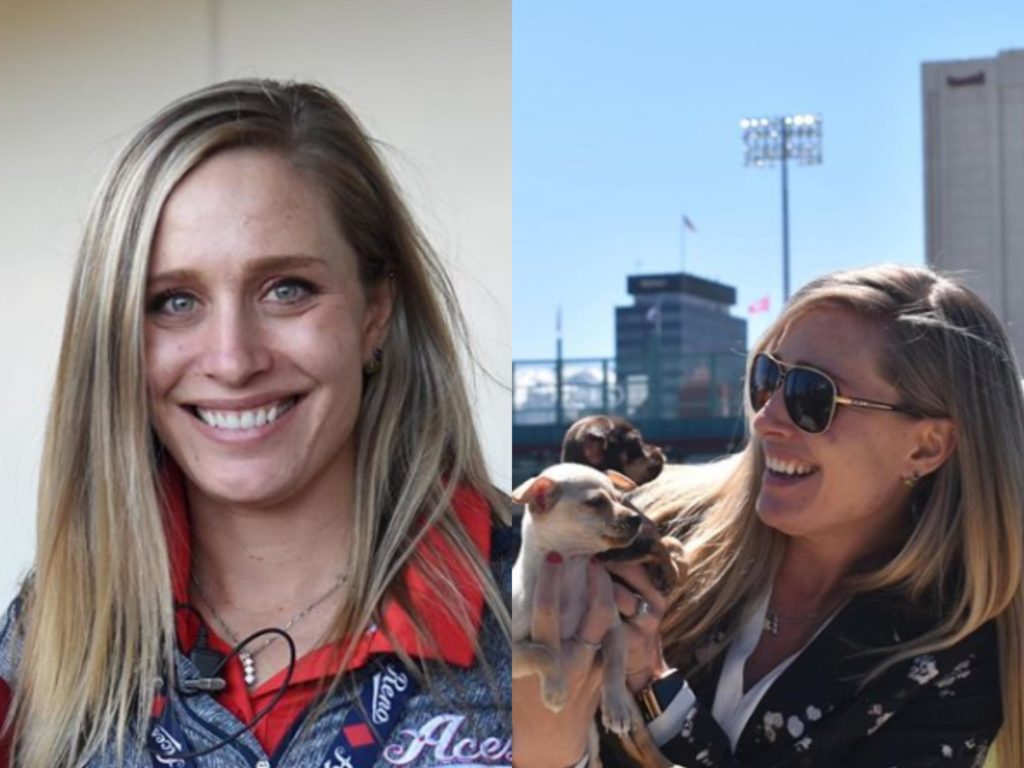 Not only did I understand the vital role of season ticket holders, but I learned how to do sales.
My experience with the Chicago Bulls was absolutely the foundation for everything I did thereafter. As a result, I advise anyone looking to make it in this industry to understand the basics of sales. This doesn't mean you need to spend 5 or 10 years working as an ticketing executive. Rather, it means you should at least learn the ins and outs about closing a deal.
Even if your plan is to work in marketing, you may negotiate media buys or software purchases. This is sales! Also, you'll likely be analyzing different campaigns. You'll then need to pitch the benefits of them to your superior. This is sales too!
Your career started in sport straight out of University of Illinois. Why was sport the logical choice for you?
Working in sports was always an aspiration. Initially I began studying biology so that I could be a physical therapist or athletic trainer. At the time, that was the only way I could connect the dots to working in sports.
I soon realized I did not want to have a career in the medical field, and I needed to understand what it was like to work in the business field. With that in mind, I went decided to pursue the advertising route. This was excellent for me, because advertising allowed me to explore my creativity.
When I graduated, I was offered a full-time gig with a salary at an advertising agency in Chicago. The next day, I received an offer for an eight-month ticket sales internship with the Chicago Bulls too.
I made the decision to take the internship with the Bulls. Sure, I passed up a full-time, salaried gig. But, I was willing to gamble on myself that the role with Bulls was going to set the stage for my future. Thankfully I did, because working for the Chicago Bulls was a dream come true. Growing up just outside of Chicago, I was a Michael Jordan fan. Actually, walking past that MJ statue at the United Center for my interview tipped the scales my decision [laughs].


Why did you leave sport for non-profit after the Bulls internship?
I finished up my eight month internship with the Bulls. When it was all said and done, I was at the top of the leaderboard for seasons and groups sales.
Despite my rank, I didn't get a full-time job. For somebody as competitive as me, it was incredibly painful. I saw it as a failure.
Instead of being taken down by it though, I used it as an opportunity. I was really interested in what the charitable arm of the Bulls was up to. When I was working with the Bulls, I loved their event presence, how they use their brand to help the community and how the players got involved with them. That's where my interest in non-profit business began.
By not getting the job in ticket sales, which "would have could have should have" been a very linear path in the sports arena, I was able to work for a big non-profit in Chicago.
Is the experience working in the non-profit sector relatable to working in sport?
The Muscular Dystrophy Association is a large non-profit organization. However, they had a fairly small team when I was hired. My role was to work on partnerships and programming, large areas within the organization.
I was required to do a lot of things, be a lot of people and explore partnerships in ways I wouldn't have if I stayed with the Bulls.
While working in non-profit, I was able to establish and maintain partnerships with major sports teams.
Therefore, my experience working in non-profits has helped me to see both sides as the GM of the Aces. In turn, I've been able to form mutually beneficial partnerships for the Aces.
What is the hardest and easiest part of your role with the Aces? Also, what's your favorite part?
The most difficult aspect of my role is the width and breadth of responsibility. I love that part of being the GM of the Aces. There plenty of opportunities to spin my wheels in many different areas within the Aces organization. Picking where I can make the largest impact can be difficult. But, I've got a few tips for doing that.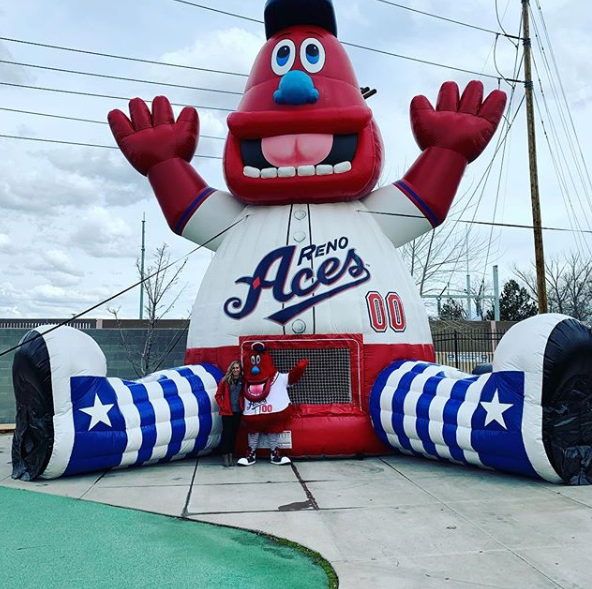 If I walked into work with a blank slate and just opened my email, I could let my email tell me what to do all day long.
At the same time, if I walked in with the mindset of tackling a 30 items to-do list, chances are I'd only get 5 completed. Also if that was my mindset, I'd have to ignore any current events taking place and focus only on completing those 30 tasks.
So first, I try to wake up early to set the day's agenda. I take a few moments to be honest with myself about what can get done in one day and how many hours I have to do so. Sometimes I set up for an 8 hour day and other days I know it'll be closer to 14 hours. Then, I identify the top 3 most realistic priorities for the day.
The mindfulness in my morning of looking at my calendar, planning what I'm going to do, setting my top 3 priorities, tells me not to stress about something I hadn't planned to work on in that 8 to 14-hour period.
I set the agenda for the day, but it doesn't always go as planned. There are people and activations that take precedence over plans, especially when the Aces are playing at home.
"What's helpful is having an understanding that I might not be able to accomplish all that I set out that day – is okay. "
Nowadays, we just expect so much more of ourselves and our work teams for an 8-hour day. If you think back 50 years ago, we had a notepad and a telephone. Now, there's so much more to get done as a result of technology. It's pretty incredible.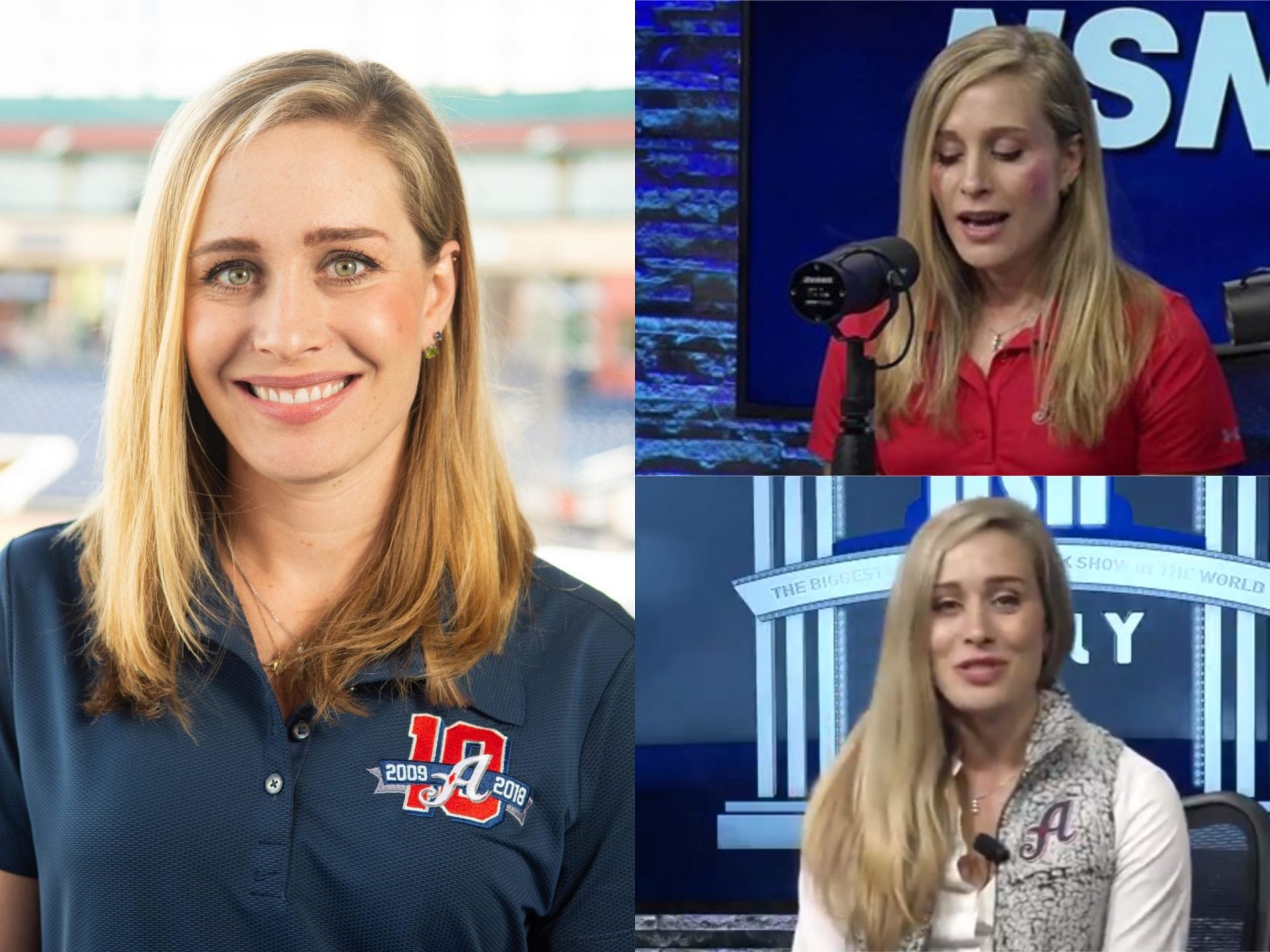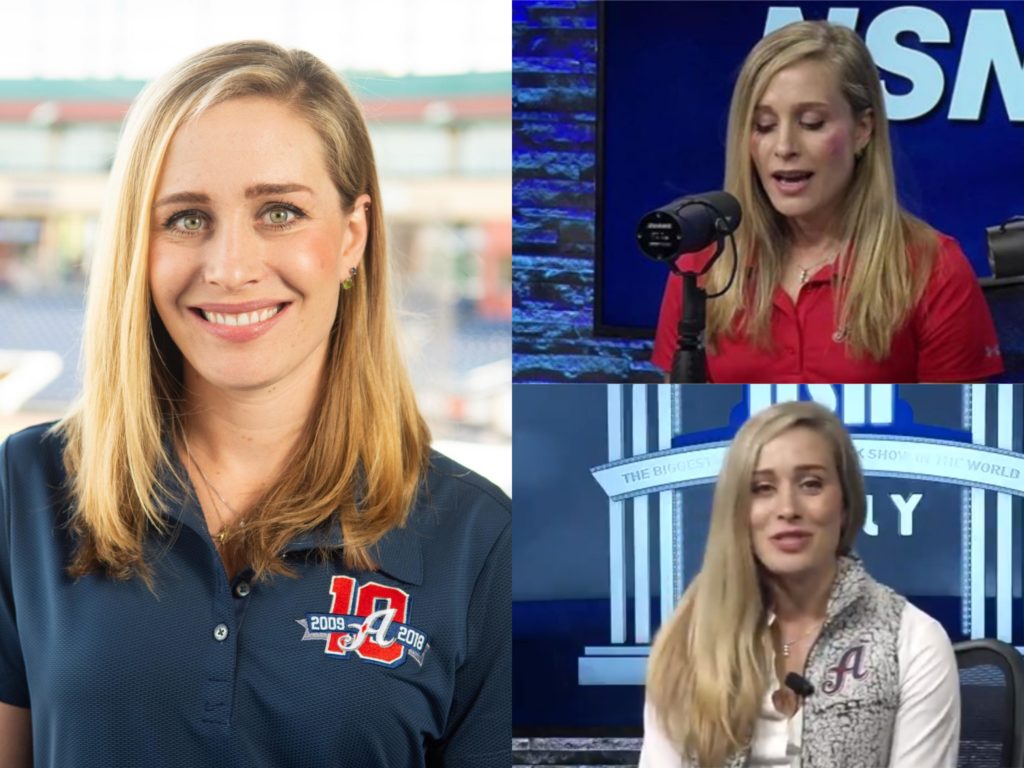 Who should we interview next for SPMA?
1Chip Maxson
Chip Maxson is the GM for the Sacramento River Cats. He runs a successful team there. I would ask him a bunch of questions about the different techniques he's picked up. He's reorganized his front office which would be interesting to talk to him about.
2Jenna Byrnes
Jenna Burns is the Senior Vice President for the Oklahoma City Dodgers. She runs a sales team as part of her role and she can help your readers who are trying to start off their careers in sport. She'd be a great person to talk to about her role, what it means to work in sales and the challenges and opportunities at the entry level of this industry.
Thoughts From The Interviewer
Wow. Talking to Emily Jaenson opened my eyes to so much. Becoming a General Manager can take many paths. Emily's is especially interesting because it was full of challenges, twists and turns and some risk. She took risk accepting an internship with the Bulls on contract instead of a full-time salaries job at an ad agency.
If you asked Emily Jaenson right after she wasn't hired by the Bulls full-time if the risk was worth it, my bet is she'd say it wasn't. Also, she'd probably describe not getting hired full-time as a failure. In fact, today's Emily Jaenson admits she saw it that way back then.
Seeing how quickly Emily Jaenson dusted off negative thoughts as she carved her way into the non-profit sector is truly an inspiration. She found a way to be in touch with sport, although working in a completely different industry. She forged valuable partnerships with major sports teams on behalf of those non-profits. It wasn't because she was lining up her next job. Rather, she was passionate about non-profit and sport. She knew there'd be reciprocity if both came together.
More importantly, Emily Jaenson knew that at the end of the day, no matter where she worked, it'd revolve around exploiting her creative brain.
Today, Emily loves her role as the GM of the Reno Aces. It's clear. I am blessed to have witnessed that love first hand. What's also clear is her hard-working, determined, innovative, forward-thinking, positive, and good nature.
---
Emily Jaenson
Interview by David Minor
Posted August 7, 2019 in Industry Profiles