Erin Prueter is the Game Operations Manager for the American Hockey League's (AHL) Colorado Eagles. In her position, Erin directs the entire in-game experience for the fans, from what advertisements they see on the big screen, to what the in-game host says during stoppages in play! Erin Prueter oversees a group of employees, and interns, and works closely with the rest of the Colorado Eagles' departments to provide the best in-game experience for their fans. In the Cole's Notes version, Erin WORKS HARD! Erin's honesty when it came to her finding a job in the sport industry was not only insightful but also brings us an unfiltered lens to the world of sport management. Before we give it all away, take a look for yourself; enjoy it!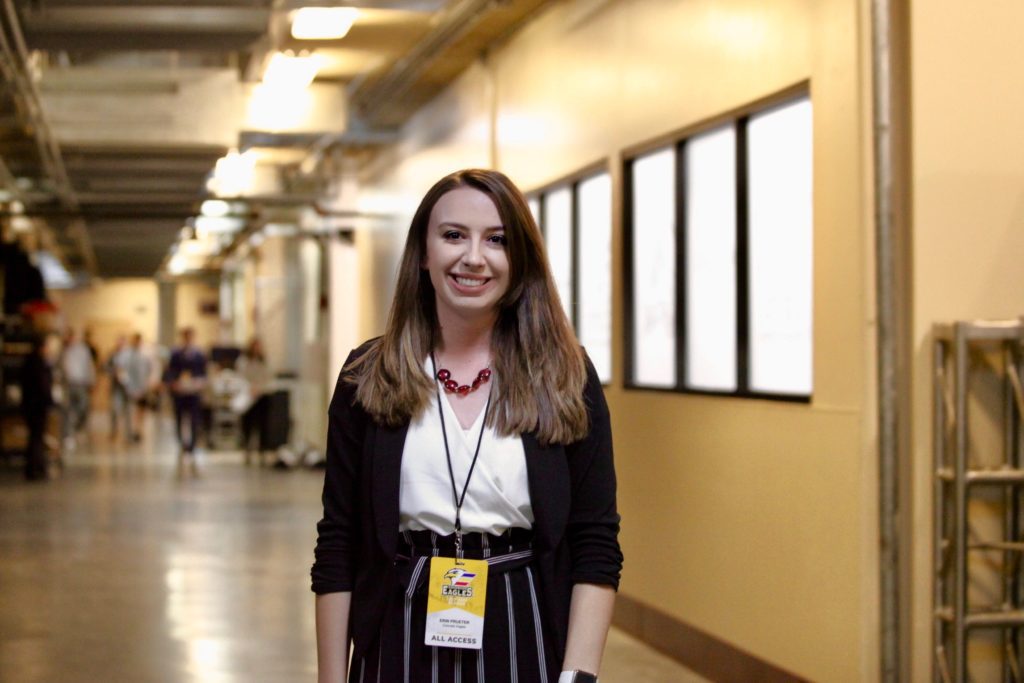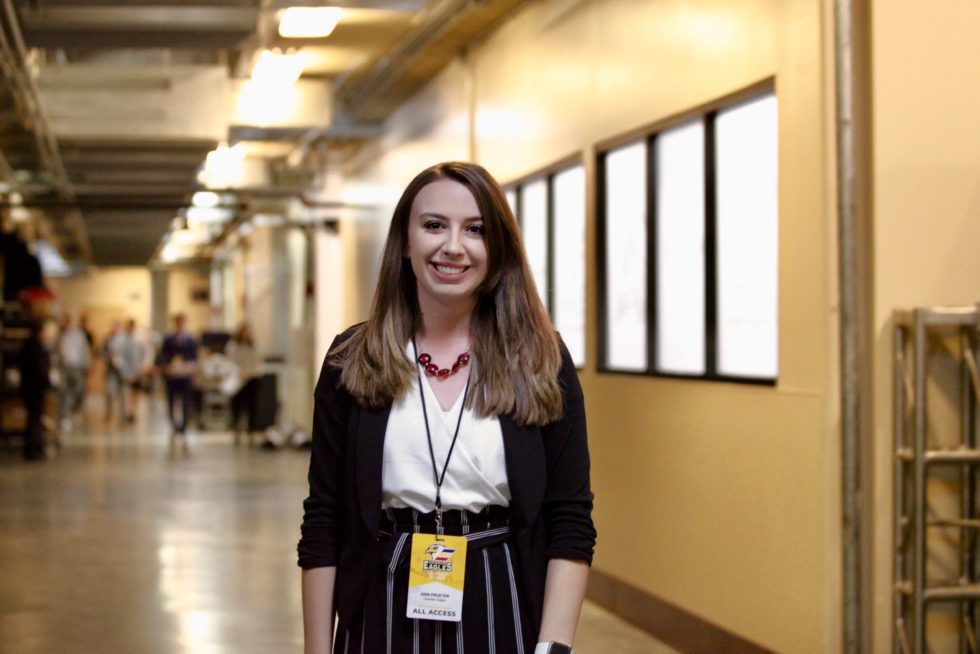 Please note: The interview with Erin Preuter was conducted via a typed conversation. Editing changes were made to make it easier to read while maintaining the voice of the interview.
Tell us about your role as Game Operations Manager for the Colorado Eagles.
I am responsible for planning and implementing in-game entertainment elements and special events. I also oversee the dancers, ice crew, mascot, and a set of interns. During games, I am directing all the in-game elements. I communicate with my staff about which ad is going up on the scoreboard next, which promo we are doing, as well as communicating with the in-game host and announcer about what they will be saying next. It is a very busy job, but I love it.
What does your day-to-day look like?
Every day is different. A lot of the time I am planning out the next set of games which includes writing scripts, planning event nights, and working with the different departments in our office. I work directly with the corporate and ticket sales staff as well as our digital media team. We have a small staff here at the Eagles which is nice because we all work together to create the best possible product for our fans.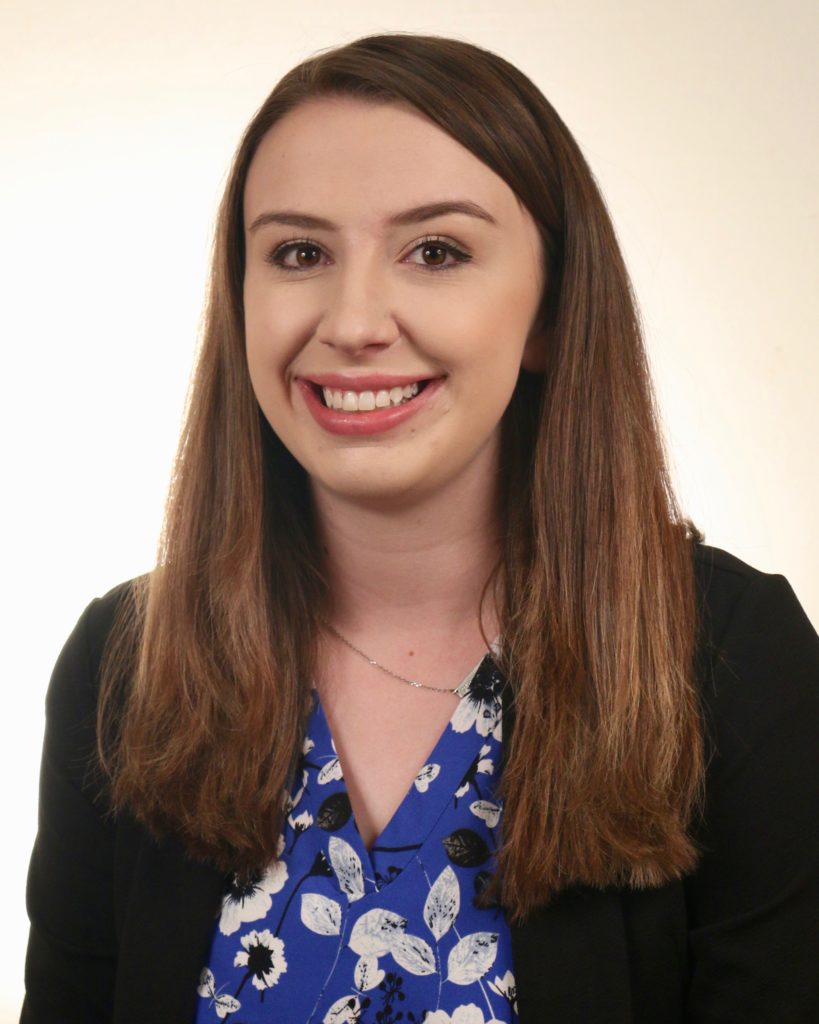 What is the best part of your position, and why?
The best part of my position is being able to be creative and plan out games and special events. In college, I was the director of game presentation and marketing for the University of Northern Colorado hockey team. With that job, I was planning out special event nights like Cancer Night and Military Appreciation Night and I absolutely loved it. I loved seeing how the event could impact the fans and the community. I knew I wanted to have a job where I could do that full time and with the Eagles, I can do just that. I love being able to make a difference and make fans' experiences memorable.
What are three essential skills someone needs to succeed in the sport industry?
1

Patience

Working in the sports industry is not easy. Not everything is going to go the way you had hoped it would. You have to be patient and not freak out if something goes wrong. Take things one at a time and focus on what you can control.
2

Dedication

The sports industry is not your typical job. It is a lot of nights, weekends, and long hours. You are not able to have the free time you would with a normal office job. If you are not willing to put in the hard work and the hours, the sports industry is not for you. Your team will not win every game and mistakes are going to happen and you have to push through it. It's a grind, but it is worth it!
3

Detail Oriented
You will quickly learn that in sports there are tons of tiny details that are a huge part of the game. Being able to focus on all those details and understand why they are important is essential. Having an open mind and willingness to learn about the details is important as well. No matter how much experience you have, you are always able to learn something new.
What is something people don't realize about working in the sport industry?
It is incredibly hard to get a job in the industry. It is super competitive, and rejection is common. I applied to over 40 jobs and was rejected by almost all of them. I did 3 internships in college and worked 5 years in college athletics, and I thought that would be enough to get a job right out of college, but a lot of people worked just as hard as I did if not harder. Networking is so important. I made some strong connections during my internships which is what helped me get the job I have now. I was always told "It's all about who you know" and that is one of the truest statements I have ever heard. Build your network and maintain those relationships.
Would you say your path to your current position was quite easy or rather challenging, and can you discuss why?
It was very challenging. As I mentioned in the previous question I applied to tons of jobs before I got the job with the Eagles. I spent hours perfecting my resume and cover letters, attending networking events, and meeting with people I had met through networking to get advice and nothing seemed to work. I was so frustrated. I wasn't sure if I would find a job in the industry, but I wasn't ready to give up. I interned with the Eagles during the previous season and they were aware of the work I had done with them and UNC's hockey team so when the Game Operations Manager opened up they called me.
Do you live by any quotes, and if so, can you share them with us?
"What is meant for you will never miss you, and that which misses you was never meant for you"
There were so many jobs I applied for that I thought I was qualified for that did not work out. I constantly wondered what I did wrong and why I wasn't picked, but it wasn't until I got the job with the Eagles that I realized those other jobs were not right for me. I always believed the right opportunity would come my way; I just wasn't sure when. I have been with the Eagles for 3 months now and am incredibly happy with where I'm at. Good things take time and I'm grateful for the opportunity to work for such an incredible organization.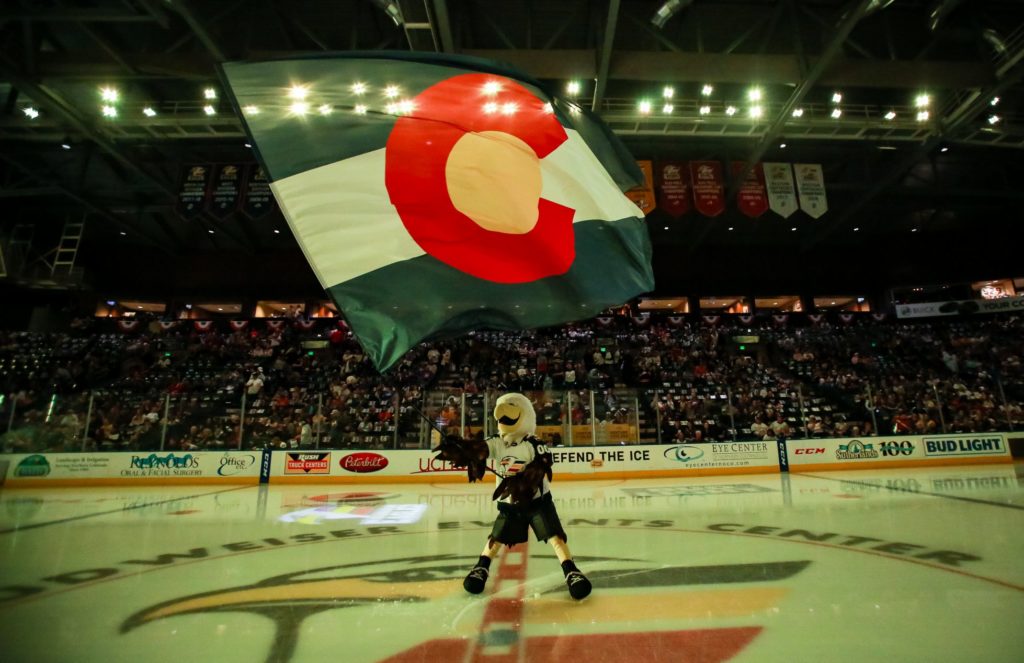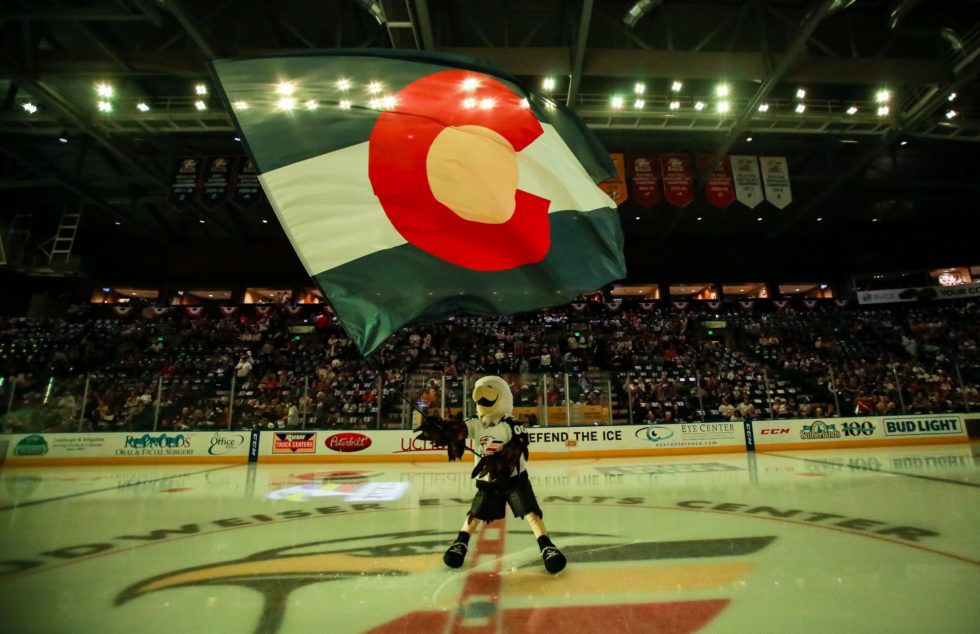 Anthony's Final Thoughts
Erin Prueter was a delight to work with on this feature. Her thoughtful answers were great, and my favourite part was her sharing the quote that she lives by. This quote is great as all too often we forget that good things take time. Patience is key, and continue to grind and work hard regardless of how many times you hear, 'no'. I also enjoyed Erin sharing which qualities she believes to be most important in sport industry professionals. Erin's journey from being a university student and intern working in collegiate athletics, to working full time with the Eagles is an absolute success story. I can't wait to see where Erin's journey in the sport industry takes her from here!
---
Erin Prueter
Interview by Anthony Clark
Posted November 5, 2019 in Industry Profiles