Kris Hagerman is the Director of Football Operations for the Canadian Football League's (CFL) Edmonton Eskimo Football Club. We've known Kris for over a decade and have been following his journey since he was doing his Sport Management undergrad. Kris Hagerman started his journey with the Edmonton Eskimos in 2012. He was a Customer Service Specialist and Corporate Partnership Servicing Coordinator in his first year with the club. Me oh my! Kris has worked his way up the franchise. In 2015, the Edmonton Eskimos won the 103rd Grey Cup while Kris was the Football Operations Coordinator.
The Football Operations Coordinator role was Kris' for just over 5 years. That's where Kris saw the most time in the franchise. Fast forward to now. Kris Hagerman is the Director of Football Operations for the mighty Edmonton Eskimos. And with the CFL season underway this month, we were thrilled to get a sit down with Kris. We are even more excited to share the full interview with Kris below.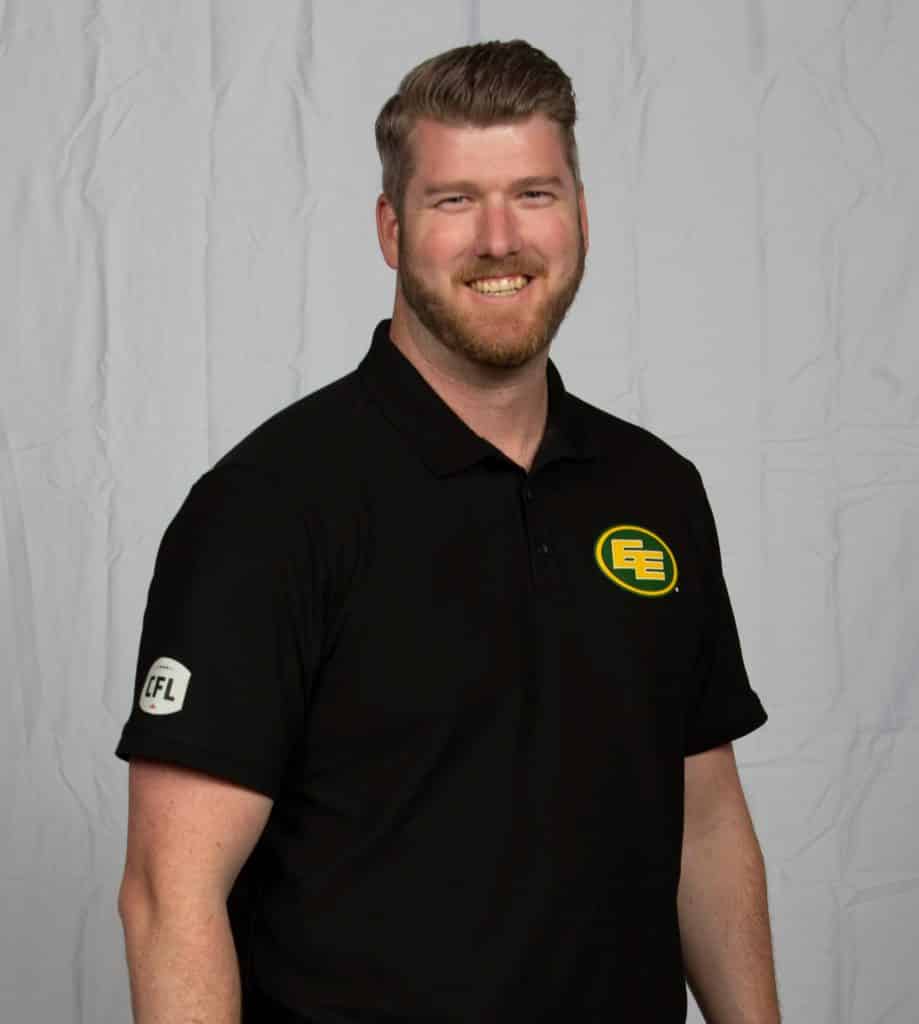 Tell us a bit about your Director role in Football Operations with the Edmonton Eskimos?
My role is pretty extensive. I'll list out what I do for you all here.
Manage our club's Salary Expenditure Cap (SEC)
Develop and track Football Operations budgeting
Work with the payroll for players and coaches
Carry out contracts for our players and coaches
That's a bare-bones list of what my role as the Director of Football Operations entails. But I'd like to expand on each. So let's start with the salary cap.
Salary Cap
I am responsible for giving our General Manager (GM) accurate SEC projections based on any roster moves made. Also, if any injuries occur or player bonuses are achieved, it's my job to liaise with the GM on that. In most cases, the GM and I will go over his plan for our roster. Then, I will then let him know if his plans are within the salary cap. I provide the salary cap analysis on whether moves will work within the cap.
Having a soft cap in the CFL creates a lot of different variables. It allows for risk taking in your roster in hopes that a projected overage may still result in SEC compliance.
The GM and I discuss at length our comfort levels in this risk and he makes his decision accordingly. For this, a firm knowledge of the CFL/CFLPA Collective Bargaining Agreement (CBA) is an absolute must.
Based on the CBA, we project how a players 3-week injury will affect our cap versus a player's 14-week injury. So we take all the information we can to make the best roster moves we can. Then, we can see which roster moves need to be made based on need and the situations that make sport so unique. For example, if a player returns from injury, a roster move usually needs to take place. We are all over that! Making sure all the moves we make stay within the SEC is a daily task for me and my team.
Football Operations Budgeting
Along with the GM, I set budgets for the entire Football Operations department each year. At the same time, we'll track our spending throughout the year. I oversee that process.
In terms of budgeting, I work with many other department heads. For instance, I work with our Equipment Manager and our Head Athletic Therapist to get the information required to project their needs for the upcoming year.
I am responsible for the budgeting in these areas. But this list doesn't include everything. I'll just give you a little taste.
Equipment spending
Medical spending
Team travel
Scouting
Training camp
Once budgets are set, all purchases made by anyone in Football Operations come back to me. Thus, I'll track all transactions. In doing so, I can ensure we are not over-spending!
Managing the Payroll
Furthermore, I am responsible for ensuring our coaches and players are paid what they are supposed. At the same time, I ensure they are paid when at the proper pay period. First, I'll make sure that our coaches and players receive their weekly game cheques during the season. Second, I'll ensure all bonuses are paid, whether in-season or in the off-season. And whether they are performance related bonuses or for signing with the team. Third, I make sure that housing allotments are issued appropriately.
Working with Contracts
A big part of my job as the Director of Football Operations involves working with contracts. Once our GM or Player Personnel staff agree to terms with a coach or player, they send the contract to me. Then, I make sure all the details are ironed out properly. When that's done, I process the contract and execute it. Executing a contract properly involves complying with the CFL rules and submitting it to their office.
Those are four key areas I find myself touching in my role as the Director of Football Operations with the Eskimos. But I must also mention that my job extends beyond those areas. In fact, I often act as a filter between our business operations team and the City of Edmonton. The City of Edmonton not only owns our team, but the facility we are housed in. So I work alongside both of these areas to ensure that my area is not negatively affected by anything that they are working on, and vice versa.
I have found that other duties as required really has no limit and no job is too big or small for anyone in any organization. Our success is dependent on everyone pitching in and helping out where they can when needed. These helpful tasks can be anything from picking up a new player from the airport, to helping the equipment staff pack up bags after a road game. That's a pretty central theme across all sport-related jobs. You may have a defined role, but often times you must be willing and ready to do things outside of it. I love that about working in sport.
How did an education in Sport Management (SPMA) help you get to your current Football Operations Directorial role?
SPMA was instrumental in developing my career path. I can honestly say without SPMA and specifically the last year internship program, I would not be doing this interview with you as the Director of Football Operations for the Edmonton Eskimos.
My SPMA internship at Maple Leaf Sports and Entertainment (MLSE) in 2010 in Game Day Operations beefed up my résumé in a big way. I believe that was the differentiating factor between myself and other candidates for my first major SPMA job afterwards. In 2011, I was hired by the Edmonton Oilers Hockey Club for an inside sales rep job for the Edmonton Oil Kings.
I've found that sport organizations value experience in the industry even at the entry level positions.
Students reading this might be thinking, "How can I get experience if I can't get an entry level position to gain that experience", and this is where SPMA is built to help you succeed right out of the gate.
I was fortunate enough to land a rock solid internship, but I also put in loads of volunteer hours prior to that via the NCAA, OHL, among other sport organizations.
"Most of the these experiences were through connections in SPMA obtained through school. Because of SPMA, I was able to enter the workforce with the experience needed for someone to take a chance on me. And that is really where all careers in the sport begin, with someone taking a chance on you. But the only way someone in the industry will want to take a chance on you, is if you show that you are someone they would want to take a chance on."
Tell us what a typical work week looks like working as a Director of Football Operations?
The best way to describe a typical week would be to talk about a week during the season. There's much more structure and routine to in-season versus the off-season.
In Football Operations, Monday-Friday is not a thing. It just doesn't exist. Especially during the season.My work week depends on when our last game took place and when/where our next game is. So every week is different from the last and the next one ?.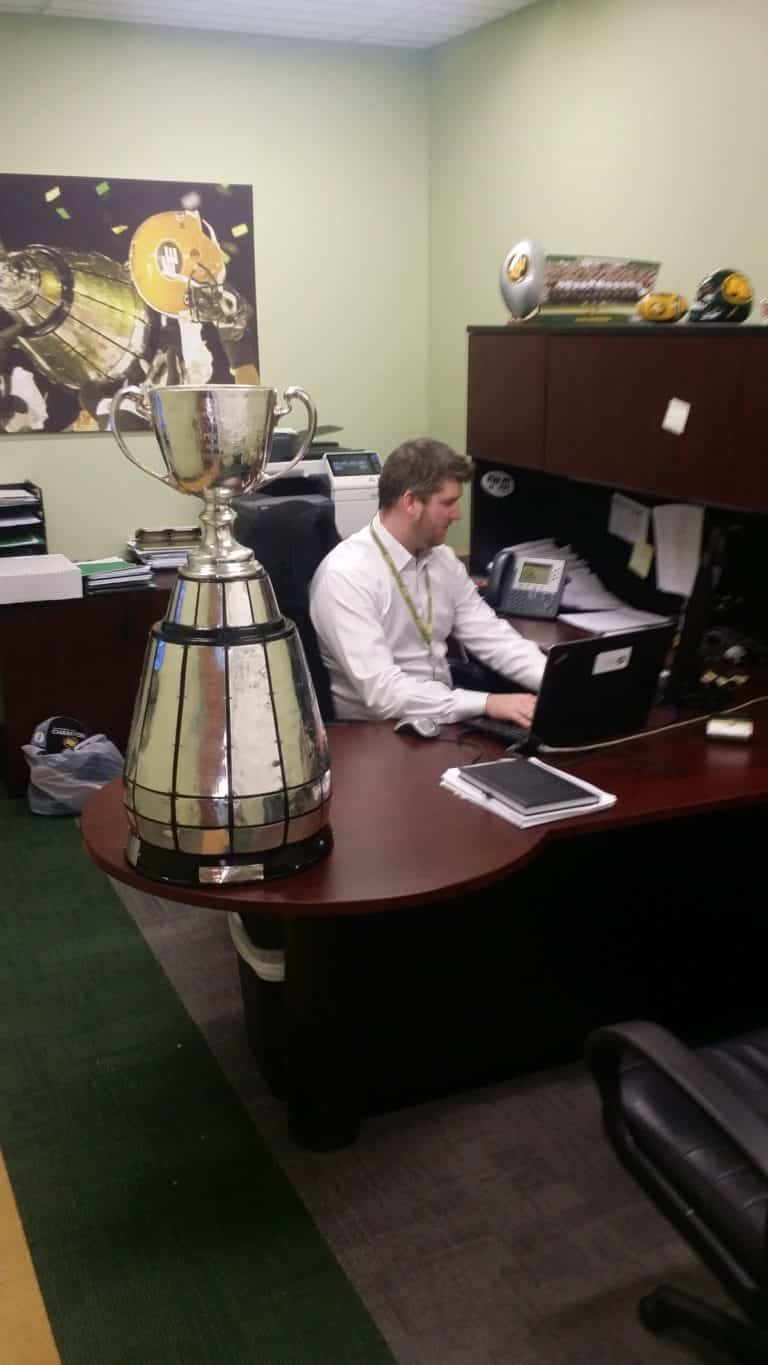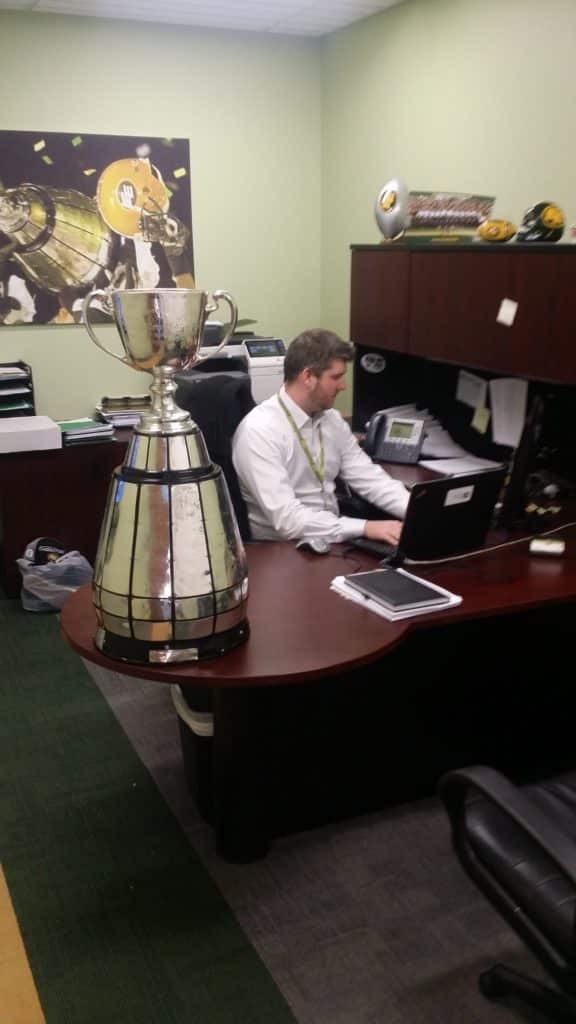 Also, weeks vary in days, say 5, 6, 7, 8 and sometimes even longer. That's because for illustration purposes, I'll say a new week begins for me after a game is played. My first day of the week, is the day immediately following a game. To illustrate what a week may look like for as the Director of Football Operations, let's go with a 7-day week.
Day After Game
On this day, I make myself available to the players to give them their game cheques. I am the most popular guy in the building on this day [laughs] ?.
This is also where I look at stats from the game and track play time for each player to see if anything from the game impacted any potential bonuses they have in their contract. If there are any, I make sure that it is accounted for in the salary cap. I'll also make note for my payroll submission later in the week.
Once our GM has spoken to our medical staff, he will visit me to discuss any injuries that took place the day before. We discuss the injuries and see how it affects the cap. And if there is a need to make any roster moves for next game, we're sure to chat about it. Onto the next day.
Days A & 0
These are where the players typically only have a few hours of meetings or a team workout. For myself, these are the days I will be assisting in getting everything set for any new players needed for the week including contracts, travel, etc. IF I am lucky, one of these days could be a day off for me and other ops staff.
Day 1
The next predictable day of the week is our Day 1. Day 1 is four days prior to the next game. By this point, if we needed to bring in a new player, he would now be in Edmonton. He's already arrived and ready to join the team for the first day of prep for the game. Getting him reading includes his medical testing, registering his contract and making roster space by placing the injured player on the injured list prior to practice.
Day 2
Day 2 of my typical week as the Director of Football Operations is three days before game day. It's a light day for me. Which is kind of nice considering how hectic most other days are. It seems like a calm day. It's like the calm before the storm. Regardless, I am kept busy with the others aspects of my role as the Director of Football Operations.
Day 3
Day 3 is two days before game-day. Above all, Day 3 is a busy one indeed. The metaphorical storm has hit! This is where I will need to submit our roster to the CFL. And I must submit the team's payroll for the game to our finance department. Also, this is when we may move players to the practice roster, to the active roster, or injured lists if needed.
Our payroll must be submitted on this day in order for our finance department to have the cheques ready immediately following the game. Lastly, last minute roster moves or game time decisions on injuries throw a wrench into this plan sometimes. So it's always important to be on your toes in Football Operations specifically, and in sport in general. Expect the unexpected!
Day 4
Day 4 is either our travel day or getting things ready for a home game.
This is when I will draft a version of the game sheet based on the depth chart that the GM creates for the game. The game sheet is the official sheet that is submitted for the game, so I typically check it multiple times.
Game Day
I always look at Game Day as the reward for the week. If I have done my job properly earlier in the week, I should be able to enjoy the game. And if we are away, I like to enjoy a few hours exploring the city we're playing in. At the same time, I'll be working on the road, checking game sheets over before submitting to league officials.
Repeat for 18 weeks plus playoffs (hopefully).
A career in Football Operations seems like it takes a lot out of you. Do you ever experience burnout?
It's funny to be asked this right now as I am in the middle of the most draining, grueling, and fast paced portion of Football Operations calendar year, training camp. If there was ever a time to say "yes" to this question, it would be right now. But in full honesty, my answer is "no".
"Of course, there are times when you are tired, and frustrated at the late nights/early mornings and working most weekends, but in moments like that, I take a step back and try to appreciate the opportunity I have to be doing what I do and remember how much I enjoy it."
"I remember back to my younger days of playing GM mode on various EA Sports games, and remind myself that I get to be a part of that in real life."
Yes, the stress level can be high at times due to many different variables of the job. But I take pride in trying to be a calming person in a department where calm is a rarity.
When I first joined the Football Operations department, I'd get a little overwhelmed sometimes. That's normal in the early stages of every job in sport. It was in these early stages of my career that my former manager said to me, "relax, we're not saving lives here, its just football." This stuck with me and I feel has impacted how I approach each day. He's had a very positive affect on my career growth. There's always someone that, if you put yourself out there in sport, will gravitate towards you. They'll guide you!
What are some of the skills you likely couldn't do without in your role as Football Operations Director?
1

Seeing the Bigger Picture

I think the most important tool I have is my ability to think bigger picture when given tasks or when I need to be the decision maker. Indeed, I've been lucky enough in my career that I have spend some time in various departments within the Eskimos and other organizations. So I think I have an understanding of the needs of the whole team rather than just what suits Football Operations department.

Seeing the big picture is instrumental on making sure what we need to accomplish doesn't step on any other toes in the organization. And it also helps me interject when other departments have ideas that would affect Football Operations. The courses offered throughout my 4 years in SPMA were instrumental in this development as they focus on all the different areas and career paths available within a pro sports organization, so I was able to have a head start on this even before getting the hands on experience in the different departments.

The courses offered throughout my 4 years in SPMA were instrumental in this development as they focus on all the different areas and career paths available within a pro sports organization. So I was able to get a head start on this even before getting the hands on experience in the different departments.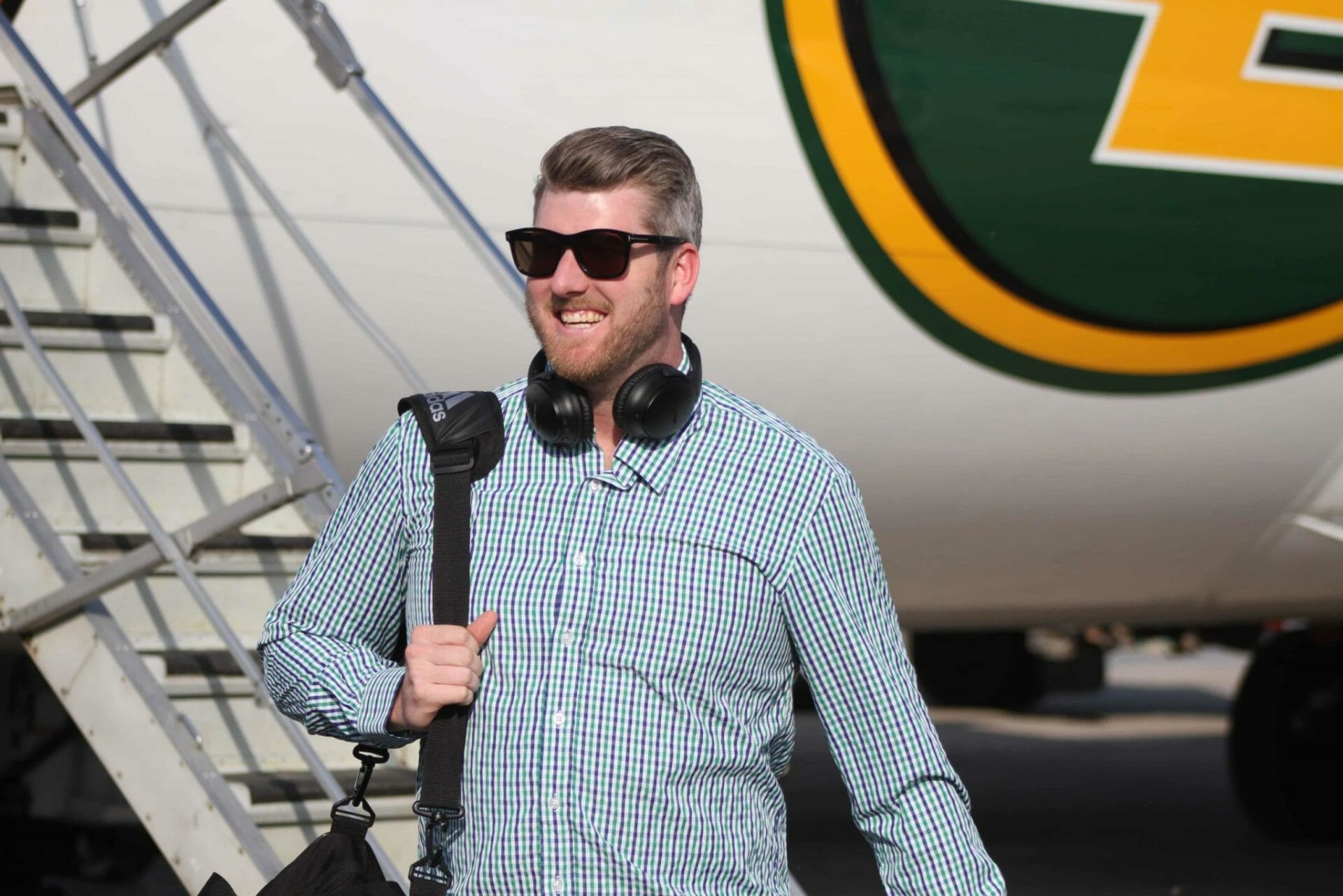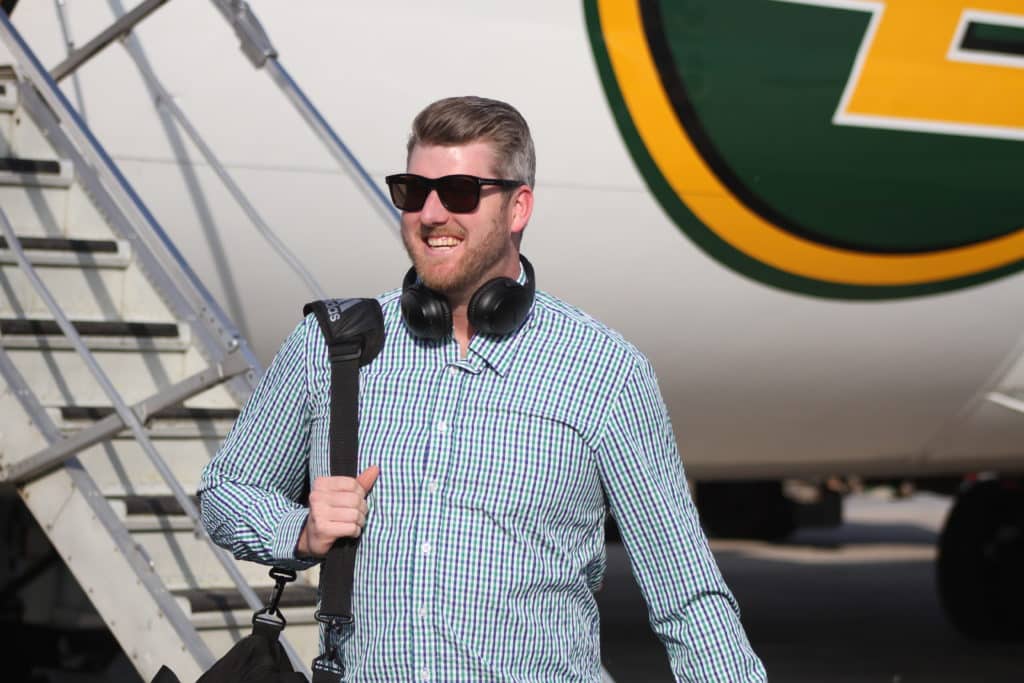 2

Effective Communication Skills

Another key aspect that I think is required for my position specifically, but also nearly all management positions within an organization is effective communication.

As the Director of Football Operations, I act as the filter of information from both our business ops team as well as the City of Edmonton who own our team and facility (Commonwealth Stadium).

There are so many moving parts within Football Operations, Business Operations and the City on a day-to-day basis that it is imperative that the right information gets to the people it affects. This also ties into the aforementioned bigger picture thinking. Because knowing who needs to know what and how to get the message across so there are no break downs in the communication process is key.
What would you say the hardest part about working in sport is?
I would have to say the hardest part of my job is finding the right work/life balance and accepting that it will never be ideal. I have become accustom to letting friends and family know that I am unavailable for anything during the 3 weeks of training camp, and planning my few days off if the summer months in advance when the CFL schedule is released the prior winter. As someone who enjoys typical summer activities, it can be tough to miss out on what feels like every round of golf, weekend in the mountains, etc.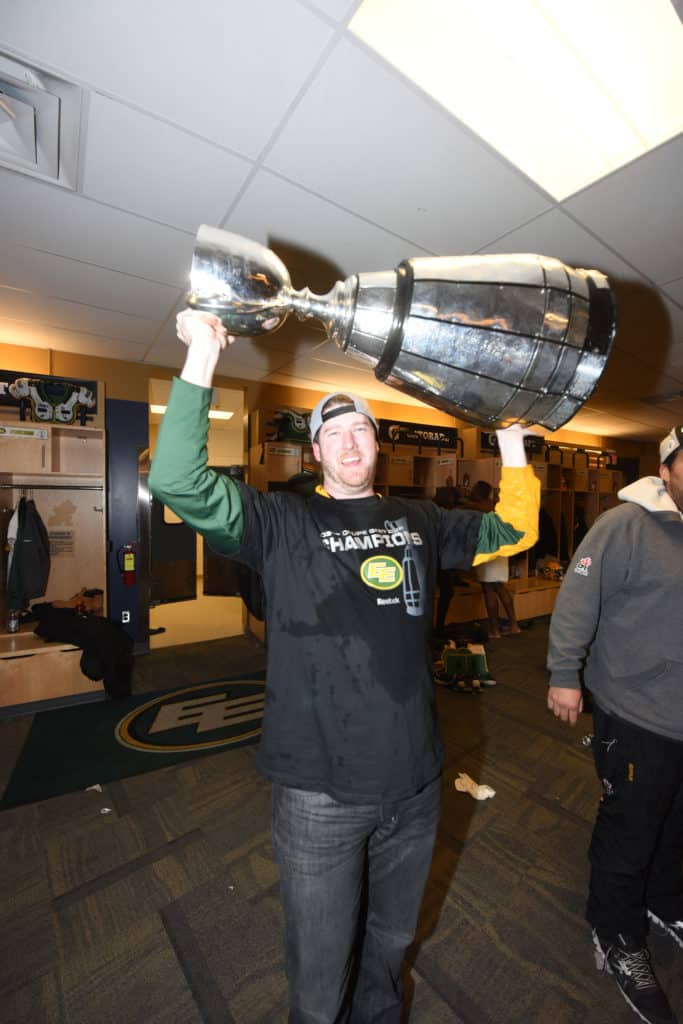 The hardest part of my actual duties, I would say is roster cuts. At times I will be responsible for delivering the news to the player, and other times I will bring them to see the GM. For the latter, the players already know what the meeting will be about, so it makes for a very quiet walk to the GM's office. While cuts are a part of the business, I like to try to get to know the players on a personal level and treat them more than just a number or a name, which makes an already uncomfortable task even more difficult. I would imagine even the most cold-blooded personnel people in any sport have a hard time ignoring the human aspects of tough decisions. We don't let this impact the decisions we need to make, but we do understand that those decisions lead to tough conversations.
Now that we know that the sport industry can be challenging to work in sometimes, why do you do it? What motivates you to work in the field of sport?
I do it because I enjoy working in sport. Definitely, it's a common theme among SPMA students. They love sports and want their career to mimic their passion. I was no different as a student and I am no different now.
I find myself in a position where I still get game-days, I still get to experience the highs of wins, and the lows of losses. It may not be on the field, but working in sports keeps you a part of the team. In my current position, I get to see the daily hard work and hours that our players, and coaches put in. This insight now makes those highs even higher and unfortunately the lows that much tougher. This is something I have never wanted to let go of from the start of my career selling tickets for the Oil Kings and their eventual WHL championship season, to celebrating a Grey Cup championship with the Eskimos in 2015.
---
Kris Hagerman
Interview by SPMA
Posted June 3, 2019 in Industry Profiles