Nao Okumura first came to our attention when emerging data analyst Sonia Ścibor, said his understanding of rugby culture is on another level. When we asked Nao why Sonia would bring him up, he answered, "Probably because I'm only Japanese guy on campus! And I'm always talking about rugby culture and how many days left until Rugby World Cup in Japan." After following Nao for a few weeks, we realized how unique he is. First, he was educated first in Information Technology. And Nao's journey into a sport career hasn't been without a change in career direction. Also, his passion for rugby truly is on another level. Nao studied rugby culture in New Zealand for three months. On top of that, he plays it on the world's very first gay-inclusive rugby union club while doing work to bring Homeless Rugby to Japan. He's also taken his passion for rugby and turned it into Master's-level studies at a top University in the United Kingdom. We chatted with Nao to talk about his passion for rugby and how the sport can be used to help people suffering from homelessness.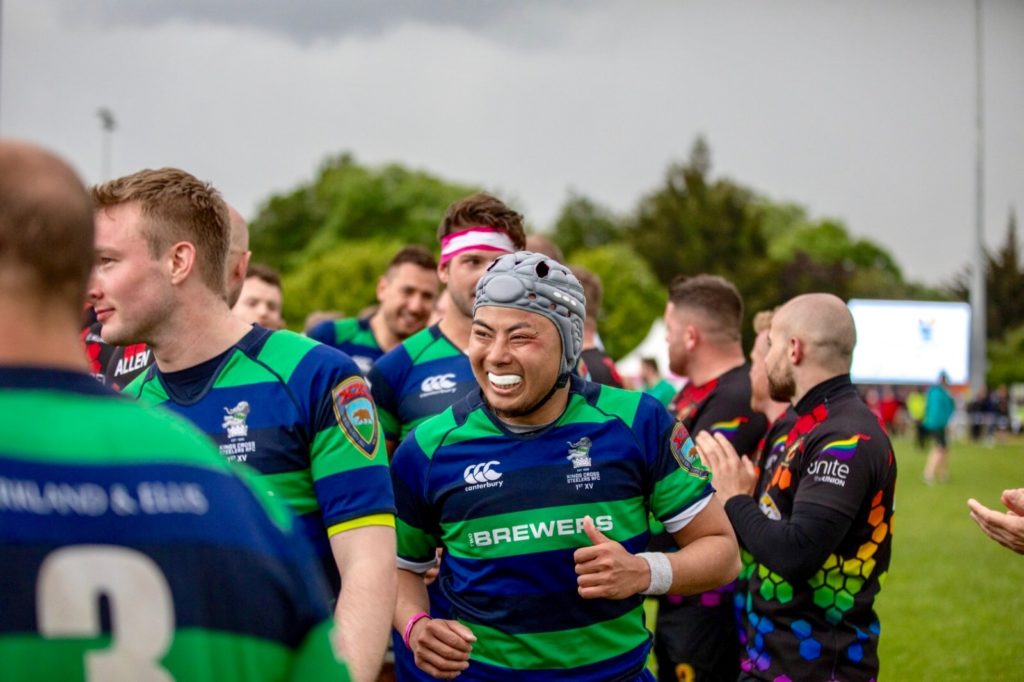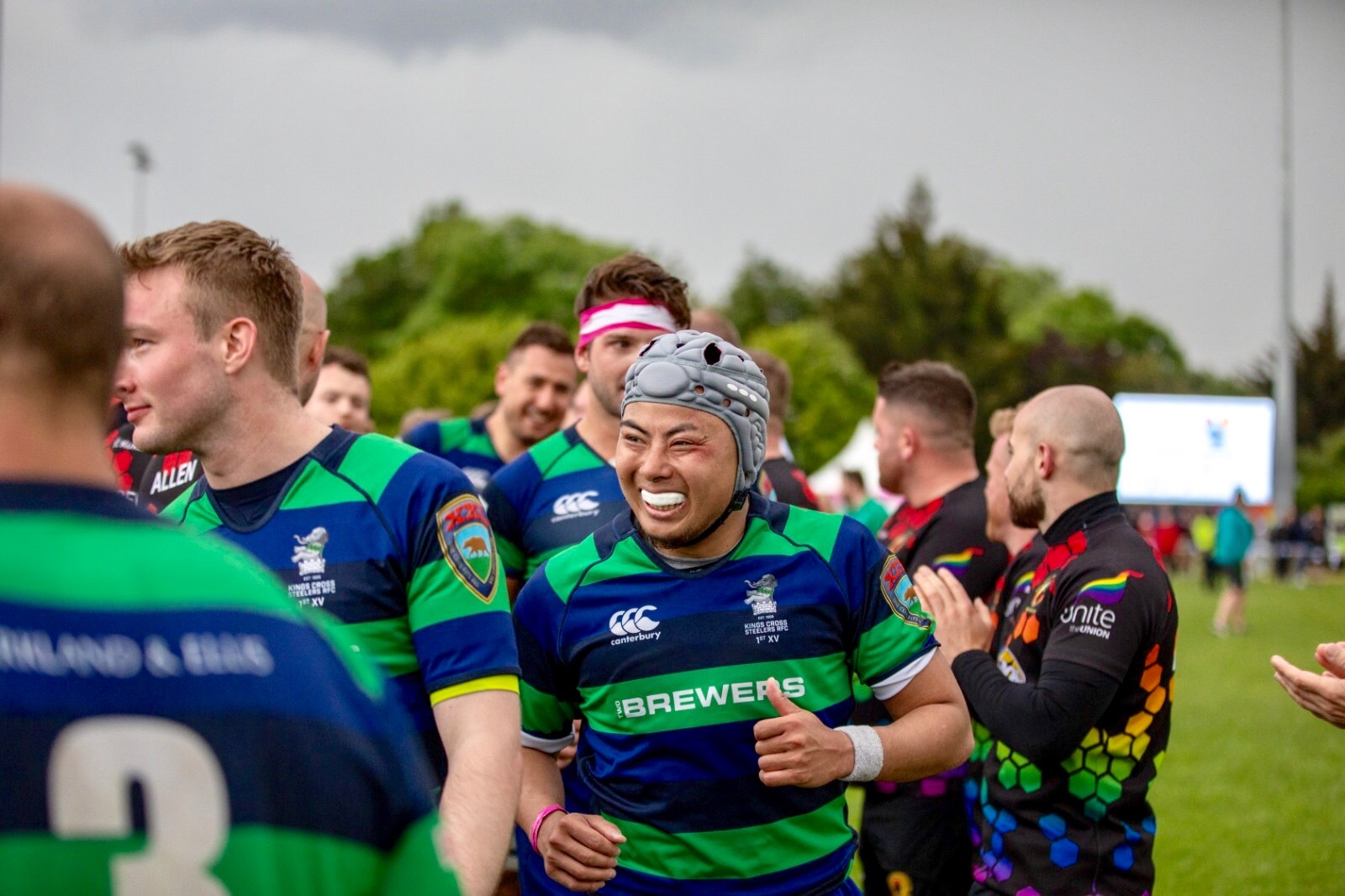 You've always had a passion for rugby, but started off in Information Technology. Tell us about that.
I'll start off talking about how I fell in love with rugby.
Rugby – Love @ First Sight
How I became enamored with the sport of rugby is a funny story actually. I was born and raised in Tenri City, Japan. It's one of the most notorious cities in Japan for rugby. But my parents weren't interested in rugby at all.
So unlike many people who are into sports, my parents liking rugby is not the reason I do. When I was 5 years old, my parents took me to a rugby match hosted in our city. I'm not sure exactly why they took me as they had no prior experience watching or playing rugby. But I fell in love with the game at first sight and haven't looked back since.
Studied Information Technology in Japan
Before coming to the United Kingdom, I studied Information Technology (IT) in Japan. When I was 16 years old, I started to think about my next steps. Where would I like to have a career? IT was changing the world. Japan has a reputation for being one of the most technologically sound technology in the world. Around 2009 when I was figuring out what to do with my career, technology was taking off. So all that buzz kind of caused me to fall into it. I wasn't sure what I wanted to do with my career at that point.
"But my parents and I strongly felt the skills and knowledge I'd acquire studying IT would be necessary for all fields, including sports business. I am so glad I went to school for it."
The IT tools I learned at a young age and got a degree out of gives me an advantage in the sports world.
Master's Degree in the UK in Sport Leadership
So I've come to the UK with the reset button pressed to learn all about the business side of sport. Coming here, I'm a bit behind when it comes to business principles. But I am catching up quickly. I've maximized opportunities in the UK as much to learn everything I can about the business world of sport. For example, I attend many conferences and events on and off-campus. There aren't many that I miss! Since I've been in the UK for my Master's I've treated school as my home.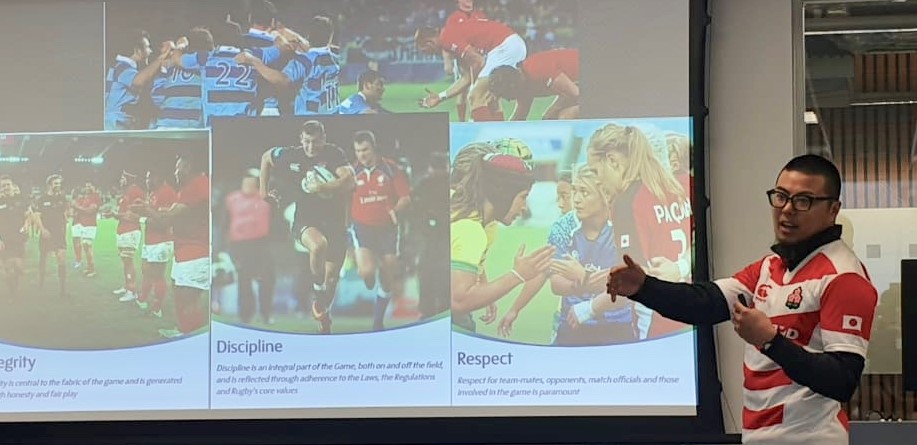 So I came here to achieve my ultimate goal. I'd like to lead Japanese and Asia Rugby to long-term success. Part of achieving this goal is helping the homeless through the sport of rugby. I'll talk a little more about the organization I work with on that a bit later.
Before UK = My Trip to New Zealand
The 2015 Rugby World Cup changed my life plan dramatically. I stopped studying my postgraduate in Japan, and visited New Zealand for 3 months to study rugby culture because of it!
Learning English
While I was in New Zealand, I stayed in the capital city, Wellington. I wanted to learn as much as I could about rugby culture for self-interest. Doing so in an English-speaking country helped me to improve my language skills as well. New Zealand has one of the best rugby scenes in the world so it was great for me to be there.
Studied Rugby Culture
As part of my self-interest studies, I interviewed key players in New Zealand rugby. Interviewees included Wellington Rugby Academy stakeholders, Premier Rugby coaches, local writers, and fans. My focus was not to make friends, although I made many during my team. Instead, my focus was on rugby, rugby, english, rugby, and more rugby!
Also, joining the local club was the best way to understand the local culture. So, I joined Old Boys University Rugby Club (2018 champion in Wellington).
When I was in New Zealand, I made sure to focus on these areas, activities and tasks:
Westpac Stadium: 1 on 1 stadium tour with the manager
Many high school rugby competitions
Youth rugby events
Women's rugby events
Attended several Wellington Hurricanes practices and training camps (a professional rugby union team that competes in Super Rugby league).
Tell us about your work with Homeless Rugby and why its important to you?
Currently, I'm working for Homeless Rugby, which is tackling social issues across Europe. The organization uses rugby as a tool to help homeless people overcome difficult situations.
Here's a little blurb about what Homeless Rugby does.
What is Homeless Rugby?
According to Homeless Rugby's official website:

Our Mission: Building strong partnerships between rugby clubs & local homeless charities to help create positive sporting opportunities

Our Vision: To transform the quality of life and opportunities of homeless people, using rugby as a catalyst to promote greater understanding, collaboration and support and by promoting lasting and life-enhancing relationships through clubs and charities.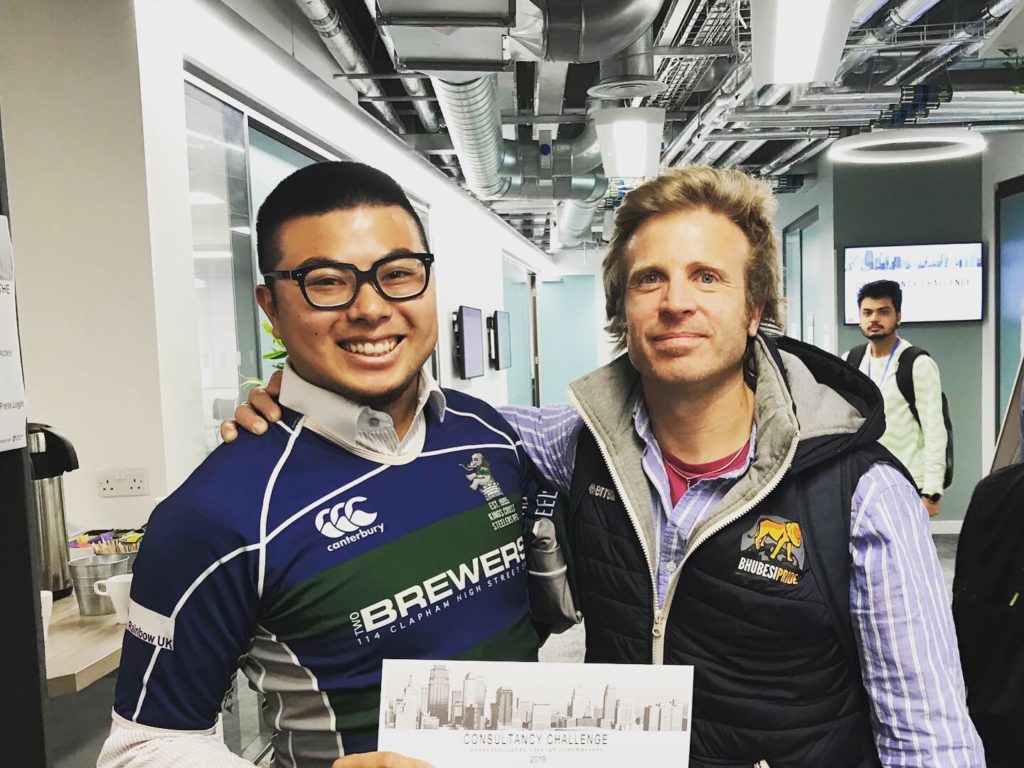 Homeless Rugby is a non-profit organization based in the UK. Their initiatives tackle homelessness in many places in the UK, including England, Scotland and Wales. Here's a list of specific places:
Worcester
Glasgow
Edinburgh
Newport
Cardiff
Basically, Homeless Rugby forms partnerships with local businesses. In doing so, we work together to help homeless people learn essential rugby skills!
We're working on expanding to Australia, Italy and other parts of the world.
Our organization believes participation in grassroots rugby can be a catalyst for people affected by homelessness to grow. We think rugby can be a starting point to a healthy lifestyle. It's our hope that with more rugby participation, they can seek support services related to health, education, training, and employment.
So a platform for homeless people to play touch rugby was created! We find partners like elite/local rugby clubs for training and games, sponsors, and venues.
There is an international cup which all teams play together in one place. That's one of big goal for Homeless Rugby.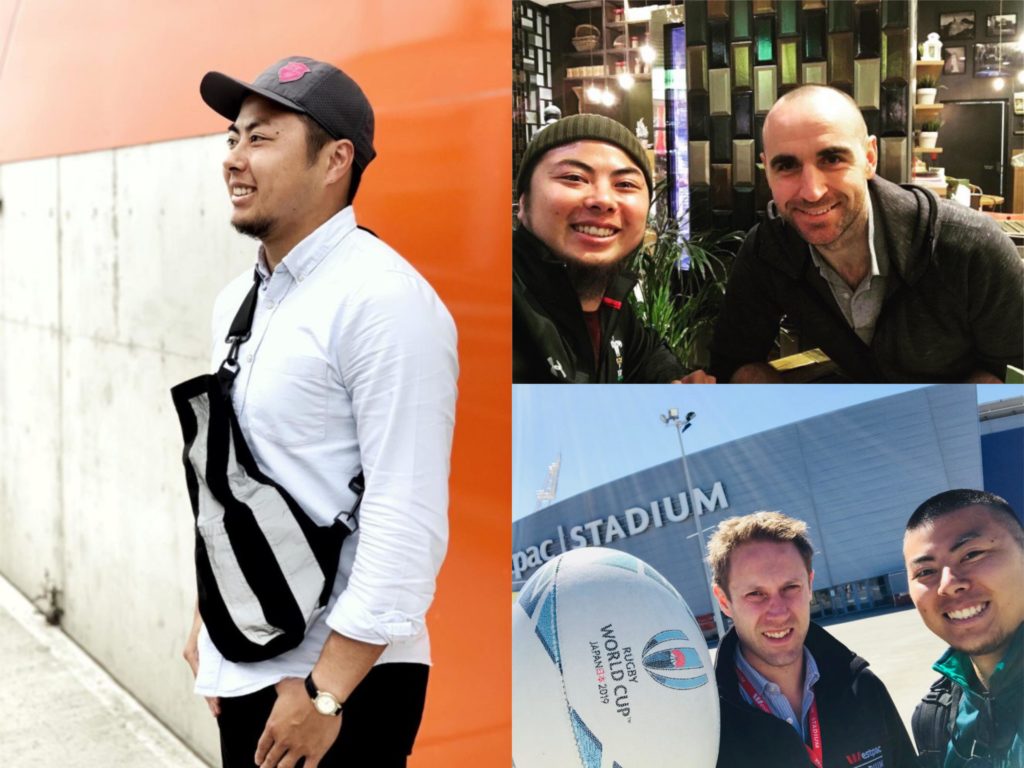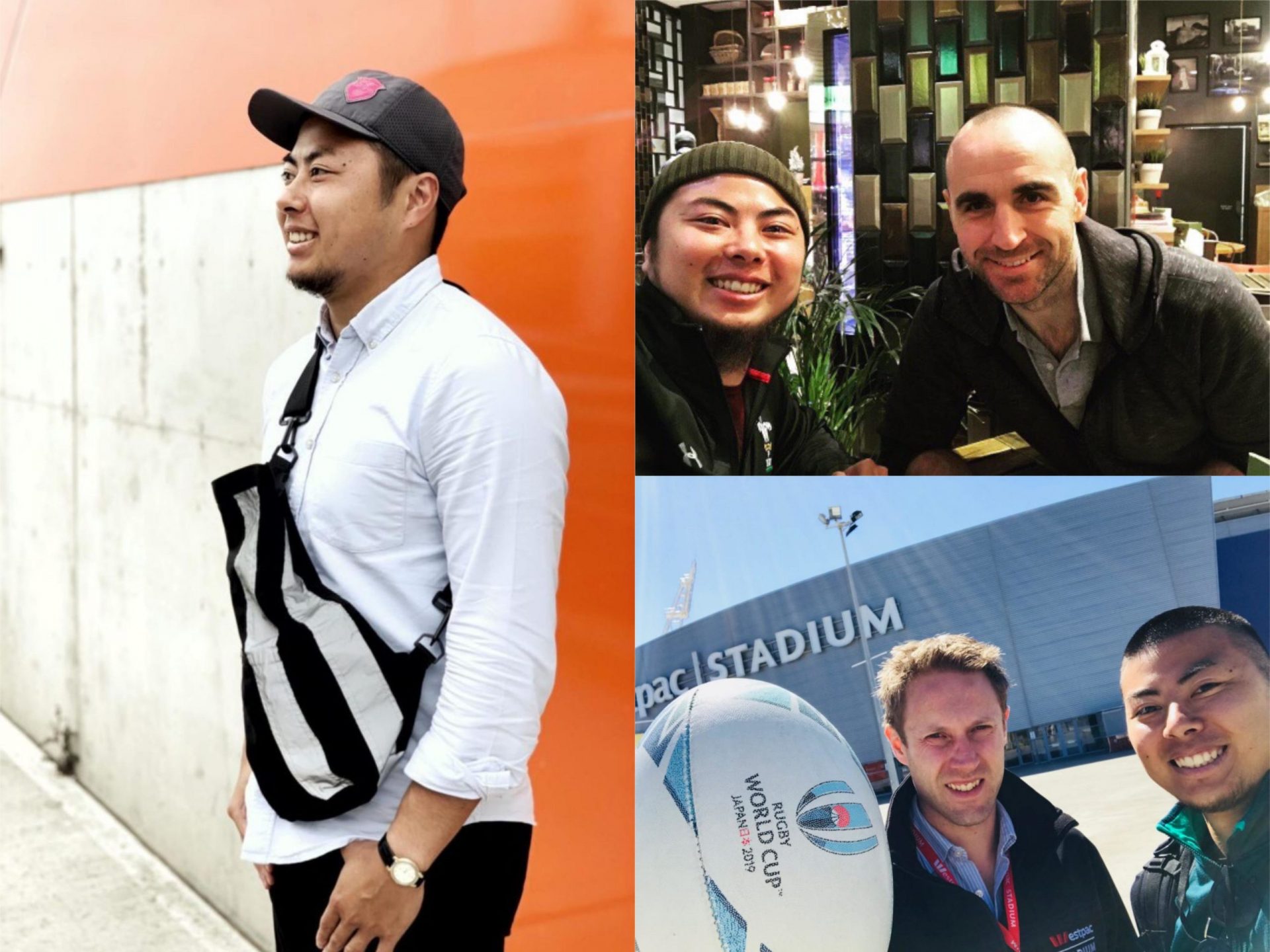 The reason why I decided to join Homeless Rugby is that I strongly believe that rugby needs to get more attention. The benefits of playing rugby from a societal standpoint are huge. Rugby builds character and teaches essential life skills. Even though Homeless Rugby is still a fairly small organization, the potential value in the expansion is huge and I want to play a part in that.
Right now, I'm constantly trying to get in touch with and pitch Japanese teams, potential sponsors and future business partners to support Homeless Rugby. My dream is to make Homeless Rugby work in my home country.
What are you doing to keep in touch with the sport of rugby while you're in the United Kingdom for school?
In June 2019, I joined the Union Cup to play with the Kings Cross Steelers, based in Newham. It's one of the most unique teams in the world. That's because it's the world's first gay-inclusive rugby club.
Union Cup is the European non-professional LGBT+ inclusive rugby competition every two years in different places. For example, this year 45 teams from 15 countries across Europe participated in the tournament in Dublin, Ireland. We actually won the cup this year!
What does it mean to be a "gay-inclusive club"?
I didn't know it was all-inclusive until someone told me actually. It didn't mean anything to be at first. I just wanted to play rugby close to where I'm living. But looking back, I am really happy the team is all-inclusive of all sexual orientations. For the record, I am not gay. So just because it's all-inclusive doesn't mean that all the players on the team are gay. They are not. But there is a large percentage of players that are gay. Who cares, right? That's really what the all-inclusive label for the team means. Gay, straight, bisexual, if you can play rugby and have what it takes to be part of this team, we can play together.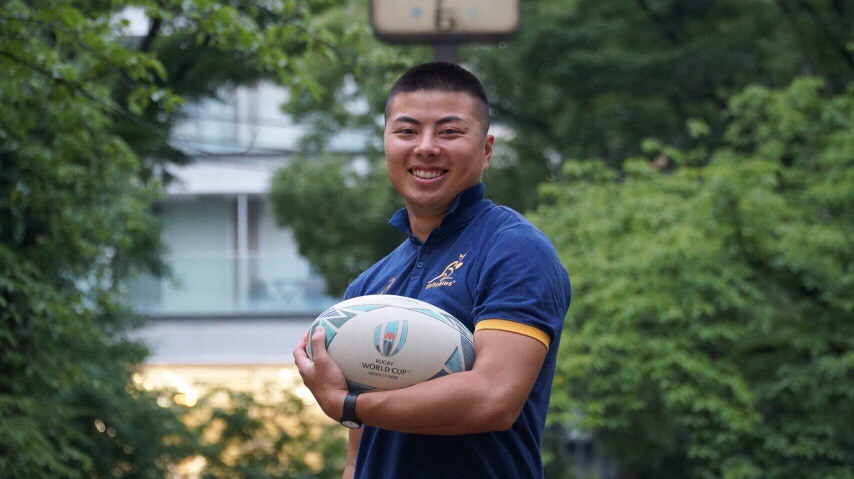 For me, it doesn't matter whether my teammates are gay or not. I love playing rugby and I communicate with everyone on the playing surface.
I am so glad I am playing on a team with many gay people though because I hadn't interacted with many to knowledge before that. Not by choice! I just didn't encounter many gay people when I was in Japan. From my experience playing on this team, I've been able to become more well-rounded as a person. It doesn't matter.
If I didn't join the team, my experience in the UK would be so different. Being a member of this team has helped me so much with my English and life experiences. I am forever grateful for my time with the Kings Cross Steelers. To be honest, it's taught me lessons you just can't learn in the classroom. Being a member of the team is like my destiny.
Any final words you'd like to provide about how you'd like to use rugby as a tool to better Japenese society?
My end goal is to contribute in any way I can. I want to increase the value of rugby in Japan. To spread the sport all around the nation is one of my hopes. I came from a city in Japan that's big on rugby. To see that love spread across the country is a dream.
If I were to look 3 years down the road, I'd like to see many Homeless Rugby clubs across Japan. I want to see many businesses give support to the cause as well.
It's my hope that that the Rugby World Cup and Olympics will locals and businesses to the sport in Japan. I am confident that rugby is going to see huge growth in the next couple of years in Japan and across the world. And I am confident that rugby can be used as a tool to help the homeless with what we're doing at Homeless Rugby.
---
Nao Okumura
Interview by SPMA
Posted July 17, 2019 in Industry Profiles