No doubt about it, Jessie Heims is a phenomenal athlete. And she's an athlete you're going to hear an awful lot about very soon. That's because the 2020 Tokyo Summer Paralympic Games are just over a year away. She's been at the Games before. In fact, at the young age of 17, she competed in discus and 400M. She's making serious waves at the University of Northern Iowa and worldwide. As a matter of fact, she's been breaking ParaSport records left, right and centre over the past couple months. But it's not only Jessie's athletic prowess that'll gain recognition. It's her incredible story. Her natural #keepingitreal status and constant zest for life makes Jessie Heims extra special. And we are elated to exclusively share our candid conversation with our SPMA audience. That's you! So brace yourself for an incredible read on an unbelievable athlete and person.
But before we get to our convo, let's highlight her sport success.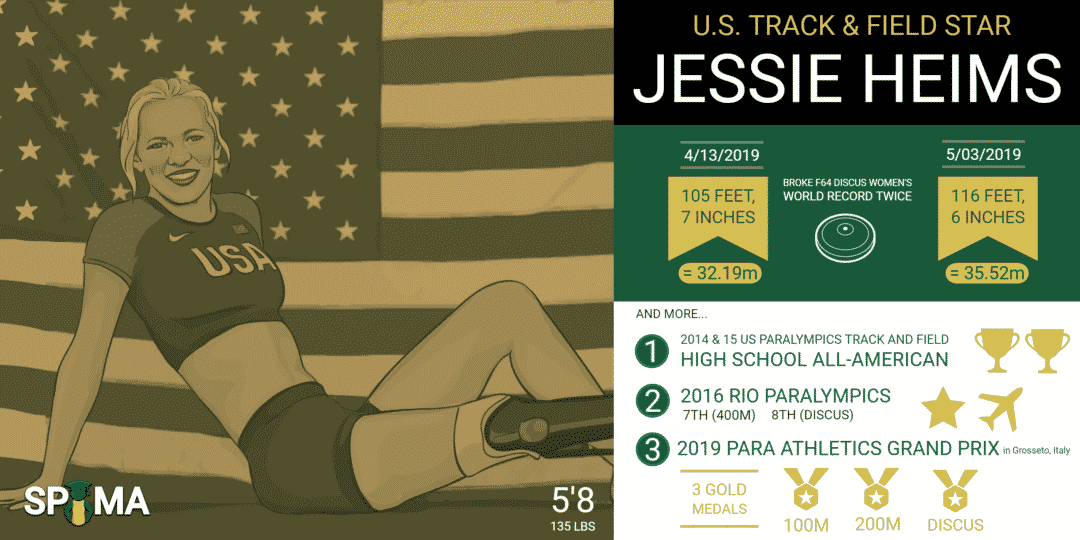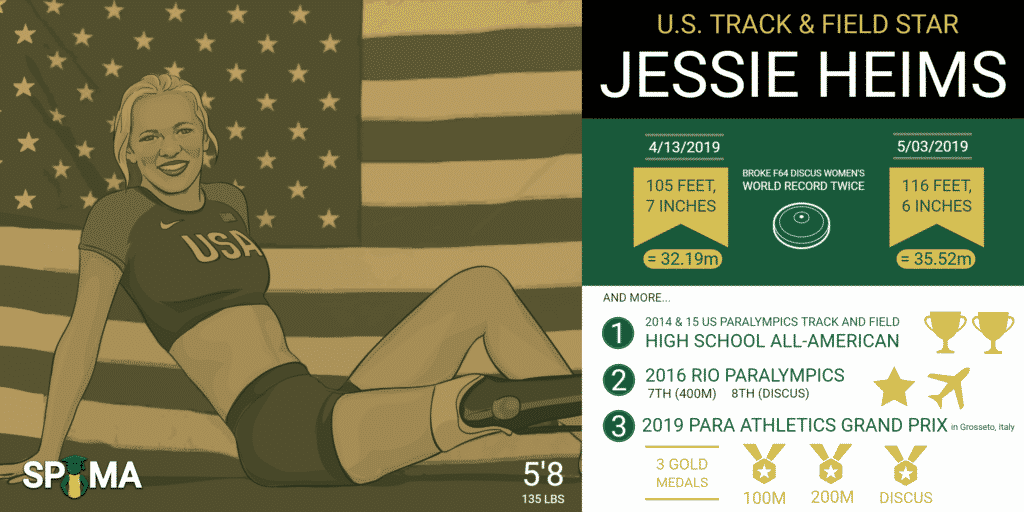 She now holds a world record in the sport of discus for women within her classification. She is a sophomore at the University of Northern Iowa and has traveled to nine different countries to participate in training and competitions.
Amniotic Band Syndrome caused her to lose her right leg from knee down, but that never stopped her from becoming an elite Paralympic sprinter and discus thrower.
She has remarkably held her own on the international stage. At just 17 years old, some of which included Top-8 finishes in two events at the Paralympics in Rio De Janeiro in 2016.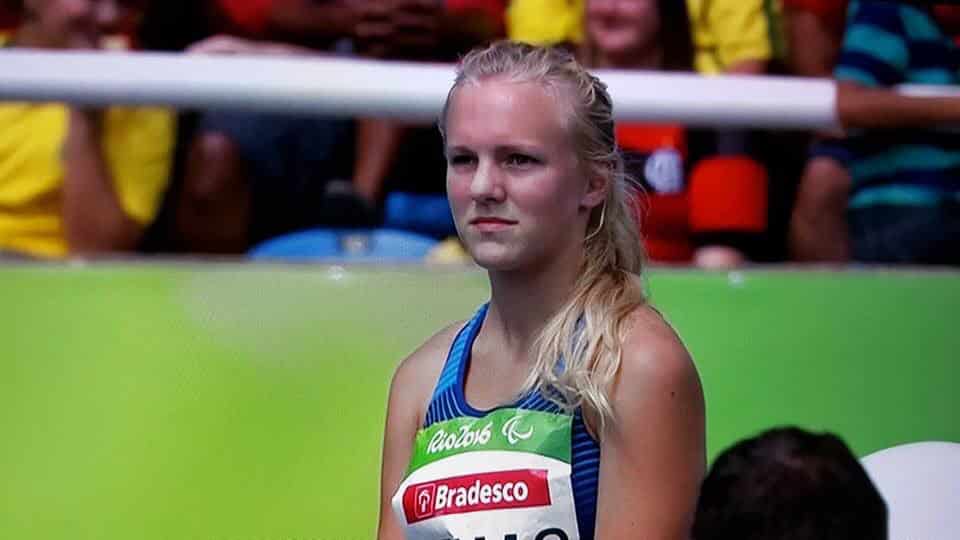 What's more for Jessie Heims is that she broke the para-athlete F64 classification discus world record three times in April and May 2019. She actually broke her own record in April and May. ? ? ? What's most cool about being able to sit down with Jessie Heims at this time is the fact that she just won 3 gold medals at the 2019 Para Athletics Grand Prix in Grosseto, Italy.
So CLEARLY Jessie Heims is taking off on the international stage. It's all part of her journey to athletic stardom! If she wasn't there in 2016, she's definitely there now. And with the 2020 Summer Paralympics in Tokyo just over a year away, you can be sure the media will have a watchful eye on the very Jessie Heims that we chatted with.
1

Tell us about some of your greatest accomplishments, both in life and sport specifically.

It's hard to rank them, but in the top are making the Rio team, competing on the college level, being baptized, and being a sister. Only the first two of those I really worked on my own for; the Rio team the product of many years of work and sacrifice on both my end but also the end of my family, friends, and coaches. It was the start of many years of Team USA competition. For the college part- I was never too sure that I would be able to compete at that level so finding a team open and willing to accept me was absolutely amazing. My baptism and my sisterhood were not of my own work-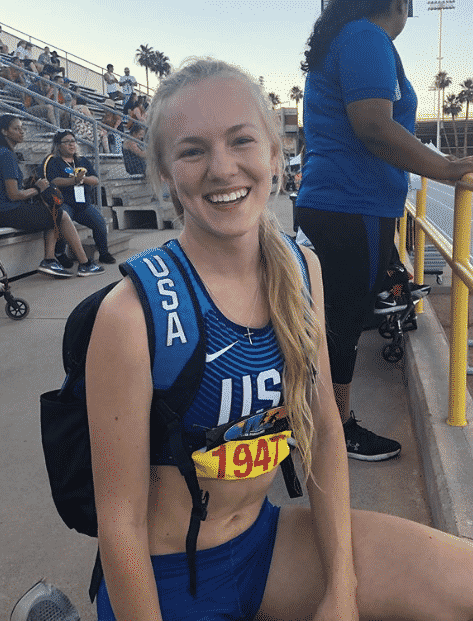 God provided me with those opportunities in my life. Coming into a faith of my own in my later high school and early college years truly shaped me as a person, and my amazing sisters have supported me through all of it.
2

What's one of the biggest difficulties being an athlete with Amniotic Band Syndrome?

One of the biggest struggles I have is just managing the day-to-day adaptations. Going from high school to college sports, I had to readjust how I adapted to sports all over again with a new group of teammates and coaches that weren't yet used to running with an amputee. It gets difficult to adjust so often, but having a team that is willing to adapt with you helps tremendously.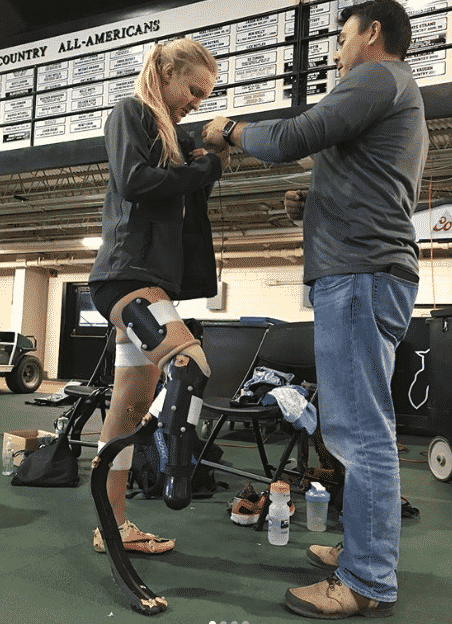 3

When did you first understand what ABS is?

My parents were very open about what happened to my leg from a young age, so I understood fairly young the basics of what went on. I learned more details as I got older about how it affected me before and after birth, as well as my parents. My parents don't treat it as though it was ever a burden, so I didn't realize until I was much older how much of a struggle they went through trying to adapt to my life after ABS. They weren't aware of anything concerning it until after I was born, so they were completely unprepared. I'm grateful that they are open to discussing it because it helps me understand how it all came to be, and it helps numerous other families who have gone through similar things.

Now when people ask, I usually tell them that parts of the protective sac got tangled around me while I was still in the womb and that those inhibited the development of my leg.
4

How would you describe yourself. Specifically tell us about each aspect of your Twitter bio under your name – Jessica "Jessie" Heims?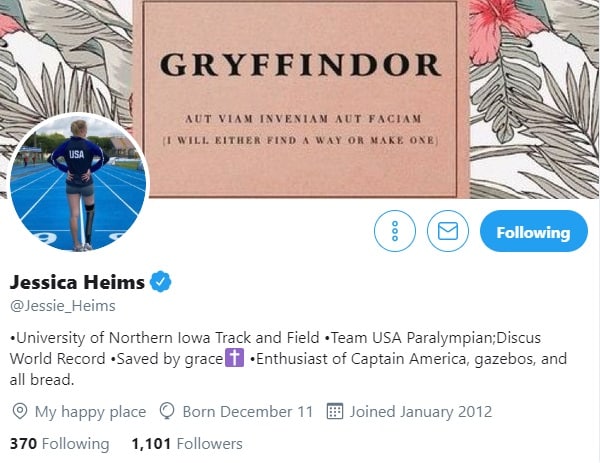 I get nervous sometimes that my bio is a little too straightforward, but then again that is the point. Actually, I started off with UNI track and field because it's a connection I find with most people on social media. I then lead into Paralympics because it's the second half of my track career right now, and I really wanted to be able to catch people's attention to the Paralympic movement. It's very important in my life and I love promoting it. I went back and forth for FOREVER on whether or not I should put in that I hold the world record. I didn't want to be obnoxious but my sisters finally convinced me that it's okay to be proud of your accomplishments on social media, so I added it.
Saved by Grace ✝️
After I get past the running stuff (which is what I mostly use social media for) I put in that I am saved my grace. Also, I am deeply religious, and it would feel wrong to have a presence on social media without anyone knowing that I am Christian.
I hope my putting this, I can not only share the love of Christ to my followers but also help provide a friendly face to the religious group that sometimes gets skewed my political or social issues. I'd like to be a face of a loving Christian that the world needs more of today.
Enthusiast of Captain America
My last part of enthusiasm is just fun little tidbits of my life. I am a huge Avengers fan and Captain America is my favourite. All of my friends know my obsession with Steve Rogers has been going on for years and will continue even though his part in the movie franchise is over.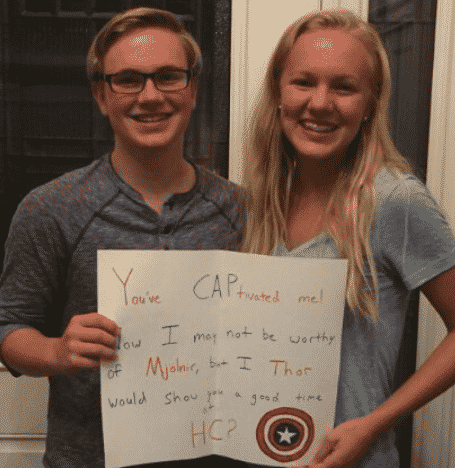 Gazebos
Gazebos are one of my weirder obsessions- I love every and all gazebos. Not for any specific reason, I just find them extremely calming. I am perfectly content finding a gazebo in a park and just sitting there for a while. Bread is my last of my top obsessions. I just really like carbs, I guess!
Bread
I've always considered bread as my favourite food- one time I bought a 3-foot French loaf of bread for a weekend track meet and accidentally brought it into my throwing competition [laughs]. My friend that was throwing with me laughed pretty hard when I pulled it out while trying to get my throwing shoes out of my bag! These are probably the top aspects of my life that I would use to describe myself. It's the most broad parts of my life but they can tell a lot about who I am.
5

Choose 4-5 Instagram posts that you think best explain Jessie Heims and tell us why you picked them.
a

Photo in front of UNI Banner

One favourite is a picture I posted on March 25, 2019 where a friend and I are standing in front of a University of Northern Iowa banner. This picture both shows my enthusiasm for my school as well as my love for my teammates.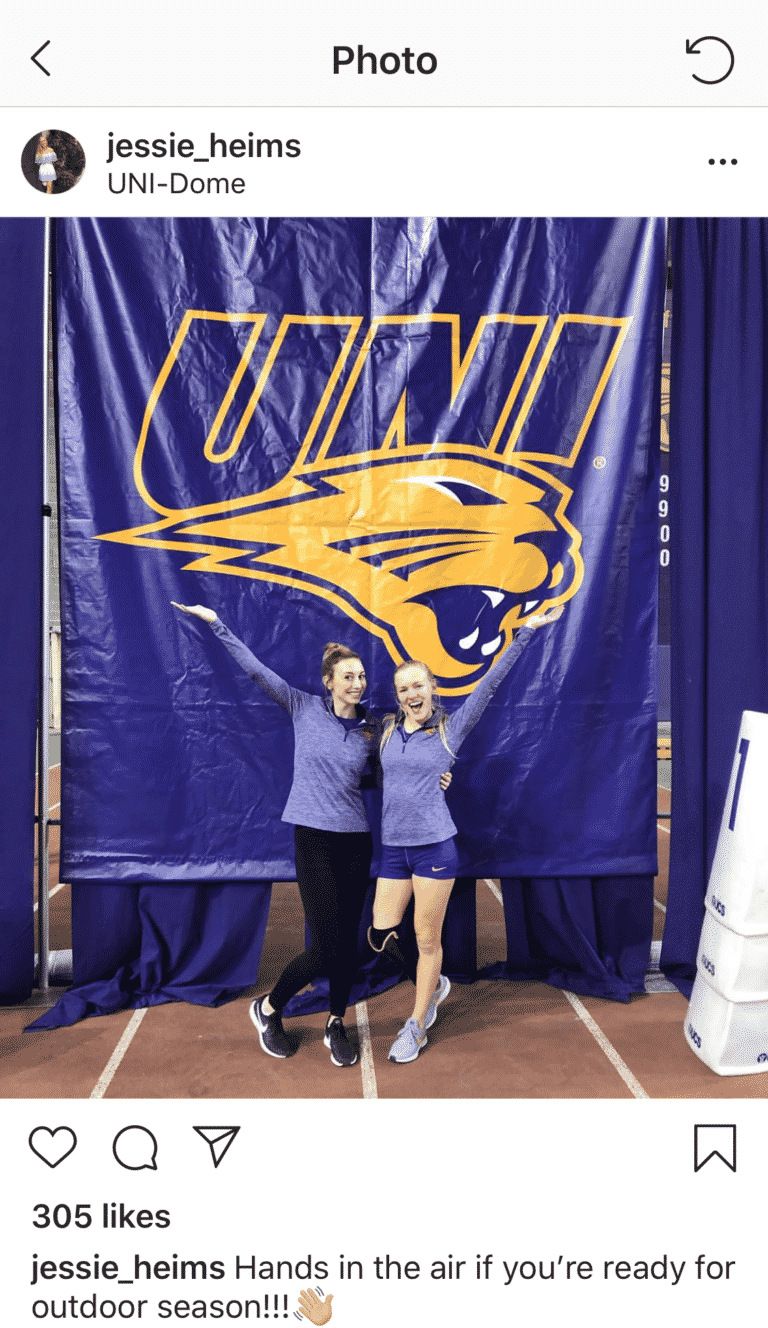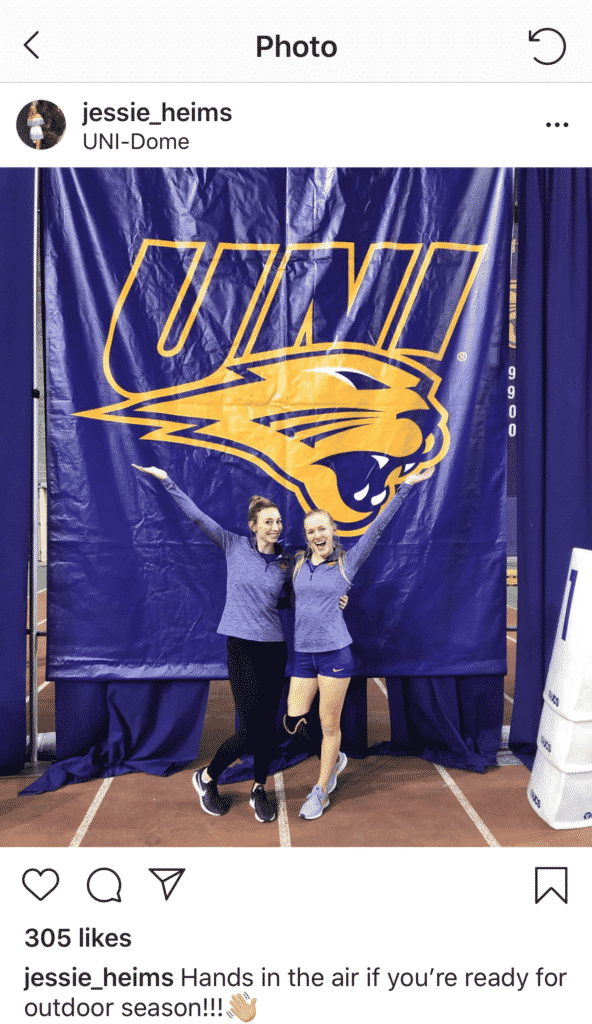 b

Photo with my family

Another would be one I posted of my family and I on January 5th of 2019. My family is extremely close and being able to have everyone together, specifically over the Christmas holiday, is extremely important to me.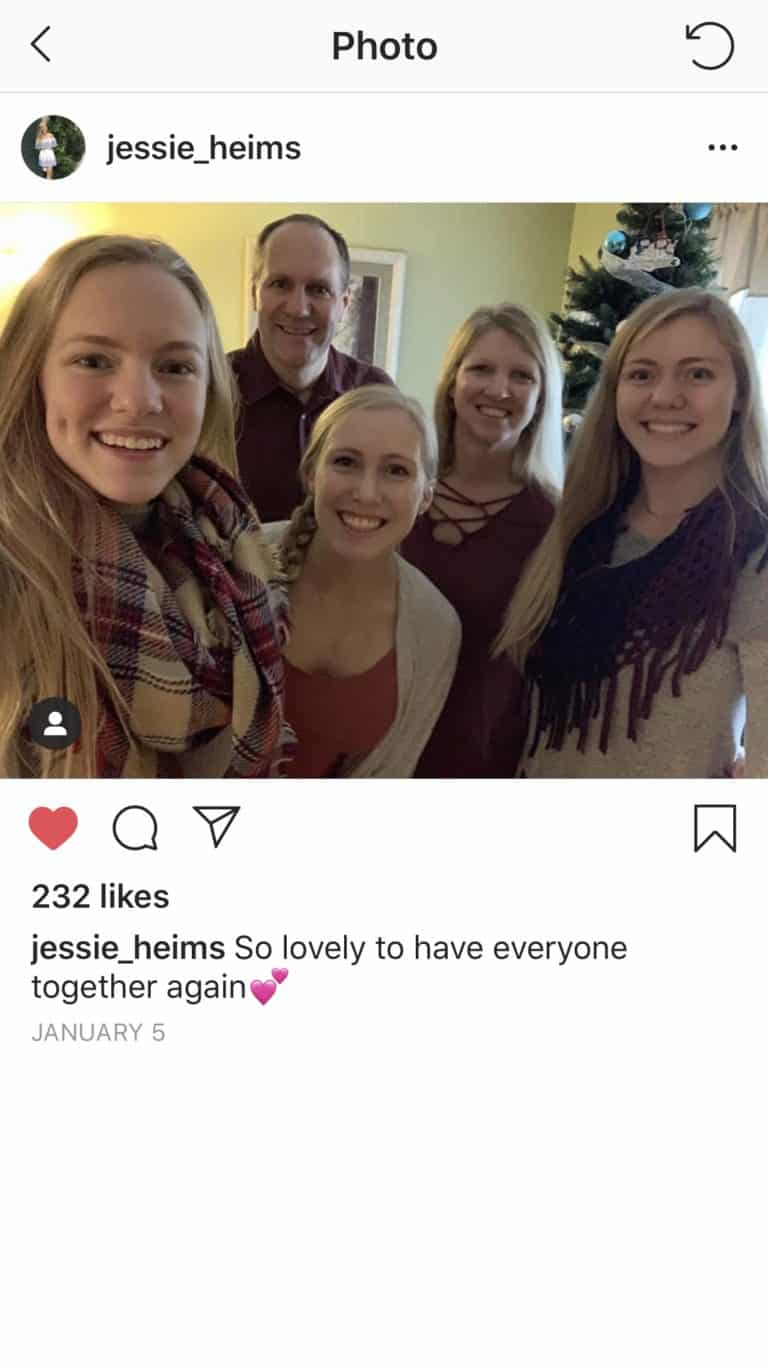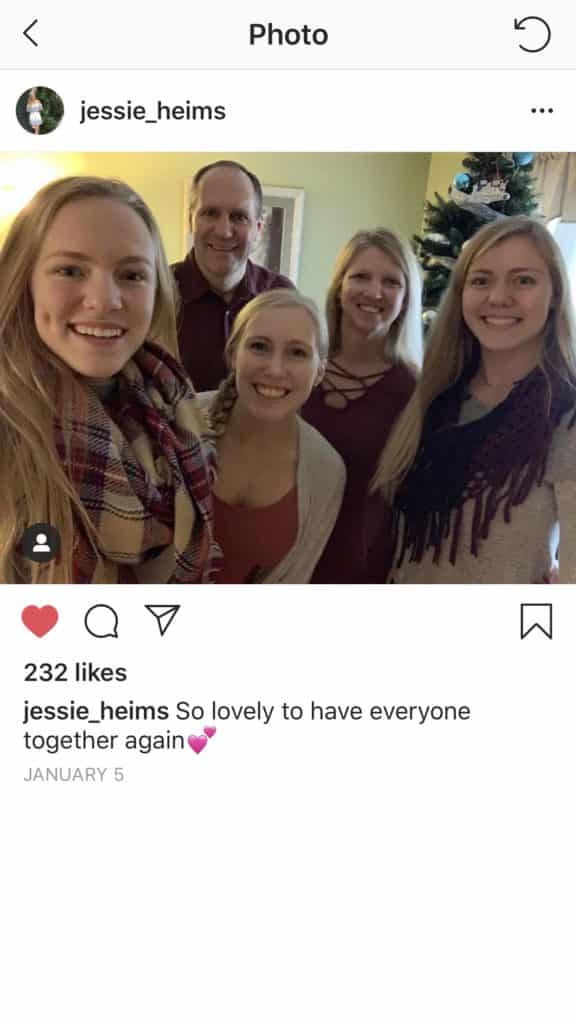 My family has been my biggest supporter. I come from a beautifully loving family who has made it a priority to ensure that each person is well supported in their endeavors. I grew up seeing how important that was and made sure to surround myself with others who also had ambition and mutual support. I am extremely blessed with the upbringing I had because my family shaped me into the person and athlete I am today. I knew I would be admired for my bravery to start rather than only be applauded if I had the talent to finish.
c

Me in Rothenburg, Germany

The third one I would choose would be a photo of me in Rothenburg, Germany on March 21st, 2017. My family is German and I love traveling, so I feel like this photo shows my joy of the world and my heritage.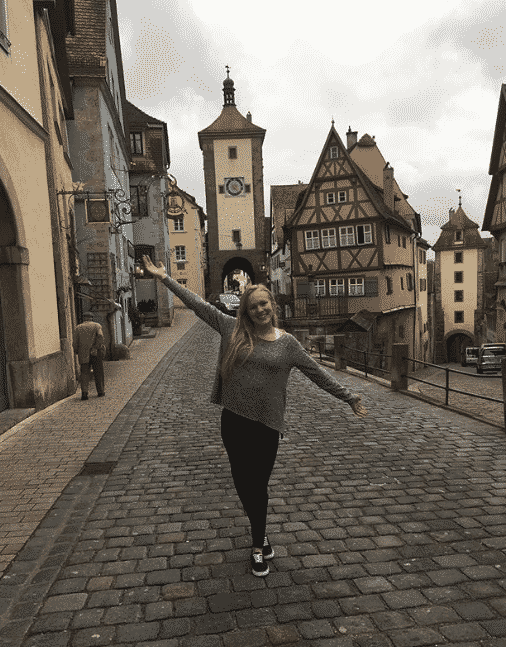 d

Throwing Discus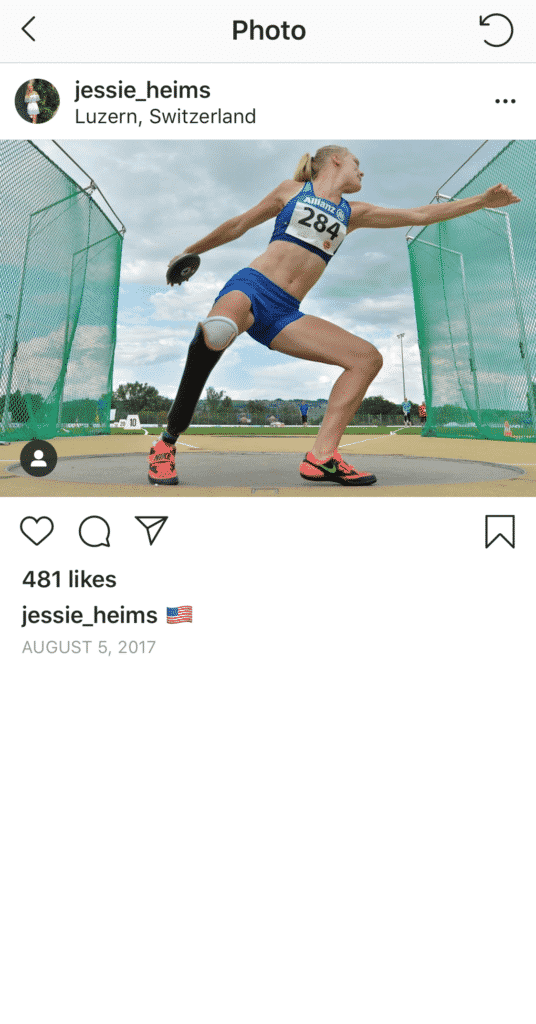 The last photo would be of me throwing discus on August 6, 2017. Being able to wear my USA uniform and compete in the sport I love is really a dream come true.
e

A few other cool moments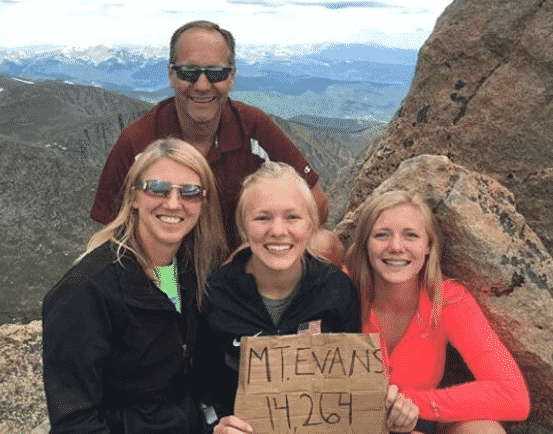 Climbing Mount Evans on July 21, 2016 was so much fun! I love traveling and mountains, so traveling to Colorado is always something I absolutely adore. My first few days there I suffered some rough altitude sickness but after training with bikes and running throughout the next week I was able to adjust and see the world from Mt Evans.
I met Barack Obama after the Rio 2016 Games. All Olympic and Paralympic athletes are invited to the White House to meet the first family so I went to DC for a few days. He was so amazingly eloquent and was such a kind supporter of the Paralympic movement. He will forever stay in my top 5 favorite people I have met. I am a huge history buff so I was very stoked about it all.
6

What was it like going to Rio to compete and how do you think that experience will help you for the next?

Rio was an absolute dream come true. I felt sort of in a trance the whole time, yet fully comfortable being in that setting. Knowing that I have competed on the worlds largest platform before helps me prepare for future races and get in a competitive mindset. Having the first time jitters out of the way will help me really zone in when the time comes to compete in Tokyo for the 2020 Summer Paralympic Games.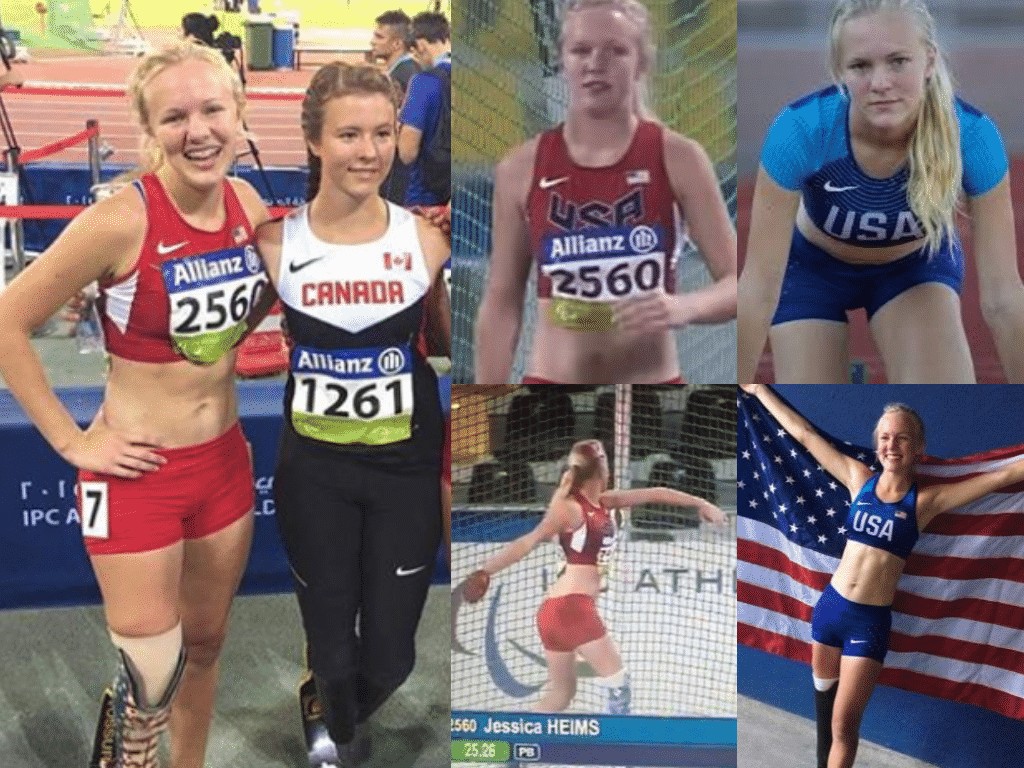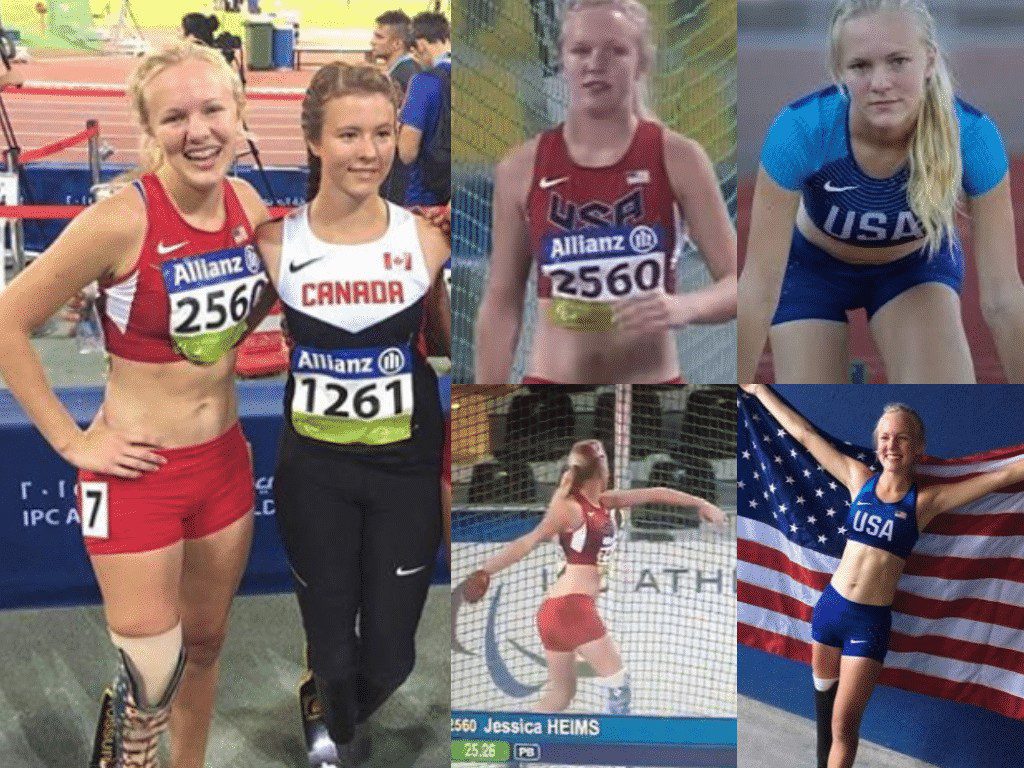 Tell us about the Tokyo 2020 Summer Paralympics. Give us some insight into your plan.
Right now I'm setting 2020 as a long-term goal so I can focus on this season first. I know there is a lot I have to change and accomplish before then so my focus is staying on each competition as it comes. As long as I can focus now on what I need, the future will take care of itself. I know this is a short answer, but I am taking things one at a time right now. It seems to be working well for me at the moment so I don't want to look to far into the future. The 2020 Summer Paralympic Games in Tokyo are not until August 25 so there's a lot for me to do before then.
7

We noticed your hashtags on social media. They are interesting! #ampprobs and a few others. Can you tell us about them and in particular this one?

#amprobs is a classic favourite between me and some amputee friends. Whenever someone odd or funny happens to us that those with all functioning limbs don't experience, we like to sum it up with #ampprobs. Being able to find humor in daily struggles helps me adapt to this lifestyle and make others more comfortable with it as well. Being open about funny or uncomfortable issues, especially over social media, is very important. I try to use these hashtags in a lighthearted manner that will help others find light in similar situations.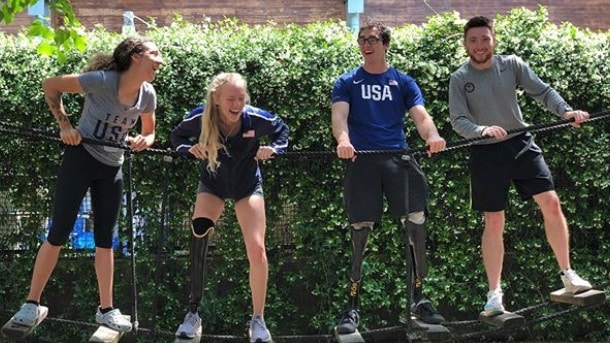 8

What to do with your post-grad academic and work career? Any thought into that?

Academically I am currently studying biology at the University of Northern Iowa. I plan on going into the medical field in the area of physical therapy and rehabilitation. What I want to do is I want help people through recovery and adaptive processes after injury or traumatic events. I am amazing by the human body and the human spirit, and being a resource for those in need would be my dream job.
9

Finally, what advise would you, from Jessie Heims, give parents who just realized their child was born differently due to ABS? This is a great closing answer for the feature.

I would first tell the parents to take a deep breath and know that their child's life will be beautiful successful in their own way. It may not look like others, but that does not take away the value. My parents didn't have any connection to ABS families and had valid fears about my quality of life. Thankfully today, we can build connections with families in similar situations, which I believe is super important. Being able to share experiences and receive advice about situations you haven't dealt with before is extremely helpful. I would advise finding a group online or in a community where you can reach out with any and all questions. There is no shame in having uncertainty, and there is bravery in asking for help.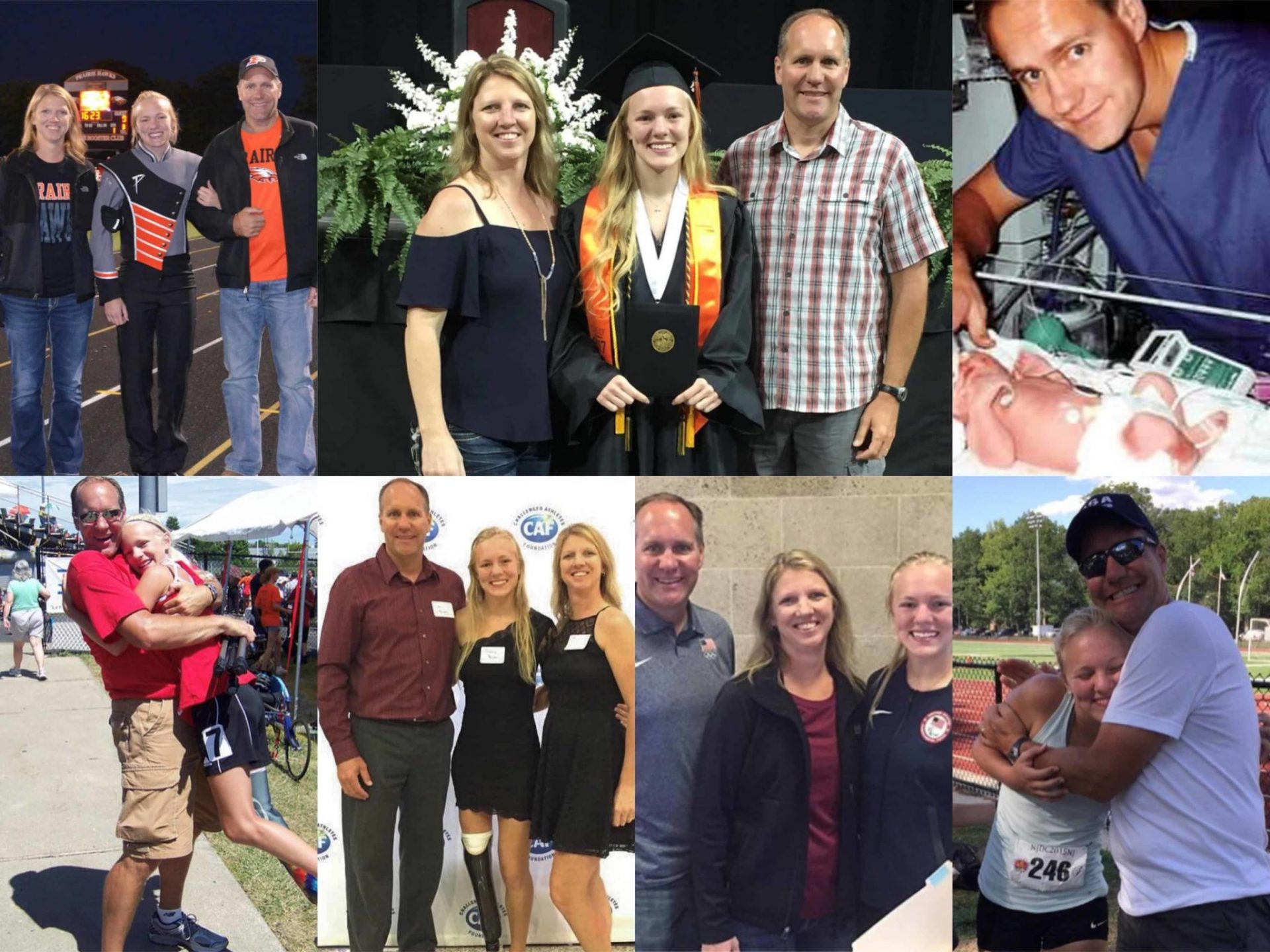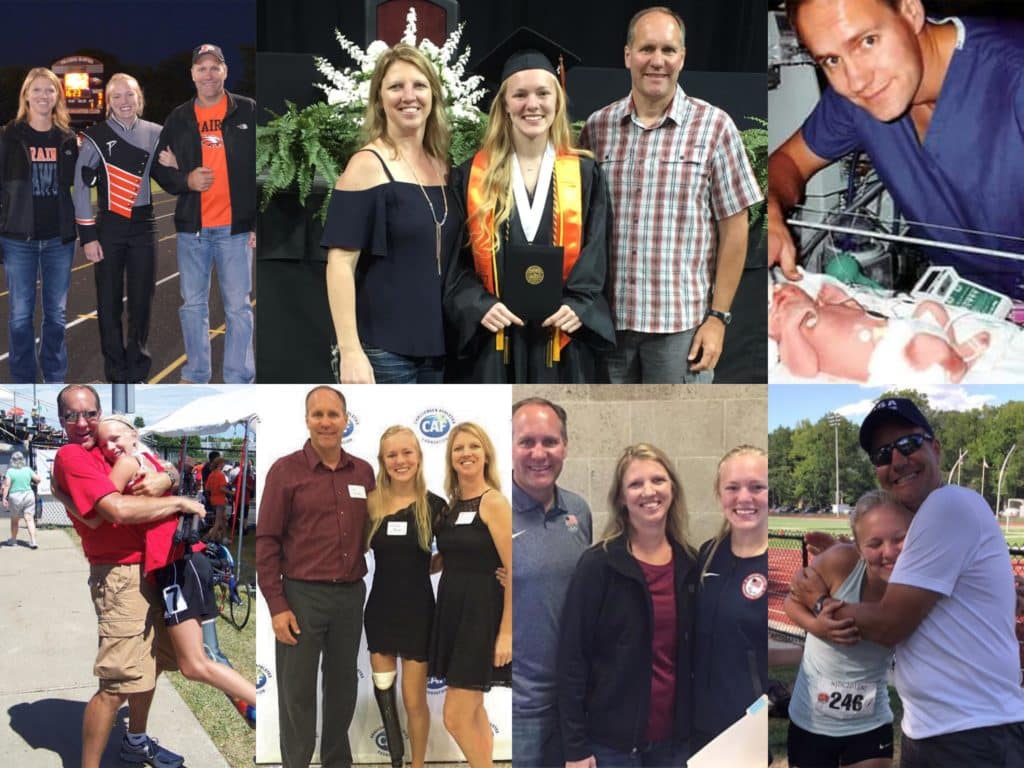 Also, I would tell parents that their child will be able to accomplish amazing things in life on their own- the thing they need from their parents the most is support. Having a support system will allow the child to be comfortable in adapting to life. And just as children need support parents do as well. Finding groups for support or community between families dealing with similar issues is incredibly helpful. The child's life will be different and it may at times be hard, but it will still be beautiful.