Joe Cuomo is an Equipment Manager for the Brooklyn Nets. This means that Joe leads the charge on a myriad of logistical aspects of the Nets organization from equipment and apparel inventory to transport. I first learned of Joe Cuomo during the 2019 NBA Summer League when he was on court presenting a cheque to the St. Jude Children's Research Hospital with fellow equipment managers. Joe is extremely intelligent, pleasant, selfless, and inquisitive and it was a pleasure to chat with him about his career in sport. He talks about managing equipment for the Brooklyn Nets entails and what some of the challenges are in such a unique role. Enjoy!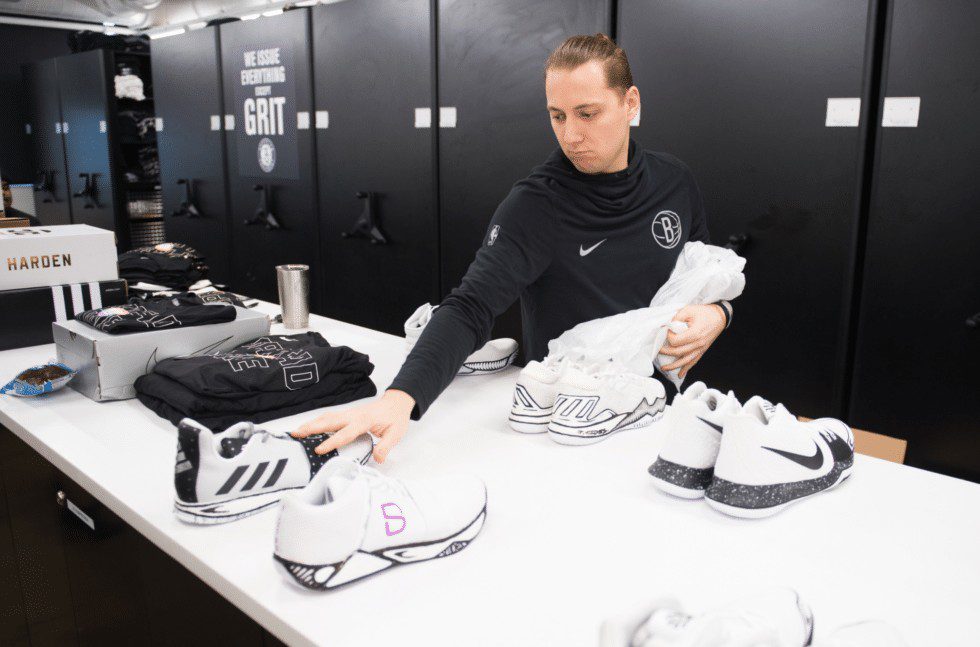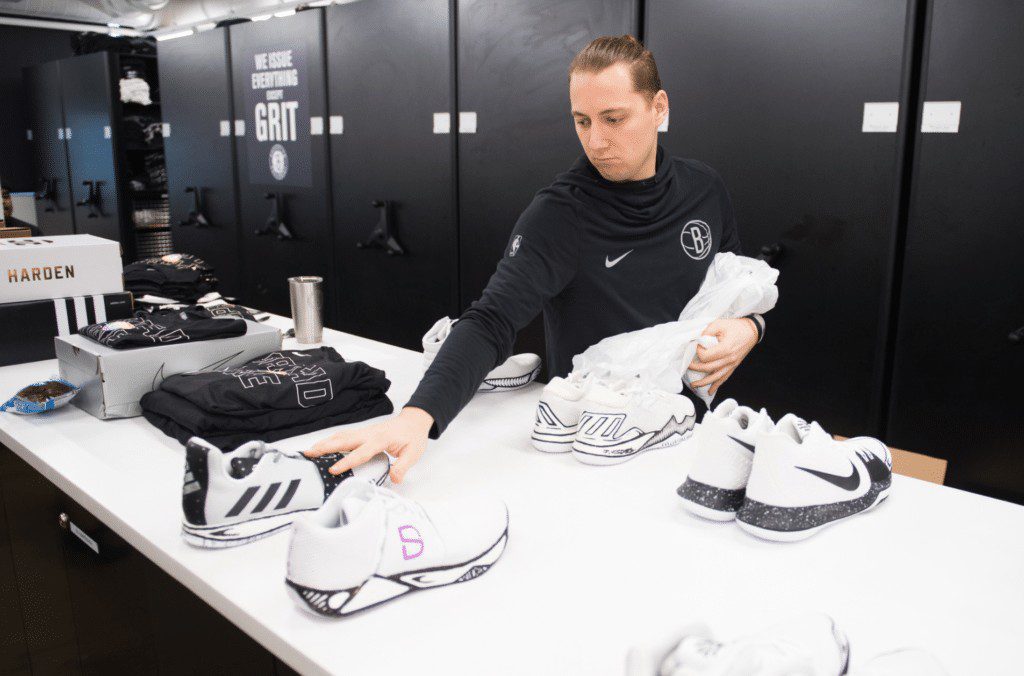 Tell us about your role as the Equipment Manager with the Brooklyn Nets.
As the Equipment Manager for the Brooklyn Nets, I oversee all Equipment Operations and Team Travel Logistics. No one singular day is the same as the next, each presenting its own demands and challenges. One aspect of my job that is always present is the need to be proactive and prepared weeks (sometimes months) ahead. I begin each day by sending and responding to emails.
Once that is complete, I'm working on itineraries, placing orders, and booking hotels/flights for anyone needing travel accommodations. Handling equipment and working with players is my passion. I make it a point to be on the court and around the locker room to ensure the players have what they need to be able to perform at the highest level. Their needs can often take the form of having the right pair of sneakers, padded compression, or something as simple as an extra pair of socks.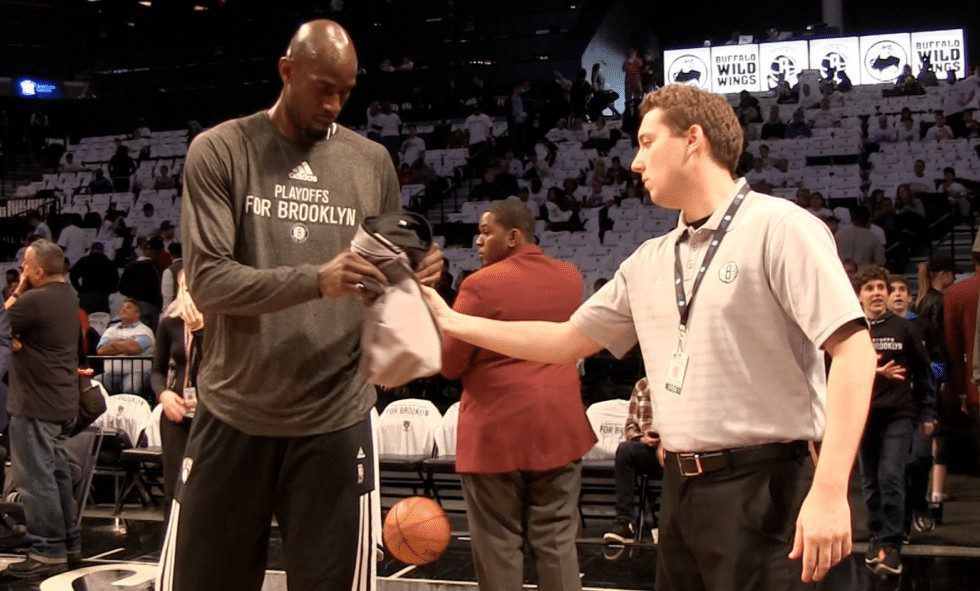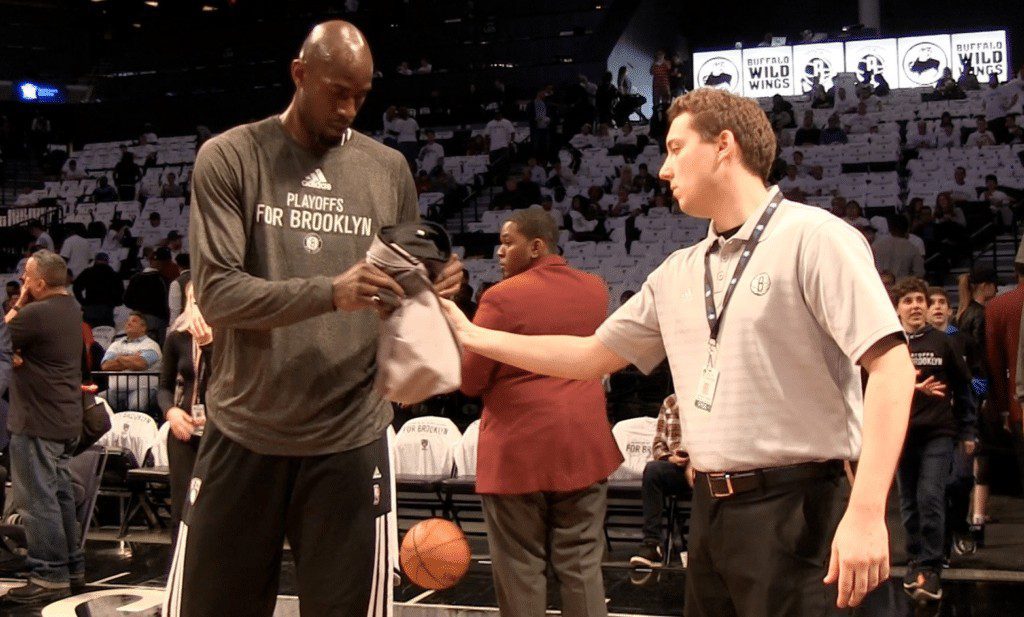 Throughout the day, I am still receiving a steady stream of emails, so I periodically return to my office to handle any urgent matters. I am able to do this by relying heavily on my Team Attendants to handle the laundry and ensure the cleanliness of the court and locker room areas.
Now to Pre-Season:
Perhaps the most intense part of the year for me! During preseason, I'm still trying to get a feel for the new players' habits and preferences. Communication is key! That applies not only with the players but also with the Performance staff and Coaches. I start preparing for how equipment is going to be packed and stored for travel. As the main person handling equipment on the road, I have learned that procuring the proper trunks, cases and bags is crucial to the overall success and efficiency of team travel.
During Season (& Playoffs):
The intensity of the season does wind down a bit as processes and habits become ingrained and established. Nevertheless, it is important for me to continue to be a step ahead with travel itineraries, hotel room lists and flight manifests, practices on the road, and meal orders.
One main responsibility that is very time-consuming is ordering our Nike gear for the following season (yes, we actually have to order gear a whole year in advance!). This means that I will have to place my 2020-21 season order by the beginning of November 2019. This task can be very challenging especially when you consider how much an NBA roster can change over the course of a year and off-season. Knowing how to properly forecast and keep up with industry trends is very important when it comes to placing the big season order.
If we are fortunate enough to make the playoffs, nothing really changes process-wise. I would like to think it is important to continue with the routines and procedures that helped us get to this point. Nevertheless, it is necessary to be more attentive, proactive, detailed when more meaningful games are being played.
Tell us about what you do to keep busy during the offseason!
The offseason has become increasingly busy! When I first started with the Nets, players tended to conduct the bulk of their offseason training in their hometowns. Fast forward 8 years, the landscape has changed quite a bit. I think the primary reason for this is that NBA practice facilities have become state of the art. Players want to train with the best equipment and receive the best medical care. Between pre-draft workouts, free agent camps, summer league, and off-season training, the NBA offseason has become more of a '9 to 5 job' for me. It is very rare now to not see at least a handful of players throughout a regular work week (M-F).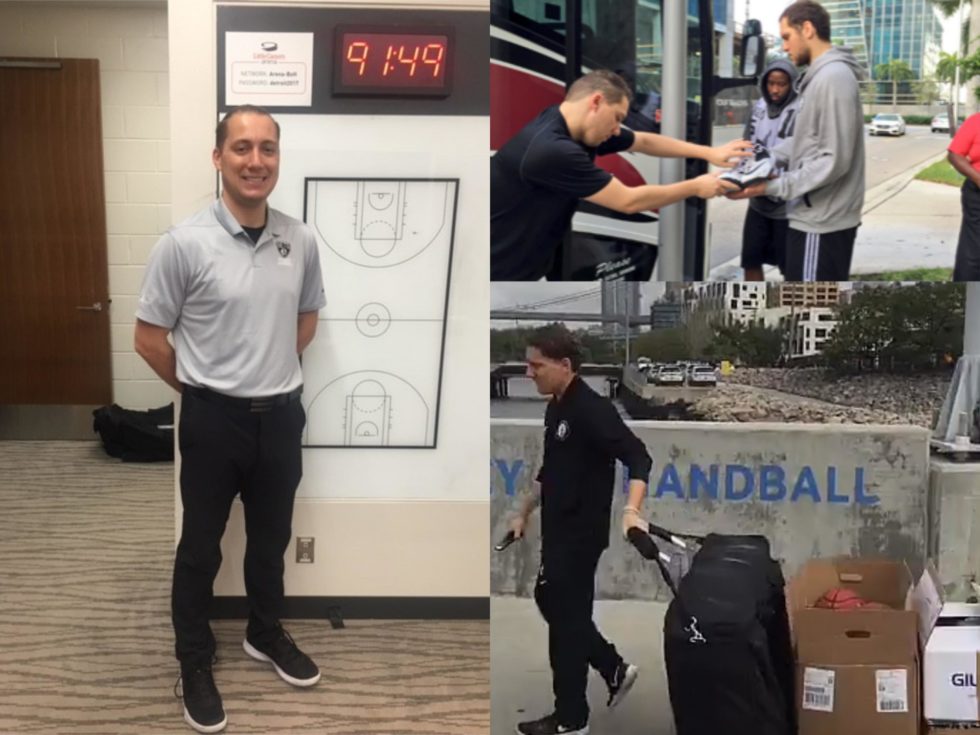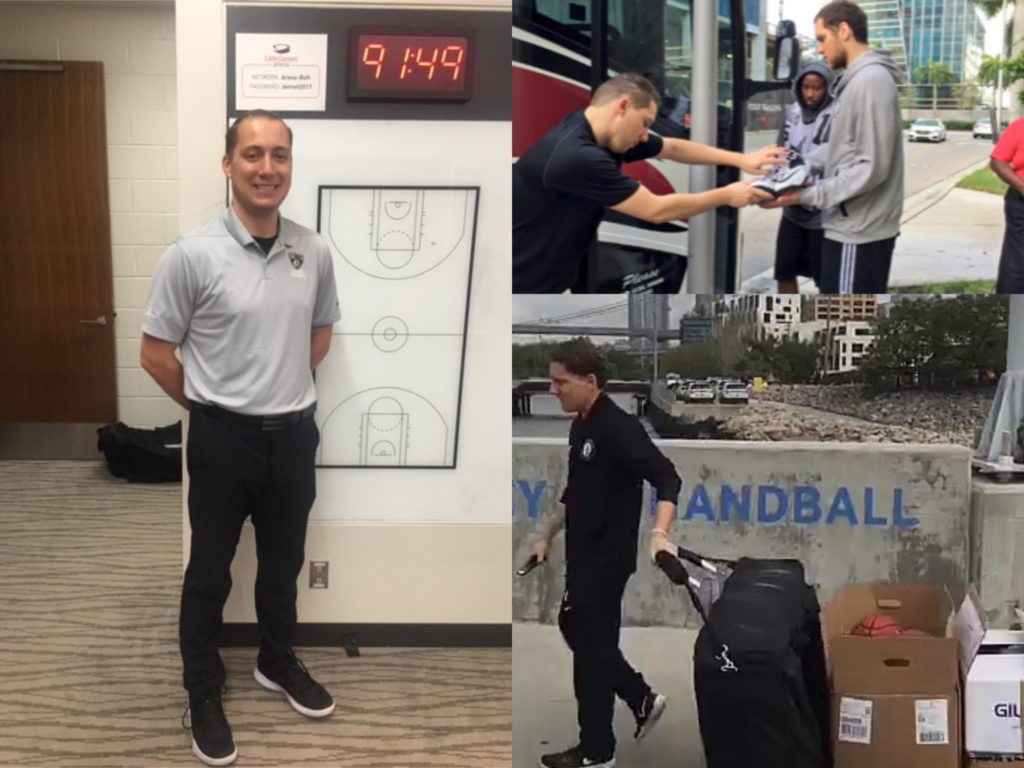 Most of what I do is prepare for the season ahead in the offseason. All of the Nike gear items that I ordered back in November deliver sporadically throughout the entire summer. I unpack these items immediately, check for any errors, remove individual shrink-wrap, un-tag, and fold every item (my Team Attendants really do a great job assisting in this process). I also use this time to continue to be proactive and improve processes. How can I best organize items inside my equipment room? Which supplies need to be ordered? What are our preferred hotels in each city for the upcoming season?
I also use this time to further build upon business relationships and collaborate with partners such as Nike, Red Bull, McDavid, New Era, and other departments within the Nets organization. Once or twice every summer, I will meet with someone in Marketing to create the Uniform Wearing schedule that will outline which jersey the team will wear for each game of the upcoming season. The goal is to have basketball operations and business needs to align in an effort to best serve the organization well before the start of the season.
Lastly, I also recruit, interview, hire, train new Team Attendants at either the HSS Training Center or Barclays Center for the upcoming season.
I try to use weekends as a time to relax, recuperate, and spend time with my loved ones.
What do people think about being an equipment manager that just isn't true? If you could debunk any myths you've heard from friends, family, acquaintances, and strangers, that'd be awesome.
There are several stereotypes about equipment managers. Many people view us as launderers, whose job is simply to wash and dry clothes all day. As the role of the Performance and Medical support staff have become more specific (i.e. athletic training, physical therapy, strength, psychology, massage, etc.), the role of the Equipment Manager has become more diverse and broad. It is now common for NBA Equipment Managers to possess untraditional roles and responsibilities in Team Travel Logistics and Facility Operations. Overall, I feel like we have become a sort of "Concierge" to the team. The ability to problem solve is a necessary skill that one must also posses in the presence of daily challenges and changing demands.
Another preconceived connotation is that Equipment Managers are frugal and ungenerous when it comes to issuing team gear. I make it a priority to always have a healthy inventory of gear to distribute to any player, coach, or staff member. An adage that I've coined around my equipment room is, "If I've got it, I will give it!" However, that does not mean that the equipment room is a 24-hour giveaway center. As long as mutual respect for one another exists, I take pride in helping my fellow teammates and serving their equipment needs. I expect that anyone who receives and requests items will also respect me and my role as a caretaker of team-issued gear. All laundry should be properly "looped" for ease in laundering. Lockers should be kept neat and tidy. Requests for additional items are welcomed, but this practice should not be abused. Individuals must take ownership of the items they receive and not leave them around the gym or scattered throughout the locker room.
How much freedom and creativity do you have in your role as the Equipment Manager of the Brooklyn Nets?
I'm granted a great amount of freedom and creativity when it comes to scripting game uniforms and accessories. The main sources of inspiration are the players' voices, and it is paramount to involve them in the process. For example, the idea for the 'Brooklyn Camo' shooting sleeve that paired so well with our Nike City Edition uniforms last season was an idea that was birthed by me. It was received well by our players, who had previously embraced the city color palate and desired more of it.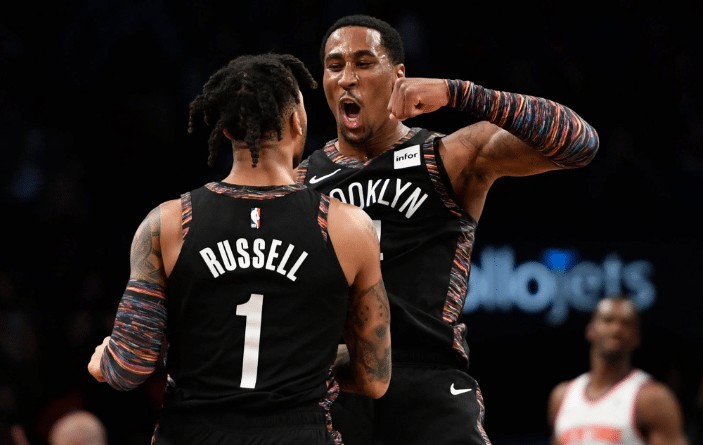 Other times, I will take old items and repurpose them to meet growing needs or trends. For example, I have had the sleeves cut and re-stitched on hoodies and game jackets to become short sleeve or sleeveless practice tops. If a player sustains an uncommon injury and is looking for some extra support, I can design a custom compression piece by taking a sheet of padding, cutting it to the exact specifications of the player, and pressing and sewing the padding into his garment at the desired placement.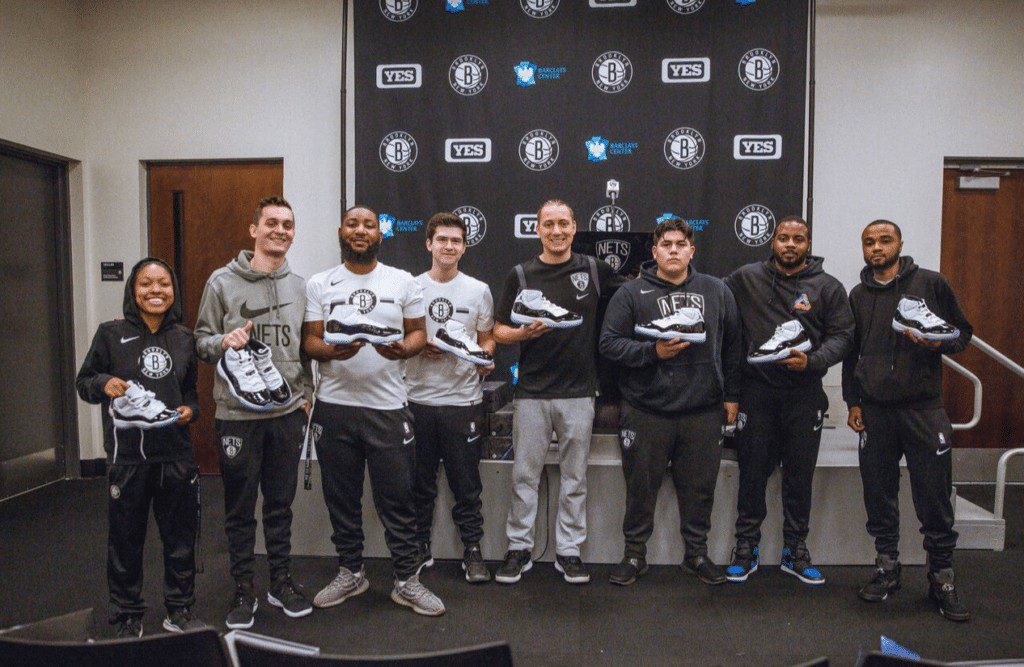 Other forms of creativity have come in the form of product activation that often involved sponsorship and partnership marketing. I've helped design coolers with Red Bull, shared ideas with Nike, and created logos for special occasions.
What surprised you the most about starting a career in the sport industry?
I knew that landing a full-time job within the sports industry was going to be difficult. Yet, I believed that if I set myself up to be successful and learn through diverse experiences (and some mistakes), that may be something could come to fruition with a bit of luck. Essentially, I was trying to create my own luck! What I did not expect was that I would discover a passion for Equipment after never having done anything of the sort in college.
Looking back on my tenures at UCF and Seton Hall, both institutions really helped me to prepare me for working in the field. Inside the classroom served as the foundation, while the work outside served as the realistic forum to put learning into practice. Each school afforded me opportunities to do so in the form of internships and volunteer work. I was able to learn about organizational cultures and different roles within sports – how they differed from team to team – and the type of skills needed to land a full-time job.
It took three internships and two college degrees to discover my Equipment niche, but since then I've never looked back!
Are there some aspects you wish could change about your life or has everything fallen into place perfectly?
Occasionally, I wish my life had more of a work-life balance. However, I could never be the type of person to hold a boring desk job and clock-in 9am to 5pm every day.
An important aspect of my job that has served me well, and one in which I continuously strive to improve upon, is the ability to delegate! This first requires recruiting and training the right people as Team Attendants – individuals, who not only have the ability to take direction, but also the skillset to take initiative and be equally as proactive. Undoubtedly, finding the right people and delegating certain responsibilities has helped to alleviate a substantial amount of daily pressures. In addition, it has allowed me to focus on other responsibilities both inside and outside of work.
Overall, I am very happy with the career I have chosen.
What are three essential skills someone needs to succeed in not only in sport equipment management but in other aspects on the business side of sport? If you could explain why you chose each, that'd be great.
1 Patience
I feel that many of us Millennials believe that if we do A and B that it must equal C. In sports, there is no formula! Hard work is always given, but certain opportunities are few and far between. A lot of it is being in the right place at the right time. In my opinion, success can only be achieved with a substantial amount of patience, sacrifice, and a little bit of luck.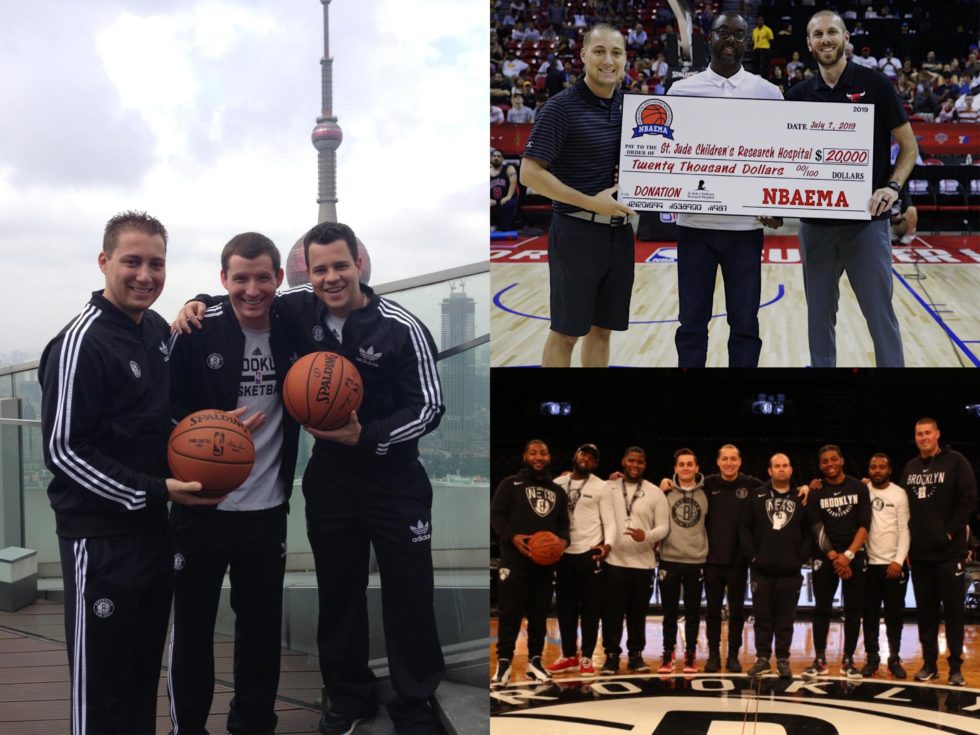 2 Versatile
I am constantly tested and challenged in many different ways on a daily basis. Owning a diverse set of skills is crucial to long term sustainability and success. I believe that these skills should constantly be reworked and developed by proactively exploring opportunities for continuing education. Examples include attending conventions, collaborating with counterparts in different sports, and enrolling in sewing classes.
3 Problem Solving
I feel like this ties to being both patient and versatile. Some times it is best to pause for a minute and weigh all possible outcomes. No action may very well be a suitable decision. It could also involve being creative and thinking outside the box. In my experiences, I have found that the way I process a decision is often more crucial than the outcome itself. It certainly conveys a great deal more to your peers on how you handle challenges and the stress that comes with them.
Do you recommend any tools, apps, resources, etc. to help others work more productively and efficiently? If so, which ones and how have you used them in the past?
1 E-Mail Folders!
I constantly reference old emails on a daily basis. Having them properly organized is critical as it saves me a substantial amount of time. Currently, I have about 40 folders in my inbox and the number keeps growing.
2 LinkedIn
LinkedIn is a great tool for recruiting and finding talent.
3 Reminders App On iPhone
The Reminders app on the iPhone allows me to quickly type a task out and set a reminder alert. This has saved me a great deal of headache when I need to accomplish a future task that does not require immediate attention.
If you could have a superpower to help you in your career, what would it be and why would you choose it?
Interesting question! Perhaps the power to read people's minds! It would allow me to better understand the wants and needs of my peers more efficiently. The ability to stop time would also be useful. I would be more equipped to pause and think through challenging situations. Also, the ability to stop time could allow me to relish the good times and special moments over the course of a long season.
Amber's Final Thoughts
Joe Cuomo has a multi-faceted role with the Brooklyn Nets as the Equipment Manager. Surely, there's way more to the role than just doing laundry. This feature proves that in every way possible. With training camp underway this week, Joe Cuomo is sure to be as busy as ever, ensuring that each and every team member's needs are met!
---
Joe Cuomo
Interview by Amber Somerville
Posted September 30, 2019 in Industry Profiles