Jonathan Hanley, Coordinator of Guest Experience with the Hamilton Tiger-Cats and Forge FC, helps to train, hire, and manage all of the part-time customer service staff members at Tim Hortons Field. This feature is near and dear to me as I've worked with Jonathan throughout his career with the Ticats and Forge FC. In working with Jonathan I've seen first-hand how incredibly well he co-ordinates the 60+ staff members who work on the Customer Assistance Team doing various jobs such as ticket scanning, elevator operation, mascot handling, ushering, and more! In order to receive this position, Jonathan, like many other coordinators, worked his way up from the bottom, originally working as an usher at the Tim Hortons Field in 2014. As someone who knows what it takes to climb the ladder, I was interested in hearing what he had to say about the various positions he has held, how he worked his way up, and what challenges he faces in his role as Coordinator of Guest Experience. Here's what he had to say: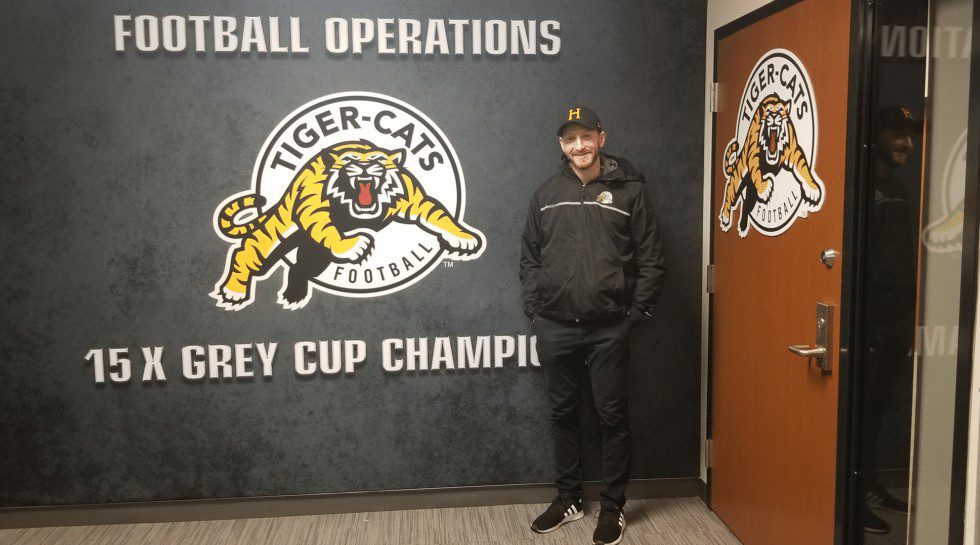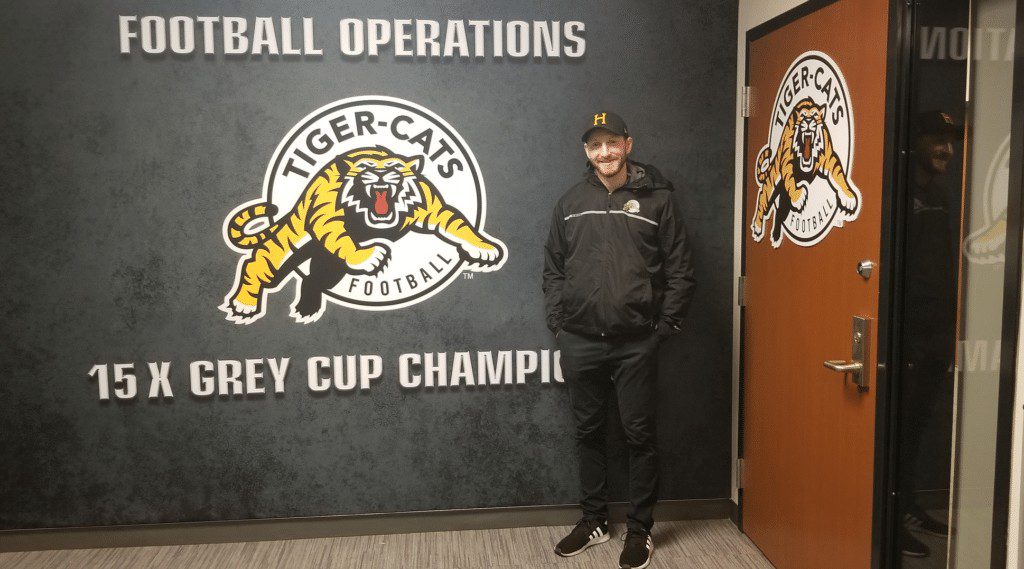 Please note: The interview with Jonathan Hanley was conducted via a typed conversation. Editing changes were made to make it easier to read while maintaining the voice of the interview.
[showmodule id="274431″]
Tell us about your role as Coordinator of Guest Experience with the Hamilton Tiger-Cats and Forge FC.
My role as the Coordinator of Guest Experience with the Hamilton Tiger-Cats and Forge FC consists of hiring, training and managing all of the part-time customer service staff members who work at Tim Hortons Field for major events such as Hamilton Tiger-Cats home games, Forge FC home games and other licensed events. This group of staff members all work on the Customer Assistance Team (C.A.T.) which consists of ushers, ticket scanners, parking attendants, guest services representatives, elevator attendants, mascot handlers and concierge staff. At Tiger-Cats home games there are approximately 150 staff members and at Forge FC home games there are 60 staff members who work on the C.A.T.
In addition to supervising the C.A.T., I also oversee all non-ticketing customer service feedback. Most of the feedback we receive revolves around a guest's experience on game-day. I either record this feedback or resolve it on game day or through our customer service email address after an event. The type of concerns that we receive vary and encompass all components of the game experience. For example, this season we have received feedback regarding our game production, fan loyalty apps, food and beverage experience, giveaways and promotions, retail experience, security execution, stadium components and our teams' performances. This is a major reason why working in the Guest Experience Department is so engaging: as you never know what concerns are going to be brought to your attention.
The last major responsibility that I have is organizing and managing our organization's internship program. Before the start of the Tiger-Cats season, we hire approximately 18 interns to work in various areas of the organization. It is not only invaluable experience for the interns because they create connections and learn about the sport industry but it is also a chance for the interns to contribute significantly to the growth of the organization. With our organization being relatively small (approximately 50 business office staff members) and continually expanding with the additions of Forge FC this season, the Grey Cup in 2021 and new third party events, there are plenty of opportunities for our interns to make their marks and create tangible impacts on the business.
[nnr_optin_fire id="17″]
What does a typical day look like for you?
A typical day for me is very much dependent on the time of the year. When the Tiger-Cats and Forge FC are in season the majority of my time is either spent preparing for an event or regrouping from an event.
When preparing for an event, my colleagues in the Guest Experience Department, currently two interns: Michael Hunter and Josh Jornacion, and I are busy hiring, scheduling and organizing staff members for the next game at Tim Hortons Field. Along with this, we are answering all guest and staff member questions, editing the various programs that we execute, such as our Secret Shopper and First Game Visitor programs, and creating all of our game-day material, for instance, our staff event handouts and distribution charts.
After events, we are completing many of the same tasks that we do to prepare for an event but in the opposite manner. For example, instead of scheduling staff members we are reviewing our payroll system and editing all of the C.A.T. clocks in and clock out times. Instead of organizing staff members for an upcoming shift, we are checking to see who did not attend their shift and following up with them.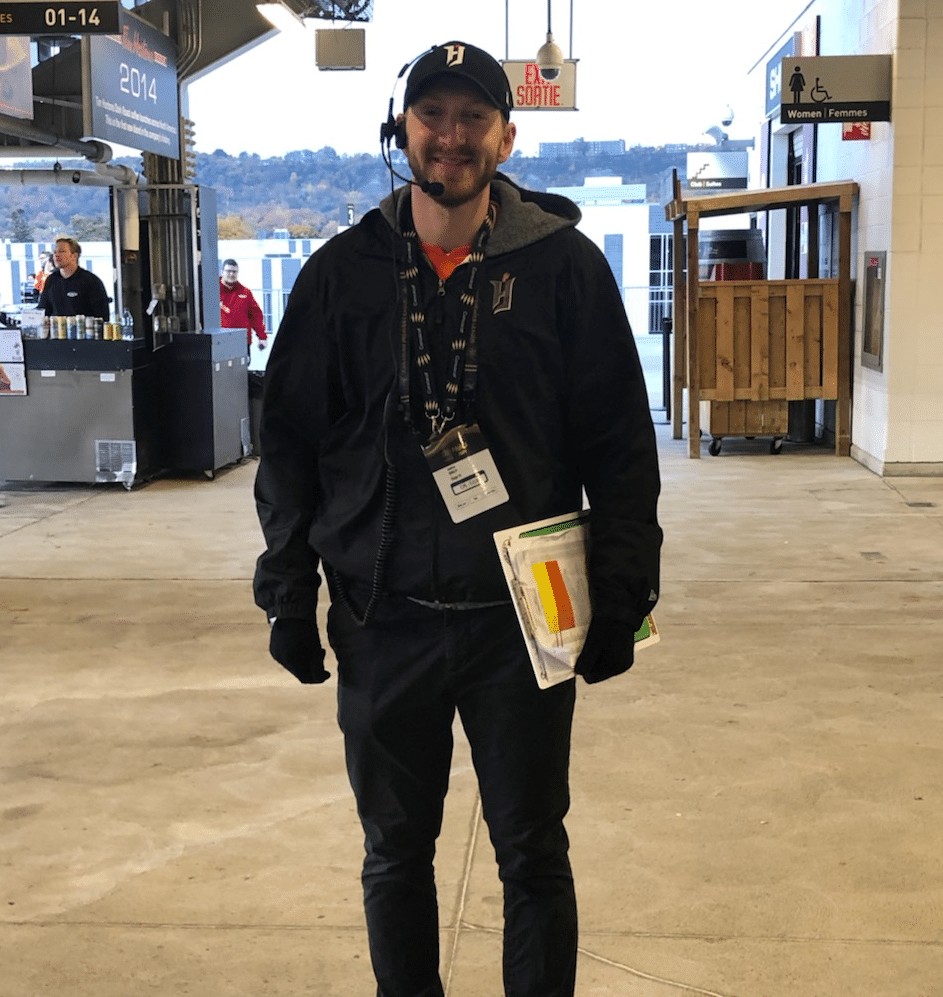 In addition to these duties, as I previously mentioned, we receive a lot of feedback from guests about their game experience. It is very important that as a department we review all of this feedback and not only resolve any issues that are brought to our attention but also discuss how and what changes can be made to improve the overall experience for guests who attend future events at Tim Hortons Field.
An example of how we enhanced the experience of guests at Tim Hortons Field this season involved our umbrella policy. The umbrella policy that we created for Tim Hortons Field was originally listed as the following in our prohibited items list at the beginning of the season: "Full-size umbrellas with points. Collapsible umbrellas are permitted but are not allowed to be opened anywhere inside Tim Hortons Field." We received a lot of feedback from guests and C.A.T. staff members that this policy was confusing as guests did not understand why some types of umbrellas were allowed and why others were not.
[showmodule id="274416″]
As well, it created an issue of where to store the full-size umbrellas, particularly if these umbrellas somehow got into the stadium. As a group, we reviewed this policy and Michael gathered information on the umbrella policies from other CFL teams and together we created a new umbrella policy. Our current umbrella policy is the following: "Umbrellas may be brought into Tim Hortons Field but are not permitted to be open anywhere within the facility. We encourage all guests to bring collapsible umbrellas so they can be easily stored under seats." This updated policy created a much clearer situation for guests who attended events at Tim Hortons Field.
After the Tiger-Cats season ends, the offseason begins and it gives me an opportunity to get the Guest Experience Department ready for the next season. Much of the offseason consists of assessing how the previous year went, making changes to the C.A.T. program and creating new goals for the upcoming year. One of the major offseason tasks is to hire new staff members for the C.A.T. Our goal is to have approximately 100 staff members return to the C.A.T. the next year and have a total of 200 staff members by the start of the Tiger-Cats season. Despite only needing 150 staff members to successfully execute a Tiger-Cats game-day, we hire extra staff to offset the inevitability of people leaving the C.A.T. during the season. Other offseason tasks include: researching customer service and human resources best practices and applying them to the Guest Experience Department.
You've held various positions (usher, guest services representative, team captain, guest experience intern) within the Tiger-Cats organization, working your way up to the role of Coordinator of Guest Experience. What motivated you to pursue a career with the Hamilton Tiger-Cats and Forge FC?
There are a couple of reasons why I wanted to pursue a career with the Hamilton Tiger-Cats and Forge FC. The first reason was the opportunity. Before I was hired as an usher to work the inaugural season at Tim Hortons Field in 2014, I was a second year student in Sport Management and I was looking to gain relevant sport industry experience during my summer break. My entire goal at university was to be able to secure a sport industry job after I graduated. I knew that this was going to be difficult to accomplish so I was consistently looking for ways to help increase my chances of making my goal become a reality. I recognized that by working on the C.A.T. I would acquire important experiences that would assist me in achieving my goal and thus motivated me to work for the Hamilton Tiger-Cats.
During my fourth year of university, one of my course options in the Sport Management program was to complete an internship placement with a sport organization. I was aware that the Hamilton Tiger-Cats hired numerous interns each year and given my experience working on the C.A.T. I thought that there was a good fit between me and the different opportunities that they were offering. I was able to secure an internship opportunity which allowed me to gain the necessary experience I needed to accomplish my goal.
I have always been very interested in the growth of the Canadian men's national soccer team program and how it can be improved so that Canada could return and compete in the FIFA World Cup. At university, I was aware of the rumours that the Hamilton Tiger-Cats were involved with starting a new professional soccer league in Canada to help develop Canadian players for the men's national soccer team. I knew that this was something that I wanted to be a part of and by interning with the Hamilton Tiger-Cats it would help put me in a position to do this. Fast forward to this year – the inaugural year of the Canadian Premier League (CPL) and Hamilton's professional soccer team Forge FC – and I could not be happier knowing that I am helping contribute to the growth of soccer in Canada.
[showmodule id="274435″]
How have you grown as not only an industry professional but also as a person through your previous positions with the Hamilton Tiger-Cats?
Since joining the Hamilton Tiger-Cats and starting to work on the C.A.T., I have grown a lot as an industry professional and as a person. Working on the C.A.T. I learned a lot about how an event is organized from a guest experience perspective and how to resolve customer service concerns with guests. These skills gave me the foundation of what I do now as the Coordinator, Guest Experience.
Before I worked as an intern, I did not have any knowledge of what it was like to work in a full-time office position in any type of organization. Since joining the Hamilton Tiger-Cats as an intern, one of the most significant attributes that I have learned has been how to work in a group environment. At university, I completed group assignments with other students but it was completely different than what I have experienced working in a sport organization.


At university, working on group assignments everyone splits up a part of the assignment and gets their section done individually. With the Hamilton Tiger-Cats and Forge FC, everything I do involves collaboration with other people and it is very important that everyone is on the same page and works together to achieve our common goal. For example, if we are planning for a major event and some individuals are not aware of certain details then a large issue could arise at the event. That is why to ensure that all of our events run as smoothly as possible, as an organization we have weekly staff meetings and pre-event meetings which include every party that is involved with the execution of the event.
As a person, since joining the Hamilton Tiger-Cats and Forge FC, I have grown to understand the significance that sport has on a community. Working in the city of Hamilton and working Hamilton Tiger-Cats games, you can see the passion that the fans have for the team and how important the team is to the community. Witnessing a Tiger-Cats game with everyone coming together to cheer on their team is amazing. This has given me an appreciation knowing that what I do positively impacts other people's lives and it motivates me to always try my best to ensure that our fans have the best experience possible while at Tim Hortons Field. Hopefully in the future, as Forge FC continues to become more popular, that same passion that the city of Hamilton exemplifies for the Tiger-Cats will carry over to Forge FC.
[showmodule id="274416″]
Within your role, you manage approximately 150 people on game days. Are there any challenges you face in regard to this aspect and how do you keep a positive mindset in tough situations?
One of the most challenging aspects of managing 150 people is that you cannot control everything that is going on and that you have to learn to trust others. One of the most important aspects of my job is to ensure that the wait times at gates are a fast as possible. This can be very difficult given that the majority of our guests tend to arrive 15 minutes before kickoff. With five gates at Tim Hortons Field, it is impossible to be at each gate at the same time. I have had to learn that by properly training, providing the correct information and putting others in the right positions to succeed, that almost anything can be accomplished without me directing controlling the situation.
In tough situations, for example, if one of the gates has a slow entry wait time, I have learned to stay calm and keep a positive mindset. I try my best to stay calm and positive because I know that being negative is not going to help the circumstances and it will most likely make it worse. As well, as the leader of the C.A.T. if I demonstrate negative behaviour it could transfer to the other staff members who are working which will decrease the customer service experience for our guests. In addition to this, I never try to get down on a situation because I know that anything that we do can be improved on and a solution can be found either during the event or afterwards.
As a recent graduate, how has your education and Sport Management degree accredited to your career?
My degree in Sport Management has been crucial to the growth of my career. As I previously discussed, the Sport Management program offers an internship placement which allowed me to gain key experiences with the Hamilton Tiger-Cats organization and lead me to my full-time employment with the team. Many of my co-workers also graduated with a degree in Sport Management which has been very positive for me in terms of networking and building connections within the organization.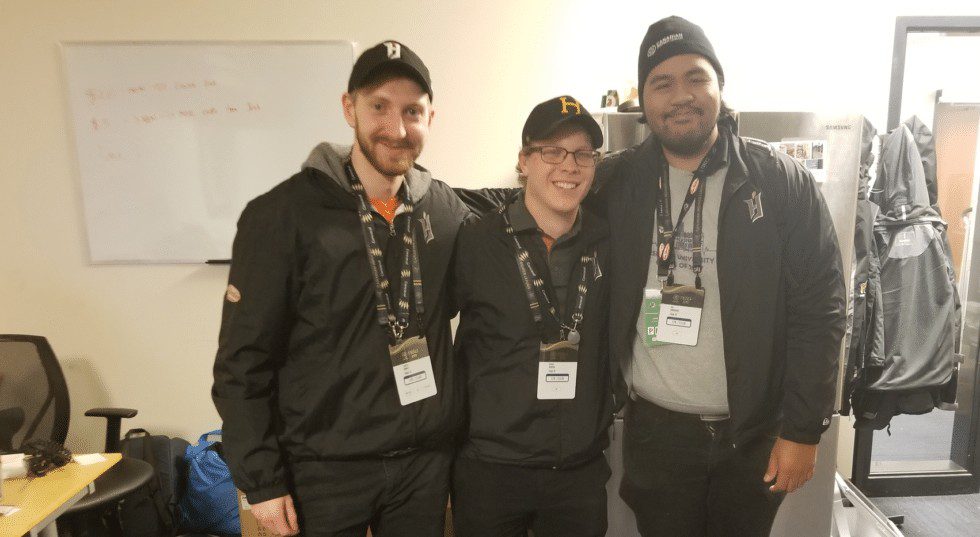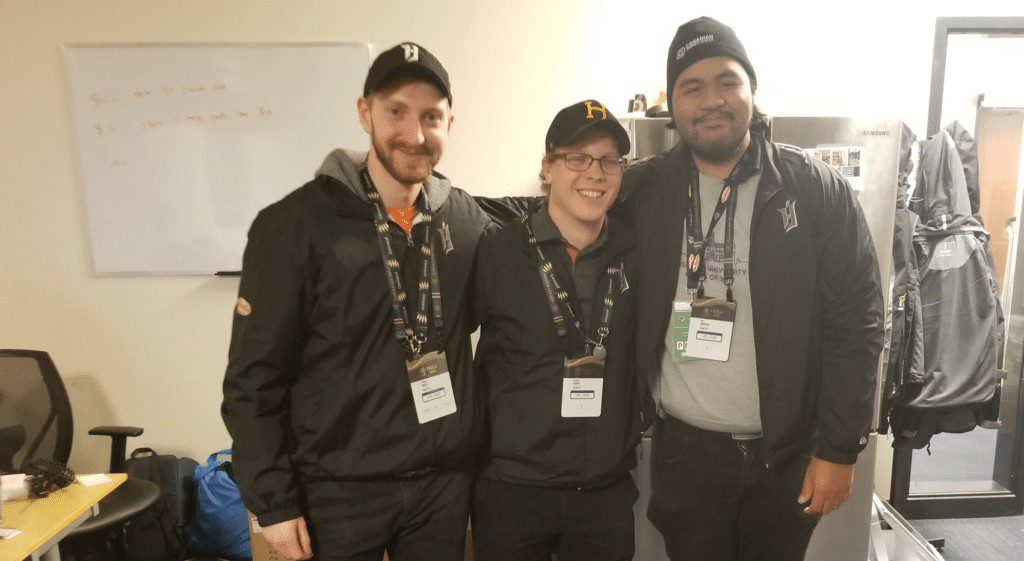 My education taught me how to critically think through problems and assignments that were given to us. I have been able to use these same problem-solving techniques in my role as Coordinator, Guest Experience and I do not believe I would be as successful without these experiences that I gained studying Sport Management.
How do you maintain a work-life balance between working for both the Hamilton Tiger-Cats and Forge FC?
Maintaining a work-life balance can be difficult while working for two professional sports teams. I have found this to be challenging, particularly because I commute to Hamilton every day and because most of our events take place on weekends. With so much of my time either at work or in a car, it does not leave a lot of opportunities to see friends or do other activities.
I found that if I would like to do something, for example, see another sporting event, it is important to designate that time well in advance and make sure that I go and do that activity no matter how busy I am. This ensures that I am able to experience other aspects of life outside of work. The Hamilton Tiger-Cats and Forge FC organization are also very good at providing lieu days and time off for working numerous events which helps me keep a balanced scheduled. In fact, the office shuts down for two weeks during the holiday season which ensures we get quality time with family and friends.
What would you include on a list of your top three biggest accomplishments (or moments) between working in sport?
My top three accomplishments or moments from working in sport are: receiving the 2018 Accessibility Outstanding Business Achievement Award from the Hamilton Chamber of Commerce, successfully organizing the CPL's inaugural match and directly supervising four interns in a calendar year
The 2018 Accessibility Outstanding Business Achievement Award from the Hamilton Chamber of Commerce has been one of my biggest accomplishments as it is a validation of how inclusive our hiring practices are and how successful our Tim Hortons Field (THF) Ambassador program has been since it was introduced last season. We won this award because of these two areas. In my role as Coordinator, Guest Experience one of my goals has been to provide opportunities and hire individuals with many different experiences and strengths.
This has led me to work with various organizations that look for employment opportunities for people with accessibility needs and/ or disabilities. During my time in the Guest Experience Department, we have hired many individuals from these organizations and it could not have worked out better as these individuals are some of the most dedicated, punctual and positive staff members on the C.A.T. Along with this, our THF Ambassador program has successfully served a portion of our fans who have mobility issues.
The THF Ambassadors' main objective on Tiger-Cats game-days is to help guests with accessibility needs get to and from their seats before and after events from one of our two drop-off locations. This has increased the confidence of guests who previously had difficulties getting to their seats and it has allowed many fans to continue to come to Tim Hortons Field and watch the Tiger-Cats play.
Helping organize the CPL's inaugural match has been one of my biggest accomplishments thus far due to the fact that I contributed to the start of a newly formed league. Before this match, there was a lot unknown regarding how a Forge FC game-day would operate let alone having to host the first-ever game for the league. This was also the first game-day for many new C.A.T. members and for my intern at the time so there was a lot of pressure to perform with a lot of uncertainty. In the end, as a group, we were all able to pull together and create a fantastic first match experience for all of the fans in attendance and as an organization, we have not looked back.
Directly supervising four interns in a calendar year is my last major accomplishment because it was something that I have never done before and it has pushed my leadership skills as a professional. Despite leading 150 staff members on the C.A.T. on game-days, I have found it to be much more challenging to supervise one person on an everyday basis let alone multiple people at a time. There has been a lot that I have learned such as how everyone has different motivations, personalities and ways they receive feedback and criticism. This has helped me develop as a professional at a young age and it will give me an advantage as I hopefully advance to greater leadership roles in the future.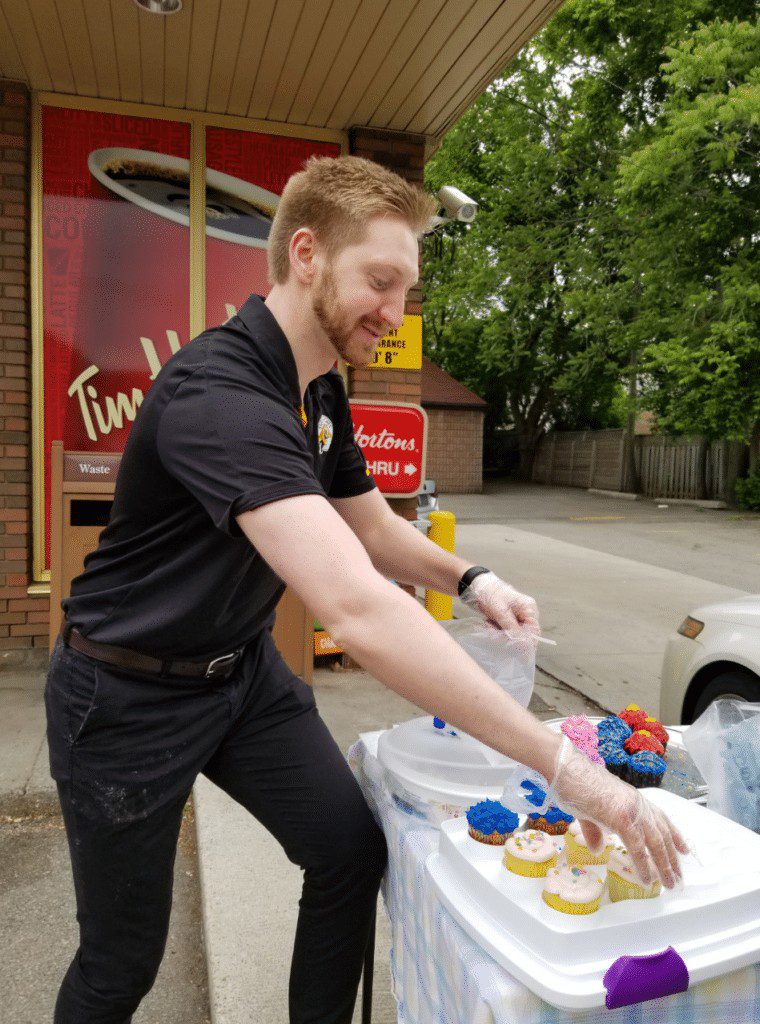 [showmodule id="274431″]
Your career is just taking off! What are your future expectations, goals, and missions for your career?
Because of my experience with the Hamilton Tiger-Cats and Forge FC in terms of starting as a part-time staff member, progressing to an intern and now a coordinator role, I believe that I am ready to advance to a higher leadership position within the organization, whether this is in the Guest Experience Department or another department. Starting with my mission for my career, as of right now it is to make a tangible impact on the sport landscape in Canada.
At the end of my career, I would like to be able to look back and say that I helped accomplish something significant that positively impacted the sport industry in Canada. I am still determining where my interests lie as I am in the infancy of my career. That being said, I do a few goals that I know I would like to achieve. This includes helping with the planning, organization and execution of the 2021 Grey Cup in Hamilton and the 2026 World Cup, specifically in the Canadian host cities. I would also like to gain experience in corporate partnerships as I have had an interest in this area since learning about it in my Sport Management program.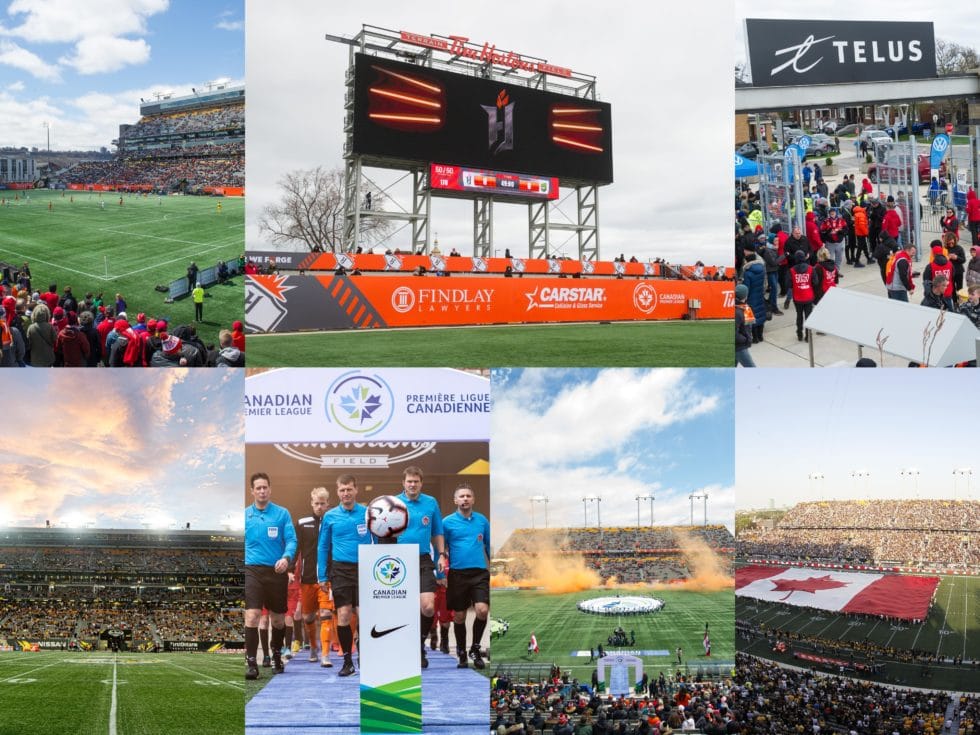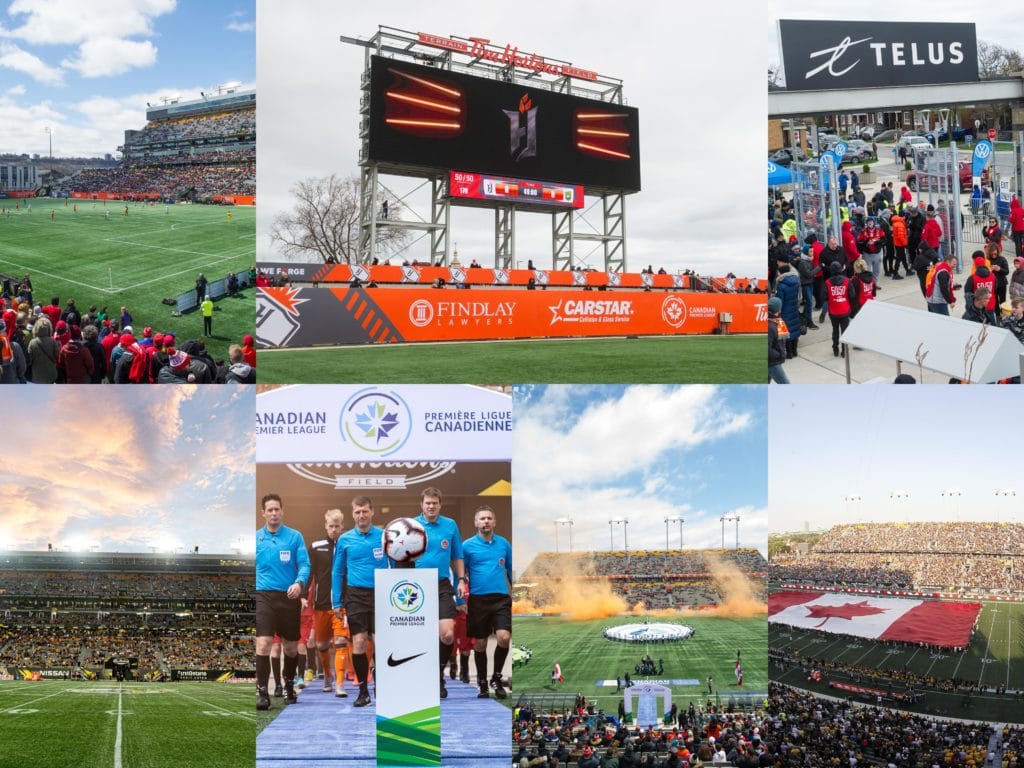 Hayley's Final Thought
As a final thought, it was a pleasure to learn more about what goes on behind the scenes at the Tim Hortons Field. Jonathan shows us all how hard work pays off, and with a little time and patience, we can climb the ladder from a University graduate to an usher, to a coordinator of an entire experience. I found it very interesting that one of his biggest challenges was letting go of control and learning how to trust other people. As someone who holds onto control myself, learning to let go and understanding that we cannot do everything on our own is a lesson that we can all take with us as we progress in our careers!
---
Jonathan Hanley
Interview by Hayley Michie
Posted November 22, 2019 in Industry Profiles