Katie Guay is an International Ice Hockey Federation (IIHF) referee and leads the USA Hockey Foundation as Director of Philanthropy. Her life is all about hockey and has been that way for a long time. Katie Guay's hockey journey started at age 6. Her siblings played the game so she followed suit. Her hockey career led her to play Division I hockey at the Ivy League's Brown University, and for the American U22 team.
Once she played her hockey career out to its fullest potential, she missed the atmosphere of hockey and the rink. This led her to a career in refereeing and hockey philanthropy. Katie's passion for the game of hockey and the way she talks about it is astounding. From humble beginnings as the "young sister" to play at an Ivy League university, to finally officiating on the world stage, Katie's unique experience in the sport industry gives us insight into a whole new area of this industry. Below is my chat with IIHF referee Katie Guay about that journey from player to referee and "pay-it-forward" professional. Katie and I discuss her experience at the 2018 Olympics and her goals for the future.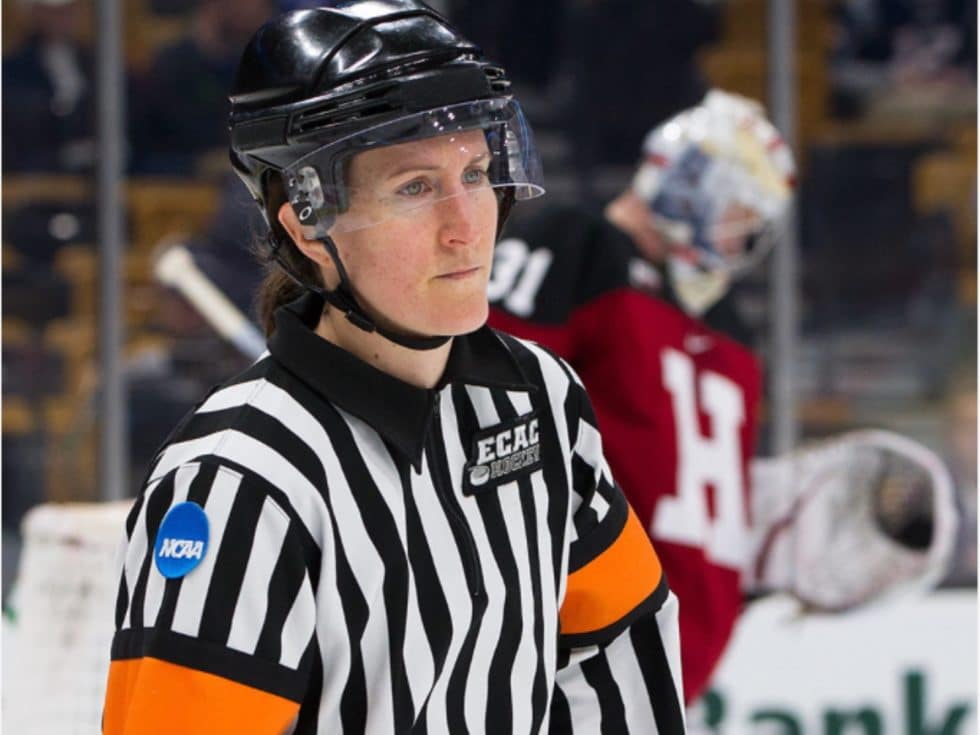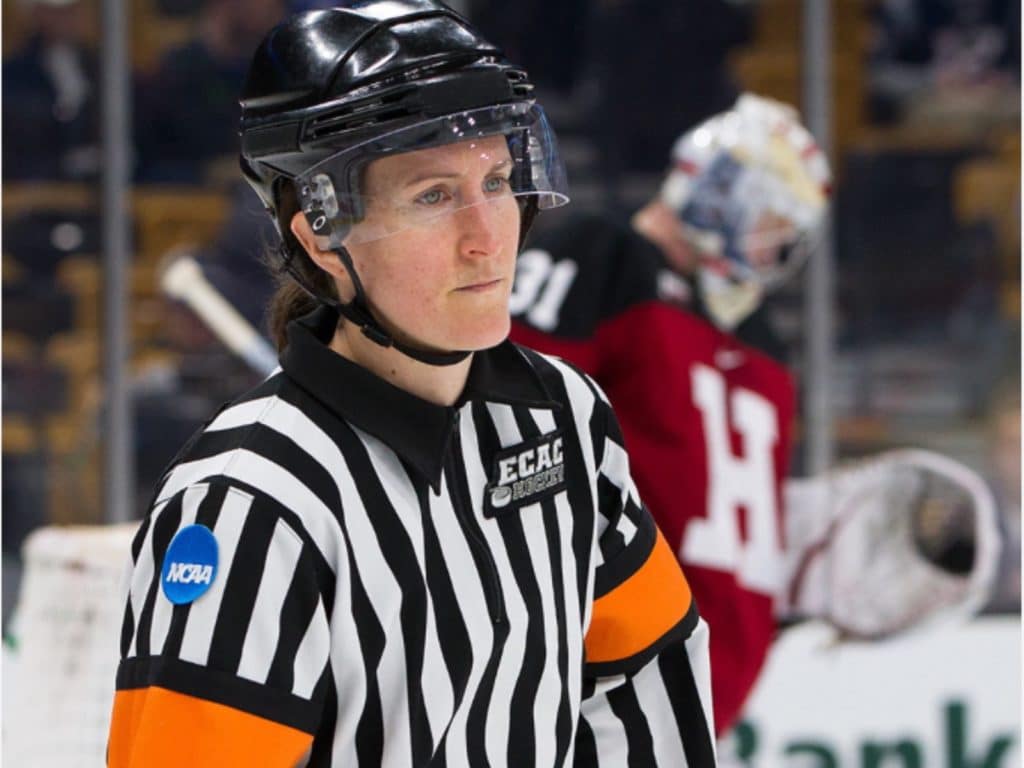 Tell us about your path to becoming an Olympic referee.
I started playing hockey at age 6. I had an older brother and sister who played, so I followed their lead. I played boys hockey through 9th grade and then switched over to playing on a girls' team at Deerfield Academy. I continued on to play D1 NCAA hockey at Brown University. Following college, I missed being around the rinks and decided to give officiating a try. I found a mentor who had been to the Olympics and she opened my eyes to the IIHF. My first goal was to do a tournament overseas and I accomplished that 2010 in Caen, France. I then set my sights on the Olympics and that was an 8-year journey culminating in South Korea.
How was your experience at the 2018 PyeongChang Olympics?
Truly incredible! My first memory of an Olympics was the first-year Women's Hockey took part, back in '98. Ever since then I have been a huge fan of both the Summer and Winter Olympics.
I was able to wear the USA Jersey on the u-22 Women's Hockey Team, but that was as far as my playing career would take me. I never imagined I would have the opportunity to skate on Olympic ice so walking into the rink at the Olympics was a surreal feeling. The energy surrounding all the events is electric and it was amazing to be part of it.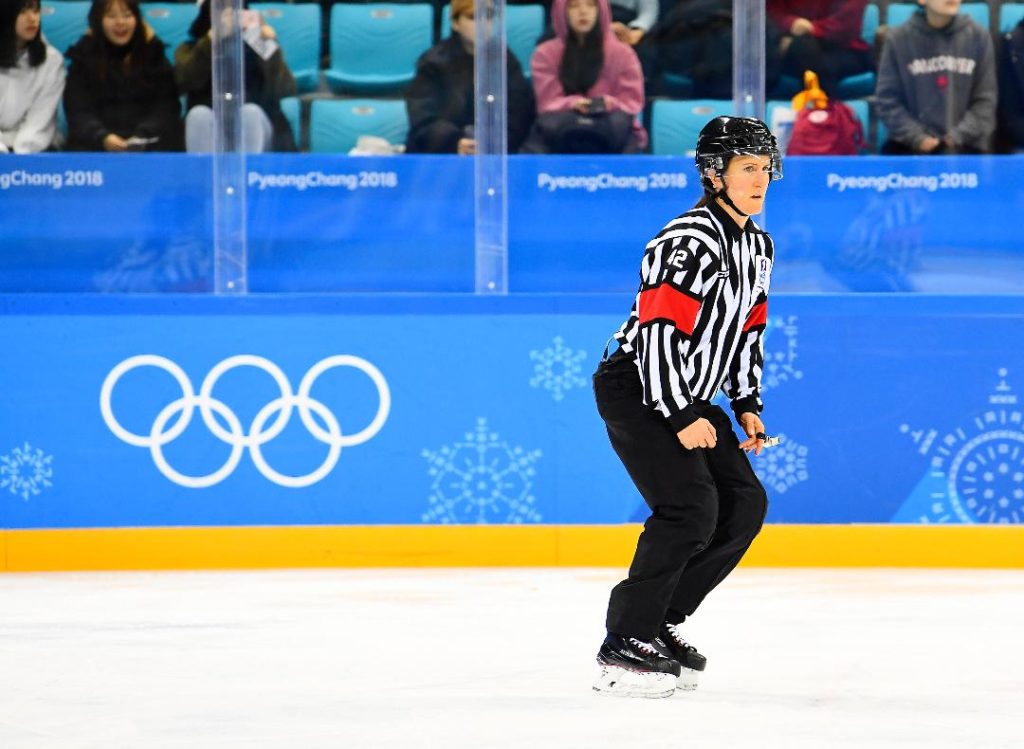 What does your day-to-day look like when you're refereeing a tournament?
For IIHF tournaments I like to grab breakfast with my officiating crew for that day's game. At some of these tournaments, we are working together for the first time so it's good to get to know each other off-ice, which can help on-ice communication. If I have an evening game, I like to watch some of the earlier games and support my fellow officials. About an hour before game time we do our own pregame warm-ups and then usually play soccer/juggling with the crew. Following the game, our supervisor provides us feedback on the game.
On our off days, I enjoy checking out the nearby sights to learn about the history, culture and food. My skates have been my passport to the world and I absolutely love visiting new places.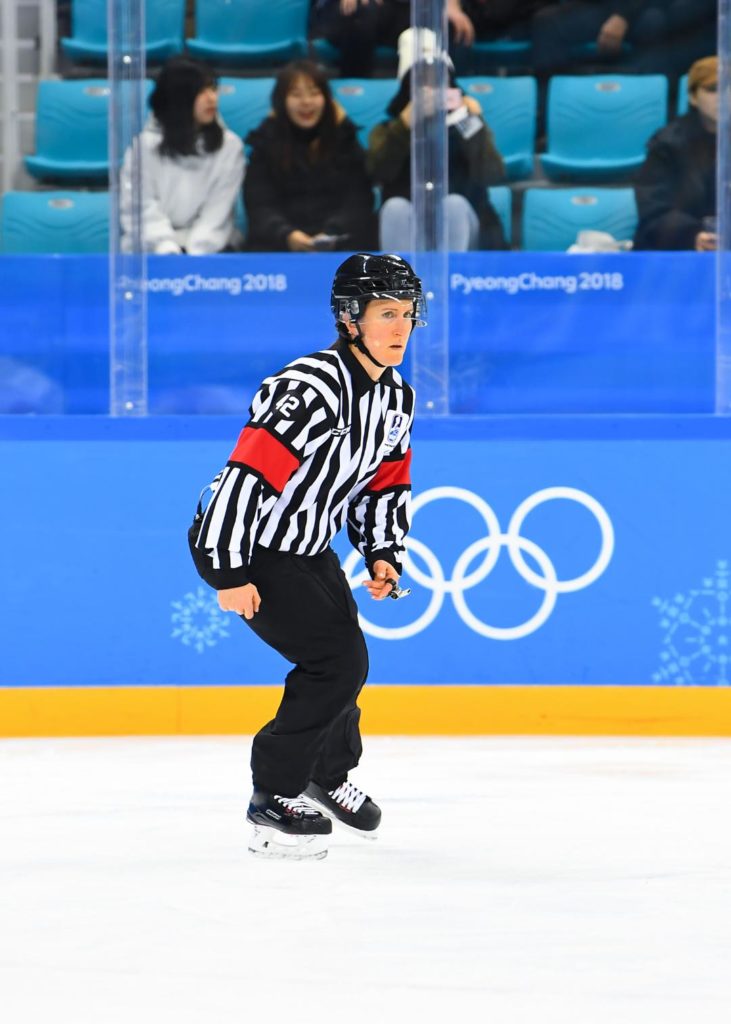 Tell us about any challenges you faced in the process of becoming a referee, or in your day to day as a referee, and how you overcame those.
Every Olympic referee has their own unique path in getting there. Without a written script of the process and countless highs and lows along the way, grit and commitment are critical. Throughout my process, my personal goal was to be as best prepared on and off the ice and put my best foot forward, as I knew the rest was out of my control.
One of the biggest differences from my playing days was that I wasn't handed a training program to follow. The training and long car rides to rinks can really test self-motivation but my love for the game and drive to reach my goals pushed me through.
How do you like to spend your free time?
Reffing takes up a huge chunk of my free time. I'm fortunate that my full-time job is also in the hockey world as the Director of Philanthropy for the USA Hockey Foundation.
The USA Hockey Foundation is the philanthropic arm of USA Hockey, enabling the mission of growing the game of hockey in the United States. I lead the Foundation's prospecting and donor relationship-building efforts in the Northeast. The game has given me so many incredible opportunities so this is my chance to pay it forward and provide opportunities for the next generation of hockey players.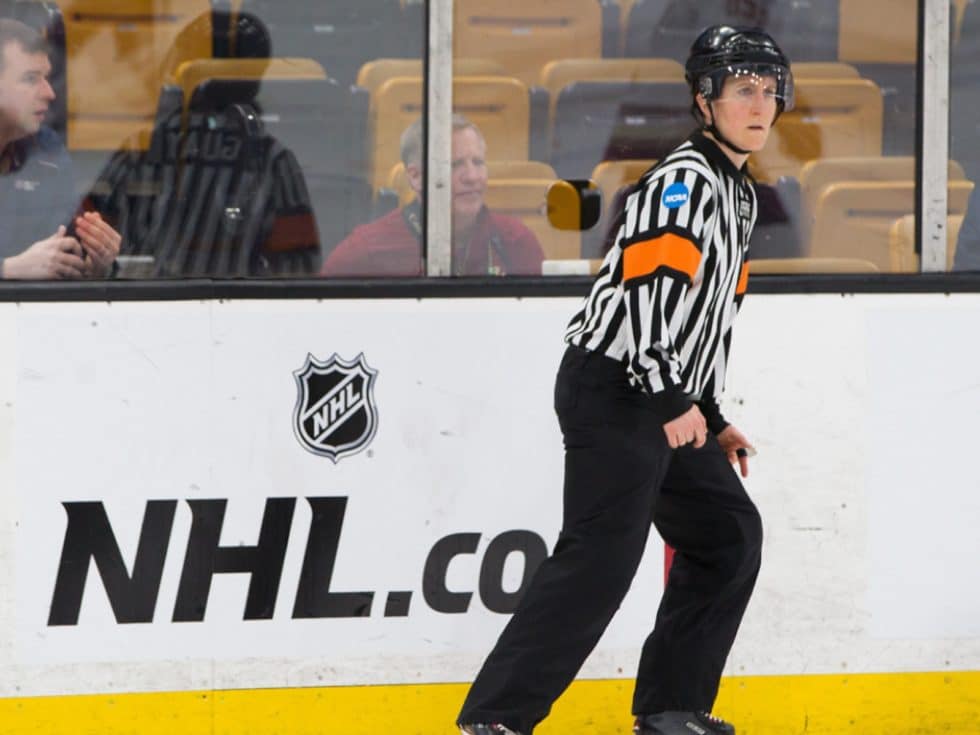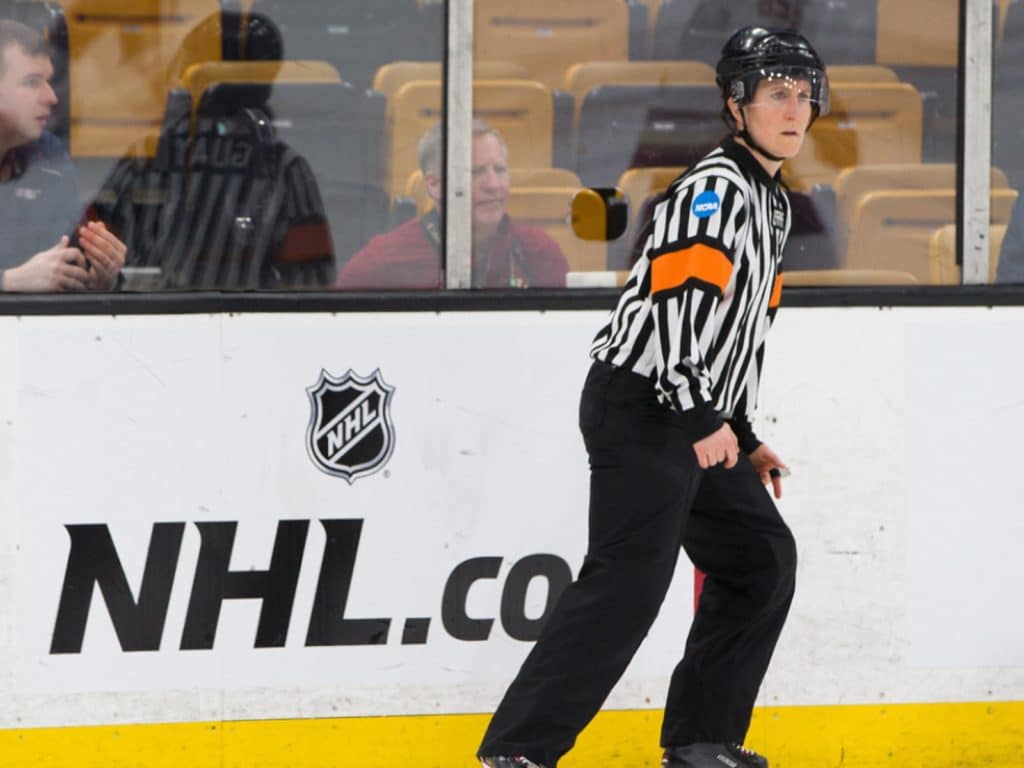 What are three words you would use to describe your career in sport?
1 Grateful!
2 Passion!
3 Fun!
What are your future expectations, goals and missions in your career?
My officiating career has been quite a journey. When I first started, I never could have imagined some of the experiences I would be given.
"Over the years, I have learned to enjoy the ride and make the most of every opportunity."
I am now excited to share some of these experiences with younger officials and help them reach their goals, all while having fun along the way.
Who should SPMA interview next?
1

Digit Murphy
Digit is a long-time NCAA Women's D1 college coach at Brown University, former head coach of the Boston Blades and Kunlun Red Star WIH in the Canadian Women's Hockey League.
He is a founder of UWLX, the first professional women's lacrosse league in the United States.
He is a huge advocate for women athletes and is now involved in various initiatives.
Thoughts From Anthony
IIHF referee Katie Guay, is grateful for the opportunities hockey has afforded her. She now works to pass those opportunities on to the next generation through her efforts as a referee and through her work at the USA Hockey Foundation. For someone who has accomplished so much in her lifetime, it is so refreshing and inspiring to see Katie "pay-it-forward" the way she does. At SPMA, we truly appreciate her helping those aspiring and current sport industry professionals by sharing her story about her Career in Sport.
Katie Guay is one of the best referees in the business and it's amazing to see her getting recognition for it. More recognition is on its way. NHL commissioner Gary Bettman has said he envisions women reffing in the league very soon. Mark our words, Katie will be in strong consideration for a position!
---
Katie Guay
Interview by Anthony Clark
Posted October 3, 2019 in Industry Profiles