Kejuan Washington is the Game and Event Management Assistant for Lousiana State University's Athletics Department. His role is in this department is broad, and very hectic! As a Game and Event Management Assistant, Kejuan Washington helps manage many event staff for LSU sporting events. As the event staff of any Division I school knows, the dedicated fanbase is one of the things that makes the job so amazing. Kejuan has some great examples of fan interaction at LSU events. You can tell the enjoyment and excitement he has just by reading his words! Kejuan also has some great advice for those just starting out in the sport industry, and reminds us to get out of our comfort zone! Read on for some laughs, and some sage wisdom from Kejuan. Enjoy!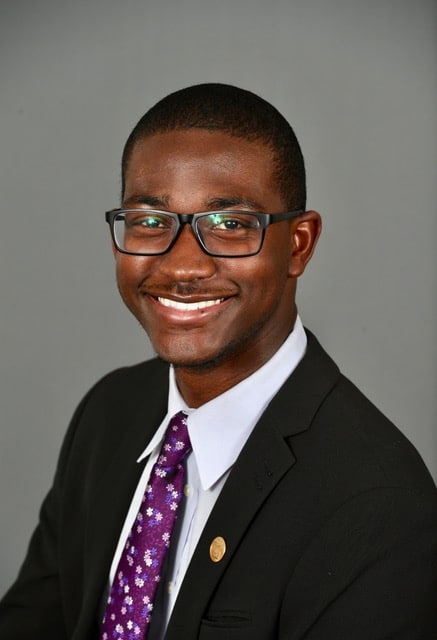 Please note: The interview with Kejuan Washington was conducted via a typed conversation. Editing changes were made to make it easier to read while maintaining the voice of the interview.
Tell us about your role as an Assistant in Game/Event Management at Lousiana State University.
My role consists of working with Landmark Event Staffing Services, our event staffing partner, in regards to security and usher positions. Our office offers support for all athletic events from a sold-out crowd of 100,000+ people in Tiger Stadium to a sold-out crowd in the PMAC for the reigning SEC champions, LSU gymnastics. I also assist in managing a staff of over 1,000 active employees.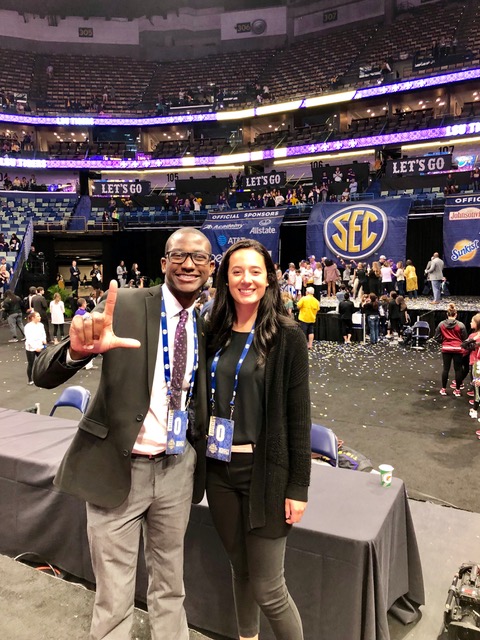 What does your day-to-day look like?
Typical day-to-day is just that: day-to-day. While we have our set sporting events for the season – we also host multiple special events that we provide coverage for. Since we are currently in the middle of football season we are basically securing and scheduling for 700+ on game days. It's a lot of phone calls and lots of voicemails too. It takes a village of over 700 event staff, almost 500 law enforcement officers and over a thousand concession workers. While I work with the event staff a majority of our day is scheduling and creating deployments for each supervisor. Mixed in throughout the week we have other events such as soccer. I serve as the primary security operations manager for that sport, so I focus on scheduling staff and overseeing them on the day of the event. Working in sports, no day is ever the same. One day it could quiet and then suddenly we're scheduling 80 people for a last-minute event. We're always one email away from some type of chaos.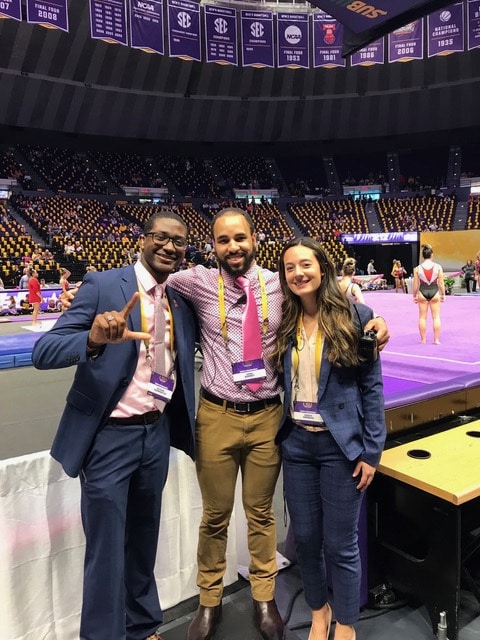 What is the best part of your position, and why?
Definitely working with the best and most passionate fanbase in the world. LSU fans are like no other. I once, out of nowhere, started playing a game of catch with a fan using an ice cube. I don't know how it started but it happened. They're like no other fans I've ever seen. They represent what's great about sports and really makes me proud to be a part of Tiger nation. The recent LSU Football vs. Florida game is a prime example of why they're my favorite part. I was supervising the student section, and while in the midst of them – they started doing the gator chomp and it quickly spread around the stadium. Being in the middle of that was hard not to participate it – I just pressed on and stayed focus while smiling on the inside.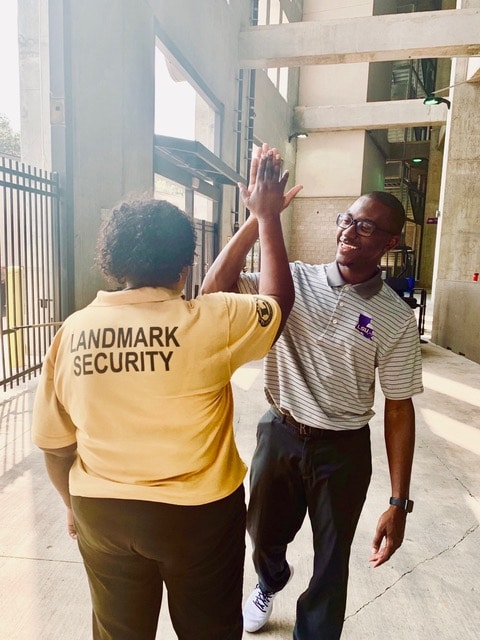 What is something people don't realize about working in sports?
One thing I tell my friends who don't work in the sport industry is that we are some of the hardest working people you'll meet. This year's LSU vs Utah State game kicked off at 11 am. We don't get to show up a few hours and say we're good to go. I was in my office at 3:30 AM preparing for the first wave of supervisors and staff to arrive at 4 AM. After a pretty long day and barely recovering we were back for a volleyball match. We push on, we persevere, because we're the team behind the team.
"We push on, we persevere, because we're the team behind the team."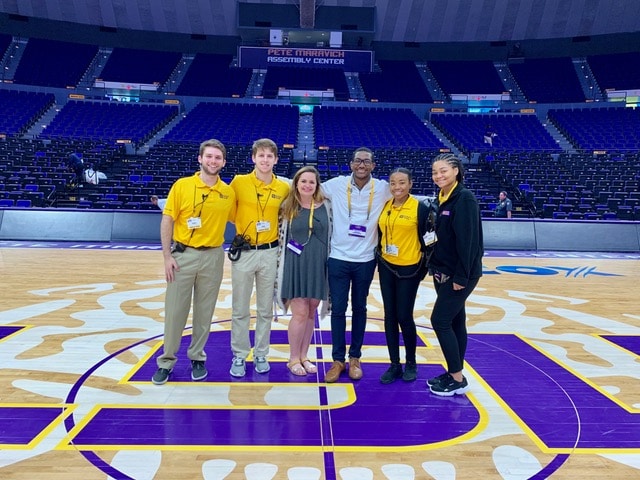 What are three essential skills someone needs to succeed in the sport industry? Please explain each choice.
1

People Skills

People skills are a must. No matter what job you have in sports – you will deal with people. Whether its coaches, administrators, other staff or fans you'll come into contact with someone.
2

Organization

Many people say this but it's true – organization is key. 9 times out of 10 if you're working in sport you'll be preparing for multiple events at a time. All of those events have either a coach or administrator who wants you to give 110% to their event. Being able to organize and prioritize has definitely helped me throughout our busy seasons.
3

Self-care

I don't know for sure if this counts as a skill but knowing how to care for yourself is huge. You will get burnt out from work. Know when to take time to step back and focus on something else. Take time for yourself and then get back in the game.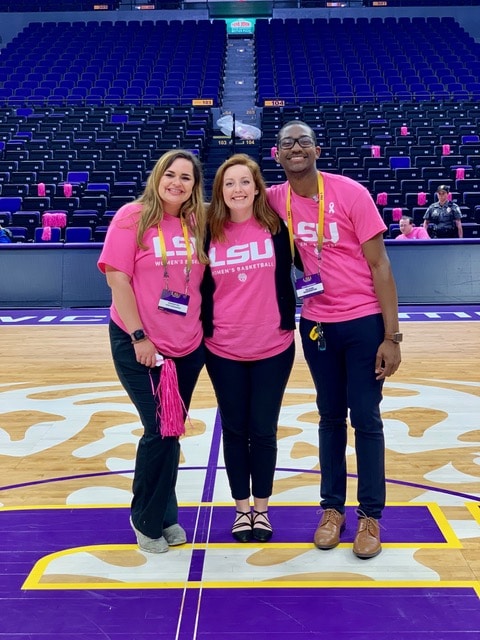 What advice would you give to someone starting out their career in the sport industry?
Start early like I am. Don't be afraid to do something out of your comfort zone. The job you may say you don't like could be the job you excel at. Do as much as you can before you commit to a career.
"Start early […] Don't be afraid to do something out of your comfort zone"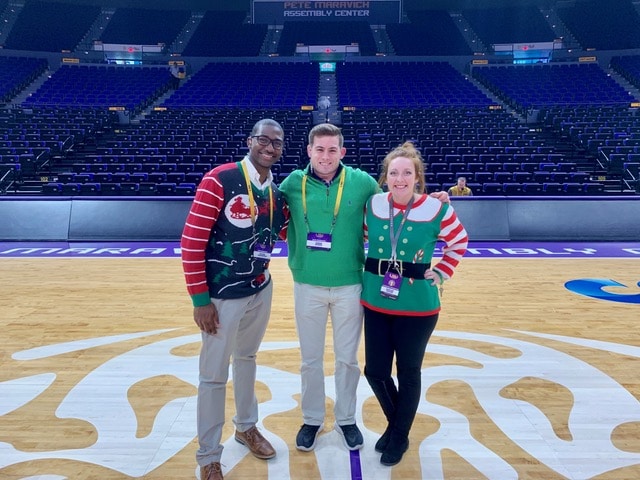 Where do you see your career heading in the next 5 years? 10 years?
I think I definitely want to start working in law enforcement. I've had the opportunity to work with some individuals who started a career in law enforcement and later began a career overseeing security for large scale events. Ultimately, the goal is to advance through the sport industry in a somewhat unconventional way.
Final Thoughts From Anthony
Kejuan Washington's title is Assistant, Game/Event Management, but, as he described above, he wears many more hats than that. He works at Lousiana State University, a Division I school, with amazing athletic programs. I loved hearing about his interactions with the LSU fanbase, and how they are his favorite part of what he does. As the Assistant, Kejuan gives us his top three essential skills for a sport industry professional: people skills, organization, and (surprisingly) self-care. He shared how he wanted to take his current position and navigate through the sport industry to work in law enforcement! This was a new perspective on the sport industry and I am grateful Kejuan was able to share it with us. I'm looking forward to seeing where Kejuan ends up in the next 5… or 10 years!
---
Kejuan Washington
Interview by Anthony Clark
Posted November 6, 2019 in Industry Profiles