Kevin Kelley is the Manager of Events for the Washington Nationals, a role he's been in for almost 2 years. Before that, he was Assistant Manager of Events with the organization for two and a half. And before that, he was an account executive. In total, Kevin has been with the Nationals for five and a half years. Tonight [October 9], you can bet your bottom dollar that Kevin will be rooting on his team as they take on the Los Angeles Dodgers in a do or die Game 5 of the National League Division Series (NLDS). Working in sport brings the perk of being able to watch elite games like this but behind the scenes, it's people like Kevin that make the business side of the team excel.
Update: The Washington Nationals have since won the 2019 MLB World Series, one of the most historic and memorable runs in years. Congratulations to Kevin Kelley and all the other hardworking individuals behind the scenes each and every night to bring Washington, D.C. a championship product!
Armed with a sport management university degree and going on five and a half years of experience working for the Washington Nationals, Kevin Kelley made for a great conversation with lots of insight on working in the industry. From insight on managing the pressure of deadlines in event management to three important personal development areas sport professionals should look to hone in on, Kevin Kelley's answers make for a fantastic read. Enjoy!
Please note: The interview with Kevin Kelley was conducted via a typed conversation. Editing changes were made to make it easier to read while maintaining the voice of the interview.
Tell us about your role as Manager of Events with the Washington Nationals.
As an events manager with the Nationals, I help oversee the operational execution of both game day and non-game day special events. My role allows me the opportunity to work with both internal and external clients on a variety of events at the ballpark, ranging from pre-game company picnics, corporate conferences, and holiday parties to full-park concerts and even bar mitzvahs and weddings.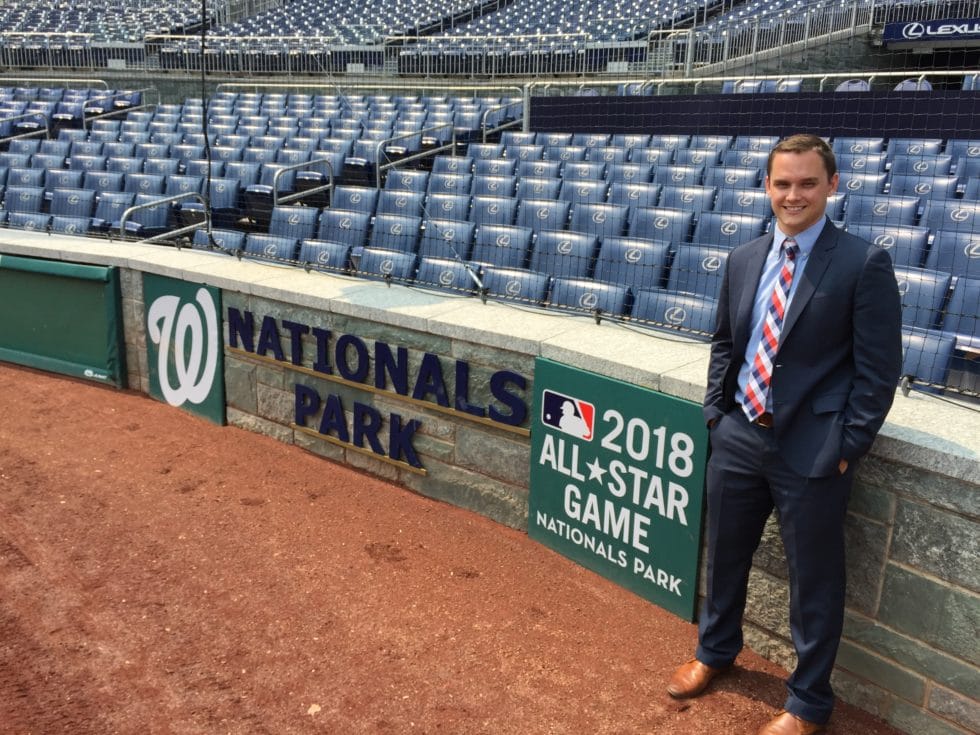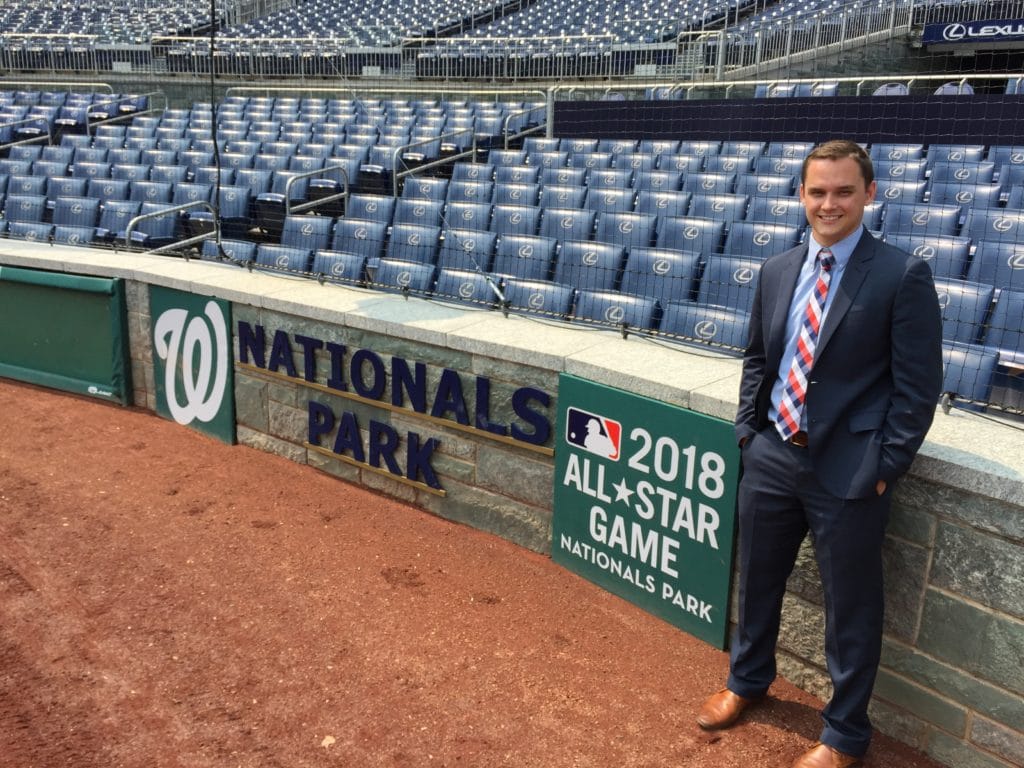 What does your day-to-day look like?
There really isn't a typical day-to-day working in events. Each day is based around the upcoming events we have. On a non-event day, I am typically working with our clients on the operational planning of their event, as well as with our staffing partners (security, guest experience, audio/visual, etc.) on what our event needs will be and how we will deploy them. On event days, my schedule is based around when the event takes place and how much pre-event day work is needed to execute that given event. We are the first to arrive and last to leave the park on an event day.
While working in events, how have you been able to manage the stress of meeting deadlines and what are some tips you would have for young professionals starting in similar positions?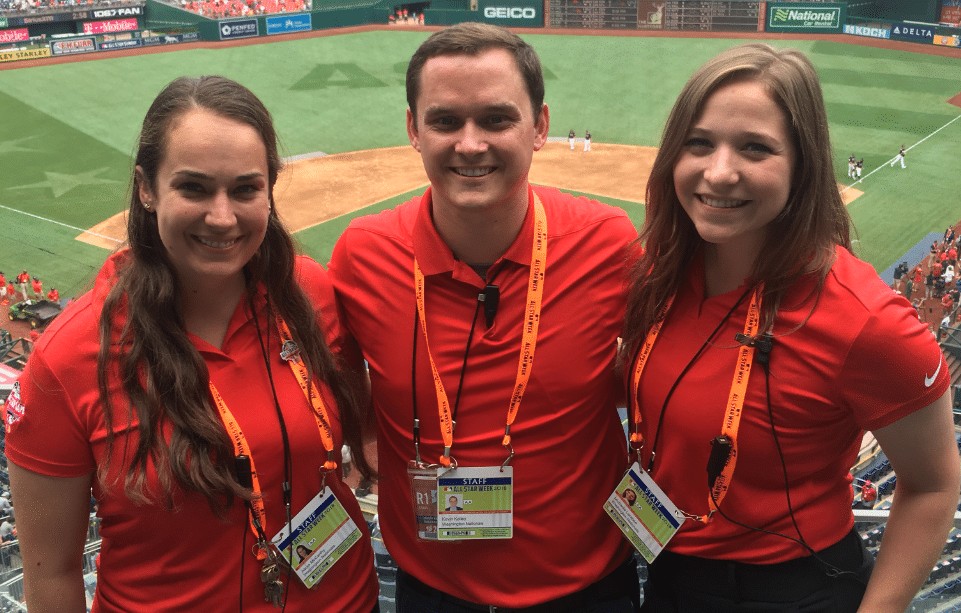 I would say a lot comes with experience. The more I get to work on challenging and complex events, the more comfortable I feel in my role. With special events being such a last-minute, ever-changing field, the more planning and organization you are able to do on the front end, the better. Because I have a schedule that is based around the events we are hosting and is always changing, it can be hard to get into a routine with deadlines. My recommendation to young professionals is to be vigilant about keeping and staying on top of lists. Our department always jokes that a standard day is so busy that our "to-do" list ends up longer at the end of the day than it was at the beginning!
What are the most rewarding and challenging aspects of your role?
The most rewarding aspect of what I do is being able to see a plan and strategy come together on an event day. We prepare for an event the same way a team prepares for an opponent. We know the areas that fit our strengths and the areas of concern, and we have a plan in place to deal with all known scenarios. Just like in a game, sometimes things happen that you don't expect and being able to adjust on the fly is crucial.
I think the area that I have found the most challenging is being able to create a healthy and sustainable work-life balance that works for me. Our schedule is always in flux and being able to plan in advance can be difficult. Because events and especially games are typically on weekends, we don't have the ability to plan summer or winter vacations like most professions.
Would you say your path to your current position was quite easy or challenging, and can you discuss why?
I would say the most challenging part was getting started in the industry. While the work along the way has been difficult and there will always be tough days, I truly believe that the hard days pay off down the road. The hardest part was getting my foot in the door and landing that first internship. I spent months making phone calls and sending countless emails and cover letters trying to get that first internship. Once I had some experience, the rest started to fall into place because I gained confidence in myself and had a better sense of what was expected in the industry.
Your career started in sport straight out of the Catholic University of America. Why was sport the logical choice for you?
I have always had a passion for sports, and especially for baseball, but even in high school, I had really started to notice the business and operation behind going to games and how event days worked at sporting events. When I started looking for internships, I didn't know what area of the industry I wanted to get into, so I got experience with a few different teams in a couple of different roles and fell in love with the event day experience. From there it was just figuring out how I could leverage my existing skillset into a full-time position.
What are your future expectations, goals, and missions in your career? In other words, where would you like to go from here?
Working in baseball, the ultimate goal is always to be part of a World Series-winning organization. I have been fortunate to work at Nationals Park while we have had the NHL Winter Classic, MLB All-Star Game, and many full-park concerts. The next big goal for us would be to host a World Series and hopefully win it as well!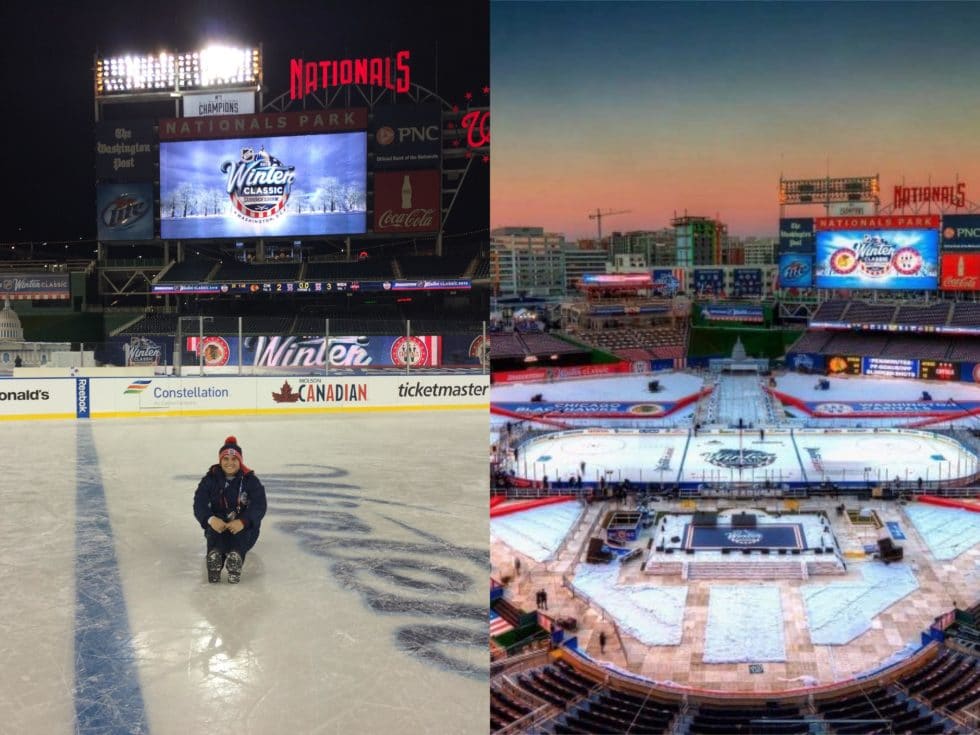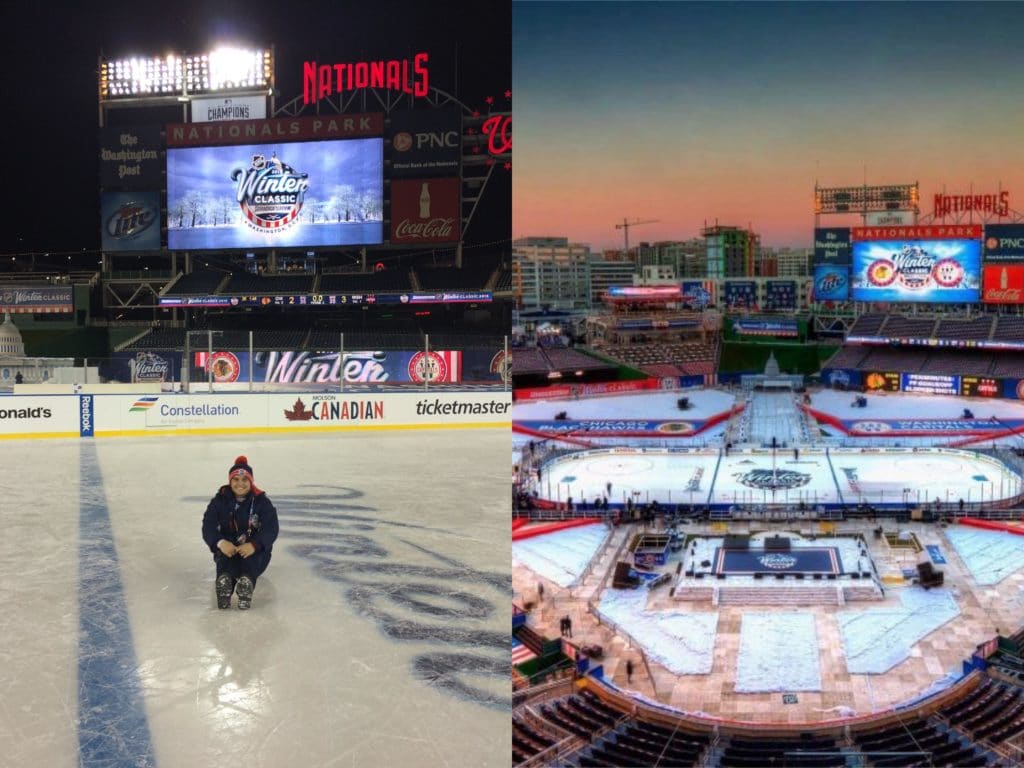 What are three main areas of personal development aspiring sport professionals should focus on and why?
1

Networking

The first is networking. I never felt I was great at networking when I was in college but it is such an asset to learn to be good at it. It may seem scary at first, but it is the best way to learn about the industry and make connections.
2

Professionalism

Professionalism is also something that I wish a lot of students would take more seriously. There are a lot of perks and cool aspects that come with working in sports, but finding the balance between enjoying them and still being professional is key.
3

Work-Life Balance

The third area of personal development that I would recommend is creating a healthy work-life balance. Figuring out what works best for you both personally and professionally will have a huge impact on your career.
Final Thoughts From Hayley
It was with tremendous pleasure that I put this interview together with Kevin Kelley. With tonight's NLDS Game 5 matchup at Dodger Stadium drawing national interest (no pun intended), it was great to bring what it takes to manage events for a winning organization like Kevin Kelley's. For more profiles on the events side of sport business, be sure to check out our event management section. Go Nationals!
---
Kevin Kelley
Interview by Hayley Michie
Posted October 9, 2019 in Industry Profiles