Laura Fazzina, Community Relations Coordinator with the Carolina Hurricanes, helps to run a variety of initiatives to support the community including donation programs and charity drives. I first heard about Laura through a friend who follows the NHL's annual Hockey Fights Cancer event. Then, I began to follow Laura. As I learned more about her, I became fascinated by all of her selflessness and hard work. Through the questions I asked, Laura explained what made her role so rewarding, and I found it extremely insightful as she shared what skills she uses on a daily basis to fulfill her role as Community Relations Coordinator with the Carolina Hurricanes. Laura also outlines the skills she uses that are vital to making the impact she does in her role while giving us a glimpse into her top accomplishments with the 'Canes. So without further ado, here's what Laura Fazinna had to say: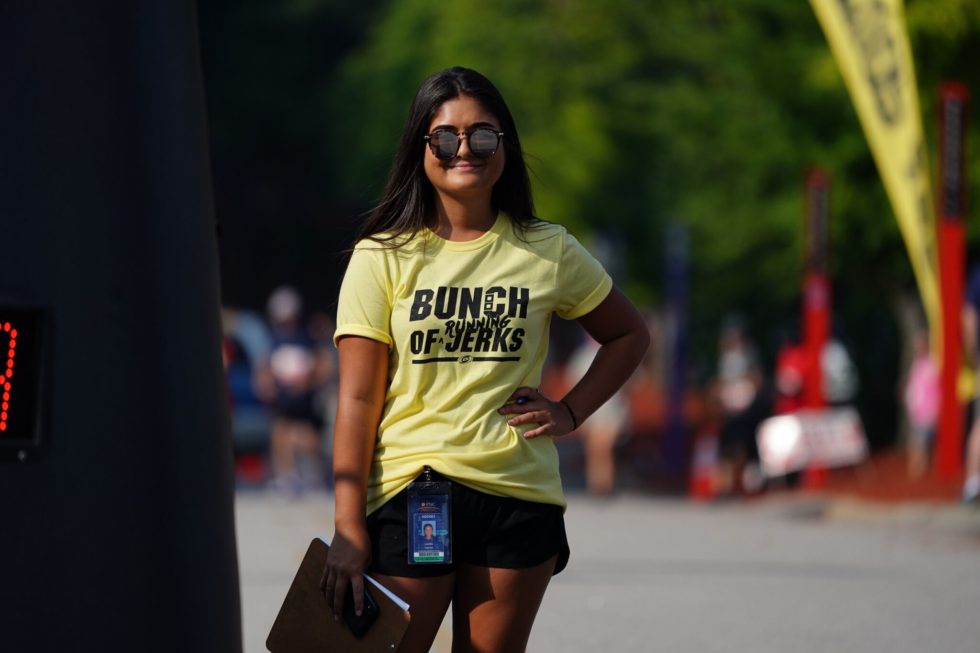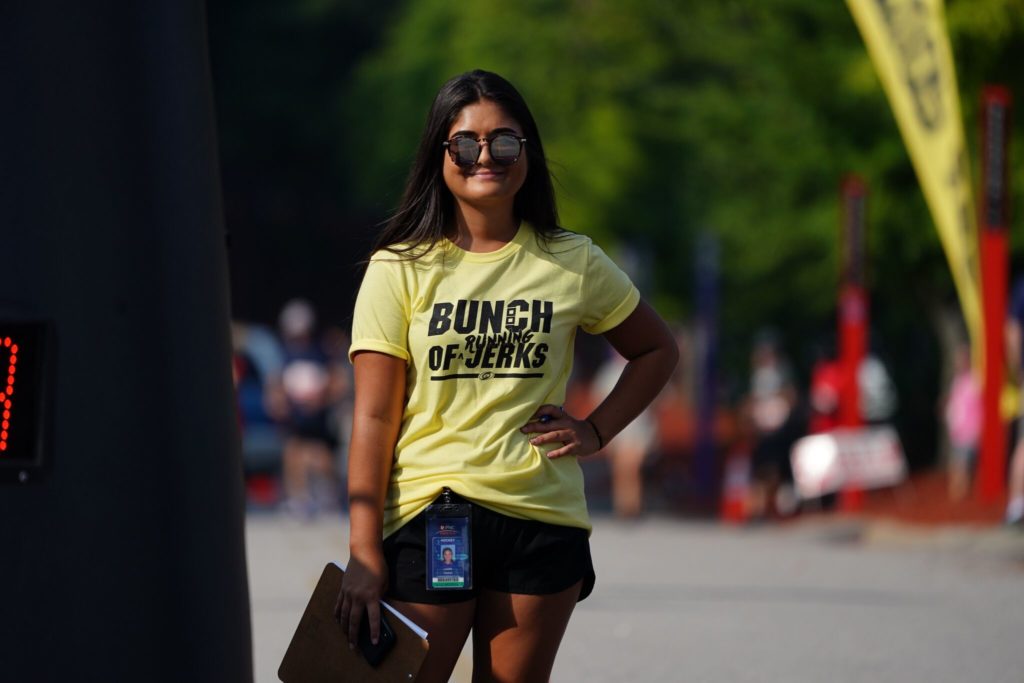 Please note: The interview with Laura Fazzina was conducted via a typed conversation. Editing changes were made to make it easier to read while maintaining the voice of the interview.
Tell us about your role as Community Relations Coordinator with the Carolina Hurricanes.
As the Community Relations Coordinator, I run the day-to-day of the community relations department. What this includes is managing all community initiatives including our in-kind donation program, Hurricanes Heroes ticket donation program, charity drives, and player community programs.
In addition, I am responsible for implementing the National Hockey League's initiatives at a Club level including the Hockey Fights Cancer and Hockey is for Everyone campaigns. For these campaigns, I oversee the planning and activations for each awareness night as well as helping coordinate any other activations/events within those communities and worlds.
I plan and execute two major fundraisers, the Canes 5k and Skate with the Canes, for our team's 501(c)(3), the Carolina Hurricanes Foundation. My responsibilities for these events include all the pre-planning and coordination as well as running point on the day of the event. In addition, I assist with the organization of our other major fundraisers and events such as our Canes Golf Tournament, Canes Bash, Alumni Game, and our in-game auctions and NHL Auctions.
Lastly, other responsibilities that fall within my world include coordinating our holiday initiatives, team signings, in-game experiences, post-game meet and greets, and community days.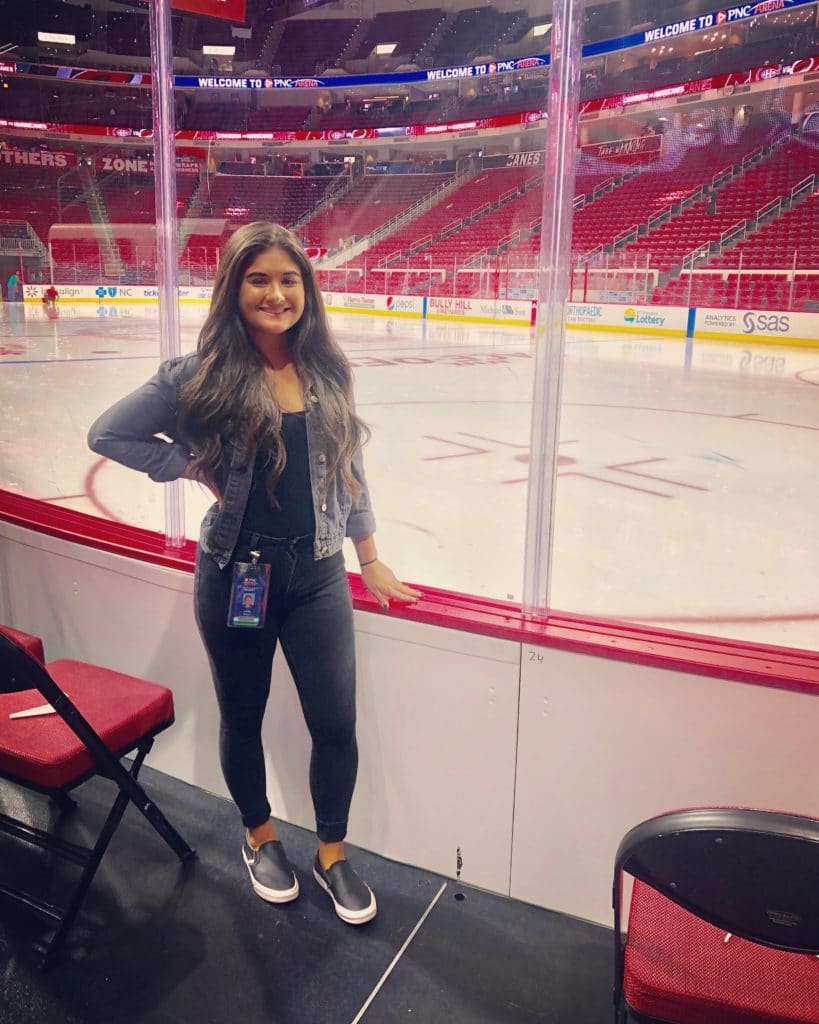 What does a typical day look like for you in Community Relations with the Carolina Hurricanes?
It's difficult to describe a typical day. There are specific programs such as the in-kind donations, ticket donations, and player programs that require a day-to-day focus, but our days change depending on where we are in the season. For example, our next major fundraiser is Skate with the Canes, so a lot of my days and time will be focused on planning the event.
In addition, the NHL's annual Hockey Fights Cancer awareness campaign is coming up in November and we are hosting our awareness night on Friday, November 23, so I'll be coordinating all the details for the game. The holiday season will be coming up as well, so I'll be working on finalizing details for our annual toy drive, Angel Tree, hospital visits, and senior center visits. Once those initiatives are completed, my focus will shift to our next awareness game which will be Hockey Talks, our mental health awareness night in January. As mentioned, our day-to-day focuses will vary depending on the next program and event coming up.
What do you find the most rewarding in your role as Community Relations Coordinator with the Carolina Hurricanes? On the flip side, what do you find the most challenging?
My role is very rewarding because it's focused on giving back and working with our fans and the local community. We have the opportunity to create a lot of unique experiences for people, especially those who wouldn't be able to experience hockey or a hockey game due to various obstacles. Through our Foundation, we're able to donate over a half-million dollars to local children's nonprofits each year and focus on making an impact on organizations that are truly local and helping families and children in our backyard.
"My role is very rewarding because it's focused on giving back and working with our fans and the local community."
The most challenging part is there are only two full-time employees in our department. It's a lot to manage between the both of us, and sometimes it limits our ability to do more or create new programs and events. There's always a lot of great ideas, but we're not always able to fully execute them with our limited staff.
Can you explain three skills you use on a daily basis and why it is important to have these skills in sport community relations?
1

Communication

Communication is by far the most important skill, in my opinion. As a professional sports team, it's important to ensure the staff is on the same page with everything. The organization wants to present one cohesive brand so communicating with each other ensures success in this area. Although we are planning and executing the programs and events, our digital/social marketing and ticket sales teams are responsible for communicating with our fans so it's important to make sure you're successfully communicating all the details and necessary information so they can craft the right messaging.
2

Time Management

Time management is incredibly important as well. Working in sports is hectic and I'm responsible for managing several different programs and events at once. To present the best work, I need to make sure that I go into every day and week with a plan on how I'm spending my time and using each minute wisely.
3

Relationship Management

Lastly, it's important to maintain good relationships – with coworkers, fans, and the community. Our department works with every other department in the organization because we need everyone's help with our fundraisers. In addition, we have a lot of face-to-face interaction with our fans and the community at games and events. It's great to be professional and friendly and know the answers to questions, but it goes a long way to take the next step and cultivate those relationships.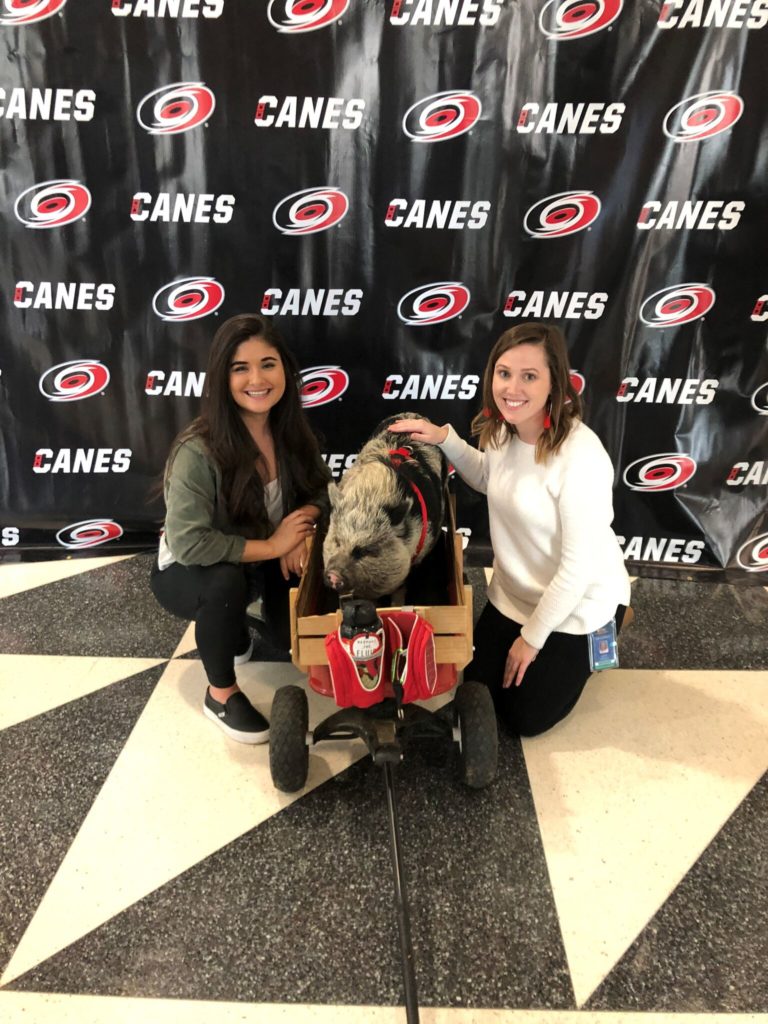 Has community relations always been an area of interest for you? If so, when was the point you realized you were meant to pursue this as a career?
Not necessarily. I always knew I wanted to work in sports and college is around the time when I realized that I enjoyed the event planning aspect. When I was a junior in college, I interned with the Hurricanes in their promotions and fan development department. Due to the organization's structure, both promotions and community relations reported (and still report) to the same boss which meant the two departments worked (and work) closely together. As an intern, I was able to get some insight into community relations and learned that the coordinator position is involved in event planning since this role oversees the Canes 5k and Skate with the Canes and assists with the other major fundraisers. From there, my interest in community relations grew and I knew this is the department I would pursue a full-time job.
The timing was on my side and the coordinator position was available shortly after I graduated, and it all worked out!
How does your previous experience working in collegiate athletics at UNC differ from your career now, working in professional sport organization like the Carolina Hurricanes?
The main difference was the positions themselves. My main experience in collegiate athletics was as the game day and special events intern for Tar Heel Athletic Hospitality, now known as Carolina Athletic Hospitality. This position focused more on the hospitality aspect of sports and managing premium seating areas at UNC athletic events.
Both experiences similar in that collegiate athletics and professional athletics are both high energy and require a lot of time!
What would you include on a list of your top four biggest accomplishments (or moments) between working in sport?
1

Pride Night

During the 2018-19 season, we hosted our third annual Pride Night focused on celebrating and highlighting the LGBTQ community during a game. For our third year, we were able to really elevate our in-game activations and messaging, and we received a lot of great feedback from the community. It was very rewarding to create a safe space for the LGBTQ community and for them to be recognized by our organization.
2

Canes 5k

We had a record-breaking number of runners for this year's Canes 5k on Sept. 8, 2019. Over 1,800 people participated in the race, and it was a great way to kick off the 2019-20 season.
3

Playoffs

The Hurricanes made it to the playoffs for the first time in 10 years during the 2018-19 season and made it all the way to the Eastern Conference Final. It's an unforgettable experience – there was so much energy and enthusiasm during those couple of weeks and it really brings the community together.
4

Bonus! Hurricanes/SPCA of Wake County Calendar

This is a recent development, but I've been working with the SPCA of Wake County, a local animal shelter, to produce a Hurricanes players and adoptable pets calendar for 2020. This has been a project I've been trying to complete for a couple of years so I'm thrilled it's finally happening!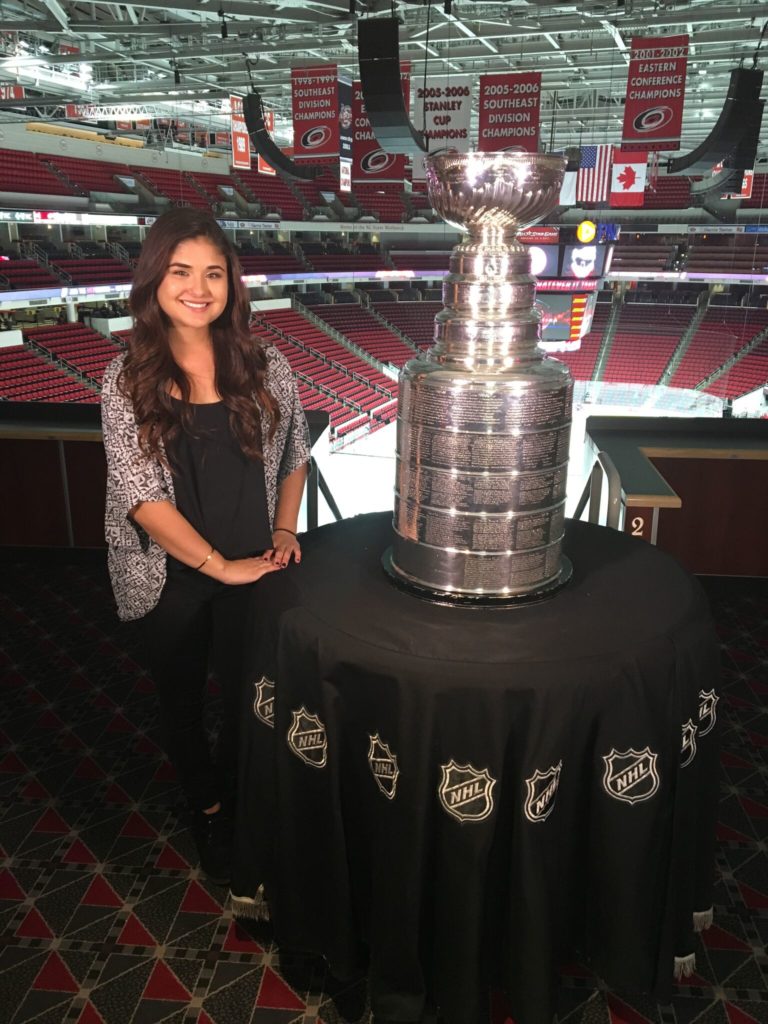 Final Thoughts From Hayley
It was a pleasure to finally have the opportunity to ask Laura Fazzina some questions about her career and community relations work with the Carolina Hurricanes. I have long awaited the opportunity to speak with Laura Fazzina, and have admired her work from afar for quite some time now. Laura explains the amount of work that goes into her position and shows the impact that hard-work, relationships, and heart, can have on a community in the NHL. The work that Laura Fazzina does is essential to the community, and I'm looking forward to seeing her share the enthusiasm for making the world a better place.
---
Laura Fazzina
Interview by Hayley Michie
Posted November 4, 2019 in Industry Profiles