Everybody knows Lebron James, the basketball player. In fact, the 34 year-old native of Akron, Ohio is one of the greatest professional basketball players of all-time. The 6'8" forward just completed his 16th NBA season, his first with the Los Angeles Lakers. When the 2019-20 season gets underway, James will begin as the 4th leading scorer in NBA history with 32, 543 points, trailing only Kobe Bryant, Karl Malone and Kareem Abdul-Jabbar. Lebron James has made the world aware of his basketball prowess on Instagram.
Before we get into Lebron James' Instagram, we should note that he currently 10th all-time in assists, 5th is field goals made and 8th in total free throws made. As an active player with no plans to retire anytime soon, James will have a good chance to move up in these and other all-time NBA statistics. There is no doubt that once he does hang up his cleats, he is a sure-fire Hall-of Famer.
SPOILER ALERT: Lebron James makes the world aware of these figures via his social media accounts.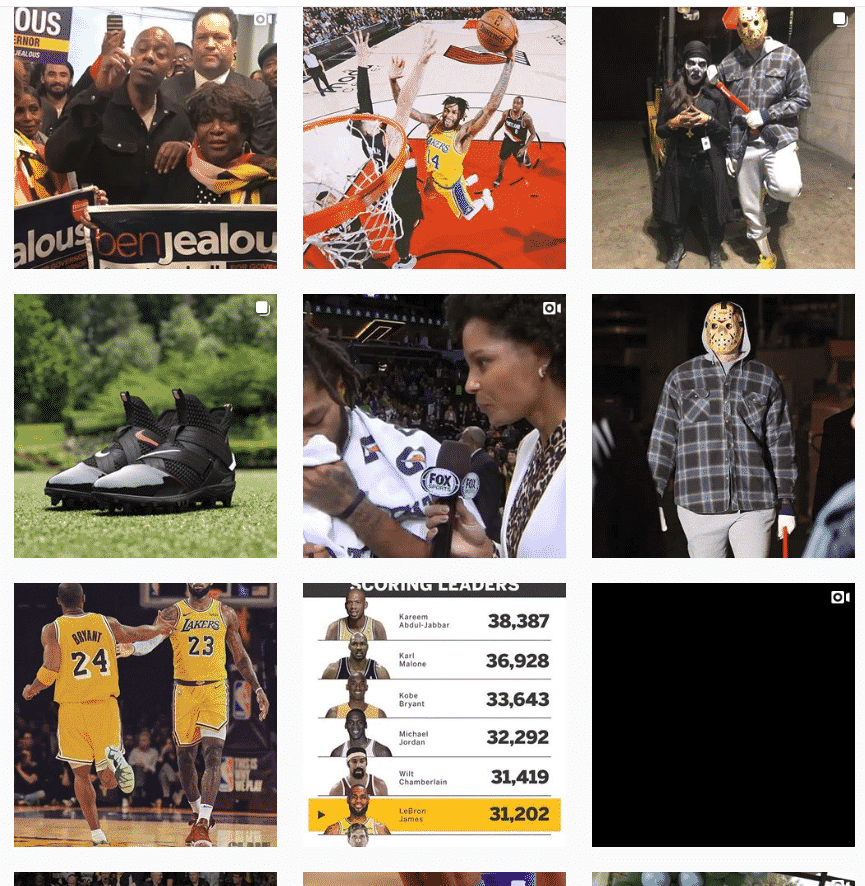 But Lebron James is already about a lot more than the game of basketball. As a universally recognized name, he is using that to connect with literally millions of people around the world. Through his Lebron James Instagram account, and other social media platforms, the NBA star is able to speak to his followers on a variety of subjects. In fact, his Instagram account is his own personal public relations platform.
Move to Lakers
James move to Los Angeles to play for the Lakers may actually have been more about preparing for his life after basketball than winning another NBA championship. Most people know that he has already done some acting such as his role in the movie Train Wreck and the TV series Entourage. But James has also been involved as a producer and a writer among his many credits.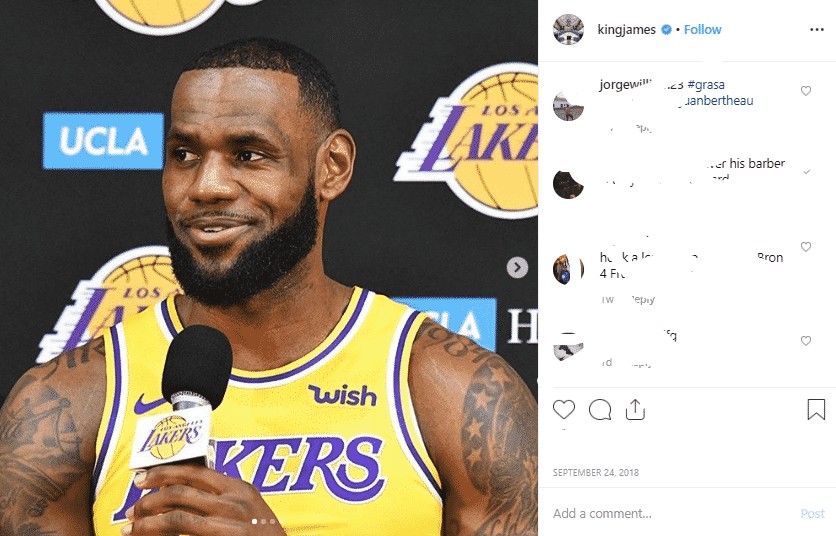 But if fans really want to learn more about Lebron James, the person, a visit to his Instagram account will give a much better glimpse about his likes and dislikes, family dynamics and all of his many marketing and public relations endeavours. If you haven't followed him and want to get caught up, you will definitely be a little bit surprised. Here's an inside look at Lebron James Instagram account and the subjects you can expect to find there.
Self Promotion

First of all, his Instagram handle is www.instagram.com/kingjames, which tells you he definitely embraces his King James nickname.
Action Shots
There are a multitude of posts showing Lebron high in the air ready to drop a dunk. His captions for his dunk photos are things like "Up, Up and Away", "Watch ya Heads" or "Freight coming thru".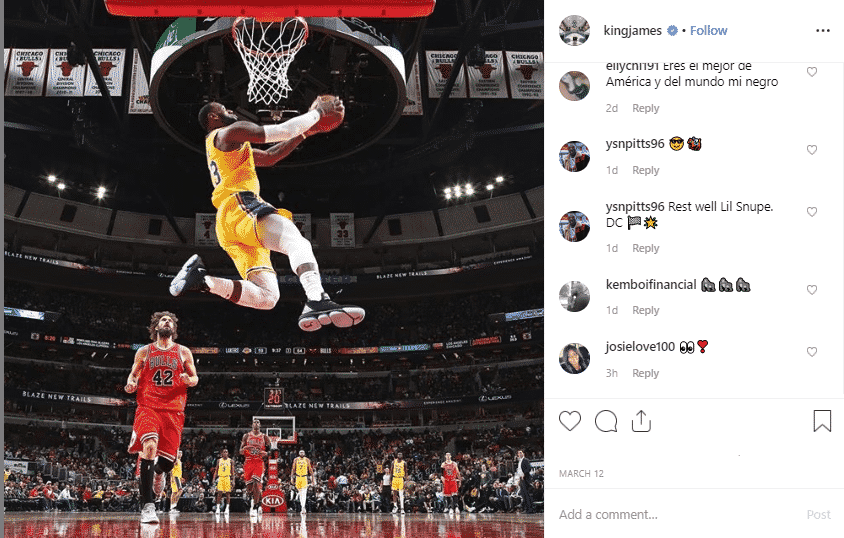 Congrats to Myself
His post on February 25th of this year showed pictures of him in his Lakers #23 with the words "Only Player in Top 10 All-time in Points and Assists". He wanted to let his fans know where he stood in history. Just a few weeks earlier, James posted a list of the top five scorers of all-time with his name highlighted at No. 5. One helluva an accomplishment for sure, with him saying he could not believe he was actually listed with the greats.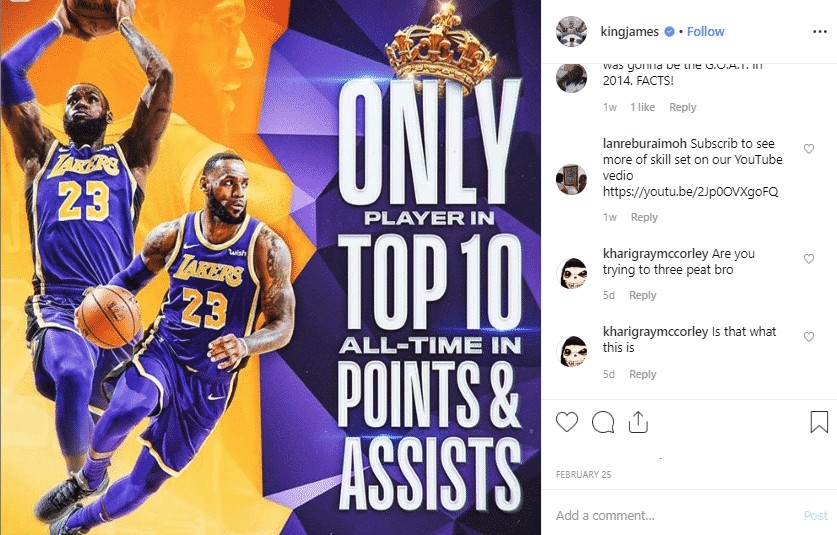 Other posts from earlier showed Lebron climbing in the all-time scoring ranks. Passing Dirk Nowitzki and moving into 6th place was one of them and another when he passed the legendary Wilt Chamberlain and into 5th place.
But Laker fans have not always been enamored with the posts from their new superstar player. As the team continued to lose games and fall out of playoff contention, they were looking for anyone to blame. And when James reached a major career milestone in February of this year, becoming the 1st player to rank in the Top 10 in points and assists all-time, he posted about it.
However, it was on the day of another Laker loss, and some fans didn't want to hear it. The thought was that he was more concerned about individual accomplishments than he was the team winning or losing.
But no matter what you think, the self promotion is actually a way for James to publicly support his brand. And make no mistake about it, Lebron James is a brand in more ways than one.
Family Lebron
Lebron is certainly not shy about letting people in on what is happening in his personal life when he leaves the court. Like anyone who is active on social media, he posts pictures and generous comments about all of his family members. He shares many photos of he and his wife Savannah, who he refers to as "my queen". And family photos are not hard to find which include his sons Lebron James Jr. (Bronny), Bryce Maximus and daughter Zhuri. Birthdays and holiday posts are common with a highlight being a Christmas photo where all five of the James Gang are wearing the same Christmas pajamas.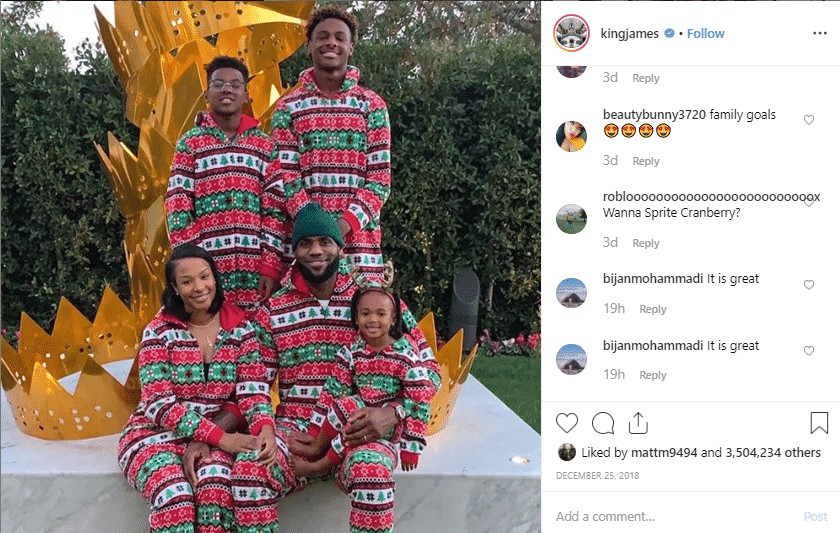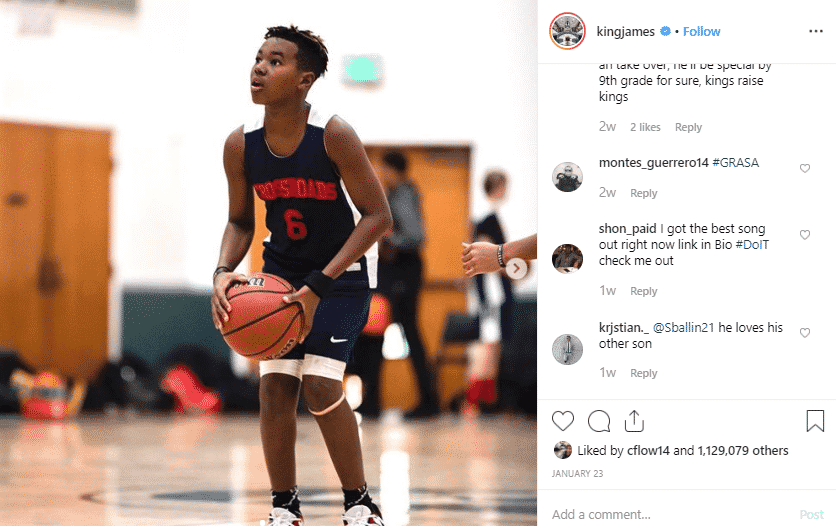 James also uses the platform to shows his son Bronny on the basketball court. It seems he is intent on following in his father's footsteps, as the youngster is already dunking the basketball at the age of just 14 years. He's also posted clips of 11 year-old Bryce flashing his skills as well.
Sending Good Wishes
Another area that James uses his Instagram account for is to send congratulations to other athletes for their accomplishments. Lebron made sure to post a picture of fellow NBA player Russell Westbrook, giving him props for being the first player to average a triple-double for three straight seasons.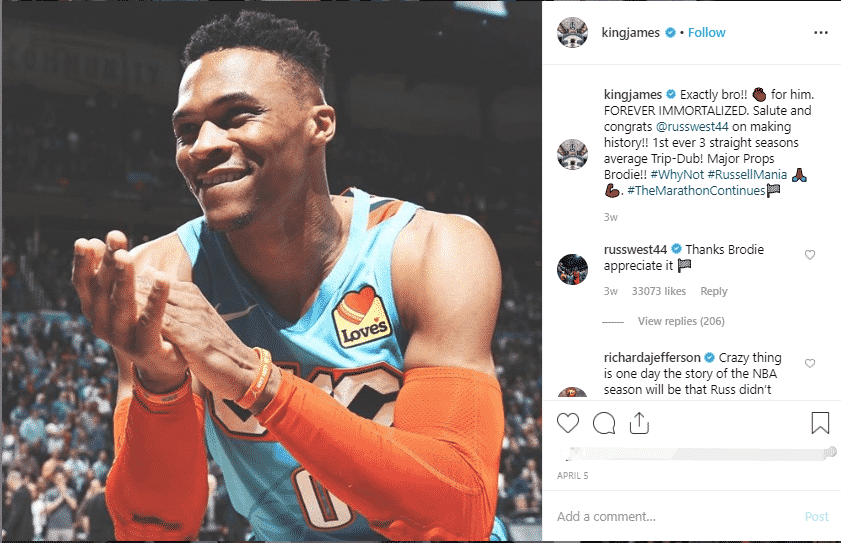 When Rockets guard Chris Paul reaching 9,000 career assists, James commented "SHEESH!! Congrats my brother!! He also made sure to give shout-outs to other fellow athletes such as his good friend Dwyane Wade, Philadelphia guard Ben Simmons and WNBA star Diana Taurasi.
Charitable Causes
If it's one thing the average fan may not know about him, it's his involvement in charities. He founded the Lebron James Family Foundation in 2004. It's mission is to positively affect the lives of children and young adults through education and co-curricular educational initiatives.James is happy to share accomplishments from his students at his I Promise School which is a part of the foundation. The I Promise School opened in 2018 in Akron, is supported by the Lebron Jame Family Foundation, and is aimed towards at-risk students.
The foundation was also responsible for creating the After School All-Stars, a program that provides mentoring and help with education as well as extracurricular activities.
Promote His Off the Court Ventures
As we said earlier, Lebron has already started branching out in the entertainment field in anticipation of his post-basketball life. Via Instagram, fans are able to keep up with what he has going and what is coming up.
On HBO, James has a show called "The Shop", which takes a barbershop style format for interviews with stars in a variety of fields. James keeps fans updated on upcoming episodes with promotions via his Instagram posts.
On Showtime, Lebron serves as the Executive Producer of a show titled, "Shut Up and Dribble", in reference to a Fox News anchors words of advice to him. The show appears as a three-part documentary looking at the changing roles of athletes in today's society.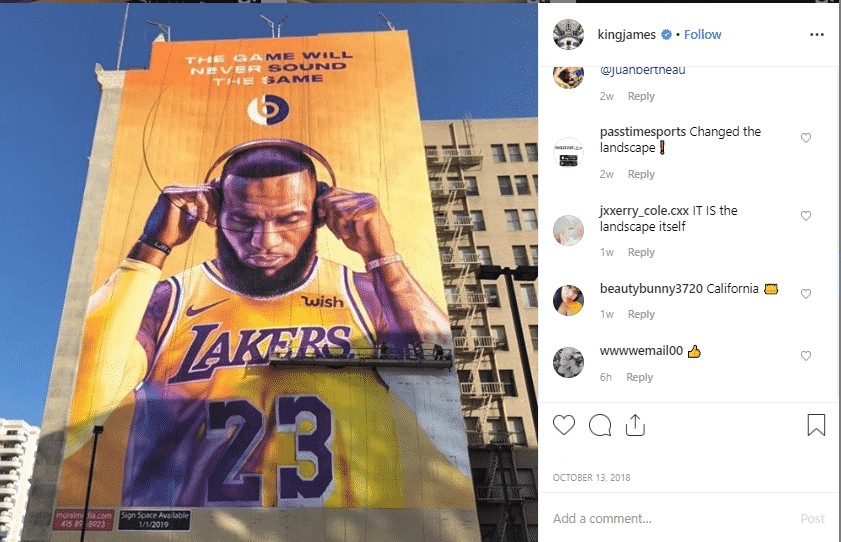 With a total of around 48 million Instagram followers, James has created a way for his followers to discover all of his off the court activities. It's a perfect public relations platform and as his followers grow, his reach will become even longer.
Music
In you look at his social media posts, Lebron is clearly a fan of music. His posts show many of his favorites and some of them also appear on his television shows. He is not shy about giving shout outs to the likes of Meek Mill and Drake. And he also expresses his sadness over the recent death of Nipsey Hussle.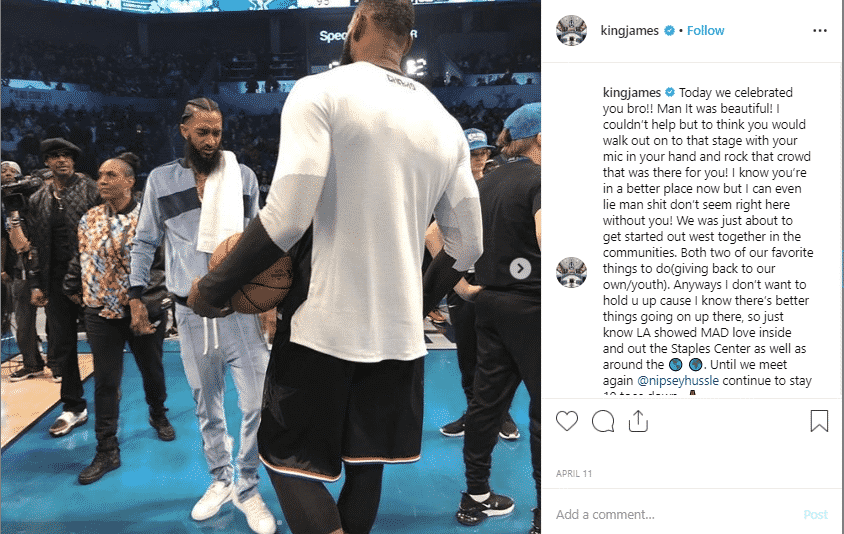 With the reach of Lebron's Instagram followers, posts like this can only serve to help the careers of the artists he enjoys.
Fashion
If you ever wondered what modern NBA players wear, just flip through his Instagram posts and you'll find out. When it comes to shoes, James is a Nike man through and through. In 2015, he signed a lifetime deal with the company to wear and promote their shoe products.
Pictures of a wide variety of Nike shoes dot his Instagram posts and are also an excellent way to market their products to his base. From a clothing standpoint, I guess you could call him a trendsetter with the wide variety of different styles he wears to the arena. Whether it's the pants, hoodies, shirts or hats, you can sure young fans would love to model their wardrobe after James.
Politics
James has also not been shy about giving his opinion on several political issues. He has made his feelings felt on the Colin Kaepernick situation, as well as the Trayvon Martin story. We have seen posts regarding Martin Luther King, and James is definitely a prominent supporter of his race and not afraid to give a political opinion.
Also, Lebron James posted his support in November for Democratic candidate for governor in Maryland, Ben Jealous. Ben Jealous was poised to become the first black governor of Maryland but lost to incumbent Larry Hogan. King James posted a video of comedian Dave Chappelle voicing his support for Ben Jealous.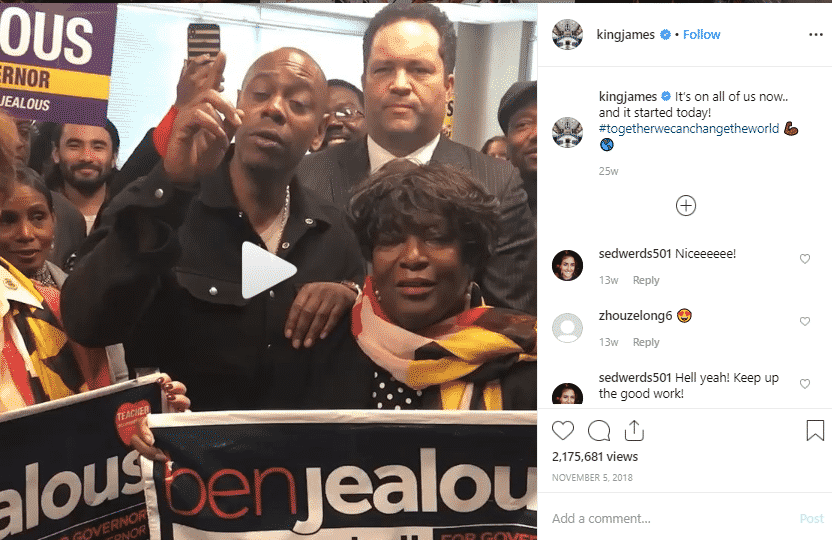 Controversy
However, James is not immune from controversial posts that have resulted in some criticism. The following are just a few of many Instagram posts by Lebron James that have caught some flak.
Jewish Money
Take, for example, a post from Lebron on December 23rd, 2018. He shared a lyric from a song by US rapper 21 Savage. The lyric was "We been getting that Jewish money, Everything is Kosher". Many Jewish organizations around the world were upset and published stories on the matter. Outrage about the post made it one of Israel's top newspapers, the Jerusalem Post! Just by bobbing his head to the lyrics and overlaying them with text, Lebron James caused a stir by posting it on his Instagram account.
According to James, it was not his intent "to hurt anyone", with the post. He later apologized during an ESPN interview saying that it's normal for him to post lyrics. He said that he drives around in his car, listens to great music, and the post was simply a byproduct of it.
American journalist Darren Rovell called James out the next day on his Instagram account. Here is a short excerpt from his post;
"The issue is that "Jewish money" is actually a derogatory term that, throughout the history of the Jews, has led to hate. It contributed to hate by the Nazis and along with the long nose in cartoons, it contributed to a stereotype that Jews would do anything for money. "
In his apology, James stated that what he thought was a compliment, was actually not "through the lens of a lot of people."
Since social media posts can often be spur of the moment decisions, there is the inherent risk of not thinking them through. This can lead to backlash such as James received with this post. The fact that it went out to the almost 48 million followers he has makes you believe he should take a moment to think it through before hitting the send button.
Slavery Comment
Lebron also made another eye-raising comment during an episode of his HBO show, The Shop. He referred to the owners of American NFL football teams as "a bunch of old white men" who "got that slave mentality" during the show.
Kaepernick Support
And you can throw his support for the Colin Kaepernick situation as a controversial stance as well as a political issue as mentioned earlier.
By the way, for more on Sport & Society, you can check out our entire section dedicated to it. Just click here.
The Verdict
So it is clear that Lebron James is much more than a basketball player. In fact, the way that he uses this social media platform as a public relations tool is brilliant. With a huge base of followers, his voice will surely have an impact on decisions of those followers. There are other athletes who are doing similar things, but not many of them have as much going on as Lebron James. So if your interested in learning more about him, both on and off the court, check him out here.