Madison Koekkoek is the Social Media Coordinator at Hockey Canada. Madison shares how she ended up working in sport, what she believes are essential skills for success in the sport industry and gets really honest about maintaining fun in her work while never forgetting that working in sport is a privilege. Having taken a little while to decide on a career in sport, but relishing every bit of it, Madison shares what she loves most about the discipline and also what she finds most challenging. Her point around carving your own unique career path in sport is one of my favourite parts from our chat.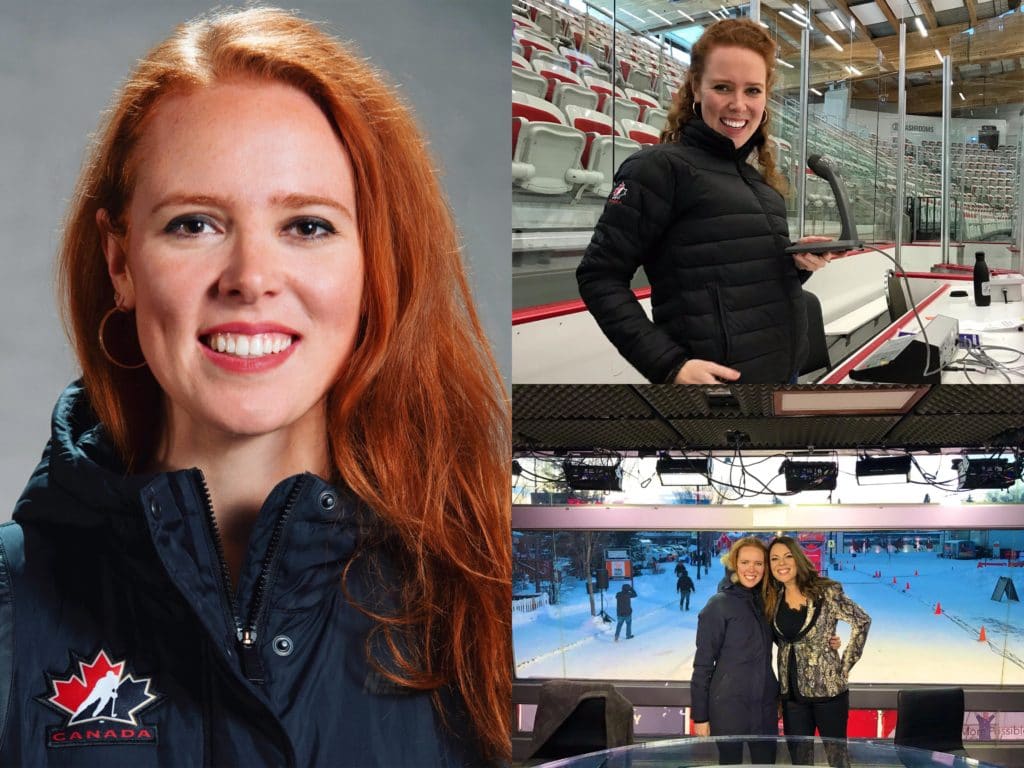 Please note: This interview was conducted via phone. Editing changes were made to make it easier to read while maintaining the voice of the interview.
Tell us about your role as the Social Media Coordinator with Hockey Canada.
As the Social Media Coordinator at Hockey Canada, I manage the day to day operation of our accounts. This involves a lot of coordination with our different departments. My role also includes strategizing, covering live event coverage, promoting our grassroots messaging, producing original content, engaging with our audiences and always brainstorming new ideas. I've also been able to do presentations at various seminars and host panel events. So, for such a large organization, what's really neat is that our social team is very small. There's two of us! So, we get to be involved in almost everything the organization does.
What does your day-to-day look like?
I'd say day-to-day is always different. That's the beauty of sports social media! It's never just coming and sitting at your desk, opening Twitter and seeing what's going on. Instead, it's always having a pulse on things at all times. Then, of course, there are planned sport events taking place. For example, let's say we're covering a training camp or a domestic or international tournament. When that's the case, the day-to-day shifts.
Sometimes that means working crazy hours that don't align with a normal office job per se. So, there's no real recipe for what the day-to-day is. It's always just having a pulse. Sometimes it looks like running around with your head cut off [laughs], but that's the rush that I like.
Explain your journey to becoming the Social Media Coordinator at Hockey Canada.
I would preface by saying that there isn't one direct path for working in sport. That's what is so great about working in sport. People in sport bring diverse experiential and educational backgrounds.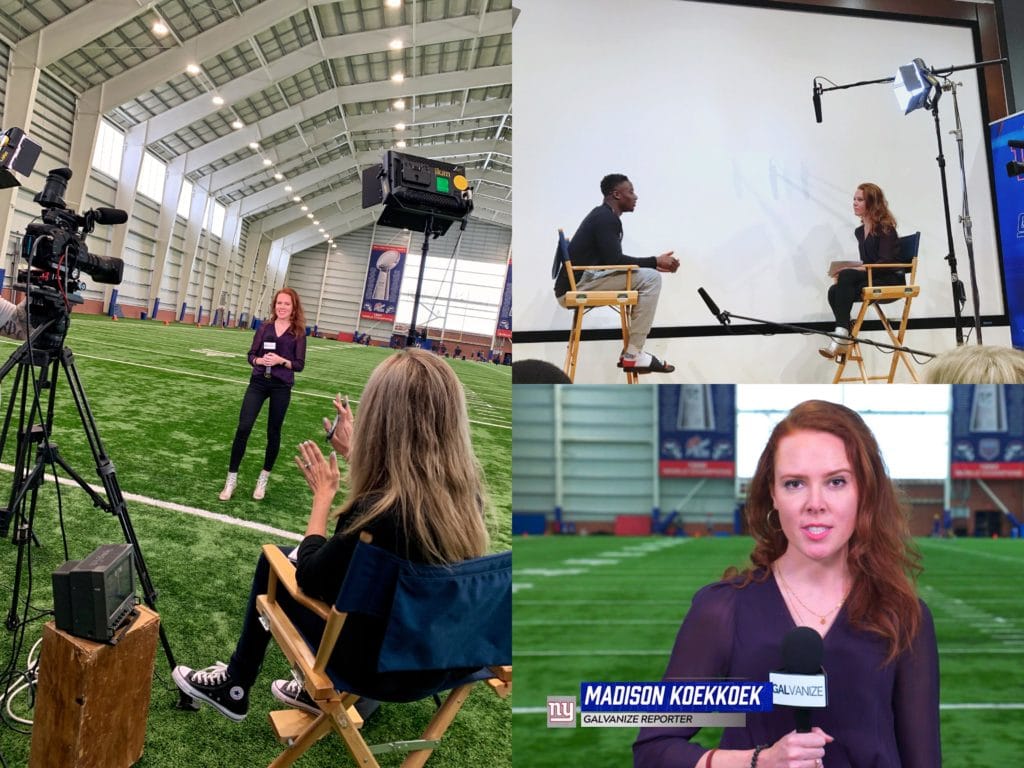 I did my undergraduate degree in politics at Queens University. Afterward, I stayed to do a master's degree in health policy.
"As I was wrapping up my master's degree, I had this moment. I can pinpoint exactly, where I said, "I want to work in hockey." That led me to move to San Diego, where I worked as the Athlete Relations Coordinator for Upper Deck, the hockey card company."
When I was working as the Athlete Relations Coordinator for Upper Deck, I came to a realization. Part of my role was to work with players and agents and fly across North America to meet with them. I'd go to large events including the NHL Awards, NHL100, Heritage Classic, and NHL All Star Weekend. Part of my involvement was to work with athletes on media relations, coordinating their interviews with large media networks. Doing that, I realized I wanted to give working in media a try.
So, I enrolled in a sports broadcasting program in Toronto. While I was in that program I went all-in. I worked with a bunch of media outlets to learn the ropes on all things related to broadcasting. So, I worked with CBC during the 2018 PyeongChang Winter Olympics, as an Associate Producer, Digital.
Also, I worked at the University of Toronto, covering Varsity Blues athletics. I also worked with entertainment on Citytv, during the Toronto International Film Festival (TIFF) for 2 years.
At the same time, I volunteered as much as I could and shadowed people whom I'd previously built relationships with. Additionally, I received coaching from [renowned sports broadcaster] Laura Okmin and GALvanize.
Madison Koekkoek's Volunteer Work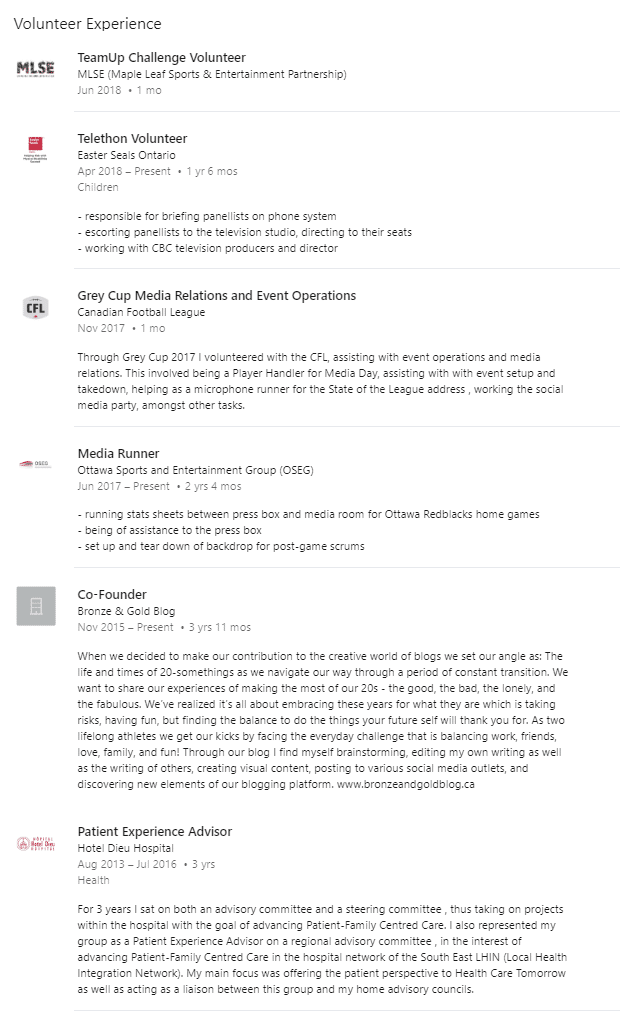 Then, I was hired here at Hockey Canada as the Social Media Coordinator before I could finish the sports broadcasting program.
Sports involve a lot of hands-on experience. It doesn't matter what your background is. Hands-on experience is applicable, useful, and transferrable in terms of your skills.
People working in the sport industry have different paths and come from all sorts of backgrounds. You have to be willing to learn, network authentically and be yourself as you create your path. It all comes in handy. The bottom line is that there isn't just one way to carve a career working in sport.
I should mention that although my career is mainly focused on the sport industry, I continue to love the entertainment industry. In fact, a few weeks ago the Canadian Country Music Awards were in town [Calgary, Alberta]. So, I volunteered with their broadcast team!
Do you ever find it difficult to keep motivated, and how do you overcome this?
No, I never find it difficult to stay motivated. I can see how that happens for some people trying to find their way in sports media though. It's definitely a long haul and a tough grind sometimes to carve your own path. Everyone's journey looks so different. But, I think the day I decided to go down this path, I knew I'd always be motivated and driven.
"That being said, I keep it up by surrounding myself with other go-getters, big thinkers and doers, not dreamers."
It's pretty easy to stay motivated and driven when the people you surround yourself with are doing really cool things and want you to succeed as much as you want them to.
Why is sport important to you?
I think about this a lot. I've grown up as the sister of a professional hockey player. So, I know a lot about what goes into the game on the playing surface. Many people still find it hard to understand what exists beyond playing the game of hockey.
I've come to the conclusion, that sport as entertainment has the power to rally a community and instill a sense of belonging in people. In fact, I believe it can do so like no other field.
Because I love sport, I think I have a really cool job. Working is fun each and every day. Not only is it fun, but in all the work I do, I see the power of sport. Sport gives people something to be a part of, provides them a sense of belonging and brings them together. That all comes within what is ultimately the entertainment industry.
This is our final question. What are three essential skills someone needs to succeed in working in sport?
1

Relationship Skills

Sport is a 'relationship business.' So first and foremost, people skills are a must. This includes being authentic and genuine. People skills are number one in my books for success.
2

Flexibility

Second, the need to be flexible is important. Being flexible comes in a few ways.

You need to be flexible in what you're willing to do to gain experience and in your mindset of where you're headed. It's awesome to have an end goal and to strive for that, but to be rigid in what you think is the right path towards it isn't a good thing. So, to be flexible in that is very important.

That being said to also be flexible and to bend and flex in what your day looks like. It never goes to plan in sports media in particular. So you just have to react.
3

Fun

By working in sports you're doing something that a lot of people would love to be doing. Therefore, as hard as you've worked to get where you are, realizing it's a privilege to work in sport is important for success.

When something doesn't go as you wanted it to or you're feeling stressed or tired, remembering why you're doing what you're doing is a key skill. Remembering why is related to the skill of maintaining fun through ups and downs.

I always hear people in the industry say, "I hope I never forget how cool it is that I'm doing what I'm doing." This saying speaks to the fact that you'll probably be able to see many epic and historic moments in sport first-hand while getting paid for it (hopefully). That is fun and very special. So, maintaining the fun and sense of locker room camaraderie with your co-workers is a recipe for sport industry success too.

If anyone reading this feature would like to reach out to me with questions, my Twitter messages are always open. I'm a HUGE believer in giving back the support I continue to receive from mentors.
---
Madison Koekkoek
Interview by Rikesh Mistry
Initiated by David Minor
Posted September 19, 2019 in Your Career in Sport