Emily Almond is the Marketing Coordinator for the Durham Bulls, the Triple-A affiliate of the Tampa Bay Rays. Emily took time from the very little and precious amount of it she has to spare, to answer questions about her role with the Bulls. To no surprise, Emily is a well-educated sport industry professional with a heckuva lot of education, charisma and vibrancy attached to her persona. Having studied abroad, worked all sides of marketing and social media and interned in logistics and promotions, Emily brings a skillful set of tools. It is these tools that make the Durham Bulls marketing department run so well. It was an absolute pleasure to talk to Emily about her role, sport industry insight, hobbies, and education.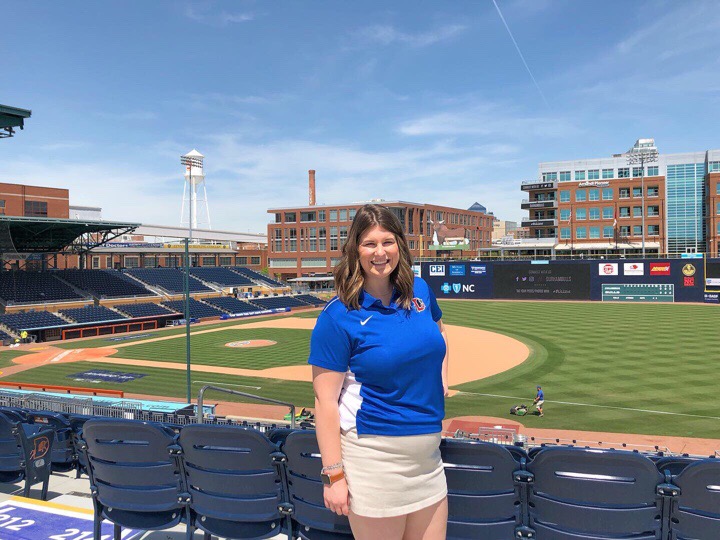 What does your role as Marketing Coordinator with the Durham Bulls entail?
Right now, my role as the Marketing Coordinator of the Durham Bulls consists of a little bit of everything. I am mostly responsible for planning out rundowns for each game and writing game production scripts. That means I plan for what is going to be on the video board at each moment of the game, as well as what promotions are going to be run on-field during specific inning breaks. I also help with graphic design, as well as some video editing. I'm also responsible for our promotional team and game operations team scheduling for each game. Game days are mainly reserved for buttoning up scripts and rundowns, making daily edits to game day graphics, and keeping up with emails.
Non-game days are when we've got a more normal work schedule. That's typically when I schedule meetings and phone calls, plan for future promotions and theme nights and try to get a head start on the rundowns and scripts for the next homestand. It really never stops, but that's half of the fun!
What are 3 essential skills someone needs if they would like to become a Marketing Coordinator for a pro baseball team one day?
1

Communication

A lot of my job has to do with communicating between different departments to ensure we've got the best show for our fans. We've got to take care of our sponsors and their various elements, including PA reads, videos, and graphic elements on the video board. We have to communicate with our ticketing department to promote different packages and take care of our groups. We work with food and beverage to program menus and highlight the homestand special. Operations and grounds help us whenever we have problems in the press box or if we have any special pregame or postgame events on the field. Working in sports is really all about staying in constant communication, so you can provide the best possible experience for your fans!
2

Dedication

To work in sports, especially Minor League Baseball, you've got to be dedicated to your job and the lifestyle. You're often working 70-80 hour weeks doing a job that's really not as glamorous as it always seems! Look closely at the job description of anyone working in professional sports and you'll see that key phrase: "Other duties as assigned." That means throwing on a mascot suit or pulling tarp or driving your mascot around to a dozen Valentine's Day visits. You've really got to enjoy what you do, or you won't succeed.
3

Attention To Detail

Working in marketing for a professional baseball team means you're on the front line of the fan's experience. This means everything you do and are responsible for has to be perfect. Every graphic, every advertisement, every PA announcement has to be combed over for mistakes before they ever get close to the fan experience. Additionally, planning game production and promotions require putting together every element required from a dozen different people into one place. These game production rundowns are how we plan out every game and how we write the script for every game. I have to double check everything to ensure that we're giving fans the best possible experience, every single night!
You have a Bachelor's and Master's degree in sport. When did you know you wanted to jump into the marketing and media side of sport?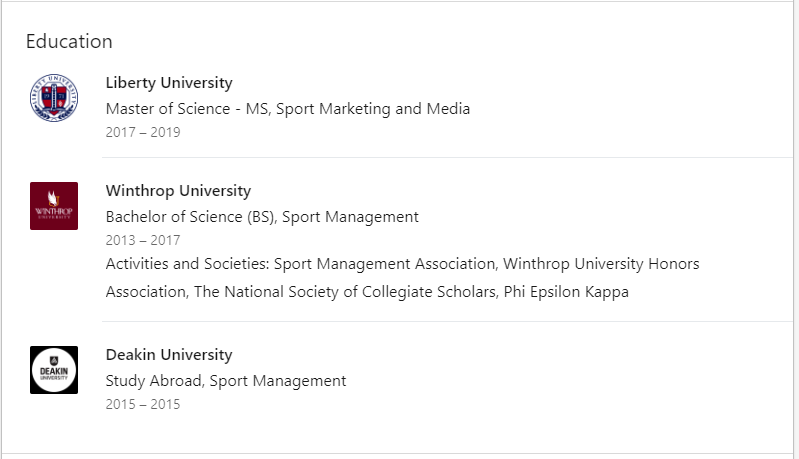 I grew up in a baseball family, helping to run our local youth league when I was in high school. I wanted to stay involved in sports long term, because I loved the fast-paced environment that is working in sports, so I decided to major in sport management. Fall semester of my freshman year of college I worked in game day guest relations for the Carolina Panthers and didn't really enjoy it. I loved being involved in the sport and with the fans, but I didn't really have the impact that I wanted.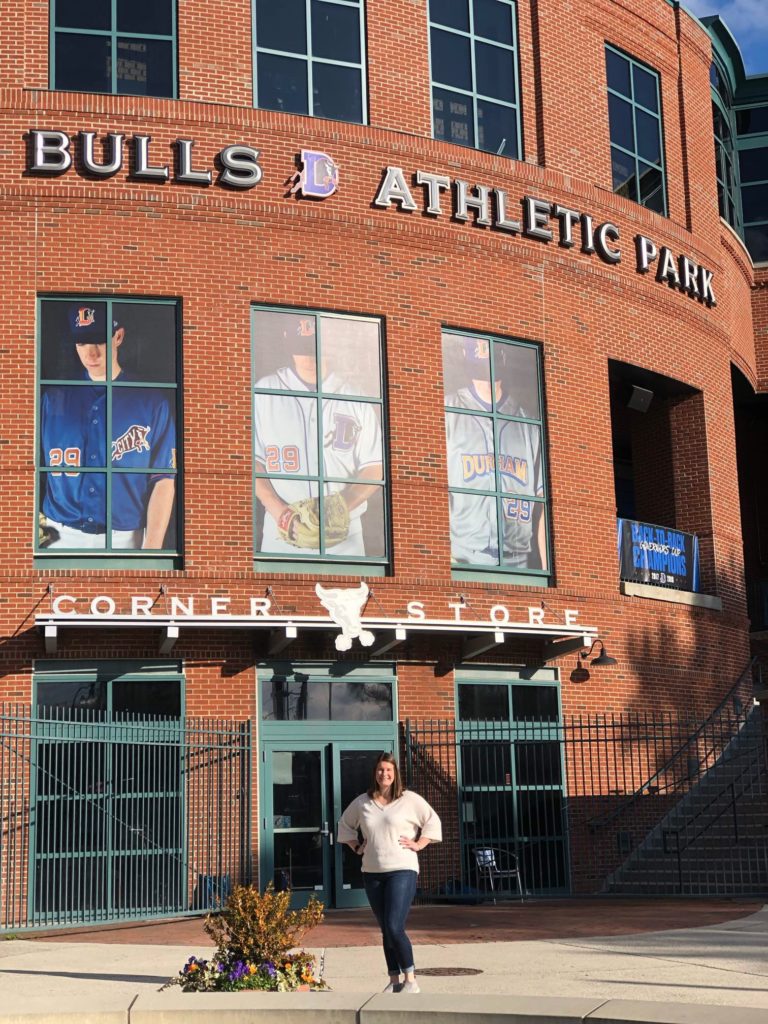 The summer after my freshman year of college, I interned for the Myrtle Beach Pelicans in the promotions department, and that's when everything changed for me. I LOVED being on the field in the middle of all of the action. I loved running around to execute in-game promotions and being able to really make an impact on fans in attendance. From then on, I really tried to specialize in the marketing side of sports, with internships in my university's athletic department and Cactus League spring training before graduation. When I decided to get my Master's degree, I knew I wanted to stay in the Marketing specialty to obtain more skills applicable to my current position, as well as any future positions I would have. When I found a marketing program with a specialty in sport marketing and media, I knew I had to do it!
We LOVED your Graphic Design and Photography Portfolio on LinkedIn. Tell us all you can about it.
First of all, thank you! My graphic design skills have come a long way since some of those first pieces! I taught myself how to use Photoshop during my senior year of college using YouTube tutorials, and I still learn something new almost daily. As for the photography portion, I did some sport photography when I was in high school.
When I interned at Goodyear Ballpark and took over social media, I really started honing my photography skills! I love getting those memorable fan shots that tell so many stories. Besides fan shots, my favorite things to shoot are ballpark photos and sunsets!
What do you struggle with most in your role as the Marketing Coordinator of the Durham Bulls?
Sleep [laughs]. No, but seriously, working in sports is quite a bit more stressful than most people think! Your job is to put on a show for thousands of people every single night, and it needs to be perfect. You work long hours and are responsible for so many different things. I get anxious daily that I am forgetting something, or something won't be perfect.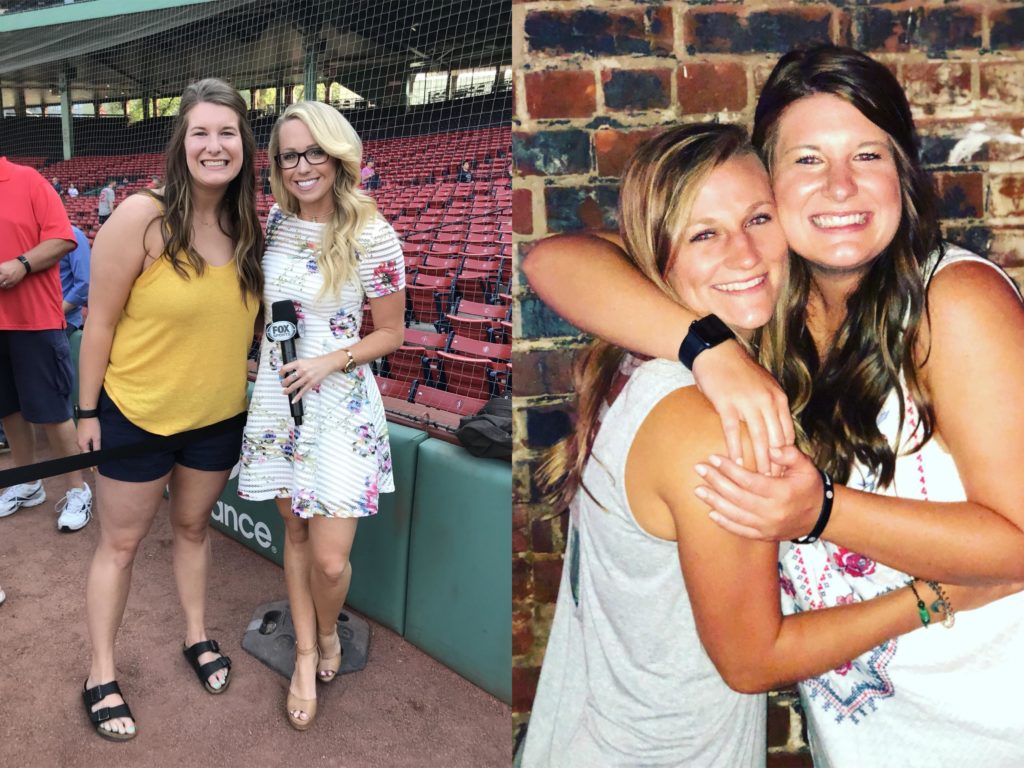 I've woken up on more than one occasion thinking about things I forgot to do at work, and I've had countless dreams about things going wrong at work. I also get really anxious about advancing my career. Sports business is hard to get into, and even more difficult to stay in. You do countless internships and work extremely hard to not know if it's enough to get you that full-time job or sustain your lifestyle. Working in sports is hard and stressful and terrifying at times, but there's honestly nowhere else I'd rather be!
What is the absolute best thing about being the Marketing Coordinator for the Durham Bulls?
I've really loved working for the most famous Minor League Baseball franchise. Everyone knows who the Durham Bulls are, which means we are all under a lot of pressure to do our jobs perfectly. It also means I get to work and learn from some of the best in the business every single day.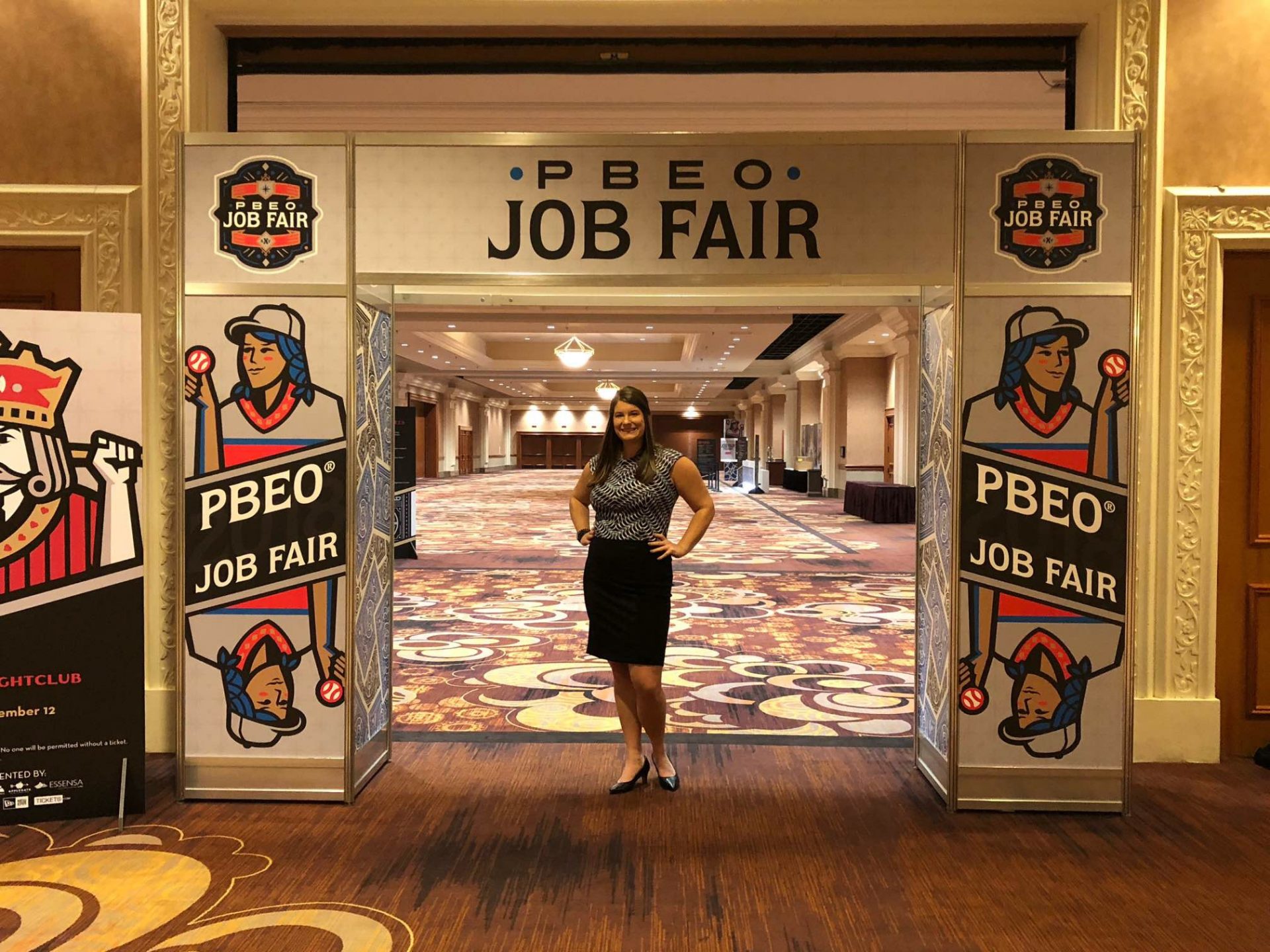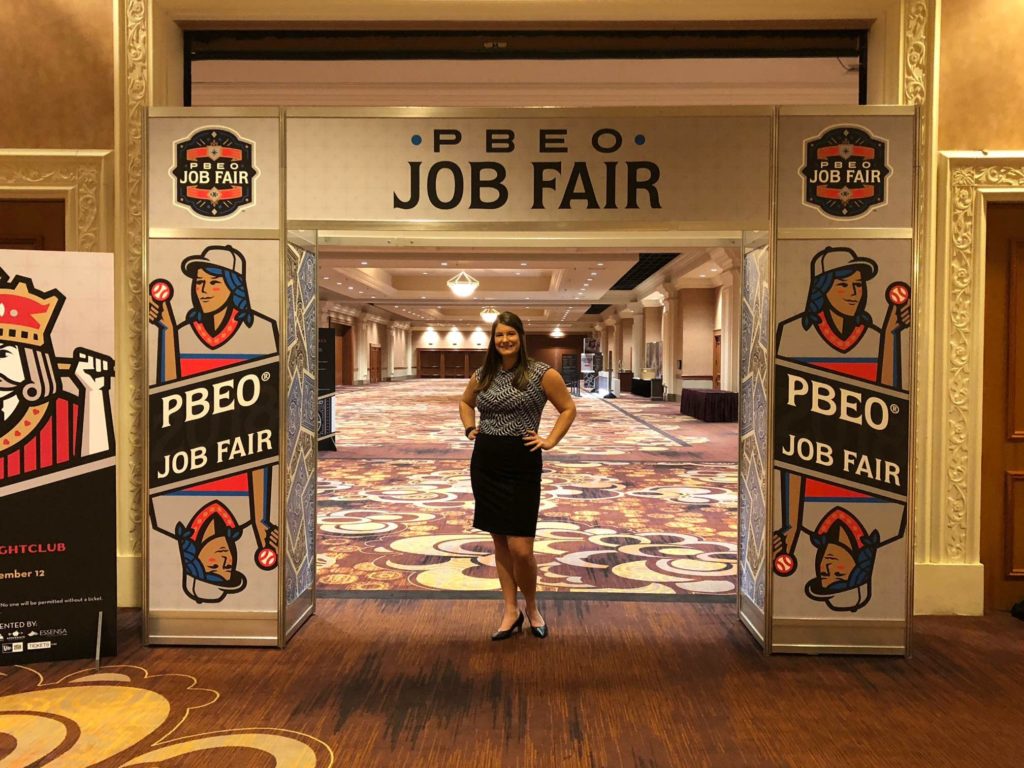 I've really enjoyed learning new things and getting to experience a fan base that truly loves Durham Bulls baseball! This has been such a fun environment to work in, which is always good when you're working in this industry!
If you had to give us three names of sport industry leaders we should interview next, who would they be?
1

Anastasia Meenach

Anatasia is currently the Director of Marketing for the USA Patriots Veteran Amputee Softball Team.
2

Paige Hegedus

Paige is the Manager, Special Events & Affiliate Programming for Minor League Baseball.
3

Hunter Horenstein

Hunter is the Director of Fan Engagement at the Myrtle Beach Pelicans.
---
Emily Almond
Interview by SPMA
Posted July 14, 2019 in Your Career in Sport