Maxime Brinck-Croteau, Technical Director at the Ontario Fencing Association works to develop programs, camps, and training experiences for athletes that don't meet the criteria to receive the funds necessary to do so. In addition, he works to organize competitions, fill out documents for grants and involves himself in several different projects. Maxime's role is ever-changing, and having the chance to speak with him, I quickly realized that it was something he was always meant to do, even as a child. Throughout the interview, Maxime speaks about the moment he knew he was destined to work in Fencing, the journey that led him to move to China and pursue his dream of being in the Olympics, and how he got to where he is today – both an athlete and a business person. He speaks to how his "failures" in his journey has brought him to his position today, and is something he always keeps in his back pocket! Below, Maxime and I delve into the most defining moments in his career, discovering his motto, his motivation, and his passion for the unique sport of fencing. Enjoy!
Tell us about your role as Technical Director for the Ontario Fencing Association.
I started working at the OFA right before the Rio Olympic Games in 2016. They were in transition and needed some help. They gave me the task of building a high-performance development program, a program that athletes need to qualify for, in order to receive the funds through the province. I put a program together to have training camps for these athletes. The camps basically gave the athletes that didn't quite meet the criteria to receive funds and the opportunity to have valuable training experience as a result of the camps.
Every year since then, the program has grown with more training camps, more people involved, with people in charge of the specific programs that we have within that program. So the idea was to start very simple but to start as soon as possible and then every year use the feedback, use the successes and failures of the program and make it bigger every year. It's still growing as of today.
As time passed, the OFA Board asked me if I could help out with the administration, so the job description is not very precise. As of today, it's still very flexible and my responsibilities are continuously added to. Also, I help out organizing competitions.
There are a lot of documents to complete to get the provincial grants. There's a lot of coordination in getting everyone to the table that needs to be involved in certain projects. There are a lot of programs that need time, either to put together or to assist the people with the right qualification in putting programs together. It's a very diverse role, with a varied job description.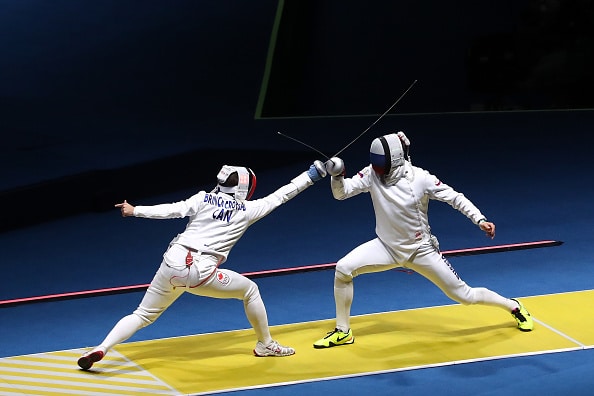 What does your day-to-day look like?
Daily, it's a lot of phone calls, and emails with different people from different backgrounds to make sure that we put the right people in the position. In that specific organization, we're only two salaried employees, so there are a lot of volunteers. It's a lot of running around various people, to have just an hour to get all we need in order to make a program happen.
When was the point you realized that you were meant to do this career?
It happened by itself, to be honest. I started fencing in 1997, and it was right after the third or fourth class. My coach was a three-time Olympian and he was a very passionate guy, he basically gave all his passion to a bunch of the kids in class. I went back home to my parents after a couple of classes, telling them "I want to go to the Olympics" and then my parents were like "OK kid, whatever you say". I kept that mentality until I moved to China.
I repeated that to myself so many times that it became a fact… that is where I'm going. If I make it or not, this is where I'm going. So, when it was time to move to China, it just made sense to do that in order to get where I needed to go. It was not a one day "Ok this is where I need to be." If you want to run fast and you have the opportunity to train with the best sports and not worry about the training costs, it's a no-brainer you just do it and there's no thought given to that. It's an obvious choice.
How would you define your parent's role in your development as an athlete?
At a young age, the parents are the coach, sponsor, manager, sport therapist, they're everything! They're the ones driving you to all these practices every night and driving you to Montreal when you're in Ottawa every other weekend, and they're the ones paying for all the tournaments, the equipment and the training and everything. So the support from the parents is absolutely necessary. My parents were amazingly supportive.
They were always going the extra mile and we were not a rich family but they were smart with their finances so that I could have the opportunity to train and travel. When I hit sixteen, the deal was: "you work when you can, and if you put all your money towards fencing we're willing to pay the difference."
So, I was working the summer, around 60 hours a week at a job, minimum salary. It was the worst and best job at the same time. I was making sandwiches in a factory. So you stand up for three hours, you put ham on moving bread in front of you for three hours. You get a fifteen-minute break. Then you change position to putting a side of mustard or opening the bread packs or putting one of the little moving carpets in front of you. So, I did that for around 60 hours a week for two summers and I put 90% of the income in a savings account, which was basically my parent's account, and they were keeping a tab. As soon as the time came during the season that I did not have funds to pay for everything, they paid the rest. So they saw that I was working my butt off to get some money and 90% was going towards fencing.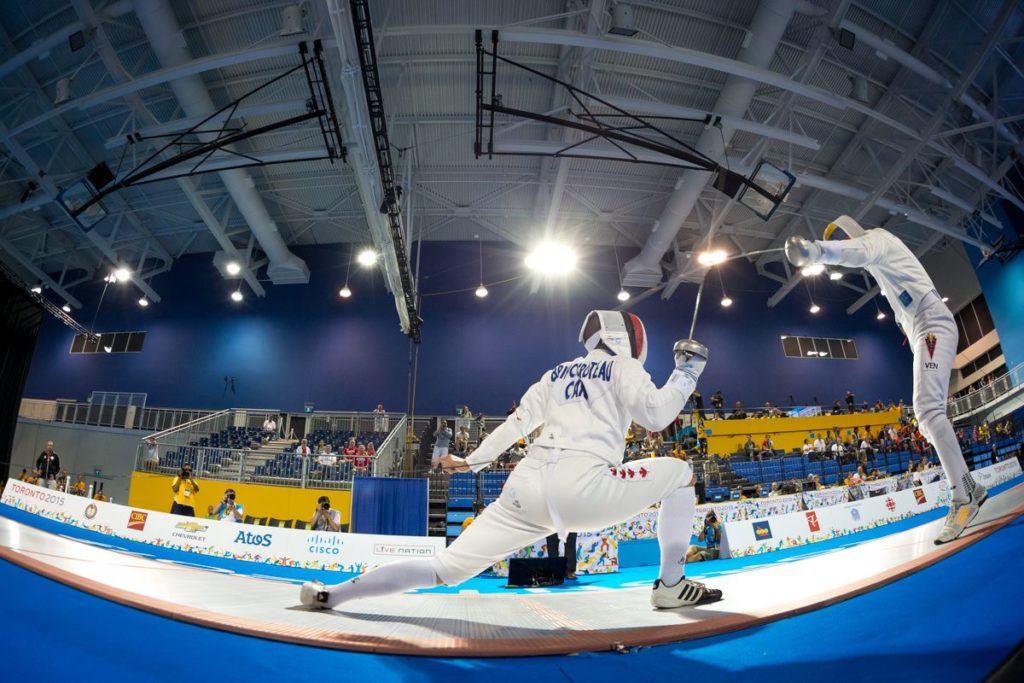 So they understood the commitment I had to fence, and then eventually as I grew older and I was making a bit more money or having funds and sponsors, they kind of stepped back with the financial support. But the moral support was always there! I was very lucky. It was the best job of my life because it gave me the acknowledgement of "this is a crappy job". I thought that I don't want to be making sandwiches at minimum wage for the rest of my life, with the goals that I have in life I couldn't just stay there and do that full time. So it gave me the motivation I needed to complete my university degree and it was an eye-opening experience. Every single job I had afterwards, they were all amazing jobs because I started basically at rock bottom.
The work conditions were terrible, I was working in a fridge all day long, I had to bike 20 to 30 minutes to get there every day. The money was not very interesting, it was amazing for a kid but for a 35-year-old with two kids, it's rough. So every job I had afterwards, I was very grateful for all the conditions, because I know where I came from and I know where I started. Right now I have a job that allows me to work from home and from France if I have a tournament or Argentina when I get a training camp or such things, so knowing the job conditions that I had in the past makes this job amazing. It's in fencing and I can work wherever I want!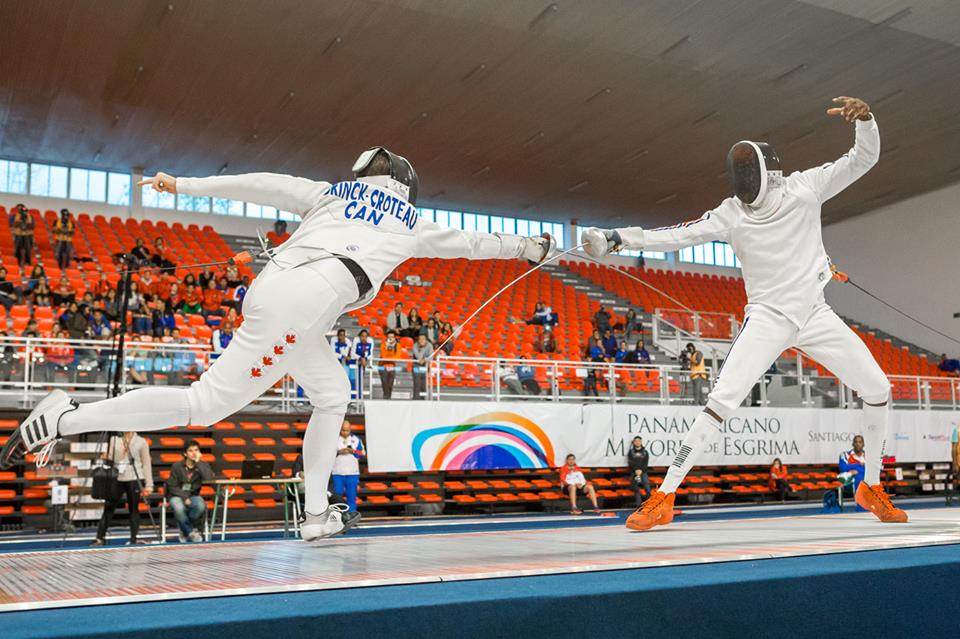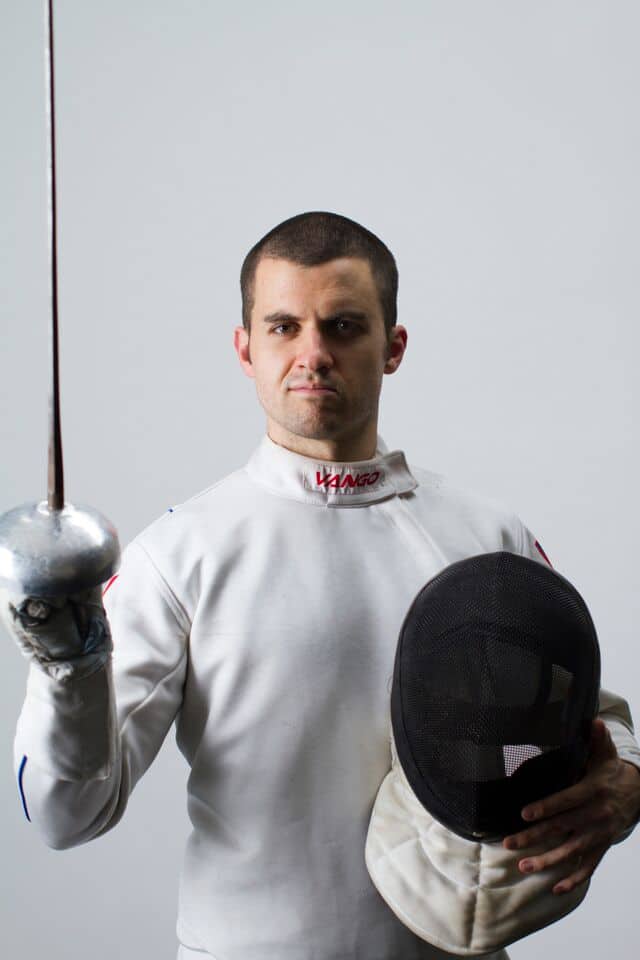 Who or what has had the biggest impact on your career choice?
It was a fact in my head when I was 10, 12 years old that I am going to go to the Olympics. So at the point when I was working for a good company in the region in software engineering, that was a good career. But with that fact in mind, that goal, it didn't really make sense to work 40 hours a week and then try to train on lunch breaks or at night, and then missing income when I go for training for two weeks. So when I had the opportunity in China it was the obvious choice.
The thing that really made the whole difference in my analysis of which opportunity is worth doing and which direction I'm trying to go was basically the fact that at a very young age I was made passionate about fencing. After this there was not an equation of I need this and I need that, it was like I'm going this direction and in order to go in this direction, I need to take one step forward. And then what's next? One step forward. And every opportunity that I had that I said yes to was in my mind one step closer to the objective.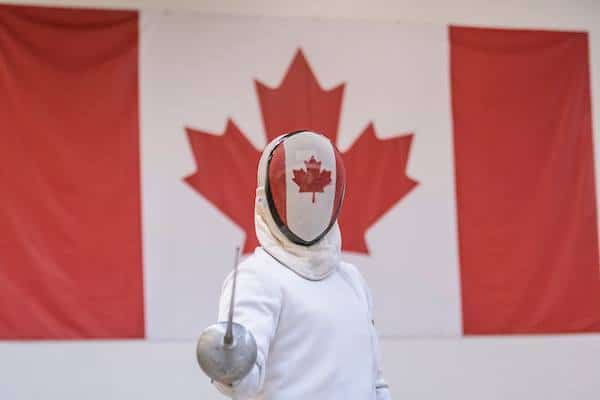 How did you get into fencing?
Failure introduced me to fencing. When I was a kid I did a bunch of sports, baseball, soccer, swimming, judo, taekwondo and I always quit after a session or two or a season. My parents were really pushing me to do some kind of activity. Eventually, they were out of options and they went through classes in the city and they saw fencing. What kind of 10-year-old kid does not like to play with swords right? When I started fencing the coach I had was extremely passionate, and his passion was extremely contagious and right after that I continued and I really enjoyed it. I moved from one practice to two practices a week, two practices to three to four to weekends to the provincial circuit, to the national circuit and eventually international teams.
"Failure introduced me to fencing."
What advice would you give to aspiring athletes?
Take the time you need in order to find what you really want and once this is very clear in your mind go all for it. Drop everything, run in that direction and make everything only about this. This would be very useful towards younger athletes, either in their teens or early 20s and when you hit a certain age then it's not only about your career, there's the partner's involved or family or there's the career so you need to be a little bit more mature about it, but if you're young, I'd say take the time you need to find what you really want. If you know what you really want, go for it. And at some point, if you have an opportunity where you're like "I don't want to go that far" then you have discovered that you don't really want it.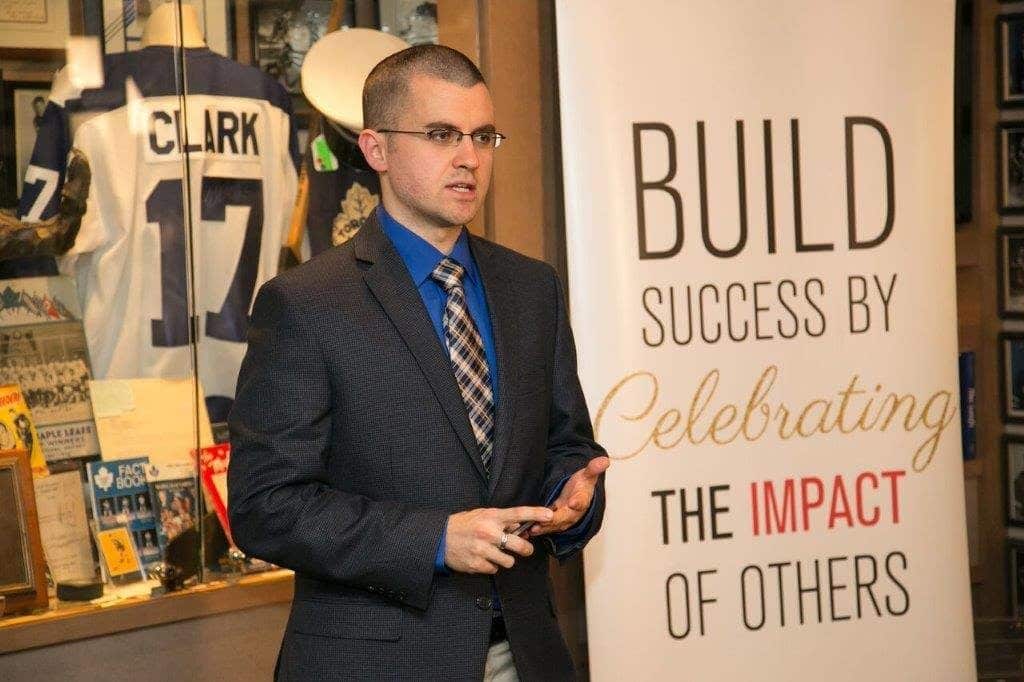 What skills and knowledge did you develop as an athlete that you have transferred to your career?
I think it can relate to a lot of combat sports because it's one on one, you cannot count on your teammates to assist if you have a weak moment to just the pass the ball or the puck and they take care of business. At the same time when it goes well it's all because of you, so the individual sport aspect of it makes you that controls everything. Then the combat sport aspect of it is regardless of what your opponent or your project or your challenge is, you're the only one that can find a solution to it. You train for years and years and learn that only you can fix the problem you have in front of you. A 200 pound, better trained, faster, stronger, prettier guy in front of you that you have to beat, when you switch that into a professional world it's a lot easier because you're used to doing everything yourself with just the tools you have in your hand. In the professional world, it's never the case, you always have colleagues, a mentor, a boss or a network that you can pause an email or project for a couple of hours and have a meeting or discussion like go for lunch and ask someone's opinion. So the fact that you are so used to and able to fix everything yourself makes you a lot more flexible and a lot more valuable when it's time to explore the option of asking around for other input.
Why is sport important to you?
It's the school of life. This is where you learn all the extremely valuable lessons that the educational system does not quite teach as much in a way of how to deal with adversity. In a classroom everyone is equal, everyone has to participate and you just do tests against a base of knowledge that you have to prove that you have. But after all the schooling that you go through, you don't really know how to deal with adversity. You don't really know how to have a very strict schedule where in the morning you do this, in the afternoon I have to do this and it doesn't really show you how to eat properly. It doesn't really show you how to deal with a bunch of coaches and therapists and teammates that you don't really like but you really need so you have to play the political games at the club.
Schools have this when you have team projects, but team projects are included in late high school and college, at University level, but for a 12-year-old who goes to the club and is basically hitting your opponent with a piece of metal or trying to beat them at Badminton, it's all the lessons you learn without knowing they're lessons learned. Afterwards, when you reach either higher education or the work environment you already have a couple of principles that are inside you by definition, that you apply without even thinking about it. People are like oh you're so respectful of your elders or your boss, or you clock in and clock out always, no matter what you're always working, you're focused, you're disciplined and you're just like isn't everyone?
Until you realize that it's not. And of course the huge benefit of being healthy. It is a side effect of sport, it's the thing that people are selling the most but it's really not, it's just a side effect. It's necessary in order to be healthy, like being active regardless if you're fencing just for fun or running every couple of days or weight lifting or whatever, we all do this just to stay healthy but there's so much more to it.
Do you live by any quotes?
Change it or accept it.
Change it or accept it. It goes for everything. If you don't like the way you look because you're 4ft well change it. If you can't, accept it. It's really the only two options. If you don't like the training situation, you don't have a lot of training partners, you only train at night, accept it or change it. I do not want to accept it, I want to change it, I had the opportunity to change it, to move to China, train 4-5 days and be in a fencing environment, well the choice is easy.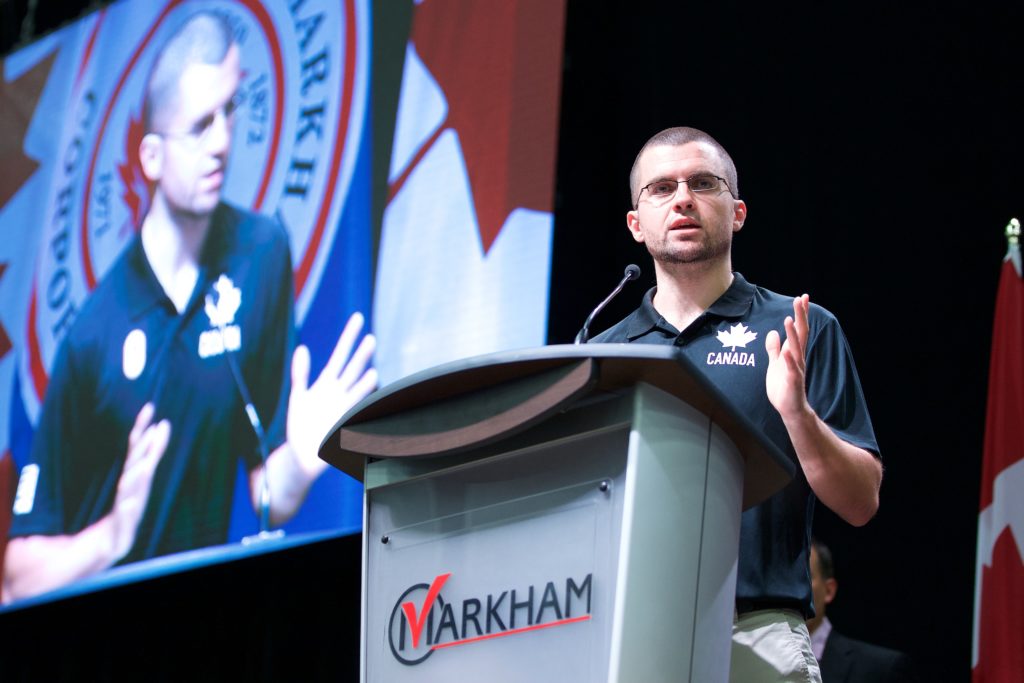 What are the challenges in Fencing that you hope to overcome?
The perception that it is a dangerous, violent sport. I saw statistics from the Olympic sports and combined winter and summer, fencing is the top five safest sport just after synchronized swimming. Hockey, basketball, baseball, all the winter sports, of course, they have a lot more injuries in their sport than fencing. The other aspect that hits us is the reputation of it being a very expensive sport. It has a reputation of being this noble sport for the upper higher class of society, the nobles but it's actually extremely accessible. If you move into a national team aspect any sport is super expensive. Fencing is in the middle range of expensive sports at the national level. At the recreational level, it's extremely cheap. Most clubs have their own equipment when you start and as you move forward you climb the stairs towards higher intensity training, you want your own equipment. It's much less compared to hockey for example. The school board's and everyone thinks that it's super dangerous, you hit each other with metal swords, we don't want that for our kids.
Working within the sport, what would you say your motivation is right now, what do you want to achieve within that sporting community for yourself?
For the better part of my life, I was always oriented towards elite performance in sport. It would make sense that I would be a little bit more involved in the high-performance, but what I really want is to grow the membership of the sport in my city, my province, my country and eventually internationally. To grow the membership in order to have the tools you need to have high-level athletes. Because if you just focus on the top of the pyramid you'd play with maybe 100 people but if you focus on developing the pyramid and having a huge base of membership, statistics show that you will have more high-level athletes, more referees, more coaches, more recreation, more everything. I really want to get involved at the base of the pyramid and just making everyone in Canada fence at least once!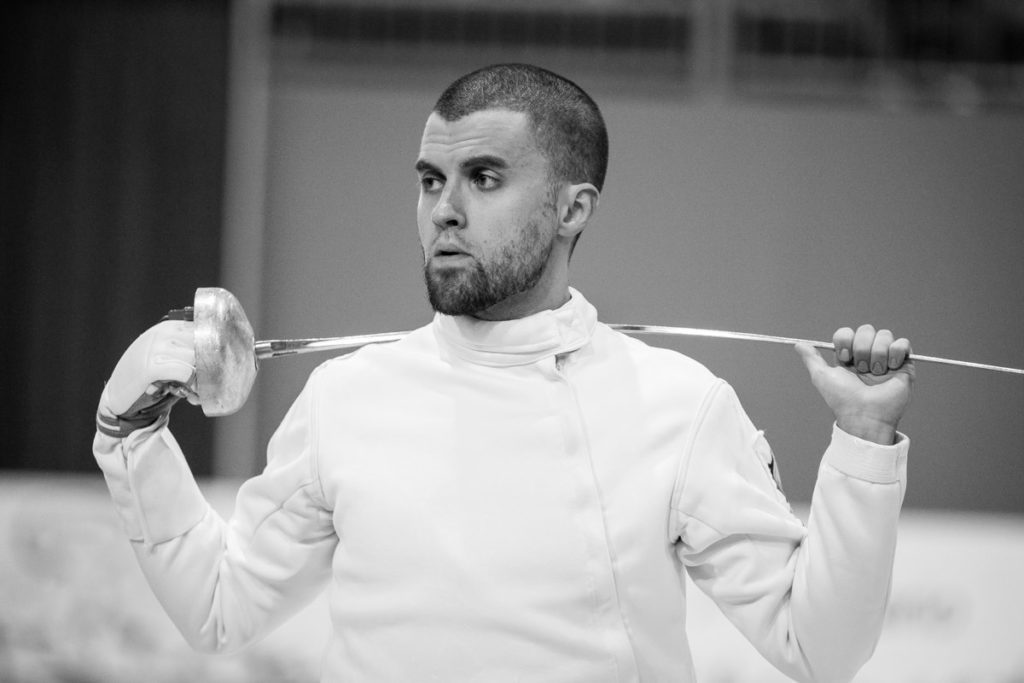 Naeem's Final Thoughts
From the time he started fencing in 1997, Maxime knew he was destined to work in the world of fencing. His passion for the sport led him to move to China to pursue his dream of competing in the Olympics, train with some of the best fencers in the world, and eventually work in a career that he could be passionate about. His motivation to accomplish his dreams is evident in every step he took throughout life and is ultimately the reason he has the success story that he has today. By the time he was 10 years old, Maxime had told himself that he was going to the Olympics, and he never let anything get in the way of that dream. His journey displays determination, taking chances, and appreciation for everything he has done in the past. This is a lesson that we can all learn from – that anything is possible if you are passionate and don't give up.
---
Maxime Brinck-Croteau
Interview by Naeem Ahmed
Posted December 5, 2019 in Industry Profiles