Nicole Artuso is the Tennis Professionals Association (TPA) and Professional Events at Tennis Canada. So what this means is that she assists with all TPA-related responsibilities as well as all professional events put on by Tennis Canada. We've known Nicole Artuso for two years so we've seen some of the great sport events she's been a part of which have led her to this role. But we wanted to know more about her entry into the sport industry so we could share it with you. In this article, she shares how she got into sport, her internship, her current role with Tennis Canada, and the thrills she gets working for a sport entity.
Nicole Artuso worked for MLSE from May 2014 to April 2019 as a Retail Sales Associate.
Tell us a bit about what you do with Tennis Canada
I started my current role back in February on a part-time basis as I was still in school. My job involves two main responsibilities – the Tennis Professionals Association (TPA) and Professional Events. The TPA is a member-based association devoted to growing the profession of tennis coaching throughout Canada. Day-to-day, I handle all operational elements regarding the TPA (keeping the TPA website up to date, sending out a communication to members, membership renewals, etc.). When it comes to professional events, specifically for Rogers Cup in a few months, I will be assisting with Player Services. This means I will be involved in the planning and implementation of all operational elements regarding this program (gifting, entertainment, updating the player handbook, etc.).
This role comes after serving as the assistant volunteer coordinator for two summers.
I assisted with the management of over 1,100 volunteers for Rogers Cup and helped with the planning and coordination of all volunteer program events. Specifically, pre-tournament I was involved with managing the volunteer database, running volunteer fairs, package pickup, and volunteer orientations before the tournament. Throughout the week of the tournament, I helped to ensure all volunteer operations were running smoothly.
[During the months of February-April] Having four classes, an internship, and the addition of my part-time role, I did not have much time to focus on anything else. I had to be very aware of my schedule and what tasks needed to be completed. On Mondays and Tuesdays, I focused on school as that was when my classes were. Wednesdays, Thursdays and Fridays, I would go to my internship from 9 AM to 5 PM, get home just in time for dinner, and then I would get some more work done from home (for my part-time role) from about 7 to 11 PM. And then get up the next day and do it all over again. Although the past three months were extremely hectic, it was all worth it in the end.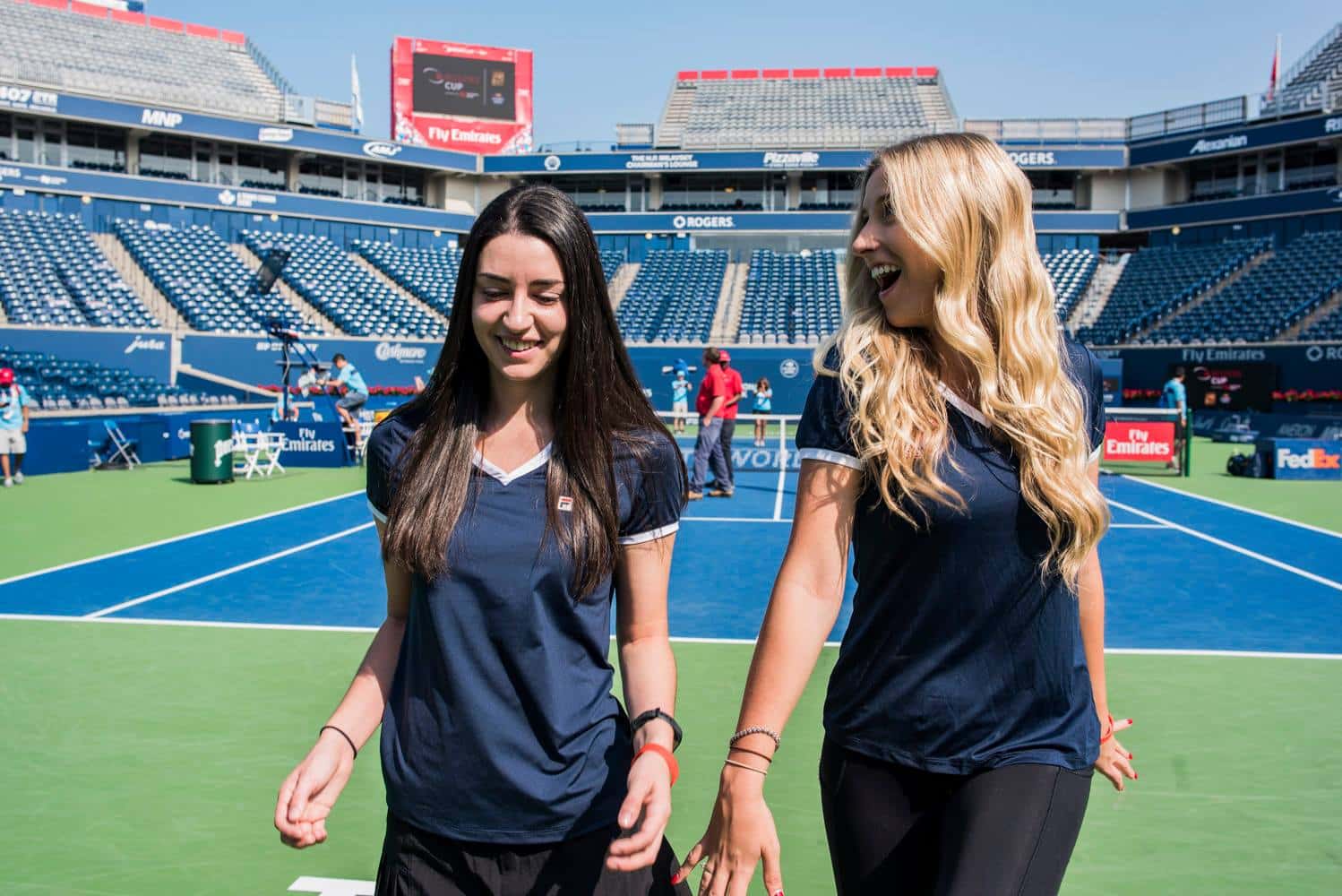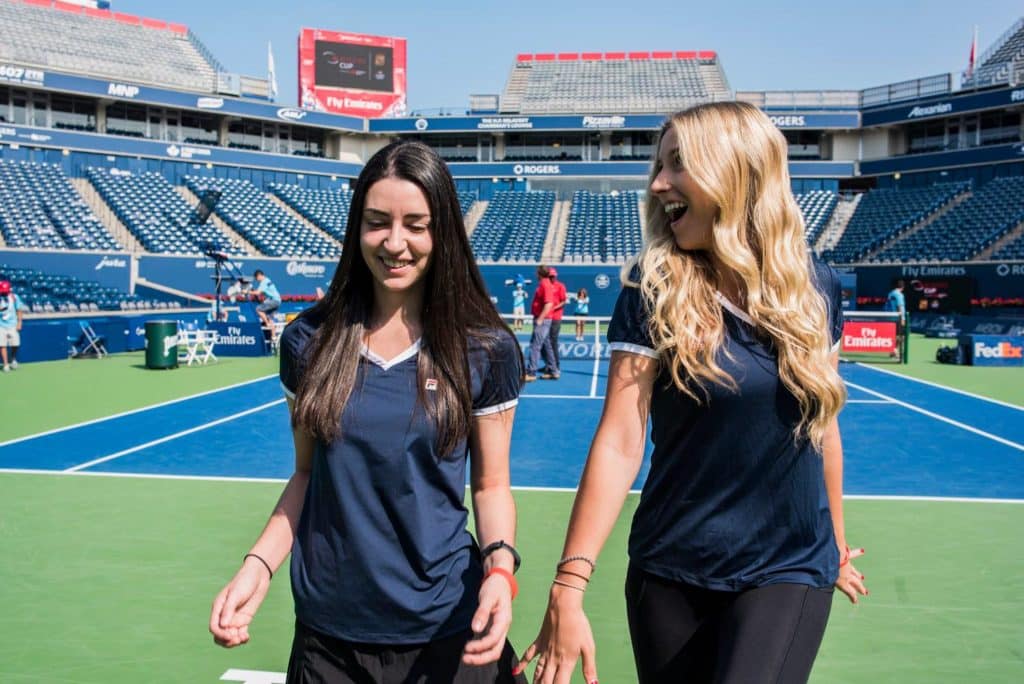 I think it's important to mention that part-time jobs are not a bad thing at all, especially early in your sport management career. You need to be motivated in whatever role you are in, and understand that you shouldn't have the mindset being that you are "too good" for a specific job. If you aren't willing to do the 'not-so-glamourous' jobs, someone else will – and that is the person an organization is going to choose to hire over you. I've had many part-time jobs that at times I did not fully enjoy, but I didn't let anyone in management know that. I stuck it out, proved myself, and I think that has led me to where I am today.
Bring us through Nicole Artuso's educational journey.
I actually took a year off after graduating high school because I wasn't sure about what I wanted to study. I then applied to Carleton University, where I majored in Law. University was just not for me. Of course, I wanted that piece of paper, the degree, but I didn't prioritize school at that point in my life. I sat in classes, passed my tests and did my assignments.
I was so indecisive about what I wanted to do (in terms of a career) so I chose to major in law to narrow down my options so that I could be forced onto a specific path. Initially, wasn't opposed to taking law so I just went with it for as long as I could. A lot of the reason I did not feel invested in my learning was that I wasn't doing something I was passionate about.
After two years of hating the program, I realized that I couldn't just continue to go through the motions of being at university, so I dropped out after the school year came to an end.
So, once again, I took another year off and started looking into Sport Management programs. During my year off, I landed a job with MLSE working in their retail kiosk department on event days. This meant I was at the Air Canada Centre and BMO Field working the majority of Raptors, Leafs, and TFC games each season – which is a pretty sweet gig if you ask me.
I was able to meet tons of people in the sport industry and made as many connections as I could, knowing that working in sport was where I eventually wanted to end up.
To be honest, in general, I was never a fan of school. I hated sitting in a classroom listening to someone talk for hours on end. I personally believe that practical experience is more important while in school. There are many things you just won't learn in school that you will at work. I mean, you can read as many textbooks as you want, but you won't actually learn how to deal with certain situations until you're faced with them at the workplace.
Tell us a little bit about how you became involved with sport.
I started off playing house league soccer as a kid, but I didn't enjoy it very much, so I believe I only played for two summers. I then began competitive figure skating and playing rep softball. At the time, I was very busy because on top of training, practices and games, as I was either playing in a softball tournament or registered in a competition every single weekend. I stopped both sports before high school had begun. I wasn't serious enough about it, so I didn't feel the need to continue at that level. I ended up winning Female Athlete of the Year in grade 8, and four years later won MVP of the varsity softball team in grade 12.
N

Nicole Artuso is in the middle.
Also, I was involved in a sport business from a pretty young age. My dad's cousin had his own company, called 24 Hours of Adrenalin, that held mountain bike races all across the United States and Canada. I used to tag along with my parents many times a year to help out. As I got older, I became more involved and during their last few years, stayed in Canmore for a month during the summer to help with a race there. I helped in the office, completing admin tasks as well as managing inventory of products for the retail store, and assisting with registration for the event.
It was at these events that I realized sport was a great way to connect and work with people from all around the world. Many of the employees were on contract, so they just bounced around from event to event all over the world. Anything that involves sport + travel = my dream job.
How has an education in Sport Management helped you prepare for this role?
I am so happy I decided to pursue and successfully attain an advanced diploma in Sport Management. Like I said before, there are many times where I was able to apply what I learned in the classroom to the sport industry.
I think the biggest benefit of this program is that there are two mandatory internships. Without an official school endorsing it, internships are generally not offered by places in the sport industry. The internships allow students to get their foot in the door at two different organizations, which means an opportunity for networking, experience, and most importantly can potentially turn into a job.
The classes we are given the opportunity to take are very diverse, which helps those who may not know where they want to end up after graduation. Personally, taking classes like financial management and event planning was extremely beneficial.
"Financial management not only taught me how to use Excel more efficiently, but how to manage a budget – which is very valuable to know, regardless of the position you are in at an organization. As much as everyone hates Excel (myself included), it is one of those programs that you will inevitably use."
READ MORE: Why Sport Management Professionals MUST Learn Financial Management
Event management solidified my desire to continue to work in this area of sport. I love taking part in the planning process, and bringing new ideas to the table when I can. Seeing the outcome and success of an event is extremely gratifying, and it makes the long days and tons of hours worked leading up to the event all worth it. When I was in the Event Management, my class was tasked with the planning/implementation of the Toronto Sport Summit. It gave me a really good idea of how a "workplace" handles running an event (holding scheduled meetings, taking minutes, brainstorming ideas, etc.) and it was very rewarding being able to see how the event turned out and getting some great feedback.
What traits would you be looking for in prospective sport management graduates who want to work at Tennis Canada?
Having been in a Sport Management program with over 150 students, I have worked on countless group projects so I have a pretty strong understanding of how SPMA people are. Based on my experience and talking with my peers, there always seems to be a handful of students to don't really do much – and I know this seems harsh. But I want to get the message out that thinking about the future and being proactive is key! Making a good impression and proving you have a good work ethic to your classmates will only benefit you in the future. You honestly never know where your peers will end up, so it is better to have them on your side to have them put in a good word than to discourage the organization from hiring you.
"At Tennis Canada (and I'm sure this goes for all other organizations), we would look for someone with a strong work ethic and time management skills."
Every day, we each have a lot of tasks the go. My time management skills are definitely put to the test in this role. Since my job covers many different areas (TPA memberships, managing the e-store, editing the TPA website, assisting with professional events), ensuring tasks are completed in a timely manner is key. If I let my responsibilities pile up, it gets much more difficult to manage.
It's hard to say what hiring managers are specifically looking for as it all depends on the person, but many people look to find out about one's past experiences before hiring them.
Calling references and checking out LinkedIn profiles are definitely some of the most common. At Tennis Canada, based on my personal experience, getting questions during the interview around my life outside of work always came up as well. Soft skills are just as, if not more, important than hard skills. Asking questions like where one has traveled, their hobbies and such helps to see if they'd fit in well at the workplace.
[showmodule id="252985″]
Would you like to conclude with a message to all the readers out there?
One piece of advice that has stuck with me over the years is that the interview is just as much about the employer as it is about you. The interview is your opportunity to ensure YOU would be a good fit at the organization, so ask questions, and be certain you will enjoy the job if you do receive an offer. If an employer doesn't feel like you're a good fit, they are not going to offer you the job. So, likewise, if YOU feel you are not a good fit for a job you've been offered, don't feel that you have to take it!
Through my experience starting off in university then switching to college for Sport Management, if you were or are in a position like myself, I hope you are able to see that it's okay to change your mind. No experience is a bad experience in my opinion. You learn from your experiences more than anything else. I didn't know what I wanted to do until I tried it. That's where you'll learn the most about yourself. I had no clue about tennis four years ago. I never imagined working for Tennis Canada when I first entered school. Now I can't see myself anywhere else.
---
Nicole Artuso
Interview by SPMA
Posted May 9, 2019 in Industry Profiles