Annie Goncin is the Operations Coordinator for Ringette Ontario. If you tell her 13-year old self that, she may not believe she'd one day be working as a Sport Manager! That's because Annie dreamed of one day becoming a Paramedic. One course changed her career aspirations almost instantaneously. And now she finds herself working for the provincial sporting body of ringette.
Annie Goncin, MHSc is now the MANAGING EDITOR of SPMA!
In addition reading every story written by us since October 27, 2019, click the button below to view her work.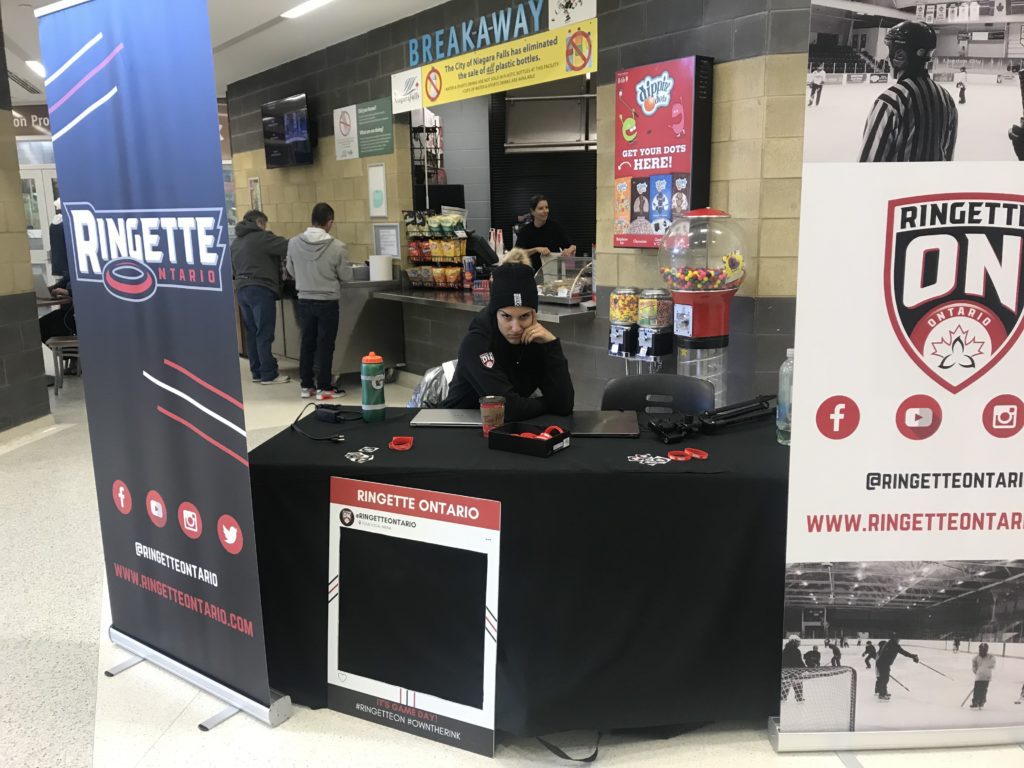 Ringette is a growing sport. In fact, it's reached its highest number of registrants at north of 30,000 according to Ringette Canada.
Annie is contagious with her joy and love for research and sport. She's also charismatic, enthusiastic, passionate, and energetic in all the work she does as the Operations Coordinator of Ringette Ontario. Don't believe us? Just scroll down a little to see what she has to say about her job and journey into the world of sport.
Tell us as much as you can about what you do as the Operations Coordinator for Ringette Ontario and what does a typical day at the job look like for you?
As the Operations Coordinator for Ringette Ontario, I am in charge of all the logistics for the province. My role as the Operations Coordinator for Ringette Ontario is a pretty extensive one, with a bunch of tasks that sweep across the entire organization. Let me illustrate a bit of what I do in my role. For one, I deal with our hotel bookings and sponsorships. Also, I work on tournament selection and the logistics around how tournaments work. Furthermore, I give a lot of assistance to the marketing coordinators. So we'll go to tournaments and promote Ringette Ontario in every way we can.
I'm also the Registration and Membership Coordinator. So we've taken on a new MMS system and I've learned that whole system, which I assist our Members how to use it for their Association. I also work very closely with the Executive Director to learn about Policies, Risk Assessments, and Budgeting.
I work with a ton of our countless volunteers as well.Sometimes I think of myself as a jack-of-all-trades because I do a little bit of everything to make the operations at Ringette Ontario run smoothly.
What does your day-to-day look like as the Operations Coordinator for Ringette Ontario?
Ringette is largely a winter sport. So the season is off and running in the winter since we are an ice sport. The summer has us basically starting from square one and we're planning all the way into next year and 2021. So we always find time to make sure that we're ahead of ourselves and making sure that our planning and communication is up to date.
There really isn't a typical day at work in my role. The offices are very flexible. Work hours are also flexible. I can't really give you an exact answer on my typical day-to-day as there is always something new!
You've had a somewhat unconventional journey in the sport industry so far. Tell us all about it.
My Arts & Culture Upbringing
I had a typical upbringing in arts and culture. My parents are very musical. In fact, they had their own Broadway Musical Company, and now they have their own Rock Band called Delaney Drive. My mom has a degree in Piano and Musical Studies from McGill University and my Dad has his degree in Photography and Journalism. Growing up I played piano, and was apart of the Royal Conservatory of Music! I was also a Competitive Dancer for 13-years. My sister played the violin, and is an amazing painter. So collectively as a family, we all have our niche in the Arts.
Aspirations of a Paramedic
I genuinely thought my whole life I was going to be a Paramedic. So after high school, I applied to a few different programs just to broaden my horizons. I got into the Fitness and Health Promotion program at in Oshawa where I knew I could learn about Human Anatomy and Fitness, and it was close to home. There wasn't a whole lot of logic that went into the decision to go that direction. However, my parents always made sure that my sister and I were active and promoted a healthy lifestyle, so I decided to do it.
Kinesiology Degree
When I was in Fitness and Health, I had heard of the bridging program that could lead you to get a university degree. So I took that route, obtaining a Bachelor of Health Science (BHSc) in Kinesiology and Exercise Science. At the time, I still aspired to be a paramedic one day!
Maybe a Chiropractor?
Funny enough, in my second year in the university program, if you were within the top 10 tier of students, you could bridge into the Canadian Memorial Chiropractic College. I thought to myself, perhaps I could go that route. Intrigued by the possibility of becoming a chiropractor, the prerequisite to get into the college was a chemistry course. Chemistry is the bane of my existence!
That Sports Psychology Course
Since chemistry was not and still is not my forte, I decided not to take it. That ended the idea of becoming a chiropractor for me. Instead of taking chemistry I took a Sports Psychology course.
"After the first class I went up to the professor (Dr. Nick Wattie), and I was like, "I love what you do. This is just so crazy to me. This is a whole new world of information, and I would love to work with you." So he's said, "okay, well come back to me after you've read my work. You really need to understand the research, not just the basics from this course". I'm like, "okay, cool. No problem!" So I read all of his work and I came back and I thought, yes, this is what I want to do. I'm going to work in Academia and add to research on the Relative Age Effect."
Wheelchair Basketball Canada Internship
That same professor from my Sport Psychology class recommended me for an internship at Wheelchair Basketball Canada. He got me an interview for my internship. Next thing I knew, I was on a call with the High-Performance Coordinator of Wheelchair Basketball Canada. The call lasted over two and a half hours! It was all up from there.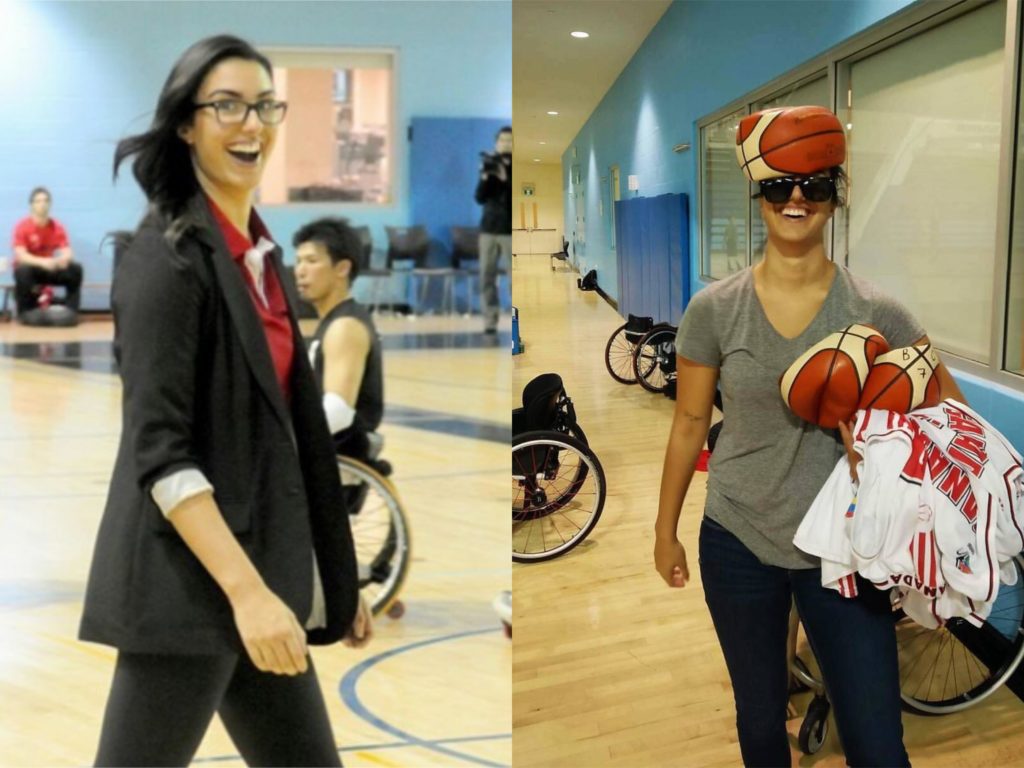 "So August 28, 2015… I'll never forget the day I went into Wheelchair Basketball Canada. It was just this new world, like the whole new world of sport I hadn't even considered."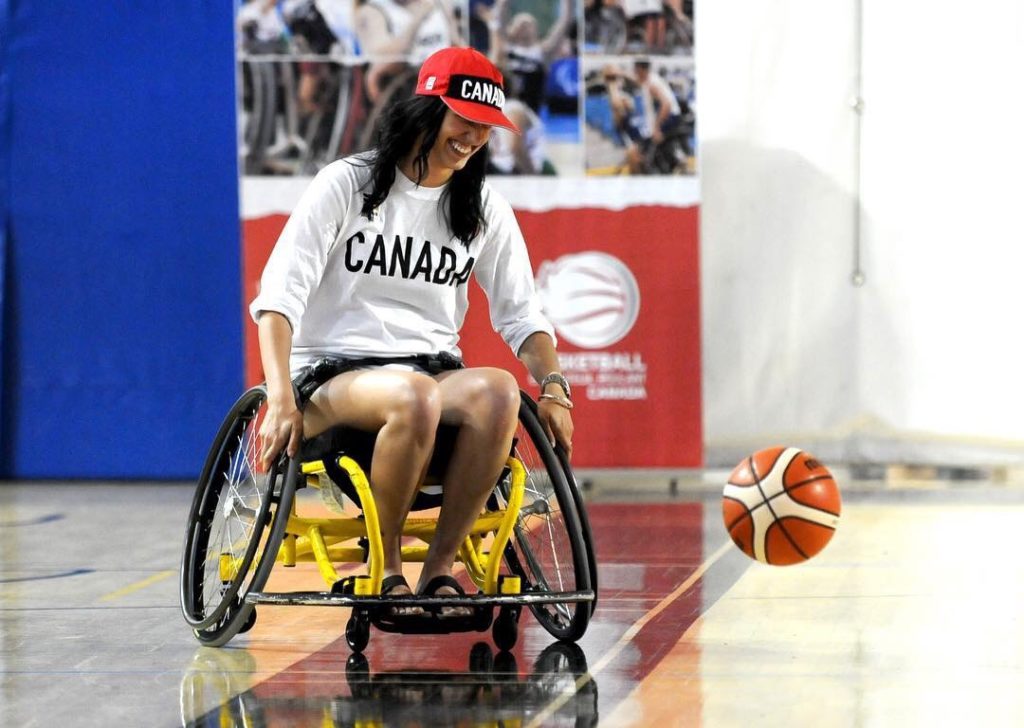 Onto a Master's Degree
I was their intern for four-months. As part of my school's curriculum, there needed to be a scientific component to the internship. So, I arranged a chat with Mike Frogley, the High Performance Director at Wheelchair Basketball Canada at the time. He told me that there's was Perceptual Cognitive Training program they used and asked me to create research around it. So, I did, with a small pilot project with a few of the athletes there.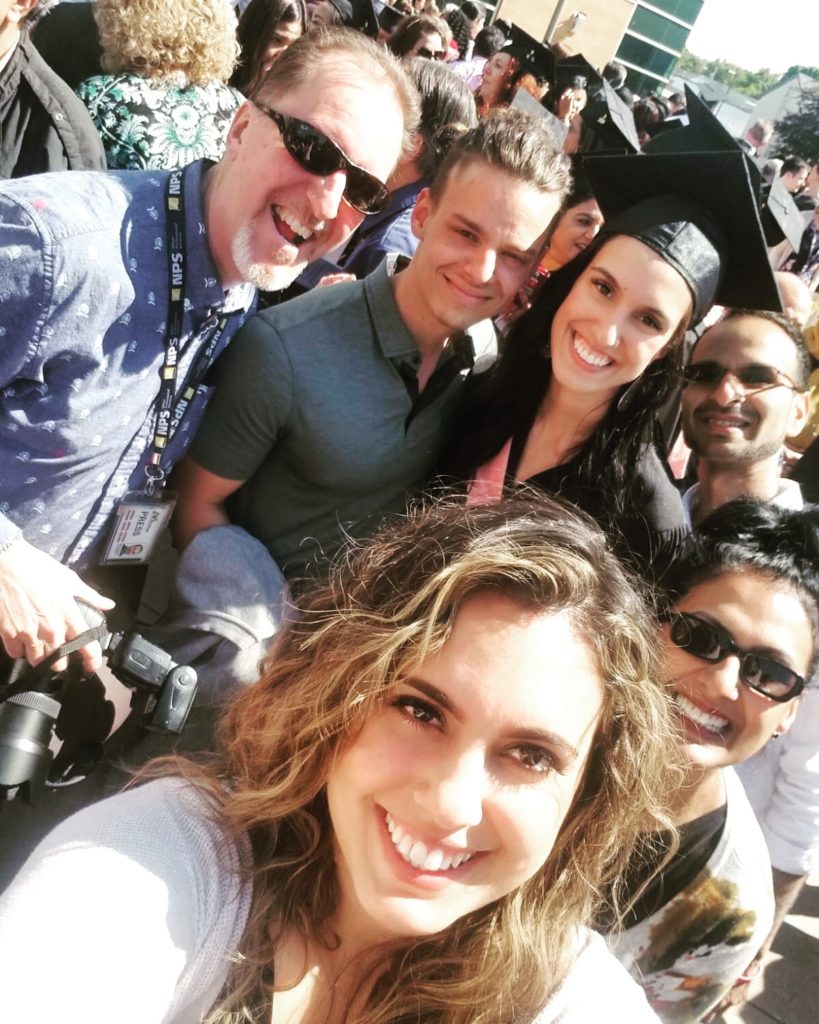 It was at this time that I decided I wanted to pursue a Master's Degree. So I used the same Perceptual Cognitive Training program at WBC, and was given permission to use the lab at WBC and access to invite the athletes to participate in my study. My study looked at the effects of general cognitive training, and the potential affect it may have on sport performance. There is little research completed on Parasport athletes, so this was a really exciting opportunity for me to add to the growing research in sport.
Internship Extended
I pushed for my position at WBC to be extended. After being successful in doing that, I obtained a Women's Team Manager position. Being at Wheelchair Basketball Canada for this extended time also allowed me to do my research, and gain practical experience in Sport Management.
It didn't take long of working at WBC that I realized Parasport was my bread-and-butter. It gave me so much thrill and joy to work in High Performance Sport.
Then Came Ringette Ontario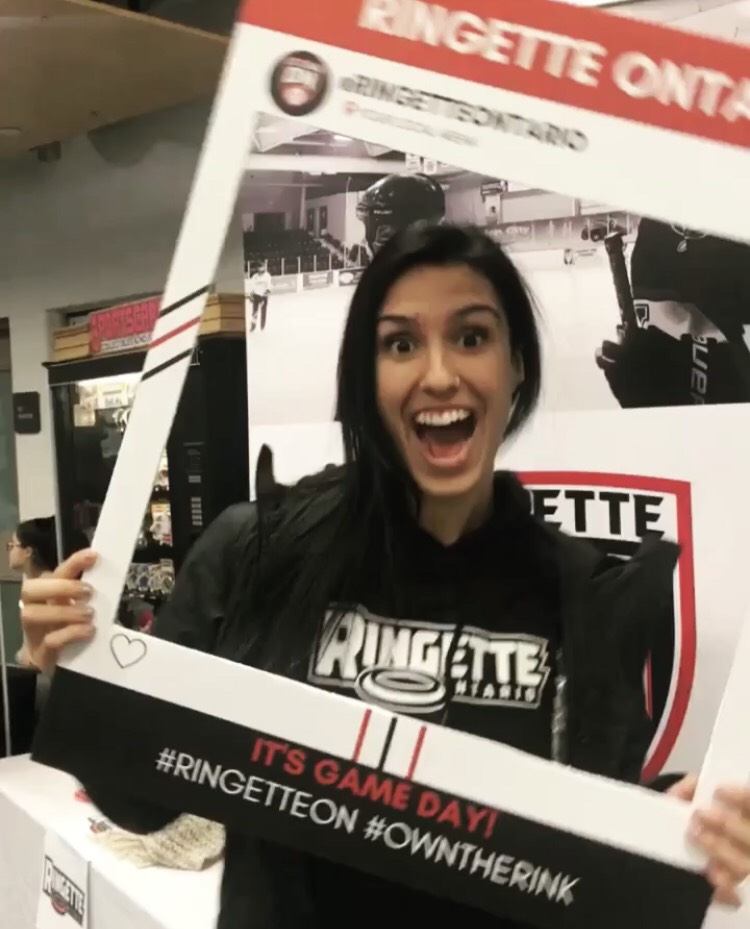 When I saw the job posting for the Operations Coordinator position with Ringette Ontario, I was really excited. My excitement was for a lot of reasons. For one, meeting with the Pamela Julian was a joy. We connected really well and her commitment to developing young female athletes was one I share. I was also excited to be apart of such a growing sport. Many of my friends played ringette growing up so to be apart of it was intriguing to me.
Why you go to work every day as the Operations Coordinator for Ringette Ontario? In other words, what motivates you to work in sport?
When I saw the job posting for the Operations Coordinator position with Ringette Ontario, I was really excited. My excitement was for a lot of reasons. For one, meeting with the Pamela Julian was a joy. We connected really well and her commitment to developing young female athletes was one I share. I was also excited to be apart of such a growing sport. Many of my friends played Ringette growing up so to be apart of it was intriguing to me.
Before I go into what motivates me to work in sport, I want to take a second to give kudos to every Paramedic out there. I think it's an incredible job. Remember, I wanted to be one my entire life. But it's crazy where life will take you, and you just don't know what can happen next.
My sister and I were competitive swimmers growing up. And I was a competitive dancer for the majority of my life. Plus, although my friends were avid Ringette players, I never really got into it as a kid. But now I am!
What drew me closest to Ringette Ontario was the fact that it's a Provincial Sport Organization. I was coming from a National Sport Organization where many major decisions were being made for the sport at the highest level. I really wanted to get a smaller-scale perspective on the issues that Provincial sport organizations tackle.
And I've been able to get that perspective. At the PSO level, there's many minute details that you need to really, really pay attention to. I really hadn't realized the magnitude that Ringette has in Ontario. It was created by Sam Jacks in North Bay, Ontario in 1963, and today we have just south of 10,000 athletes. Understanding that Ontario is quite large in itself, 10,000 people doing one collective thing is pretty darn cool to think about! And I get to be a part of that.
Also, we work with athletes of all age ranges. For instance, we have four, or five-year olds to some in their 50s and 60s. We have 3,000 coaches and 500 officials, and more volunteers than we can count. So Ringette is really a massive community of sport in Ontario that a lot of people don't know really exist. So I think that was what drew me, because it's like, "Hey, what is this niche market that I can tap into as well?"
What's the hardest part about what you do as the Operations Coordinator for Ringette Ontario?
I really love what we do at Ringette Ontario for the sport in this Province. When you get to see the athletes suit up for Team Ontario and you're at the Canada Winter Games or the Ontario Winter Games, the feeling is awesome. Just seeing all the work you've done as an organization come to life is so rewarding. It's especially rewarding when they win medals and perform well. And I had the same feeling when I was the Team Manager for Wheelchair Basketball Canada.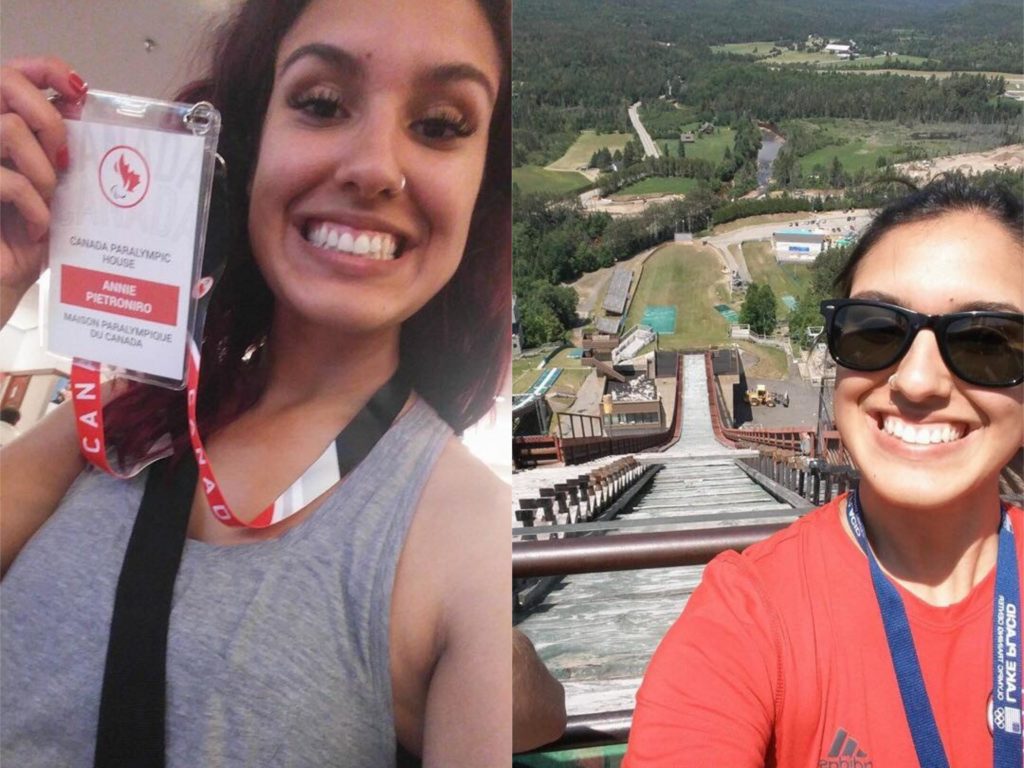 Every day I learn new things about the needs of a Provincial Sport Organization and it's really great to connect with people on a smaller scale.
Can you speak about some software tools you don't think you could do without as the Operations Coordinator of Ringette Ontario?
1

Microsoft Excel

The bee's knees of my world. Maybe because I came from a technology university!
2

Base Camp

Base Camp is a project management and team communication software. I like to call it the Facebook of a small-scale organization. It's essentially like a Facebook for your sports or your business. You can create projects on there, templates and groups, and committees. My boss Pam is really good at understanding the capacity of Base Camp it and she'll give you to-do lists, reminders, schedules etc. It sends you email reminders and you can collaborate with people on one group, and have group chats. It's really is good at keeping everybody in one space!
3

Google Drive

Google Drive is great because you can see edits, you can see changes, you can be all together in real time.
4

RAMPInteractive

We started implementing RAMP earlier this year at Ringette Ontario. This is a massive back end Membership Registration system that we have and I'm spearheading that for the Province now. It's great for registrations, team formations, reporting injuries, suspensions; things to that nature for all of our Associations in Ontario. You can also pay your membership fees through them. You can do so many things with RAMP. It's really incredible, and unbelievably user friendly.
Who else you think we should interview on SPMA next?
1

Marian Agyei-Gyamera

Marian Agyei-Gyamera is the Marketing & Communications Coordinator at Ringette Ontario. I see the work she does and she doesn't stop. She's a hustler! She is unbelievable at her job and amazing at what she does.
2

Fannie Smith

Fannie Smith is the Athletics and Communications Manager at BC Adaptive Snowsports. She's really into the parasport in the Province of British Columbia. And she's incredible to talk to!
3

Pamela Julian

Pamela is the Executive Director at Ringette Ontario and the former Manager at Dive Ontario! She's all about female empowerment and making sure that girls are getting into sports as early as possible and just enjoying every minute of being in it.
Final Thoughts From SPMA
Annie Goncin's story is remarkable. It shows you that a sport management degree, diploma or certificate is not the only path to working in sport. Also, it displays a journey of courage, taking chances, trusting others, and being positive. This quote from Annie sums up her journey perfectly:
"I was so sure I was going to be a paramedic and I was willing to do anything I could to make sure that was gonna happen for me. And, and again, you know, it's just by chance I took that sport psychology class and I told him that I wanted to work with him. When he responded back that he works with Wheelchair Basketball, here's an interview, now take it…I did and never looked back from working in the sport industry."
Annie Goncin embodies intelligence, wit, glee, and success. Working in an industry you love is one of the keys to a happy and healthy life. Annie found that. It was with great pleasure to interview her and we'll continue to track her ascent in the industry as time goes on.
---
Annie Goncin
Interview by Phil Goldberg
Posted July 8, 2019 in Your Career in Sport