With our base in Canada, we see Toronto pro athletes a lot: on TV, online and on the streets. We've noticed some of the Toronto Raptors key players including Pascal Siakam, Kyle Lowry, Norm Powell, and Fred Van Vleet with their own logos. We've also seen the head coach, Nick Nurse, sport his own logo on his late – which is now known as the Nick Nurse hat. Of late, they are not shy to show them off. Indeed, there's added exposure as the US media pays close attention to the team in the playoffs.

For instance, Pascal Siakam had his handbag showed off his brand (via logo) during his Game 3 press-conference in Orlando. So it has us thinking:
Which Raptors have their own brands?
Which ones are the coolest, most appealing and relatable to the player?
What's a brand exactly?
Just to be clear, a brand identifies a product, service or company as different from others. Just like the Nick Nurse hat which is a Nike product. So you see, branding and brand value are a huge part of the long-term marketing strategy of a sport property.
A brand consists of more than just a logo. Take Wilson Sporting Goods Company for example. They have several components that make up their brand. The chart below depicts elements of their brand.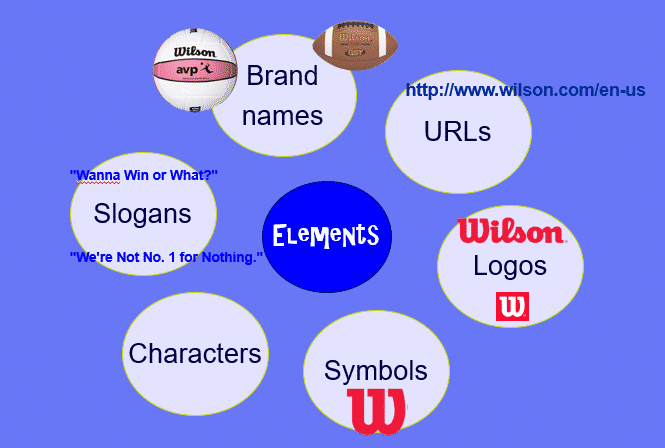 Symbols and logos are key elements in a brand. Pro athletes often develop these elements for their own brands. Let's look at how some of the Raptors players (and coach) are building their brand elements.
Pascal Siakam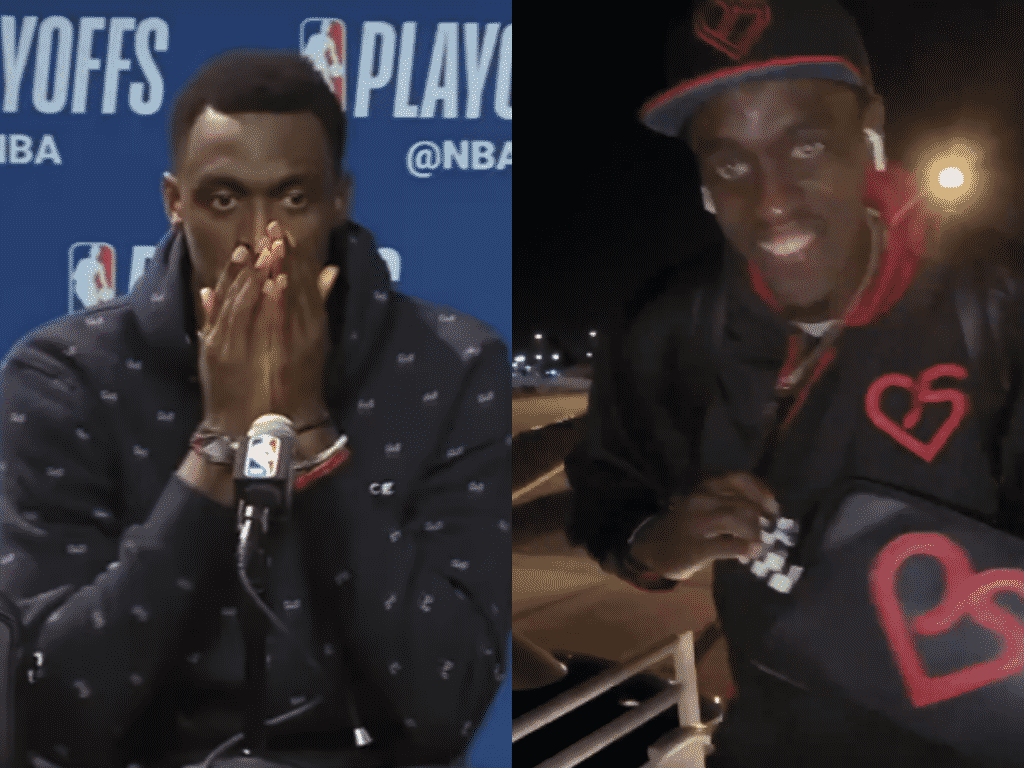 While some say it looks like his girlfriend designed it and he couldn't say no, we really like this logo. Why? Because Pascal Siakam has an amazing back-story. He just started playing basketball only 7 years ago!
P.S. We've reached out Pascal Siakam's representatives and his merchandise is NOT for sale as of yet. But they've told us they will provide us with an update in the near future.
On top of that, he plays his heart out every minute. Furthermore, he's one of just two players to come from Cameroon. To top it all off, his father's dream was for him to play in the NBA. His father passed away and Pascal Siakam dedicates his basketball career to his father. "Doing it for you", Siakam hashtags on Instagram regularly ("you" being his late father).
A heart shape with his initials "PS" uniquely inscribed into the outline is his logo. Simple, yet a strong representation of the person and player he is.
What's more is that this logo is just as out-side the box as his game. Most male athletes follow a standard template for their brand. That usually does NOT include a heart shape (that's reserved for female-geared brands). However, this logo suits Siakam's personality on and off the court really well.
Spicy P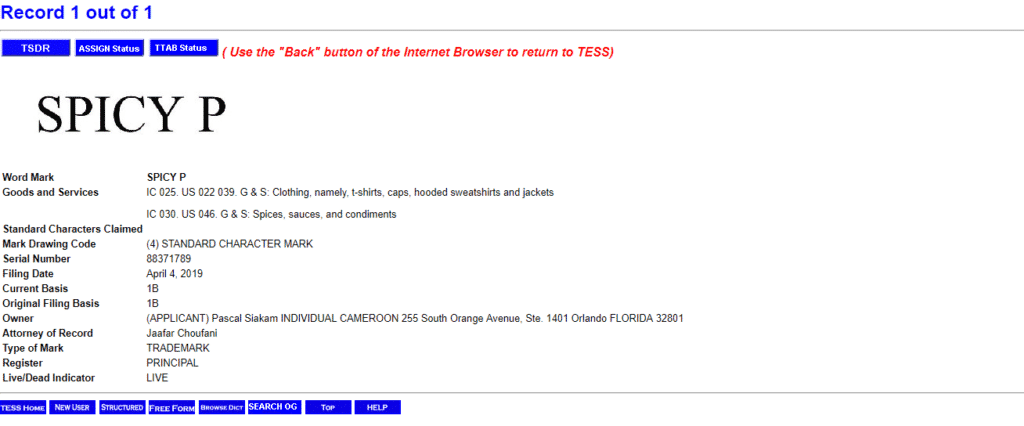 Norman Powell
Tagline: Understand the Grind
URL link to his official website is here.
Kyle Lowry
In 2015, Kyle Lowry ran a contest to create a logo for him via Twitter. See below for his post.
Graphic design ventures and fans alike sent in their proposals, such as these: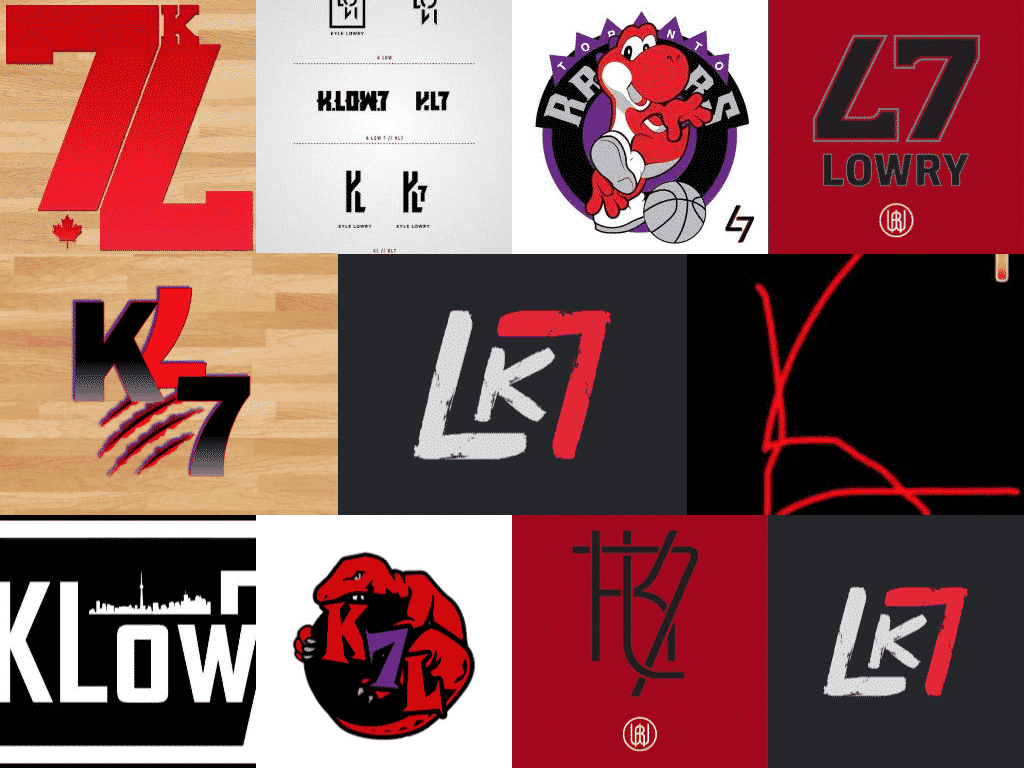 Eventually, Lowry settled on a simple number 7 to go with a fairly basic "K" as seen in the photos below.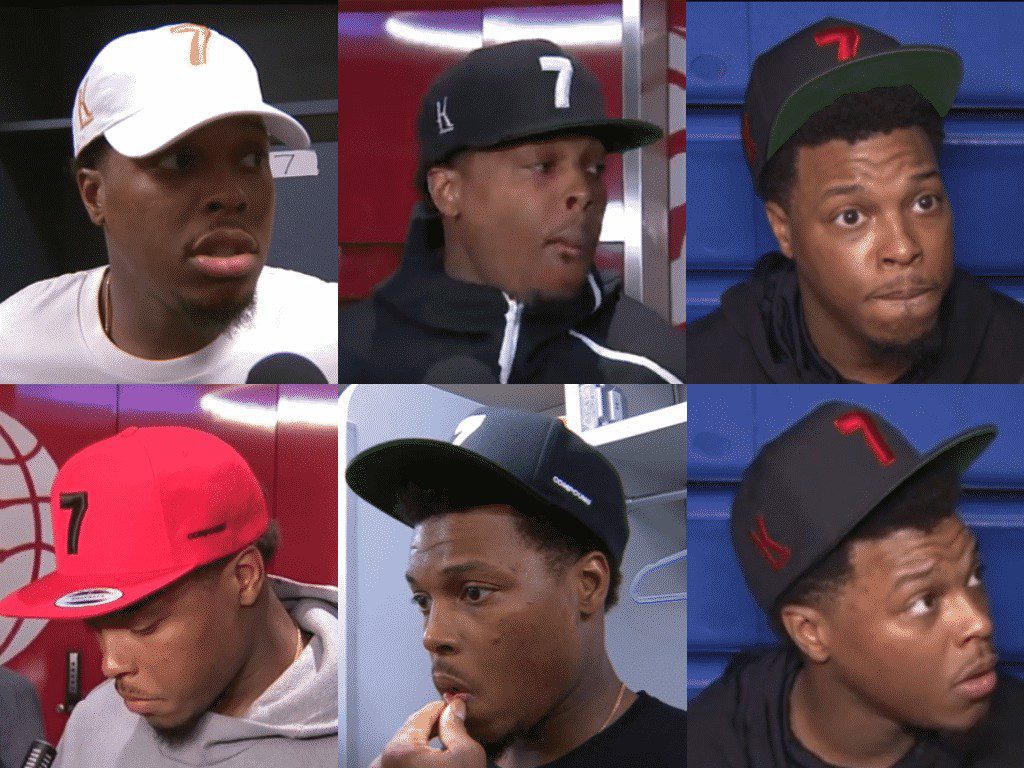 The logo and symbols fit his simple, stoic, tough-nose personality quite well. But there is little creative in the design. The design may be intentional. Lowry's personality off the court and playing style on it is just as the logo appears. Plain, simple and hardworking. Just like he is off the court. And as he is on it.
Fred Van Vleet
Fred Van Vleet definitely the most developed brand of all his teammates. He has a slogan, URLs, logo, and symbols to represent his brand. His website is
Slogan
"Bet on yourself"
After signing with Toronto as an undrafted free agent, Van Vleet quickly climbed up the ladder. To read more on his slogan and why betting on himself is something he did to make it where he is today, click here.
URLs
Fred Van Vleet owns fredvanvleet.ca and fvvshop.com.
Logo
Fred Van Vleet's logo – see above.
Trademark!

Nick Nurse
Speaking of Fred VanVleet. During Game 4, refs blew the whistle on him for a three-second violation.
In reaction, Nick Nurse gave a puzzled look. This look instantly became a viral meme as he kept his mouth wide open for several 10+ seconds.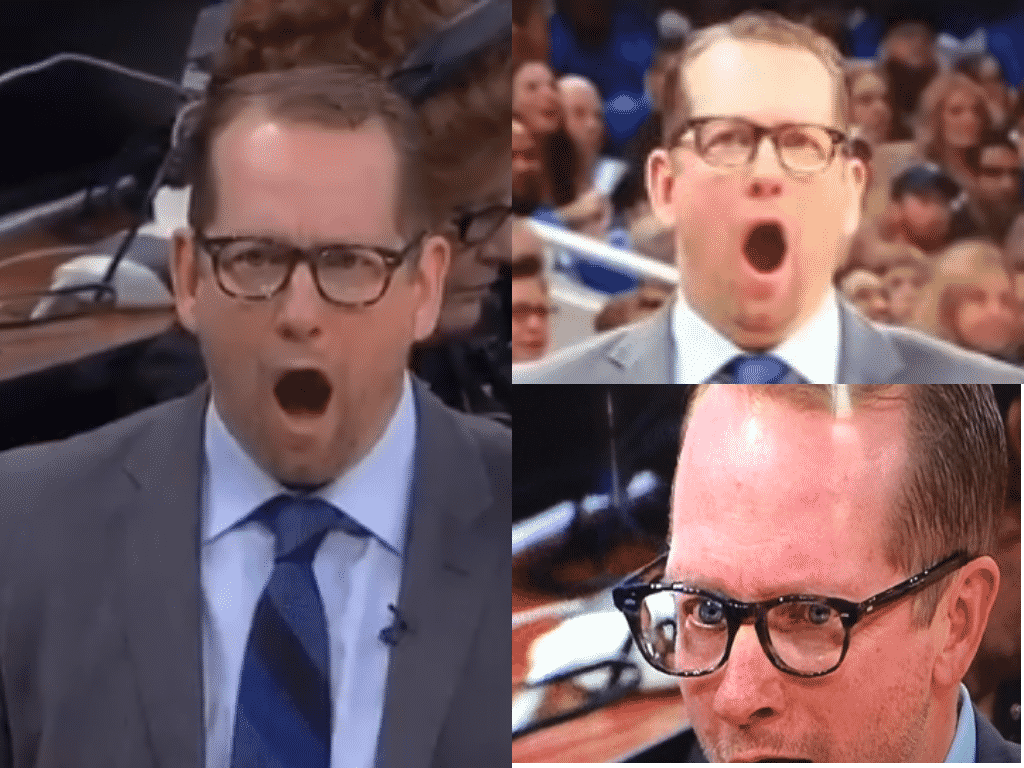 Was this a part of a wide branding strategy for Nurse? Who knows! But it will definitely help make him more memorable in the eye of the consumer. Nick Nurse has been doing some business venturing himself. During practice and media scrums, he's seem wearing his initials on his hat, seemingly co-branded by Nike.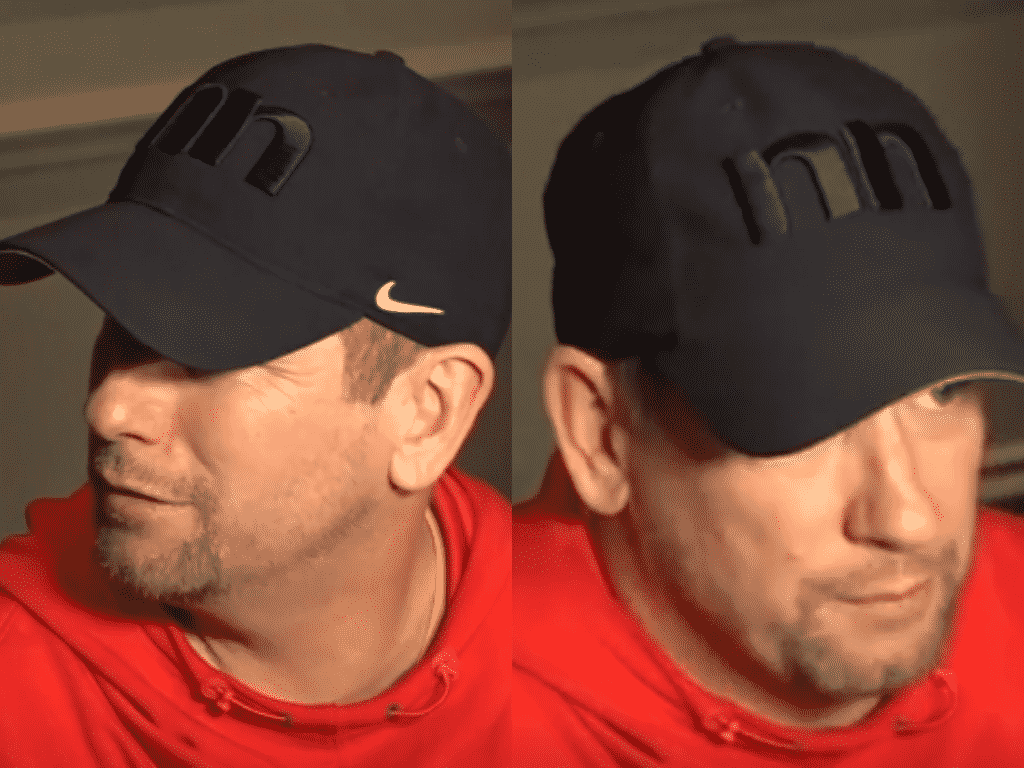 Nick Nurse proved to do things out of the basketball norm (no pun intended) this year as Raptors' head coach. From inconsistent starting centres to load management, Nurse has branded himself as an out of the box thinker. Normally (again, no pun intended), initials are upper case letters. As a consequence of Nurse's peculiar coaching style, having lower case initials in his logo is fitting.
More of Nick Nurse's Hat with Personal Logo
Toronto Raptors head coach Nick Nurse has his own logo and wears it on his hat. Whether he's in practice, walking on the streets or doing a press conference, Nick Nurse's logo seems to follow along with him. As it stands today, the Toronto Raptors look poised to advance to the Eastern Conference finals. Thus, it's likely that we are going to see a lot of Nick Nurse and his accompanying logo in the coming weeks!
On Pardon The Interruption, Nick Nurse stated the following about his logo and brand:
"It was originally started as a Travis Matthew hat with a T on top of an M. And my brother is the head equipment manager of the University of Northern Iowa, and their a Nike school like the NBA is and he said why is your brother wearing that hat. So I am going to get him some hats with NN so he gave them to my brother, 4 of them in total and get gave them to me. They are black and they go with what I wear a lot. And that's the story!
The Verdict
You can probably already tell who we think is the winner of the Raptors personal branding game. Likewise, you may be able to detect our top 3 favourite choices. But we don't want to reveal it. Instead, we'd like you do to choose your favourite Raptors brand so vote below! Players and coaches with their own logos will continue to be a thing. Let's see if other teams model the Raptors entrepreneurial spirit.