Brianne Pankoff is the Social Media Coordinator at Senators Sports & Entertainment. This means Brianne manages social content for the Ottawa Senators, one of 7 Canadian teams in the National Hockey League (NHL). Brianne literally represents the Ottawa Senators in one of the most visible ways possible; through social media.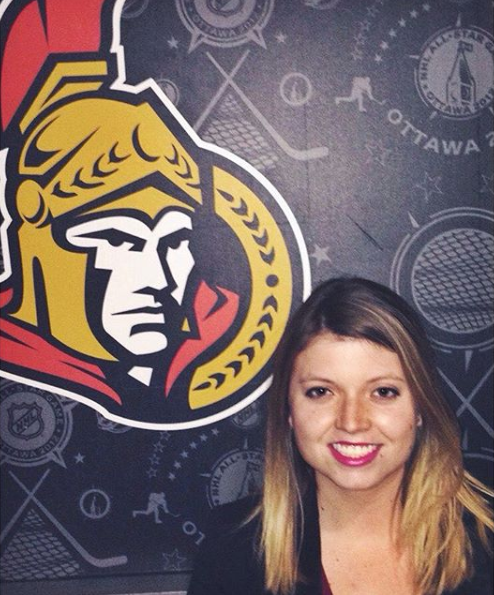 Social media is where the Senators speak daily to their many followers. As of July 18 at 12:30 PM, this is how many followers they have per main social platform:
| | |
| --- | --- |
| Platform | Followers |
| Instagram | 277,000 |
| Twitter | 579,100 |
| Facebook | 315,378 |
| LinkedIn | 5,609 |
That's a lot of people Brianne speaks to behind the guise of the Sens social media accounts. Brianne helped the Ottawa Senators get two NHL Fan Choice nominations. One was in the "Best Team Dog" category. Right around the time of Brianne's promotion to Social Media Coordinator, the Senators adopted a black labrador puppy and named it Rookie. Rookie quickly melted the hearts of fans via his own social media account on Instagram @rookiethesenspup, garnering a nom for the prestigious NHL Fan Choice Award.

We've monitored Brianne's work since she's been the Social Media Coordinator role. Naturally, we were curious to know what the work of someone in such a unique role looks like, behind the scenes. Talking with Brianne, she's a fun, free-flowing thinker with a flair for taking initiative. Among many subtopics, Brianne talks about how she got involved with the Sens, what she does on a daily basis, her passion for sport, and what she loves most about her work.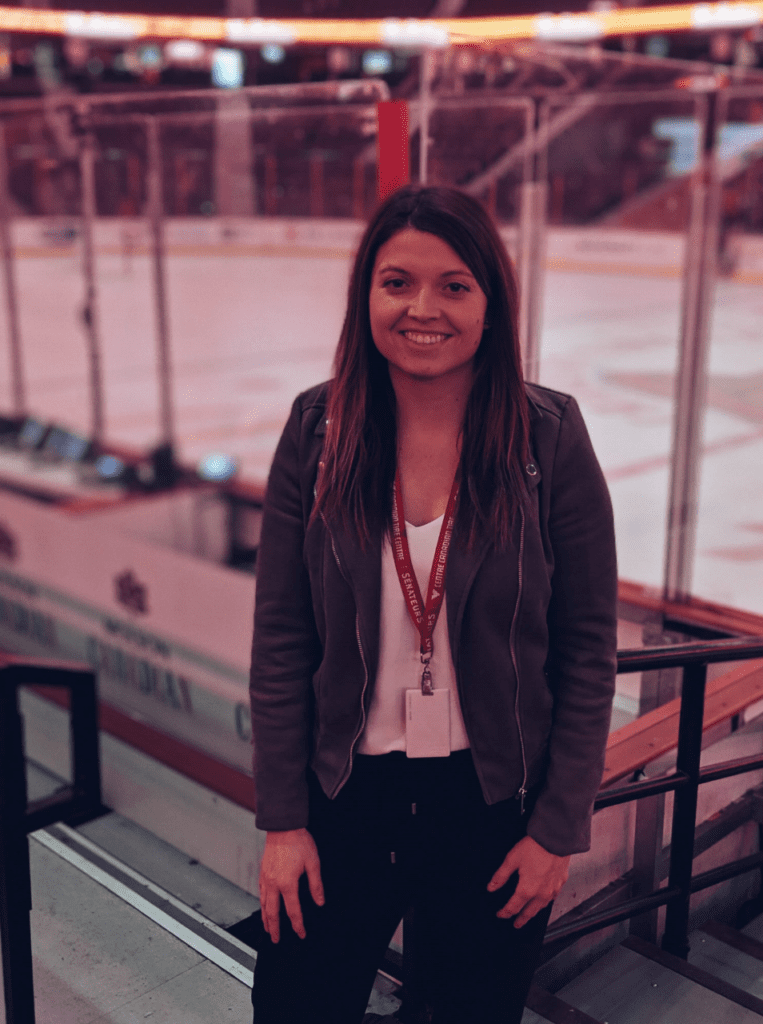 Tell us about your role as Social Media Coordinator at Senators Sports and Entertainment?
Our Platforms
The Ottawa Senators social media platforms primarily consist of Twitter, Facebook, and Instagram.
Our Social Media Team
The Ottawa Senators Social Media team consists of two individuals, including myself and two digital content creators.
My colleague on the Social Media team was working on his own to curate, schedule, organize, and post the social media for the last four years. But just recently, in January, the Social Media Coordinator position was added to the team.
My Activities
1

Scheduling Non-Hockey Operations Content

First, I schedule our social media content. I am responsible for most content that isn't directly related to hockey operations. So this means I oversee content such as:
Sponsored
Community
Ottawa Senators Foundation
Ticketing
Promotions
…and more
2

NHL Initiatives

I am the point of contact at the NHL initiatives. So anything that is league-wide sent out such as All-Star protocol, Fan Choice voting, I take that and report it back to our team.
3

Live Event Coverage

And then the other big part of my role is live events coverage. So I do the majority of the Instagram stories and stuff like that. So a lot of the live coverage would be my responsibility.
4

Maintain Posts

For day to day stuff, as a social media coordinator, it's a lot of maintenance and monitoring, such as checking our messages, checking our comments.
5

Monitor Posts

Monitor comments, replies and direct messages on all social platforms (Twitter, Facebook, Instagram, LinkedIn, and Snapchat) and create opportunities for engagement – Live coverage of games, events such as NHL All-Star Weekend, and promotional nights or themes such as Country Night when we had James Barker Band at the game.

When we post anything, we monitor very closely for the first hour afterward just to make sure everything's okay and nothing goes wrong. Like a typo or something like that, misinformation or something not included and we reply to people that are engaging within the first hour and then there's reporting to do with that as well.
6

Evaluate Posts

Usually, we do weekly reporting and then obviously at the end of the season we do season-long reports or campaign focused reports.
What does a typical day at the job look like for you?
There are two types of days. There's offseason days and regular season days.
1

Offseason Days

Right now, this is what we have. Offseason days are outside of the regular season schedule. Offseason days tend to be on the slow side but June is one of our busiest offseason months. Between the NHL Draft, the schedule release, our annual development camp and free agency everything ramps back up between the hockey seasons.

But a typical offseason day begins by monitoring our social media platforms, checking for direct messages and sifting through any tasks I need to schedule for the day.

I also manage social media for our team dog, Rookie. So in addition to monitoring the Senators team social media accounts, I'll monitor and schedule his page.

Other parts of the day consist of a lot of best to practice research and planning for the upcoming season. We look at what did well the previous year, what we can improve on, plans or ideas we want to do for next season and take a look at best practices around the league, sports, and social media in general. This is also the time we do a lot of tutorials and test runs to try out new products or software that we might want to use for next year. Right now we're already planning as far as the end of next season (April 2020).
2

Regular Season Days

The regular season starts in October and ends in April but hockey news will start becoming relevant again mid-August and all our Rookie and Training Camps begin in September. When the new season starts for the Senators, it's a faster-paced environment where we are executing all of the planning we did in the off-season.
During the season my day to day still consists of monitoring posts and scheduling posts but on a much higher frequency.
We have a strong game day routine that is pretty consistent.
Usually there is a morning skate and media scrums that will go up in the afternoon along with several sponsored posts related to game day.
During the game as well as immediately before and after, it is full coverage from warm-ups, to live updates, to post-game reactions and comments.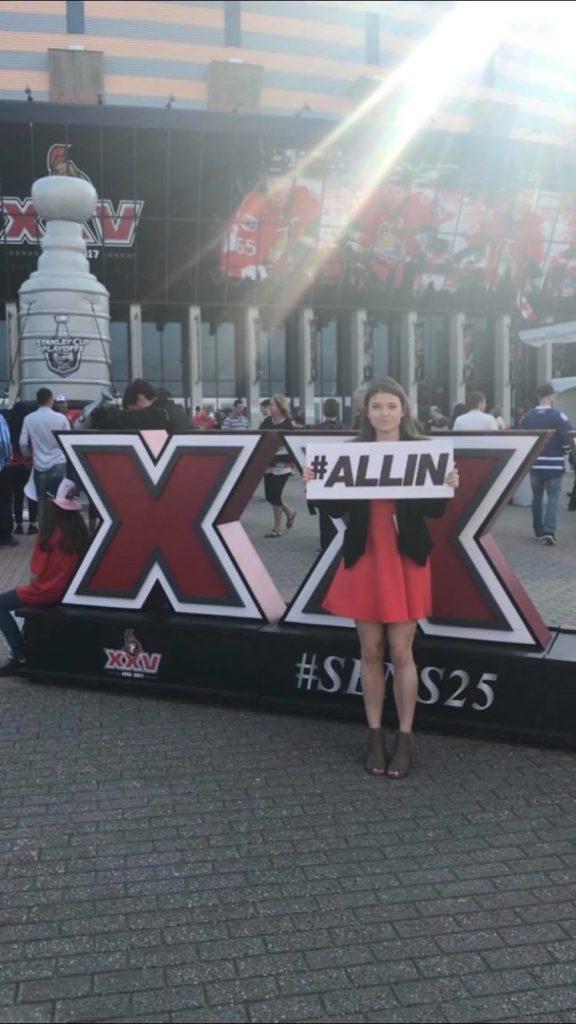 Tell us how you ended up being the Social Media Coordinator with the Sens having been a Client Development Rep first and then a B2B Account Manager.
Graduated University
I graduated in Sports Administration with a Bachelor of Commerce. As part of the program, I did two internships, both within the NHL. The first was with Maple Leaf Sports and Entertainment as the Global Partnerships and Marketing Intern, and the second another Corporate Partnership position with the Nashville Predators.
First Job After Graduation
After university, I took a job in insurance right out of school thinking I would transition into a marketing role within the company after I garnered some experience. It was not the right position or environment for me and after about a year I knew I wanted and needed to get back into sports. After all – it was what I went to school for.
First Sales Job in Sport
To get back in the industry I took a contract sales position with the Rogers Cup in Toronto. I previously thought that sales weren't my thing but I knew sales was a good way to get your foot in the door and would be a good experience to have in my career regardless.
Ottawa Senators Sales
After my contract with the Rogers Cup ended I accepted a similar role as an inside sales rep with the Ottawa Senators and after about a year I was promoted into a B2B sales role. 3 seasons after, I knew I wanted to get back to my roots of a more creative and marketing focused role.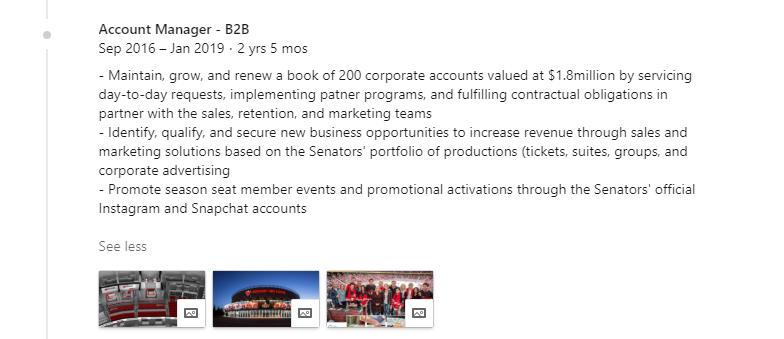 The Ottawa Senators are a relatively small organization, so I started helping out with the marketing and social media teams since I knew there were opportunities to help.
So, after helping out with the social team for a couple of months, I transitioned full-time into a Social Media Coordinator role. We definitely needed more resources in this area as it had been only one person doing all the social content for the last few seasons. But by helping out and showing an interest and ideas for the department, the Senators were able to create the Social Media Coordinator position for me.
"I've been with the Sens for a few years now, so I know how we work. Also, I'm on social media anyways, like every minute of every day. I know the tone, voice and messages we send via our social platforms. So it was an easy switch for me."
What motivates you to work in sport?
Growing up, I was very athletic and loved sports. I always thought I would go into Kinesiology or field in the Sciences. But after a presentation at my high school about the Sports Administration program I realized it was a perfect fit and that I wanted to work in sports on the business side of things.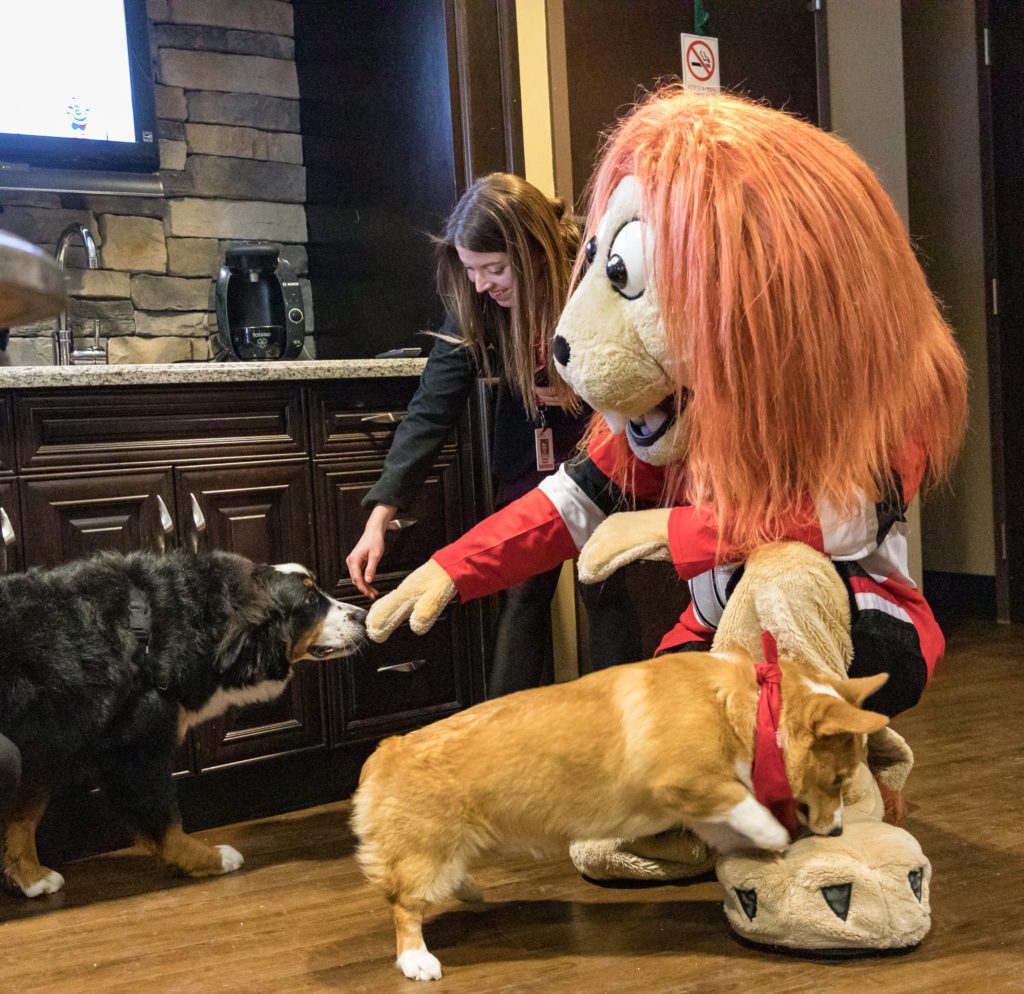 I am a sports fan but I would say definitely primarily a hockey fan. I follow my favourites teams and players religiously. Working in the social role for the Senators has also made me increase my fan-ship in other ways where before I could just appreciate other teams casually and now it is a part of my job to stay up to date with the league and other teams and players. But its something I love watching and taking part in so it is easy to love your job when you get to work for an NHL team. I don't think I would enjoy a social media role as much for any other type of business. Regardless of the team's standings, it is still an NHL team and the atmosphere can't be compared to "the real world" in my opinion.
What software, application tools do you use to help you in your role as Social Media Coordinator?
We primarily use Twitter, Facebook, and Instagram, and secondarily LinkedIn and Snapchat. We typically just use their native platforms.
We know our audience, which is one of the most important things about how to use the platforms. For example, knowing what to post on each platform – what works for Twitter or Instagram might now work the same way for a Facebook post.
"Different audience demographics use different social media platforms. So something we post on Twitter or Instagram is probably going to be different than what we post on Facebook because of the audience alone."
So if you were looking to hire the next Social Media Coordinator, would you expect them to know how to do at the very least?
Communication skills are a must for this position. Knowing how to post, comment and create content is a must. You could have a lot of good ideas and not know how to relay them to your audience so they bust. You also need to think of all angles of how a post is going to be received for example of how something could be received negatively. Things blow up on social media and its better to catch something before you click send.
I think a huge competitive advantage would be any kind of graphic design skill. It is an area I am still working on – but if you already have that knowledge you don't need to rely on your graphics department and can create content on your own is a huge asset, especially for anything timely. Social media is a lot about "content creation" and creating graphics can be literally that.
What's the hardest and easiest part about being the Social Media Coordinator?
Most Difficult
One of the biggest challenges is finding a happy medium between fun engaging, sharable content and the content sponsored or informational content from other departments. That's not to say that sponsored or internal promotional content can't be fun – It's just that finding the balance so that we don't flood our platforms with advertising.
Easiest
Producing fun and interesting content is the best part because my creative side gets to work. I approach our social pages as "as a fan, what would I want to see?" My favourite platform is Instagram so anything cool we can bring to Instagram stories to bring the fans closer to the team they love comes naturally as a fan myself.
---
Brianne Pankoff
Interview by Amber Somerville
Posted July 22, 2019 in Your Career in Sport