Friday night in Winnipeg, Manitoba, the Nigerian senior men's national basketball team edged Canada's in front of a packed house. It was the second of two exhibition games against each other and a game full of excitement. But let's talk about the first Canada versus Nigeria exhibition game because I was there to witness it.
On Wednesday, August 7, Canada's senior men's national team kicked off their FIBA World Cup exhibition tour in Toronto against Team Nigeria at the Mattamy Athletic Centre.
On this night, Team Canada edged Team Nigeria 96-87 in front of a packed house as well.
But the result was more than just a win for Team Canada and a loss for Team Nigeria. Sport is typically unifying and cultural. The aura in the arena was intoxicating, full of the love of sport and country. Since I'm writing this within the Sport & Society category on our Sport Business blog, I want to look beyond the boxscore at the patriotic elements.
National Anthems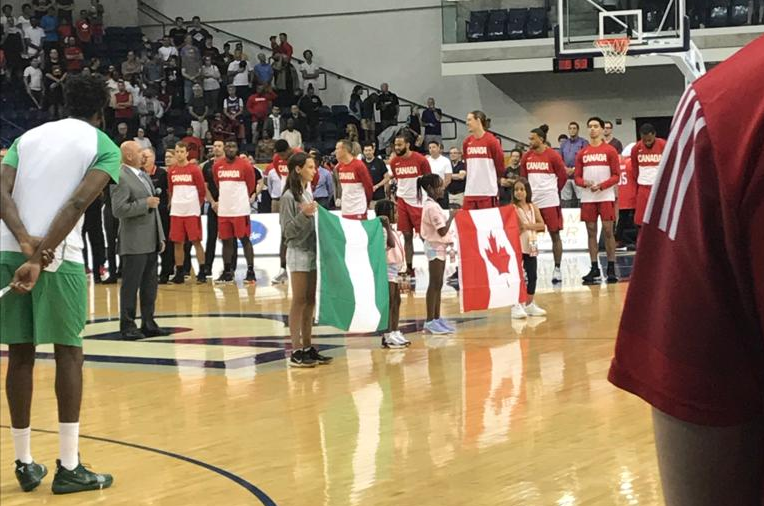 Arise, O Compatriots
Arise, O compatriots
Nigeria's call obey
to serve our fatherland
with love and strength and faith.
The labour of our heroes past
shall never be in vain,
to serve with heart and might
one nation bound in freedom
Peace and unity.
O God of creation,
direct our noble cause
Guide our leaders right
Help our youth the truth to know
In love and honesty to grow
And living just and true
Great lofty heights attain
To build a nation where peace
And justice shall reign

About 6 minutes prior to tip off, everyone in the Mattamy Athletic Centre rose to their feet to stand for the singing of Arise, O Compatriots, Nigeria's national anthem. Four children positioned in front of the anthem singer, held Nigerian and Canadian flags.
During Arise, O Compatriots, you could see the player's standing with pride (although many were not born in Nigeria – discussed further down). About 10% of the crowd were clearly there to support Team Nigeria. Although there wasn't a large Nigerian presence in the crowd, those that were stood with pride. Most of them were wearing green t-shirts, the colour of the Nigerian flag, with the letters NAIJA printed in white across the chest.
Oh Canada
O Canada!
Our home and native land!
True patriot love in all of us command.
With glowing hearts we see thee rise,
The True North strong and free!
From far and wide,
O Canada, we stand on guard for thee.
God keep our land glorious and free!
O Canada, we stand on guard for thee.
O Canada, we stand on guard for thee.
For the singing of Oh Canada, the crowd was encouraged to sing along with opera star Doug Tranquada. Doug Tranquada famously led Toronto fans in the singing of the anthem together prior to Game 5 of the NBA Finals. Tranquada did the same at the Raptors NBA Championship Parade. He led the crowd in singing Oh Canada at Nathan Phillips Square, which we captured below.
Gifts
It's typical between players of each country during international competitions to exchange gifts with one another. So, right after the national anthems were played, Team Nigeria and Team Canada exchanged gifts! I wish I knew what the gift was. Next time, I'll be sure to ask the event organizers. I can only assume it was a cultural and symbolic item from Canada and Nigeria.
Gift giving displays the respect Canadians and Nigerians have for each other, at least from the players perspective. It may be just a customary gesture but it's important. The gift exchange shows the unity that basketball has brought Canadian and Nigerian basketball players and fans on this night.
Players Representing Country
Team Nigeria's Roster
1. Ike Iroegbu
2. Ben Uzoh
3. Stanley Okoye
4. Ike Diogu
5. Al Farouq Aminu
6. Ekpe Udoh
7. Chimezie Metu
8. Michael Eric
9. Deji Akindele
10. Josh Okogie
11. Gabriel Vincent
12. Jordan Nwora
13. Ike Nwamu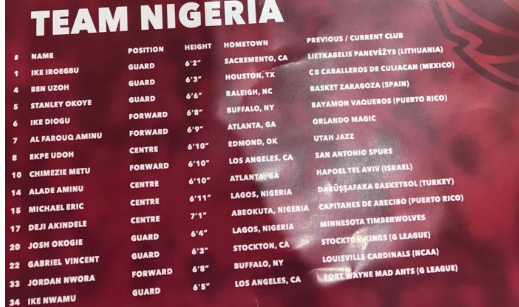 Even though most players representing Team Nigeria weren't born there, they still wanted to play for the country their parents came from and were proud of their culture. Full of naturalized citizens, Team Nigeria is similar to Israel's baseball team that suprised many with their performance in the 2017 World Baseball Classic. In fact, Team Nigeria's best players, including Ben Uzoh, Josh Okogie, Ekpe Udoh, Al-Farouq Aminu, and Michael Gbinije were born in the United States of America.
However, the sense of pride for Nigeria, their ancestral nation, was clear to see as some were singing along with the national anthem as it was played.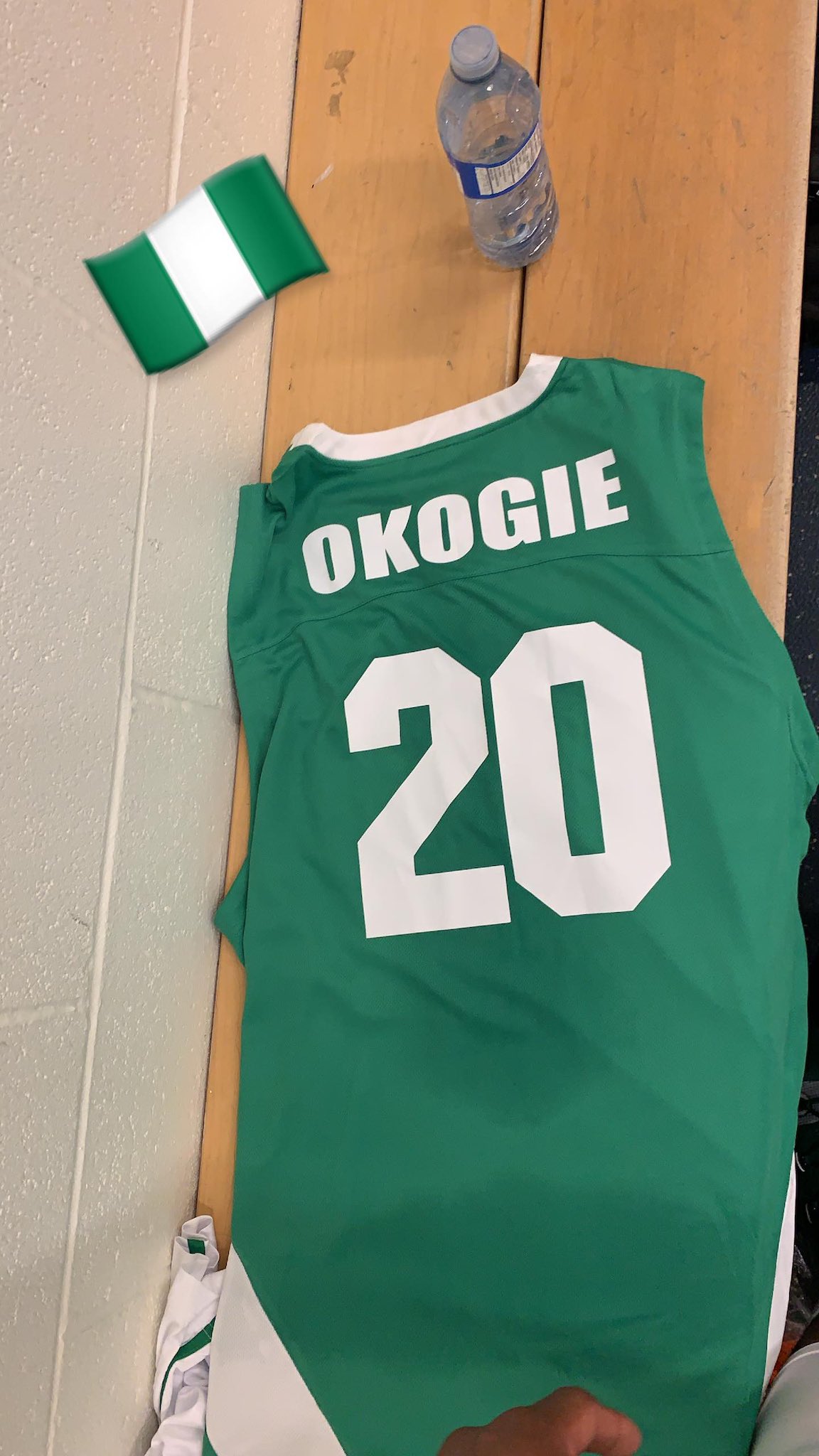 Team Canada's Roster
1. Kevin Pangos
2. Duane Notice
3. Melvin Ejim
4. Brady Heslip
5. Cory Joseph
6. Kelly Olynyk
7. Kaza Kajami-Keane
8. Andrew Nembhard
9. Aaron Best
10. Addison Patterson
11. Oshae Brissett
12. Thomas Scrubb
13. Phil Scrubb
14. Khem Birch
15. Chris Boucher
16. Kyle Wiltjer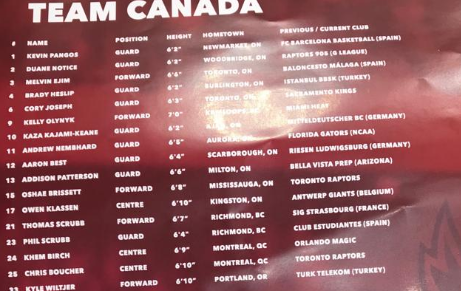 Just days prior to tip, Team Canada learned that they'd be competing in the World Cup qualifiers without, among others, Andrew Wiggins, R.J Barrett, Tristan Thompson, and Jamal Murray. But players such as Cory Joseph, Kelly Olynyk, Khem Birch, and Chris Boucher were happy to dawn the red and white. I'm not saying the others weren't. They've all competed for Team Canada previously and some dropped out to heal ailing injuries. R.J. Barrett and Jamal Murray were in fact on hand to witness the exhibition, showing support to their fellow countrymen.
Fun fact: All of Team Canada's players were born in the country. But that doesn't mean they have any more sense of pride than Team Nigeria.
Fans Representing Country
The concourse saw merchandise kiosks set up. These kiosks were fairly busy prior to tip-off. I saw many people browsing the Team Canada and Nigeria Basketball pop-up shops. As in the case with many sporting events, fans purchased merchandise to support their respective countries.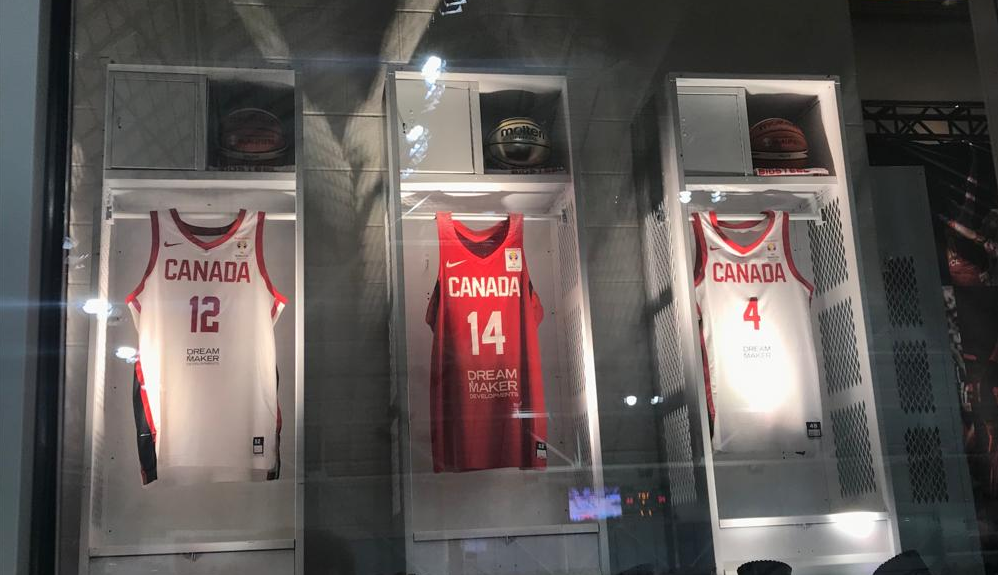 After the game, Most Valuable Player (MVP) awards were handed out to the best performing player on each team. It was awesome to see fans of both squads cheer on the MVP winner of the opposing team. This just does not happen in an NBA game!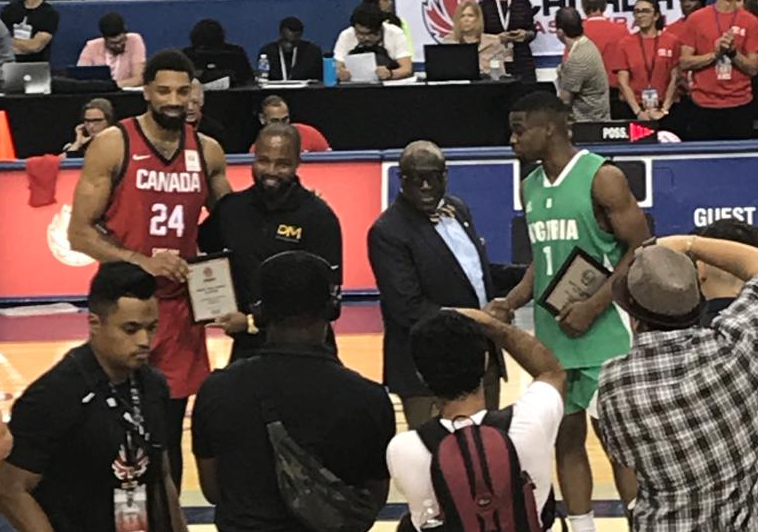 Even after the contest, Nigerian fans waited around in hopes of sharing a united moment with their team's players. Unfortunately, they didn't get that moment until the players arrived in Winnipeg, Manitoba for Game 2.
On Thursday, Team Nigeria arrived at Winnipeg James Armstrong Richardson International Airport to a roaring, celebratory, cultural, and large welcome prior to the second game. Team Nigeria's engaged with the fans too, which was yet another example of the cultural impact sport can have on communities.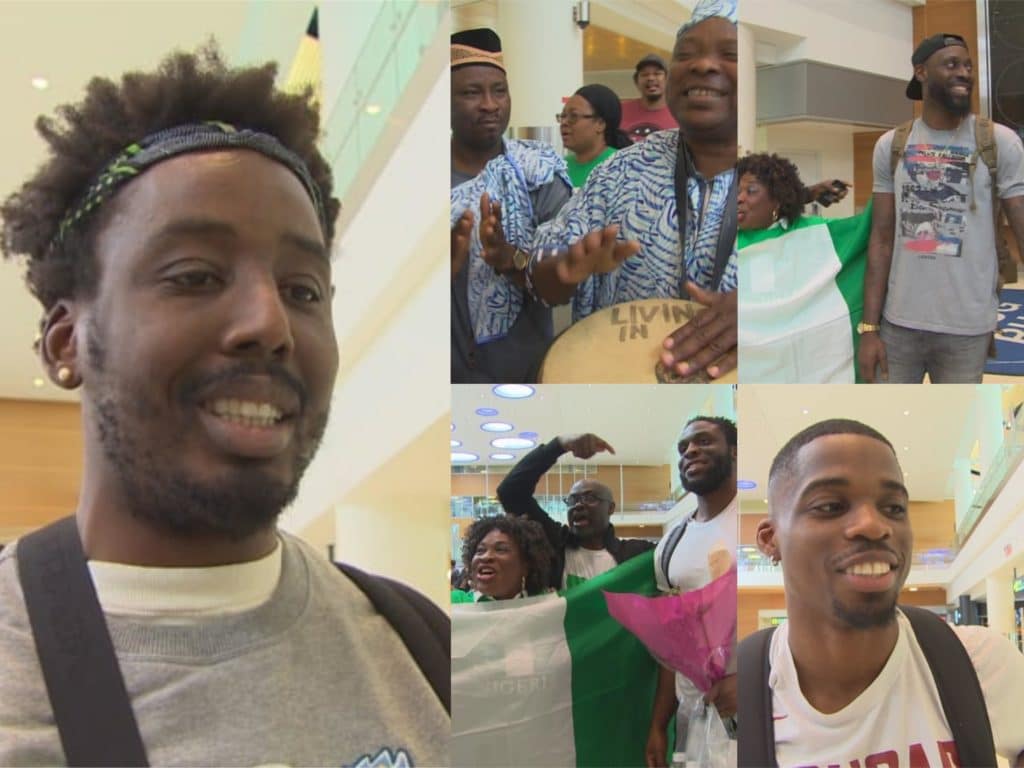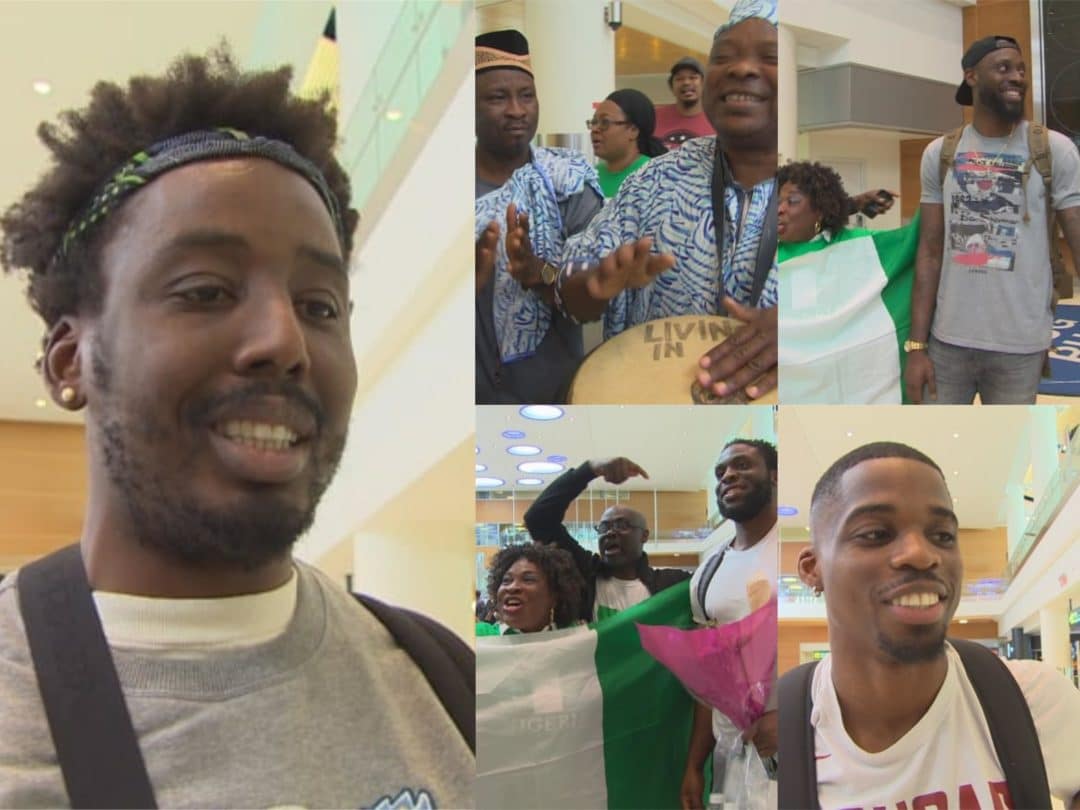 Conclusion
After any sporting event, many reflect on not just the game itself but the experience too. Especially from the perspective of those running the event. There was a lot of media coverage on the game, score and players. Sometimes the sociological aspects of sport are overshadowed by what takes place between the nets. I get that. In this piece, I wanted to focus less on the game and take a positive approach on the atmosphere, sense of country and cultural heritage felt in the Mattamy Athletic Centre.
Team Canada vs. Team Nigeria, Toronto edition was fun to take part in. It was exciting to see the national pride and unity on both sides from fans, players, coaches, media, and staff. That sense of pride extended all the way to Winnipeg, Manitoba. This game, and entire mini-series against Team Nigeria isa great example of why sport is a phenomenal component of our society. Hopefully both teams are able to punch their ticket to Tokyo 2020. There's few matchups that would be better to watch than Team Nigeria versus Team Canada for something more than an exhibition. Time will tell if this can become more than a remote possibility.