With the recent news of the departure of Kyle Lowry, Toronto Raptors' basketball and the organization will never be the same. What he has done for the city and the nation of Canada will be remembered forever, and Lowry has set in stone his reputation at the Greatest Raptor of all time.
Nobody has meant more to the growth of the Raptors than Kyle Lowry. Ever since arriving to Toronto in 2012, he's been there for the struggles and the triumphs. Additionally, Lowry led the Toronto Raptors to their first championship in franchise history in 2019.
Further, Lowry has helped shape the culture of the Toronto Raptors with his swag and unwavering dedication to the city. His impact goes beyond basketball, and we wanted to take a look at all that he's been able to accomplish during his time in Toronto.
Kyle Lowry Before the NBA
Kyle Lowry was born and raised in North Philadelphia, Pennsylvania. His mother, Marie, raised him with the help of surrounding family.
Growing up, Lowry lived in one of the most violent neighbourhoods in the city. He credits his older brother, Lonnie Jr., for not allowing him to follow the same path as his childhood friends. This gave Lowry an escape from the violence that unfortunately ended the lives of some of his friends.
Lonnie Jr. was a role model to his younger brother, and encouraged him to play basketball when he was younger. Moreover, Lonnie Jr. convinced Kyle to pursue basketball more seriously as he got older.
One of Lowry's youth coaches recognized his talent and dedication. He suggested that Lowry attend Cardinal Dougherty High School to be a part of the basketball program that he coached.
After becoming point guard, Lowry developed his skills in high school. He earned the 2004 Pennsylvania High School Player of the Year award in his senior year, and was considered a five-star college basketball recruit.
Basketball History
College Career
Kyle Lowry experienced a difficult recruitment process after he expressed interest in attending several schools that ended up recruiting another player. After that, Lowry enrolled at Villanova University in Delaware Country, Pennsylvania in 2004.
Lowry averaged 7.5 points per game in his freshman year at Villanova, earning him Big East All-Rookie team honours. He was also deemed the Philadelphia Big Five Rookie of the Year.
The following year, in his sophomore season and last with Villanova, Lowry averaged 11 points, 4.3 rebounds, and 3.7 assists per game. He declared for the NBA Draft in 2006.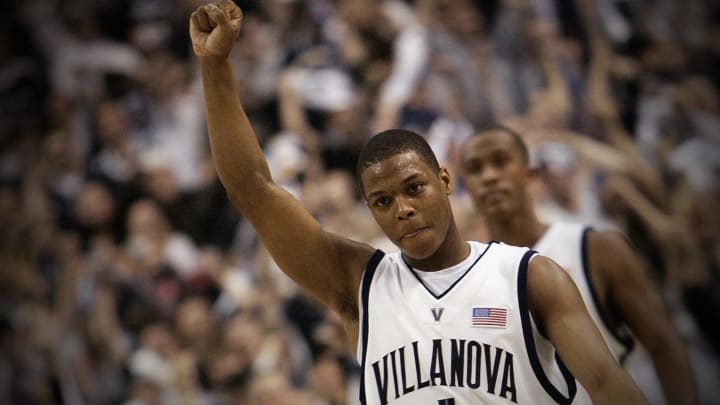 Recently, in February of 2020, the Villanova Wildcats retired Kyle Lowry's #1 jersey as a nod to his basketball career and the person he has shaped into over the years.
Kyle brought a toughness to our program that everyone has had to live up to in the years since. We're so proud of all his basketball accomplishments, but mostly the man, father and husband that he's become.

Villanova Men's Basketball Coach Jay Wright
NBA Draft and Early Career
The Memphis Grizzlies selected Kyle Lowry at 24th overall in the 2006 NBA Draft. He signed a two-year contract with the Grizzlies shortly after the draft.
Lowry appeared in ten games as a rookie before suffering from a broken wrist and season-ending surgery. The following year, the selection of point guard Mike Conley Jr. in the 2007 NBA Draft complicated Lowry's relationship with the team and had the pair competing for playing time as point guard.
In midst of the 2008-09 NBA season, Memphis hired a new head coach that devoted starting minutes to Conley, which left Lowry unhappy with his own role. As a result, Kyle Lowry was traded to the Houston Rockets.
After his first career playoff appearance in 2009, Kyle Lowry went on to play four seasons with the Rockets. In 2012, the Rockets decided to trade Lowry to solve salary cap issues and acquire draft picks during the off season. He was traded to the Toronto Raptors in exchange for Gary Forbes and a future first round draft pick.
Impact on Toronto
Raptors' Career
The greatest Raptor of all time is, undoubtedly, Kyle Lowry.
The 35-year-old leaves the Raptors after leading the most successful on-court stretch in franchise history, highlighted by winning the 2019 NBA championship. The six-time all-star guided the Raptors to the playoffs in seven consecutive seasons from 2013-20 after the team had reached the post season only five times in its' first 18 seasons.

Sportsnet, 2021
He leads the franchise in steals, assists, three pointers, and triple-doubles. Additionally, he is first in All-Star appearances, with six total. Former Raptor greats Vince Carter and Chris Bosh both have five appearances, respectfully.
Since Lowry's number change in 2013, the Raptors didn't miss a post-season until the 2021 season, which was his last with the Raptors. He decided to switch to the iconic 7 jersey following the trade of Andrea Bargnani to the New York Knicks.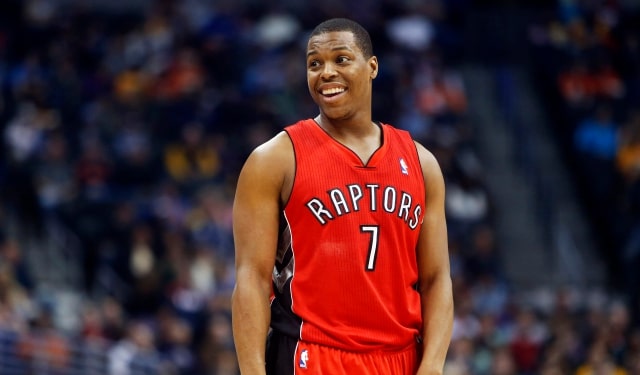 In short, it's very likely that we will see number 7 become the first showcased jersey above the Raptors' court.
Lowry was a large part of the Raptors championship in 2019, with 15 points in the first quarter of game six. He always took on the responsibility of the entire team, solidifying him as the team's leader. His leadership, team commitment, and unwavering grit played a vital part in bringing the first ever NBA title to Toronto.
Kyle Lowry has been consistently great throughout the past nine years, and never wavered his loyalty to the city of Toronto and the Raptors' organization.
Kyle Lowry Beyond the Court
If you're a Raptors fan, you've been able to watch the Lowry-DeRozan relationship build over the years. Even after DeRozan was traded in 2018, fans looked forward to their reunion on the court after their first game.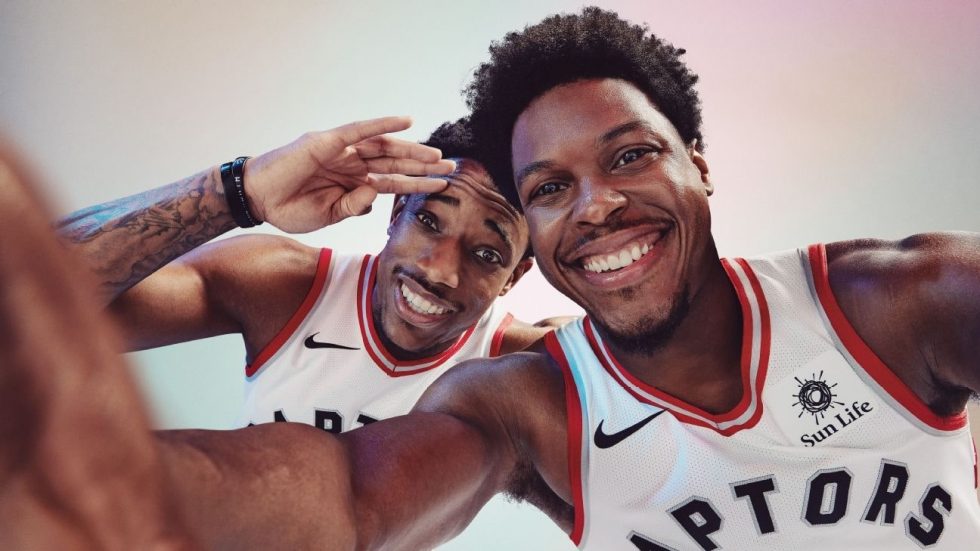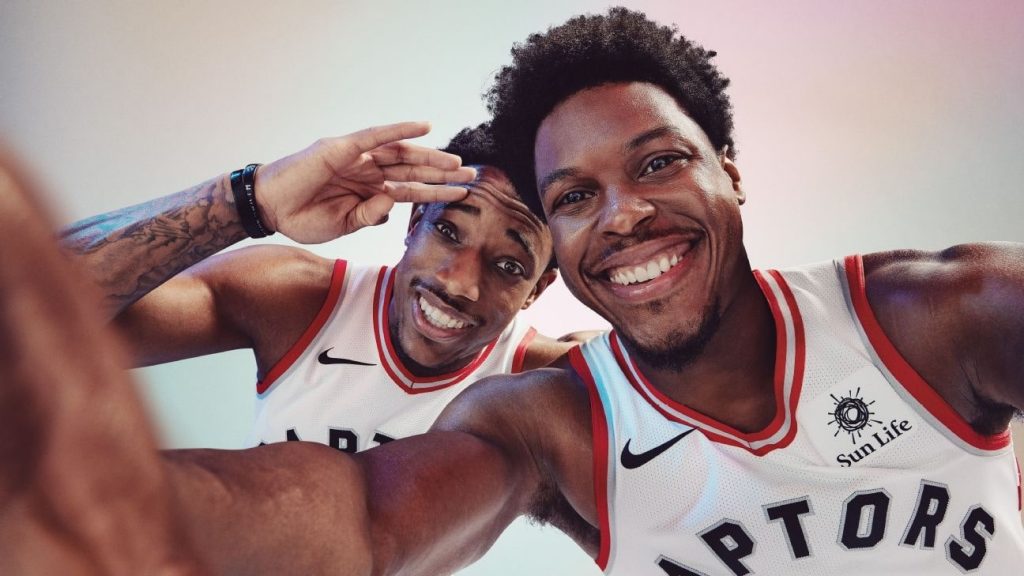 As teammates, the pair used their chemistry to create incredibly exciting moments on the court. As competitors, they played hard and treated each other like any other player looking to capture the win.
Kyle Lowry started a family here, and will always call Toronto, Canada his home. He has a wife, Ayahna, and two sons, Karter and Kameron, who will grow up remembering Toronto as home.
Lowry has done many charitable actions for the city of Toronto and beyond. For example, last thanksgiving, he donated 200 meals to families in need throughout the GTA.
Additionally, Lowry created a foundation called the "Lowry Love Foundation", where he gives back through initiatives aimed at uplifting and supporting the lives of the underprivileged and disadvantaged. One of these events is the Holiday Assist, where he provides meals and presents to families who need support during the holiday season.
As made clear in his farewell letter to Toronto, Kyle Lowry influenced many, but there was a huge team behind him supporting him on his journey.
Lowry fostered such a notable bond with Toronto Raptors' President of Basketball Operations Masai Ujiri.
Basketball is a business, and loyalty isn't always part of the game. Lowry and Masai had such an incredible trust with each other throughout the years, because Masai saw Lowry's ability to impact each player who stepped on the court as a Raptor. This bond allowed Lowry to thrive in the Raptors' organization for nine seasons, and have finally gave him the sense of stability that he was missing from his previous NBA teams.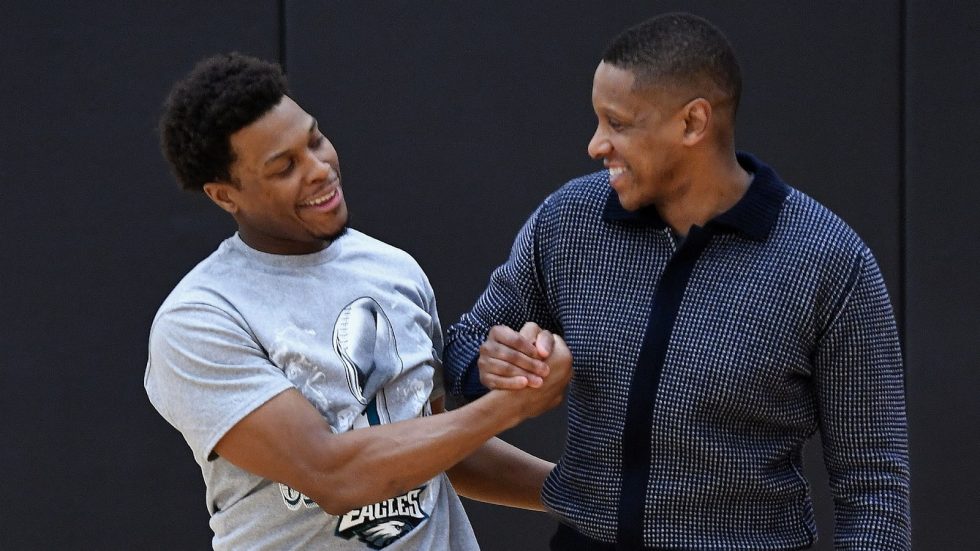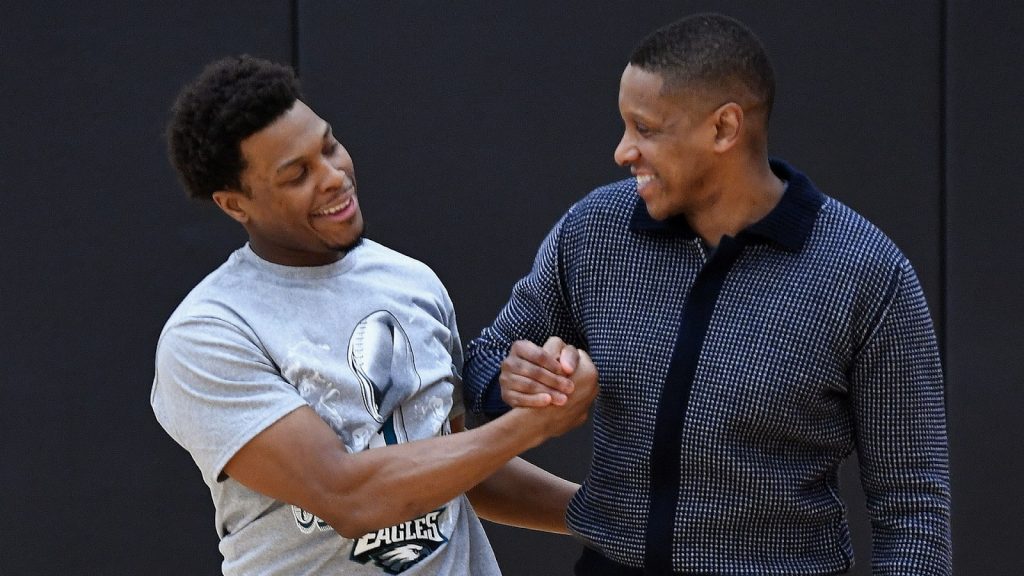 The bonds that Lowry created off the court have made his impact much more meaningful. He was a mentor, leader, and a friend. Just ask his prodigy and good friend, Fred VanVleet…
He's a complete jackass on the court, and he's probably one of the best teammates I've ever had … He's meant everything [to me]. He helps me on the court, off the court. He helps me in a lot of things. He's taught me a lot, he's showed me a lot. He's a great friend. I love him to death. There's nothing he wouldn't do for me, and vice versa.

Fred VanVleet via ESPN, 2019
Another relationship fostered off the court was with Toronto's very own, Drake. Lowry and Drake were often seen engaging in celebration and playful banter on the sidelines during games. The pair have become very close over the years, sharing their love and dedication to the city.
Final Thoughts
Kyle Lowry is the best Raptor in franchise history. He created a culture within the Toronto Raptors community that will have a lasting impact, even with him now in Miami.
If you're lucky enough to attend the first Raptors vs. Heat game in Toronto next season, there's no doubt that the crowd will be on its feet, clapping and chanting "Lowry, Lowry, Lowry".- Queue the chills!
Thank you Kyle Lowry – you will go down in Toronto history as the best Raptor to ever do it.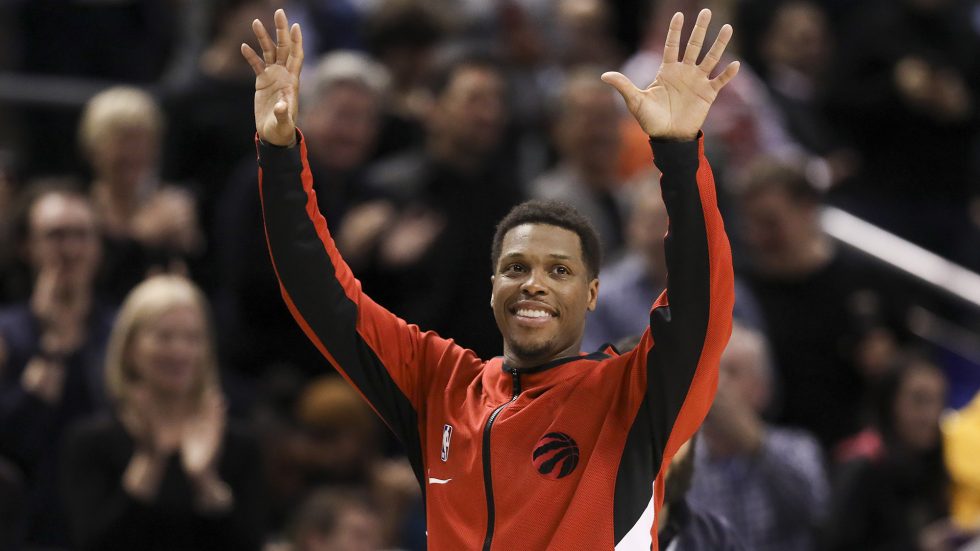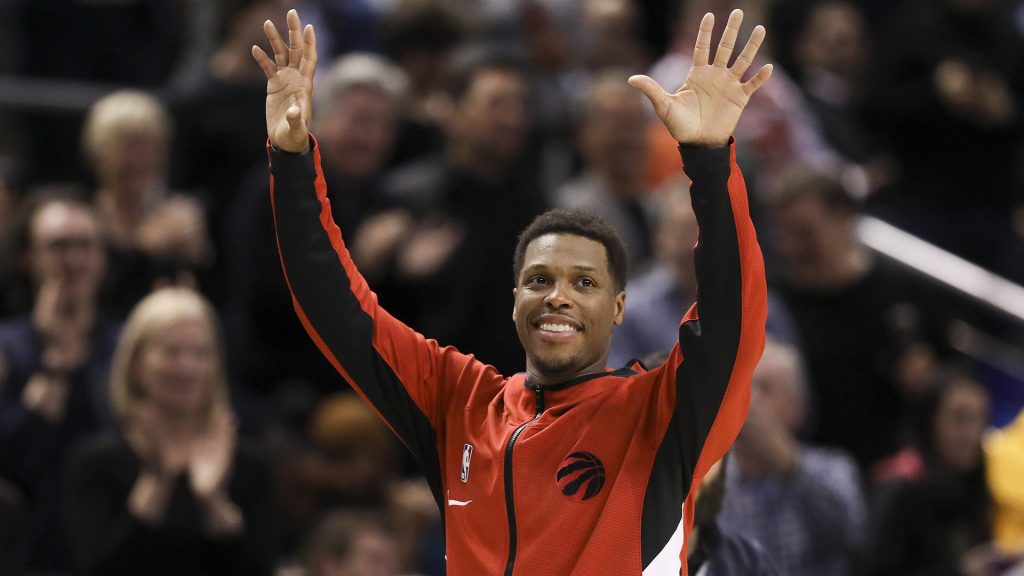 To keep up on all things Toronto Raptors, be sure to scoot over to our feature on the 2021 Toronto Raptors draft picks.