Most people know what mascots are. They're people who dress up in a costume, usually an animal, and dance around at sport events to cheer up home crowds. A mascot is much more than that, though. Mascots give sports teams and their fans a common identifier and a unique symbol. They bring the crowd together and unify them to support their team and win, whether it is in baseball, football, or hockey. They bring smiles to people's faces and bring them joy. Some people have a special gift for this, such as Chad Spencer, who is followed in the Hulu documentary, Behind the Mask. Believe it or not, that Chad Spencer is now the mascot of the Edmonton Oilers: Hunter the Lynx.


It sucks, though, because as of right now, Hulu isn't available to Canadians. Hulu is a video subscription service like Netflix. Some of its programming is picked up by Canadian networks such as Handmaids Tale, so Canadians are able to watch some of its original content. But there are many which are exclusive to Hulu's subscription service, one of those being Behind the Mask. It's a 2 season, 20-episode reality series that features stories behind seven mascots. The only mascot featured in both seasons is a goofy and energetic minor league hockey mascot. This mascot represents the Wilkes-Barre Penguins and his name is "Tux". The series gives viewers an inside look into life as a mascot and shows that being a mascot is much more than just dancing around in a costume.
If you look up Chad Spencer on Google, a knowledge panel with his photo appears. Underneath his photo is the word "actor." Chad Spencer is hardly an actor, though. He's the person behind the Edmonton Oilers mascot, Hunter the Lynx, and I recently had the opportunity to interview Chad Spencer himself. The following comes from this interview.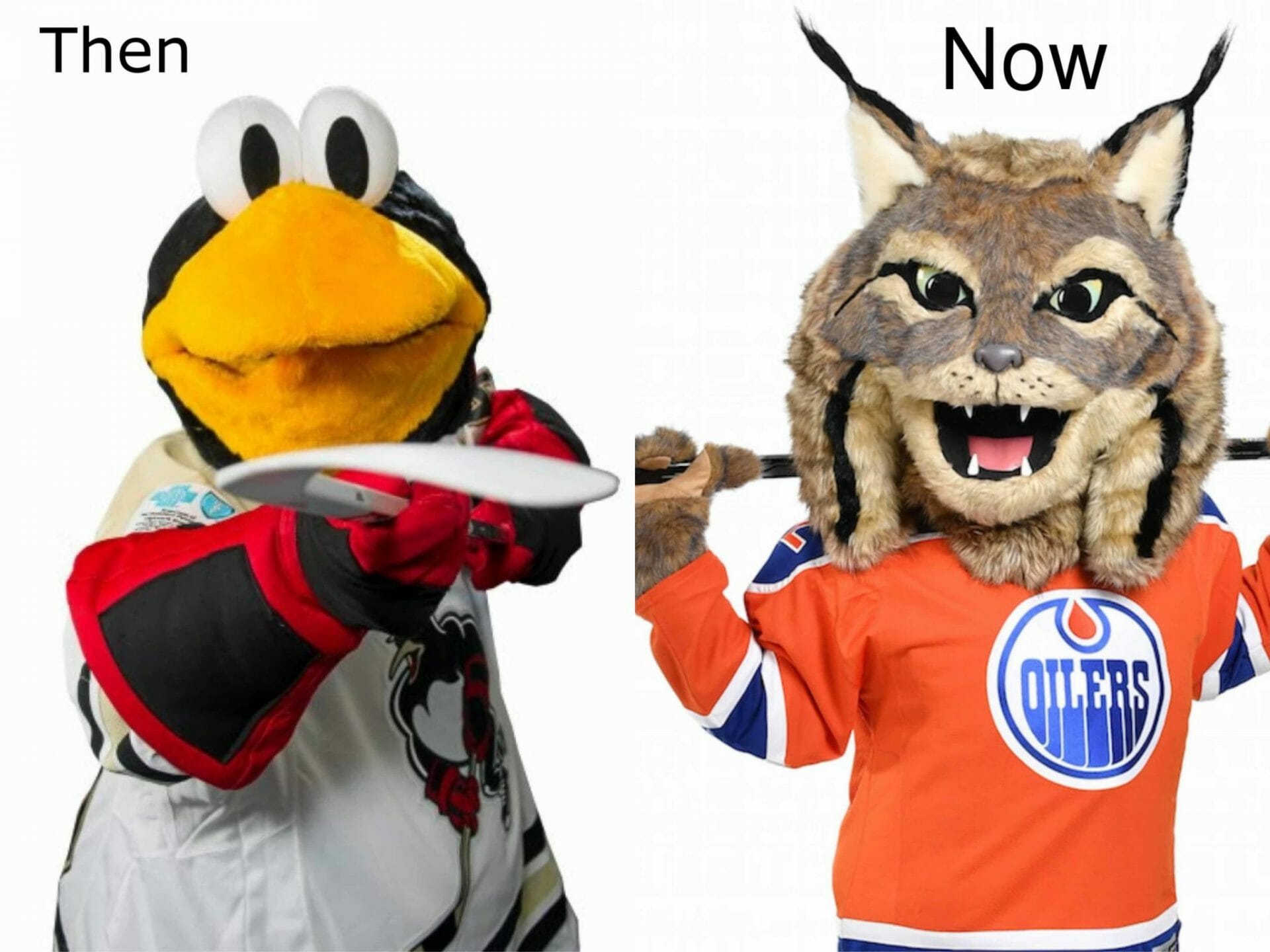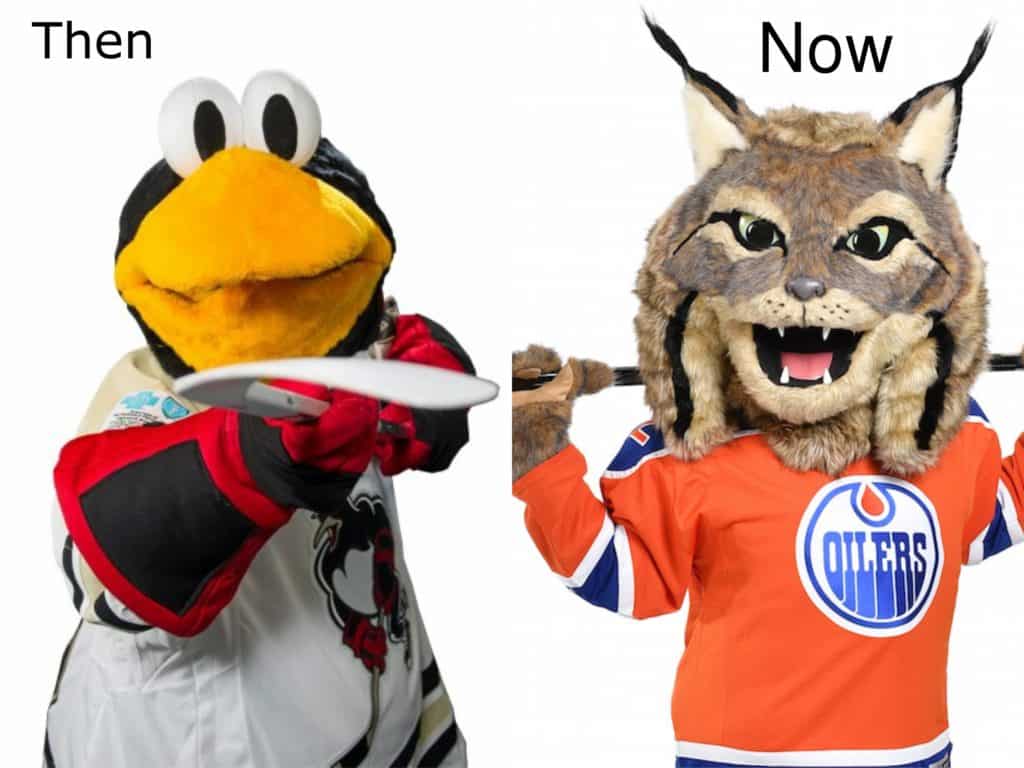 So you used to play Tux. Now you are Hunter the Lynx. A big change! Hunter is seen by some as scary (See Jay & Dan). How has it been, going from Tux to Hunter?
It was a big change because obviously Hunter the Lynx is not as friendly looking. He's more of a badass, I guess you could say. So I just kind of adapted to what Hunter would be, but I brought a lot of great and fun characteristics from Tux with me. It just looks different because now I'm this ferocious cat.
I won't forget that Jay and Dan episode where they reviewed every NHL mascot. Hunter the Lynx was rated a 0 out of 5 by Jay! Dan rated me 4 out of 5 though. Jay said, "He terrifies children, and he's scary." Oh, how I wish they would come and just watch me at schools and how I interact with children. It's completely the opposite. Hunter the Lynx is beloved by children in the greater Edmonton community. He far from terrifies the kids, and once you learn all about Hunter's persona, you'll see how neat he really is. Hunter has a great personality when you get to know him.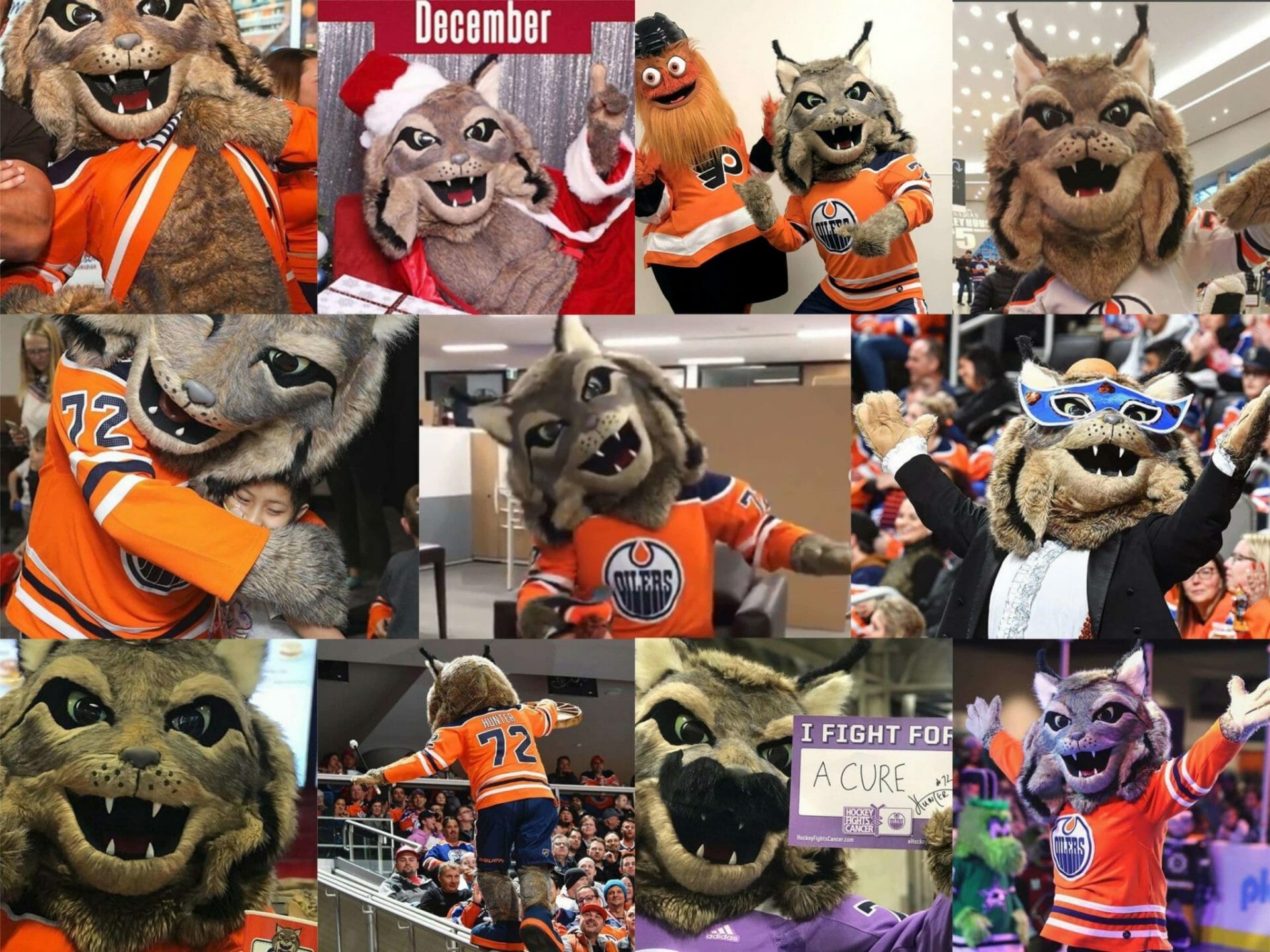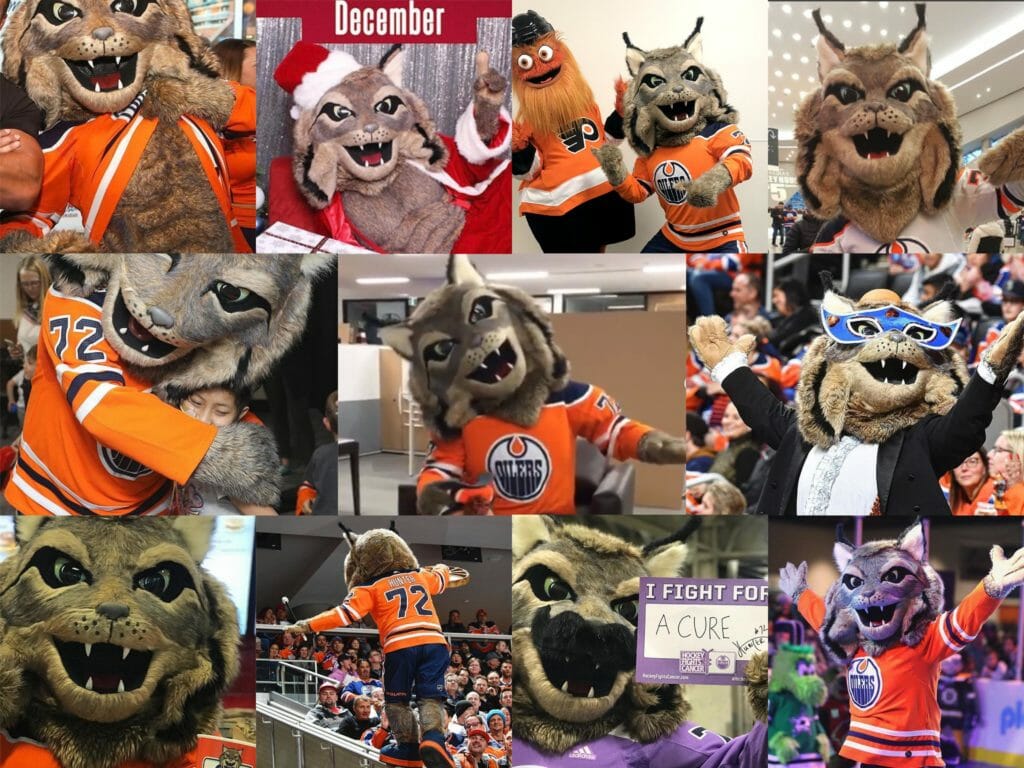 Remember, the Oilers didn't have a mascot for several years, so some of the long-time fans have been slow to the idea of having one.
I can say that now, fans are finally starting to see my personality come out in Hunter. No longer is Hunter seen as a scary mascot. He's being appreciated for his overall persona. Sure, Hunter looks fierce as many lynxes do when visitors intrude their territory, but what makes Hunter unique is his six-pack abs, great physique, and bravado.
Of course, he's a totally different character to perform in than Tux was. Overall, I try to make the personality of Hunter resemble that of Tux, especially in the way he interacts with children.
How did your dream of becoming a mascot come to fruition?
Well, in hindsight, after my first job, I had kind of been directed towards being a mascot my whole life, which is kind of weird, so I'll tell you the story. My first-ever encounter with a mascot was on a Florida beach.
This big dinosaur mascot came up to me, and I fell in love with him! I gave him a hug, and I just loved it.
It was when my mother hosted this televised telethon hosted at a local college raising money for a camp for children with disabilities that I first experienced being a mascot. When I was a 12-year-old boy, my mom asked me if I could dress up as and be Darth Vader from Star Wars. I did, and it felt incredible! It was my first time suited as a mascot in public, and I really enjoyed it.
A few years later in high school, I dated a mascot, believe it or not, so I was around it a lot. I guess mascots gravitated towards me growing up. I truly believe in fate! My fate was destined from the moment I hugged the dinosaur on that Florida beach.
After high school, I realized I wanted to get into performing. I was always kind of a bit of a ham. My interest in theatre ran deep. I really liked engaging people with theatrics. I loved doing magic tricks for people, so I became a magician and did many charity events, including some for The Knights of Columbus. I was doing well with my magic career; I was getting gigs every month, and I developed a nice following. I was a magician part-time while I was working at a tire factory building tires.
It all comes back around full circle into sport soon. While I was doing magic gigs and working at the tire factory, I was a big fan of the Medicine Hat Tigers of the Western Hockey League (WHL) team. I'd go to many of their home games.
I would watch this mascot run around in the audience, and I thought, "That's the best job in the world. That person right there, look at him! Look at what he is doing. He's making people laugh. He's banging into the glass, running all over the place and having the best time of his life, and most importantly, he is making other people happy. Not only is he having fun, but so are the fans.
The Zamboni driver of the Tigers and I chatted frequently. In fact, in one of our chats, I told him, "Man, if that job ever opens up, let me know." What's so ironic is a little while later, I got a call. The irony behind this story is nuts. It turns out the person behind the Tigers mascot at the time had the same name as me, Chad. He had an unfortunate car accident back in 2004. As a result, he broke his back and couldn't be the Tigers mascot anymore.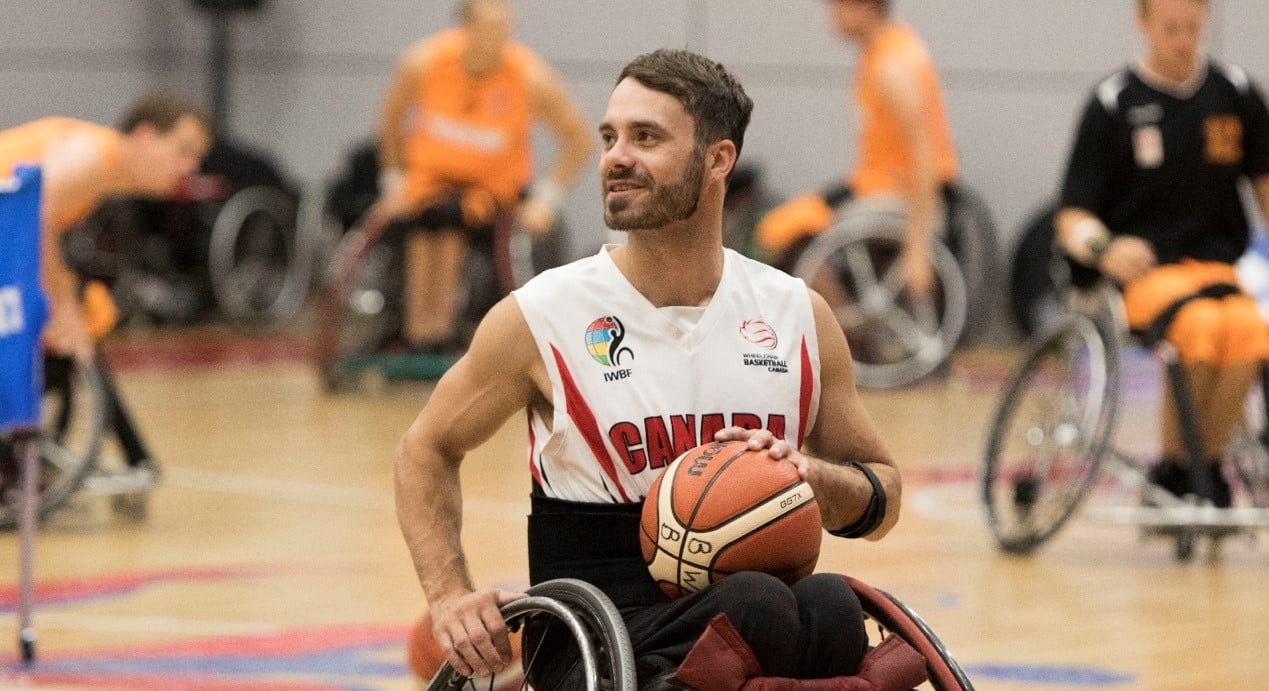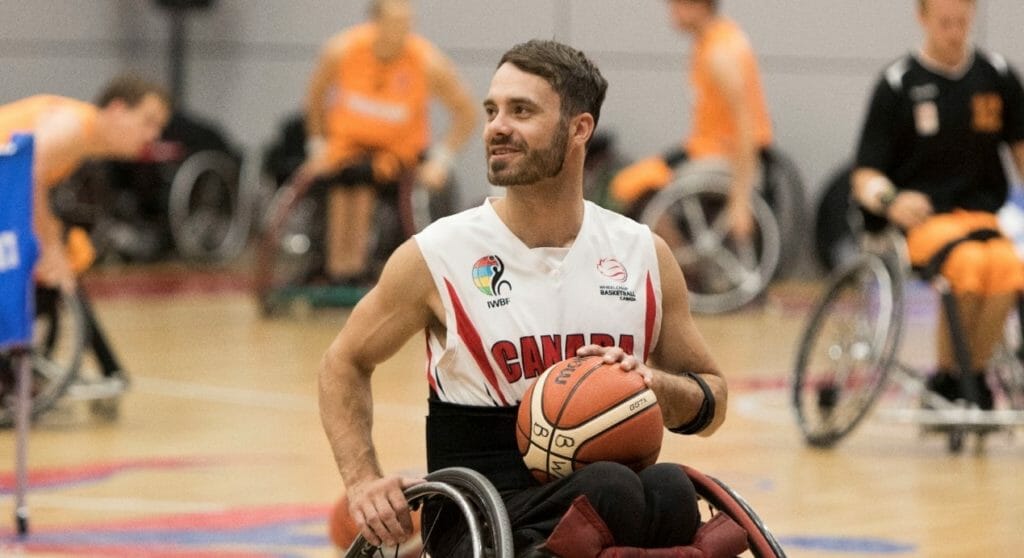 I got a call from the Zamboni driver letting me know that the Medicine Hats are holding auditions for the mascot position. Oh boy, I jumped a mile at the opportunity. I went to the audition, and it turned out they were looking to fill two positions. One was for Rroary The Tiger and the other was for Roscoe's Chicken Wings, the local restaurant in town.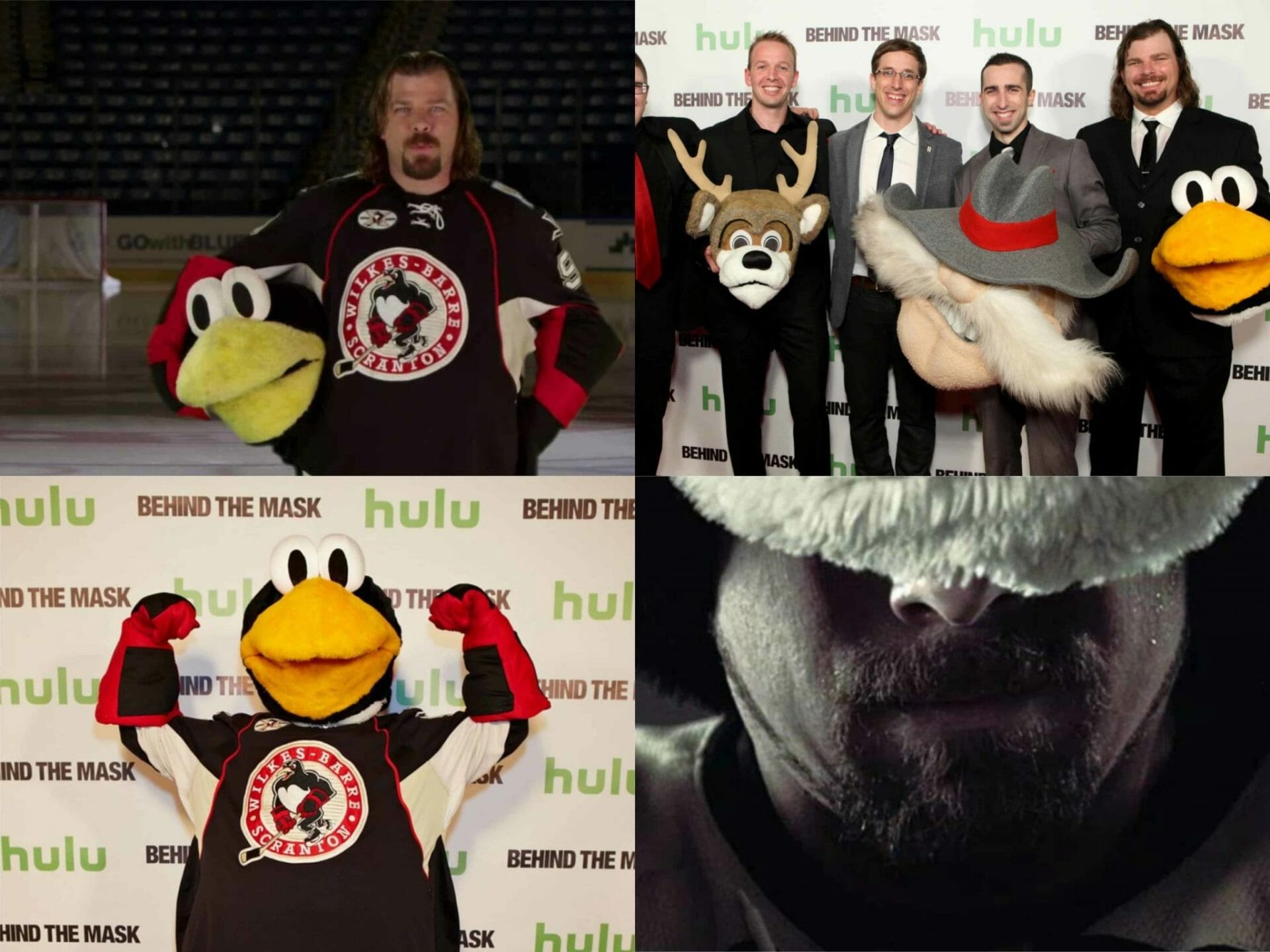 So, I had to do a little demonstration for each one. I was lucky enough to get the job doing Rroary The Tiger. Next thing I know, I was Rroary The Tiger for 3 years! I should mention that the first year, the Medicine Hat Tigers made it to the Memorial Cup, so I became visible when I was everywhere was the Medicine Hat Tigers mascot. As a side note, I got to meet Sidney Crosby there.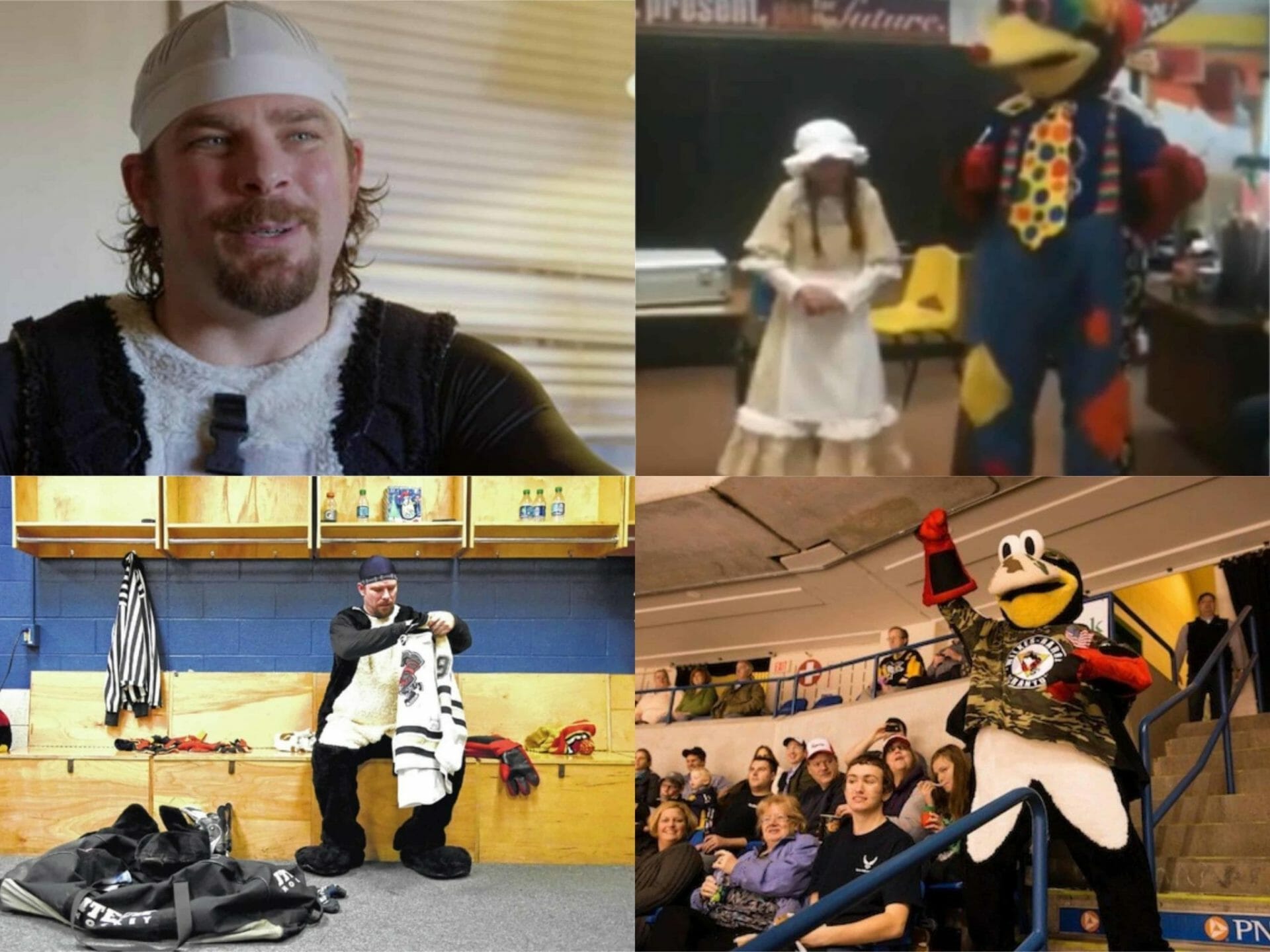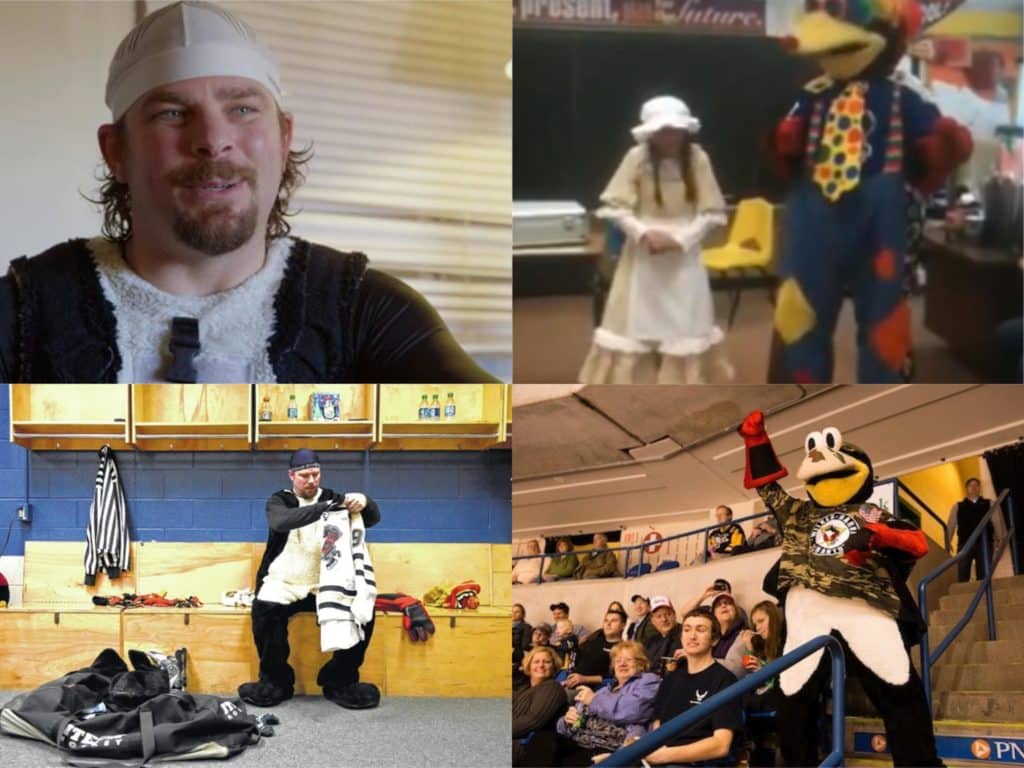 When I became the mascot of the Penguins minor league affiliate, Sidney Crosby recognized me as the Medicine Hat Tigers mascot. Funny enough, he remembered me in the suit because of this one thing I did. I went to the top of the stairs in the arena, and I just dove off the stairs, and I slid down all the way to the bottom of the lower bowl on my belly. I had quite good momentum doing it, too. The crowd went nuts, and I guess he remembered that stunt when I did it with Tux.
At the completion of Season 2, your story ended with you waiting for a big-league opportunity to come. You've finally become a big-league mascot! How did you come to be Hunter the Lynx?
Well, I had started calling the Oilers when I was at the Medicine Hat Tigers all the way back in 2004. I would call them, I would send emails to whoever I could get a hold of and promote my mascot abilities. I even drew up a character. It was a bulldog character. It looked like it was from Tom and Jerry. I named the character Oiler and presented it to the Edmonton Oilers. I told them they need a mascot badly so they can compete with Harvey the Hound, the mascot of the Calgary Flames. In 2009, the Pittsburgh Penguins won the Stanley Cup. Winning always seems to get you recognized, so just as I was recognized when I was working as Rory the Tiger at the Memorial Cup, I became more noticeable when the Penguins won the Stanley Cup.
Someone from the Edmonton Oilers Community Foundation (EOCF) passed my name onto somebody in the front office. Soon after, I received a call saying they are thinking about getting a mascot, and I was like, "Right on, I'm your guy." I was stoked! I immediately sent them a demo reel and a resume.
One month went by, and I heard nothing back. Two months went by, same thing. I finally decided to call back my contact with the Oilers and ask them what was going on with the position. They told me that the front office decided not to go with the mascot. Instead, they went with crowd dancers called the "Octane Girls."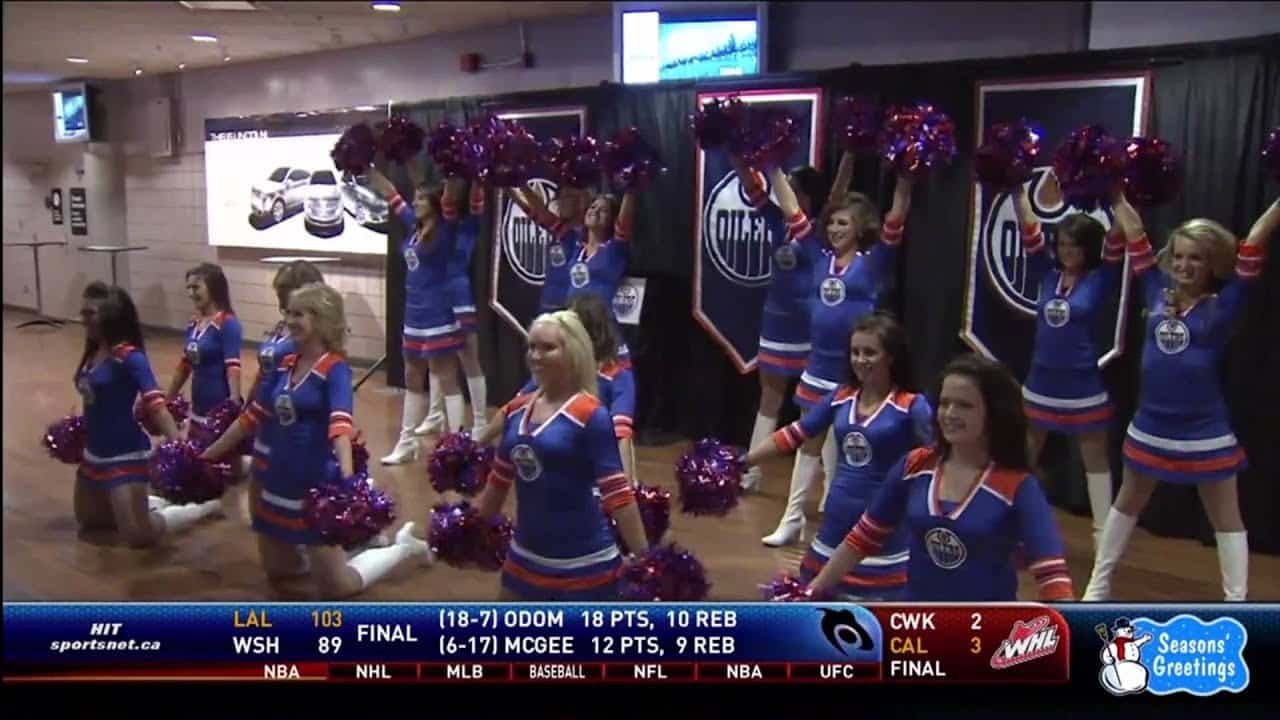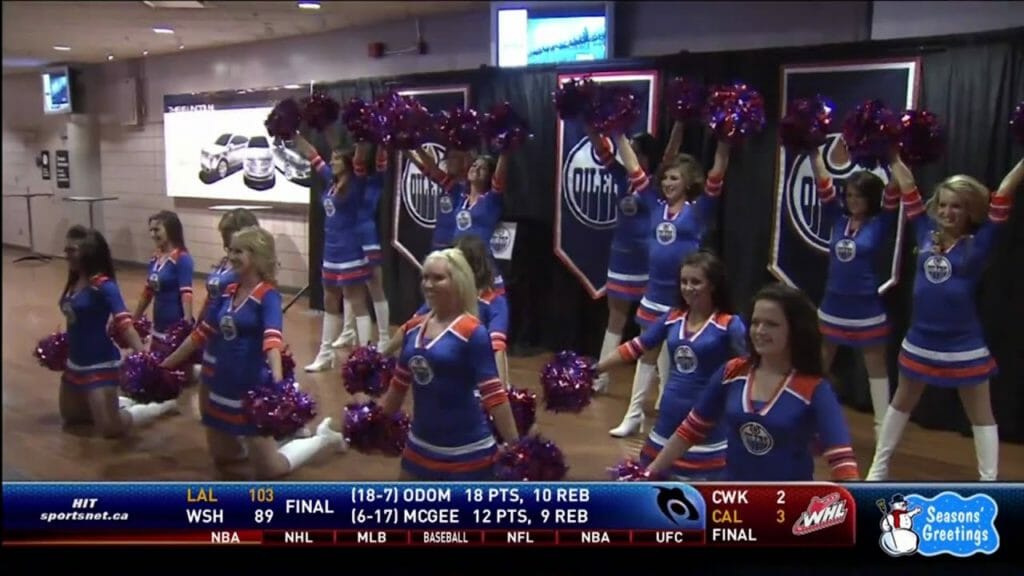 I understood the direction, but it was a little bit of a heartbreak because I was excited about getting back home and being around my son Cody (their relationship was featured heavily on the show).
But my life went on in Wilkes-Barre Scranton. I was still Tux and I loved it.
7 years later, my boss with the Penguins told me about an upcoming opening with the Oilers. My boss knew somebody who was high up with the Oilers organization. I know he put in a good word for me. Then, I quickly got a phone call from the Oilers asking me to fly up to Edmonton for an audition. The audition took place at a school. They filmed me auditioning. I looked at their website a few days later, and they posted the video of my audition! This was before I got the job. But because the video of my audition was posted I really thought I'd be Hunter the Lynx.
It was a waiting game, no doubt. Time passed by. Until one day when Cody and I were together, I received a call. It was the Oilers. They called to tell me I'd be the person behind their mascot Hunter the Lynx. I was ecstatic! Actually, Cody and I were jumping up and down in excitement.
Looking back, I was in shock. I tried everything I possibly could to get this job. I never gave up. It wasn't easy to come back from all the disappointments. As Behind the Mask shows, I was turned down many, many times for big-league jobs, so after I got the job I was living in a surreal state.
I mean for like six months, I would still wake up every day, and I'd be like, "I can't believe I'm the Oilers mascot." I was so excited and thought I was dreaming.
Debrief from our interview with Chad Spencer
After interviewing Chad Spencer and watching him in Behind the Mask, it is easy to see just how special he is. Chad Spencer has faced many setbacks and disappointments in his journey to become a major league mascot. Turned down from jobs with the Tampa Bay Lightning, Calgary Flames, Pittsburgh Pirates and even the Edmonton Oilers (whom ironically he is the mascot for now), Chad has never given up. He has spirit, enthusiasm, and a great energy like no other that comes to life when he becomes a mascot, regardless of how scary or ferocious he looks. He brings genuine happiness to those who truly give him the opportunity to show his personality behind the mask.
So much has happened in Chad Spencer's life since Season 2 ended of Behind the Mask, and Chad's fans would want to hear about his success in becoming Hunter the Lynx. As Hulu, and consequently Behind the Mask, is not available in Canada, though, Canadians have no way of seeing this. That is why it should be available to Canadians, whether that is through making Hulu available in Canada or having a Canadian network pick up the show. His story encourages us to pursue our passions with all of our strength, even when the world seems to be working against us. So, why shouldn't everyone get to hear this message?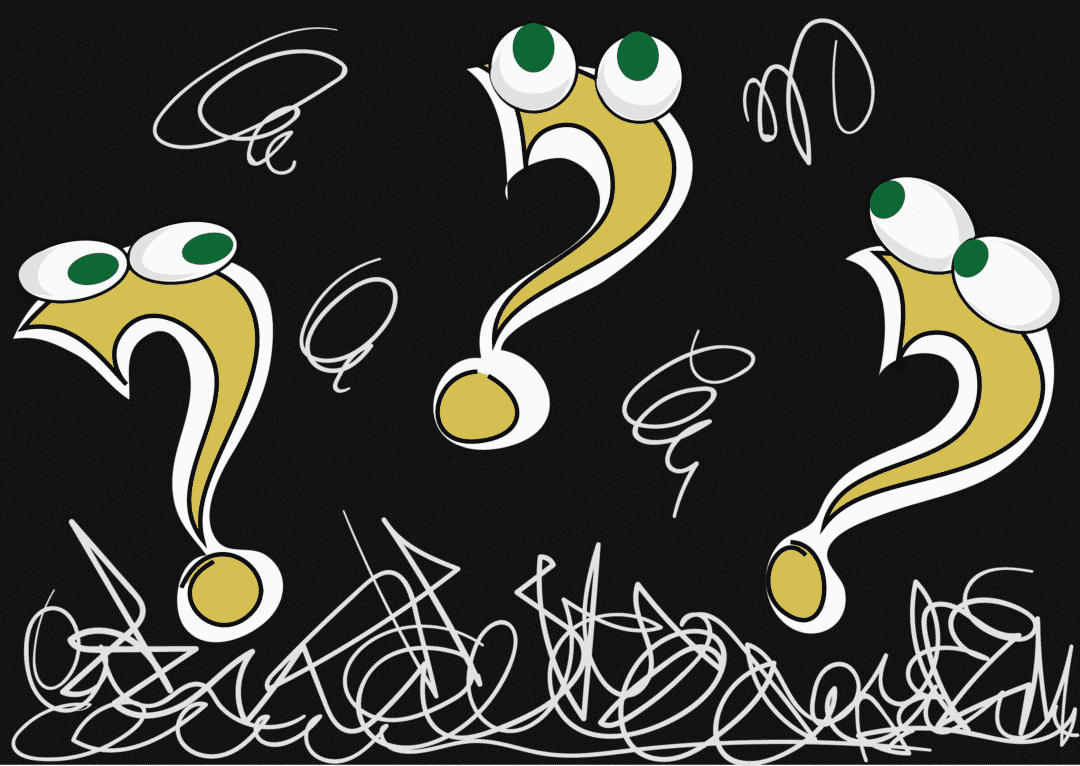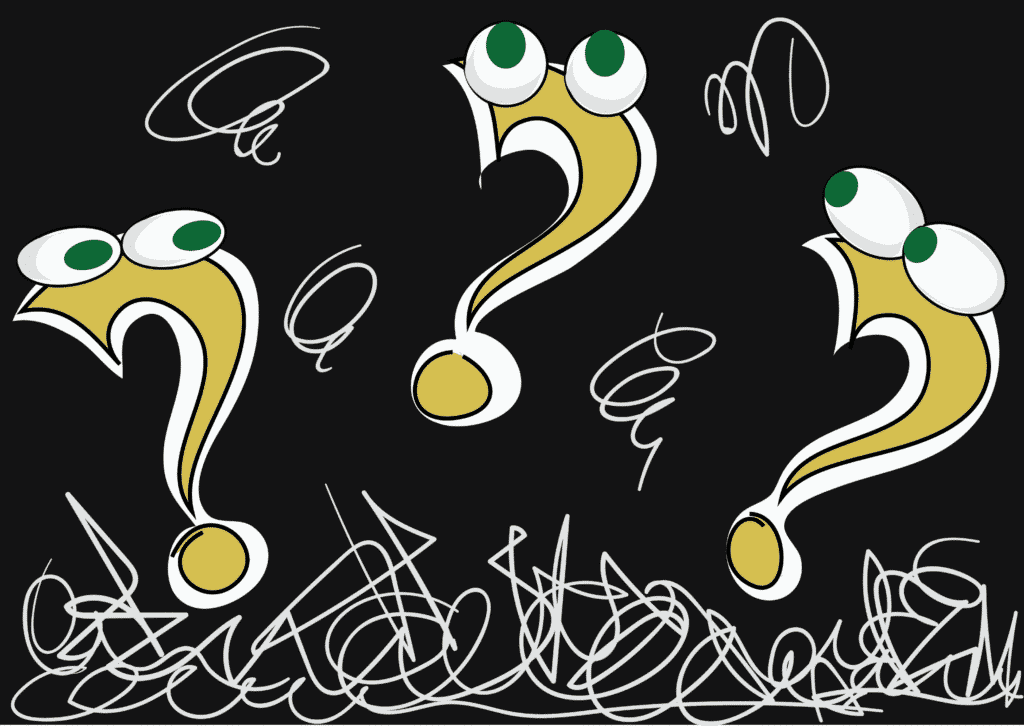 ---
Posted in Industry Profiles