William Lou is the Lead Reporter for Yahoo Sports Canada. Will covers anything Toronto Raptors related. Everything from voicing his opinions on Twitter, writing insightful articles, as well as having a very entertaining podcast on Youtube! I have been following William for quite a while now and was heavily interested in his 'hot takes' during the Toronto Raptors Championship run in the 2018-19 season. Throughout this interview, William Lou provides great advice for individuals that want to follow in his career path with the important skills that you must possess. It was very interesting to chat with Will because I have seen him so much on Twitter and have watched him a lot on YouTube, so it was a pleasure to talk about what he looks for when writing articles and making content. We can all learn a lot from Will! Enjoy!
Tell us about your role as the Lead Toronto Raptors reporter for Yahoo Sports Canada.
My role as the lead reporter is to cover everything related to the Toronto Raptors. This encompasses written, video, audio, and social content. Think of it as a cross between a traditional beat reporter and a YouTuber.

What does a typical day look like for you?
On a game day, I typically get to work by around 1 pm. First, I scout the opposition by watching their most recent games and then I head to the arena for three hours prior to tip-off. From there, I network with people at the game, and report from scrums, before taking in the game itself. After the game, I write my 10 things column that delivers takeaways from the game, before recording a 30-minute video podcast.
For an off day, I generally try to come in earlier and plan out more content. On Tuesdays, I shoot a weekly YouTube show called Run it Back at various cafes and restaurants around the city. I generally record a podcast on Wednesdays with a guest in the Yahoo studio. And on Fridays, I do a live YouTube show at 3:30 pm. In my downtime, I try to fit in as much writing as possible.
When was the point you realized that you were meant to do this career? We'd also love to hear about specific sports you played or teams, leagues, athletes, etc. you watched growing up!
My love of basketball grew in middle school when it was the accepted norm to choose between hockey and basketball. I never played basketball in any serious capacity, but it was an easy sport to love. I was a single child for much of my childhood (my brother is 10 years younger), and one of my favorite hobbies was going to shoot. My aunt always tells the story that I would shoot in the snow whenever our families gathered together at her house in Chicago for Christmas. I would pretend to be Jermaine O'Neal or whichever terrible Raptor that played on the team at the time.

As for a career in basketball, that came to me while I was in university. I was discouraged after a co-op search, and I found myself searching for what I wanted to do. In my spare time, I wrote about basketball as a productive outlet to distract myself from my actual responsibilities. At some point, I put two and two together and made that hobby into a career. I applied for a job at McMaster's student paper The Silhouette, and from there I made it into what I do today.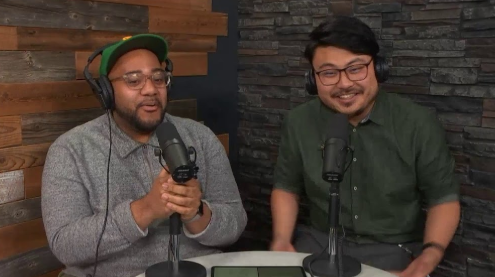 How important is social media for you personally? Which social networks do you use most frequently, find hardest to navigate and use, and see changing the most? Also, how do you keep up with the continual sports news bombarding you (global stories, viral videos)?
Twitter is the only social network I use on a regular basis. It does the job for finding stories, interacting with fans, and the jokes are good. A lot of people are down on the platform for very valid reasons, but I have the privilege of being in a sheltered space in sports where I don't have to take it too seriously.
What do you see as the future in the growth in the world of sports media as the industry continues to change and evolve? How are you positioning yourself to adapt to the constant changes?
The future of sports media is everything. There will always be value in it and an audience for traditional reporting, but fans can go anywhere for their content. That includes YouTube, Instagram, Twitter, and a variety of websites. The only way to adapt is to develop a broad skill set to create content across any platform. That includes audio and video editing skills, which is what I'm working towards right now.
How much freedom and creativity do you have in your role?
I'm very fortunate to be in a space where I have complete autonomy over my content. We are in an expansionary phase, and my bosses at Yahoo are very forward-thinking in terms of creativity. For example, I came to them with an idea of starting a live YouTube show where Raptors fans call in from around the world (we had a caller from Moscow last week) and they not only green-lit the idea instantly, but they also built a staff and invested in equipment to deliver the show. Not a lot of places would be so enthusiastic and open.
What are three essential skills someone needs to succeed in the sport industry?
1 Social Media
It's absolutely essential to have a voice. You don't have to be a shock jock, but you have to come to the table with something, be it play analysis, statistical insights, or at the very least passion and humor. Without it, what are you really offering your followers?
2 Video
You must be able to shoot and edit video. It doesn't have to be Oscars worthy, but at least keep up with what is typically the standard on YouTube. Video will soon surpass written content in terms of viewership if it hasn't already, and video scales across every platform.
3 Writing
Writing: No matter what, you still can't get away from being able to write and communicate. It's just a fundamental skill in sports media, regardless of what purpose you serve.
If you could have a superpower to help you in your career, what would it be and why would you choose to have it?
It's not even a superpower, but just the ability to sleep on demand. There's a lot of late nights and travelling, and you need to maintain your health and energy. A lack of sleep is a killer, not only physiologically but also it impacts your ability to work. Try writing on four hours of sleep and see what your editor thinks of it.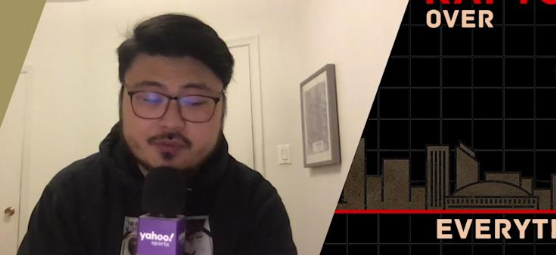 Our Final Thoughts
William Lou is an amazing individual who has created great content on the Toronto Raptors! He has captivated an audience that follows his takes on the Raptors. Will has left a positive impression on me with his professional attitude towards the way he makes content and the way he goes about his life. William Lou has been able to shy away from the traditional sports reporter style and put his own spin on the way he delivers his content. It was a pleasure to sit down and talk with him to learn more about his work and his story to where he is now! We look forward to seeing more of Will's work on the Toronto Raptors this season!
---
William Lou
Interview by Rikesh Mistry
Posted January 24, 2020 in Industry Profiles