William Mussack is the Fan Experience Manager & Game Production Manager for the Real Salt Lake (RSL) & Utah Royals FC. RSL is a professional soccer franchise competing in the Major League Soccer (MLS). As a soccer fan, I was introduced to William's work with RSL seeing all the great things his game production team works on to establish, maintain and electrify their "tifo" (fan) base. William refers to the club's "tifo" throughout this interview, so check out the definition of tifo below and then read on!
What is tifo?
Tifo is an Italian word and a popular word in soccer circles. The word "tifo" is used to describe strong supporters of a team that come together in a choreographed way to represent their team.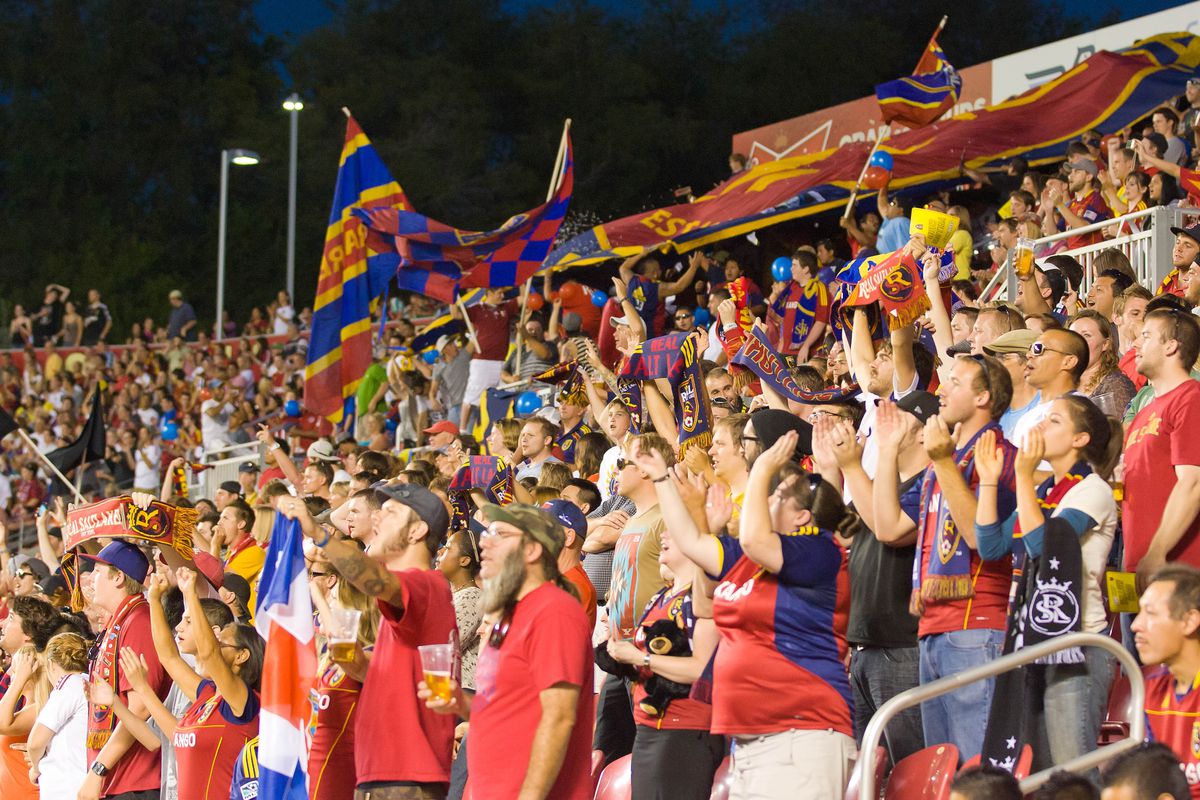 William Mussack provides an example of some of the activities designed for the team's tifo base.

"A monstrous painted banner or choreographed flag/sign/banner-waving) painting/building events; These events take a lot of time, resources, and manual labor, but these events bring a sense of community to the fans."

Interviewing William recently, I quickly realized how much insight and youthful energy he brings the RSL. He brings those traits to this feature as he highlights his most memorable moments with the club, his day to day activities and how he established his place in the sport industry. Scroll down to see my colourful and insightful discussion with William. Enjoy!
Please note: The interview was conducted via a typed conversation. Editing changes were made to make it easier to read while maintaining the voice of the interview.
Tell us about your role as Fan Experience Manager & Game Production Manager at Real Salt Lake & Utah Royals FC.
My role as Game Production Manager is solely for our National Women's Soccer League (NWSL) team, Utah Royals FC (URFC). I am in charge of building the timeline and managing the in-stadium game elements for each home match for URFC. This consists of all our in-stadium graphics, videos, music, time management, pre-game ceremony, on-field activations, partnership elements, and management of the unforeseen future. To be successful in this role is confidence and time management, or "clock management" as the coach of my college soccer team would say.
When you think of the term fan experience and wonder what it really means you will soon find out that anything involving fan interaction is part of the fan experience. I am still trying to define my role as the Fan Experience Manager for Real Salt Lake, but over the course of the season I have become a "jack of all trades". The RSL Fan Experience position resides in the marketing department but works in tandem with all departments and partners.
I began with the task of unifying our supporter groups that make the umbrella group," The Riot". This challenging task started with gaining the respect of the supporter groups as there is a sour history between soccer supporter groups and front offices.
Putting in the hard/long hours of work has earned the respect of the various supporter groups and now it is a matter of working with each of them to get on the same page to cheer on the team with one unified voice. The type of work that goes into this is meeting with the leaders of the supporter groups on a monthly basis, The Riot Council, and keeping close communication with them to help make the experience that much better.
Hosting chant practices to come up with fresh chants to cheer on the team. Coordinating tifo (a monstrous painted banner or choreographed flag/sign/banner-waving) painting/building events; These events take a lot of time, resources, and manual labor, but these events bring a sense of community to the fans. Most of these events/meetings are conducted after hours.
The RSL Fan Council, a group of fans that sit in various areas in the stadium to provide valuable feedback from a fan viewpoint, has been neglected before I took over the role. I wanted to make it a point to coordinate these meetings to help enhance the fan experience as much as possible. This group also operates as ambassadors to help spread the reasoning for decisions made from the front office. These meetings are also conducted after hours.
Working very closely with the operations department is also another part of the job. There are rules and regulations that need to be followed by fans and it is part of my job to understand how this works. I also find out what parts of the stadium need attention, for example, if there is a broken seat that needs fixing I let operations know and they fix it.
Collaborating with the ticketing department to come up with various ideas to get new fans through the door or enhancing season ticket holders benefits to keep existing fans happy with what they are doing.
Learning and understanding how stadium concessions operate through our concession partner, Levy, is another vital part of the job. If there is one thing fans complain about the most is the food. So, I work closely with Levy to find solutions to problems that we have. I also work with them to try new ideas/combinations to make the concessions experience better, for example, we made a $5 beer 16 oz. available to our fans and are also working on making the prices more family-friendly.
This is my role in a nutshell.
What does your typical day-to-day look like?
I don't really have typical day-to-day workflow as we are constantly preparing for the next match or event. Mainly the first half of the week is reviewing the survey results, compling data, and sharing with internal staff.
Depending on the team that plays next I am planning for that game. If RSL is playing I am working closely with the fans to figure out what needs they have for the match coming up. Creating matchday emails and survey emails to go out on a game day. If we have a URFC match I am building the game, gathering assets that need to be run during the match, and working with internal staff to ensure success.
I spend a lot of time researching soccer fan culture around the world and how other teams work with their fan bases. Doing this research gives me a lot of inspiration to be progressive and make things happen for our fan base that has never happened before. Some of those media sources are Copa90, SoccerBible, FourFourTwo, soccer-focused podcast, and whatever else I can find via social media.
I noticed you have a bachelor of Science and Business. How does your current position at Real Salt Lake & Utah Royals FC translate from your education?
My business degree did help understand how things work in the typical business world from a marketing, accounting, and overall business standpoint. Helpful when I was a Partnership Marketing Manager, but in my current roles as a Game Production Manager and Fan Experience Manager, it has not been of much help. I don't think there are any degrees to prepare you for these types of positions.
My time planning collegiate soccer translate to my current position more than anything else. I was 1 of 5 Americans on a 30 man roster throughout my 4 years. Here is where I gained a lot of my knowledge of the soccer culture in other countries since I had teammates the represented 6 of the 7 continents that make this world. Here is where I also learned that being the hardest worker in the room will take you places you never even imagined. The trick is learning how to be the smartest and hardest worker in the room.
Would you say your path to your current position was quite easy or rather challenging, and can you discuss why?
The path to my position was long and vigorous. It started with a 1,748-mile journey from New Orleans to Salt Lake City, December 2016, and almost didn't make it due to a blizzard in southern Colorado. I started working in Park City, UT for Ski Butlers, a ski/snowboard delivery service and learned how to snowboard during this time.
It was always my ambition to work for a Major League Soccer franchise and wasn't going to stop until I got my opportunity. My first email to RSL was to former General Manager, Craig Waibel, asking if there were any open tryouts for the Real Monarchs, professional team in the United Soccer League (USL).
To my surprise, Waibel replied back and put me in contact with Team Administrator and now great friend, Taymour Roushdi, who then gave me information on trial dates. I was head over heels for this opportunity, but unfortunately, I just didn't have the skills they were looking for. Still, it was an awesome experience to have the opportunity to even try.
From there I was checking the job postings on a daily basis waiting for the right opportunity. The Partnership Internship was available so I threw my name in the hat right away and got the internship. I made it a point to give everything I had and to make myself available for anything the front office needed for the 2017 season. Eventually, the opportunity came for a fulltime position as a Partnership Marketing Manager so I threw my name in the hat once again and got the job.
Throughout the season my hiring manager, Bridget Farfel, ended up taking the VP of Marketing & Fan Experience position and offered the opportunity as Fan Experience Manager & Game Production Manager.
Obviously, I took the job at the start of the 2019 MLS season and have not looked back since.
"Definitely was a challenging path, and as cheesy as it sounds it was the hard work attitude that set me apart from the rest. It was also the love and passion for the game of soccer that helped as well. "
Throughout your time at Real Salt Lake your role has changed from various roles.
What led you to your current role as Fan Experience Manager & Game Production Manager having gone from the corporate and partnership side?
I started as a Corporate Sponsorship Intern for the 2017 season and then acquired a fulltime position as a Corporate Service Manager at the start of 2018. The Corporate Service Management position had a name change a few months later to Partnership Marketing Manager, so essentially I just got a better sounding title but was doing the same thing.
Like I stated before, my hiring manager for the partnership position became the VP of Marketing & Fan Experience and once the opportunity came to move from partnerships to marketing it didn't take me long to make the decision to make the move.

"What helped me to this position is my passion for the game and the want to create experiences for our fans to make the game experience that much better."
What are your top 3-5 game day highlights from your time with Real Salt Lake & Utah FC?
I have many moments from this season that I view as highlights.
1

$5 Beer Of The Match

I am proud to say Rio Tinto Stadium serves a "16 oz. $5 Beer of the Match". This was more difficult to make happen than you would think about after a few meetings and not shutting up about it we were able to make it happen. Now fans a very excited to have a cheaper option.
2

Improving Ford Zone

Our Ford Zone was in shambles at the start of the season. This $45 ticket gets you a great seat with food included, but the experience was a dumpster fire. The number of negative survey responses concerning this area was annoying. After raising awareness and careful planning we have been successful in creating a better experience for nearly 800 fans per game. This was a group effort, but it great to be a part of the solution for the greater good.
3

Kick Cancer

A young fan who has recently been diagnosed with 3 different kinds of cancer had trouble getting into the stadium through our ADA entrance. I was able to identify the problem, get in contact with the mother to let her know I was looking into the situation, and to top it off I got an MLS "Kick cancer" themed match ball signed by the whole squad and gifted it to him at our match against LA Galaxy.

This was a small gesture but made a huge impact on this family. Hit me right in the feels after seeing the excitement and disbelief that this was happening to him. A much better home for the ball as it used to sit under my bed collecting dust.
4

Royals FC vs. Portland Thorns Match

Being the Game Production Manager in welcoming the return of the 2019 FIFA World Cup Champions, Becky Sauerbrunn (URFC), Kelly O'Hara (URFC), Christen Press (URFC), Adrianna Franch (PDX), Tobin Heath (PDX), Lindsey Horan (PDX), and Emily Sonnet (PDX) during the the Utah Royals FC vs. Portland Thorns match was pretty monumental.

The hours of planning that goes into making 30 seconds a memorable time in soccer history for the fans is gruesome. This was also very much a team effort in coordinating everything from working with the team side, public relations, marketing, media, audio, and many more individuals/departments to make this happen. It was all worth it in the end when the URFC fan base erupted in celebration.
5

Working With The RFL Supporter Group!

The most memorable highlight of the season if definitely working with The Riot (RSL supporter group) in making the game day experience great by creating giant tifos, chanting together, and celebrating a win at by the new "Plant the Flag" celebration. I have always admired supporter culture as they are ones marching down city streets, singing songs, and creating giant tifos in celebration of soccer. It has been challenging to kick start that culture for RSL but it has been a pleasure to get to know the diverse group of people that I can now call friends.

Building a tifo takes 80-100 hours of work but it is an event that brings the community together to be a part of something bigger than one's self and to see a project like that come to life is something to be proud of.

The "Plant the Flag" celebration is my brainchild that took a decent amount of convincing and was thought to be too cheesy at first but is now a part of the game day ritual when we win. See the video provided in the link to formulate your own opinion.

The goal of this tradition was to bridge the gap between the team and the fans like the Portland Timbers have done through the log presentation or Atlanta United with the slamming of the golden spike. I view this as a success because now when we win the team comes knows to come down to the south goal (supporter section) to be gifted the flag by a supporter to be planted establishing this is the place. I was reassured with the success of the tradition when the majority of the fan base stayed in the stadium to witness the tradition; this was a moment that slowed down for me hear the crowd cheer as one during this new tradition. I only hope that I can look back later in life to see this tradition still apart of the fan experience.
What are three technical skills sport management professionals should possess?
1

Positive Attitude

Having a positive attitude is a must as sports seasons are long and tiresome. Maintaining a positive attitude throughout a whole season will help make the season more bearable and not feel like you are wasting your time since the majority of your weekends are taken place at the stadium.
2

Adobe Applications

Having knowledge in Adobe applications can help in so many areas. I am constantly blown away by what our designers can do and how simple some tasks are. Having the ability to take care of some of the minuscule tasks helps get things completed in a timely manner. The Adobe applications also just make things look so professional.
3

Human Skills

I believe have human to human skills is very important as fans are people and liked to be treated as such. We live in a world where communication is so accessible and it is an amazing time that we live in. But I have learned that maintaining a human to human interaction with people goes a lot further than a text or email.
---
William Mussack
Interview by Amber Somerville
Posted October 15, 2019 in Industry Profiles