The Canadian Women's Hockey League (CWHL) announced its end today. Most professional female hockey players played in the CWHL when not vying for a spot on their national team.
Canada's Pro Women's Hockey League
It was considered a women's version of the NHL. They had six franchises: the Boston Blades, Brampton Thunder, Calgary Inferno, Montreal Stars, Shenzhen KRS Vanke Rays, and Toronto Furies.
Today's news comes as a shock to Canadian Women's Hockey League fans, players and the sport world. Last week, the Calgary Inferno won the league's coveted Clarkson Cup. A week later, the league announced it will cease to exist on May 1.
The Reasons

We will try to reason why the Canadian Women's Hockey League folded with concepts commonly discussed in Sport Management finance courses.
To begin, let's look at what the said in this press release snippet:
"Unfortunately, while the on-ice hockey is exceptional, the business model has proven to be economically unsustainable."
You can read the full press release by clicking on this link.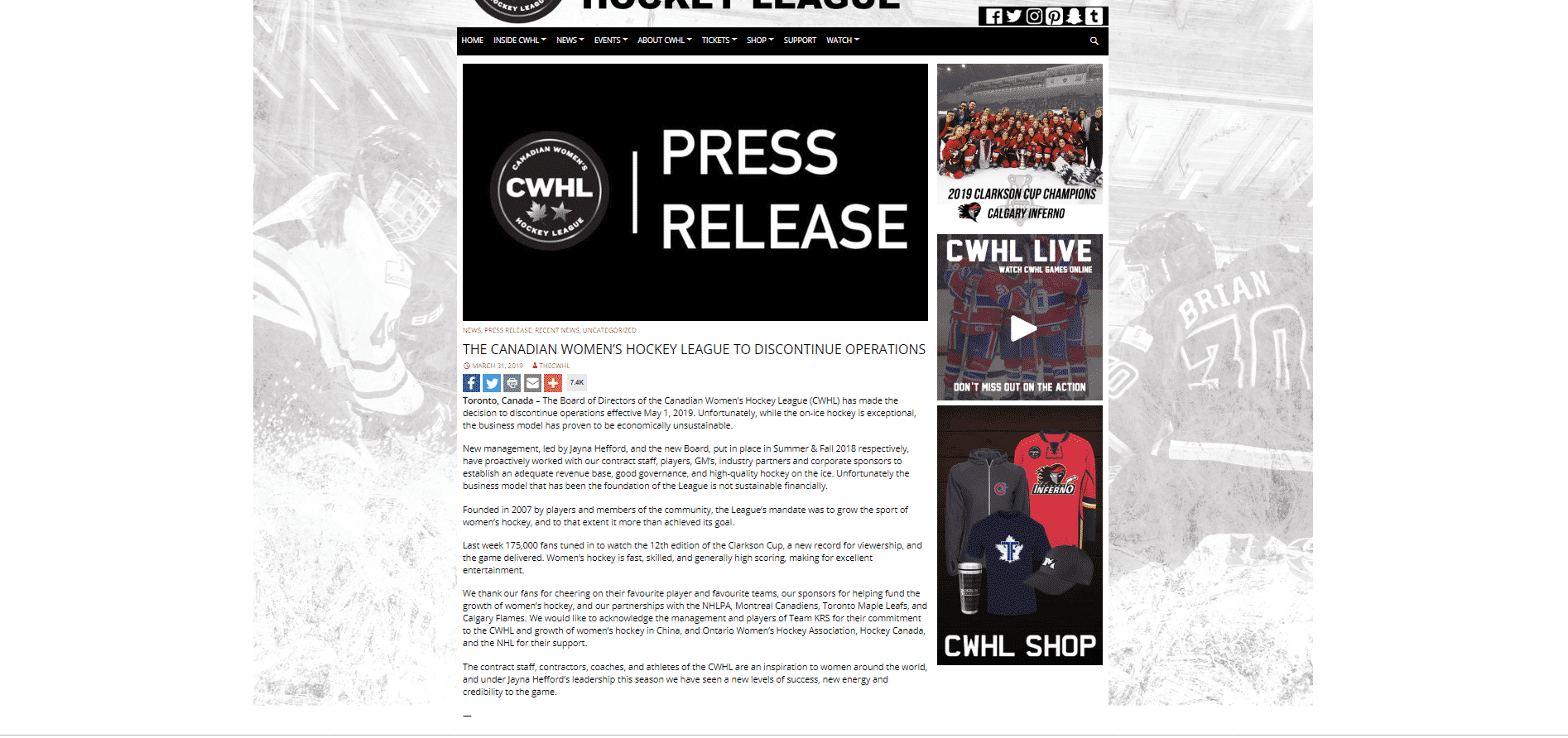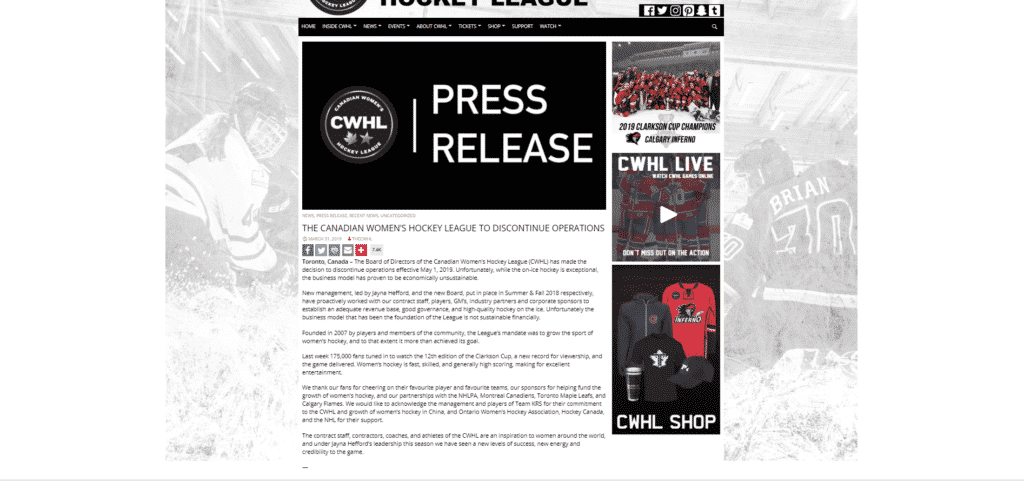 Financial Perspective
The Canadian Women's Hockey League possessed a shared revenue and expense model, also known as a centralized system. So the league took care of all the expenses and revenues for each of the six franchises.
In 2015, the league's budget was announced by then commissioner, Brenda Andress at $1.5-million.
Revenue
Revenue consists of all the money the league made through its team's sponsorships, broadcasting rights, and gate receipts. Perhaps there are other revenue streams that we are not privy to, but here's a breakdown of what we could easily ration.
For more on key sport finance terms, visit our category page here.
Sponsorship
On today's check, the Candian Women's Hockey League's website reported sponsorships and partnerships with Scotiabank,, Bauer, Sportsnet, Tim Hortons, and more. We don't have figures on how much money this stream brought on, but we can only predict it was low. Also, we are unable to distinguish which organizations presented on their website are partners versus sponsors.
Broadcasting Rights
There's no figures on how much, if any amount of money, the
Canadian Women's Hockey League received from television networks who broadcast some of their games this year. However, it is important to note that Sportsnet broadcast select CWHL games this year and the US-based NHL Network televised the Clarkson Cup for the first time. In men's professional sport, broadcasting rights tend to be lucrative. However, women's professional sport in North America drastically pale in comparison.
Gate Receipts
It's always tough to identify how much revenue is made when it comes to ticket sales. Consequently, we will not give any concrete or definitive figures. We will look at the attendance figures got ahold of and show some of their ticket prices.
Let's look at last week's Clarkson Cup
According to this report from the CBC, the Clarkson Cup final between Les Canadiennes de Montreal and Calgary Inferno was 75 percent sold out.
The game was held at Coca-Cola Coliseum in Toronto which fits 8,500 spectators.
Capacity and attendance
8,500 is the capacity
75 percent is the estimated amount of tickets sold
Spectators in the stands
8,500 capacity x 75%
=6, 375 fans in the stands
Ticket Prices
We reckon the average ticket price to be $15 based on our research.
Gate Receipts x Estimated Attendance
We are almost there! Let's try and estimate how much money the
Canadian Women's Hockey League earned in revenue from ticket sales alone. Again, it is tough to speculate because we do not know what portion of revenue from each ticket they actually earned. This is because the ticket agencies likely earned some commission too
6, 375 fans in the stands
6,375 x $15
=$95,625
Just one game though! What about the regular season?
The Clarkson Cup is just one game and revenue does not equate to that for regular season, or even less pertinent playoff games. Take a look at the attendance numbers we've obtained.
Attendance figures from the league are unclear from the past few years. As an indication of poor individual game figures, the Globe and Mail reported this. One of the league's most popular teams, the Montreal Stars only averaged 700 spectators per game.
Attendance figures from the 2010/11 to 2015/16 season are available through this Pointstreak link.
Expenses
Front Office Salaries
There are a number of key positions within each team's organization to consider. Perhaps we can get more information on how much money some of those front office people get paid. Furthermore, since the league pools each team's revenues and expenses, it's important to consider how much the league's commissioner and other key representatives make. Without facts on this, we cannot predict how much front office salaries are.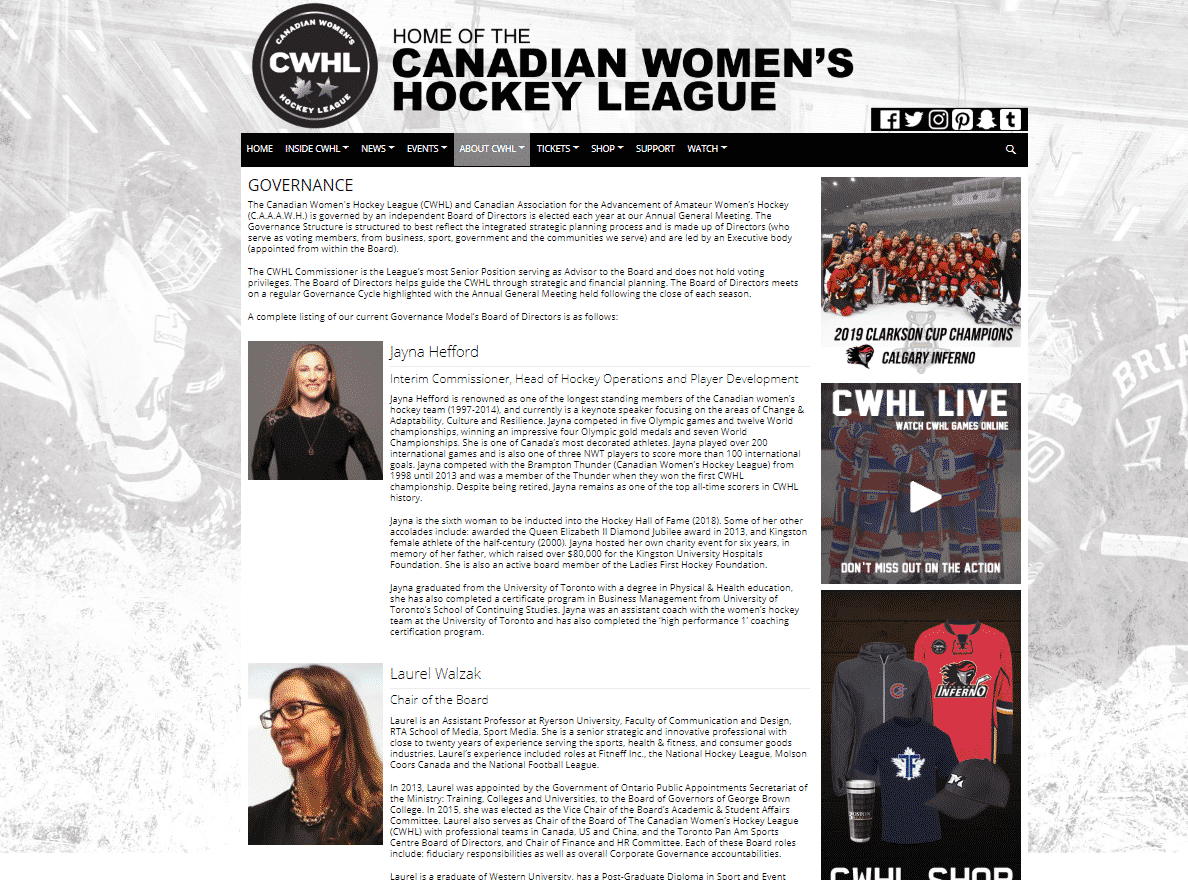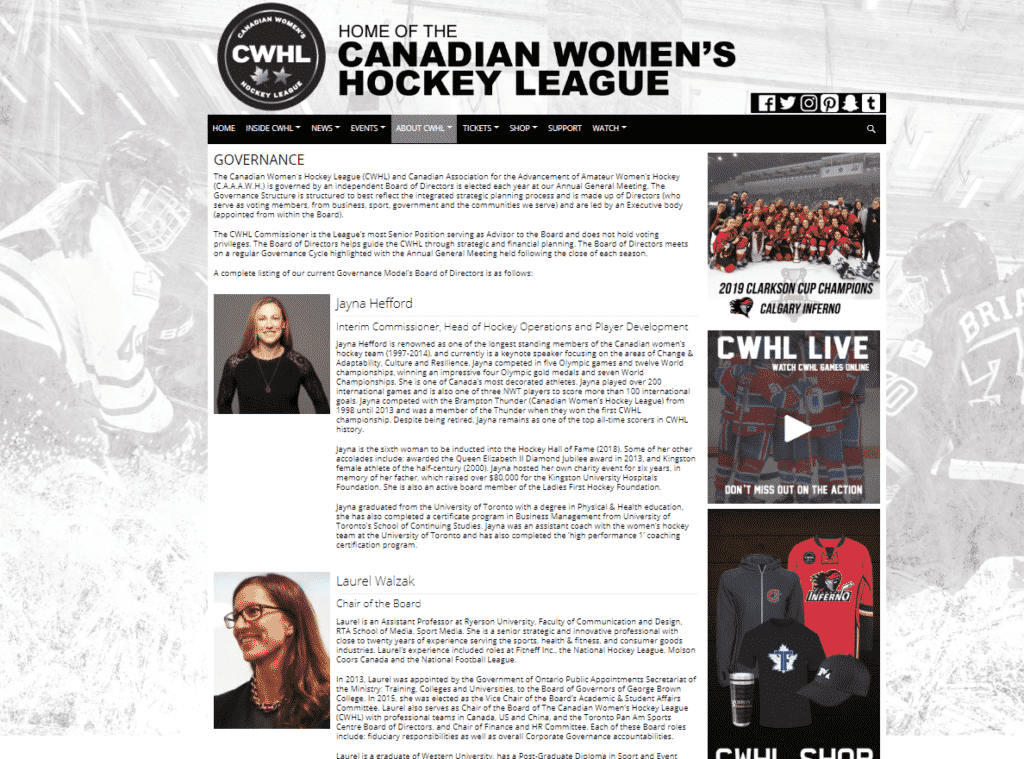 Player Salaries
Shockingly, the league only began paying its players in 2017. According to this report by the Globe and Mail, each player made a minimum of $2,000 and a maximum of $10,000.

Ice time
Between practice time and game day, Canadian Women's Hockey League teams incurred ice time charges. All the ice time rental pooled together is a bill the CWHL had to pay for. Remember, their financial model is one of cohesion. Ice time cost adds up! Nadia Dahlhbeck, an Informations Officer at the Thornhill Community Centre where the Markham Thunder called home provided us with the cost to rent their rink:
| | | |
| --- | --- | --- |
| Plan Name | Time of Day | Price Per Hour |
| Prime Time | 4 to 11 PM | $262.42 |
| Non-Prime Time | Before 4 PM | $190.60 |
| Midnight Special | 11 PM – 12 AM | $90 |
Just think about all hours a hockey team needs to be competitive. Questions to consider when rationalizing ice-time expenses are as follows:
How many hours would they need per week to practice?
How many hours does the hockey team "take over" the rink on game day?
Take the numbers from each team and pool them together and you have A LOT of money being paid for rink time.
Travel
Travel costs a lot of money. 5 out of 6 Canadian Women's Hockey League teams are in close proximity to each other. However, the team from China is not. Therefore, travel expenses are inflated by that alone.
Hotels
Similarly, hotel costs for road teams range. Usually teams have deals with local hotels, close to the home team's arena. Without facts on where the player's stay, estimates cannot be made on how much hotels cost for teams. Moreover, hotel prices range considerably.
Equipment
Likewise, equipment prices range considerably. According to the same Globe and Mail report linked prior, the Canadian Women's Hockey League incurred equipment expenses for all its teams. Since hockey equipment ranges considerably depending on price, quantity, quality, and more; it wouldn't be fair to make an estimate. You can guess how much this costs by determining what equipment a hockey team needs. Indeed, looking at the number of CWHL players per team helps in rationalizing the amount of equipment needed. For instance, at season's end, the Markham Thunder has a count of 23 players. Nonetheless, looking only at the number of players is not enough; it does not consider the variance of hockey equipment types.
Marketing
Not sure what the Canadian Women's Hockey League spent on marketing so we won't try to guess. Until we get accurate information on this, it wouldn't be fair for us to project. Nonetheless, it's important to note that sport organizations can incur plenty of costs on this alone.
Metaphoric Perspective
The purpose of this article was not to look at this as a women's vs. men's feature. However, the Hockey News writer Matt Larkin made a fantastic analogy describing the Canadian Women's Hockey League in 2015 that we couldn't pass up on including in this article. Here's a key excerpt from it that puts things into perspective very well:
"The main problem impeding the league's growth consists of two items: one chicken and one egg.

Let's call the game itself the chicken and money the (golden) egg. Is the chicken fertile enough to yield the egg yet? In other words, is the CWHL game elite enough and entertaining enough to deserve and attract more fans? It's certainly closer during years when the Olympians are home to play, and the Canadian and American ones at least get stipends from their governments to focus on training and performing at peak levels."

An excerpt from this Matt Larkin article.
The Verdict
While the news of the Canadian Women's Hockey League is certainly disappointing for a number of reasons, there is light at the end of the tunnel. See the next heading for more on that.
However, the presumed balance sheet rationalized above shows its financial state is, as in the words of today's press release, "unsustainable". Revenues must exceed expenses in order to make a profit. Given this, it is tough to justify the CWHL thriving with profit.
Light at the End of the Tunnel
The National Women's Hockey League (NWHL) exists and is looking to expand. We are already crafting a special feature on that. Also, it will be interesting to see what some of the league's most powerful players will do to try and keep the Canadian Women's Hockey League intact. Women's hockey stars Marie-Phillip Poulin and Natalie Spooner are just two prominent players who said they will look to overcome today's disappointing, but financially understandable news.