After reading this article, you will have a clear understanding of what is sport marketing, and the best sport marketing strategies that will help you engage existing fans and win new ones.
The North American sport market rose to over 80 billion dollars Canadian in 2018 according to these statistics. Any marketer thinking of using the sports market for value promotion is on the right path. Good for you in making the decision to use sport to help your product, service or brand get out there.
This comprehensive guide on sports marketing strategies will aid you to identify the trends, current strategies used by competitor, and challenges within the sport marketing ecosystem. After all, if your company's sport marketing strategies are getting outdated, now is the time to give it a lift and follow industry trends.
Current trends in sports marketing strategies
Sport fans are looking for more engaging content and all around experience
Sport marketing is being developed with the aid of new platforms and innovations
Women are becoming a more significant percentage of sport fans, so sport marketing strategies should also be built around them.
Innovative marketing ideas outsell conventional ideas
Substantial marketing budgets don't always equate to huge ROI in sport marketing. Being associated with sport was much more likely to yield ROI back then, but isn't so now. So make sure your marketing strategies are creative.
The 5Ps (price, promotion, place, product, and promotion) of marketing are still useful when developing your sport marketing strategies. So don't forget those 5Ps!
6 Best Sport Marketing Strategies to Win Big
Since we are interested in using the popularity of sports to create compelling attention to our products and services, this is exactly what we need to do. Creating the right product, making it a brand, and promoting it with sport starts with understanding the right sport marketing strategy to use.
What are these strategies?
1. Understand your Target Audience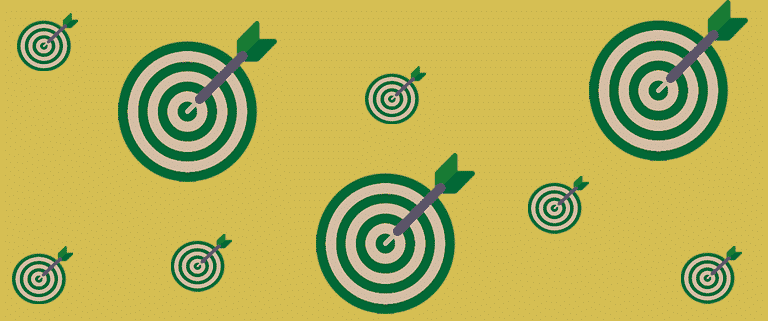 If you don't understand your target audience, you will not have a clue on how to reach them. Every product developed seeks to serve a unique audience. Proper market research to segment your target audience would go a long way to impact your ROI.
The demographics of your target audience are all that matters to you. Their age, income, and interests are what you should get to know. Getting all that information gives you a clear description of how to reach them and what products/service they would be interested in purchasing.
GoDaddy is an Internet domain registrar and web hosting company. For several years, they've targeted small business owners who are fans of the Toronto Raptors to try and lure them into buying their services. So what they've used the team's players to pretend that they've started their own little side business. They make the website look and seem like it's being operated by the player. They then feature their websites in commercials, social media and other channels. This is an example of a clear direction that targets a specific demographic.
Thus, it would be an insane idea to target racing fans with a website design course when your research should have made it clear that they might be interested in auto parts. Finding your target market is key to using sport to market your products and services.
2. Create a unique angle
Your product and service will never be the first in the market. It is, therefore, an excellent idea to position your brand from an unusual or unique perspective. What can you do to make your brand stick in the minds of fans that come around to watch basketball games?
Lessons on Sport Marketing from Google Home
Take Google Home for example. It is not the first smart home automation and speaker that's graced this earth. In fact, the first device was released in the United States in November 2016, and didn't hit the global market until 2017 and 2018. Its release came at the peak of Amazon Alexa's success in the United States.
But in Canada, Amazon Alexa wasn't released until December 2017. So penetrating the market came at the same time for Amazon as did Google. The question for consumers using this unique product, riddled with questions about privacy and security was, "which brand can you trust and rely, and bring into the comfort of your own home?"
How in the world do you compete with a device like Amazon Echo, a device that's made a name for itself globally. Just say "Alexa" followed by a command and it will tell you a joke, last night's sport scores, turn lights on/off, or even make a farting sound.
Google Home can do all those things. Selling consumers on Google being better than Amazon is the key. That's where marketing came in for Google Home. This marketing continues today and is being done through sport, particularly in Canada since competition is much less. Sure, Google Home could just produce generic ads on their product like this one. But why not sell the uniqueness of their product by marketing it through sport?
The video above shows one of two Google Home Mini advertisements being shown numerous times during Raptors broadcasts. There's this one too. Oh and there's this one from last season! And who can forget this ad?
Having 2 star players in Kyle Lowry and Danny Green having fun with the device in a unique setting make the product seem validated. If Kyle Lowry and Danny Green, two sport stars, verify the product, why wouldn't I? Plus is looks like so much fun to use!
3. Create engaging content that suits your target audience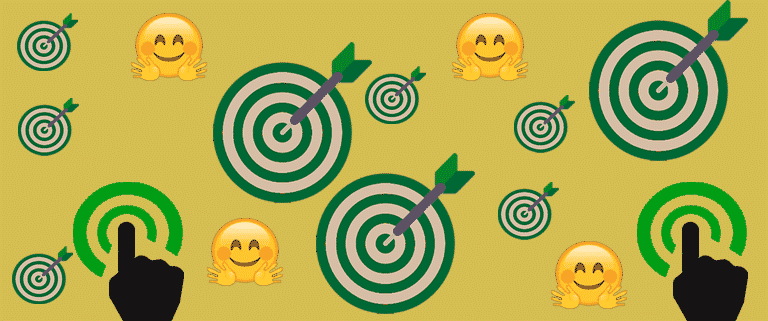 In sport marketing, the right message should guide your public communications. It is best to tailor your message to suit your target audience.
Assume Redbull who utilizes marketing through sports as a means of promoting their product, decides to use an older sports celebrity with the hope of targeting young sport fans – would it sell? Maybe in some markets, but likely not in most.
Matching the correct message to the right audience can lead to desired results.
4. Identify the best channel to reach them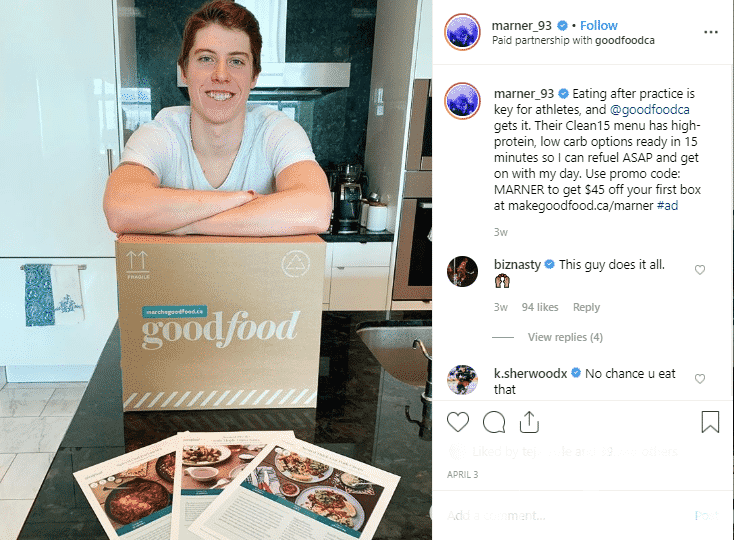 As technology has evolved, particular concerning the media so has the opportunity for companies to get across to their customers with sports interest quickly. After you have developed the right content, identified the right audience, you can then go ahead to point out the best channel to reach your target audience.
Social media marketing channels like Twitter, Instagram, and Facebook are likely options; or you could opt for content marketing platforms like YouTube, blogs and press releases. Your best option depends on your research and the platform you believe your target audience stays active.
Take the paid sponsorship between GoodFood and Toronto Maple Leafs star Mitch Marner for example. As part of marketing through the sport of hockey, GoodFood has Marner post a friendly picture showing off what the company does. In adition, he writes a message to his 393,000 + followers on Instagram: "Eating after practice is key for athletes, and @goodfoodca gets it. Their Clean15 menu has high-protein, low carb options ready in 15 minutes so I can refuel ASAP and get on with my day. Use promo code: MARNER to get $45 off your first box at makegoodfood.ca/marner #ad"
Another way to clarify without research to know the best platform for your marketing is by experimenting. The combination of different channels will show you what works and doesn't work.
5. Build up Partnerships
Brands are becoming ever data-driven, hence the need for partnerships to scale up promotions. Sports teams and brands are aligning with one another to reach their objectives and achieve specific marketing goals.
Take the marketing partnership between Texas mega grocery chain H-E-B and the San Antonio Spurs for example. H-E-B produces high quality, fun and engaging commercials featuring Spurs' players. The partnership is a win-win for both. H-E-B gets validation from Spurs players that their store is legit. Likewise, the Spurs associate themselves with a high-quality grocery store. After all, athletes need to eat and be healthy in order to sustain their career. They also get to humanize their players and engage closer with fans. Knowing that Patty Mills has a unique accent and showing that Kawhi Leonard really is a fun guy (see clip from above) helps with fan engagement.
Brands are considering partnerships as one of the good sports marketing strategies to reach out to consumers. As an example, Fly Emirates is the official sponsor for the Arsenal FC. You wonder what impact this partnership has had on their brand. Your guess is as good as mine.
It's not all about the large budgets for partnerships. Being the official coffee for a football club could do a lot for your brand. It is all about carefully selecting the right message, tool, and campaign for the right market.
6. Sponsorships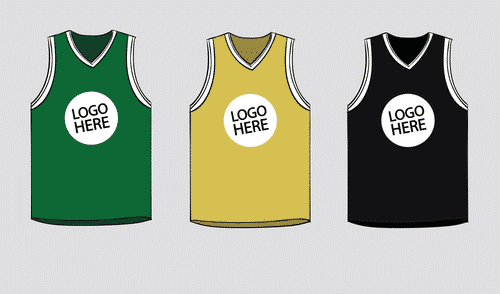 No matter what you think, sponsorships are and will remain one of the top sport marketing strategies to generate quality brand awareness.
Think of seeing a brand on a sport jersey or race car; it not only adds credibility to the brand; it can also turn the brand from a small name to a nationwide name. Football, soccer, basketball and hockey have become popular sports, and organizations from all over the world have a presence around the stadium and on the sports jerseys.
Just of recent, Air Transat is on board as the jersey sponsor and airline partner of the Toronto Wolfpack in Canada. For Air Transat, this exposure means that their names will be mentioned by sport masters as a result of the sponsorship.
The Toronto Wolfpack happen to be a reasonably priced jersey sport sponsorship for a corporation given their novelty as Canada's first professional rugby team. However, jersey sponsorships with an NBA team are lucrative.
Thus, it is suggested to think about sponsoring a team locally. If the Richmond Hill Soccer Club suits your small businesses needs in terms of brand position for a sponsorship, then go for them! Not only will you be visible to parents, coaches and more within your local community, you'll also be helping out a non-profit!
The Verdict
Any of the above can be the right sport marketing strategy for your brand. But keep in mind that every brand is different. So be sure to tailor your sport marketing strategy to what it is that your company does and how you want to position in the eyes of sport consumers.
Before you decide to employ any of the sport marketing strategies outlined, you should consider all the challenges. There may be some related to financial and social issues in sport that you need to be aware of. We have you covered. Browse through our articles on both issues for more information.