Autumn Spicer, Community Relations Manager for the Las Vegas Aces, is in charge of overseeing Las Vegas Aces player and coach appearances, as well as managing donation requests and calendar planning. Basically, it's her responsibility to ensure that the team maintains a relationship within the community during the season and in offseason too. As a huge believer that sports are a great way to bring communities together, I was excited when Autumn gave me the opportunity to find out more about her career in sport, which includes a transition from the collegiate ranks. It was interesting to hear just how much the Las Vegas Aces players, front office and personnel give back and involve themselves in the community. Throughout the interview, we will hear Autumn talk about the different events that the Las Vegas Aces participate in, as well as the many pilot programs and charity events that they donate their time and resources to. So without further ado, here is Autumn Spicer had to say: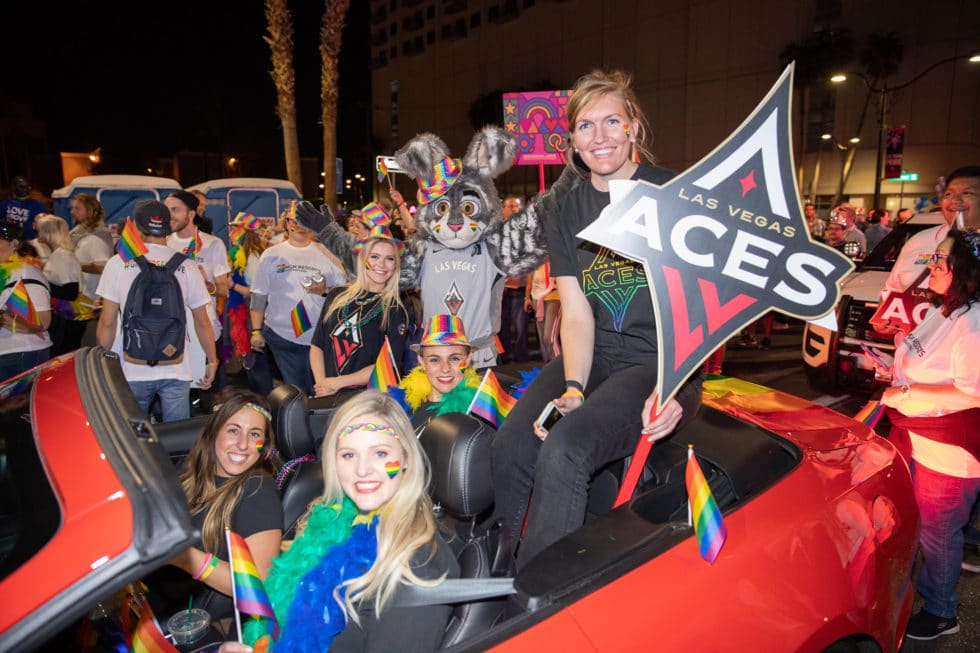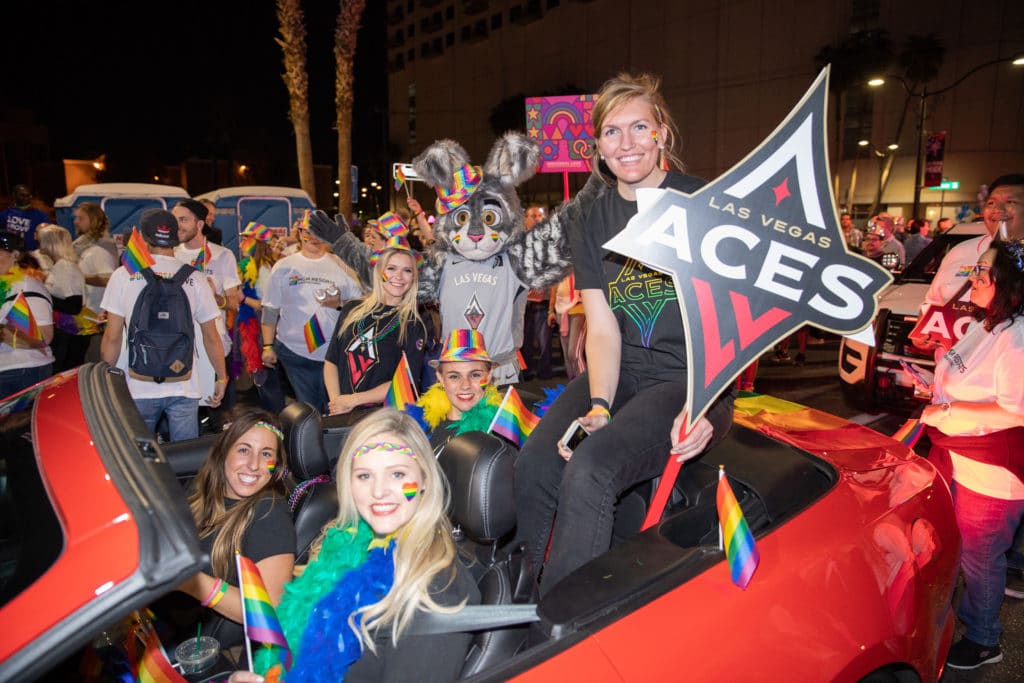 Please note: The interview with Autumn Spicer was conducted via a typed conversation. Editing changes were made to make it easier to read while maintaining the voice of the interview.
Tell us about your role as Community Relations Manager for the Las Vegas Aces.
As Community Relations Manager, I oversee the Las Vegas Aces player appearance requests, front-office and coaches appearances, donation requests, and calendar planning for the season and off-season. In addition, the strategic planning, programming and special projects for our community outreach. For example, we recently launched two new pilot programs: Slam Dunk Health Challenge – A health challenge for 1st-5th graders that track their fruits, veggies, and physical activity for 4 weeks and Lace Up, a high schools girls basketball mentorship program where we selected three teams to adopt. These teams receive one-on-one interaction with our professional players, access to basketball programming and life skills.
In addition, assisting with special events, serving on our leadership team and assisting with community sponsorship activations, and determining sponsorship giving in the community on behalf of the Aces. Lastly, cultivating and maintaining relationships with community partners.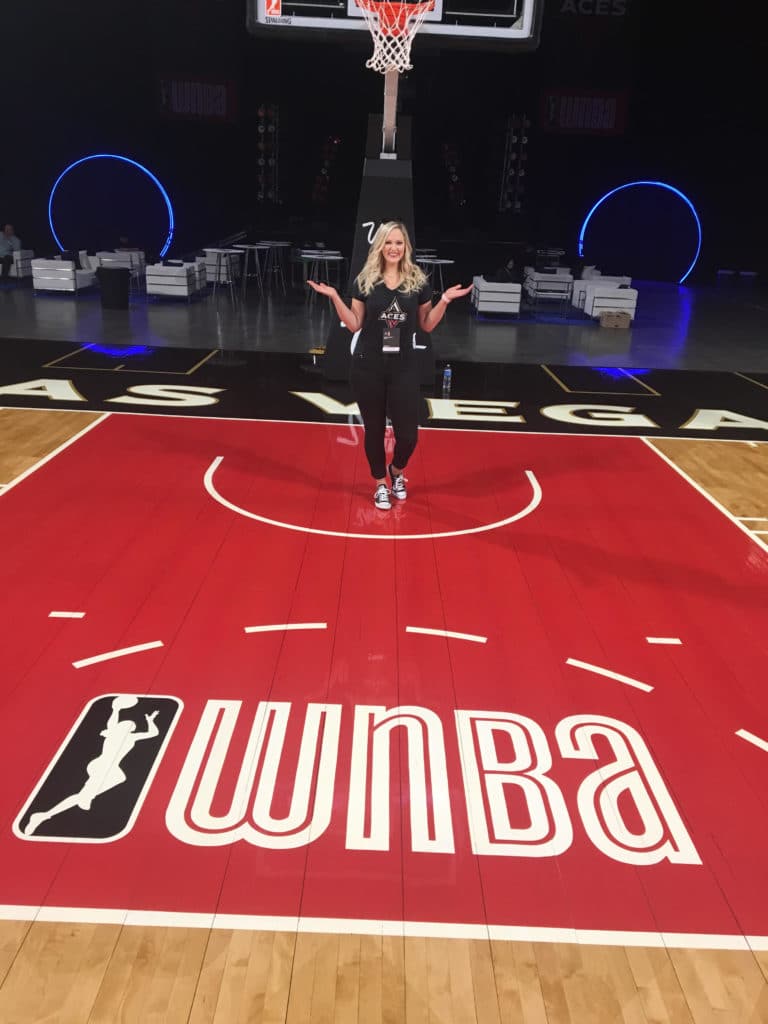 What does the offseason look like for you compared to training camp, preseason, season and playoffs?
The WNBA is a summer sport, and our season runs from May-September. In the off-season, many do not realize that WNBA players typically do not stay in the market – They immediately fly out to begin playing overseas on their international teams. They play year-round.
It's incredibly important that when our players are not in the market, our team still maintains a presence in this community. The WNBA is a grassroots organization and it's essential that we continue to engage our fans and create new supporters along the way. The off-season is slower in the sense that we have our weekends back and resume a more normalized "Mon-Fri" workweek. However, we are still attending community events, engaging with our season ticket members, planning holiday activities, sending our mascot and front-office staff to appear at community events to maintain our presence in the community. For example, we will participate in the Las Vegas Pride Parade, veteran's parade and Santa Run to engage our season ticket holders and fans! We have such a great front office that as an entire staff, we often volunteer together for the Aces at least four times a year. My favorite visit this year was for International Women's Day – We volunteered as staff at Habitat for Humanity.
The offseason is also a great time to recap the season, review programming and assess what was successful or needs to be reviewed. Curating an end-of-season recap to highlight the Aces impact on the community and also begin working on the next year's CSR strategic plan. We'll begin gearing up to re-launch our programming for 2020 and also start project planning for new programming projects. We're excited to team up with Nike Game Growers to grow the game of basketball and are currently exploring court dedications in our community.
Many people think community relations is a great aspect of the sport industry to work because you get to interact with the players (and the mascot regularly!). If you can, talk about this aspect of your role as the Community Relations Manager with the Aces.
Community relations is such a great aspect of the sport industry! It has been so incredible to get to know many of our players on a personal basis. It's important to understand what their passion and interests are because we try and match our players to organizations or community events that they'll be passionate about. These women are incredible on and off the court and it's an honor to work with them.
During our last off-season, one of our players, Carolyn Swords stayed with the Aces to learn about the front-office and had the opportunity to work with Carolyn on a lot of our CSR initiatives. She played a critical role in helping us launch our Lace Up program for high school girls basketball teams and it was so neat to hear her perspective as a professional athlete and her experiences as a high school basketball player as we were building our program. Not only is it great to get to know our athletes on a personal level because they're so AWESOME, but these women can also provide a lot of great feedback or perspective.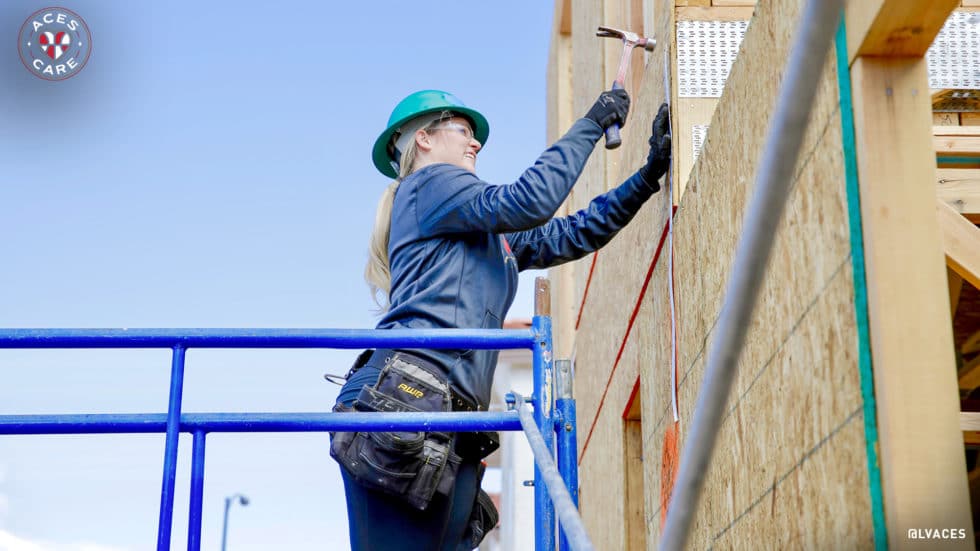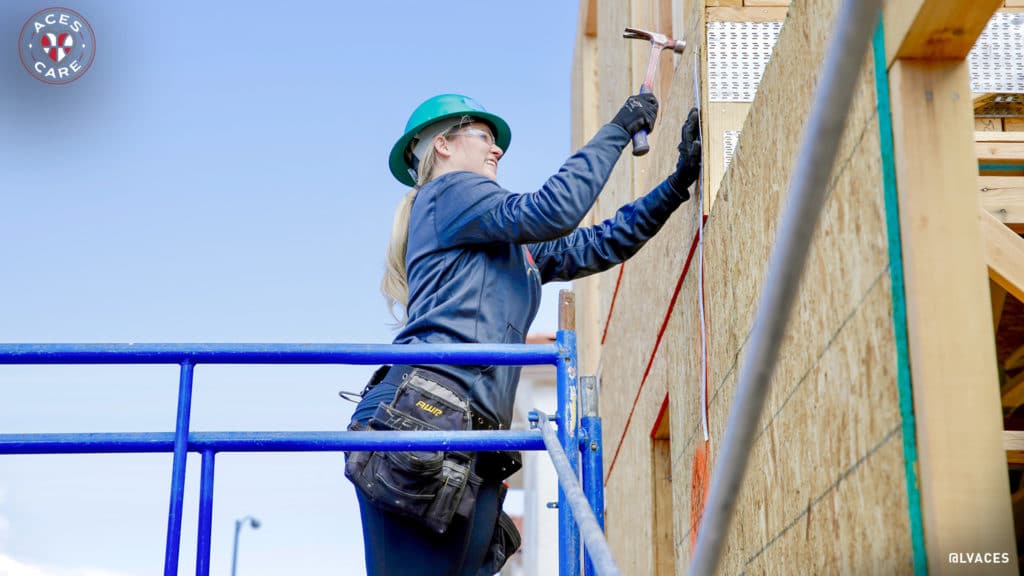 When was the point you realized that you were meant to work in sport?
The first time I realized I was meant to work in sports was when I was working as a student in the athletic director's office at UNLV. On top of my regular duties, I was to take on the responsibility of overseeing UNLV's donation requests and appearance requests for the athletic department. The department did not have a full-time person overseeing community outreach at the time. The request was only supposed to take about 20% of my day-to-day and while maintaining my regular admin duties. However, I IMMEDIATELY fell in love with coordinating our student-athletes' appearances in the community and knew that this was my passion.
UNLV's student-athletes submit their community service hours to the Mountain West Conference each year as a competition with the other universities. We weren't dead last, but we were near the bottom of the pack. I wanted to WIN that challenge. Working with our SAAC (student-athlete council) we came up with a bunch of ideas on how to grow our community service hours and WON the Mountain West Community Service Challenge for the first time! It was so rewarding and I just knew this was the career I wanted to pursue.
Shortly after, my boss and department changed my role and title to Community Relations Coordinator and about a year and a half later, the Las Vegas Aces came into town and recruited me to their team!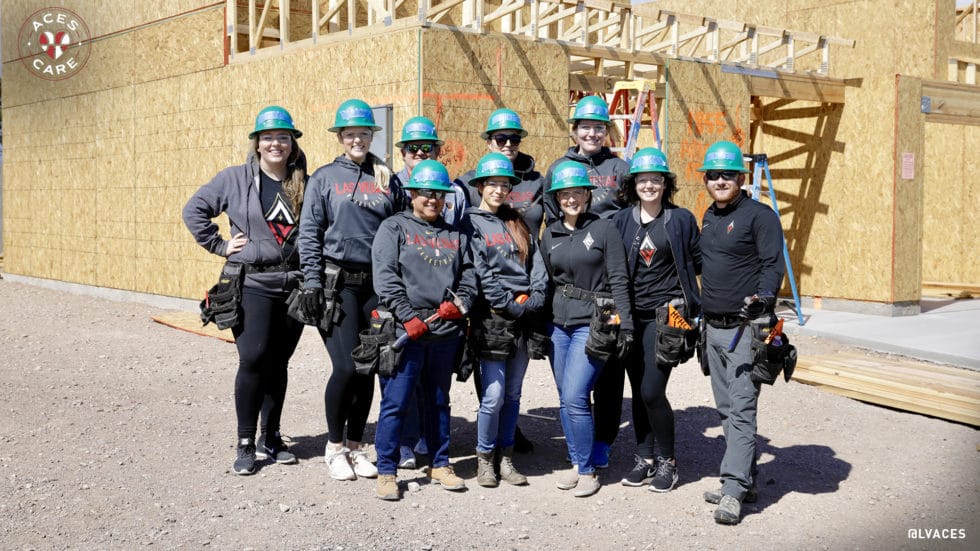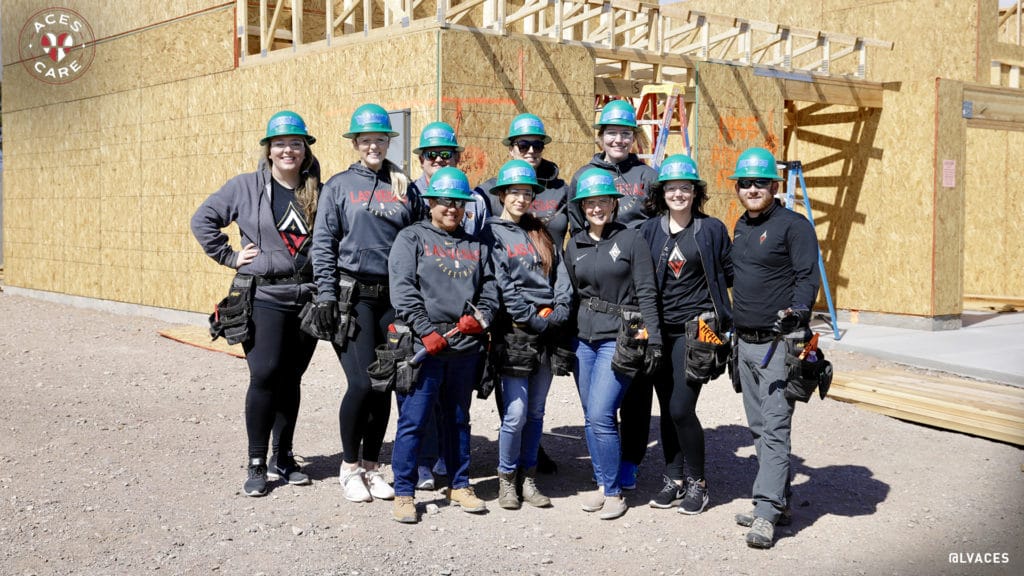 In Spring 2017, you graduated UNLV with an MBA. Take us through your decision to do an MBA and (if and) how it helped you transition from working in community relations at UNLV to the WNBA with the Aces.
One of the really great opportunities about working for a University is that many universities will offer discounted tuition to their employees. My sister and I were both working at UNLV and decided it would be a great time to pursue our MBA. We were already working on campus and saw the benefit of doing our MBA immediately after our undergraduate. I also believe that an MBA will set you apart from other applicants that have a Bachelor's degree.
My undergraduate degree felt more subject-based whereas our MBA program was heavily focused on project management, tackling business problems and providing strategic solutions, etc. I have really found my experience within our MBA program incredibly useful working for the WNBA. Those skills translated when I was asked to put together our strategic community outreach plan and came in handy when we hosted our first WNBA All Star Weekend in Las Vegas.
The sport event management side of the industry gets stereotyped for attracting detail-oriented individuals. Talk about this stereotype and if you'd characterize yourself in this way.
It's interesting because I've never heard of that stereotype! But it makes sense that it attracts detail-oriented individuals. Being detail-oriented is incredibly helpful because it ensures that your events/projects run smoothly if you're managing more than one project. The Aces organization places an emphasis on the little details and we pride ourselves going the extra mile. Our brand look & feel has tiny details in our logo with a hidden LV inside the design and even on our court on the inside of our three-point line, there are different colored wood grains with the suits of the deck. Being detail-oriented is not a requirement in this field but it will definitely set you up for success and help you deliver high-quality events and programming.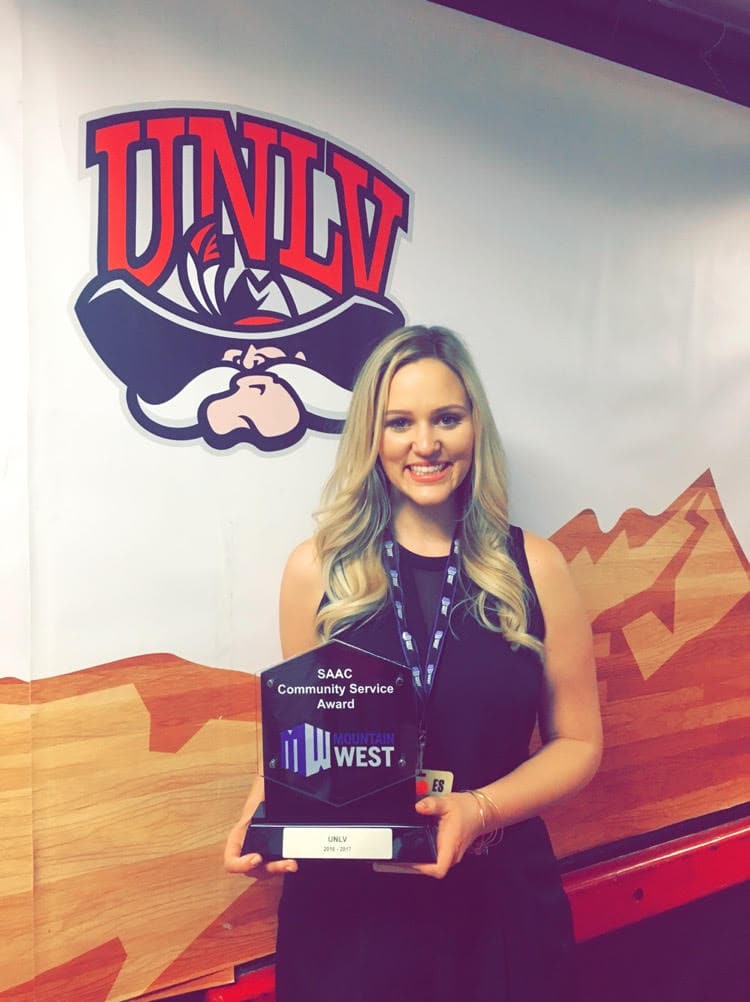 What would you say are your top 5 favourite community programs that you've managed or created in your career between UNLV and the Aces? Please justify your ranking!
1

Lace Up

Lace Up is a high school girls basketball mentorship program. I absolutely love this program because it's so special and unique. Lace Up invites all high school girls basketball teams to apply via essay, and we surprised and selected three teams at their school! The look on their faces when we surprised them at a pep rally was priceless. The teams receive one-on-one time with our players throughout our season which is so special and rare for a high school athlete to interact and spend quality time with a professional. In addition, our mentees receive special access to our games and camps. We wanted this program to be more than just basketball so we provided access to life skills such as a college readiness workshop, recruiting, women empowerment, etc. This is definitely my favorite program! It is also really special because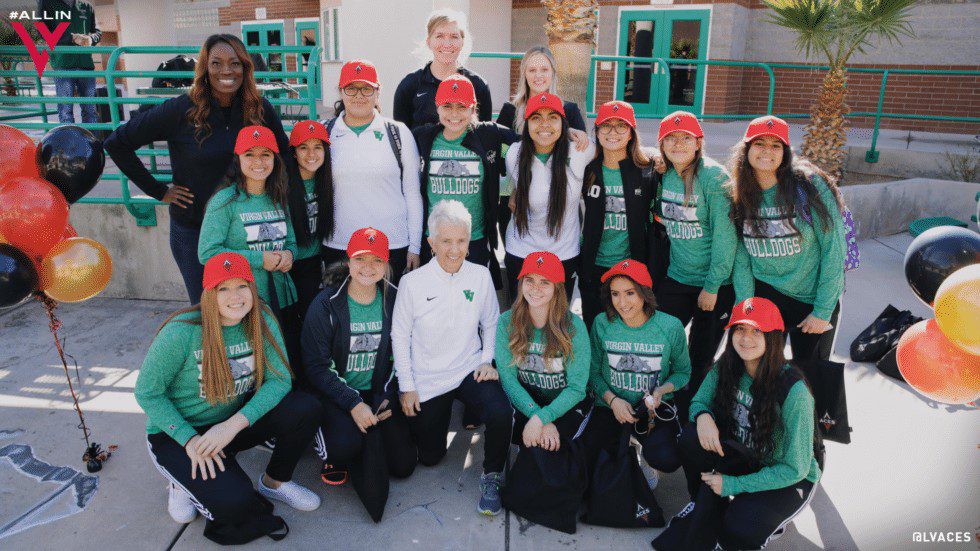 2

Slam Dunk Health Challenge
3

Rebel Health Challenge

I rank these two together because they're connected between my time at UNLV and with the Aces. During my time at UNLV, I managed the Rebel Health Challenge in partnership with the Southern NV Health District and Clark County School District. The program encourages classrooms to track their fruits & veggies and physical activity for four weeks on a classroom poster and the winners of each grade level received a surprise visit and special recognition at one of our games. When I made the transition to the Las Vegas Aces, the Southern NV Health District expressed an interest in continuing the program with me because of our relationship! We worked on a new logo, poster, and even recorded videos of our players that the teachers can play to the classrooms each week during their challenge. We have estimated over 16,000 students participated in our first pilot of the Slam Dunk Health program and I love it because we're promoting and teaching health & wellness.
4

Teddy Bear Toss

During my time at UNLV, we hosted a Teddy Bear Toss during one of our games and it was one of my favorite events. UNLV didn't continue the tradition, but I knew I wanted to maintain the tradition with the Aces! This season, we hosted our very first Christmas in July game. The entire arena, from a 360 perspective was Christmas-themed. Our in-game arena hosts dressed up along with our Wild Card Crew in Christmas spirit. Even our mascot dressed up like Santa Claus! We invited Opportunity Village, a non-profit for developmentally disabled adults, to perform Elvis Christmas songs and had all of their clients and families attend the game. Last but not least, the Teddy Bear Toss! We partnered with the Southern NV Bun Foundation and asked our fans to bring teddy bears to donate and toss at half-time! It's my favorite theme night during our season.
5

Breast Health Awareness Night

During our Breast Health Awareness Night, we partner with the American Cancer Society to recognize survivors during our half-time and presented the survivors with pink WNBA basketballs, and Athleta gift cards that have a mastectomy line. Not only do we have a special recognition on-court for the survivors, but we also host a silent auction on the concourse with our special edition pink jerseys to donate back to the American Cancer Society. We raised just under $10,000 dollars!

This year was extra special because one of our sponsors, Comprehensive Cancer Society donated to our Every Point Counts initiative. They donated money each time our team made a free throw during our season and we presented the check the American Cancer Society. We surprised them with the amount because the Comprehensive Cancer Society doubled the amount they wanted to donate!
Mat's Final Thoughts
As a final thought, I was extremely impressed by all of the work that Autumn and the Las Vegas Aces do throughout their community. With participation in pilot programs and health challenges, the Las Vegas Pride Parade, the Veterans parade, the Santa run, and Habitat for Humanity, Autumn and each member of the Vegas Aces should be proud of themselves for all of the work that they do and all that they give back to the community that loves and supports them so. It's just more proof that sports really are a way to bring communities together! Through a rare vigor, vibrancy and passion for the role sport plays in strengthening community, Autumn Spicer has helped to position the Aces as one of the most premier WNBA teams both on and off the court.
---
Autumn Spicer
Interview by Mat Israelson
Posted November 20, 2019 in Industry Profiles