Brian Killingsworth, Chief Marketing Officer for the Las Vegas Golden Knights, oversees pretty much everything in relation to their marketing, strategy, and branding. From digital marketing, to content marketing, to retail marketing, fan development, and promotions – Brian does it all. Working closely with the team's president, Kerry Bubolz, Brian Killingsworth works hard to ensure that they are always pushing the envelope and always searching for new ways to stand out. But how did Brian's childhood influence his career choices? What does he think about the 5 Ps of marketing? And what were the largest campaigns that he had a personal influence in? I had the opportunity to learn the answer to all of these questions and more, so let's see what Brian Killingsworth had to say: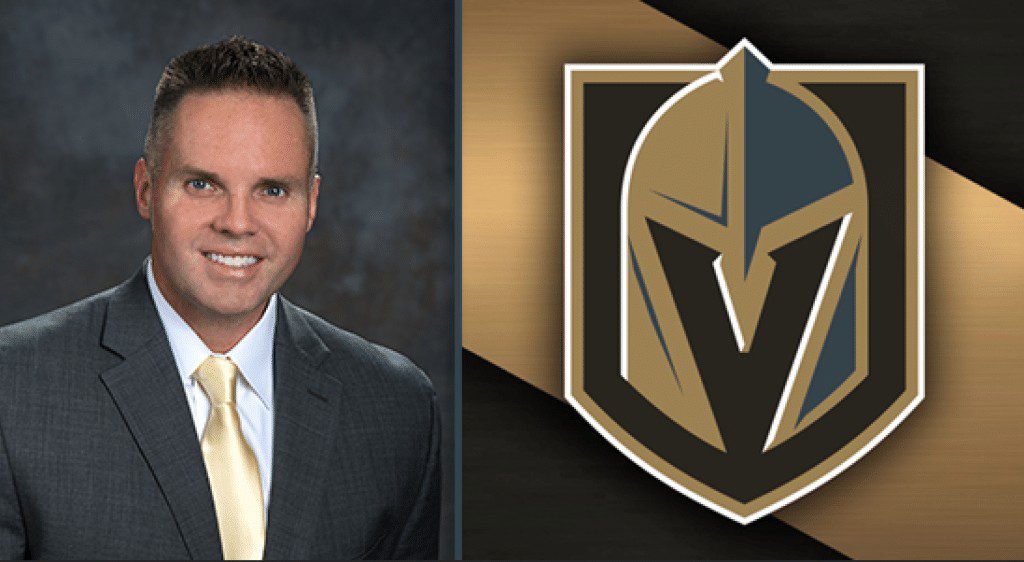 Tell us about your role as the Chief Marketing Officer for the Las Vegas Golden Knights.
In my role as Chief Marketing Officer of the Vegas Golden Knights, I oversee the team's marketing, strategy, branding, communications, content, digital, analytics, retail, fan development, youth hockey and promote the Golden Knights brand within the community and internationally. In addition, I work to integrate and cross-promote the domestic wineries owned and operated by Bill Foley as well as his Rock Creek resort properties in Montana and Idaho.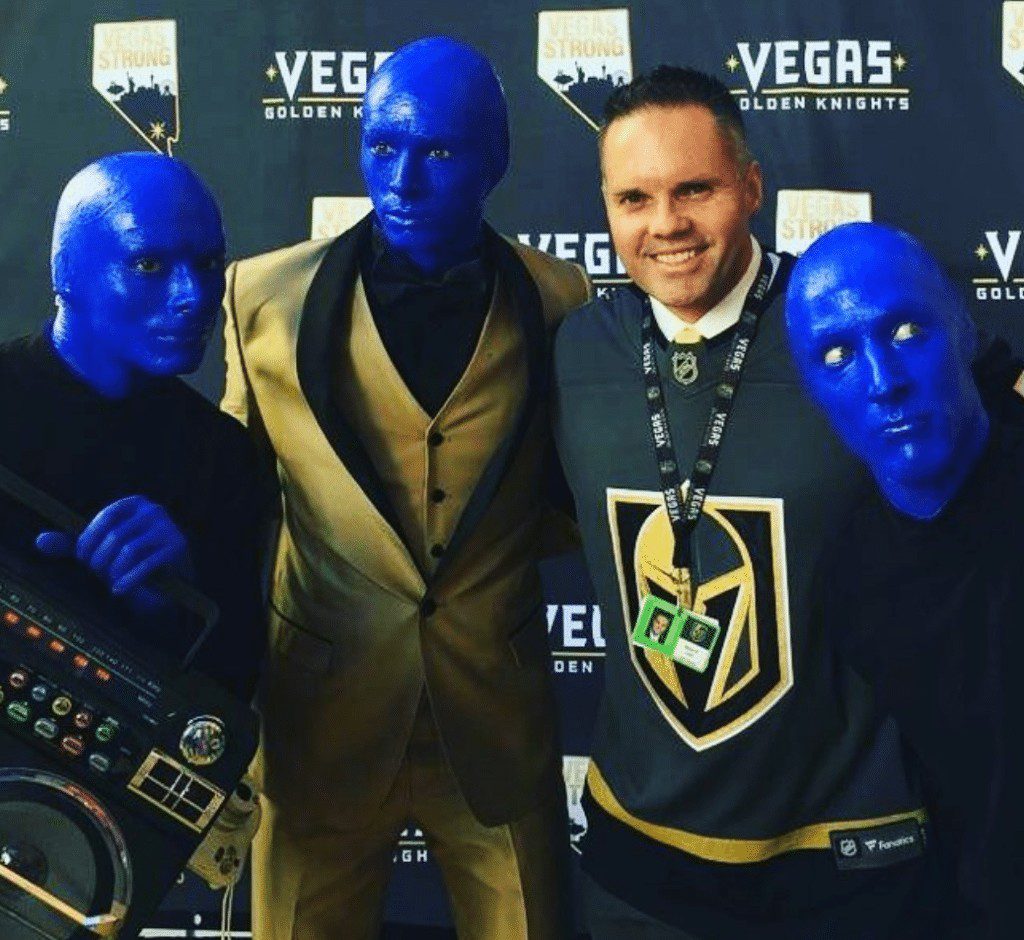 My day to day can really vary depending on the time of year or depending on which initiatives we are currently working on. I work closely with our President Kerry Bubolz to ensure that there is collaboration within our different business units and that everyone is aware of simultaneous initiatives to ensure they receive the proper support. I also help him bring to life our "Knights Code", which is our VGK culture document, the true DNA of our business.
I oversee our Brand in all aspects and work with our graphic designers to make sure we are consistent with our brand mandate. Our brand is so unique and has such fine detail that it is really important that everything we put out there, from social graphics to poster schedules, has the same look and feel. We also make sure we are constantly pushing the envelope. In this market, you have to stand out in order to be successful so we are always looking for ways to be different.
You've worked across at least four major professional sport organizations, each from different leagues. When was the point you realized that you were meant to work in sport? Take us through that realization.
I was fortunate to play baseball and football through high school and then collegiate baseball and two years in the Cape Cod League. I always dreamed of working in the front office of a major league team one day, but I never really understood what that meant. My mom owned her own Advertising Agency and I was able to learn about the art of Marketing growing up as well. I was able to pursue a career after I graduated with my MBA that blended sports and marketing and the rest is history. I grew up a fan of the St. Louis Cardinals, since they used to train in St. Petersburg and the Tampa Bay Buccaneers.
Every sport marketing student must learn about the 5 P's of marketing (product, price, place, promotion, and public relations). How relevant is this concept in your role with the Golden Knights?
It's always relevant but this is the most unique market I have ever been in so it's really been more of an opportunity to just try things and see what sticks. You can use this more traditional formula but you can also take a lot more risks. Where else can you sell branded bathrobes and fur coats in your team store as we do?
I don't get too bogged down in worrying about sticking to a specific plan or strategy, I stay focused on what is working, how to push the envelope on what is working, and what is the next thing we are going to try. Having a true spirit of innovation and creativity allows you the freedom to push beyond a set strategy and achieve more.
Public relations is always a focus for marketers. I have never seen an organization that is so intentional in making the community a priority. Our President, Kerry, says that "community is a contact sport just like hockey" and that really rings true in this market.
Vegas was looking for something to bring the community together, but that's what makes the relationship with the team so special.
We care for them just as much as they care for us. I think one of our greatest initiatives has been to partner with the school system here to donate floor hockey equipment to every elementary and middle school so children can play hockey once a week during PE class.
With kids getting less and less PE time in school, I think this is an awesome way to ensure that they get to have some fun and exercise during their school week. We are able to reach more than 200,000 kids through this program.
Leading the charge in marketing, branding and promotions for over 16 years now between the Rays, Rams, Buccaneers, and the Golden Knights, tell us about three campaigns you've played a large role that stand out personally?
1 Devil Rays To Rays
I played a leadership role in changing the name and brand of the Tampa Bay baseball franchise from Devil Rays to Rays. This process of picking the names, colors and logo to reset the franchise was an incredible experience.
2 Siege The Day
This was a branding campaign launched with the Tampa Bay Buccaneers, coming off a very unsuccessful "It's a Bucs Life" campaign. Siege the Day was an action-oriented campaign that inspired people to act, from buying tickets to supporting the team to helping make the community a better place
3 Vegas Born
We utilized this mantra to launch our team in Vegas. As the first major professional sports team in Vegas, we are proud to be Vegas Born and this has resonated well with the community.
What would you say are the most challenging and rewarding aspects of your career in sport generally, and specifically in your role as the CMO of the Golden Knights?
I think one of the hardest things is just making sure everyone on our team is biting off what they can chew. We are still a start-up.
"We love that start-up mentality and culture, we stay lean so we can continue the momentum that we have built the last few years."
But we are still running like a bigger organization. Sometimes we try and do too much and we get stretched a little thin. It is a positive in the sense that our team gets to tackle a lot of different projects, but I always have to keep an eye out to make sure we have the bandwidth to execute on all the great ideas we come up with.
As far as most rewarding, it is definitely seeing the faces of families and kids at games when they have one of those awesome, memorable experiences. Especially our young fans, when you see their faces light up because a player flipped them a warmup puck, or they met Chance our mascot at their first game, that really makes you smile. I remember having a few experiences like that as a kid so I know how impactful they can be and how they influence you to become a lifelong fan for that particular team.
Do you live by any quotes, and could you share them with us?
"Done, done, done? When you think things are done, check again, then check again to make sure they are truly done, done, done" – Kevin Plank
"I believe this, There is a lot of discipline to be derived from Freedom. When you are working with a highly professional, motivated group that is accountable, the more freedom you give that group, the more discipline you're going to get in return." – Joe Maddon
If you could have a superpower to help you in your sport marketing career, what would it be and why would you choose to have it?
The ability to see the future. We could be proactive to see what the newest technology advantages can be had so we could serve our fans better.
What are some final words of advice for you have for sport professionals that aspire to have a career like yours in this industry?
1 Network Like Crazy
Network like crazy. People are extremely accessible in today's day and age with LinkedIn, Twitter, Facebook and other social platforms. Reach out and request mentorship with executives that you admire.
2 Strive For Continuous Learning
Also, strive for continual learning. Become a subject matter expert about a part of the industry you are passionate about. Lastly, always polish your writing skills. Writing for social media and texting hurts your ability to truly persuade people with your words. Refine that skill by reading a lot and writing.
Mat's Final Thoughts
Sport has always been something that connects people – and it's people like Brian Killingsworth that make this truth come to light. Developing a brand for the Las Vegas Golden Knights is important, but it's undertaking initiatives – like ensuring that all students have floor hockey equipment to be able to play – that really connects the community to the sport. But reaching out to the community isn't the only light that Brian brings to the team – the real light comes in the form of allowing young children to meet their favorite mascot, or light up because "they got flipped the warm-up puck" – it's simple acts like these that children remember forever, creating lifelong fans, and dreams to be achieved.
---
Brian Killingsworth
Interview by Mat Israelson
Posted November 20, 2019 in Industry Profiles