We had the pleasure of chatting with a leader in professional sport for forming community partnerships, Samantha Brewer. Brewer is currently the Community Partnerships and Events Manager for the Hamilton Tiger-Cats and Forge FC. And just in case you didn't know, Hamilton is a fairly decent sized city on the way to Niagara Falls if you're coming from Toronto. The Tiger-Cats are their professional football team playing in the CFL. As well, the Forge FC is a professional soccer team playing in the Canadian Premier League (CPL).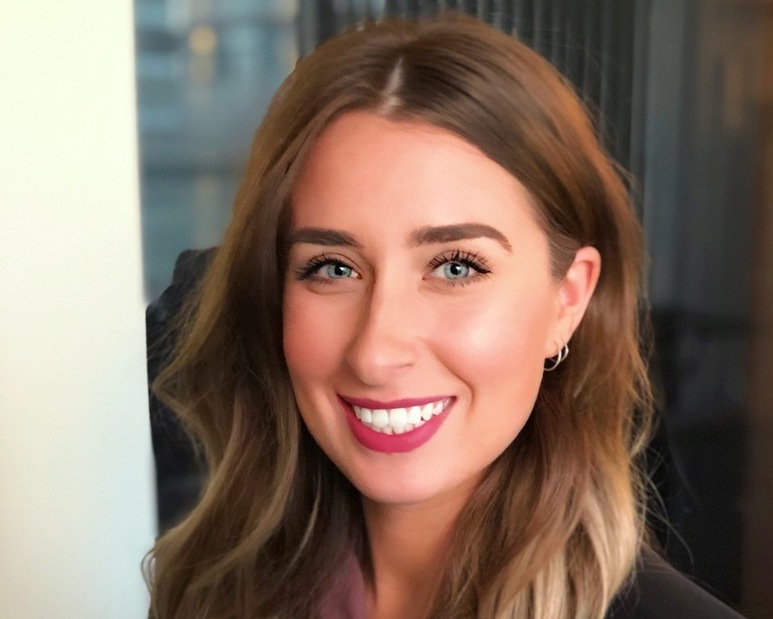 We talked to Samantha Brewer about what she does as a Community Partnerships and Events Manager, about her volunteer work and experience living in Edinburgh, Scotland that made her destiny in sport possible. She is honest, intelligent, proud and overall a great person in the sport industry to hear insight from. So enjoy our chat!
Tell us about what you do as the Community Partnerships and Events Manager with the Hamilton Tiger-Cats and Forge FC.
I am the Community and Events Manager for the Hamilton Tiger-Cats and Forge FC. My main role of this position is to create strategic partnerships with all our charity and nonprofit organizations in the Hamilton area. I work daily to help market our teams to the community as well as develop and execute our philanthropic initiatives and programs with partners like Interval House of Hamilton, Hamilton school boards, and McMaster Children's Hospital.
We run our programs with our amazing players on the team- it is my role to train and organize these appearances! For example, during the offseason, I run a program called Be Fit. I bring players to elementary schools in the Hamilton area to teach kids about healthy lifestyles and run fun activities for students in grades 4, 5, and 6. Students enjoy learning this way, especially because they get to meet star players on our team!
Another great program we run is our Be More Than A Bystander program with Interval House of Hamilton. Let's put up their mission for your readers:
"Interval House of Hamilton opened its doors in 1986 as a non-profit shelter serving women, 16 years and older, with or without children who were fleeing relationship violence/abuse. We offer an array of counseling and legal advocacy services. "

Interval House of Hamilton's website
With Tiger-Cats players and Interval House representatives, we go into high schools and teach students about violence against women. Our players are trained to put on presentations on how to 'be more than a bystander' and prevent violence against women and domestic abuse. It's a really interactive process where the students get to see how important it is for our players that they support and respect women in their own lives and hopefully it will transpire on to the students' lives.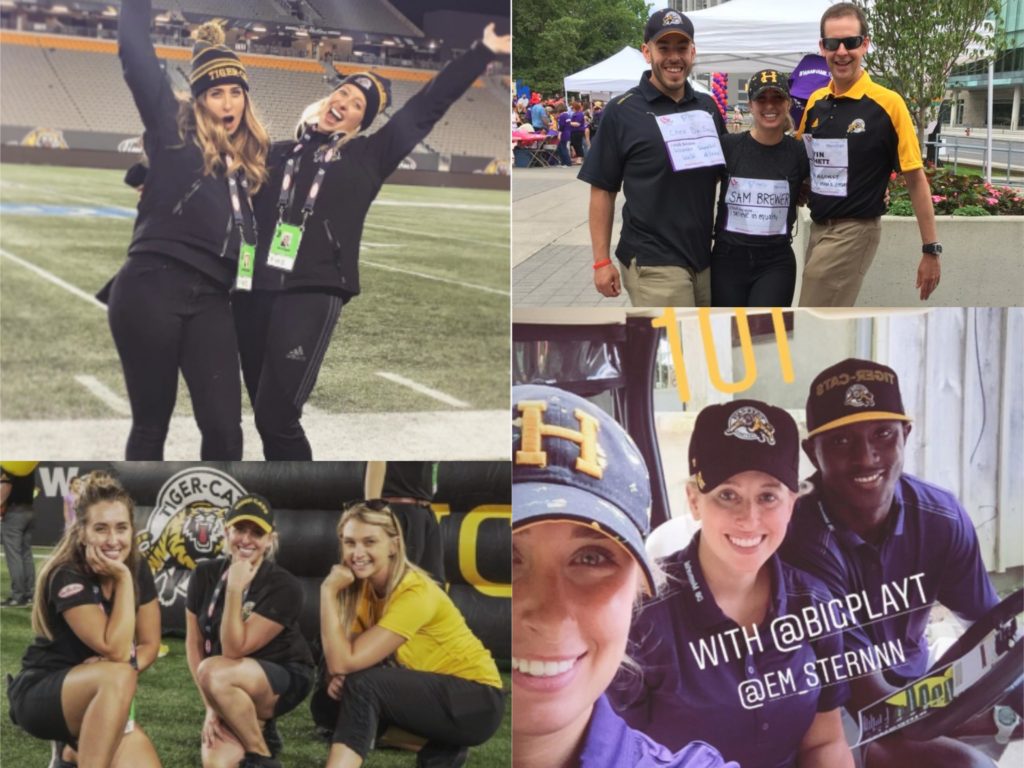 Our Community department also is overseeing the new Canadian Football Leagues' initiative to 'Grow the Game' with our new flag football league developing within the Hamilton Public School Board. The goal of this program is to try to grow the game of football since some say it's dying a bit in Canada because of concussions and safe play. We want to show that football is a great sport to grow up with and we also partner with Concussion Legacy to come to many of our youth football programs so they can teach youth and parents about head safety, playing sports safely and recognizing concussions.
Those are just a few examples of what I do. I've always believed that sport is such a powerful platform for positive social change. I guess that is why I chose the more philanthropic side of sport, which, I will probably want to continue to stay in because you still get the exciting side of sport, but you also get to make a positive impact on the community.
Having this role, I feel humbled to know that I can use this sport platform and caring athletes to make that positive social change in the Hamilton community with some of our amazing partners. You can make a change in people's lives through sport, whether you know it or not.
What does a typical day at the job look like for you as a Community Partnerships and Events Manager?
First, I'm going to just say that my day is never the same- which is probably why I love this role so much! During the offseason, I prep and plan, a lot! I prepare and plan for all the programs and initiatives coming up for the next year. Starting in January, we run our Be Fit and Fit with Forge programs; I am out of the office three to four days a week visiting different schools with football and soccer players executing those programs throughout the winter and spring. In April, we run our First On the Field flag football program where we coordinate buses to bring elementary school students to Tim Hortons Field and players teach the students how to play flag football.
Once the season starts, training camp comes, so our school programs stop until the fall. This is now the time for our community events and in-game partner initiatives!
The two weeks before the home opener is very busy at the office! We are trying to push our marketing for the upcoming season and, this year, we have also had to promote a brand new team- Forge FC! We love to go out to different events, like The Sound of Music and Rib Fest, to get our brand out there and create fans!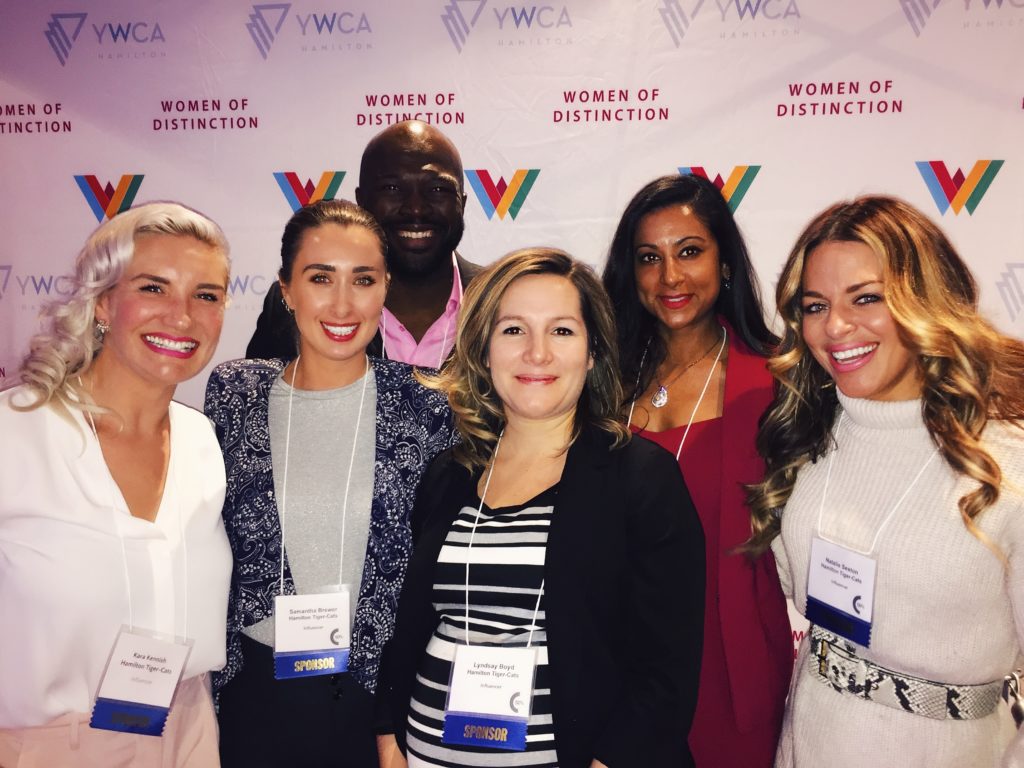 So, as you can see, nothing's ever the same (for the most part). When I actually do find myself in the office, it's a lot of prepping, planning, scheduling assets (players, cheerleaders, mascots, etc.) creating appearance briefs, as well as working with various departments to create program proposals, game-day executions and press releases.
Can you speak about 3-5 tools you use on a daily basis and why it's important for young pros who aspire to be you one day to know how to use them?
1

Communication

Both written and oral communication is key! Communication is probably the most important part of my job; I need to be able to communicate in different ways to different people. The way I communicate with the players is very different than the way I would communicate with a community partner or colleague. You have to see what fits with different groups and different people, and you have to know how to read them and what fits them. I've learned this by scheduling players and working with their needs and their hectic lifestyle- moral is, everyone is different and the better you get to know how to communicate with them, the better you will work with them! This comes for writing as well such as writing emails. Making sure you're prompt and responding to them and making sure you're proofreading everything! I know these are very basic details but they're crucial and they can make all the difference.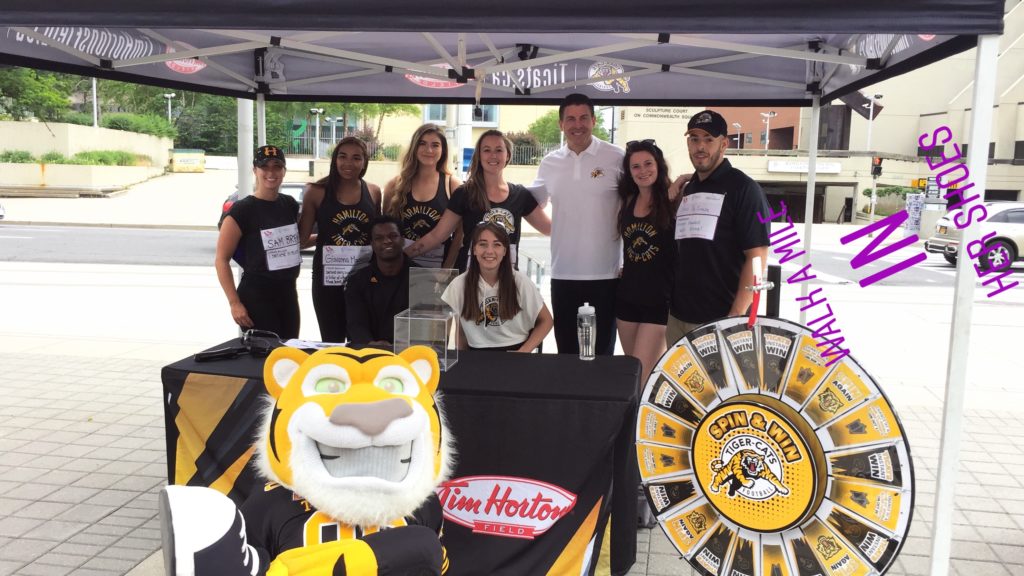 Networking (which is a big part of communicating) is very important too! To be able to communicate and approach someone, introduce yourself professionally, and spark a conversation can sometimes lead to useful and powerful connections. My role is all about networking, connecting, and creating relationships. This is very powerful in all of sport, no matter what job you have. It's all about networking in the sport industry.
2

Organization

Another one is a simple one again: organization. It's all about making sure you're organized, prioritizing, and knowing how to do your work very efficiently. People always say I have my toes dipped in everything that we do here, but that's because the community department works with every single department in this organization. We work with the ticketing team (to give ticket donations), the marketing team (to ensure our programs are being outreached); the corporate team (as most sponsors are attached to our programs); the game-day team (as we have game-day initiatives); and the media team. Working with so many departments, you have to learn to organize and prioritize as well as multitask.
3

Enthusiasm

Anyone who is working in sport has to absolutely love it! I mean, that's what put you there in the first place; the love of sports.

I can't deny it, you will be overworked, but if you love it, it's worth it. Growing up, beginning my career, I couldn't imagine doing the average nine-to-five job. I may work way more than 40 hours a week at times, but if it's something I love, it makes it worth it. So, definitely for anyone coming out of SPMA, they have to remember why they came in to it in the first place.
What is the hardest part about what you do as a Community Partnerships and Events Manager? What motivates you to keep going?
I honestly can't say that there's a hard part to it. It gets tiring during the season for everyone here, but as I said, we love it.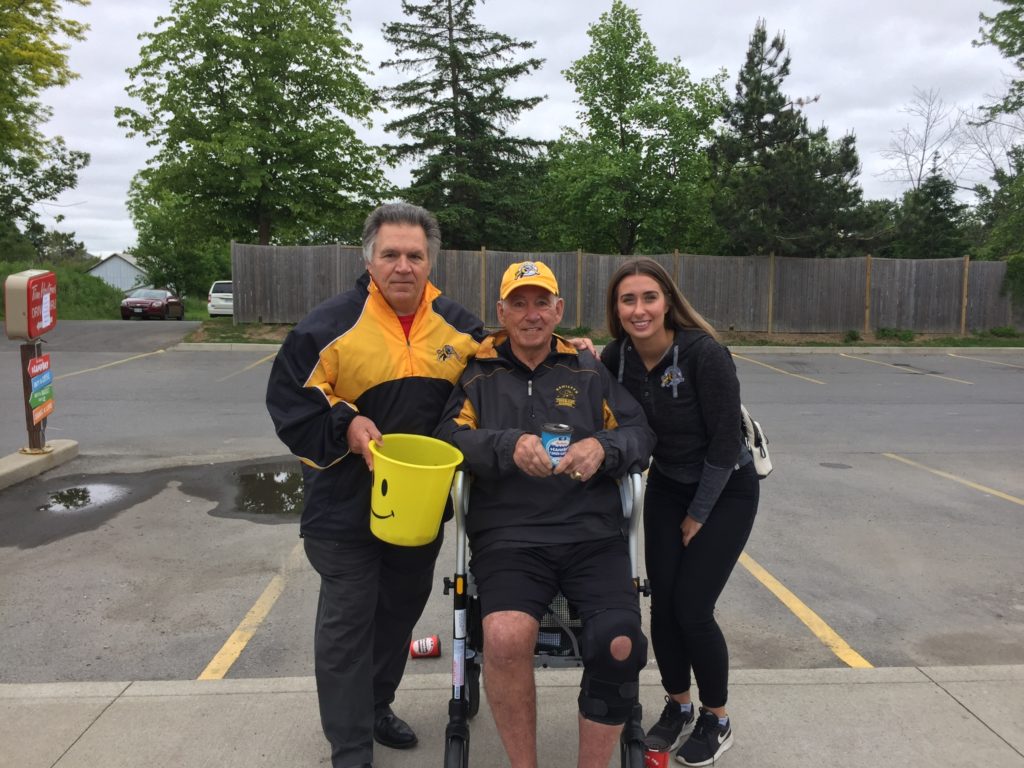 My job can be tough at times but in a humbling sense. For example, I go to a few hospice visits a year with the players which are quite hard to do in that sense. The last hospice visit I went to was a 21-year-old boy; he was so grateful for us to be there, and it was an amazing visit, but you can see how it pulls the heartstrings.
When I'm working overtime, days and nights, trying to get things done on a tight timeline, it's nice to have those humbling moments that remind me why I do this and why my job is important.
How important has volunteering been in your journey to becoming the Community Partnerships and Events Manager? It seems like you have a lot of volunteer experience and still continue to do so even though you have a job.
For any student, whether you are reading this from the first year to the fourth year, you need to volunteer. School is obviously a great platform for learning; you learn about policies, frameworks, networks, etc. but the volunteer and internship work I did during school, got me to where I am now. You have to have those experiences. The sport industry is all about who you know, what you know, and where you've been. So, if you're volunteering (or working with an internship), that means you're learning things hands on, and you're also meeting people- remember, networking is important!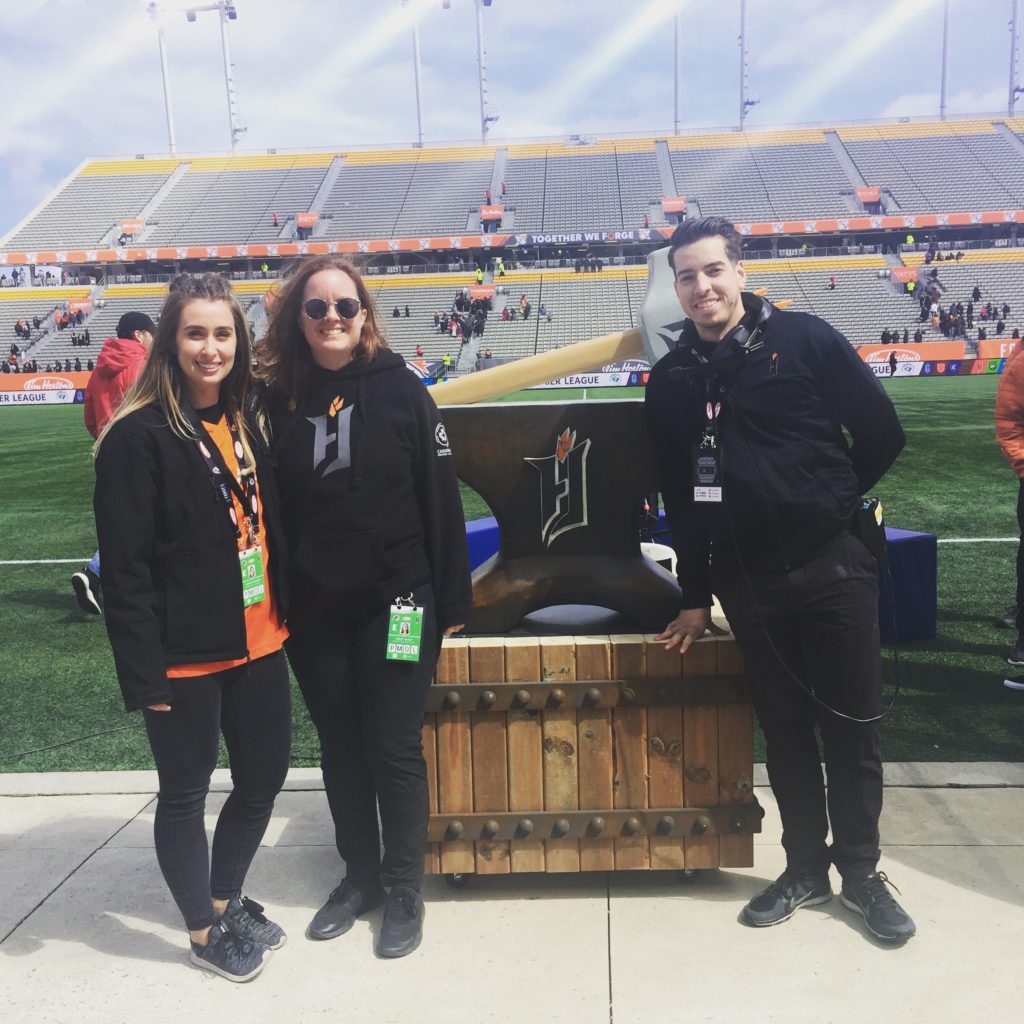 I graduated with a class of about 200, I think maybe less than 50% of us are working in the sport industry. You can tell by their resumes, they're the ones that have volunteered or interned for a sport organization (or something related) every single year and made those connections.
After school, I went away and worked three years in the UK, but I still made an effort to keep my connections from my internships through LinkedIn. I made significant advances in my career while abroad. But coming back to North America after being in the UK for three years was challenging. I didn't have as many connections here as before. So, I knew I just had to get my foot in the door by volunteering and meeting people. By doing so, I gained experience, was hired for a ticketing representative role, and that's how I met my current boss.
Snowsport Scotland. You worked there 2015/16! Tell us about living in Scotland.
I lived in Edinburgh, and honestly, I could have stayed there for the rest of my life, but I started missing my family.
Over there it's a very different way of life. It's not so much go, go, go, go, go. So coming back here and working in professional sport was a bit different. The experience was amazing, I loved learning about different cultures. I encourage anyone coming out of school to go travel, even if it's just for a month or two weeks! Go and explore, meet different people, see different countries, see how different things work, and you can bring it all back with you. Cultural experience is so important. Especially in such a diverse place like Canada!
I always encourage everybody, even all my interns, to go travel. You can get a job at any time; it's never too late to get a job. But, sometimes, it's too late to take that experience of a lifetime. Once you start that full-time job, it can be hard to leave it, so go while you can!
We noticed you're an occasional writer for The GIST having written a column on rugby and a guide to The Grey Cup. Tell us about those two pieces you did. Why did you do them, and how did you get involved?
I found The GIST on Instagram and I've always been engaged with female/women development in the sport industry. Being in the sport industry, you're surrounded by many male colleagues (which isn't a bad thing!). However, I've always been interested in the journeys women take in this industry. Speaking from experience, sometimes (as a woman) you feel you have to prove that you're one of them ('the boys') and that you're equal. That being said, I've always been a firm believer in equality and equity which is something The GIST promotes.
I love sports and I love writing, but I don't care to read most articles on sport; they're very dry and boring at times. So, when I saw The GIST, it was perfect! It's easy to read, like reading a blog. I felt like they were directly writing what I would say on the page. Writing has always been one of my main hobbies, so I emailed them and asked if they wanted any help with some of their articles or blogs or whatever it may be! My main contact was Ellen as she is the main voice for The GIST. I talked with her quite a bit, and I ended up writing a few articles for her.
I really enjoy it and I'm really happy there's something out there for women who may or may not know a lot about sports; or maybe are only into certain things; or perhaps just want to read something funny- there's something there for everyone.
How did your education lead you to your current position?
Funny enough, during my years at Brock, my favourite class was sport law, but going to law school was never in my future plan. So, I guess it was my third year, in my philanthropic sport class with Dr. Cousins that made me take a turn down my career path. In that class, we learned that sport can be used as a social tool. We had guests come in like Right To Play and the Toronto Argos. Specifically, I remember the gentleman from the Argos coming in (he actually had my position that I am in now!) and I remember listening to him and thinking: that's what I want to do!
SPMA was a great program with its volunteer and internship aspects. I had to volunteer for 10 hours of my first year as part of my school's curriculum. I was just selling programs at Niagara Ice Dogs games. During my ten hours, I ended up selling the most programs out of all the volunteers which made a good impression. I was offered an internship for the next two years, and I ended up doing all promo initiatives for intermissions as well as work out of the office two days a week to edit the video boards and cutting of media videos to put on their website. I got so much great experience so early on in my educational career.
SPMA at Brock was also great because you can get involved with the Athletics and Recreation departments to get early experience. I volunteered as the Head of Sponsorship for my school's baseball team for two years. Also, I worked for their intramurals. It's great experience to work within the school because you get to meet different people from different classes which end up creating connections and friendships (which you never know where they can end up or where your roads will cross in the future!).
Everything happens for a reason. I am a firm believer that being the Community Partnerships and Events Manager for these two great Hamilton franchises happened for a reason. You just have to want it enough and you just have to believe that it will happen. Sometimes, you just have to go for it and know that it will all work out.
Who else do you think we should interview?
1

Chantal Vallée

She's the head coach of the new CEBL Honey Badgers team. When I first went to a game and saw that she was the head coach, I thought: that is amazing for a brand new league, a brand new team to welcome a female coach. So, I think that would be an amazing person to interview. I think it's also interesting to interview people who may not have had a sport education background but now are working in the sport industry.
2

Shelby Vilneff

She works for the Guelph Nighthawks (in the CEBL league), but she also works for the Honey Badgers as a Game Day Producer. She's a great person in the sport industry. I used to work with her at the Hamilton Ti-cats. She never went to school for sport. Instead, she actually went to school for theatre (she's a great actor as well!). Her journey is very unique and she has an interesting story of how two very different industries can connect.
---
Samantha Brewer
Interview by Amber Somerville
Posted June 25, 2019 in Industry Profiles