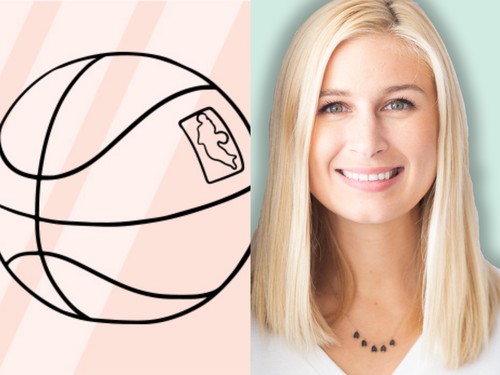 Along with two friends, Roslyn McLarty "side-hustled" for the better part of a year to make their premonition of starting a women-focused sports media platform come to life. And oh my! Have they ever made that happen. Their sports media business, designed mainly for a female audience as well as casual sports fan is called The GIST. They curate and contextualize sports news through an entertaining twice-weekly newsletter, social media posts, articles on their site, and events. Like her co-founders, Roslyn McLarty did not study Sport Management in university or college. Instead, she studied Commerce and Accounting. But despite knowing the difficulty of obtaining success in the sports industry, McLarty took a risk to start The GIST. Roslyn McLarty has put her Chartered Accountant Certification and financial prowess to great use with The GIST. She serves as the Head of Operations and Finance for the sports media startup.
We were fortunate to chat with Roslyn about that decision, how The GIST became more than just a "side hustle" and what the future of this sports media business for women has in store.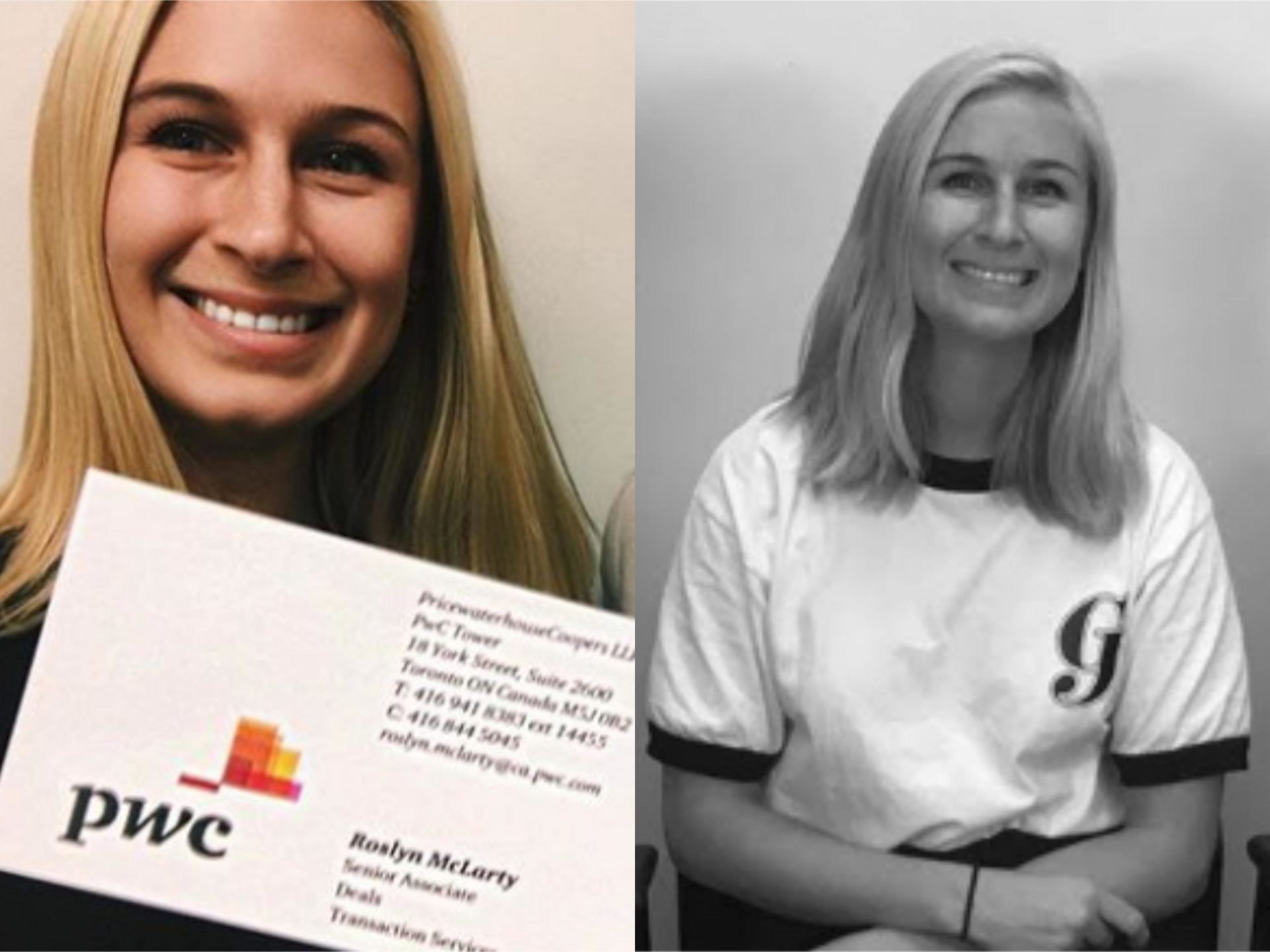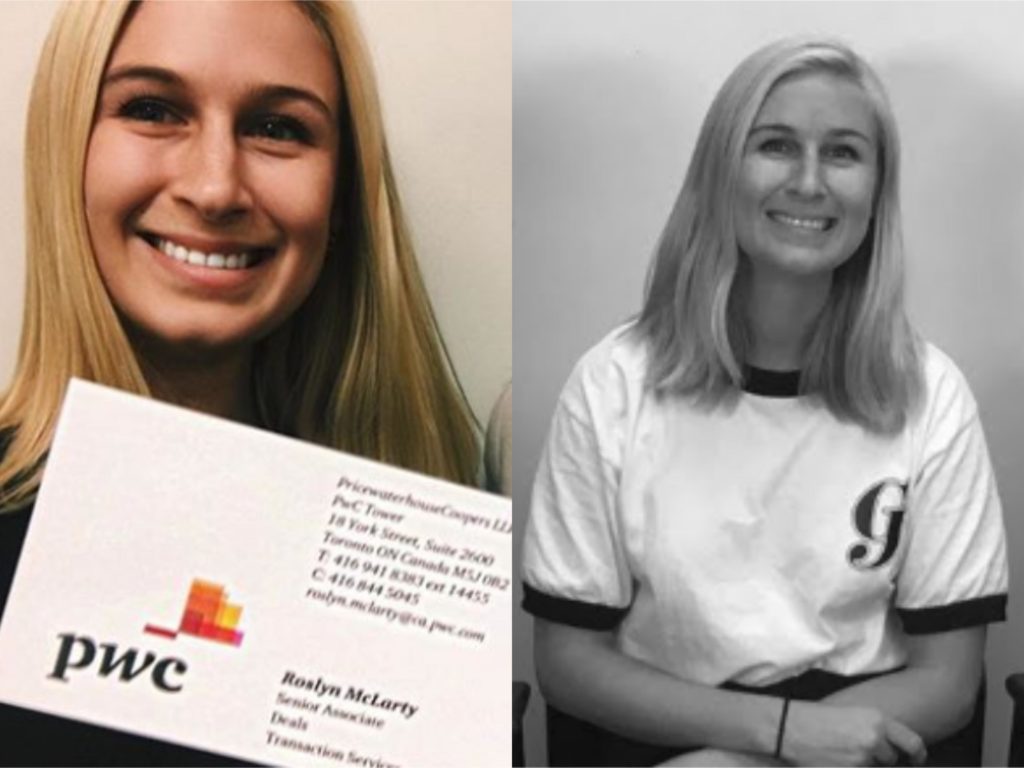 So you came from a financial background. Tell us why did you decided to create a sports media platform for women and start your own business. In other words, why did you make the jump personally to form The GIST?
I actually didn't really have the intention to leave accounting and start a business and start a business and become an entrepreneur. The idea for The GIST came up super organically between me and my two co-founders. We are friends from first-year university, moved to Toronto and had corporate jobs working on Bay Street. We noticed from working and living in Toronto, the power and influence sport has on community and society. It can bring people together, connects them and makes them feel apart of something. Sport can foster inclusion. At the same time, it can be exclusionary. So if you don't know what's going on in the sports world, it can be really difficult to engage in conversation about it.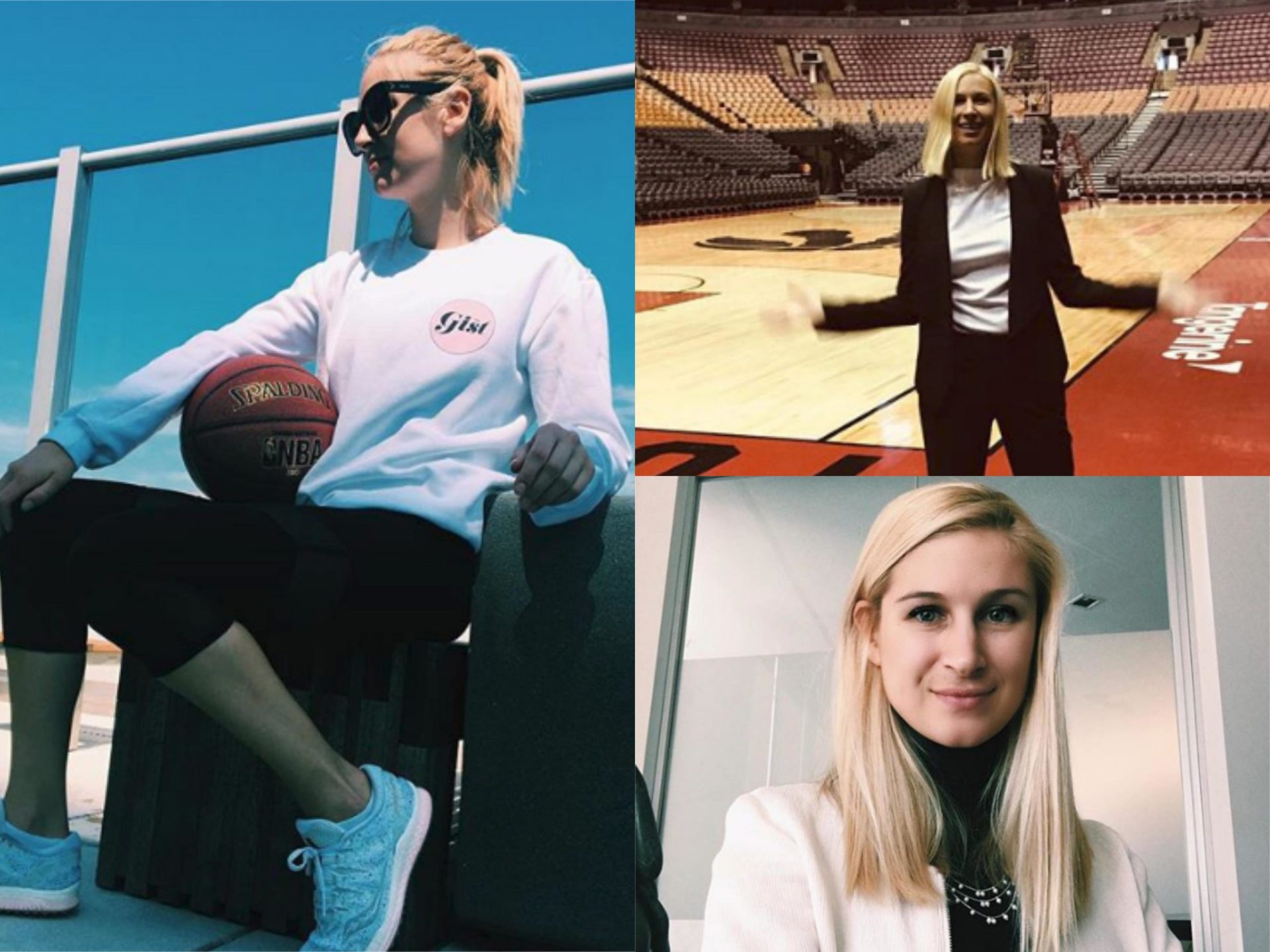 We noticed that a lot of women were on the outside looking into sports conversation and community. My co-founders and I experienced this ourselves so we knew what the feeling was like. And when you dig into why it's happening more often to women, it's due to the lack of gender diversity in this industry. There's definitely more men involved in sport. For instance, from the sports business and ownership side of things to the coverage we see of athletes, to the media side of things; the number of men exceeds that of women involved.
Actually, about 14% of sports media is covered by women. That's all! So to us, if 76% of sports media is men, chances are there's a lot of catering to avid male sport fans. To us, there was something missing for women and casual fans who wanted to be part of the amazing community that sports can provide. Sports are supposed to be for everyone. That's why we created The GIST. Our goal was, and still is, to help make sport more inclusive. Particularly, we'd like to get women more involved in the sports conversation!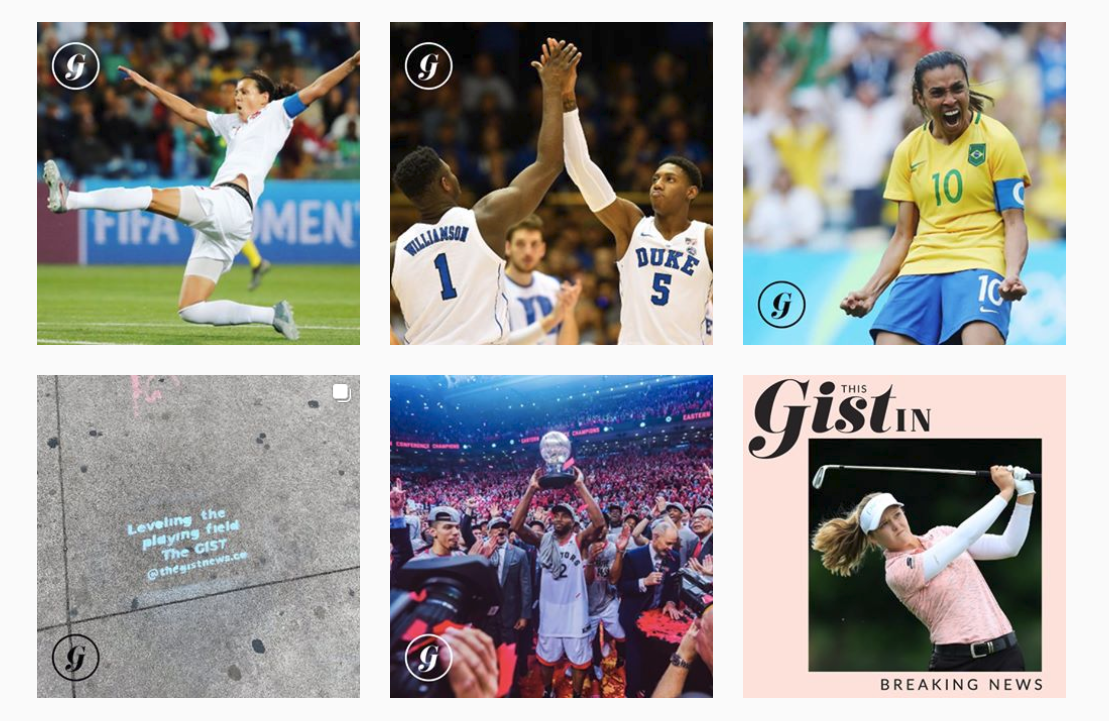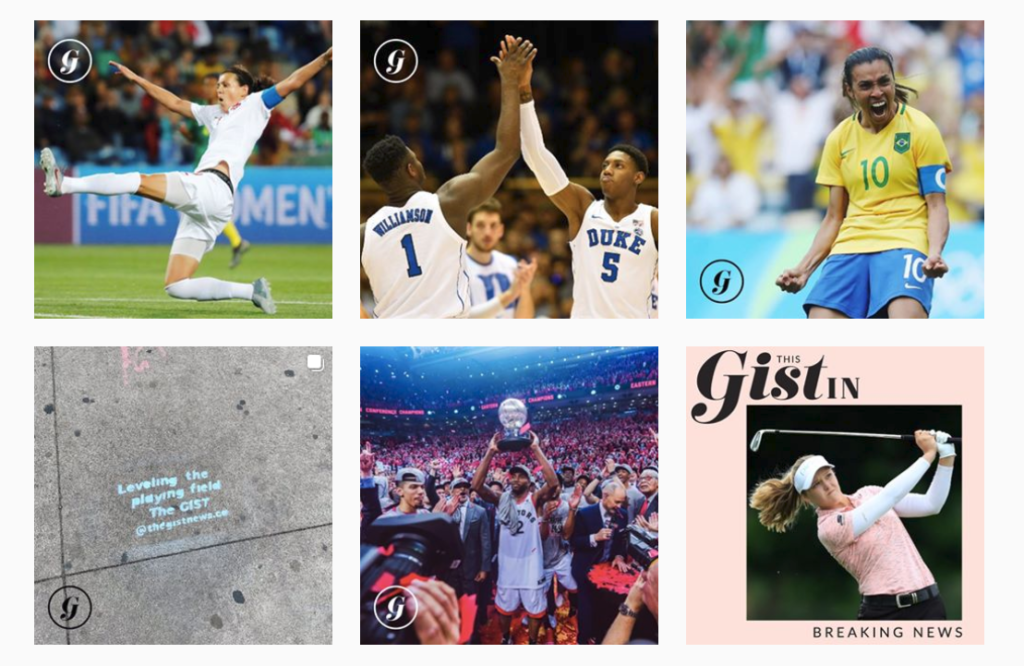 We were literally catching up over a glass of wine. Ellen is the most avid sports fan of us all. And when she talked about sports to us, it made a lot of sense. Way better than turning on the TV or going to the website of, say, Sportsnet or TSN! That's when we thought it would be amazing for other women to receive 'the gist' on sports from someone like her. In a way that resonates with us, is relatable and provides a context.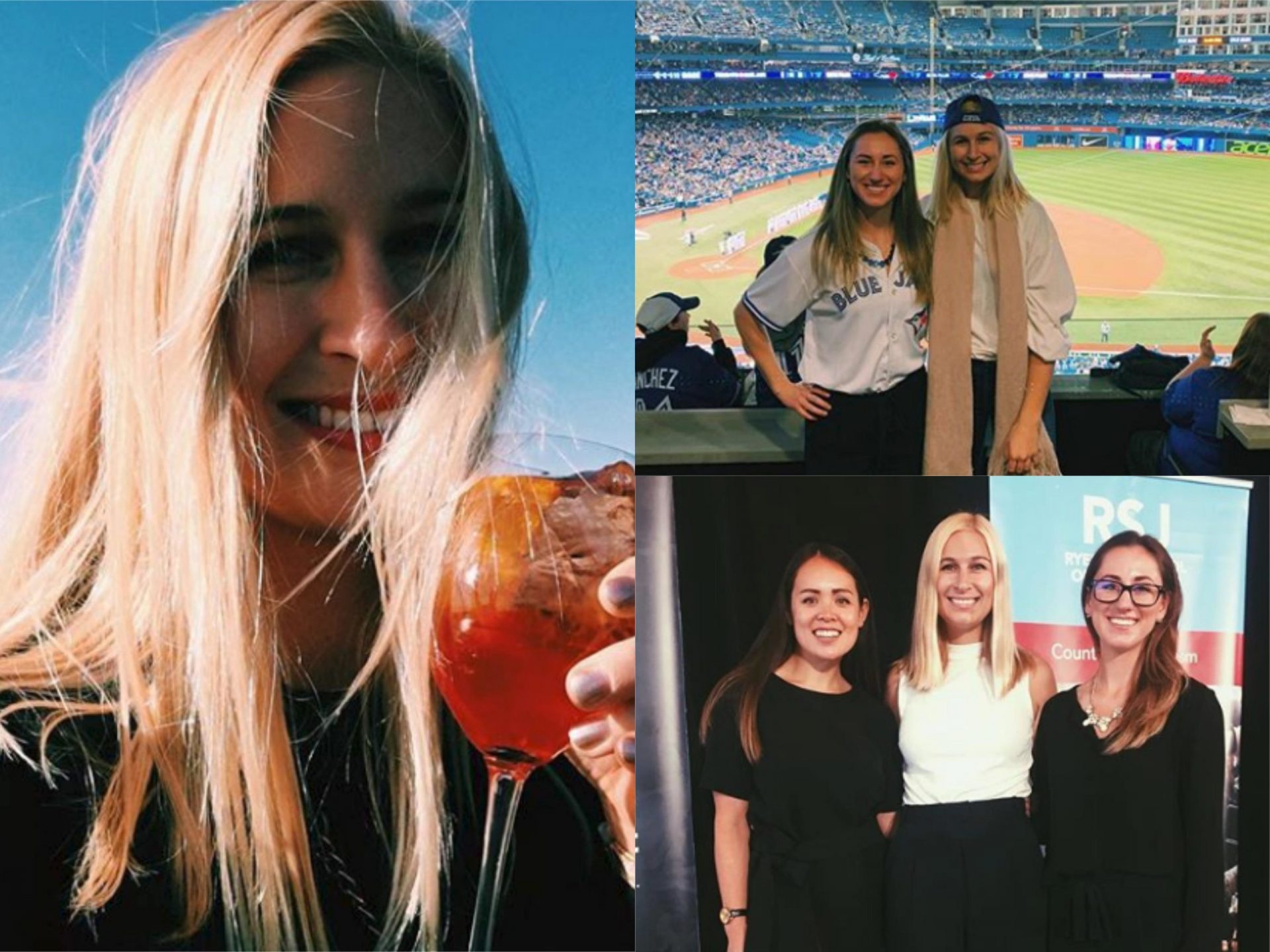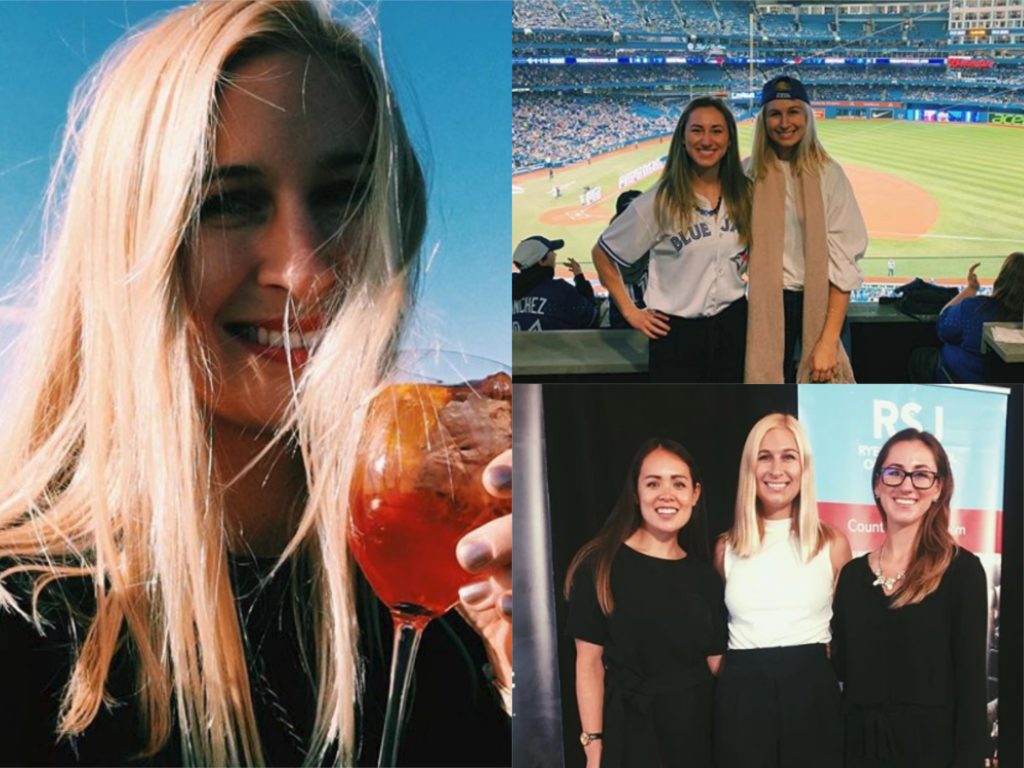 So literally, I said something along the lines of this to Ellen and Jacie:
"Ellen, you should write a sports newsletter for women so that more people can feel like they're getting their sports news from their fun, sports-obsessed best friend in the same way that we can from you."
After that, we didn't look back! We jumped into it as a "side hustle" and it was a "side hustle" for a good year before we started working on it full time.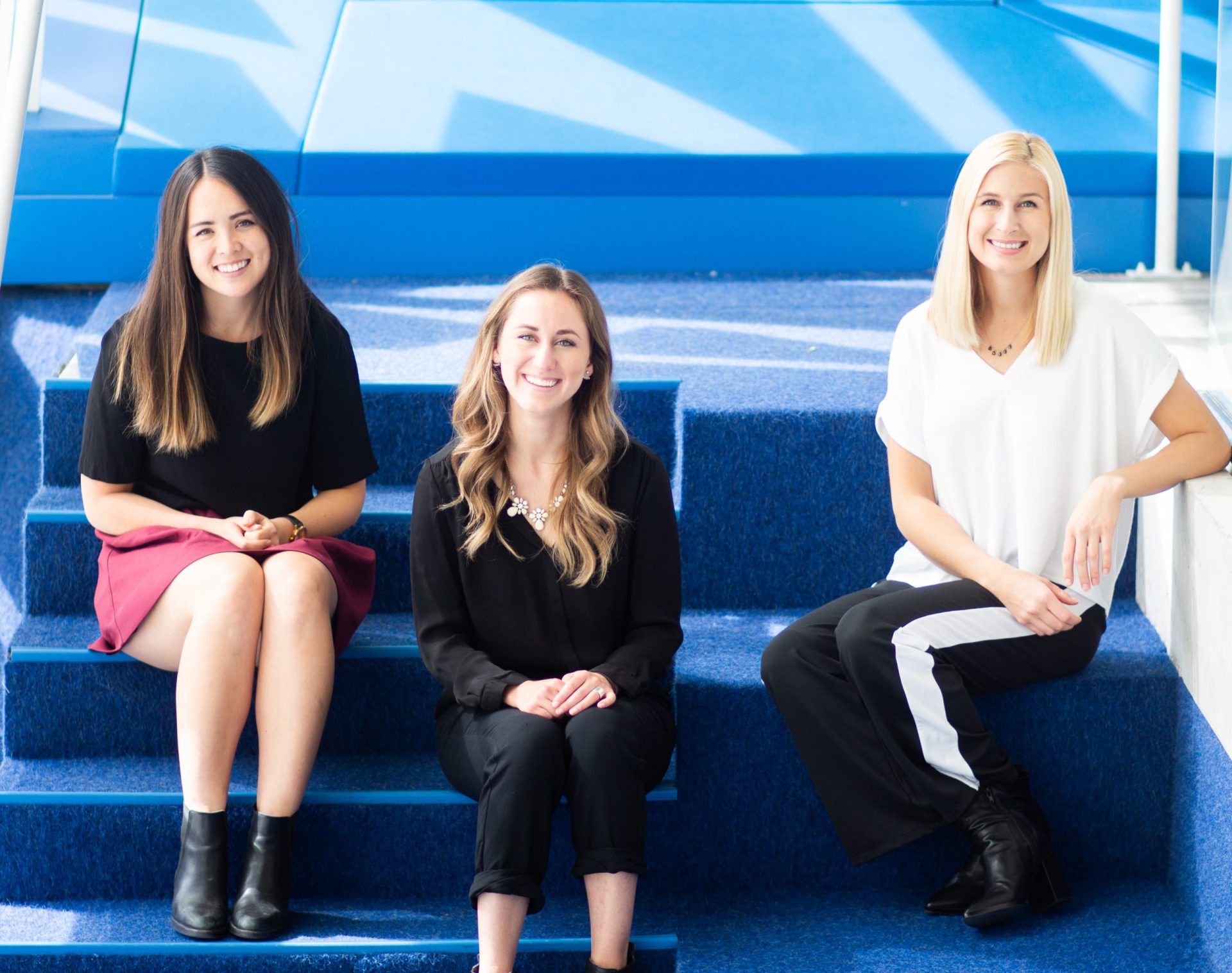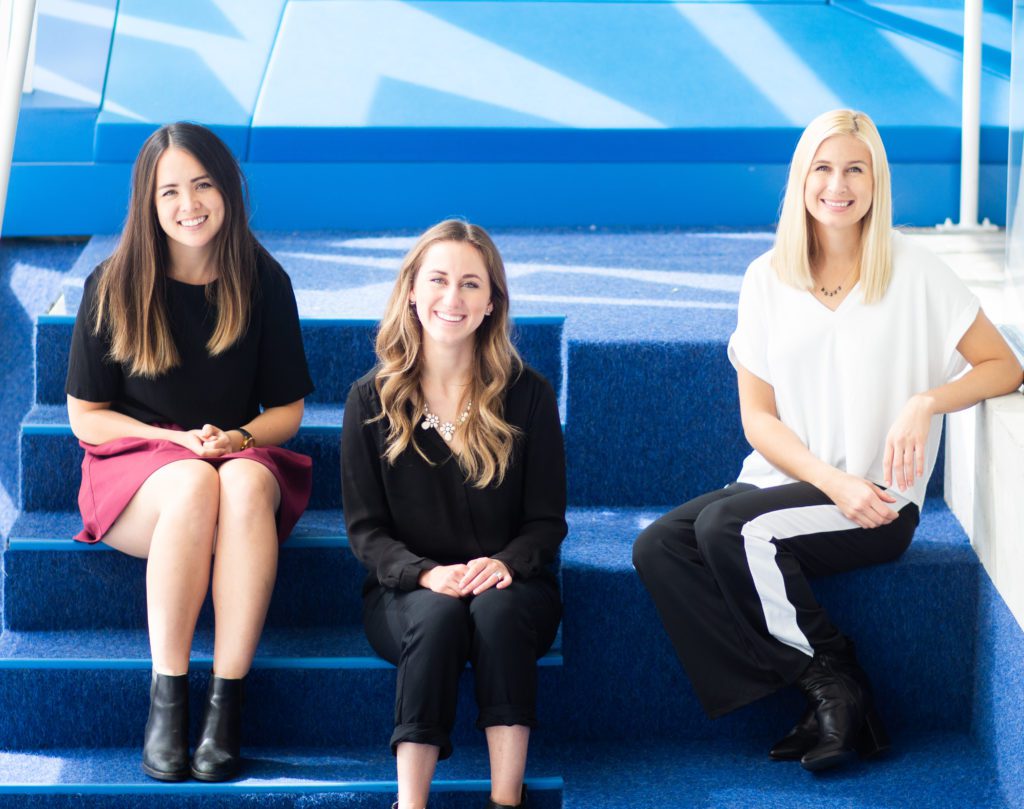 We know that our audience is busy, doesn't have cable, and doesn't necessarily have the time to stay up-to-date on everything going on in sport. So we provide 'the gist' on what's going on in the sports world (for both male and female athletes) in a really fun and interesting way.
Why you personally decided to take the risk and leave a corporate job to start The GIST?
I always knew that I wanted to be an entrepreneur at some point in my life, but I truly had no idea that that time would come as soon as it did. At the time that we came up with the idea for The GIST, I didn't really have plans to leave my corporate role. The GIST was more of an awesome "side hustle". However, once we launched, we started to get amazing traction and feedback from our community and started to realize, we had something special. Not only did we have a good idea that was solving a real problem, but it was also in an area that we were very passionate about. What could be better than combining our love of sports and making a positive impact on our society?
was more of an awesome "side hustle". However, once we launched, we started to get amazing traction and feedback from our community and started to realize, we had something special. Not only did we have a good idea that was solving a real problem, but it was also in an area that we were very passionate about. What better than combining our love of sports and make a positive impact on our society.
When we were accepted into the Digital News Innovation Challenge, which came with funding, mentorship and space to work out of in the DMZ, it just seemed like too good of an opportunity to pass up in taking our side hustle to the next level. The fact that I also had an amazing co-founding team that I trusted, respected, genuinely enjoyed spending time with and that were also prepared to take the risk and dive into The GIST full time really helped. It was truly an opportunity that we couldn't pass up and as much as it can be scary to leave the security of a corporate job, it was very worth it.
What is one piece of advice you'd give to women interested in a career within the sport industry?
That's a really tough question [laughs]. Being involved in sport side of the industry wasn't a goal of mine until I graduated from university. My co-founder, Ellen, was always ambitious to get involved in sport. I didn't have a whole lot of time to think about being in the sport industry actually. That's what makes my journey to the sport side of industry unique. I guess you could say I fell into the sports industry.
Sports have always been a big part of my life. I grew up playing soccer competitively and watching hockey. In fact, I was a big Ottawa Senators fan being from Ottawa. So, I am very happy that sports have come back into my life in the way that they have.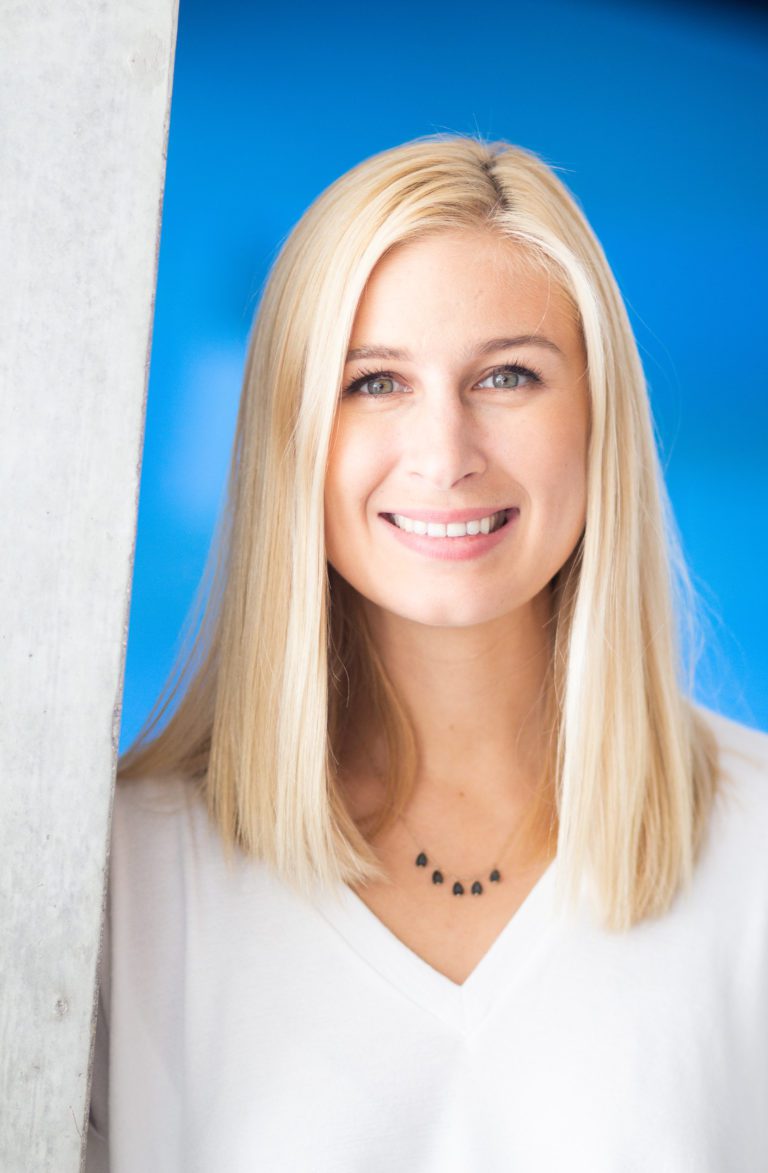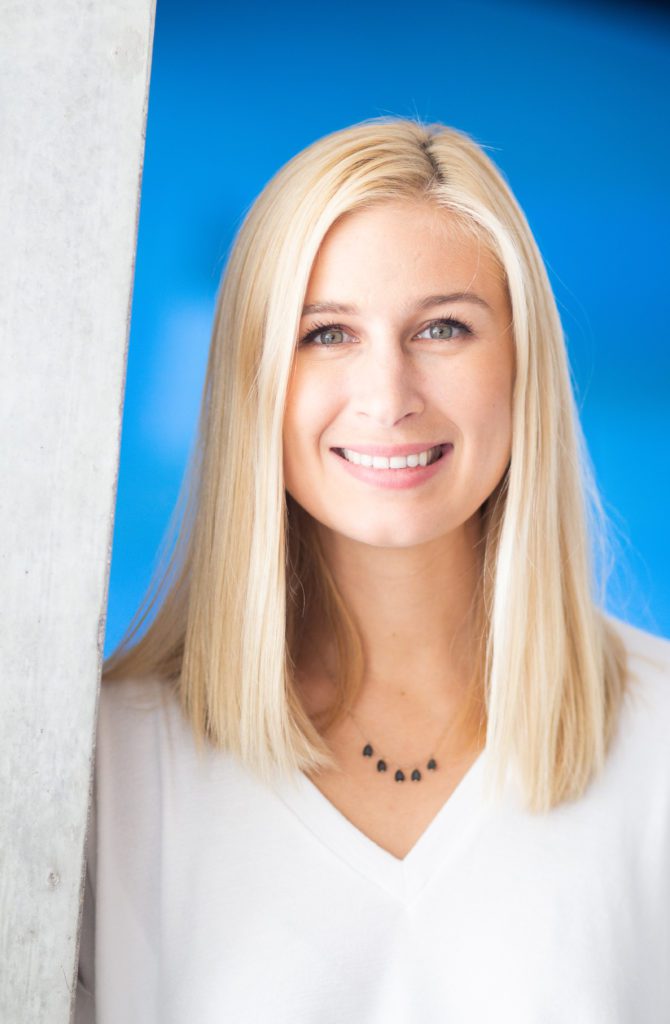 One piece of advice I have to offer for women looking to become involved in the sport industry is this:
"Put yourself in the shoes of the organization or people in the industry who are hiring. Understand the landscape they are playing in, the direction they are moving in, their strategic goals, where opportunities are who the major players are. At the same time, know the strengths that you bring to the table. You have a unique perspective so make sure you are fully aware of it! And then find a way to use your unique strengths, experiences and perspective to help that organization execute on their goals."
Provide SPMA readers with an update on where The GIST is headed in terms of growth.
I'll break it down for you into a few of the areas we are looking to get into in the near future. I think that to date, we've reached a point where we feel validated in the fact there's a desire for sports media geared towards millennial women.
1

Geographic Expansion

We started with Toronto, we extended to Ottawa. We've recently been working with the Ottawa Senators! In fact, we've already conducted interviews with a few of their players and women in their organization, including their CMO, Aimee Deziel. Also, we announced a partnership with Ottawa Sports and Entertainment Group. So in the future, you'll see more from that area of the province.

We are also planning on expanding into the United States of America and across Canada this year. So what's next is even MORE geographic expansion to reach new communities.
2

Diversifying Content

Reaching our audience from more than just written content, through different methods. We've started to do some original video content as we think there's a lot of opportunities there to engage new audiences. And of late, we've been looking into a podcast as well as it's a channel many of our GISTers have been requesting from us. Stay tuned on that front!


But responding to a different way to give our audience more is what are trying to do moving forward. Providing value is important to us and we hope to do so more moving forward. So you can expect to see different audio, visual and written methods of communication moving forward from us.
We've seen The GIST described as a sports media business dedicated to women. But, do you have any male followers? And if so, tell us about them.
We definitely do. About 15% of our newsletter subscribers are men. We are all about providing sports content that's relatable, accessible and fun no matter the gender. While we're writing as women and with a female millennial in mind, that doesn't mean that men can't find enjoy or content or that we exclude them from it. Sports are for everyone, and everyone is welcome to The GIST.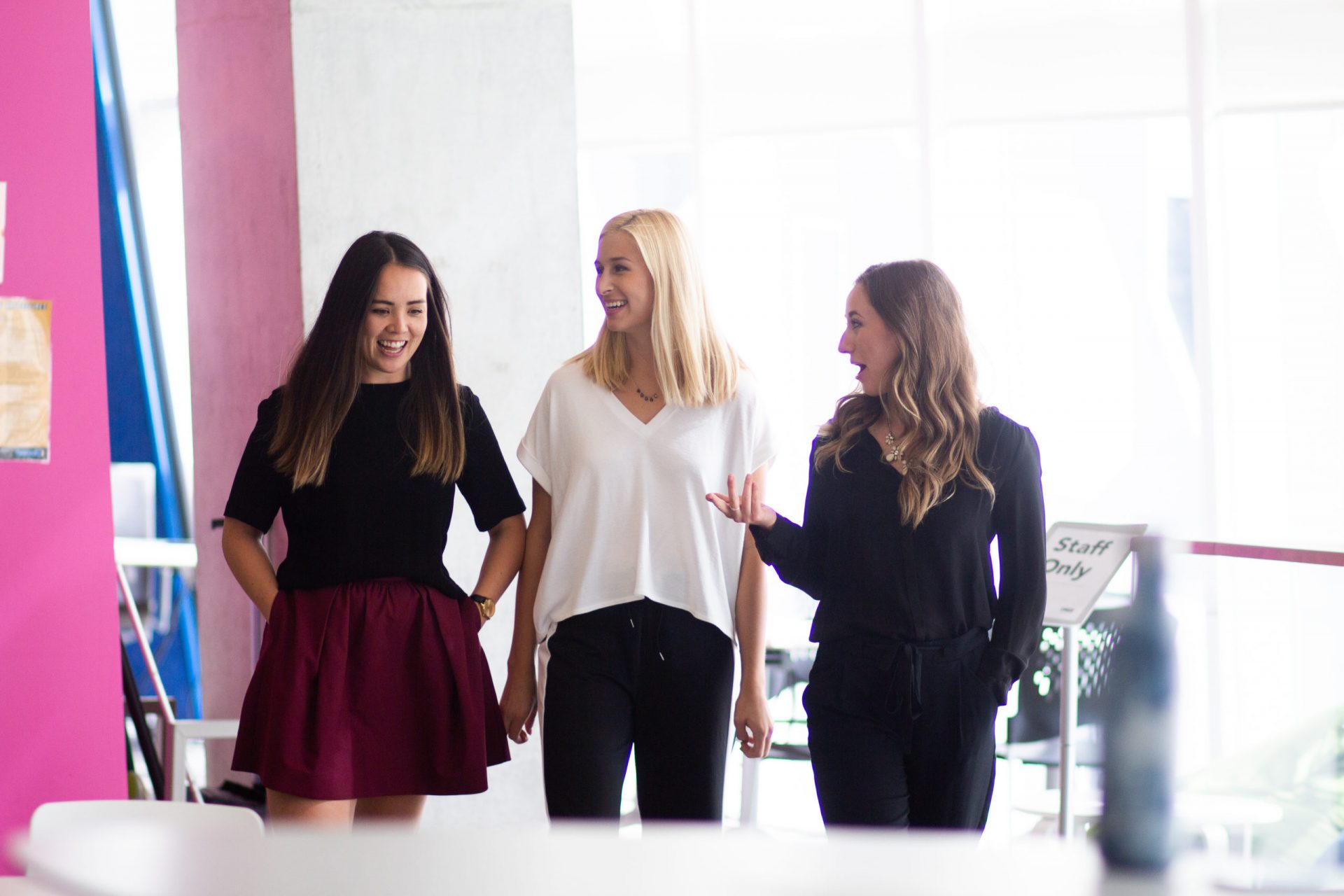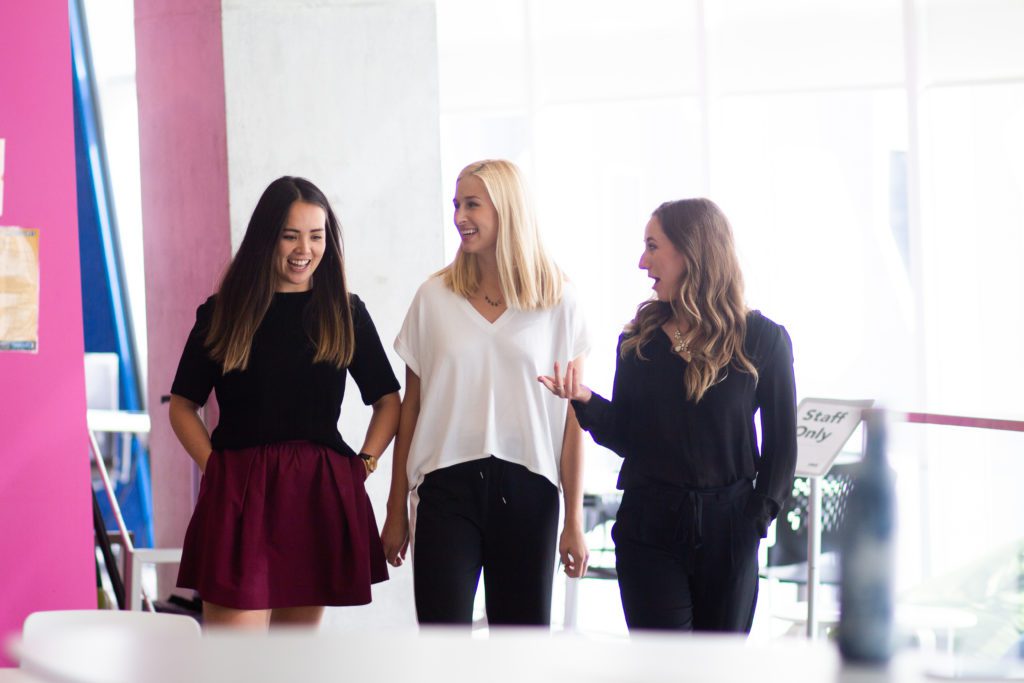 Casual male fans want 'the gist' on sports too! As I said, sports connect people, and we'd love to help people learn to love sport, grow their love of sport, and connect with the people around them about what's going on the sports world.
On top of that, we have men who follow us who are really supportive of our business and what we provide. Having men (and women) that understand and support what we're trying to level the playing field in the sports industry is definitely important to us.
Let me just say… SPMA supports what do with The GIST Roslyn?! How do you keep the attention of those men and women followers who know sport quite well and come across The GIST?
We provide value to our community in a lot of different ways. For some, it's empowering more casual fans with sports news and education that will allow them to join sports conversation and community they may have previously been excluded from. But the value that we provide to everyone, including more avid fans, is a female perspective on sports that's been lacking in the industry, whether that's a female perspective on areas where sports and gender intersect, where sport and social issues intersect or more fun stories where sports and pop culture intersect.
The other area we provide value to all different kinds of fans is the sense of community that we provide. Sports have traditionally felt like a boys club. The GIST, through the community we build both offline and online, we provide an inclusive atmosphere for women to talk, learn, watch and celebrate sports with other women.
Finally, we also provide value to avid fans through the pure accessibility and ease of consuming The GIST. We bring curated sports news to where our readers are already scrolling – their email and social media. We're still providing avid sports fans with the news and insights that they're not always going to have the time to sit down and get through watching Sportscentre or reading long articles.
We'd like to know a little bit more about the business aspect of The GIST. So our next two questions pertain to that.
1.

The GIST has a lot of fun giveaways and prizes. Tell us about how partnerships play a role in your business.

We have a strong proposition for brand partners that want to get in front of a female audience in the context of sports. Sports is a massive category in terms of people's time, attention and emotional connection and brands have leveraged this in the past to connect with their customers. However, this has largely been done with male audiences and more male-centric brands. Companies have struggled to do this meaningfully with a female audience, which is where The GIST can provide a lot of value.

Brand partnerships are how we monetize our business but since growing our community is our number one priority right now, we have leveraged growth partnerships with brands like Lululemon, Spinco, and Bumble that have a really good alignment with us in terms of their values and target market.
2.

You worked with the Future of Sport Lab. When you started The GIST, tell us a little about that.

The Future of Sport Lab (FSL) is through Ryerson University and is an incubation program for sports startups and it's actually co-managed by MLSE. Joining this program was really nice for us as a startup sports media business for women. It was a 4-month program that came with mentorship, programming, connections, and an opportunity to work with MLSE. Every few weeks we had two days of programming at MLSE or Ryerson, called Huddles, which involved workshops on different areas of entrepreneurship. Some of those areas included growth, product, fundraising, and analytics. Also, we had panels and meetings with mentors from FSL's network. This network included individuals from MLSE.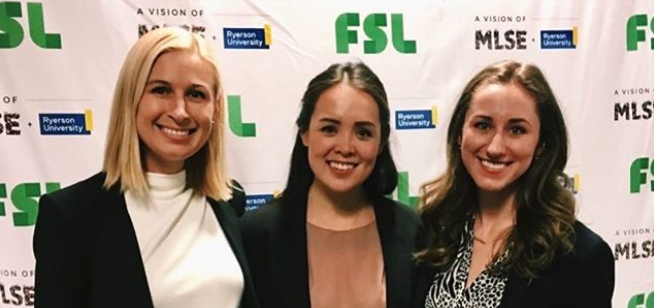 Each of the teams also got a mentor from the FSL network. We were paired with Alyson Walker, VP Brand Partnerships & Client Strategy at Bell Media. Alyson has been a supporter and we are so happy that, beyond the FSL program, she is staying on as an advisor for The GIST. The teams also had opportunities to do a pilot partnership or project with MLSE – for us that took the form of content collaborations.
The FSL was not the first incubator we were involved with though. The first incubator program we did was called the Digital News Innovation Challenge, held in partnership with the Facebook Journalism Project and the DMZ.

If you'd like to join The GIST's growing community, you can sign up for their twice-weekly newsletter and follow along on Instagram and Twitter.
---
Roslyn McLarty
Interview by Haley Morey
Posted June 21, 2019 in Industry Profiles