Daniel Marozzo is a Ticket Sales Coordinator with the Toronto Blue Jays and a popular sport management undergrad student. Daniel was recommended to us by Blue Jays Stadium Operations Coordinator Stéphane Côté a few months ago. No doubt, Daniel Marozzo is a fantastic example of how hard work, determination and interpersonal skills lead to sport industry success.
It was especially interesting to hear Daniel Marozzo talk about the importance of team culture. That's because Daniel is the embodiment of someone who's revered and respected by many sport industry professionals, including myself. I had the pleasure of working nearby Daniel when I did work with the Blue Jays. So when I saw that Stéphane Côté (and Riccardo Nero) endorsed Daniel Marozzo for a SPMA interview, I jumped at the opportunity!
"He's [Daniel's] a hard worker. His role is interesting as well. He coordinates the Blue Jays ticket sales team, which isn't easy to do One of the biggest reasons I suggest interviewing him is because I've seen him grow. He was a member of the game day staff for both Toronto FC and Toronto FC II for several years. I worked with him there, so I've had the chance to see him grow. He really is a great dude and lover of all sports."

Blue Jays Stadium Operations Coordinator Stéphane Côté
Daniel Marozzo's hard work, enthusiasm and commitment to diligent work are noticed throughout our conversation. Below, I share our chat. Enjoy!
Please note: This interview was conducted via phone. Editing changes were made to make it easier to read while maintaining the essence of the interview.
Tell us about your current role as Coordinator of Ticket Sales with the Toronto Blue Jays?
My current role entails a lot of strategy and analytics behind our group packages and our game day packages. Essentially, where do groups start, what discounts groups receive, how flexible should game packages be, what the minimum and maximum amount of games should people be able to add on tickets and the number of tickets, etc. A lot of the strategy is involved!
What does your day to day look like as the Coordinator of Ticket Sales with the Jays?
The day-to-day operations consist of a lot of follow up with our fans; Sale confirmation, surveys, payment reminders, game reminders, and ticket management reminders. There is no set in stone day in sport really, let alone in my role as the Ticket Sales Coordinator with the Toronto Blue Jays. But, it's a lot of proactive work and making sure any gaps that need to be filled from the time of purchase to the game, are filled. Such as, once someone purchases group tickets, what should they receive? Should they get tutorials on how to manage their tickets, a helpline number in case of any difficulty, what contact information should we give them if they want to add a ticket?
Another aspect of my job is training our seasonal staff. We currently have six seasonal sales members and they're here from February until November. So, we need to make sure they know what to expect and how to handle the phone lines. Coming from that position last year, I know what it takes to succeed and what kind of calls to expect. From that, I'm able to find ways to make sure our team can be best prepared to make those calls.
When did you realize you wanted a career in sport?
Like many Canadian kids, I wanted to play in the National Hockey League (NHL). When Grade 10 came around, I realized that wasn't going to happen. I wasn't tall enough and I didn't train enough. So, I thought about what my other options were. Because I knew that if I really wanted to be happy in my work career I was going to have to work in Sports. I'm a hard worker but I know I have to work within my interest because if I was an accountant or a lawyer, I know I wouldn't produce the same way that I do in sport.
So, I knew that in order to feel fulfilled in my work and adult life, I had to make a career for myself in sport. So from there, I made a plan. How am I going to break into the industry? I started talking to a lot of people and found a good postsecondary Sport Management program. From there, I put the pedal to meddle and focused for about eight years and it slowly started to come together. A lot of people will also say you need a lucky break, which I did get, but I think you make a lot of your own fortunate. That's something people in the industry have told me and if you want this more than you want to breathe you'll make it.

You mentioned studying Sport Management. What was the best part of school and how has it helped you so far?
A lot of people will say the internship aspect is the best part. But I didn't qualify for my school internship. So I made it a mission to make my own internship. So, I volunteered within my University area in Junior hockey and university hockey. Even if certain areas aren't hiring staff, people will always take work, especially for free and if you work hard. If you make it your mission to crack the code and break into the industry, the chance is there. If you are willing to work harder. So the smalltown aspect of my University really played into my favour and helped me with the opportunities the area provided.

How were able to procure a job out of school? Especially since a lot of people may find it challenging to acquire a job out of the gate.
I don't think there is a cookie-cutter formula. I think planning ahead and being very knowledgeable and willing to learn is helpful. So in high school, I knew this was what I wanted to do. When I got to University, I thought this is a big goal…how am going to achieve this? So I was told in school if you have a massive goal make a lot of small short term goals you can do in a day, week or month to build towards that larger goal.
"It can be demoralizing in trying to get a job in sport. You are going to get rejected a million times. So having those small goals to show yourself that you can be successful is very important and help along the way."
So, planning ahead and volunteering for as many organizations as possible, make as many connections as possible, putting your work out there, being vulnerable, and taking risks. That's something I love doing. I love uncomfortable situations where you're a little nervous, you don't know what to expect. It makes you feel alive and is fun. Especially if it's in an industry that you love. You'll also prove it to yourself that you can do something you thought you couldn't do or others thought was difficult to achieve. So, it's a great opportunity to prove people wrong. So, to sum it up; Always have an open mindset to learn more and enjoy the ride.

When you first got into the industry, what was your first impression, or what surprised you that you didn't expect?
People will always tell you sports is a lot less glamorous than you think. Also, I learned that a lot of positions that are available, you work while the game is on. But, I'm a huge fan of baseball and hockey and wanted positions where I could watch the game. Those positions I found out were difficult to find. I tried scouting in hockey for roughly eight months but I realized it wasn't for me. Mainly because I was working while watching and I came home exhausted and wanted to watch anything but hockey.
Moreover, I didn't expect the long and grueling hours sport demands from professionals. Also, depending on the organization, people have their own interest in mind. That's something I don't have to worry about with the Blue Jays. Our culture is vibrant, collaborative, very little micromanagement because they trust you. People trust the hiring process, and you earned your way here. Your manager will give you a task and they trust you'll have it done in three days fully complete. That's why I love my current role. Beyond the fact that baseball is one of my favourite sports, if you love who you work with, no matter the work or task, it makes the job a lot easier.

How do maintain a positive mindset through tough situations?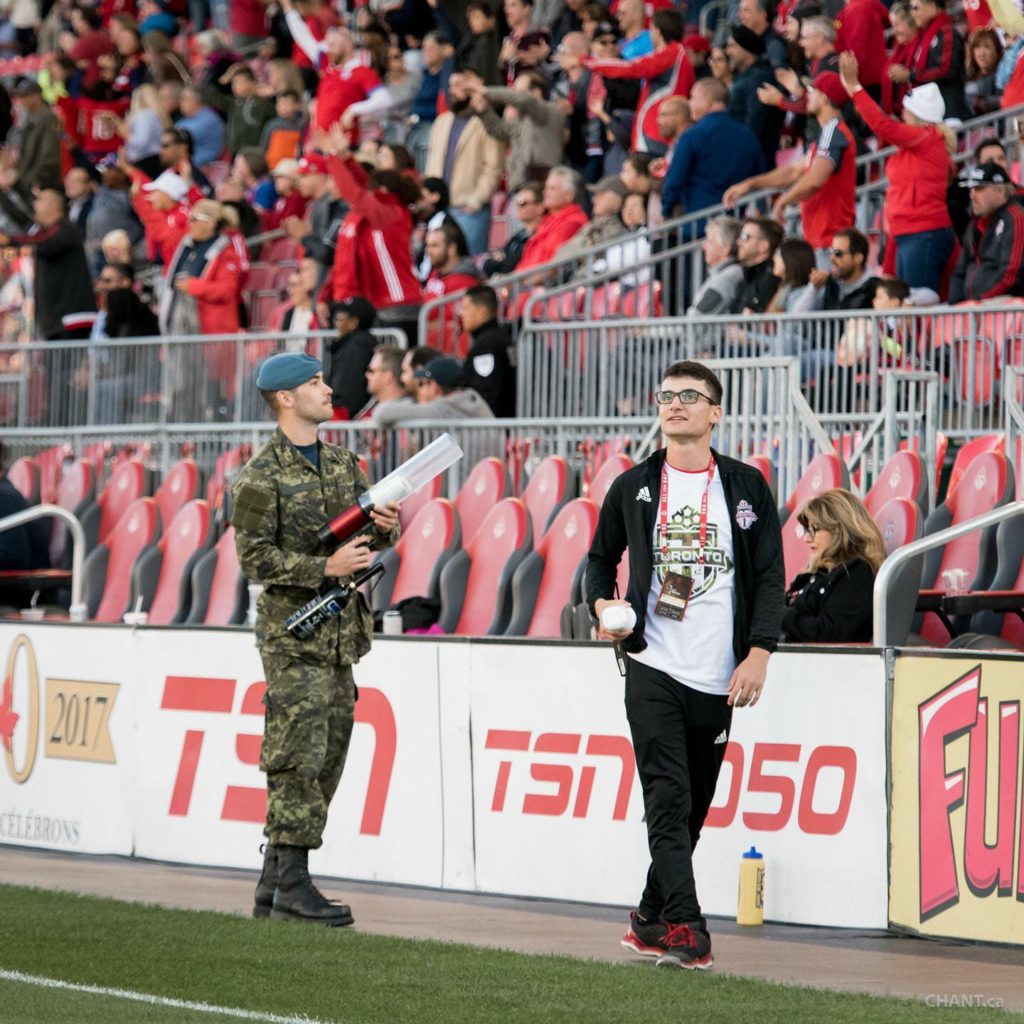 I always think I'm still trying to break into the industry. In my job, you face a lot of failures. You will get a lot of "no's" or "we like your work but we went another direction". You just have to want it more to face that response and negativity. If you fail and get rejected from a position you wanted then learn from your experience. I tried extremely hard for three years at another company I was with.
I just couldn't crack the code due to a lack of positions. Now I work somewhere that I like as much or maybe more than my previous organization. So everything happens for a reason but you have to learn from your experiences and not just to go through the motions. Take that newfound knowledge to the next position and show your findings in your work. If you tried to make friends with a lot of people at one job and it didn't work because you weren't being authentic, than at your next job be yourself and your skills and intelligence will be enough.
Also, always listen to people and don't brag about yourself. When you talk to peers or upper management just listen. Because people are always willing to lend information. When they do, incorporate what they said in a future project they task you with doing.
You worked as a scout, in game day operations, and fan services. How important is it for a young sport professional to not think they are stuck in the role they are in right out of school?
I was trying to crack the code so what I did was work in as many positions and segments within the sport industry. That way if there was ever a job I wanted that had certain qualifications that were out of the ordinary, I would have that requirement. Because I took a position with tennis Canada, I worked with a committee.
Even if you don't love the sport you may have to work or volunteer with it that sport because it can give you experience or qualifications to help you in the future. For example, I never envisioned myself within sales. But I saw this position and went for it. I've since learned how vital our ticket sales are to our bottom line in revenue-generating for the club. Which in the future that extra money can help land a star pitcher or outfielder to put the club over the hump. So, have an open mind and don't segment yourself in being a GM, a marketer, or whatever it might be. Because you may end up in your position but to get there is a windy road in working in-game entertainment, or operations.
So, keep an open mind because you don't know what you like until you got it, because the position you have might not even exist yet. That happened to me when I worked for my university men's hockey team on their social media platform. That position didn't exist and social media was on the rise. So, I thought it would be a great opportunity and challenge. So, always take a challenge and see it as an opportunity, because you never know where it may lead and what you might learn.
How much does someone have to sacrifice in order to accomplish their goal?
You need to sacrifice a lot! It may be with family, friends, girlfriends, boyfriends. A lot of that time is going to be in sport. If you anyone tells you otherwise and you don't have to sacrifice time. They were either extremely lucky or knew people because this becomes your number one priority. It has to be number one in terms of chasing your goal. You will have to work long hours, work for free, work strenuous hours. I worked with a golf tournament from 6 AM until 6 PM standing the entire time and looking in the woods for golf balls.
Also, I had to drive two hours to get to the golf tournaments for 100 dollars a day. But that boss gave me a remarkable recommendation. The owner Mark Young runs an amazing tournament and the connection was worth it. So, you have to put everything on hold. If you won't, well there are a lot of young and hungry kids wanting to work in the industry.
You've mentioned culture a lot and it's a word thrown around so often around sport teams. Would you say culture is as important?
100 million percent! You live with these people. You spend up to sixty hours a week with them. If you can't stand them it's difficult to get tasks accomplished. You may not always see eye to eye on everything but you must be willing to collaborate and understanding of their ideas. You might be right, they might be right but it's understanding your fellow teammates and collaborate on tasks and not everyone will be right. But you must work together to get everything done. Culture would have to be the most important.
What is your favourite part of sport that makes it the best industry to work in?
Where to begin. I'm currently sitting in an empty office in a fifty thousand seat stadium. Coming to work at the Rogers Centre every day, looking at the CN Tower everyday is everything I've dreamed of. But the passion your co-workers share about the team you work for is amazing. The excitement we get from talking about baseball and what we think our team should do and predict our next season lineup is awesome. If I was anywhere else I wouldn't be half as happy as I am now. I also love the transparency from Mark Shapiro to our management staff and us to our season ticket holders is amazing.
For up to an hour, Mark Shapiro will talk to us in what we call a town hall. That's hosted in the TD Clubhouse where he'll answer questions from all 250 employees. You have to cherish it and work hard because it can be gone the next day. I say that because once you're in the show you have to stay in the show. Graduated students are coming for you, young professionals are, or people in their thirties you are returning into the industry. They all want what you have. So, never stop learning, always work hard, and represent your organization with pride and the best way you can.
Does anyone come to mind that you think would make for a good next interview for SPMA?
1

Alex Mohamed

Alex is a Program Specialist for Jays Care Foundation. I lived with Alex for 4 years while studying Sport Management. Overall, he's a natural leader with a terrific charisma and enthusiasm which allows him to achieve whatever he sets his mind to.
2

Ryan McMorrow

Ryan is a Sales Representative with the Toronto Blue Jays. Ryan is mature, well beyond his years, and has a professional demeanor that can't be matched. He just has a tremendous passion and strong intelligence for the industry.
3

Amanda Lee

Amanda is the Assistant Manager of Performance & Digital Marketing at Adidas. I met Amanada during my first season with the Toronto FC. She's extremely ambitious, goal-oriented, and raises the ability of those around her. She's very approachable and a great leader.
4

Angela Su

Angela is an Associate Producer with MLSE. I met Angela while working Game Entertainment with Toronto FC. She's one of the hardest workers I've ever met and very detail-oriented. Also, she's willing to provide knowledge and guidance to those who are prepared to listen!
---
Interview by David Minor
Posted August 21, 2019 in Industry Profiles