SPMA features many sport professionals. But few are able to say they've been a player and a General Manager of a professional sport team. What's more, is being a gold medalist and seeing athletic success in multiple sports. Chelsea Purcell checks off all those boxes. In fact, she played in the Canadian Women's Hockey League's (CWHL) for four seasons before stepping into a front office role with the Brampton Thunder. In 2016, she served as one of two General Managers for the team. A year later, the team moved to Markham and Chelsea Purcell became the team's sole General Manager. That year, the team won the league championship, called the Clarkson Cup. A lot of the credit for the championship goes to Chelsea Purcell for putting the team together.
Seeing Chelsea Purcell as the General Manager of a pro sport team intrigued us a lot. For that reason, we wanted to feature her on SPMA! We were most interested in finding out about her career journey that led her to be the General Manager of a professional sport team. Indeed, we found out a lot about Chelsea Purcell's path to becoming a General Manager of the Markham Thunder.

Before we get into being the General Manager of a professional sport team, let's go back to the start. Tell us about your playing career at the University of Saskatchewan.
I was a late peaker in hockey, so to speak. In my first year of university, I came in as a walk-on. Being a walk-on meant that I had to work super hard in tryouts. But all that hard work paid off. I ended up making the varsity team. Actually, I was moving up on the lines, but I got injured just before Christmas. So that sent me back down on the lines. Therefore, my first year was a bit up and down in terms of my growth as a hockey player. I learned a lot about myself.
At the end of the season, the team suggested I put on 15 pounds if I wanted to make the team the following year. Since I was a pretty small girl, I always struggled with putting weight on. So I went home and met with a nutritionist to help me reach the goal. At the time, I was working shift work like 12 hours nights and days. I would eat every hour and a half that I had available to try and put on the weight. Whenever I had time before or after work, I would go to the gym and workout as well to build muscle and by the time I came back to camp, I achieved my goal!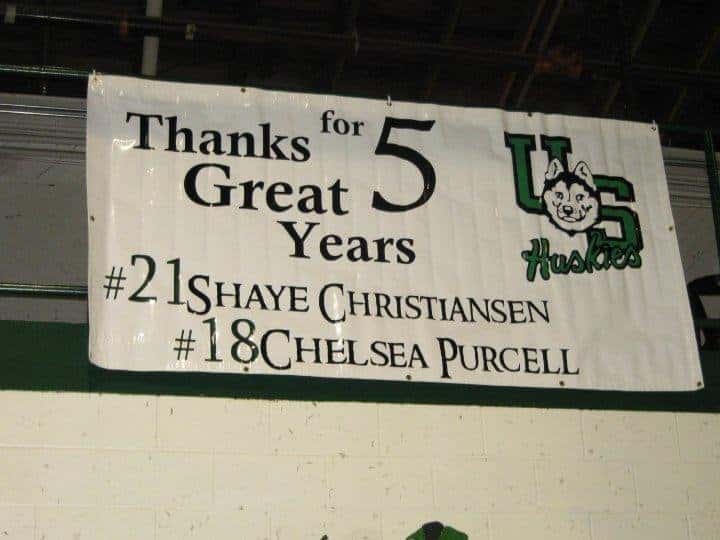 I came back that year and started playing my best. By the third year, I was the team captain! Looking back now, my whole life could have been different if I hadn't made that team. It was a great experience and the coaching staff was great. We were never the best team, but the atmosphere was great. It's funny. I went back to the campus at the University of Saskatchewan this year. The had a new arena and dressing rooms so it was good for them. It was really refreshing to see the progress they've made as an athletics program.
You chose to do a Bachelor of Science (BSc) in Kinesiology and Exercise Science. That's an interesting choice and seems to work well. Tell us why you chose that.
I got accepted into and chose to go with Kinesiology and a minor in Business/Entrepreneurship for my post-secondary education. But it wasn't an easy decision. I also applied for Engineering. But ultimately, I went with the Kinesiology route as it is more my passion. Doing what you love and are passionate about is super important.
So I figured sports and health go hand in hand. In a nutshell, that's why I went with it. As I progressed in the program, I chose to lean towards courses that were more business-oriented. Meanwhile, some of my peers were going down the health path. But I was experiencing so much physio as a hockey player that I couldn't fathom being the one doing it to others [laughs]. Also, I took personal training courses and really enjoyed them. So after I graduated from university, I started working at a fitness centre as a personal trainer. But I wasn't sure how long I'd want to do that for. I enjoyed it though!
Tell us about the shift from being a personal trainer to a professional hockey player.
While I was working as a trainer, I got a phone call from Edmonton Chimos head coach Jason Schmidt to see if I wanted to play hockey in Alberta. The Chimos played in the Western Women's Hockey League (WWHL). When I received the call from Jason, I was pretty happy in Saskatoon. I didn't want to change what I was doing in my career. I told Jason that. Even though the coach knew this, he offered me the opportunity to just come out for a while. After some convincing, I thought it was a fun opportunity, so I went up there one weekend to play in their camp. I quickly realized that I wasn't ready to be done with the sport. And I think I knew that when I was done University as I kept getting better every year.
A weekend of playing in Alberta and I realized that this is where I'd like to be. So I followed my gut. I made the decision quickly. There was no doubt about it, I wasn't ready to be done with playing hockey. Looking back, if I didn't take that opportunity to play hockey again, I may never have had the opportunity to become GM in a pro women's hockey league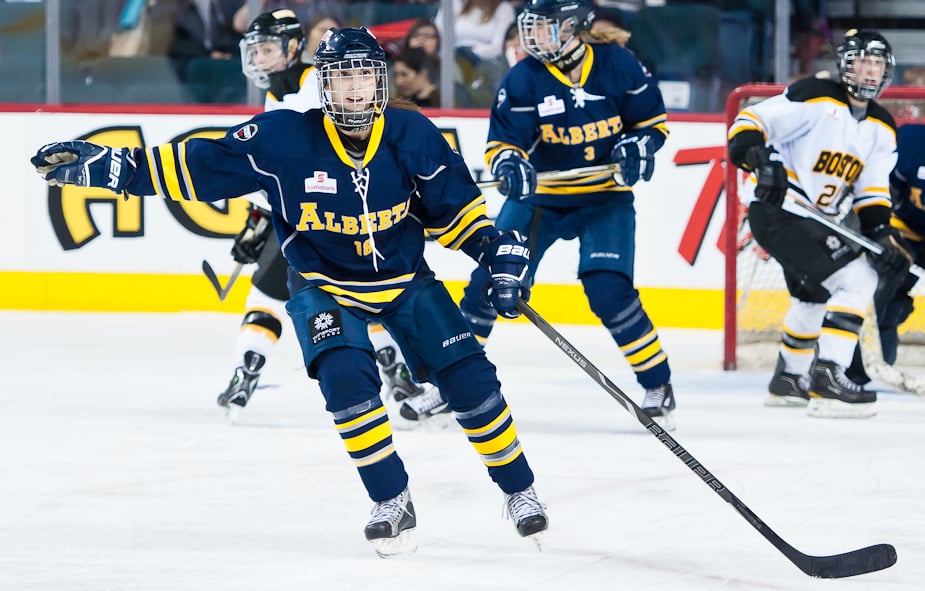 I actually thanked Jason for bringing me out there, as it got me to where I am now! It was a lot to change my life, so quickly, but it worked out well. In fact, my sister and her boyfriend lived in Fort McMurray at the time and no one was in the house. So I had a huge house all to myself during the week. They'd just come home on the weekend. So it was the perfect circumstance.
What does sport mean to you?
It is all about bringing people together for something greater, that isn't dependent on winning or losing I think sport is a great power, and it is on display right now as it has brought the nation together for the Raptors! It doesn't matter if you are bandwagon fans, it's all about bringing people together, no matter who you are. Sport creates excitement for diverse groups of people and brings them together. It is not the athletic ability or skill that impresses me the most, it is the happiness that sport can bring that is the best!
Let's get closer to how you became the General Manager of a professional sport team. To do that, tell us about how you became involved in the business side of hockey.
So after retiring from playing 2 years in Edmonton and 2 years in Calgary I was with someone at the time who was going to school in Toronto for her doctorate degree. With hockey not holding me in Calgary anymore, I embarked upon life in Toronto. When I first arrived, I was unsure of my career plans. I went for a few interviews as a personal trainer. But I didn't feel as motivated to get back into that as I used to be in Saskatoon. My few years of experience as a professional hockey player sparked me to want to continue around the sport.
But on the business side of it! I knew it would be challenging. Some of my teammates pursued further education in sport business. But in the back of my mind, I kept going to my passion for engineering and architecture. So the decision on where to pursue further education was not easy.
I leaned heavily on someone I looked at as a mentor to help me with this decision. Actually, I had dinner with one of them to try and talk out the decision and at the end of the dinner he said, "you know what you want to do" and unlike those profound moments of realization I said, " no I don't" and he persisted "yes you do", but "no I really don't" haha); eventually I said "is it this one?" he said "nope" and that's why I ended up going the sport business route.
Shortly into starting, I noticed just how competitive the program and industry are. But being a professional hockey player, I loved competition.
I had a good internship as well with XMC Sponsorship and Experiential Marketing. Soon after I finished the program, I received a call from the CWHL's Brampton Thunder to play for them. But, I was getting older and I knew that I would be getting third and fourth line minute. So with the help of my mentor again, I saw that playing at that point in my career was not the best choice. So I declined. But the General Manager of the Brampton Thunder at the time asked me to join her! I was so excited. I saw a path to become the General Manager of a professional sport team! The General Manager gave me the opportunity to learn and shadow her. It was pretty clear that there was a position for me in the short term to become the General Manager of this great professional sport franchise.
Super motivated, I helped her with outreach, sponsorship, social media, and more. Literally, anything that she did, I tried to learn so that I could help her and be prepared for when the time came for me to answer the call.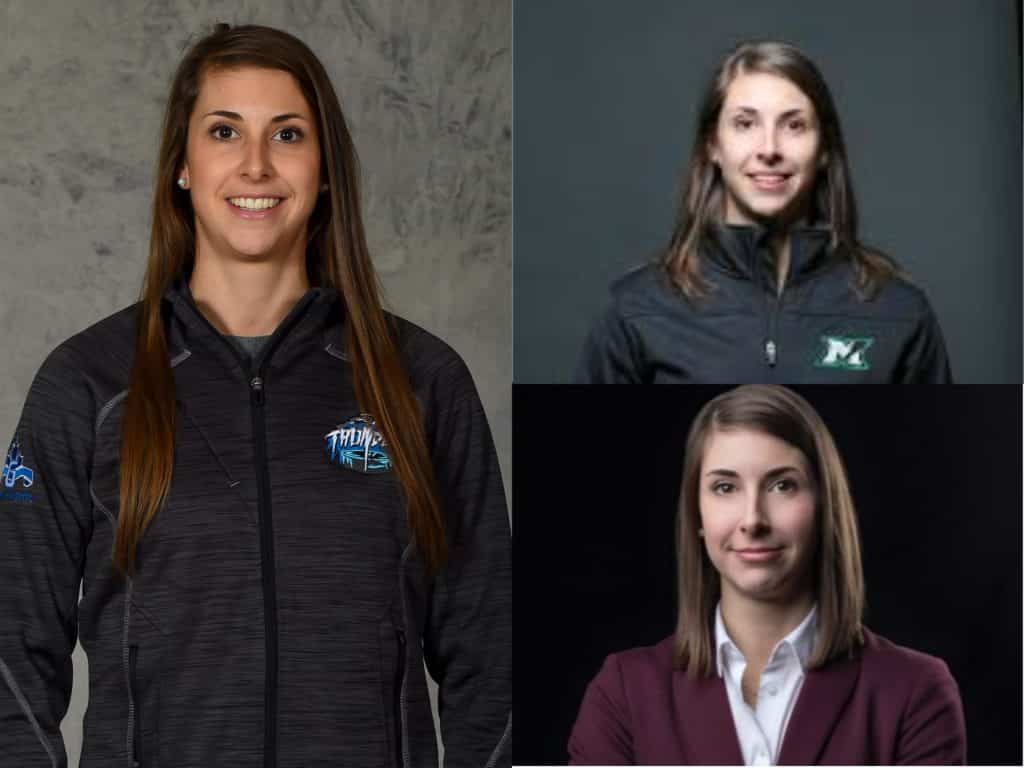 The following year, we became co-General Managers. My role was to deal with communications with players, sponsorship, outreach and grow the organization within the city of Brampton.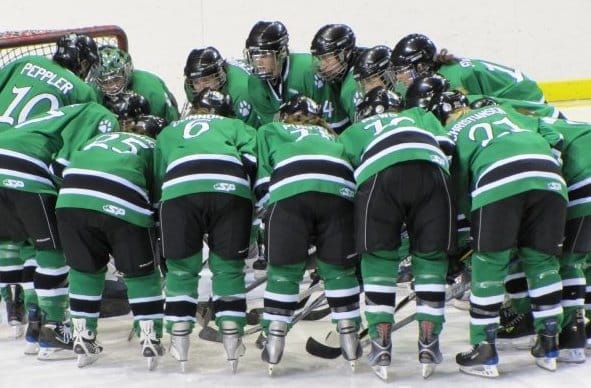 The next year the job became full-time. But the job wasn't just given to me. There was an interview process. And during this time we were assessing Brampton as a city and facility, and we knew that we played in a facility that was too small. So we had looked into other options, and I noticed that Markham would be an ideal location for us to move. But before I started compiling research on possibly playing in Markham, I had to determine how much extra time it would take our players to get to this arena. After that, research expanded to what rinks were available, and what were the dressings rooms like. I met with the Mayor of Markham, did research on the fans that we would target, formed social media plans, and laid out all the financials.

All the work put into planning for moving the team to Markham was essentially my job application [laughs]. I think all the work put into orchestrating the move from Brampton to Markham gave me an edge.
It was really fun because I got to do an entire re-brand and start something completely fresh and our own. Literally, I was able to be the General Manager of a professional sport team starting its ascent towards success. I loved every part of it.
Tell us a bit more about what it was like to re-brand a professional sport team in the lead role of General Manager.
So I'll start here. We were doing a vote for the colours of the team and we started off with a bunch of options before narrowing it down to three. Once the colour scheme was narrowed down to three, we put it to a public fan vote. It was a fun experience because I found myself checking the total numbers constantly. My personal choice changed about halfway through the process [laughs], as one of the options included the actually decided upon green and white. What was most fantastic about the process was including fans. And including them at such an early stage in our development as the Markham Thunder. It was great getting the fans involved so early on as it helped to create a connection and a team Identity that the majority of them really like! The colour ended up very similar to the Dallas Stars.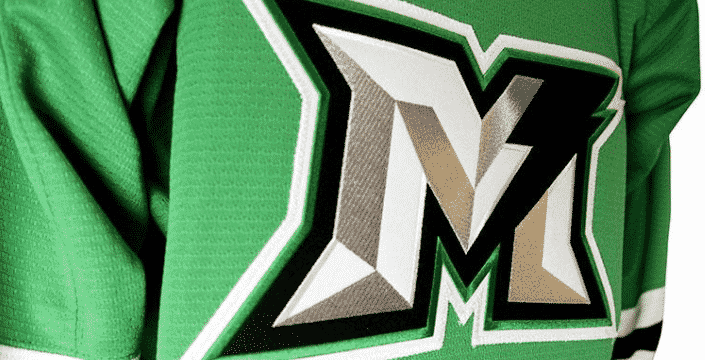 I should mention that we reached out to try and get a partnership, but they didn't end up going for it. A bit unfortunate because that would have been a mutually beneficial partnership.
Starting my career off as a full-time General Manager of this great professional sport team in re-branding mode was a really unique experience. I wouldn't trade it for the world.
Many people in the Sport Mangement industry aspire to be the General Manager of a professional sports team one day. You got to do it! What was great about being General Manager?
I think the coolest part for me in that position was the acquisition of Megan Bozek! She was playing for the National Women's Hockey League (NWHL), so when she got released, she became a free agent. At that point, she quickly became the hottest person on the market in Women's Hockey. Rarely does an American hockey player of her stature become available midway through the season.
So I started talking to players on the team to see who knew her personally. Because the release happened around Christmas time I knew it was an iffy time to reach out. One day, I just decided to go for it and be as respectful as possible. So I sent her an email saying I am really sorry to hear what happened. In the email, I indicated that there is a spot for her on this team if she decides to play. I told her to obviously take this time with your family and to reach out to whenever ready.
She ended up responding within 2 days saying that she was interested. But I am not sure what I want to do right now though.
We went back and forth for a while before she confirmed again that she really is interested, that was the first time that I had to work with an agent and he laid out how much she had to get paid and the contract had to be a one year which conflicted with the minimum 2 year contracts that had to be signed at Markham but I found an amicable way to settle that side of the dispute.
Since she was the hottest player on the market, I knew we had to get her. I said whatever the highest bid is, I will match it. Our rivals (Toronto Furies) were looking at making a bid as well. But we were the ones that ended up with her!
Soon after signing her we won the Clarkson Cup and it was the best moment reaching the pinnacle of the sport from a signing that I was involved in! By far one of the best moments of my career!
Someone asked me if I would ever want to be the General Manager of a men's professional sports team like the Toronto Maple Leafs. My answer to their question was of uncertainty. I know that my role as the General Manager for the professional sport team that I was apart of is so different. My job had a number of different roles. From players to sponsorship, to staff meetings, game day ops, fundraising, I had my hand in everything. Therefore, it would be really tough being the General Manager of a pro team like the Maple Leafs, because the role is more concentrated within a few areas. Working as the General Manager for a smaller professional sport team like the Markham Thunder, I was involved in every aspect of the team.
Finally, with women's professional sport being topical, we'd like to ask you about it. What does women in sport mean to you and what impression to do you hope you have left on women/girls coming through the system?
Women in sport is very important. I know that a good majority of the females that are in high ranking positions in sport play sport or come from a past that is centered around sport.
So having these girls enroll at a young age is very important to their potential growth in the sport industry. Sport can instill qualities of an effective and positive leader as well as skills that just can't be taught as well somewhere else.
With registration low and the dropout rates rising in multiple age groups it has never been more important to show girls and women that playing sport can lead to their furthered success down the road. And if we want to get those registration numbers up we need to be able to showcase our talent and have more exposure in every market.
The WNBA is going in the right direction as they had way more games broadcasted this year, and now we have the women's world cup going on as well that is getting consistent coverage just the same as the men would have and that is important as well, but for all other leagues the saying stands "you can't know what you don't see". We need these young girls to see us and we want them to because we could be their future. People need to inspire young girls to be a part of sport whether it is playing, coaching or mentoring because if we want to succeed we need sport to grow and we need it to grow alongside these girls so that they can feel strong and confident.
We grew up in a sport world dominated by men. So we looked up to males instead of females which is fine. But we need girls to know that they have someone of the same gender to idolize and dream to be so they have something real to look forward to. The biggest thing right now is women in sport networking with each other and using each other to build one another up, the confidence and the empowerment can come from the professionals, so it is not solely about the youth because it needs to start from us as adults to help them grow.
And because equality is something most of the world is striving for it would be smart for companies to invest in the women's side and start making the game more visible to all.
Final Thoughts from SPMA
We are so excited that we were able to interview someone who has reached the pinnacle of professional sports as a General Manager. I mean, isn't that most sport management professional's dream? From this interview, we've only confirmed what we already knew. Chelsea Purcell is driven, hard-working and a proven winner.
Coming onto her varsity team as a walk-on was hard enough. So the amount of work she needed to blossom as a player is just one indicator of Chelsea Purcell's work ethic. Her sport business acumen is consistent with the way she played. Doing a whole relocation plan for the Brampton Thunder without knowing if she'd be the team's General Manager speaks to her mentality of hard work and persistence.
The sport industry is challenging. Chelsea Purcell knew that, but was methodical in all her decisions. She utilized the help of a trusted mentor, took risks and worked extremely hard whenever she invested in an opportunity. All her work paid off. Not many people can say they've been the General Manager of a pro sport team and brought them to a championship. Fewer can say they've won a gold medal as a Ball Hockey player (which we didn't even get into with Chelsea) as well! In conclusion, we are so fortunate to chat with her about her unique journey and can't wait to see what's next.
---
Chelsea Purcell
Interview by Trevor Stephens
Posted June 19, 2019 in Industry Profiles