Social media and athletes have also been inseparable. And in the last 5-10 years the same can be said about professional sport teams. One of those teams is the Golden State Warriors. The Golden State Warriors have been by far the most dominant team in the National Basketball Association (NBA) over the last five seasons. The Warriors have not only won on the court in the past 5 seasons, but off it too when it comes to how their team social account on the most popular networks are managed. The same cannot be said about select Warriors players. In fact, the Golden State Warriors Public Relations team has been busy all season long. All Golden State Warriors players are on social media. But two of the Golden State Warriors players have strung up so much controversy in the past couple seasons over the way they use social media.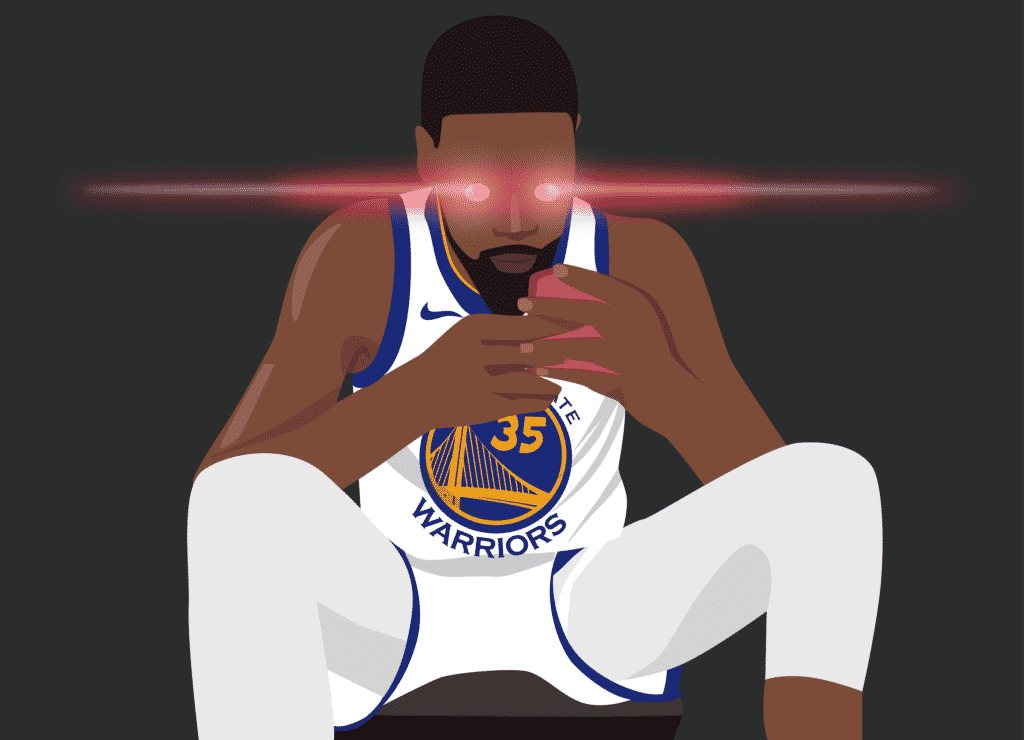 Wonder why the Golden State Warriors team social media accounts and #winning and their players are #losing on social media? We'll tell you. But first, it's important to note that public relations and social media are not handled by the same people.
Public Relations and Social Media in Pro Sport and with the Warriors
Because public relations works with social media, people tend to think that they are the same. In sport organizations with a smaller staff, as Adrienne Middlebrook told us the GTHL has, these positions may overlap. But for NBA teams, public relations and social media are handled by separate individuals. For the Golden State Warriors, social media channels are handled by a coordinator. The voice behind social media posts from the Warriors' accounts was Julie Phayer, California State University.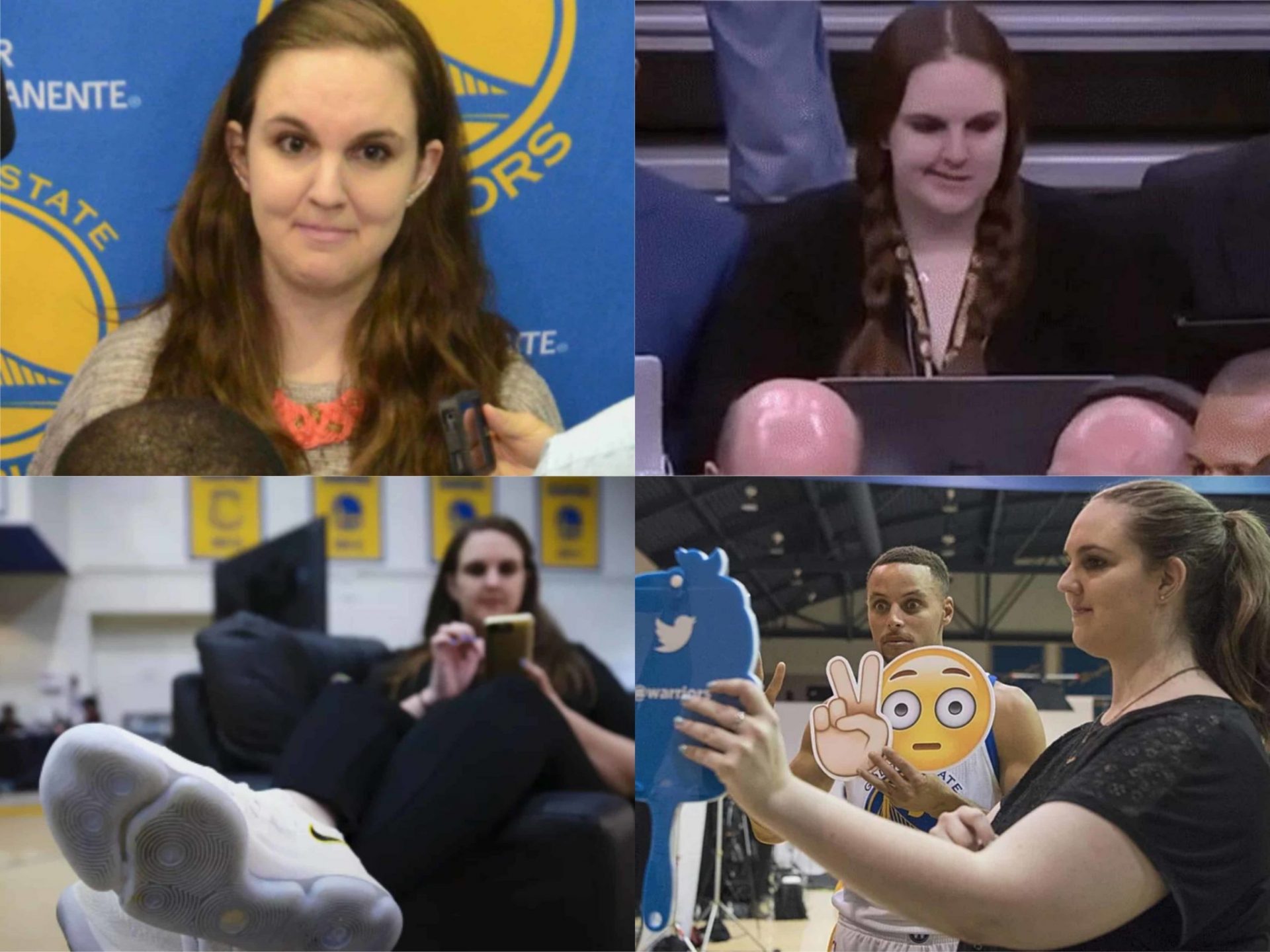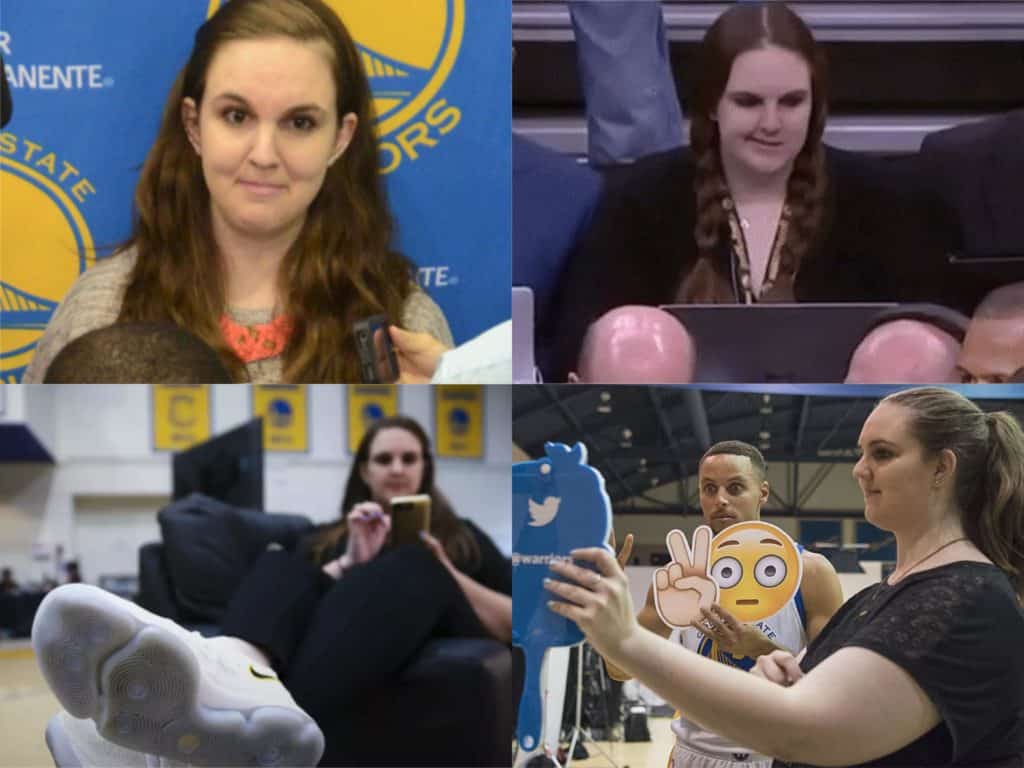 Until of late. In fact, of recent, the Golden State Warriors were looking for a new social media content manager on LinkedIn. Because of that, we are able to show you what the role of Golden State Warriors social media coordinator entails. It'll soon be deleted from the LinkedIn database. But we have it here for you should that be the case:
"The Golden State Warriors are looking for a dynamic and highly motivated professional to plan, program, post and manage social media sites for Chase Center. As a Social Media Coordinator, you will work closely with the social media and marketing team to assist with developing, coordinating and growing our social media efforts. You will have the opportunity to collaborate with colleagues across the organization and support team in a positive way."
Key Responsibilities of the Warriors Social Media Coordinator
Partner with Senior Manager to craft and plan program major social media platforms including, but not limited to, Facebook, Instagram, Twitter, Spotify
Collaborate with multiple departments and third parties in order to effectively manage social media content creation, distribution, and measurement
Engage with Senior Director and/or Senior Manager on organic and partner-related social media ideations and assist with creating initiative and plans
Monitor and execute ticket sales and partner-related social media and website content and seek to implement league-shared best practices across social channels
Maintain a consistent, authentic "voice" across all social media channels to deepen the relationship between fans and the organization
Create and/or maintain positive relationships with leaders at social media organizations (e.g. Facebook, Twitter, Google)
Have a deep understanding of current digital strategies and demonstrate empathy to create and ensure excellent customer satisfaction
Warriors Public Relations Department
The Warriors Public Relations department works to manage crises, press conferences, media passes, and more.
The PR department of the Golden State Warriors consists of the following three individuals leading the charge:
Vice President, Communications – Raymond Ridder
Director, Public Relations – Brett Winkler
Director, Basketball Communications – Michael Ravina
These three men work hard for the Golden State Warriors to ensure that the team is looked at favourably by its stakeholders. After all, that's what public relations is all about!
What is PR?
If there's ever a crisis, they are the ones in the organization most knowledgeable at framing key messages to deal with it. In the first few years of their Championship run, the Golden State Warriors had little go wrong by way of player misconduct on social media. But this season and in particular this playoffs, the public relations department for the Golden State Warriors has been busier than ever.
Exploring Golden State Warriors Approach on TEAM Social Media Accounts
About three years ago when the Warriors were at the early stages of their dynasty as we know it now, they were ranked outside the NBA's top five teams in terms of digital revenue.
Their usage of social media was restricted to the occasional post about game information and posts mandated by their sponsors. This was the old way of doing things.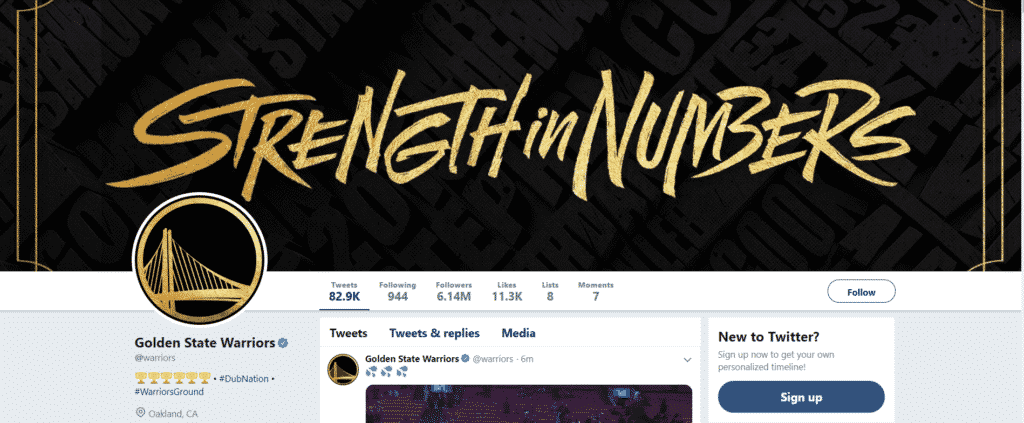 Increasingly, sponsors began to look beyond who you are as a team or brand and instead at your social media engagement and impression metrics. The Warriors have presented a unique case though. The Warriors have had at least three star players on each team. And they've won 3 NBA Championships. So many assume that the players and winning is enough. Simply put, even if you were the NBA Champions, if your social media metrics were not at a certain level, there is little reason for brands to invest their brand budgets in your team.
The Warriors quickly figured out that they need to make changes and the major one came by the hiring of Rebel Ventures, a prominent digital strategy and public relations agency.
Rebel is a well-known agency with a client base that includes huge sports teams like the Boston Red Sox, Liverpool FC and Real Madrid. Their first action plan was to move the Warriors to an impression-based social media model which started in 2015/2016. This led to the Warriors becoming more active on social media channels, creating more content and becoming engaging with their fans. This in turn with their impressive success on the court has led to the Warriors becoming top earners via social media revenue in the NBA.
Several partnerships with valuable companies in the California area and nationwide has also yielded many successes. They've posted videos hitting over one million views across all YouTube, Twitter, Facebook, and Instagram just to name a few.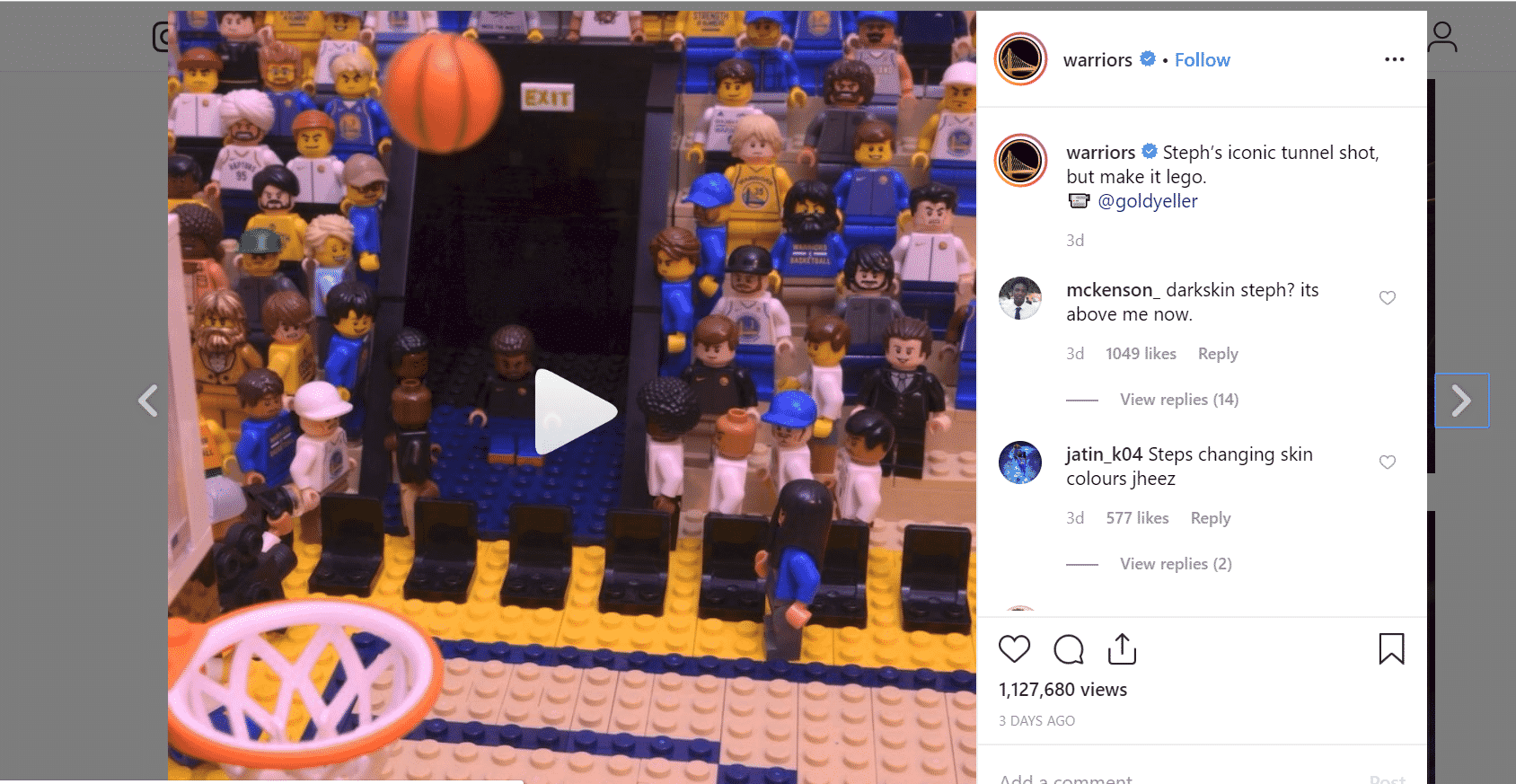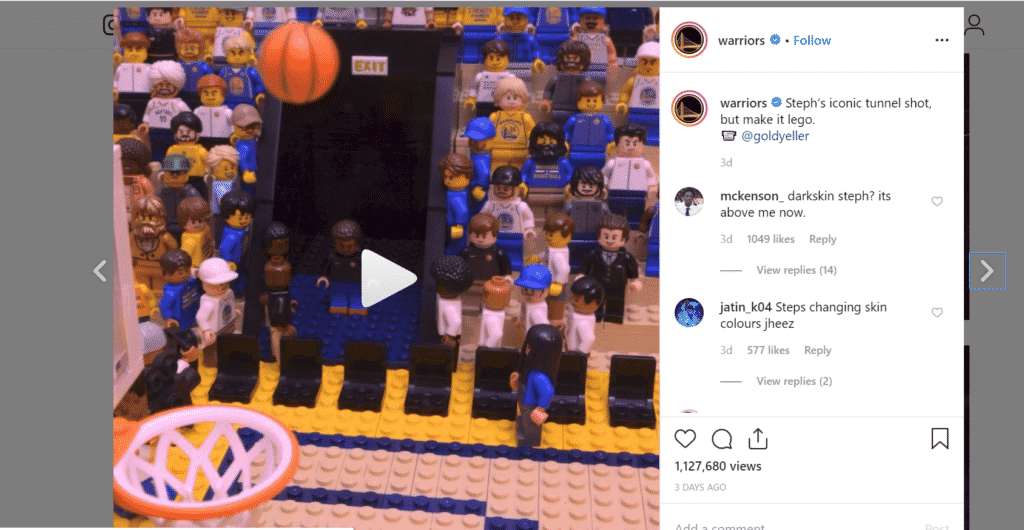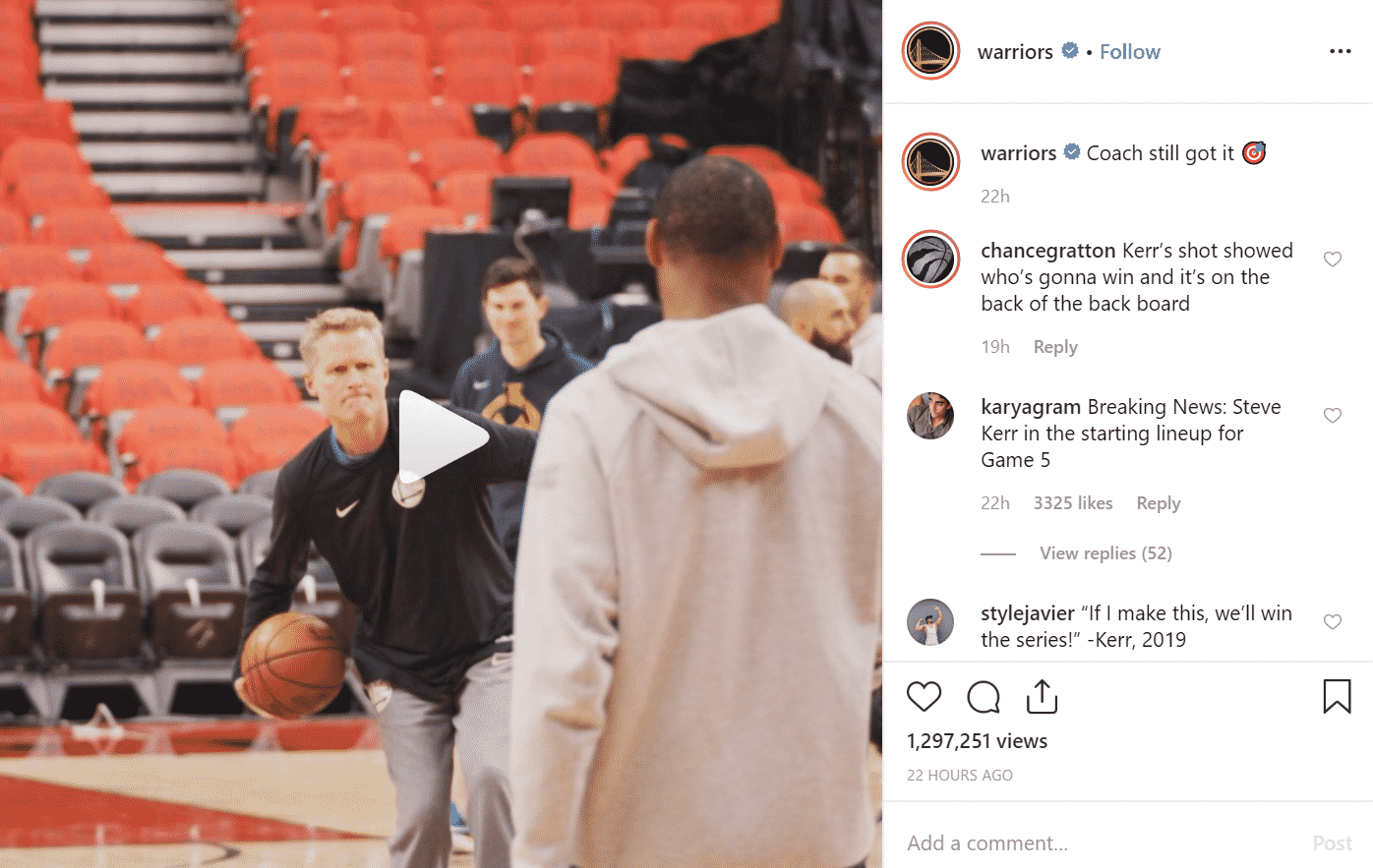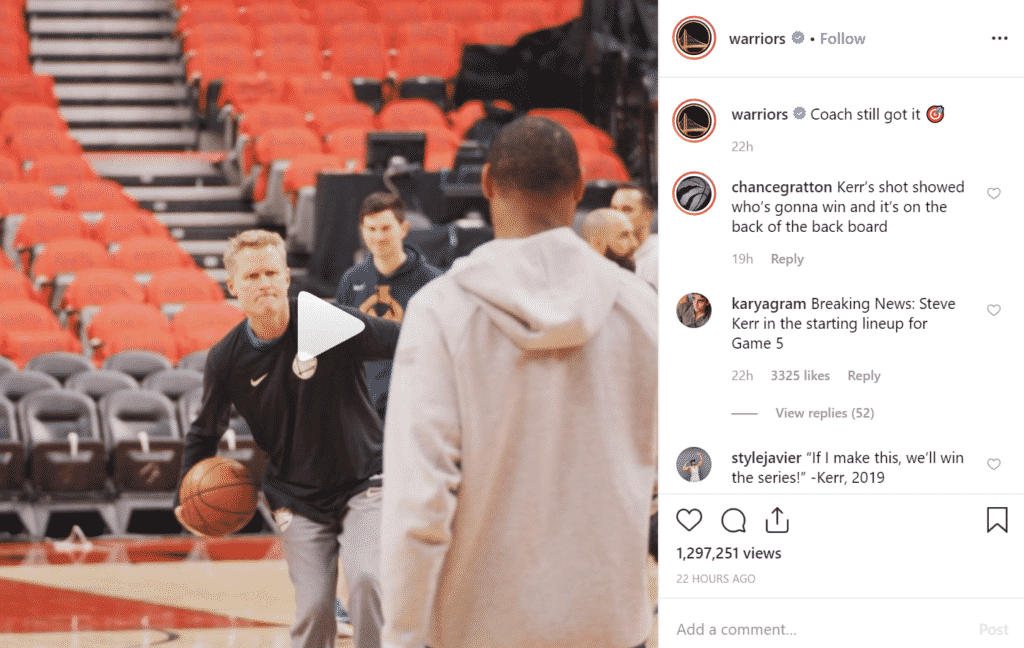 But one thing must be said about the Golden State Warriors social media accounts. They are NOT flooded with advertisements. Which is really nice to see. In fact, we don't see any sponsored material. Here's a screenshot of the Golden State Warriors Instagram account from May 11 – May 14, 2019.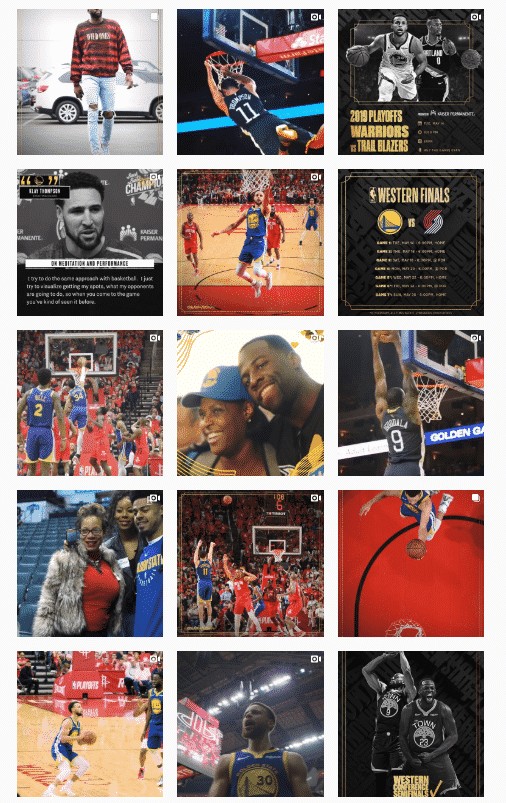 Let's compare that to their 2019 NBA Finals counterpart, the Toronto Raptors. The Raptors tend to display their relationship with sponsors and corporate partners a bit more ?.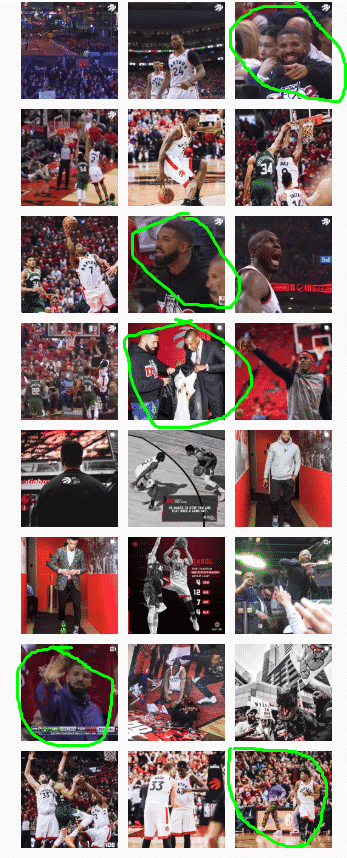 Back to the Warriors. Having 5 mega star players like Kevin Durant, Draymond Green, Klay Thompson, Demarcus Cousins, and Stephen Curry is great for winning on the court. But it's created a complex problem for the Warriors public relations department. Select Golden State Warriors players have been seen on social media behaving inappropriately. We'll get to that a little later in this read.
How has Social Media changed Public Relations in Sport and the Golden State Warriors re: PLAYER usage?
Public relations in sports has changed over the last few years. Communication between stakeholders is now easier as technological advancements continue to make the world a global village. Social media has changed the way that people communicate and the reach of a news story. Gone are the days when it takes several hours, sometimes days for news to get around. The Warriors on social media are able to reach millions of fans around the world with a single tweet or Instagram post.
Social media is very much integrated and even though traditional media like television, radio and printed materials still go a long way in determining a ball club's perception in the public, they now include social media hashtags in their reports. Social media can be used to make news reports more engaging and also drive their reach. An example is how Kevin Durant Social Media antics are heavily reported with pictures, videos and trending media.
One major impact that social media has is that the internet can make heroes and villains within seconds. As quickly as you can become infamous, you can also become popular within a few trends. Targeted marketing is also easier and more comprehensive with social media. Brands find it easier to carve their public personas through social media rather than press releases. This is because of the viral effect and the ease of use. The message is also easier to pass across and to manage on the go. Also, viral campaigns have a way of managing themselves over time which makes the job of the public relations department so much easier.
The flip side is also that bad news can spread like a wildfire and get out of hand real quick. When the Draymond Green penis incident occurred, there was little to do to prepare for such a mistake. However, social media also means that you don't have to wait til' the morning or the news cycle to release a response or a rebuttal or apology to make the situation better. The Warriors on social media have been able to make their team become the darlings of their supporters and neutrals despite being hated as the "super team" of the decade.
Two Prominent Social Media Incidents involving Golden State Warriors
All Golden State Warriors players are on social media. But at least two of the Golden State Warriors players are notoriously controversial in the way they use social media. Two incidents on social media involving Golden State Warriors players stand out. They stand out because dealing with them from a PR standpoint ought to have been super challenging.
1. The Draymond Green Penis Saga
How did The Warriors Social Media deal with the Draymond Green Penis issue?
In July 2016, star player of the Golden State Warriors Draymond Green made the news headlines. Summer is usually a slow time for the NBA. So the news story you're about to hear was pretty big news on social media. Draymond Green went viral for a short time as he "inadvertently" posted a picture of his penis on social media messaging app, Snapchat. The x-rated picture was on his public story for about ten minutes before someone called his attention to it and he took it down.
The Draymond Green penis story immediately broke the news and began to trend on social media. We have the photos of Draymond Green's Snapchat penis exposure. But we are not an x-rated site. So, we will not post them here or anywhere for that matter.
In this situation, the Golden State Warriors on social media were quick to react. Green issued an apology and, in this case, he fully accepted responsibility for the blunder. He claimed that he inadvertently selected public story instead of the private recipient that he originally intended. While this was an embarrassing situation for both the club and Draymond Green, with the help of social media, the reaction was swift and efficient.
The apology was posted shortly after and the whole drama died down as quickly as it began. But that doesn't mean we forgot about Draymond Green posting pictures of his penis on Snapchat!
In the past, such issues would have caused a PR nightmare because it would take several news cycles for each stage of the crisis to be resolved. A day after the Draymond Green penis picture surfaced, it was pretty much resolved. Ray Donavon style! This is one of the impacts of social media.
Indeed, public relations departments have more news cycles to work with. It's like a more like a 24/7 news circle and many different channels to use to put out information as required. This is a sharp contrast to a few years back where it would take as much as 24 hours for a PR team to get the chance to react to an incident. Getting a grip on it quickly and efficiently would have taken time. Rarely is anything in public relations similar to how it appears on television. And there isn't usually a magic fix! Finding every person that took a screenshot of Draymond Green's penis shot and deleting it from their phone is just not possible. Sorry Draymond!
2. Kevin Durant's Burner Accounts and Constant Use of Social Media
Dealing with Player Unrest – The Kevin Durant Social Media Experience
Being one of the most vocal basketball players on social media, Kevin Durant has always been in the news whether for good or bad. Leaving the Oklahoma City Thunder at the peak of their success to a team that just won an NBA Championship and 3 existing All-Stars put a sting on his reputation for basketball fans across the world.
At some point, he took a lot of flak for responding to his old team with a burner account. A burner account is a social media profile in which someone opens up and uses that's not their own identity. They use the account to respond to negative comments others put out about them. Most don't get caught using one! But Kevin Durant got caught. And he ended up admitting that he actively uses one.
The Warriors have done an excellent job of ensuring that Kevin Durant gets the protection he needs and the direction that he needs when media issues occur. Like right now!
In the 2019 Western Conference Semifinals Kevin Durant suffered a serious injury, a strained right calf. The injury occurred on May 8th. Fast forward a month, and his team is in the NBA Finals.
Plus, earlier in the 2018/2019 season, the Kevin Durant social media drama also continued when he had a much-publicized clash with Draymond Green. This led to Draymond Green getting suspended. The public relations issues that arose from that situation caused a lot of unrest as Kevin Durant had not signed on beyond the immediate season. Twitter and all of social media started the debate about whether Kevin Durant would stay or go in the off-season.
The Warriors were swift to respond after the suspension of Draymond and released a statement quickly, detailing all the actions that have been taken to ensure the situation was resolved. This went a long way in reducing the volatility of the situation. The Warriors showed a united front once again and shared videos of the two players involved having a deep conversation after practice. Statements and interviews from each of them also helped to diffuse the situation quickly.
This, of course, could be in reference to just about anything. His NBA future, his desire to return during the Finals, the severity of his injury or perhaps something totally unrelated to basketball, although that seems unlikely.
Was this post necessary? The Golden State Warriors have done a pretty good job of ensuring neutral soundbites regarding his return on social media and via mainstream press. And comes Kevin Durant posting cryptic and confusing messages on his Instagram account to all his followers. How annoying for the Brett Winkler, Director of Public Relations for the Golden State Warriors!
And after re-aggravating his right calf strain 6/10/19 (and possibly doing greater damage), Durant was at it again on social media. Here's what he posted on his Instagram account: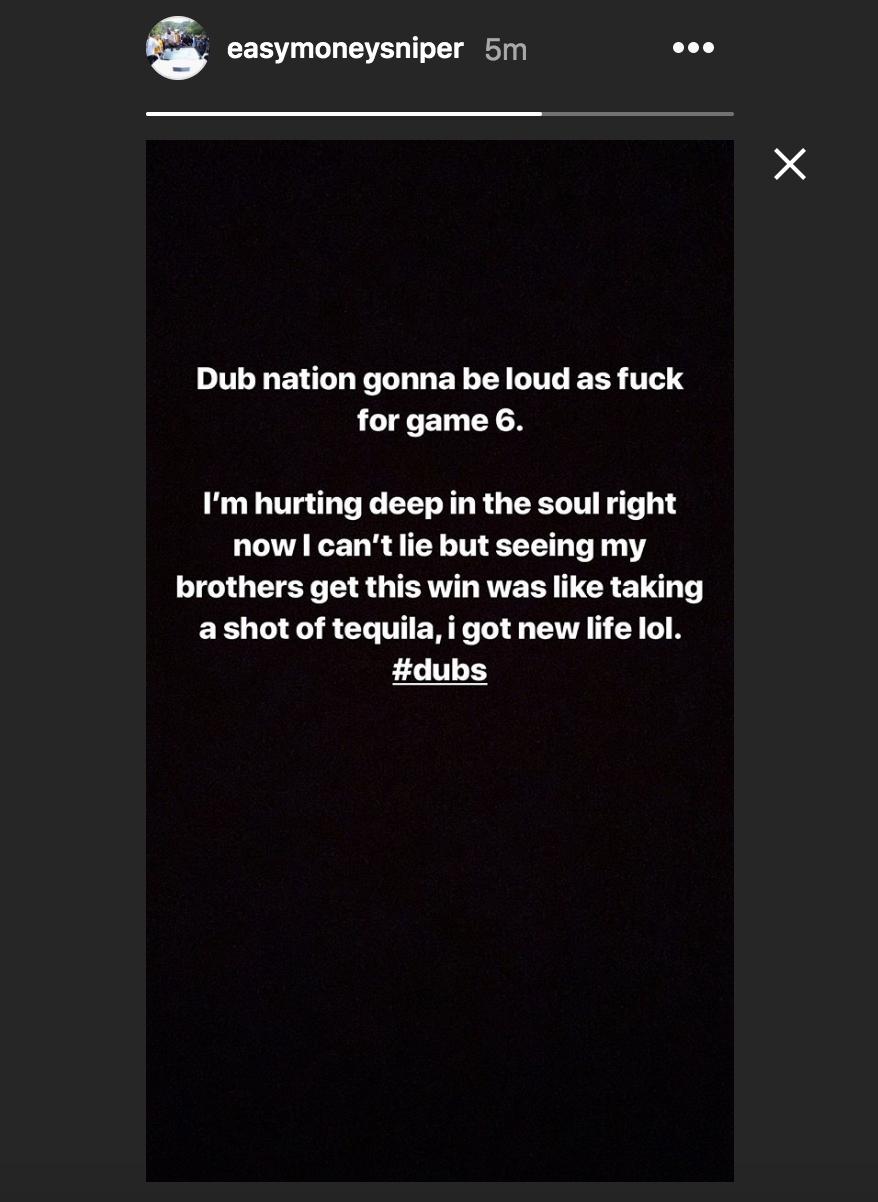 From a Warriors PR perspective, swearing, alcohol and grammatical errors must be making them cringe!
Conclusion
Expertly maneuvering the murky waters of social media while maintaining a clean house can be hard for a professional sport team. By controlling the narrative of team issues and being quick to respond, social media has become an important tool in ensuring that the team is in the news for the right reasons at all times. Instead of fearing social media, the Warriors have made it a weapon for stimulating goodwill, raising revenue for the team and keeping the team together. That's on their team accounts of course. The same cannot be said about select Golden State Warriors players on social media.
Social media and mobile technology are also a great way for sports fans and athletes to express themselves and form an engaging relationship with their favourite teams. This will further help to reduce marketing expenditures, increase fan engagement, build a purposeful and dedicated community consistently without the hassle of traditional media. Athletes also get a chance to showcase themselves in more positive lights. In situations where they, however, make a mistake with a "bad" post, the public relations team can also use social media to influence public perception for the benefit of the athletes. That kind of explains why the Golden State Warriors President of Basketball Operations felt the need to do PR for the team about Durant's reputation:
Most people watching the NBA Finals against Toronto see Draymond Green and Kevin Durant as basketball players. They may never have thought of them as having social media troubles. Hopefully now that you've read this article, you can see that some of the Golden State Warriors players have secrets from their past on social media that they are hiding! And some Golden State Warriors players continue to use social media in a murky manner. While the Golden State Warriors social media coordinator succeeds, PR is tasked with managing players on social media ?. That task has not been an easy one to say the least. WaRrIoRs CoMe OuT tO pLaYyYyYyYyY.