Adrienne Middlebrook is the Marketing and Communications Coordinator for the world's largest minor hockey league, the Greater Toronto Hockey League (GTHL). We became very interested in finding more info about Adrienne Middlebrook. Interest came after we noticed her wealth of volunteer experience in the sport industry. So we arranged a chat with her to find out all about her. We start off by asking her about her huge task of coordinating marketing and communications for this enormous minor hockey league. Then, get into what prepared her for this busy, but yet rewarding role. Wonder how big of a role volunteering played in preparing Adrienne Middlebrook for the HUGE role she plays with the GTHL? Read on. She'll tell us.
Tell us about the Greater Toronto Hockey League (GTHL) and what your role as the Marketing and Communications Coordinator for it entails.
Believe it or not, the Greater Toronto Hockey League is over a hundred years old! It was established in 1911. And it's the largest minor hockey league in the world. To put things into perspective, every given year we have around 40,000 participants across, 52 clubs and 32 house league teams. The league operations are the rep and house league level. So it's kind of a big undertaking for our staff to manage all that the league has to offer.
Again, another believe it or not. We're a staff of just 15 full timers. Although we have many part time staff in the rinks and on the ice.
My role as a Coordinator of Marketing and Communications is to get the GTHL brand out there to both our stakeholders and external parties. I also manage all social media, our website and our magazine.
We have a magazine that goes out three times a year to all of our households. In addition to overseeing those areas, I also work with our Sponsorship Coordinator on a regular basis. The reason is to make sure that all sponsorship needs are fulfilled across many of our events. It's really important that we work hand-in-hand and we definitely do that. So that's my day-to day! It's definitely a lot of fun. But it's certainty a lot of responsibility. I relish it though.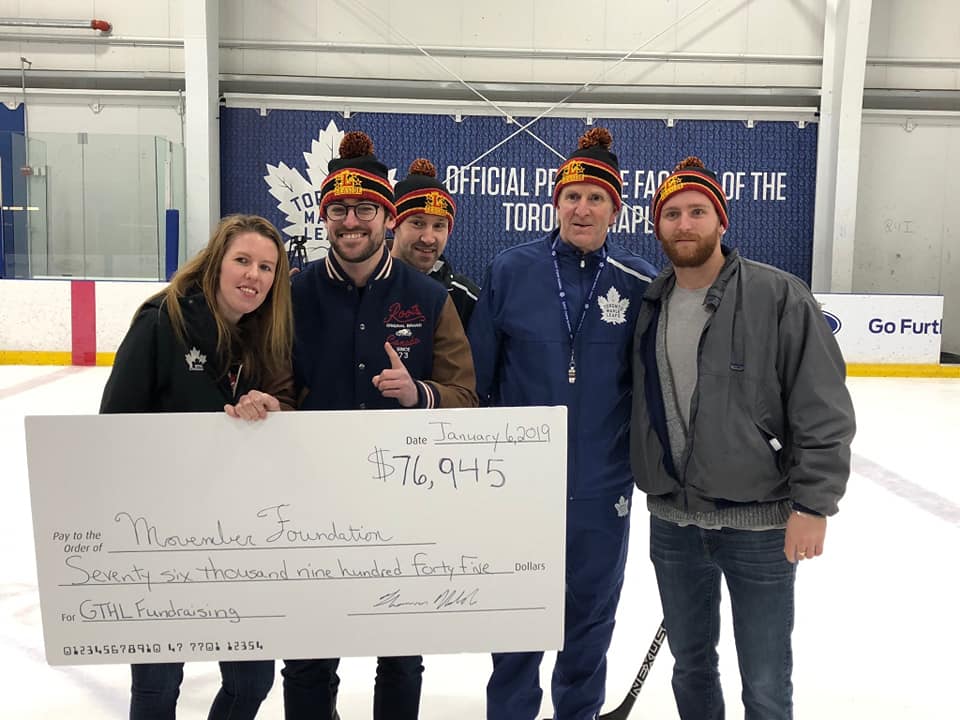 What does a typical work day look like for you in your role as Marketing and Communications Coordinator for the GTHL?
It REALLYYYY varies and there's stuff that can just pop up at any instant. But to give you an idea of a typical day, let's start with what I am doing today. I'm preparing for our next upcoming events. This involves preparing all the communication material for that, including all our printed and digital material. For example, stories leading up to the event.
Material includes stories leading up to the event.
It also includes making sure our program guide is ready for print for upcoming events. The program guide includes team rosters so ensuring they are up-to-date for inclusion is vital. Also part of the program guide preparation is ensuring all sponsorship needs are fulfilled. We have several sponsorship deals. So, if we have a sponsorship that includes being included into our print media, it's my job to ensure we've done that.
Social media is a big part of my day-to-day. We have a few social media channels and oversight of them is part of my responsibility. Ensuring that content is up-to-date and relevant is a key part of my role as the Marketing and Communications Coordinator here at the GTHL.
Coordinating our newsletters so that goes out monthly. We have set date sin which the newsletters are released. So around each release date, I am working heavily on getting that done.
I should also mention that my role as Marketing and Communications Coordinator is not fluid. And that's okay because it's the nature of working in sport. Things just pop out constantly throughout the day. Like it really varies day to day. For instance, I could be working on multiple projects at once. One day could be getting ready for a string of games or an event and the next may be chipping away at multiple projects. And that's really my day to day! It's rarely consistent which I love about working in sport. I love the challenge of doing a wide range of work.
What do your days after a GTHL event's completed look like?
Leading up to the event, we are making sure we have all our ducks in a row and everything's covered. It's very meticulous and can be a bit stressful. Stressful because things pop up last minute constantly that we didn't expect. Just because we didn't expect them doesn't mean that we aren't prepared for them though! We always have our ducks in a row prior to an event.
The planning for events is way more work than post event.
And then when those happen, you just kind of like take them for the next time and try and make sure those things exactly.
Our manager has this system called WWW, which stands for What Went Wrong?
If we're at an event and something goes wrong, we take note of it and talk about it later on.
"Given the fast-pace of sport events, I'll tend to pull out my phone and send an SMS to myself, to remind me of areas I think we can improve upon for next time."
No sport event is perfect at even the highest of professional ranking. We strive to eliminate all mistakes, but given the unpredictability of sport, sometimes they happen.
What tools do you use on a regular basis in your role with the GTHL?
1

WordPress

For one, I use WordPress on a constant basis. We manage and maintain our website using it. So I'll go on there regularly to play around with various content.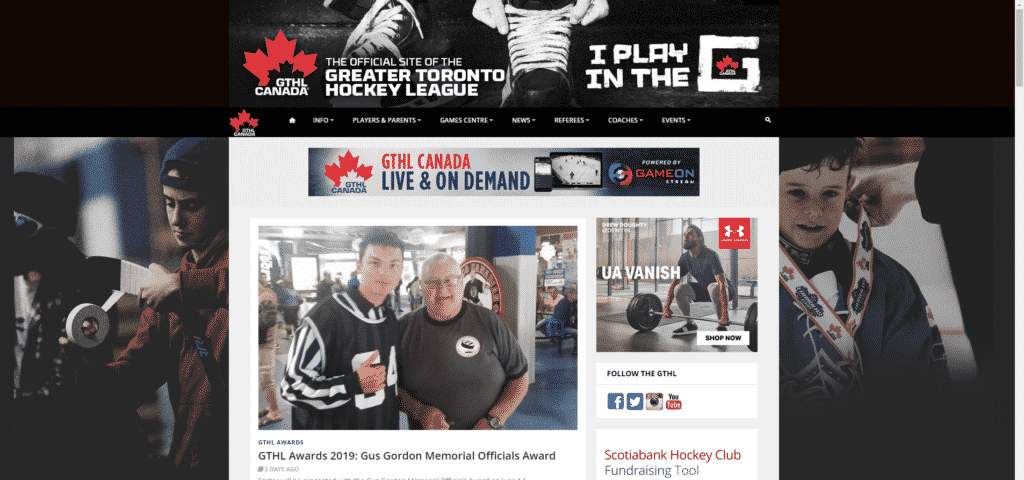 2

HootSuite

Second, I use HootSuite regularly. I use it social media planning. It's considered a social media management tool and does a few really important things for us. It helps us track our social media channels in a neat and organized way. Also, it gives us a bit of an edge with responding to followers promptly and track the trends from what's being said about us online.
3

Agilix

Third, we use Agilix. It's a tool that is used completely internal within our organization. This is where I manage tryout listings and players wanted ads for our leagues.
As a follow up, why is it important for young sport professionals who aspire to be in the Marketing and Communications area of sport to know how to use these tools?
Having a strong working knowledge of how to use these tools has become a requirement of many job postings relating to marketing and communications in sport. So without knowing how to use them, I'm afraid young sport professionals would be out of luck in applying for those positions.
I think it's important for young sport professionals to understand that when you work in sport, you're expected to wear a lot of hats. That's especially true if you work for a "smaller" sport organization.
If I worked for Maple Leaf Sports and Entertainment (MLSE), I would probably just be doing social media or I'd just be doing newsletters. But it makes you a lot more hireable if you're able to jump between those different roles.
And if you're able to say, "I've managed social media using this tool or that tool" in an interview it makes it looks good on you! So when you get the opportunity to climb up to a bigger organization, if you want to of course, you have that experience they covet. So it's important early on in your career especially, to be willing to try many different tools so that later on down the road if you want to advance in your career, you can do so covering all the bases.
Let's say you're working as the Registration Coordinator here at the GTHL. Since we are such a small team in terms of staff, it'd be amazing if you'd show a willingness to learn how to use social media tools. I would actually love to teach that person! The benefit of learning these tools is a win-win. We develop an asset that can assist us in executing our social media plan and the individual grows their skills!
What's the hardest part of your job?
That's so really good question. The hardest part is when the unexpected happens. It's challenging to work on the fly. But it's rewarding. To be more specific, when we have to deal with crisis, I feel a lot of pressure. It's not like I am not equipped to handle crisis. But sometimes our stage is very large. If a crisis happens during one of our big OHL events, I feel a lot of pressure to respond to crisis in a timely and perfect manner. That's part of the job though and I love what I do. I am able to handle public relations. When a crisis pops up though, it can be hard to deal with.
Managing crisis was especially challenging at first. Looking back, we've handled a few crisis situations we've had really well. It's become easier to manage them now. Now I know what to expect more or less. It's less unexpected than before.
What motivates you to work in sport?
It sounds so cheesy, but I love seeing how excited the kids are for everything. They're not professional hockey players yet so they are so innocent. Let me give you an example of what makes me so happy to work in sport. We have the GTHL Top Prospects Game in the Winter ever year. Kids playing in it are literally about to be drafted to the Canadian Hockey League (CHL) and Ontario Hockey League (OHL). They've never experienced being treated like professionals.
At the GTHL, we treat them like professionals. We get them equipped for the next stage of their career. Seeing how appreciative, excitable and energized our young athletes are is what I go to work every day to experience. So I love like seeing how excited they are and how grateful they are. It makes all the hard work I do worth it in the end!
You've done like a ton of volunteering in the sport industry. How important has that been to you and your journey to becoming the Coordinator of Marketing and Communications for the GTHL?
To start off, let's list all your volunteer experiences:
| | | |
| --- | --- | --- |
| Volunteer Role | Volunteer Organization | When? |
| Eastern Canada Board Member | You Can Play Project | Ongoing |
| PR Coordinator | The Gal's Got Game | 2015-16 |
| Social Media Team Member | Honda Indy Toronto | 2015-16 |
| Induction Weekend Volunteer | Hockey Hall of Fame Induction Ceremony | 2015 |
| Communications Volunteer | Canadian Olympic Committee | 2015 |
| Content and Publications Team Member | 2015 IIHF World Junior Hockey Championship | 2014-15 |
| Game Day Volunteer | Toronto Furies (GTHL) | 2014-15 |
Adrienne's response to the question:
Probably the most important, more so than any of my work experience, is my volunteer experience. When I had interview for the GTHL, I was asked mostly about my volunteer experience more than anything. which was crazy. He was like, Oh, I see you did this. I see you did that. He didn't place much emphasis on my work experience. At least that was my impression during the interview. It was really interesting to see how much dedication was given to my volunteer experience.
I think volunteering in sport shows that you are willing to take initiative and work hard. It shows that you're willing to do all this work for free on your own time. Yes, you give up your time, energy and effort for free but I never looked at it that way. It really helped me meet a lot of different people in the industry and discover what I wanted to do. It also shed light on what I didn't want to do within my career in sport. And sometimes volunteering leads to a job. For example, I actually got my job as Special Events Staff at the Hockey Hall of Fame several years ago just from volunteering as the Weekend Induction intern. So you never know where it can lead!
Some aspiring sport management professionals think that having an education is enough to get them a job in sport. I'd have to say it's a combination of a number of factors. Education alone is not going to be enough. You need to be educated to get the interview, but I've never really been asked for credentials, which kind of disappoints me. I put so much work into my education. But I am very proud of my volunteer experiences. They've helped to shape me as a sport professional. And I can say that without a doubt, I am asked more about my experience in interviews. Therefore, my experience is more valuable in my current job than anything else that I learned in school.
---
Adrienne Middlebrook
Interview by Haley Morey
Posted June 10, 2019 in Your Career in Sport