Hunter Horenstein is the Director of Fan Engagement for the Myrtle Beach Pelicans (Chicago Cubs High A affiliate). He was recommended to us by Durham Bulls Marketing Coordinator Emily Almond in an earlier feature. Hunter has a wide variety of experience in Minor League Baseball. With stints in California (San Rafael, Sonoma, and Long Beach, to be exact) and Pennsylvania, Hunter found a home in Myrtle Beach with the Pelicans. Hunter's enthusiasm is contagious, and since making first contact with him, it has been hard to not be overly excited about this feature. Below is our conversation, where Hunter discusses his experience in the sport industry.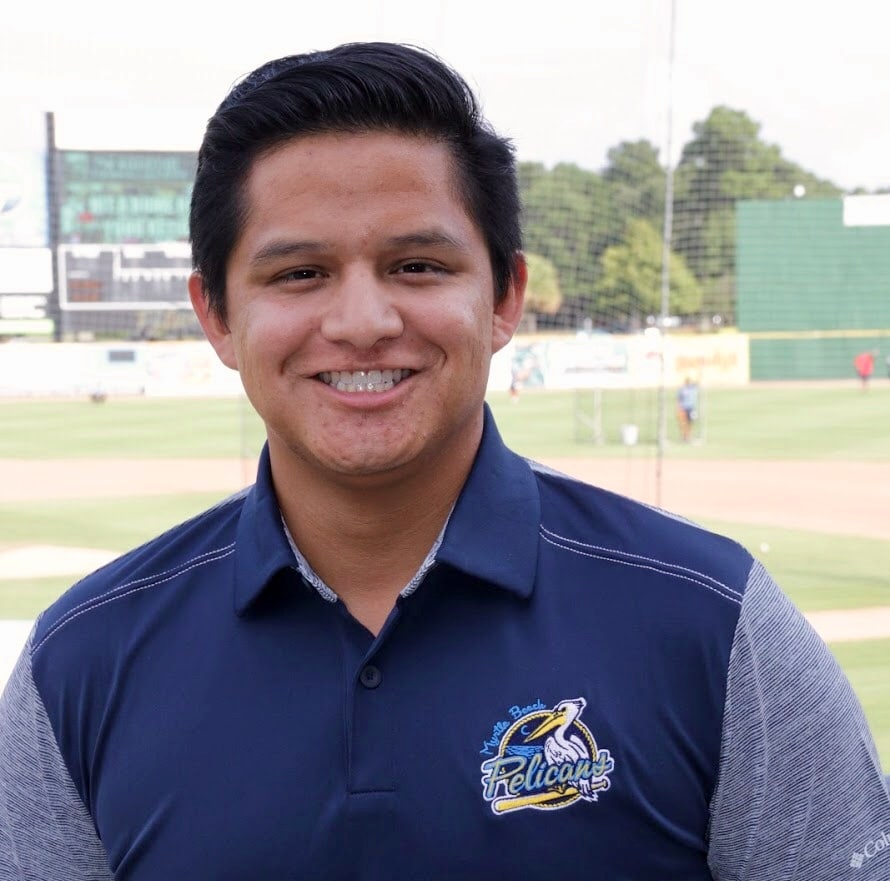 Tell us about your role as Director of Fan Engagement with the Myrtle Beach Pelicans.
The majority of my focus is on entertainment, both in-stadium and online. I oversee our promotions and giveaways and work very closely with our video production manager to develop and execute our show during games. The sales team relies on us to activate any of their sold inventory, such as an in-between inning game or event, player or mascot appearances, youth camps, or social media pieces. I run our social accounts and work to help create content, making sure that what we push out is done so in a way that is in line with our overall marketing strategy.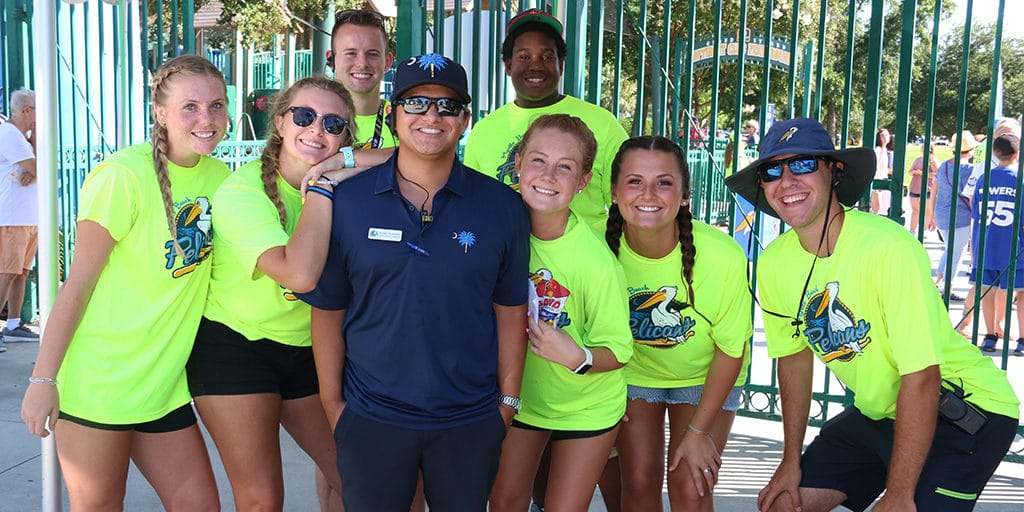 What does your day-to-day look like?
This question is hard because no two days are ever the same, and that's something I love about what we do.
That said, when we have a game my day starts in the morning with our game day meeting, around 9 or 10 AM. This is an opportunity for our entire staff to go through the night's plan and hash out the last remaining details. Once we're done, our video production manager and I will meet and go through the game script for that night one more time to check and double-check times and assignments. There may be the need to have "check-ins" with other members in other departments, depending on how involved that night's game is going to be. We try to be over-prepared just in case something pops up at the last minute that will cause us to adjust on the fly (those things happen a lot).
During the day I'll either continue to work on getting things ready for that night or move on to the other projects that are next up. I make a point to go home for lunch and take my dog out for a walk, which acts a little break where I can focus on things other than the ballpark grind. Personally, that's something that is really important to me and my mental health.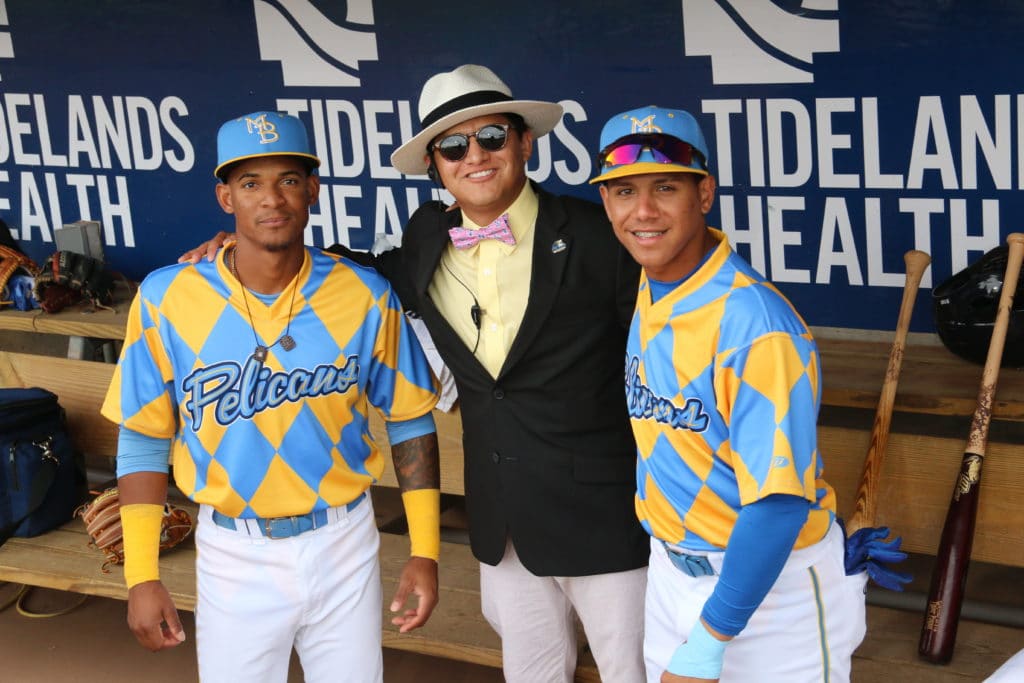 The game day staff arrives two hours prior to first pitch, and that is when we hold our production meeting. We go through the script, get everyone on the same page, and then it's time to open up gates (5:30 PM on Thursdays, 6 PM Monday-Friday, 5 PM on Saturday and Sunday). I'm on the field for pre-game, either capturing content for social or managing the on-field elements and activations. Once the game begins, it's just like orchestrating a play, and I'm focused on making sure show elements are going off as planned and our fans are enjoying themselves.
We put in a lot of time (13 to 15 hour days are normal), but it's well worth it when I can leave the ballpark knowing we crushed it that night.
What is the best part of your position as Director of Fan Engagement with the Myrtle Beach Pelicans?
There is a lot that I love about what we do, so picking just one thing is tough. I would say the most rewarding thing though is when we see the impact we make on our fans. It's a ton of fun to work with the players on a social media post, or figure out how we're going to pull off an in-game horse race, but when we get to see our hard work pay off there is just nothing that compares to that feeling.
For example, our Deaf Awareness Night promotion made national headlines in 2018, and one of our American Sign Language jerseys is currently on display at the National Baseball Hall of Fame, but to know that we impacted so many lives with that night, that's exactly why we do what we do. There is just no better feeling than knowing our team made that kind of difference.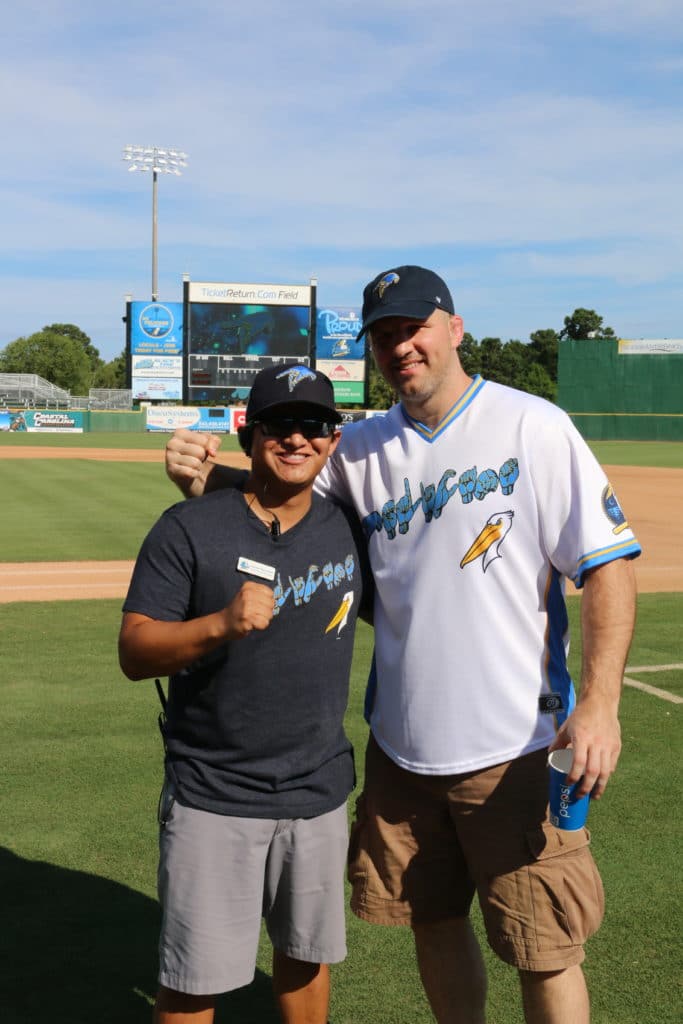 "My very first general manager told me back in 2012: "you're not in the baseball business, you're in the memory-making business". That has stuck with me my entire career and really sums up why we do what we do."
I want to make sure our experience at the ballpark is such a good one that a family walks out talking about how much fun they had and that they're coming back for more.
What is something people don't realize about working in the sport industry?
That just because our season is over, doesn't mean that our office shuts down and we all go on vacation. Everyone has a role that needs attention during the offseason, and we work just as hard when the season is over to get ready for the upcoming year as we do once the games begin.
What are your future expectations, goals and missions in your career?
This past season, in particular, was one of significant growth and professional development, and my hope is that continues here in Myrtle Beach. Personally, I want to grow my network and be someone that others feel like they can reach out to for advice. I had mentors help me as I was starting out, and I want to be able to give that back to the next wave of young sports professionals. As a team, I want us to continue to be recognized as one of the top organizations in all of Minor League Baseball and to do so we will need to work hard to find new and innovated ways to enhance the ballpark experience and Pelicans brand.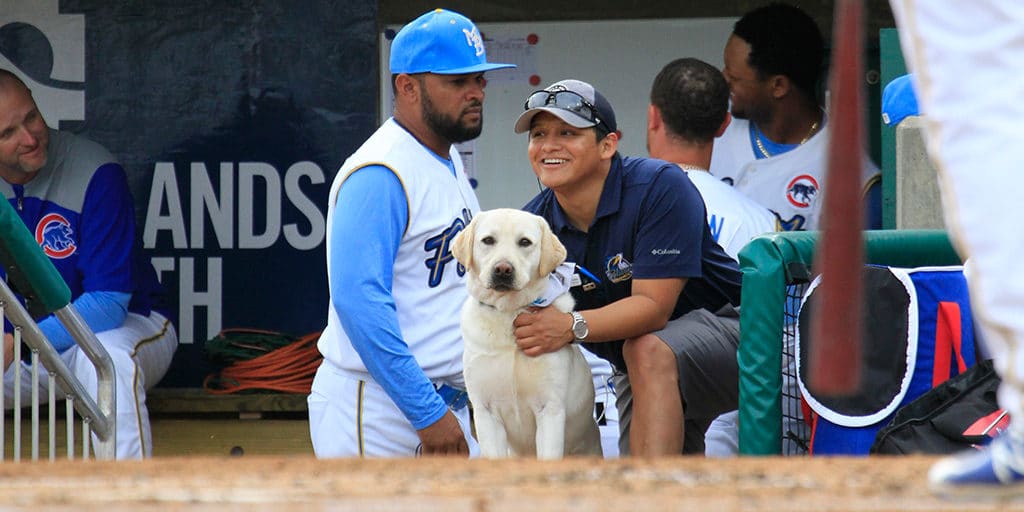 What are three essential skills someone needs to succeed in sport business?
1

Organization

I say this because I'm still working on this skill, but you've got to be organized. I was a fly by the seat of your pants kind of guy in college, and I've really had to learn better organizational skills in order to be successful. Managing different projects with different timelines is hard enough, and me sticking a bunch of post-it notes on my desk wasn't going to get it done. Being organized is something that your future self will thank you for.
2

Patience

The next one I would say is patience. It's so tough not to do, but don't get caught up in the fact that someone else's career path might be going faster than yours. Focus on you and what you need to do to get that next internship or full-time position, and be patient in that journey. It takes time to develop your skills and get that opportunity that really opens up your career, and that's okay. Once you have that role you wanted, be patient in your growth.
3

Communication

A third would be the ability to communicate. Working in sports leads to being around the same people for long periods of time, and everyone has different needs and wants. If you're unable to communicate with your co-workers, fans, or corporate partners in a clear and efficient way, that can lead to confusion and that is when problems arise.
If you could have a superpower to help you in your career, what would it be?
I'd love the ability to time travel. I'd use it to catch up on the various birthdays, weddings, and other events that I've missed during past seasons.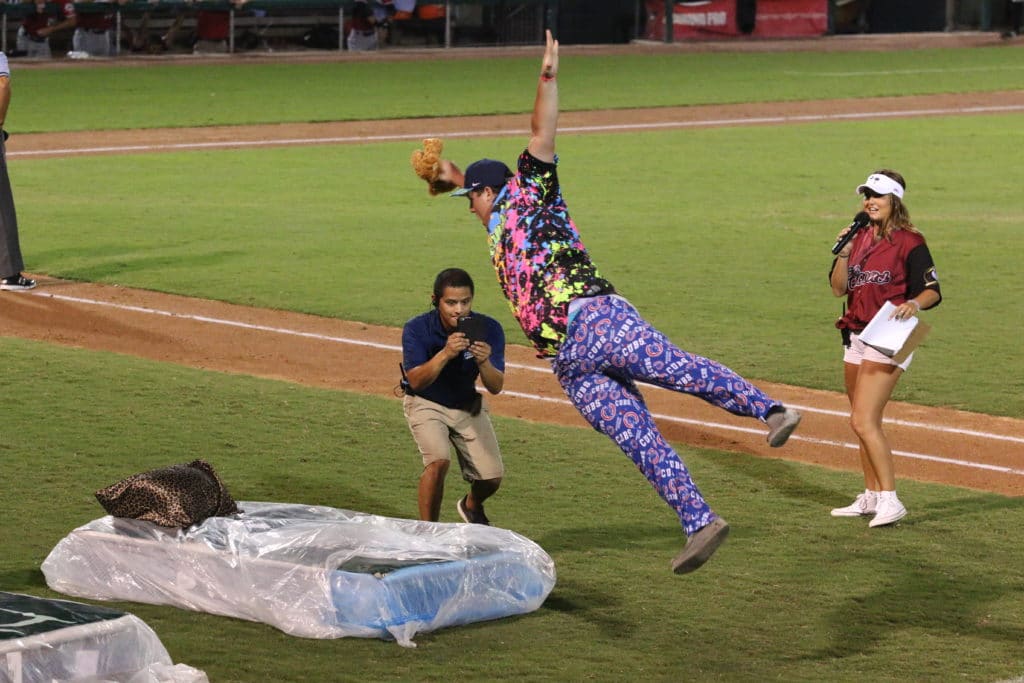 Who should we feature on SPMA next?
1

Nate Kurant

Nate is the Director of Promotions at the Charleston Riverdogs. He's someone who I've looked up to and admired in our industry. He also pushes me and what we do here in Myrtle Beach, as the Riverdogs are one of the top teams when it comes to innovated promotional ideas.
2

Brett Creamer

Brett is the General Manager of the Sonoma Stompers. Brett and I worked together in Indy ball back in 2012 when our careers were both starting out, and I admire the heck out of him and his journey. For a 27-28 year old to be running a pro sports team, especially in the indy ball circuit, takes a lot of hard work. I know how difficult it can be to be successful in the Pacific Association, but he's figured it out.
3

Melanie Newman

Melanie is the Media Relations Manager and a Broadcaster with the Salem Red Sox. She also works for ESPN, the ACC, Liberty Football, the list goes on and on. She has more passion for what she does than anyone I've ever met and is a source of inspiration for myself and someone I lean on when the season grind gets to be a little too much.
4

Brandon Davis

Brandon is now the Senior Associate Director of Athletics, San Fransisco State. Brandon was the SID at Dominican University of California when I was there as a student, and he let me intern in the athletics department. He gave me the opportunity to write for the website, covering women's volleyball, and helped craft my journalism skills the years after. Brandon has a lot of insight into working in college athletics and why that may be a route for someone in their career.
5

Tim Mead

Tim is now the President of the National Baseball Hall of Fame. Tim was actually the VP of Communications for the Los Angeles Angels. Tim was gracious enough to call me back years ago when I was in college to offer advice as I was beginning my career, and has been a mentor to me ever since.
Conclusion
As the Director of Fan Engagement for the Myrtle Beach Pelicans, Hunter Horenstein is as innovative as he is enthusiastic. Already with a place in the National Baseball Hall of Fame, Hunter is poised to take Fan Engagement to new heights.
---
Hunter Horenstein
Interview by Anthony Clark
Posted September 19, 2019 in Your Career in Sport