Hannah Huesman is a Mental Performance Coach for the Philadelphia Phillies. You may recognize Hannah from her social media series #MentalSweatMonday. Or you may recall Hannah (Thurley) from her NCAA Division I Softball and/or Basketball playing days at The University of Tennessee at Chattanooga. With a background in Kinesiology and Exercise Science and Sport Psychology and Motor Behaviour, Hannah shares her path to becoming a Mental Skills and Performance Coach with the Philadelphia Phillies. Hannah gives us her authentic and honest insights into how mental fitness and sport blend, as well as the grind of working in sports. The awareness she has of her own career path is inspiring. For those of us navigating our own careers, this interview is full of insight, inspiration and zest.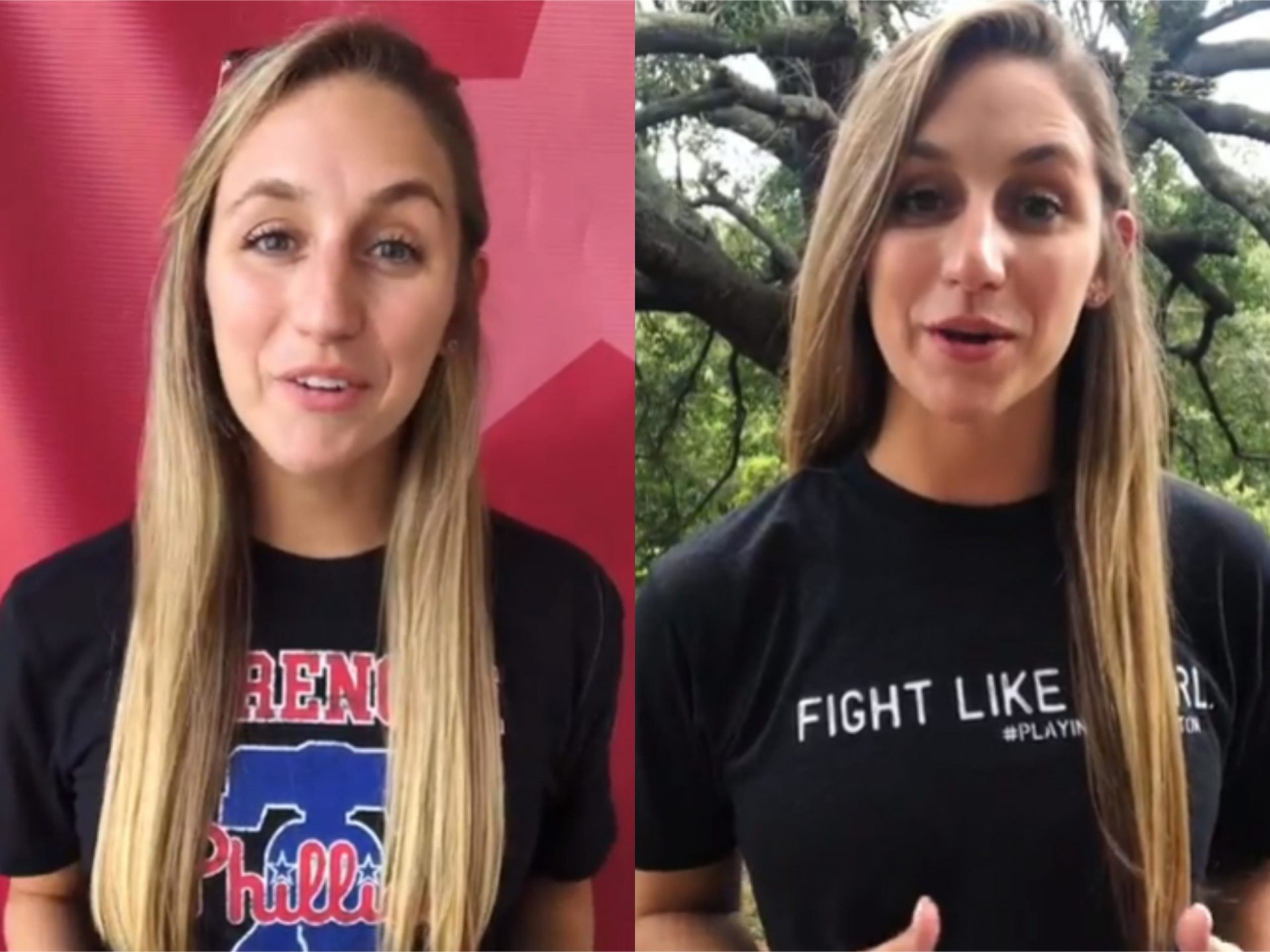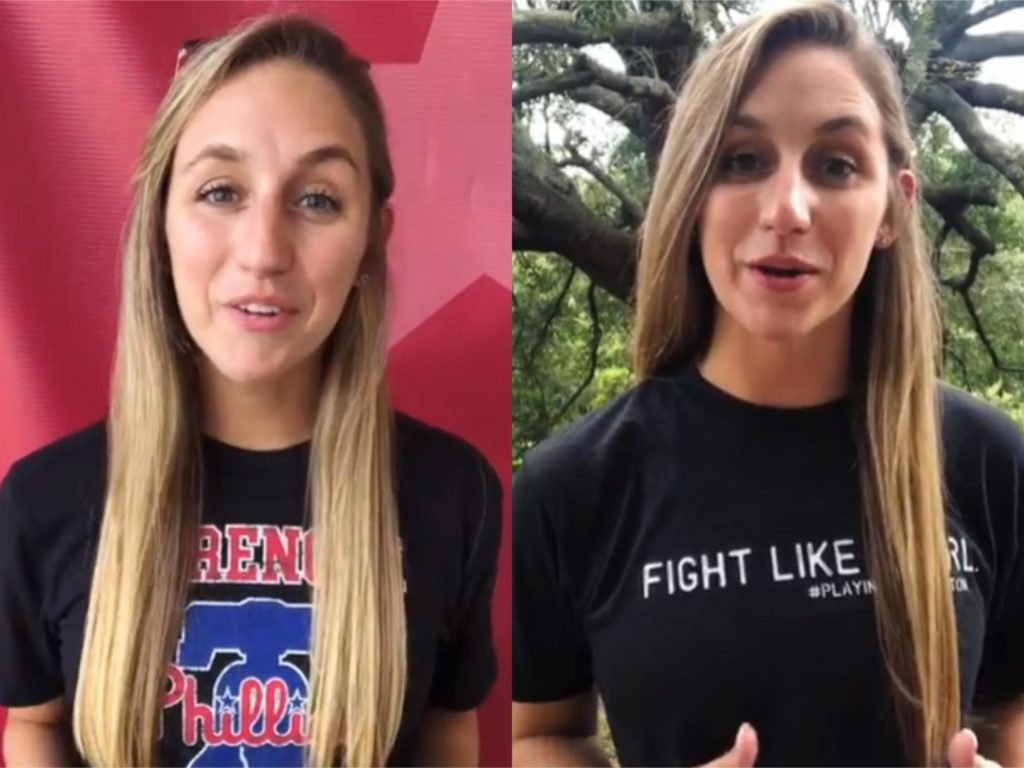 Tell us about what you do as the Mental Skills and Performance Coach for the Philadelphia Phillies.
The easiest way to describe what I do is to compare the role of Mental Skills and Performance Coach to that of a Strength and Conditioning Coach. Instead of working player's bodies physically, which the latter does, I work on the mental aspects of game with the players. This includes anything from confidence to composure to motivation, resiliency and enjoyment. So anything that a player is going through mentally during performance is what we work on.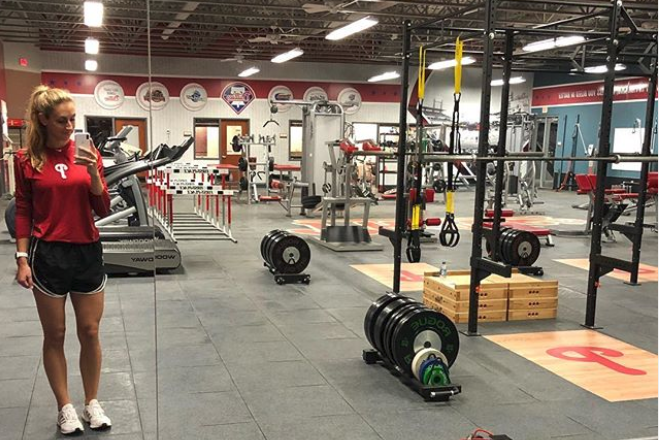 "We help players by creating awareness, grow on strengths and develop strategies and techniques to become stronger mentally. Just like you would try to become stronger physically with a Strength Coach, we help players become stronger mentally as Mental Skills and Performance Coaches."
I am one of four within our Mental Skills and Performance team. Currently, we have two full-time and two part-time staff. Each Major League Baseball (MLB) organization has a different set up for organizing mental skills and performance coaches. The number of mental health professionals in pro sport is growing fast! Two years ago, the Phillies had one Mental Skills and Performance Coach. Now, there's two full-time. Plus, we've just started building mental skills and performance coaching in the Dominican Republic. This allows us to start implementing mental skills from the very first time youngsters step on to one of our baseball fields.
How does one become a Mental Skills and Performance Coach for a major professional sports team?
My pathway began with the completion of a Bachelor's degree in Kinesiology and Exercise Science. Then, I obtained my Master's in Kinesiology with a concentration in Sport Psychology and Motor Behaviour. Meanwhile, I became a certified mental performance coach with the Association of Applied Sports Psychology (AASP).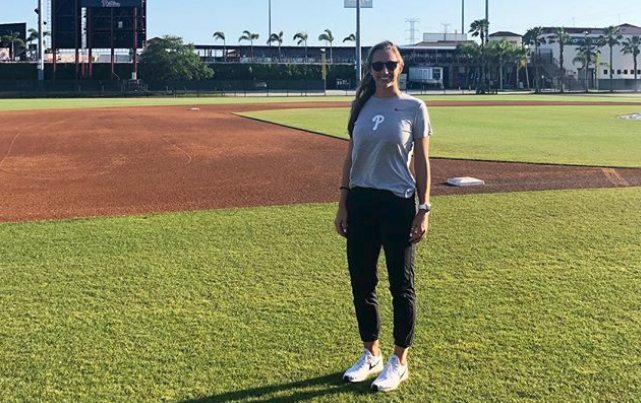 Having the mental performance certification, combined with a Master's degree in Psychology of a related field positioned me well for a job in professional sport.
When I graduated, the market for Mental Skills and Performance Coaches was more narrow than it is now. But with the awareness of mental health in sport, every year there seems to be more and more opportunities.
So when I graduated, finding a position wasn't super easy. There wasn't a ton of job openings. But I got lucky! Things timed up well for me. Because I graduated in December instead of May (which was when most of my colleagues did), opportunities were different for me. The first internship I did outside of school started in February. So I applied for a position that would go on to become my first gig in baseball. It was with the Pittsburgh Pirates. In fact, I became the Mental Conditioning Coach Intern for the Pittsburgh Pirates.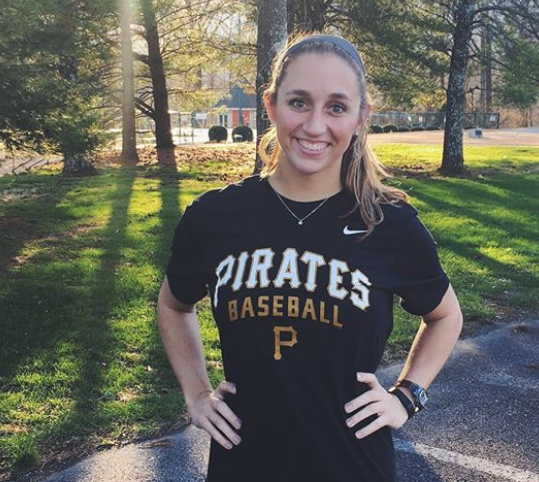 Without a doubt, this experience was a great foot in the door of Major League Baseball (MLB) and professional sport. I worked with the Pirates' mental conditioning team doing workshops, talking to coaches, consulting with athletes on-on-one and more. Overall, I am proud to say that I helped to create a culture that believes in sport psychology both on and off the field. Eventually, my position with the Pirates helped lead me my current role with the Phillies as Mental Skills and Performance Coach.
What does a typical day for Hannah Huesman look like as the Mental Skills and Performance Coach?
Wow, that's a good question. Each day looks different! But I can take you through a sample day.
Last night, I was in Redding, Pennsylvania watching our AA team play. They're called the Reading Fightin Phils. When the game finished, I arrived at my hotel just before midnight. I woke up early this morning and drove to Williamsport, Pennsylvania to watch our short season team play. They are called the Williamsport Crosscutters.
Most of the time, my day starts with getting up and heading for a physical workout. At some point, I'll get to the baseball field and begin doing one-on-ones with the players. Depending on the day, I may lead a group workshop with specific positions. For example, I may do a workshop just for pitchers, infielders, catchers, hitters, outfields, etc.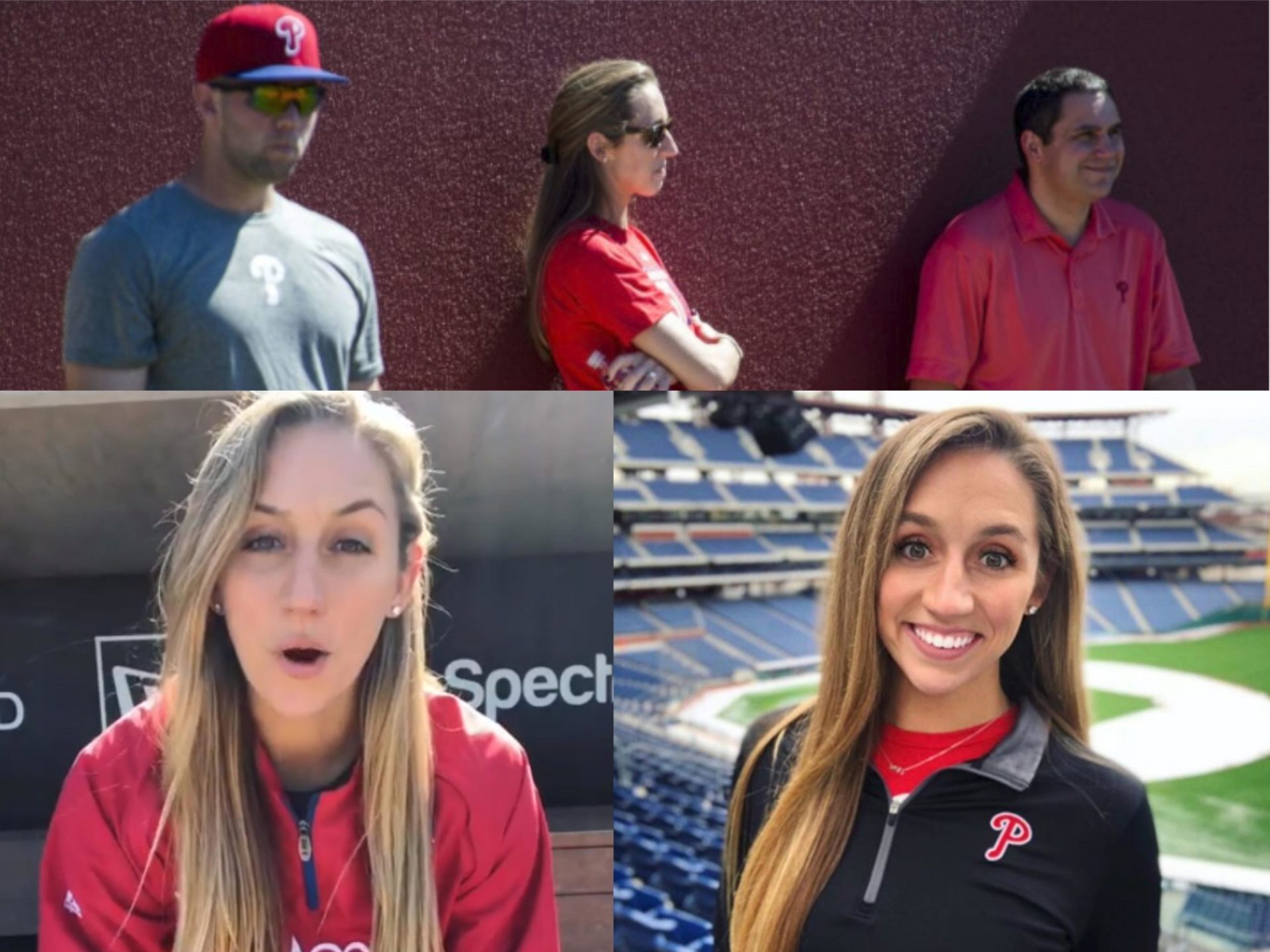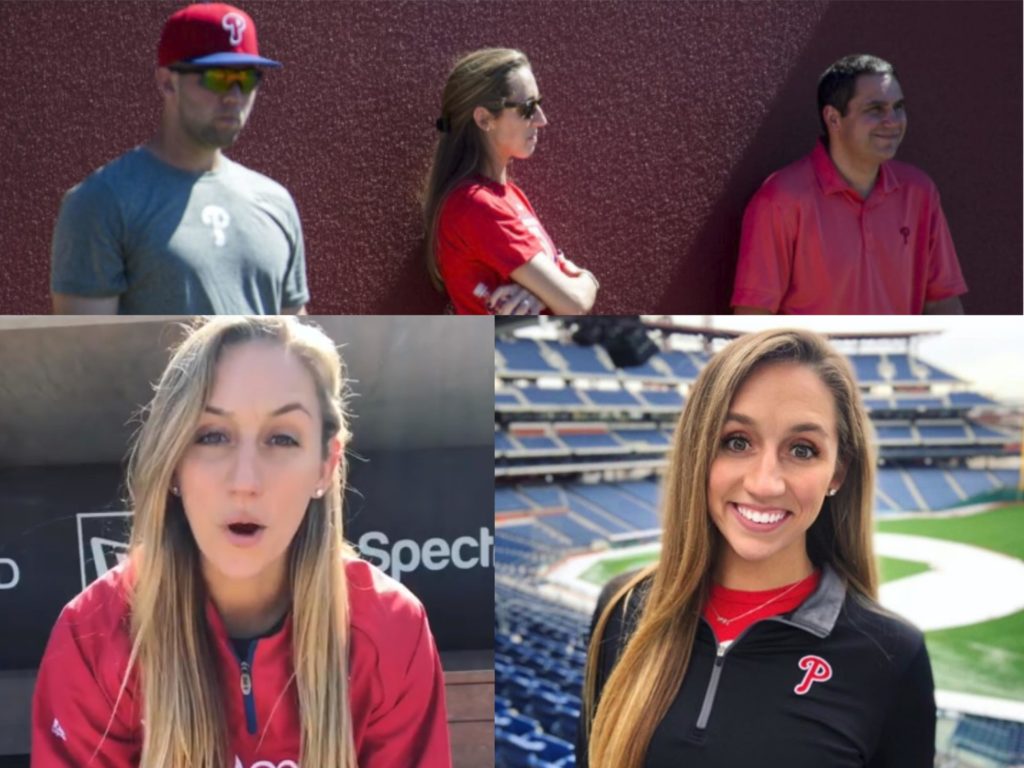 Then the game comes! I watch the game and make myself available as needed. After the game, I'll stick around and talk to coaches and anyone else on the Phillies that needs to chat. Then, I head home and get ready to do it all over again the next day! It may not be the same the next day though [laughs]. Perhaps I find myself travelling to any one of our affiliates. It really depends.
"The best way to summarize a typical day is a bunch of one on ones with players, some group work, one-on-ones with coaches and staff, watching the game and being around for anyone that needs me."
Every day is different and that's part of what I love about being Mental Skills and Performance Coach with the Phillies.
During games, where do you situate yourself? Are you in the dugout?
Before first pitch, I go where it's quiet and private. That could be a little nook in the clubhouse, locker room or our classroom. It depends! Most of our facilities have classrooms. That's where I tend to go before the game starts. I'll try to kind of hide out there so the players can come one on one to chat. Being in a place where they won't feel judged is important to me. So being in the classroom provides me with a place that gives them the privacy they need.
To answer the second part of the question, I am not in the dugout during the game. While the game is being played, I'm actually out watching them! I'm usually somewhere in the stands so I can observe some of the mental techniques I've been working on with players to see if they are implementing them into games!
We continually talk about our place, debating what's best for our presence during games. For now, we are happy with our access and availability. We just want to make ourselves accessible.
"A lot of times, players come to us on a voluntary basis. Other times, we approach them and a lot of times it's like, hey, we haven't talked to you in about a month. Like, let's check up."
Mental fitness is a huge part of the game of baseball and we do everything to make sure our players are aware of that. And it's not put in place simply for when they are down. Mental fitness is way more than that. Regardless of how they're playing (ex. if they're playing really well, not up to their full potential), we're gonna talk! It's really important to make sure our players stay on top of the mental aspects of their game.
There's always something to talk about when it comes to improving the mental game. And that's what I help our team do! Creating awareness around the mental game and making sure that players are able to govern when something's a little off is key.
What motivates you to work in sport?
Everything!!! I played sports my whole life and so it's hard for me to imagine doing anything else. I was a Division I Basketball player from August 2010 to May 2011. Then a few months later, I switched sports and played Division I Softball for a few years.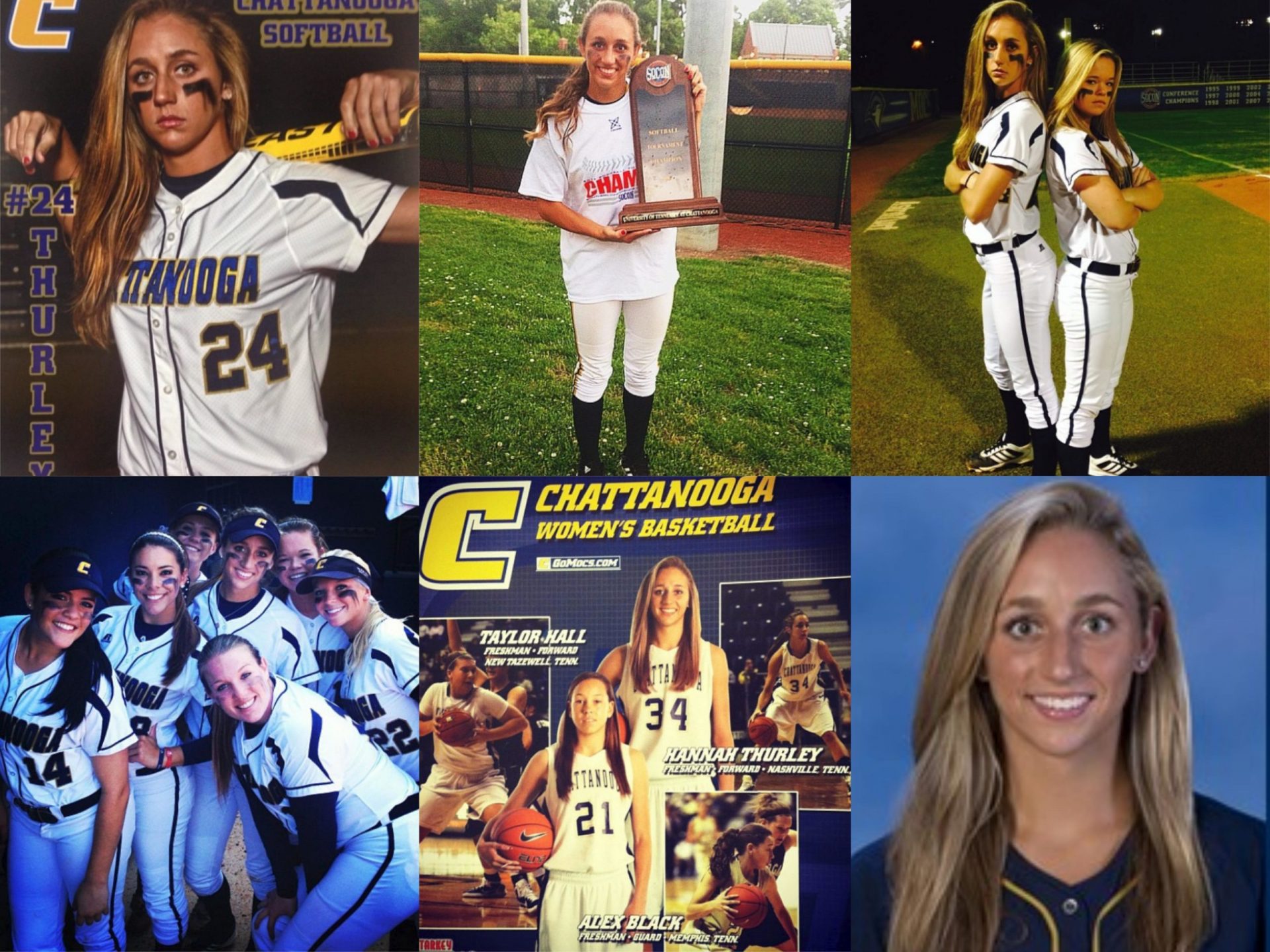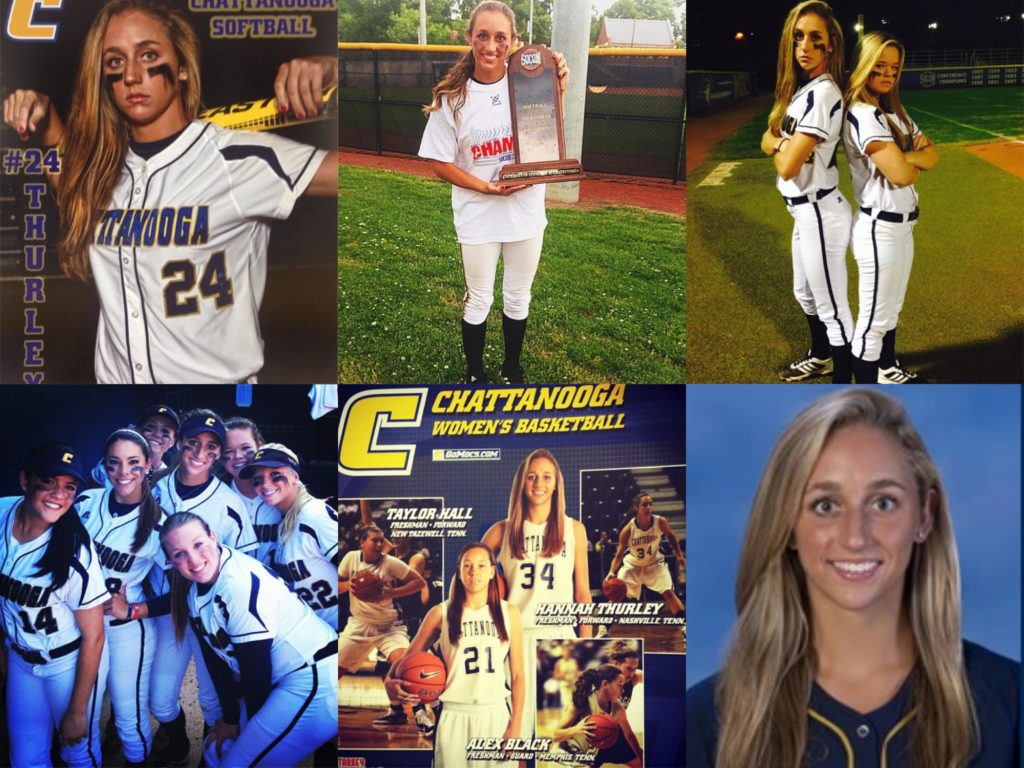 I'm incredibly passionate about sports. Plus, I know I'm at my best when I'm working in sport and with athletes. Being happy at work is a must for me! I see way too many people, whether it's family or friends, working in fields they aren't happy in. Living for the weekends and for retirement is not how I operate. So I refuse to go down that path! I've set my mind to working in sports for the rest of my life.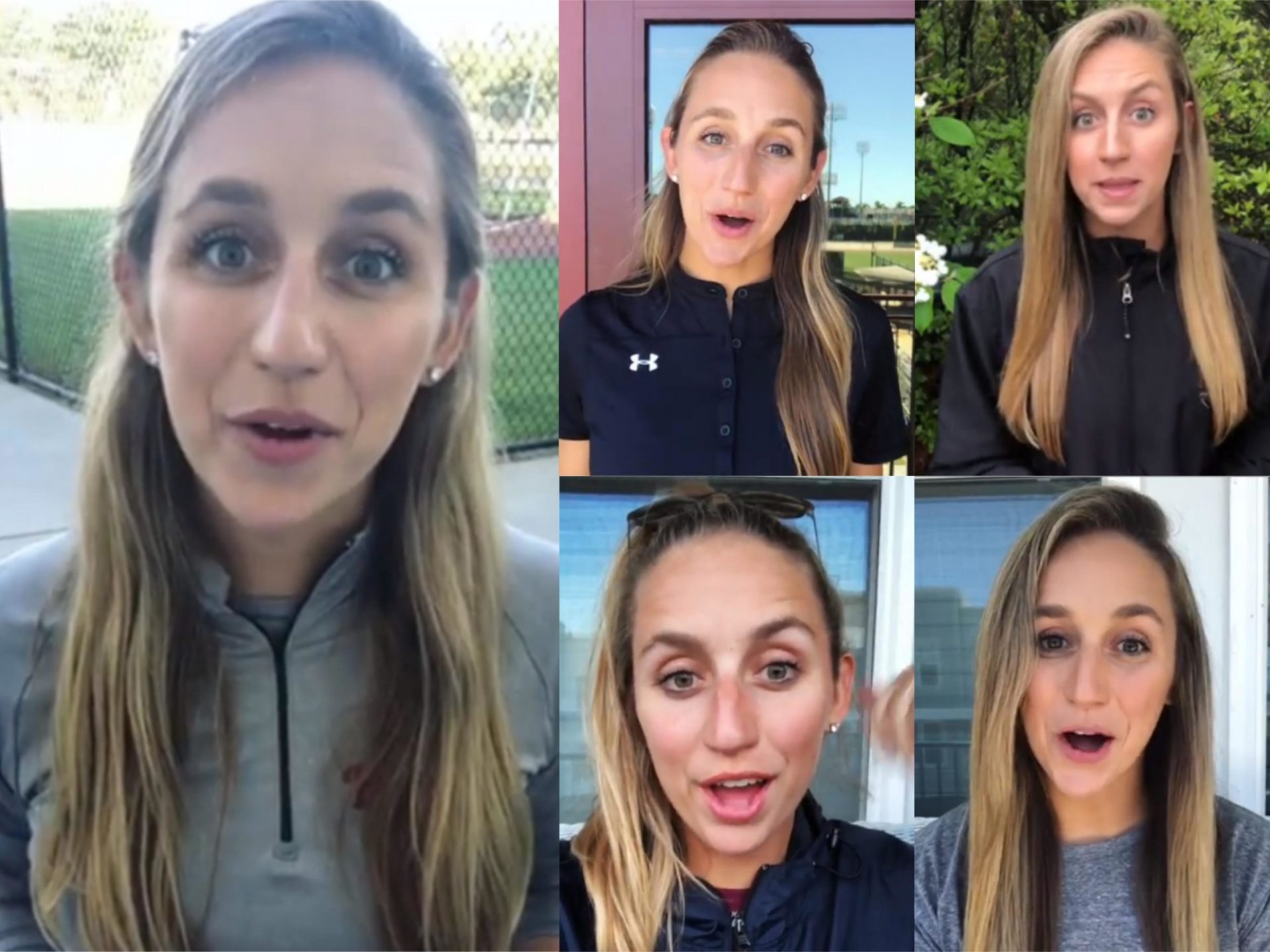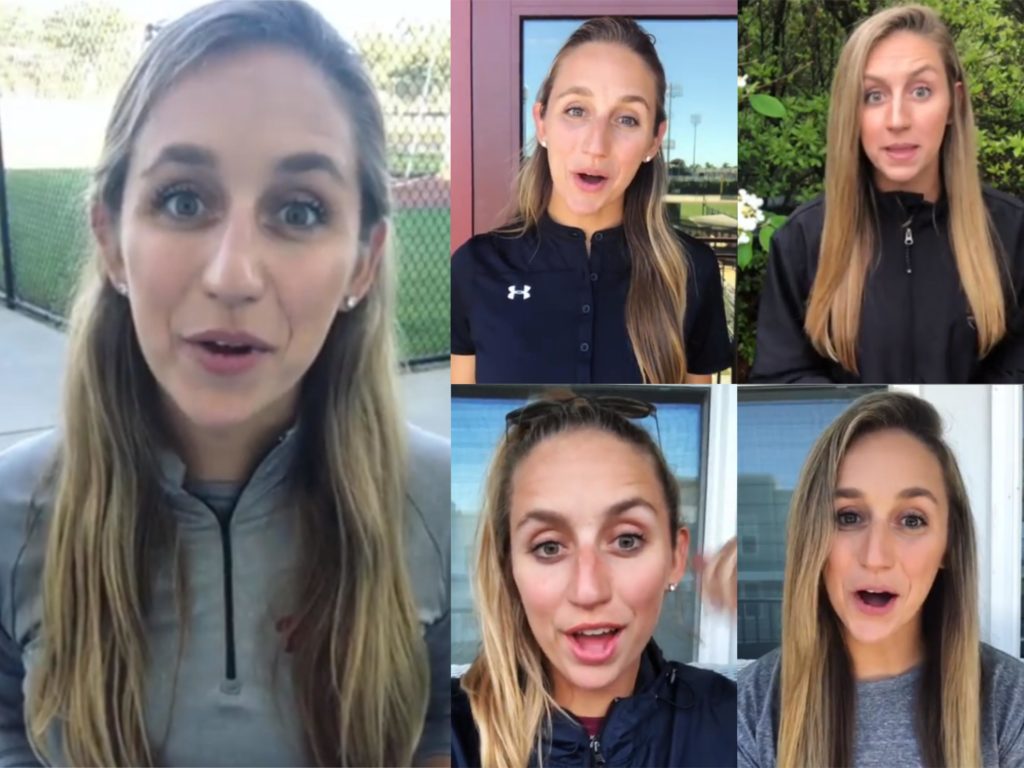 My undergrad was in exercise science, because I thought I was going to be a strength and conditioning or softball coach. But I did a lot of research and found sport psychology! I took a sports psychology class in my senior year and ended up loving every second of it. From there, I wanted to learn every single thing I could about the mental aspects of sport.
Although I love working in sport, my work is not limited to it. I've worked with all kinds of performers from actors, actresses, surgeons, CEOs, firefighters, and more.
What are two aspects about what you do as the Mental Skills and Performance Coach for the Phillies that you'd consider difficult?
One part about working in sport generally and being the Mental Skills and Performance Coach for the Phillies can be the travel. The traveling isn't something I mind though. Adrenaline and passion for the game makes the travel go by fast.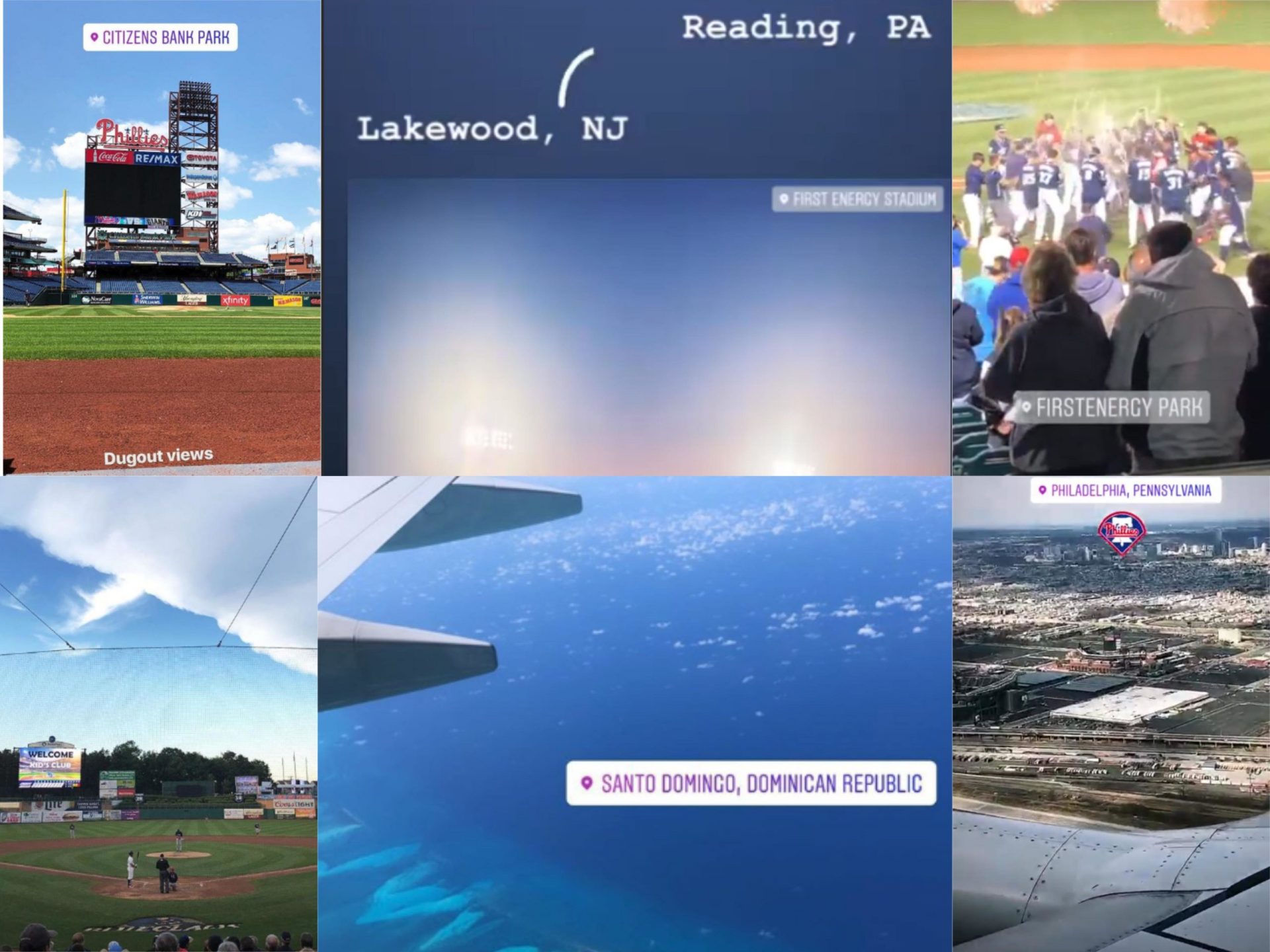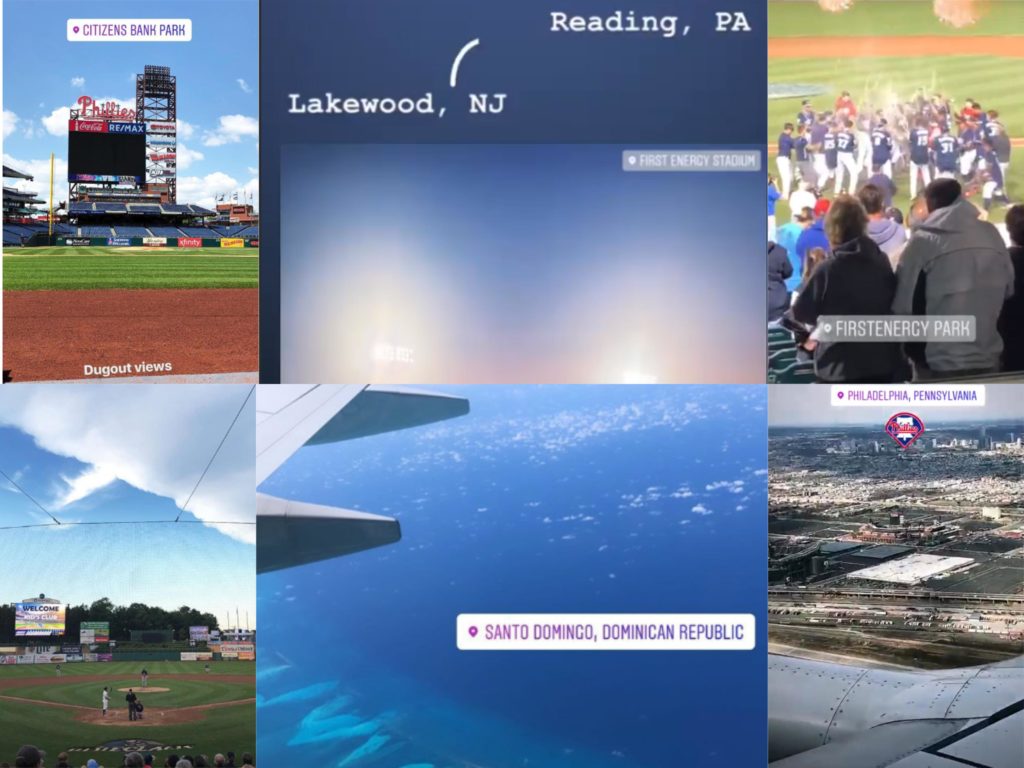 Another hard part of what I do is work-life balance. I'm really trying to get better at that on a daily basis. Sometimes when I'm on the road, I feel a little guilty that I should be home or with my husband. What helps me most with work-life balance is to give 100% at work when I'm working.
And so I try to just be 100% when I'm at home too. It's challenging without a doubt. But I've worked on it on a daily basis to try to get better on it.
So many people want to work in professional sport. But there's a grind and a lot of hard work that comes with it. Loving sport is a must if you're going to work in it. I often say that you have to be willing to eat, breathe and sleep it if you want to work in it! You will need to sacrifice some things that are important to you. But there's a great big reward for doing so; being able to work in sport.
What's your favourite part about being the Mental Skills and Performance Coach for the Phillies?
The best part about my job as the Mental Skills Coach for the Phillies is seeing players who are skeptical of the mental game eventually buy into mental fitness aspect of performance. And its not done by pushing then. Instead, we let them buy-in on their own, while guiding and supporting them along the way. When they have that aha moment, I feel joy.
"Seeing players succeed on and off the baseball field is another one of my favouirte parts about my role with the Phillies. Especially those who initially are initially skeptical of the mental side of the game. Having conversations with them, not pushing but guiding and supporting them about how important the mental side of the game is, is what I do. Eventually, they have this aha moment where they're like, 'Wow, I used this strategy or this technique to face this batter or pitcher, in between pitches, during my reset routine and it worked!' When I hear them say that, it is so rewarding."
So just watching them grow their game by utilizing the strategies and tactics we provide them with is a standout part of my role as a Mental Skills and Performance coach.
Tell us what your #MentalSweatMonday series is all about and why you started it.
About #MentalSweatMonday from Hannah's Instagram
⭐Who is ready to break a mental sweat?! I am so excited to launch my new video series #MentalSweatMondays!!
⭐Every Monday I will go over all the ins and outs of practicing mental skills and how it affects your daily life, both on & off the field. Whatever your field may be – diamond, court, rink, stage, fire house, classroom, ER, board room, etc.)
⭐Each video will be 1 minute or less – so in 60 seconds we will help heighten your awareness, give you a strategy to practice, and increase your mental strength!
⭐I have gotten a few requests already, but if you have ANY tips, tricks, or needs, please comment below and I will cover it in a video!
#MentalSweatMonday was put on my heart just before we turned the calendar to 2019. I kept noticing mainstream media focusing a lot on physical health. For instance, I'd see a lot of before and after pictures, nutritional infographics, meal prepping tips, and work out videos and routines.
I think it's all great stuff! The importance of physical fitness cannot be understated! But while there's a huge emphasis on the physical aspect of fitness, there's not enough of the mental side. This is where I thought I could help. So I came up with this idea of posting tips about mental fitness on social media. I talked to my husband and we come up with a name. The name #MentalSweatMonday is to help people realize that mental health is just as important as your physical health.
"You can be as strong as a horse, in the best shape of your life, but if you're not mentally healthy, you're not going to be at your best."
So my main goal with #MentalSweatMonday is to encourage people to break out a "mental sweat" just like they would a physical sweat doing a workout. A new video with the hashtag #MentalSweatMonday is posted on Mondays on my LinkedIn, Twitter and Instagram accounts to get the work week started for my viewers!
When people watch each video, I want them to think about how they are thinking and why they have certain thoughts. Here are just a few thoughts I've hoped to get people to think about:
Being more patient
Paying more attention to detail
Reminding oneself of their goals
Being aware of the mental aspect of living is the deepest rooted philosophy in mental skills. You can have all the goals in the world, but if you don't know where you are right now in achieving them or what kind of head space you're in, you won't be able to grow.
With the #MentalSweatMonday series, I'm not just talking to athletes. Athletes are just one type of performer. But in the series, I am talking to all people! And I think people are performers in their own way, from video gamers to doctors, to softball players, to receptionists.
If I can make someone think twice about something they are doing, or not doing, that's a win in my book!
Who else would you suggest we interview for SPMA?
1

Lauren Abarca

Lauren is in a similar position that I am. She is the Mental Conditioning Coordinator of the New York Yankees. We share similar perspectives on the mental side of the game. She's also really open and forthcoming about creating awareness of mental health in sport.
2

Greg Brodzinski

Greg is a player development coach at our short season team, the Williamsport Crosscutters. He's a former catcher, so he's seen many sides of the game. Greg is really interesting to talk to and provides unique insight on the importance of mental fitness.
Final Thoughts From the Interviewer
Hannah Huesman is a gregarious, enthusiastic and positive individual. Through her #MentalSweatMonday series on social media, Hannah has helped hundreds, if not thousands of people engage themselves in mental fitness training. Some of those people include our SPMA team, who are regular followers. As such, we HIGHLY recommend you give her a follow on Instagram, LinkedIn and Twitter. Once you follow and connect to those accounts, be sure to check out her #MentalSweatMonday series. Not only will you get a glimpse into Hannah's coaching style as the Mental Skills and Performance Coach for the Philadelphia Phillies, but you'll also learn a few things about keeping yourself mentally fit.
---
Hannah Huesman
Interview by Mat Israelson
Posted July 8, 2019 in Industry Profiles